Christmas Decorating Ideas On A Budget
I think this time of the year we are all looking for Christmas decorating ideas on a budget. I love keeping things simple when it comes to Christmas decorating ideas. In fact this year I've decided to use what I already have instead of making or buying anything new. I know that you come here for fresh ideas. But just like you I am on a tight budget. I can't always go out to purchase new things or even make something new. Today I will be sharing some of the crafts and decorating ideas that I've shared over the past years along with how I've incorporated it into this years Christmas.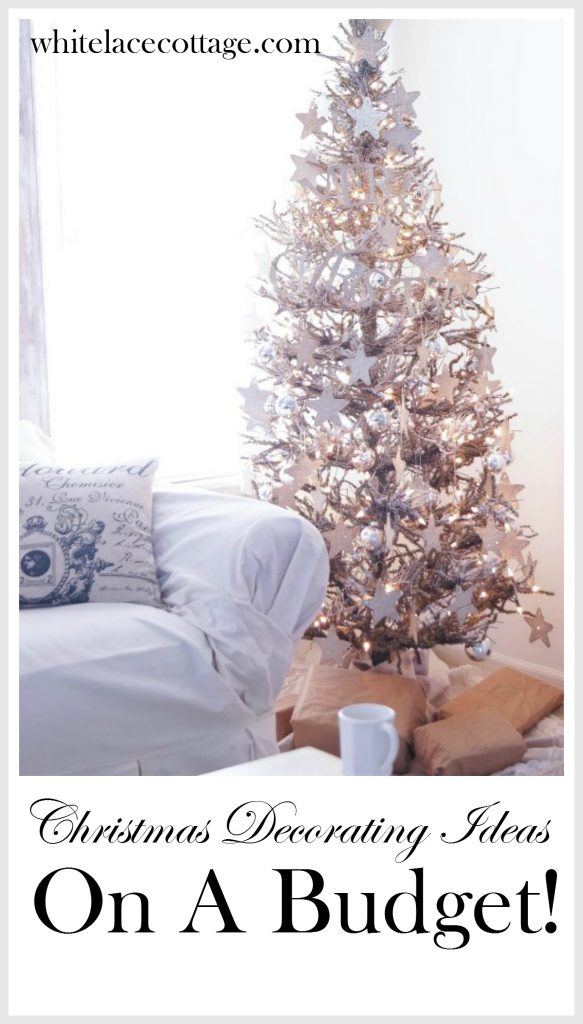 In the past I've put up as many as four trees. Yeah, I know it's a bit much. I had one in our living room, family room, dining room, kitchen and our bedroom. I sold every single tree except for one. My little twig tree that I found at a resale shop several years ago. I love the simplicity and style of this tree. I did purchase new lights for my tree because they needed to be brown wire so they didn't stick out. Just an FYI cookies are for props only. I no longer eat cookies and treats.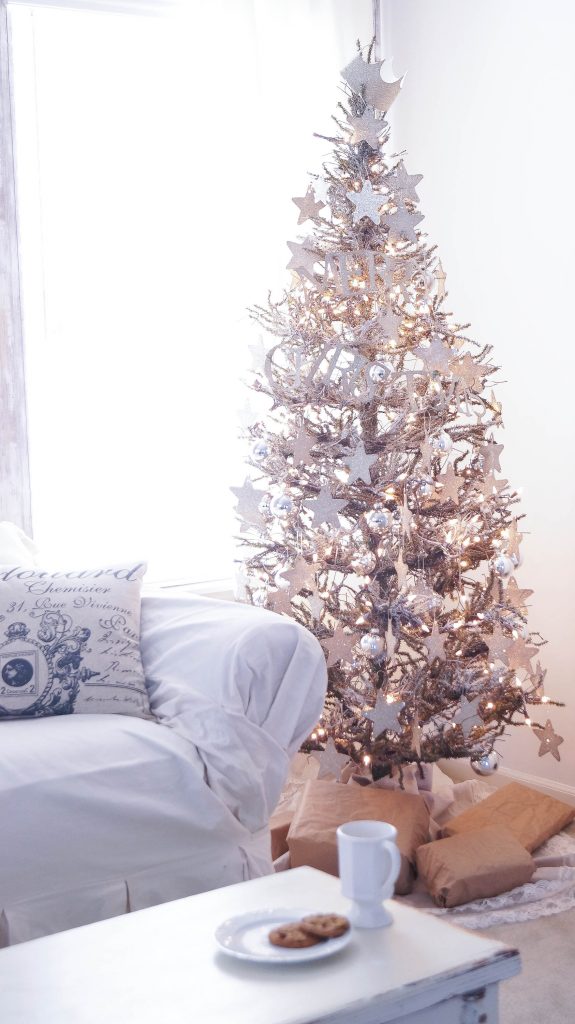 Here's a few Christmas decorating ideas that will take the stress out of the holiday season. See those star ornaments? I created those a few years ago tracing a star shaped cookie cutter. Then I added German glitter glue. To hang them I used invisible wire. These German glass glitter ornaments were easy to make and really are the star of my tree this year.I've added these to my trees over the past three years and each time I've given it a new look just by the way I've decorated my tree.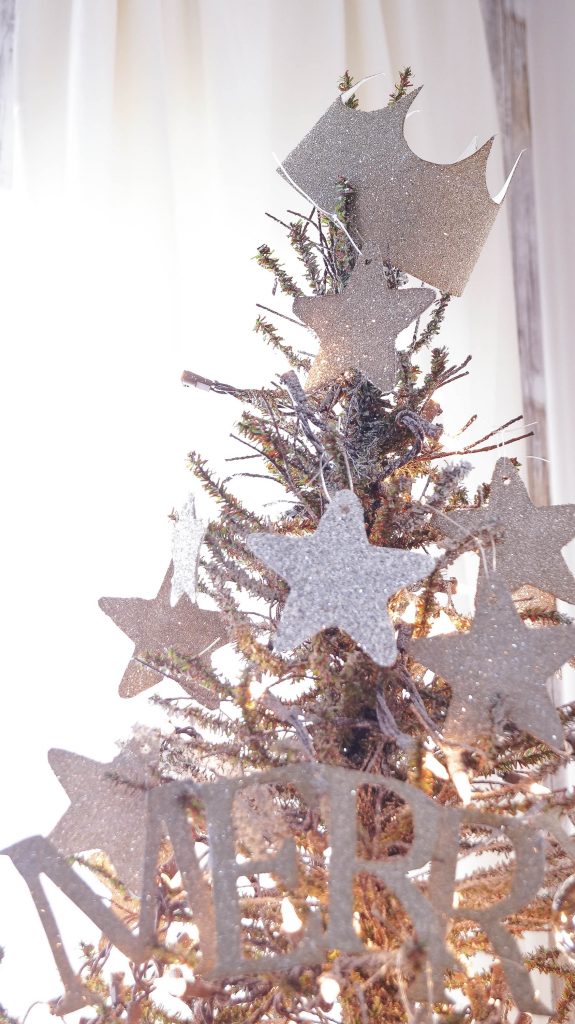 Last year I created a Merry Christmas banner to my tree. This was made in a similar manner as the stars. Except I didn't use cookie cutters to trace them. I printed out Merry Christmas off of my printer, then traced the words on silver poster board. I added German glass slitter then connected them with a wire. You can learn how to make this German glass glitter garland and my crown tree topper.
I'm re-using what I created last year. But adding this to this tree gives it a totally different look. See I promise that these Christmas decorating ideas are very budget friendly. I've spend no money on my decor this year. And you can do the same!
I bought many silver Christmas ornaments many years ago at a thrift shop of course. This year I placed all of them on this tree. I really wanted a sparkly, glittery tree. The skirt was made a few years ago. I created it  by cutting out a tree skirt shape then gluing lace around the edges. I always like adding faux gifts under my tree. I didn't want to go out to purchase new pretty paper just to place under my tree. So I used packing paper that I already had. I'm still searching to see if I have any lace trim. If I don't I will leave them as they are. The color of the paper works well with the theme in this room.
As with my tree I am keeping my mantle very simple this year. I added my nativity scene on my mantle with a star garland I made a few years ago. This star garland was created the same way as the ornaments, but I added the ribbon trim through the holes then used tacks to place it on my mantle. I still have to find my lace stockings and hang those on my mantel. But no fresh garland will be used on my mantel this year.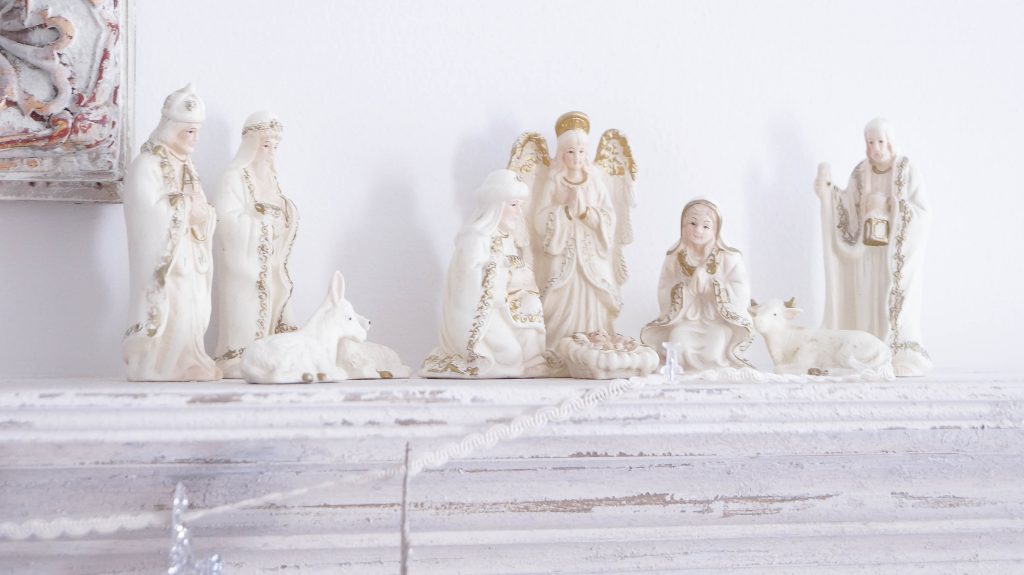 I'm planning on purchasing fresh wreaths to hang on the outside of our home. I've been able to find those for 5.00 a piece, and I always add a red ribbon which I have left from last year.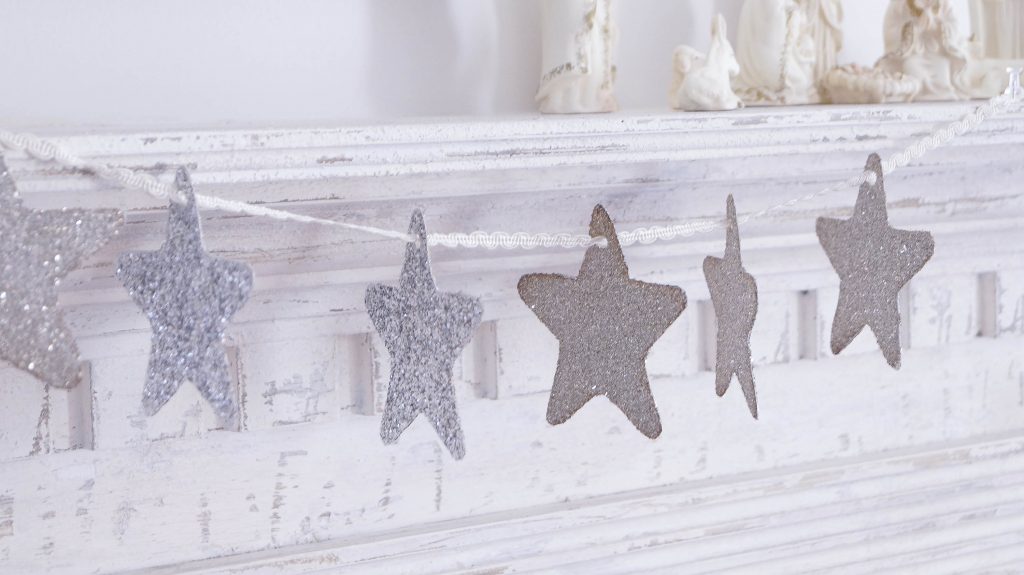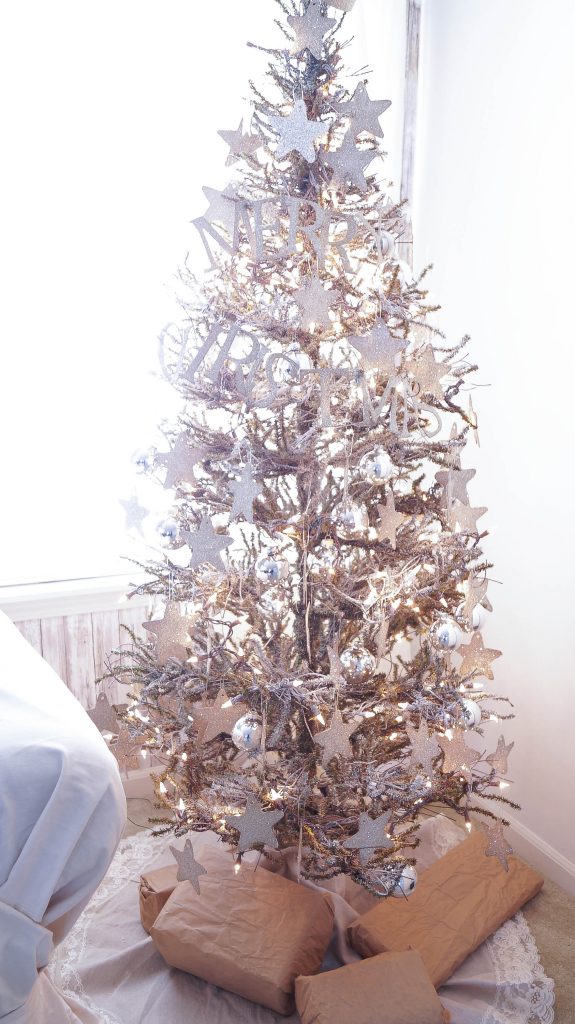 So what can you do to decorate your home this Christmas without purchasing anything new or making anything new?
Take a look at what you already have.
Instead of using all of your ornaments use less. This will create a totally different look on your tree. If you have a variety of ornaments, say different colors or styles create a new look using only one style or mix it up and use different ornaments. If you have faux flowers think about adding those to your tree. If you have cotton batting on hand use some of that in your tree to create a flocked look.
Wreaths can be used to hang on a wall or used on a table as a centerpiece.
Think ways that you can repurpose what you have to create a whole new look. Let me show you what my tree looked like last year and what it looks like this year.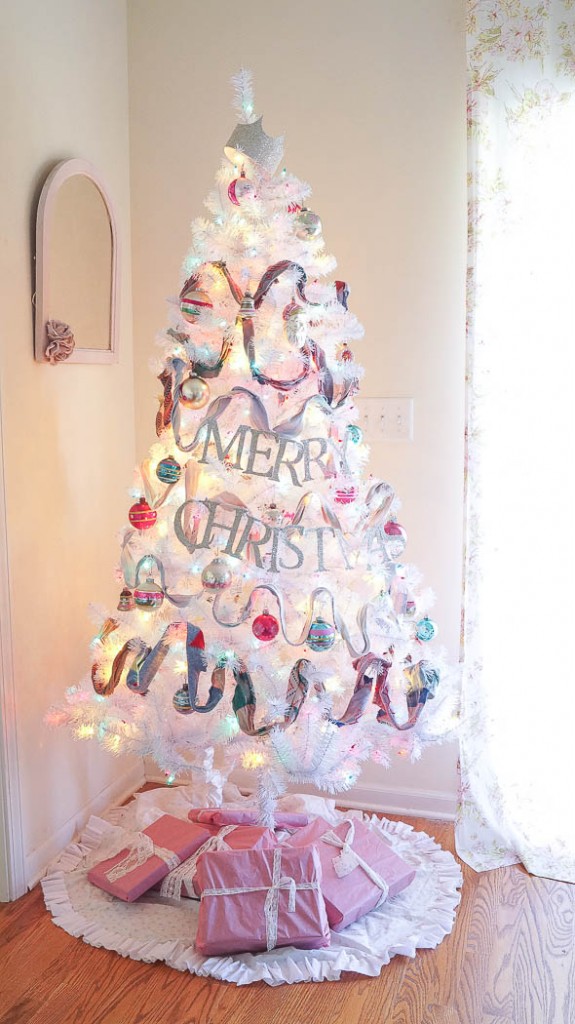 And here's my tree this year. I know it's a different tree, but I already had this tree. I didn't purchase anything new. Instead of using those colorful ornaments I am using ornaments from my silver tree, which I will share a photo below.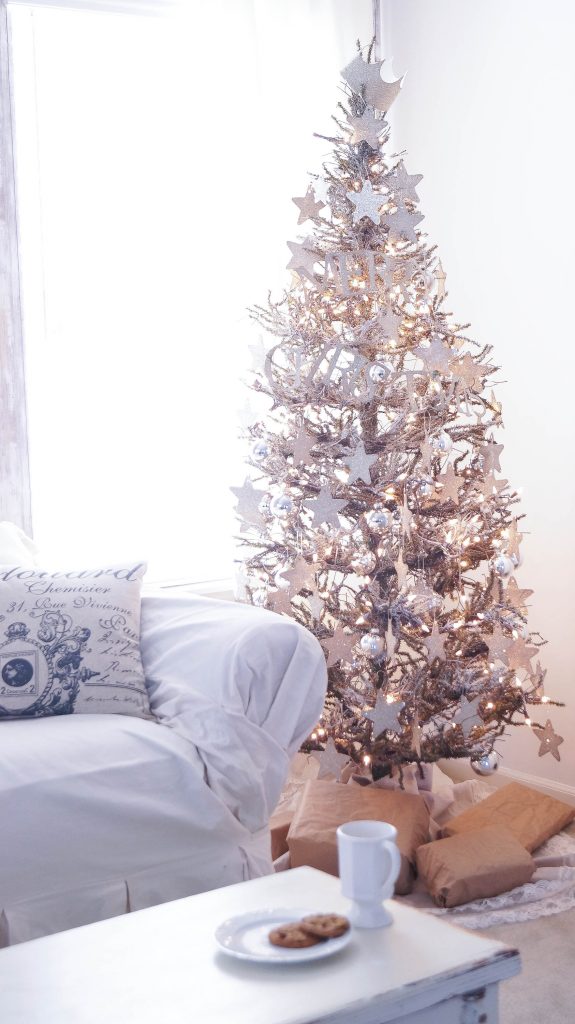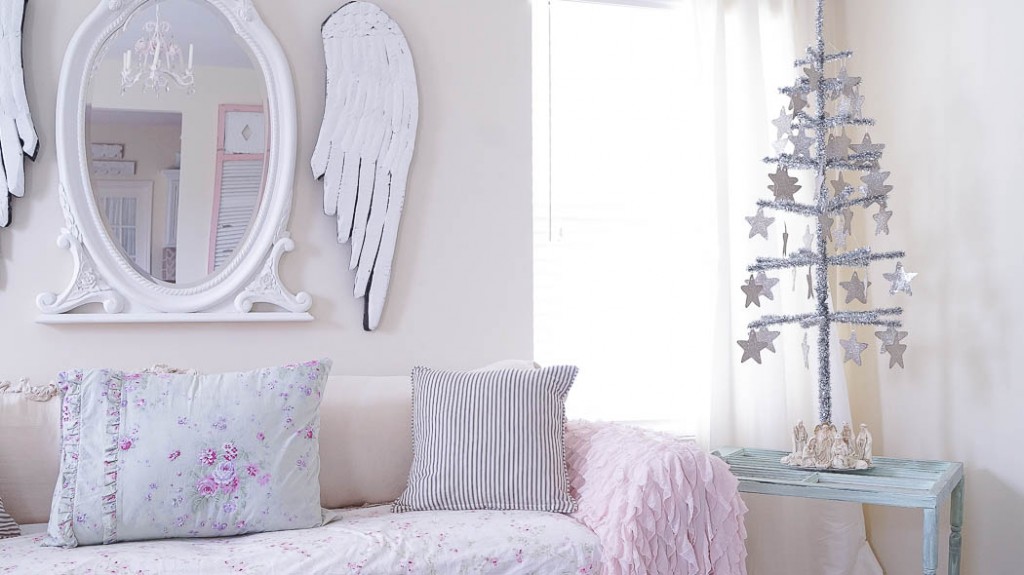 It's really easy to decorate using these simple Christmas decorating ideas for your home on a budget using what you already have. I am giving you this challenge for a stress free Christmas. Use what you already have. Don't purchase anything new and create a totally different look. I know that you can do it. I bet you have plenty of ornaments and decor that you can use without purchasing anything new or even making anything.
Another tip is don't put everything out. Bring out pieces that are truly special and leave the rest packed away for another year. Adding less will give you a whole new look as well.
Here are some inspiration from my home over the past few Christmas seasons. This is just to inspire you.
Christmas Decorating In A Bedroom
Save
Save
Save
Save
Save
Save
Save
Save
Save
Save