Today I wanted to share a very simple tablescape idea.
I no longer have my dining room table, I converted my dining room into my studio office.
You can read about that HERE.
So the only table I have for sharing a tablescape is my kitchen.

MY LATEST VIDEOS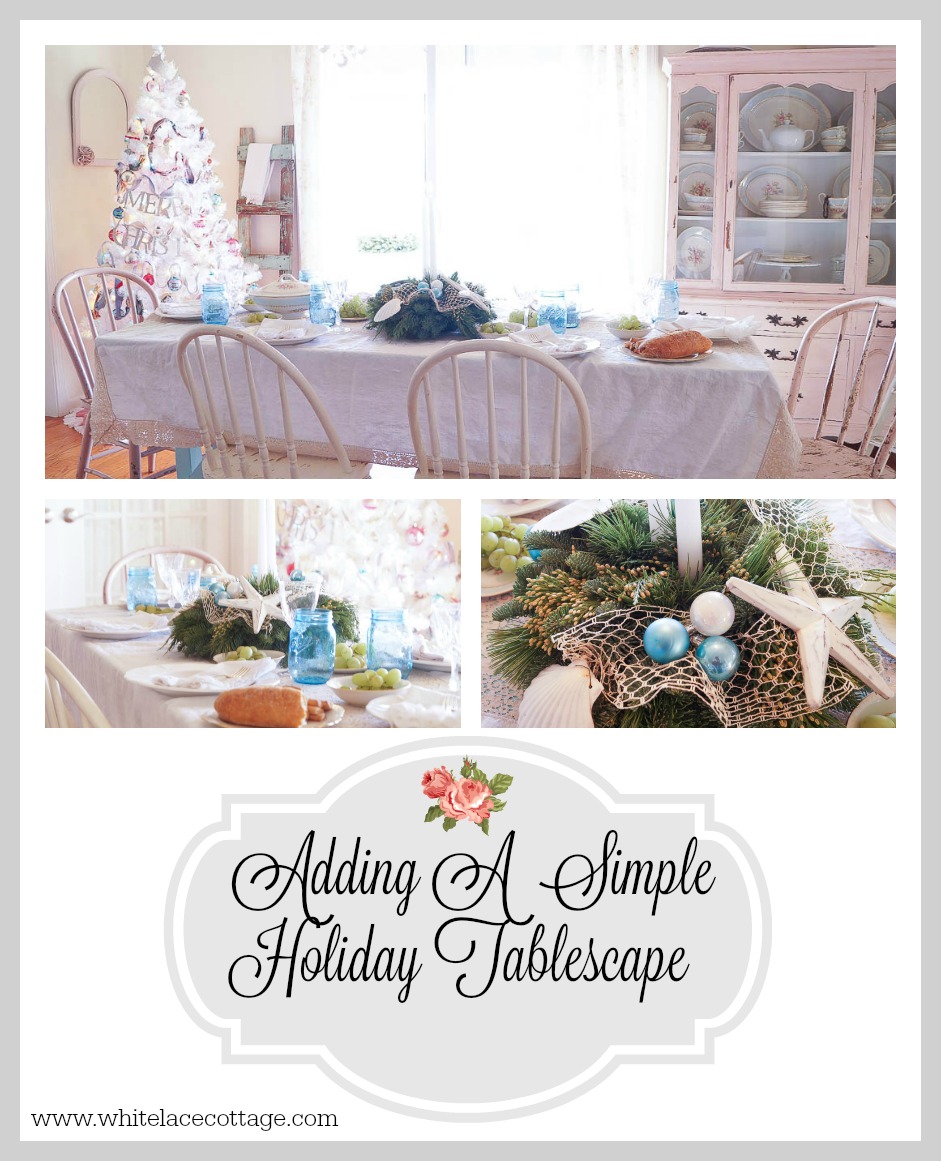 This may be the last time I share a tablescape on this kitchen, because I may be getting a fabulous vintage shabby table, fingers crossed!
When you're thinking about decorating a tablescape think about simplicity.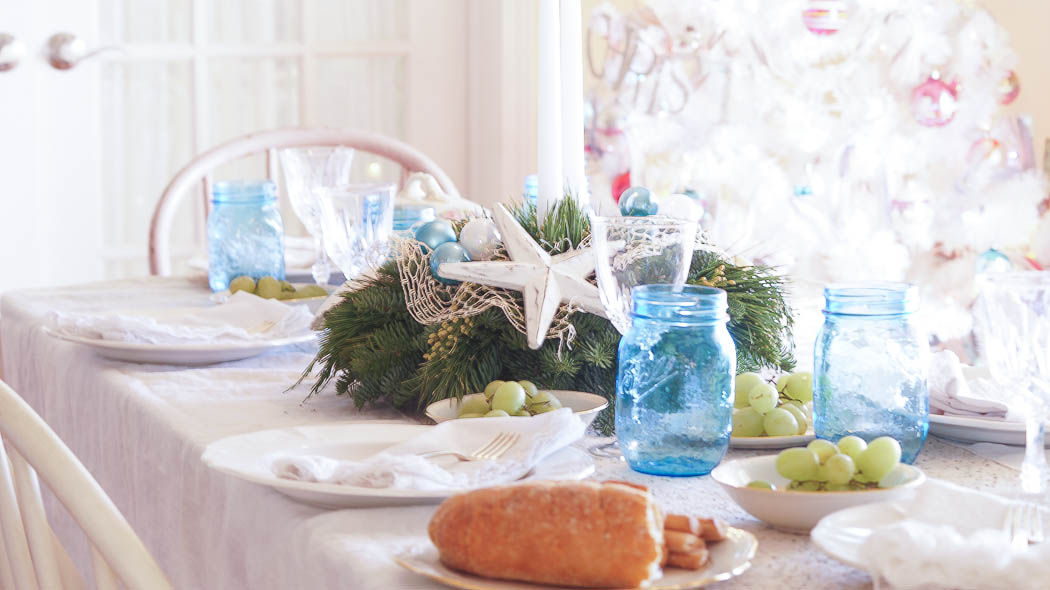 I don't like going overboard with too many pieces on my table.
Because the reality is that when you are actually sitting at the table with the food all placed, you need room to move around.
You also don't want a tall centerpiece blocking your view from your guests.
This centerpiece from Lynch Creek Farms is the perfect height and size.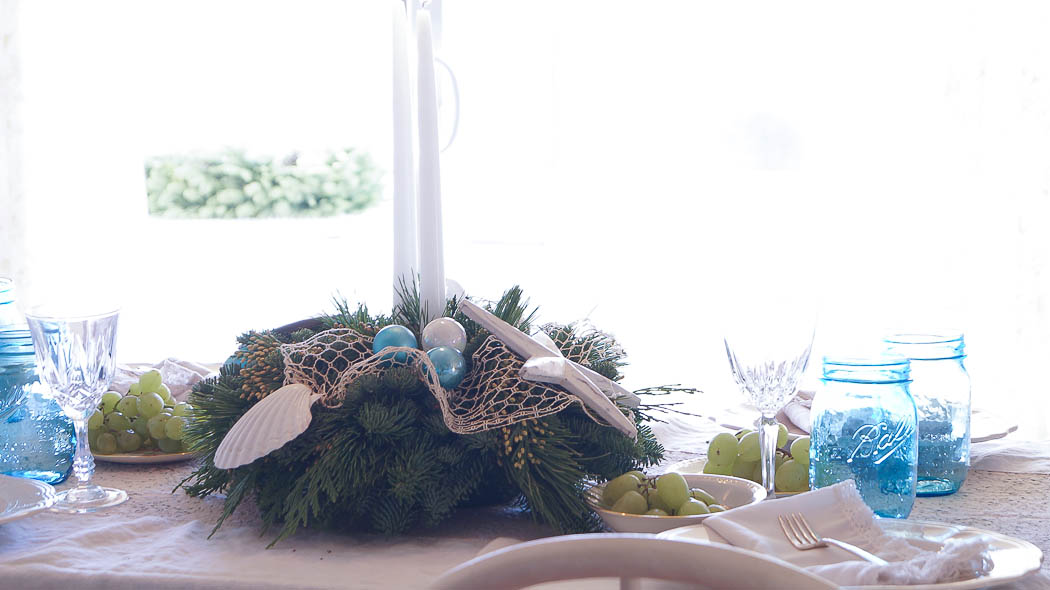 I placed candles inside of mine, but you don't have to do that if you don't want to.
 I do think it adds a touch of elegance.
Since my kitchen has hints of turquoise, this centerpiece really works well.
I just added my plain white dishes, instead of  my pretty blue dishes.
I was just thinking simple for this table.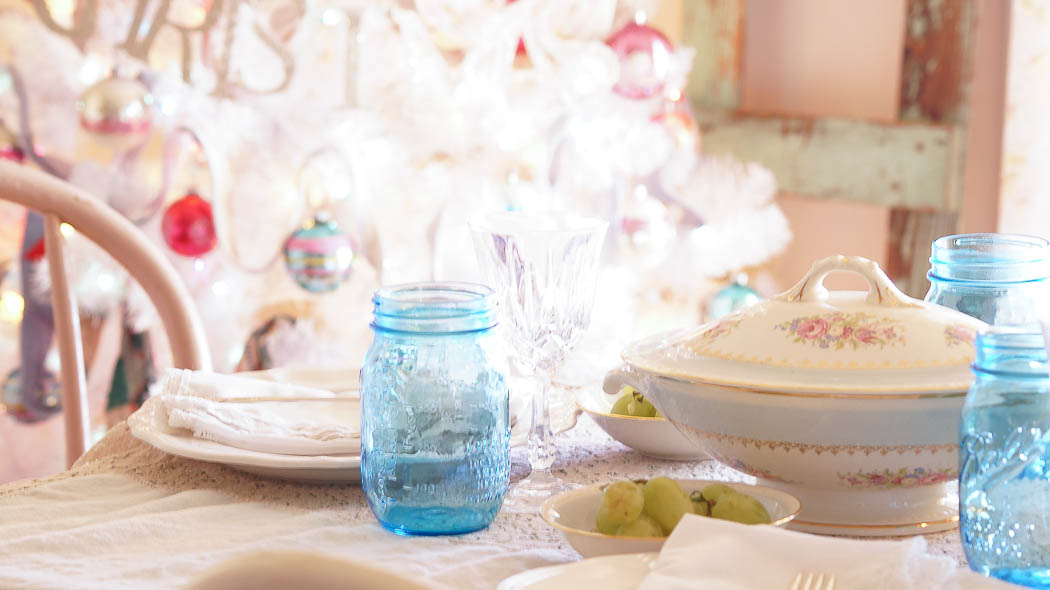 I do have pops of color with my blue ball jars, serving plates and my small fruit bowls.
A lace tablecloth is pretty for any occasion, in my opinion.
It's timeless, and ads a nice neutral backdrop for a tablescape.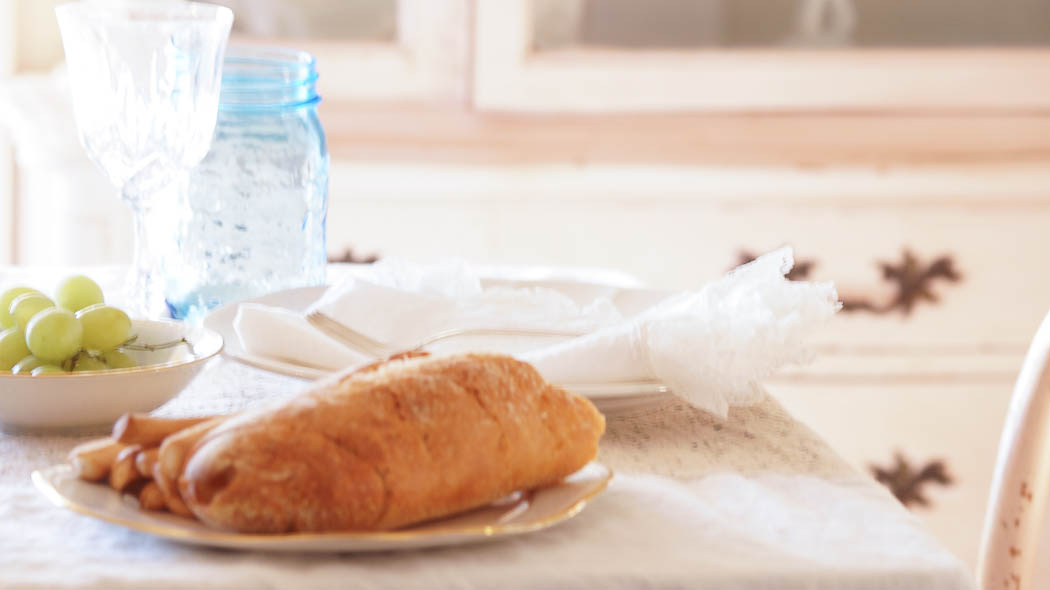 And a simple lace napkin with your utensils is all that you need.
Bread can also be placed on a small plate for serving instead of a basket.
Okay, let's stop here, I bet you're wondering why I have bread.
Ha, yeah this was left over from our dinner on Saturday night.
We were in Chicago celebrating my daughters 16th birthday.
I enjoyed every bit of my dinner, but alas, I had no dessert!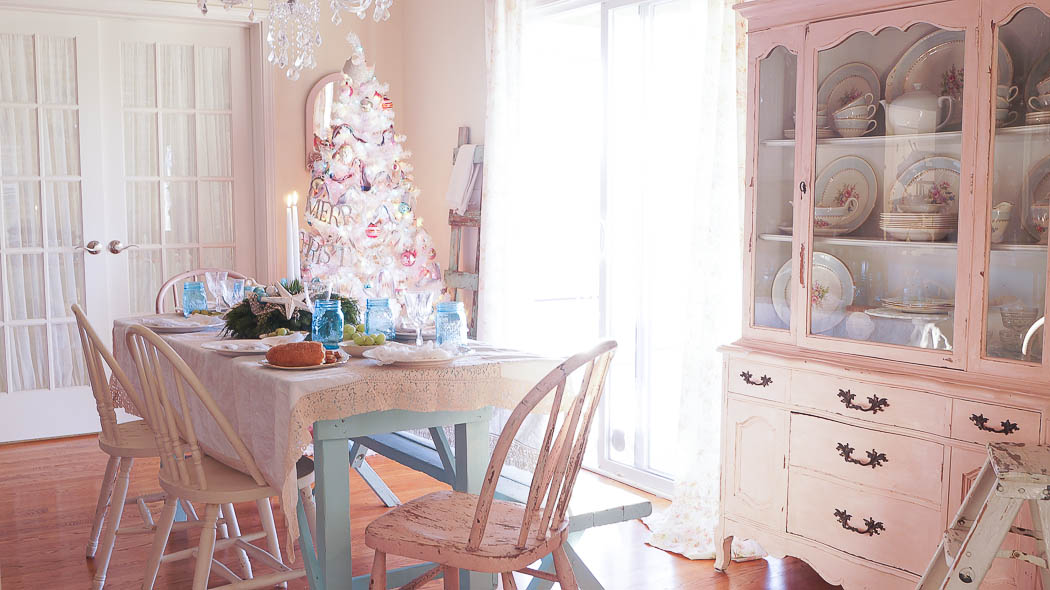 Doesn't this look fancy in our kitchen!
This was set up for my post only, I don't set up the table like this every night.
But I hope it shows how pretty a table can look using very little.
Really, if you look closely, I'm not using anything too fancy.
But yet, it looks very pretty!
So, you have a centerpiece for a table, but you're not a centerpiece kind of person.
Or you're not going to host a dinner, why do you need a centerpiece?
What about adding a centerpiece to a coffee table?
It's a beautiful way to add holiday charm to a room without over doing it.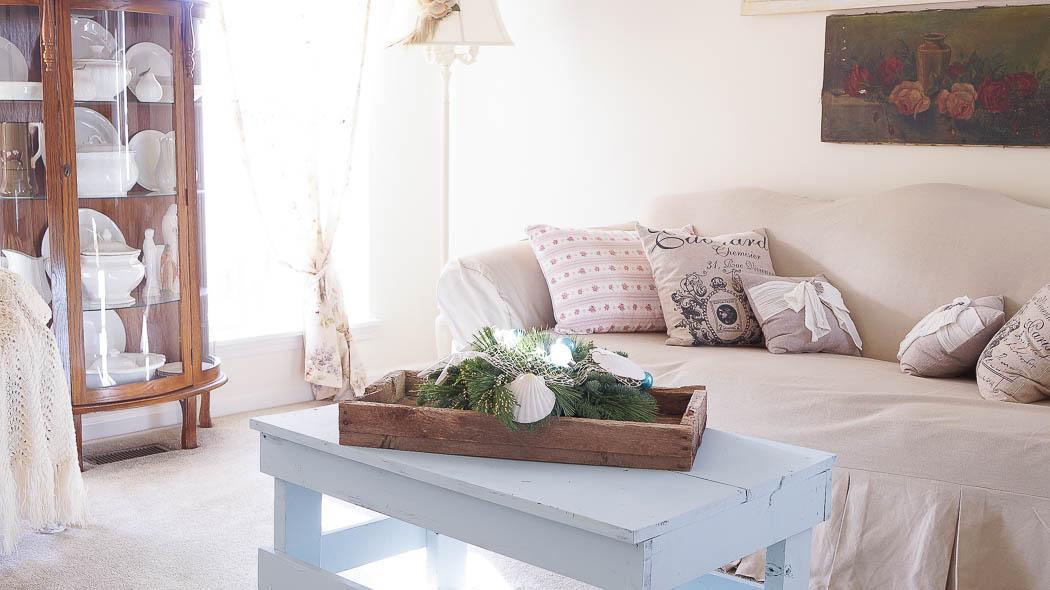 Doesn't this look beautiful!
I decided to place it in my wood tray, but you don't have too.
I just prefer the layered look.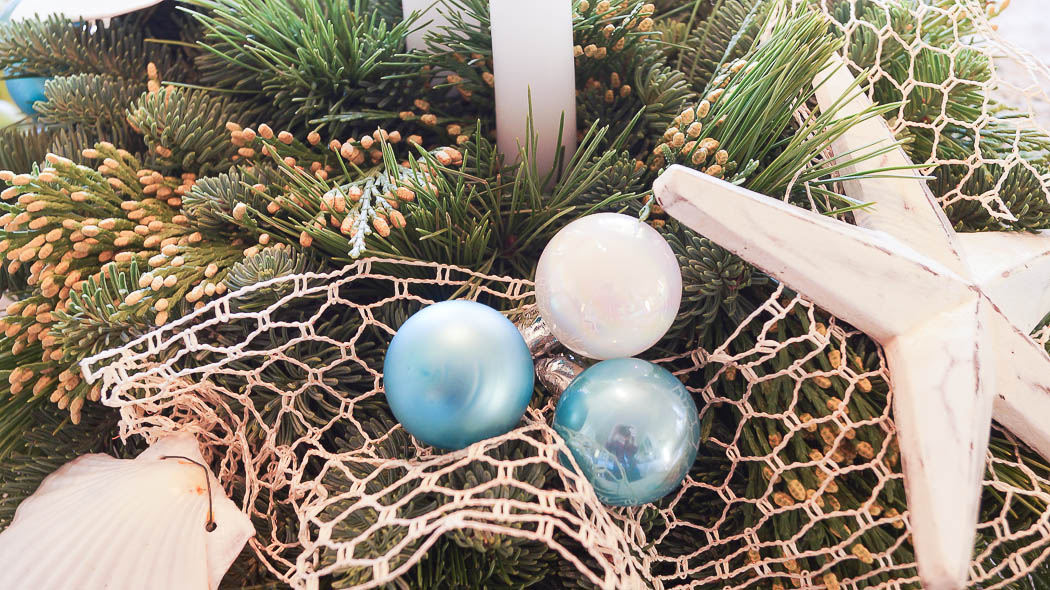 I have these beautiful colors in my living room, so this works perfectly.
And I love that this is not a traditional centerpiece.
I have nothing against red and green, but it doesn't work in my house.
When you are looking for a centerpiece, purchase one that works with your decor.
And guess what?
Two readers will get a chance to win a gift certificate so you can choose your own wreath, centerpiece or garland!
Details coming soon!
**This was a sponsored post, all opinions expressed are that of my own. See disclosure policy.**
Resource:
***********************************
**Don't Forget To Enter For A Chance To Shop Bel Monili! Value $35.00!
Click HERE to enter!