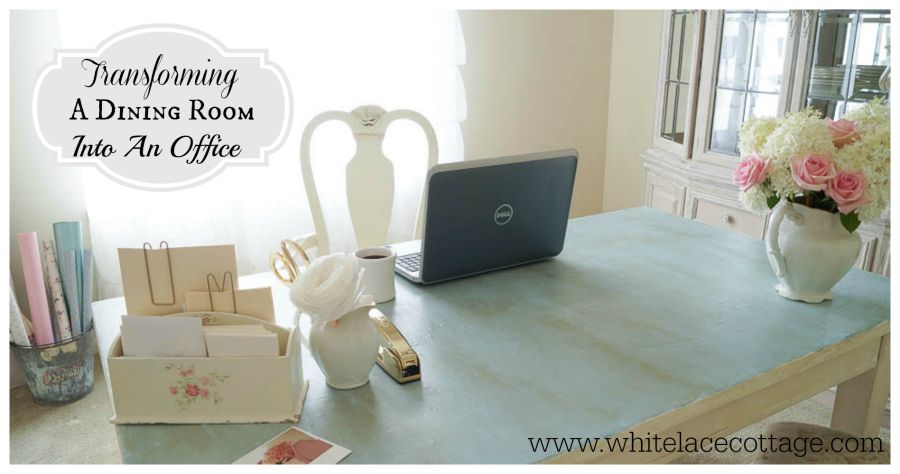 Dining Room Transformed Into A Office
Once upon a time I had a dream about a formal dining room. My dream involved fancy dinner parties with exquisite dinnerware. Amazing conversation with my family and friends. While dining under the glimmer of a crystal chandelier, we would laugh, tell stories for hours after the meal was over. I had visions of soft candlelight, music….yeah… you get the picture right?
Well, I do have many fond memories of dinners in my dining room, although, as the years have passed we have used our dining room less and less. So each day I passed my by my pretty formal dining room, I gave it a glance and walked away. Each week dusting and cleaning my pretty table set, but never using it. And with the thought of moving in the coming years, one room that I don't want or need is a dining room.
I started to think how I could "repurpose" my dining room and turn it  into a room that we would actually use. I recently shared this photo of what my dining room looks like on many days.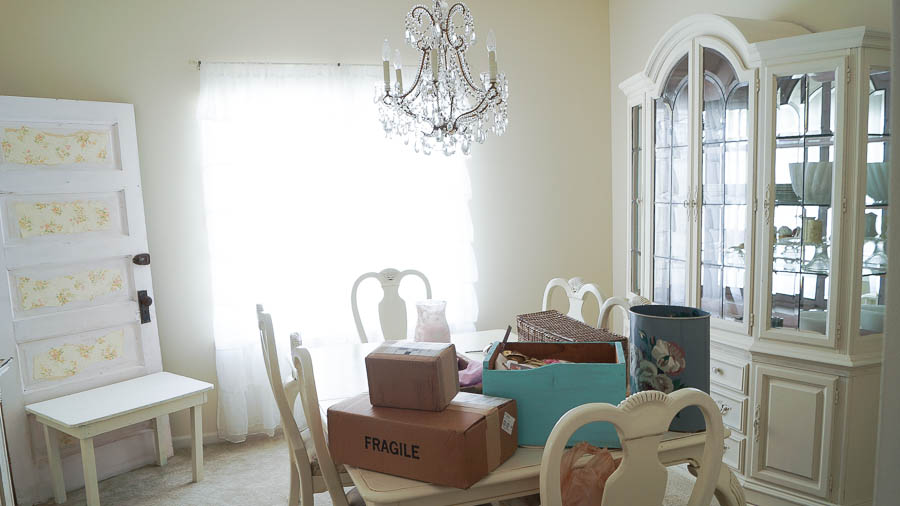 As I was starting to make my design plans for this room, I needed to decide what desk to put in this room. I have several, but I chose the desk I was using as a craft table in my studio.
But first it needed a little update using Venetian texture, you can read about that HERE and HERE. Okay, now I had everything in I needed for my room. This is what I call a mini makeover, because little was used to transform it, and not much was taken out of the room. But I wanted to share how easy it is to change the look, feel and usability of a room just by changing a few things.
Room transformations don't always involved changing every piece in a room. Sometimes a new coat of paint, or changing a wall color can totally transform a room. Adding different window treatments, or accessories can change the look of a room. Oh and before I share the reveal, I wanted to add that this is also the room I shoot my photos for my shop treasures. This room has wonderful natural lighting, so it makes it the perfect room for shooting photos.
Let's look at my dining room before first. These photos were taken a year ago, but they are my favorite photos of this room.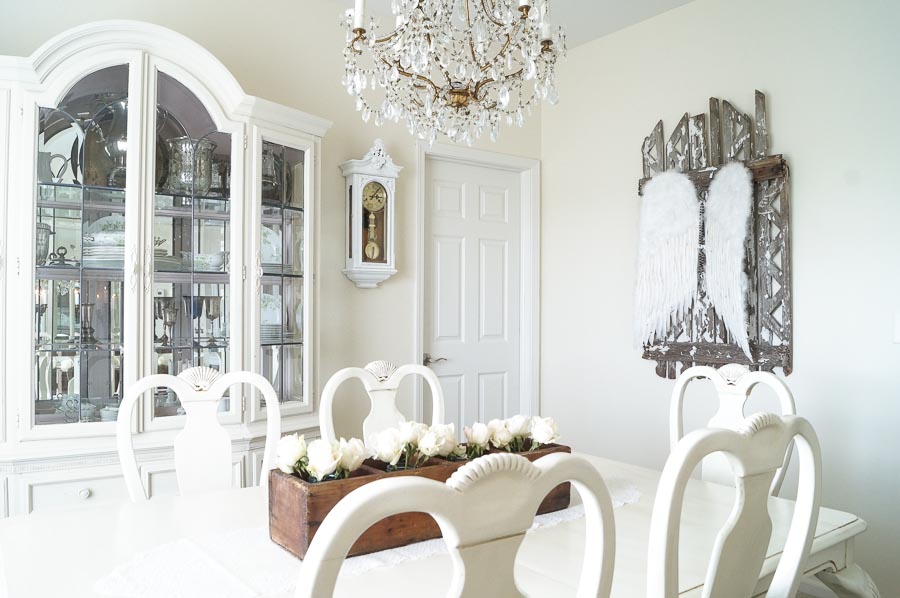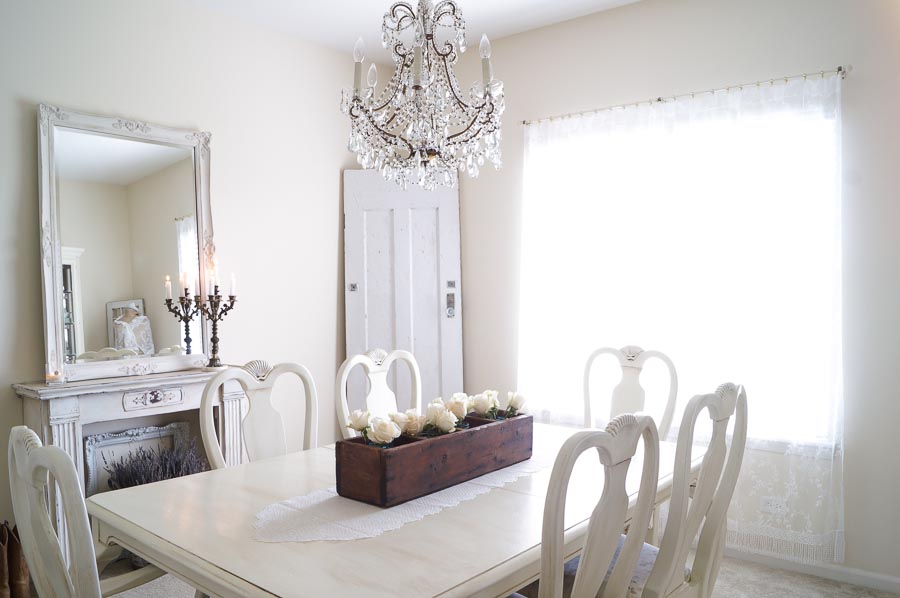 And here is my new office space, formerly my dining room.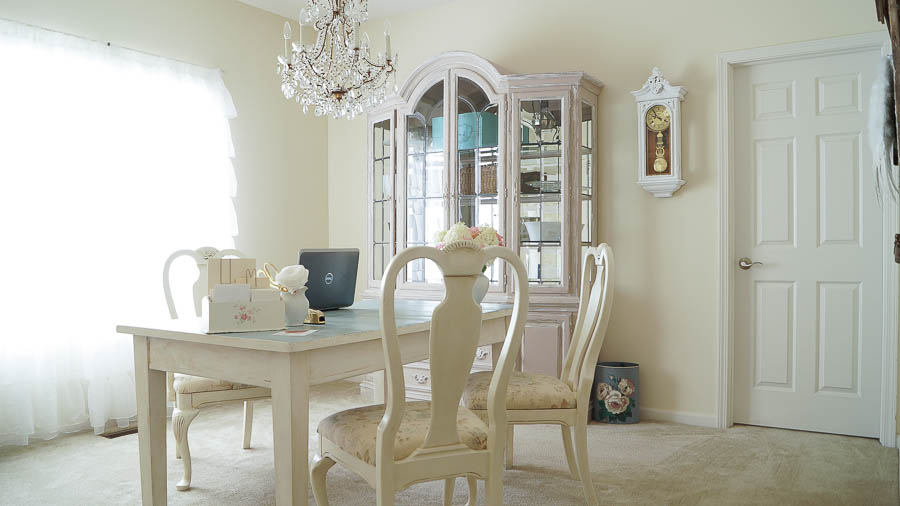 That door leads to my husbands office, which is also next to our kitchen. Doesn't this room have wonderful lighting, and my favorite piece in this room is my  beautiful chandelier.
I thought it would be fun to add those two chairs next to my desk, if a friend or a client stops by it works great for extra seating. I added that Shabby Chic wastebasket.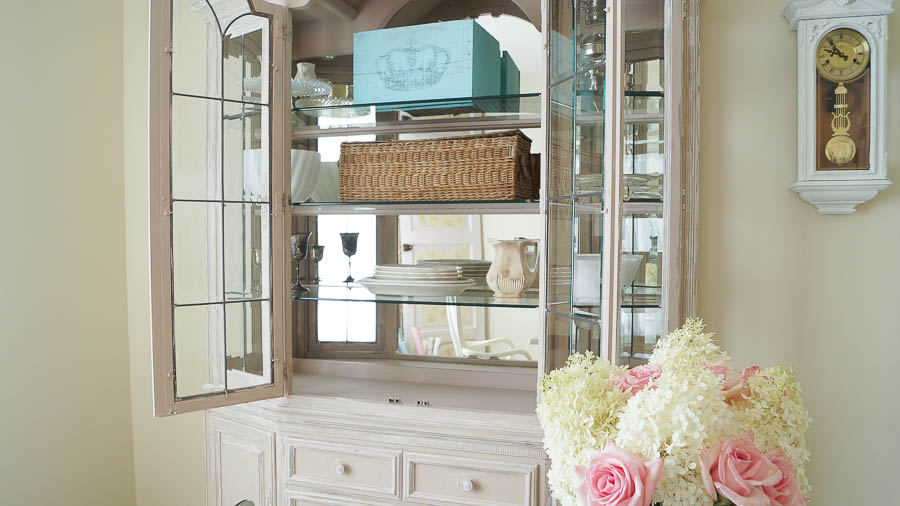 I have plenty of room inside for linens and other inventory for the shop. These yummy roses are from the market, but those hydrangeas are from my garden, and they smell amazing!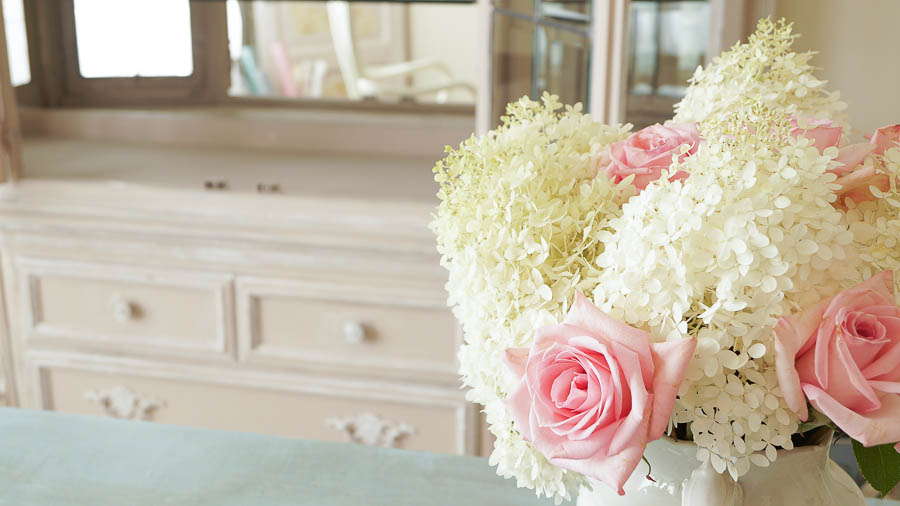 You can see that my new office space is just off of my kitchen, too the right of this photo is my living room. This desk is the perfect size for this space, as you can see the desk is quite large. Honestly, I think this table would make a great table for a kitchen too!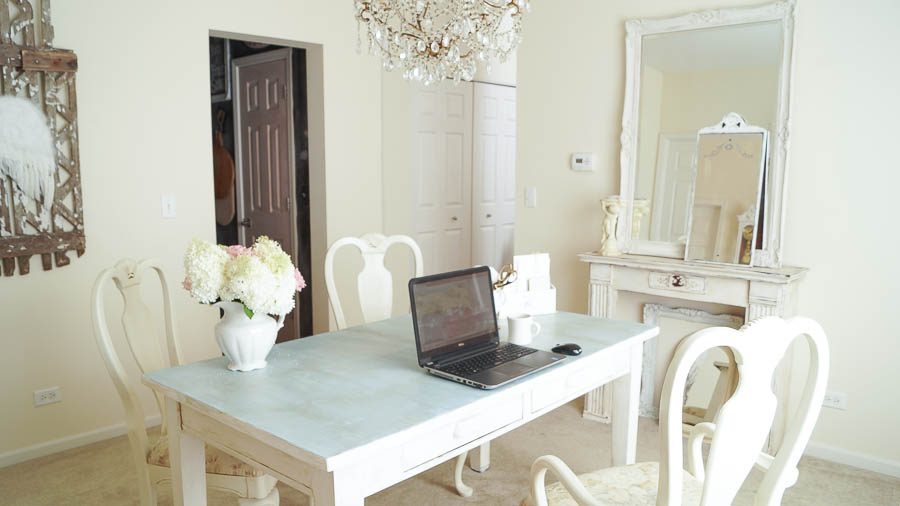 I decided to leave the mantle and mirror in my office, I think it adds a special touch. Oh, something else I love about this desk, the drawers are huge! Those drawers are as deep as this desk. It has plenty of storage for office and shipping supplies. My laptop is only on this desk when I am sitting here using it. But normally its sitting on my kitchen desk, charging up.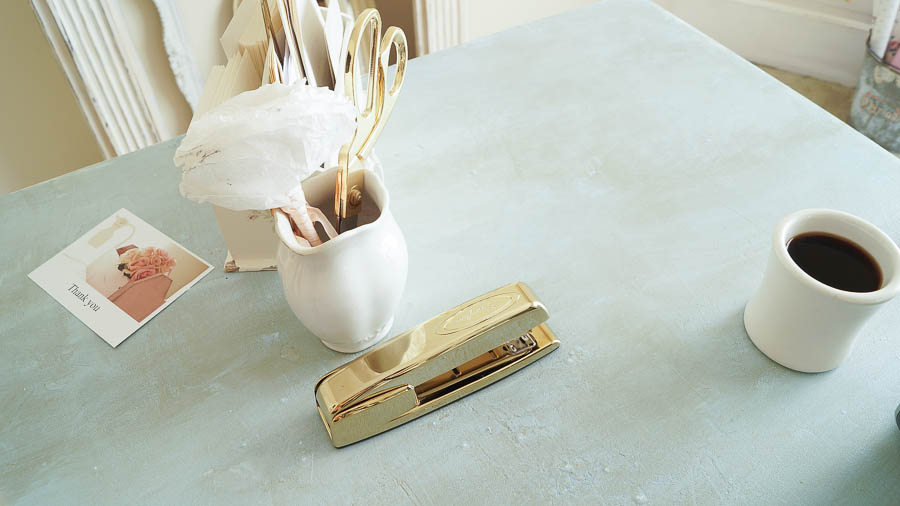 I love this gold stapler, after purchasing those gold scissors, I had to have the stapler and the gold paper clips too. I purchased these at Target. You can see a close up shot of my table, I LOVE this Venetian texture. You will be seeing more projects with Venetian texture medium. I am having to much fun creating with it! And I will be adding it to the shop for purchase.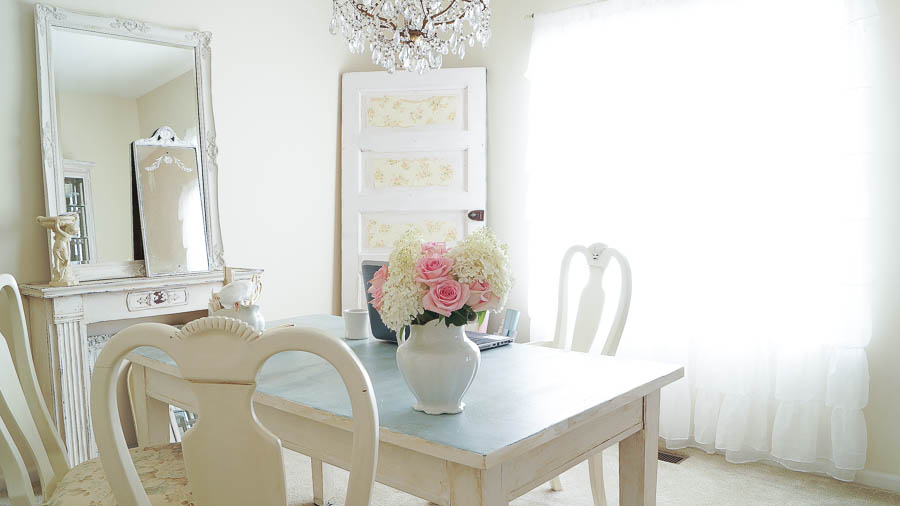 I decided to keep my vintage wallpaper door in this room. It makes a great backdrop when I am shooting photos for the shop. I know it's pink and I have mostly blues in this room, but I don't follow rules. And I  feel that little pop of pink works in here. On my mantle I added an old statue perfect for my business cards.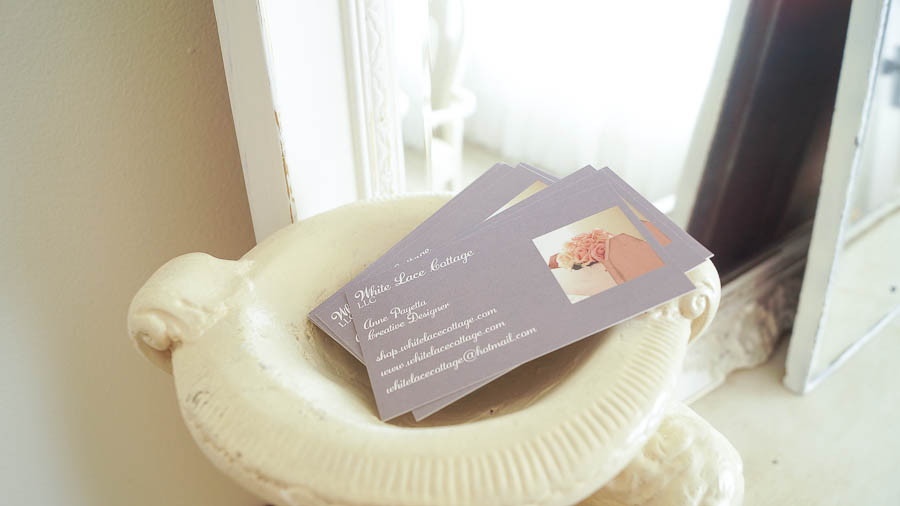 I often wrap packages with tissue paper or vintage wallpaper, so I added a bundle inside an old bucket.
Which, by the way would make a perfect trash can too!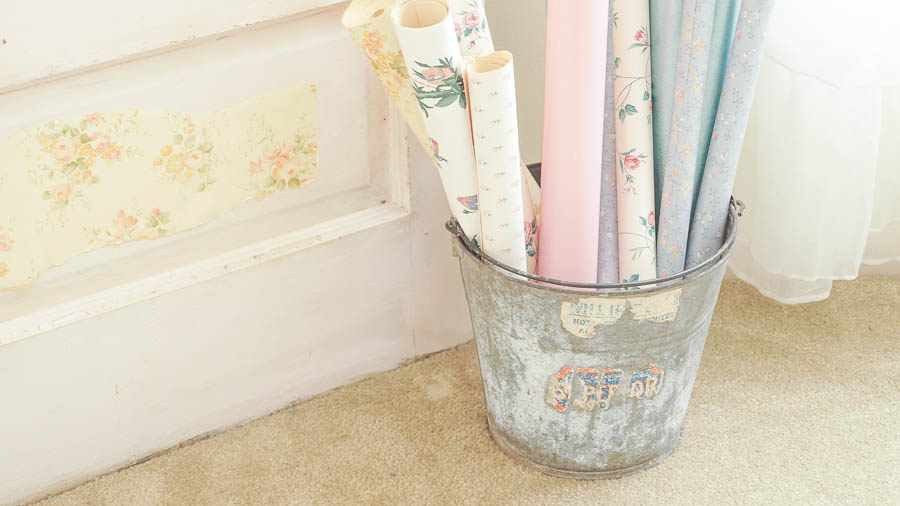 This sweet bucket may eventually make it into the shop for purchase. I absolutely adore the worn label and patina on it. It's been repurposed in many ways. One of my favorite ways to use this bucket has been adding dried hydrangeas.
So there you have it, a dining room is now my office. I bet many of you have rooms that you no longer use.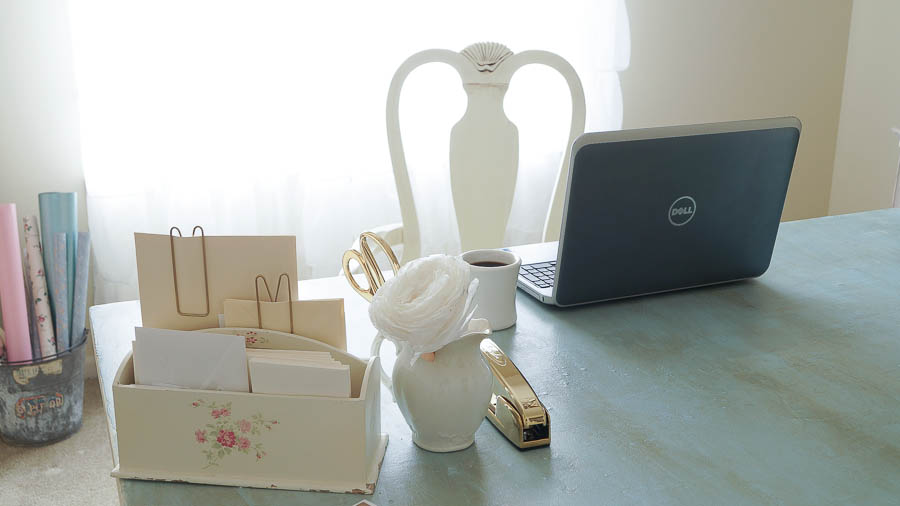 Why not think outside of the box and re-create a special room. Maybe a studio or craft room. Or a sewing room, or a quiet reading room. I am giving you this challenge. So tell me, what room would you like to change and why?