Painted Furniture
I love painted furniture pieces, and I also love coming up with new, creative and fun ways to add texture and patina to a piece. My friend Paula came up with this idea and when I saw her painted furniture piece I nearly fell off my chair. Seriously!
***This post contains affiliate links, and this was a sponsored post, please read disclosure policy***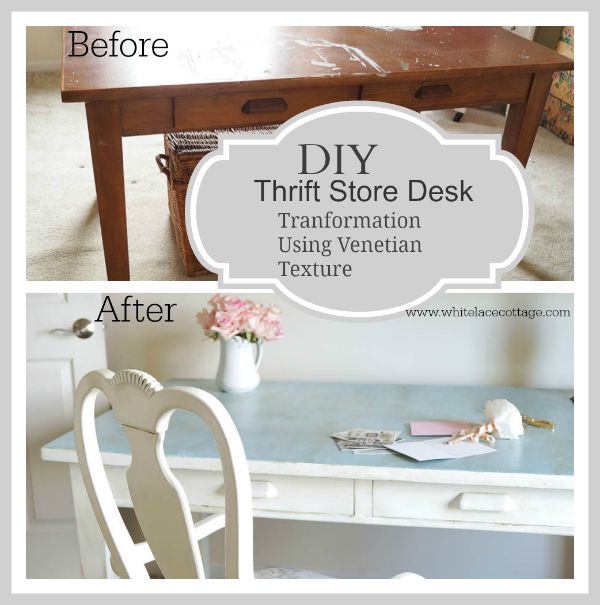 This is not a cool or pretty desk, it was found at a resale shop. We have many of those around here. When I spotted it my first thought was, this would make a cool table to create a faux farmhouse table. But I actually found a table that worked better for a faux farm table. You can read about that HERE.
So, then I thought why not use this as a desk since it is a desk, duh! This was pretty cheap at $25.00. So this technique didn't come to me right away, this desk sat for awhile, a alone. Well not really all alone. It sat with piles of crap on it. Well not real crap, excuse my potty mouth, it's menopause, trust me!  It had piles of….stuff on it. Then I saw my friend Paula's video tutorial on how to create a fun texture on a table top. I knew at that moment what I was going to do to this table.
I think it's time I start explaining this technique.
Adding Texture
Supplies Needed:
Venetian texture medium (Heirloom Traditions Paint)
Chalk paint
Plastic plaster spatula
Dark or clear wax
Aqua clear
White cotton rags (or old white cotton t-shirts)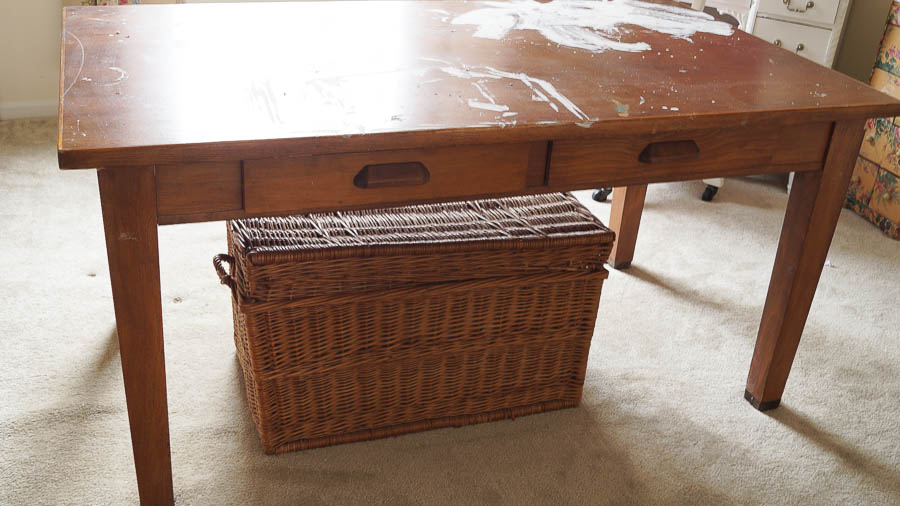 Hold the breaks, before I go any further with this painted furniture technique let me explain what I did to this table to prep it. I needed to base coat this piece. But as I started painting it, I started to get a bleed through. If you're wondering what a bleed through is here's a photo.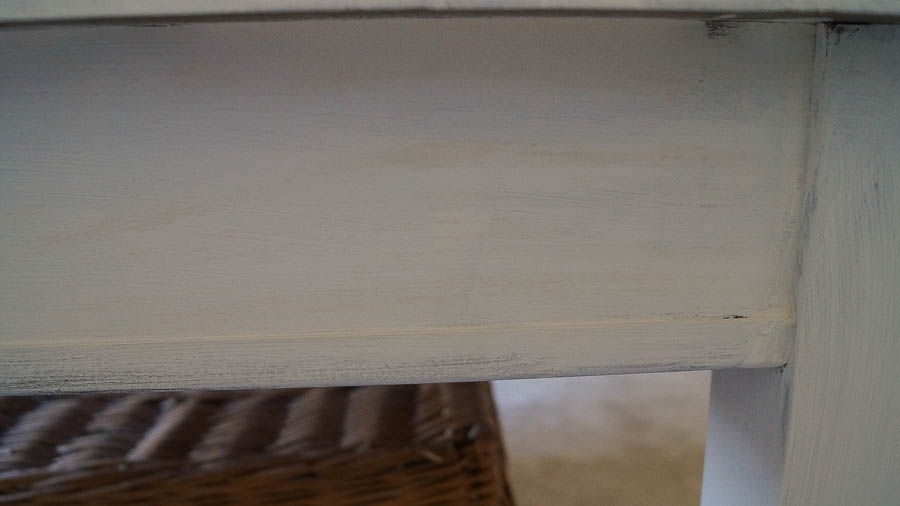 See how it looks like a faint water stain? That's bleed through or the "technical" word is tannin. That's when a paint can have a reaction on painted furniture or a piece that has varnish . It's a funky thing that can happen when paint and varnish can't mesh, and the result is a splotch. Sounds like I just described a bad relationship. But sadly it's true these two just can't get along. No worries, no need to panic. When this happens stop painting, put your brush down, sit in the corner and cry. No, I'm just kidding. But you should stop painting, because if you keep painting you won't stop the bleed through. It will keep on keeping on. Seriously you can paint that piece until the cows come home and it won't matter, that stain will keep on showing up.
Here's what do you. Get Heirloom Traditions Primer. Apply this on your entire piece, yes, even the part that was already painted. Let it dry, you may need to do another coat. Then once it's dry you can apply your paint. This stuff works miracles because those stains will disappear, like they never happened. Hmmm, now if I could only use this in other areas in my life, oh..was I speaking out loud, sorry, pay no attention to what I just said.
I have another solution, you can use shellac as it will do the same thing, but it's really, really stinky stuff. Like, you'll need to take your piece outdoors to be in a well ventilated area. And don't even read the container, you don't want to even know.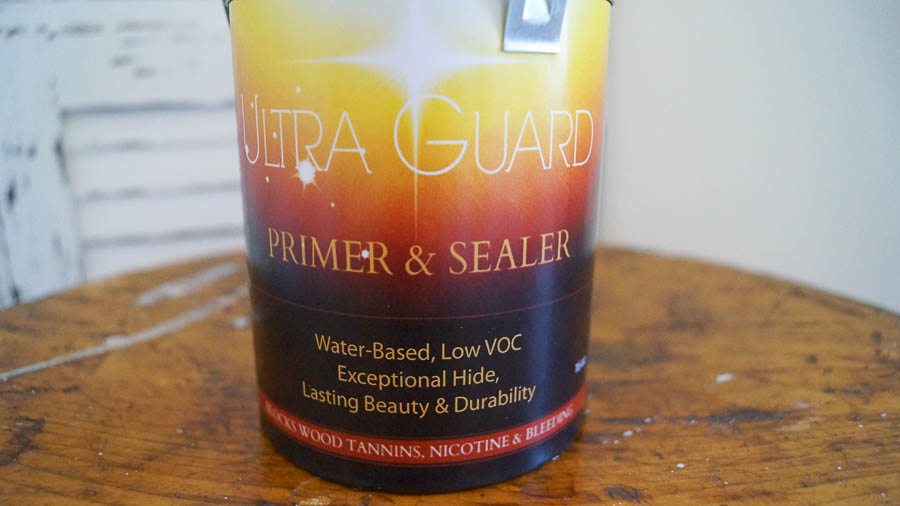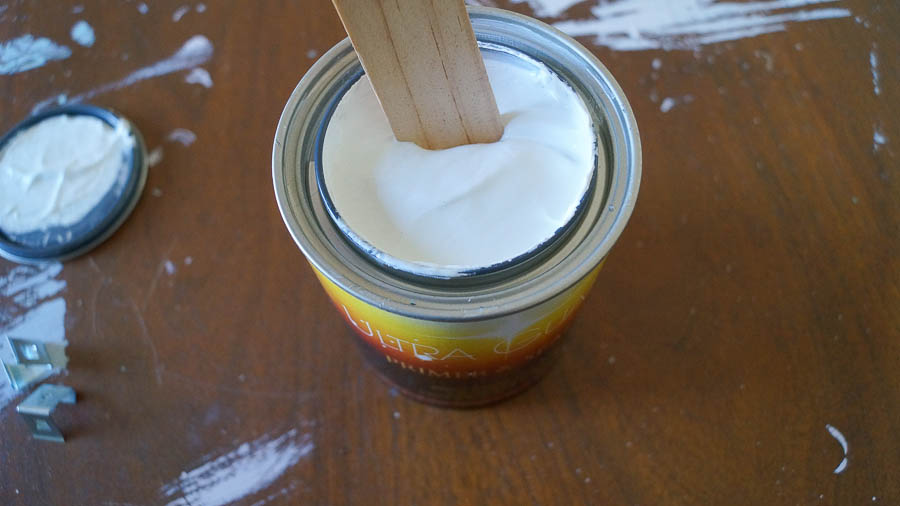 I sort of got off track. But it was necessary to explain, in case that happens.
Once the primer has been applied (if needed) and your piece is fully dry (after adding a coat or two of paint) , we're ready to go on the the fun part, applying the texture medium.
 Because it would have been a challenge taking photos while working on the project. Can you picture me trying to apply this and take photos? Uh-uh ain't gonna happen. So instead I  decided to create a short video sharing step by step how I created this look on this piece of painted furniture. But I will share a few deets with you . I wanted to give this  piece a fun texture, so I used Venetian texture medium. This is the same fun stuff that I used   in my kitchen faux brick stencil. You can read about that HERE.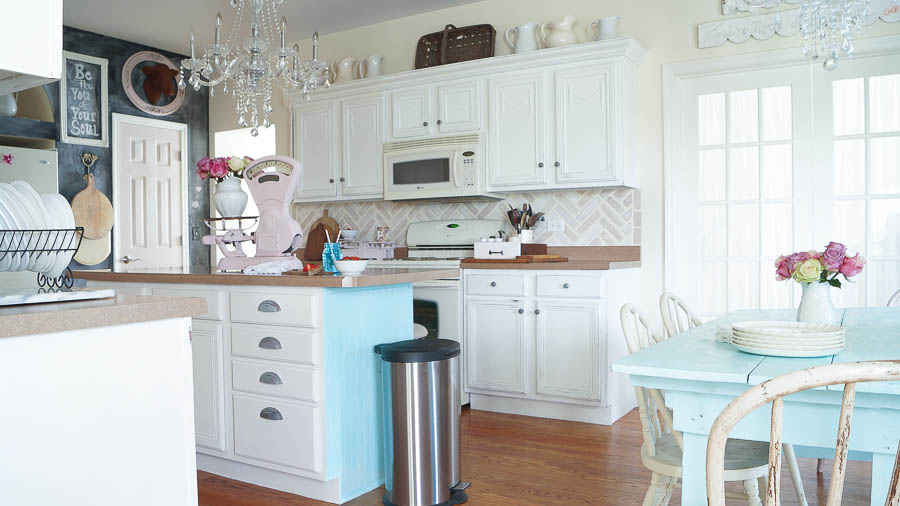 To use this Venetian Texture medium, you will add the powder to any color paint you'd like to use. But this only works with chalk paint, and I would say specifically Heirloom Traditions paint, since I haven't used it with any other paint or brand. Follow the directions on the package. But I'm going to be honest, I never read directions. Yeah I'm one of those people, and it's why they put warning labels on stuff. But really, don't worry you won't mess up.
I decided to use Chippy Blue and White Lace, from my signature paint color line. This mixture should be the consistency of pudding. If it's too thick, add a little water. Next, it's time to apply the Venetian texture medium to our desk. Using a wide spackle tool, spread the Venetian texture medium mixture on to the desk. You want to make sure your spatula is flat as you are applying it. Work fast because this stuff dries fast. It will slowly get thicker and thicker.
Keep working on your piece and spread it out evenly. Make sure you don't have drips off the side, if you do make sure to wipe it off before it dries. Let this sit for at least 45 minutes or until it's dry. As this was drying I started to paint my legs and sides of the desk using White Lace. Once this was dry, I mixed Dark Liquid Patina and Aqua Clear Matte. The reason I decided to try mixing these, is that I wanted a glazed look, I didn't want it too dark. This is not how the product is supposed to be used, but I am a mad scientist when it comes to painting. And I am never afraid to experiment.
(If you are not sure of the outcome, I would suggest practicing on a garage sale find before using this technique on your piece. See disclosure policy)
Once I applied the glaze on my piece, (I started with a leg), I took a cut up t-shirt and wiped it off.  After this step was completed on the legs and the sides, I did the same thing on the top of the desk. make sure to stir well, and apply with a brush. And here super cool resale shop painted furniture piece, what do you think?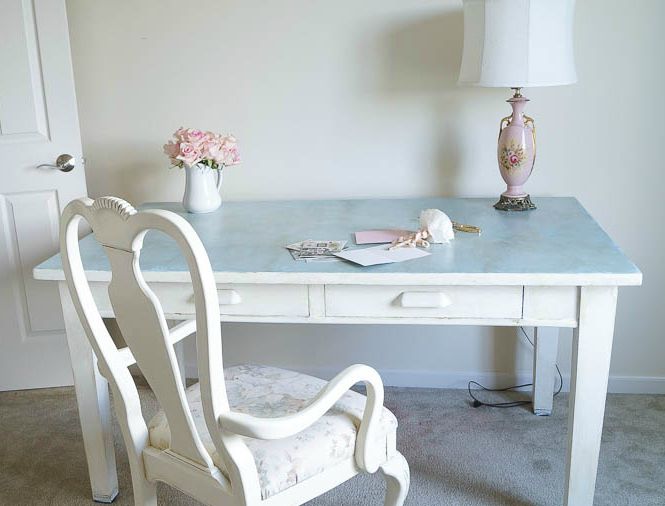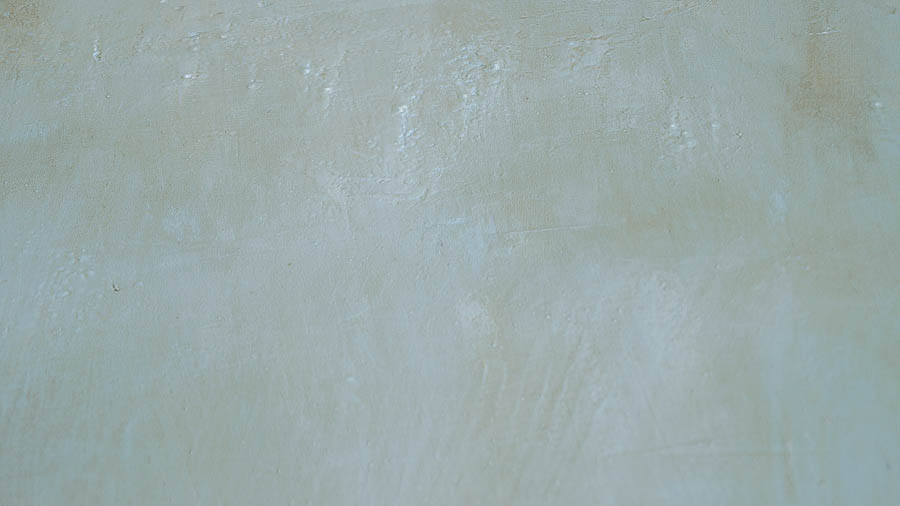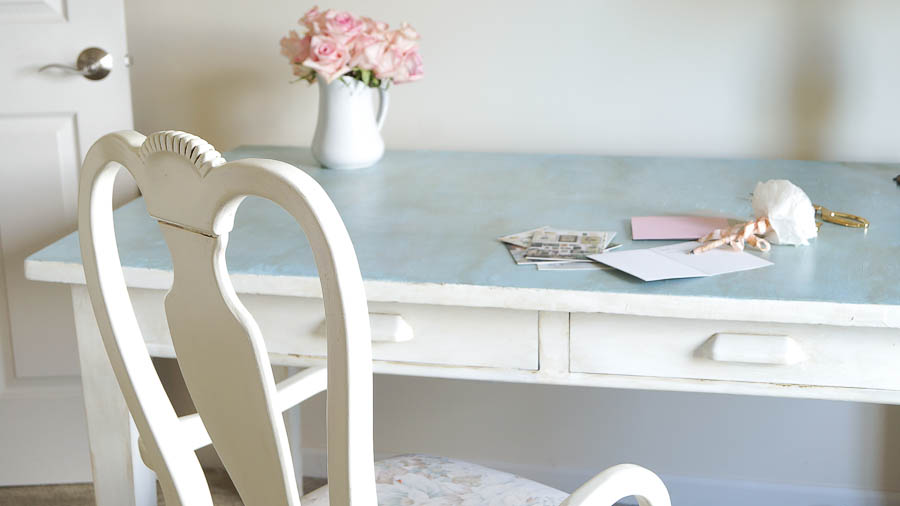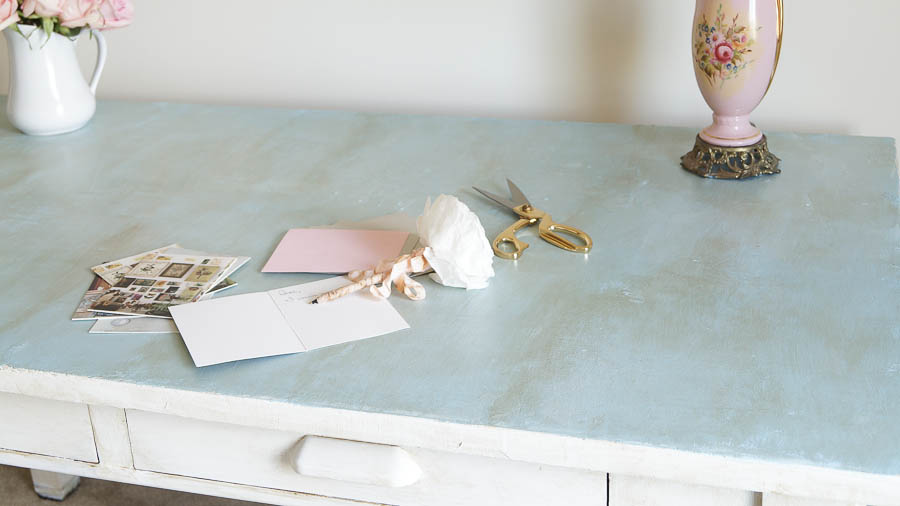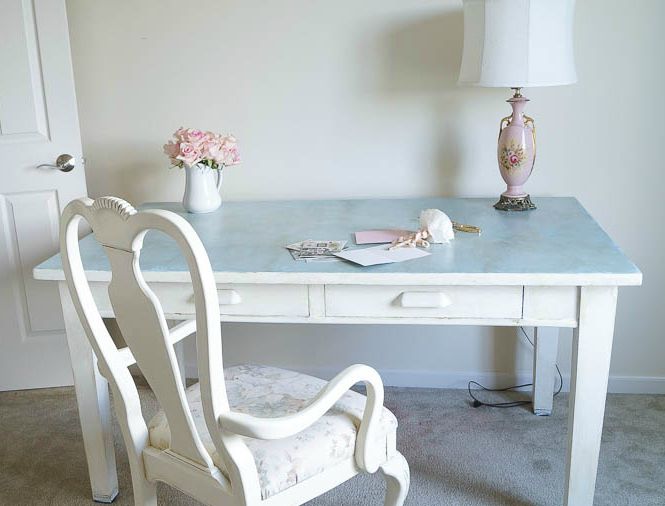 I love that the fabric on the chair goes so well with the desk, as the chair paint color does too. This chair is part of my dining room set, but I think the chair works well with this desk.
Watch the video below to see full tutorial. And make sure you subscribe to my channel.
Are you ready to give this technique a try? If you do let me know 🙂
Shopping guide of products used in this post:
Don't forget to join me at bHome.
It's free and it's fun 🙂
You can sign up for Free HERE.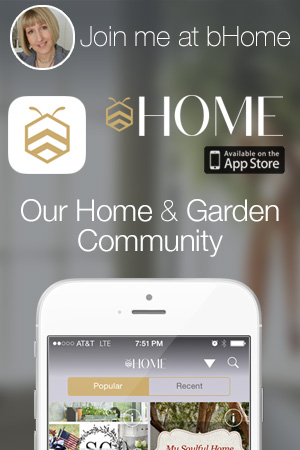 Save
Save
Save
Save
Save
Save