STOP MAKING YOURSELF LOOK OLD!
Hi I'm Anne and I'm 53 years old. The last thing I want to do is apply makeup and make myself look older than I am. That's not what makeup is supposed to do. And yet makeup can be very aging on aging skin. I see so many mature women and I think "Stop making yourself look old"! Why would you cake on foundation and powder on an already dry face accented with lines and wrinkles? Today I'm going to share some common mistakes mature women make with makeup that makes them look older than they are.(some links are affiliates. Please see disclosure policy)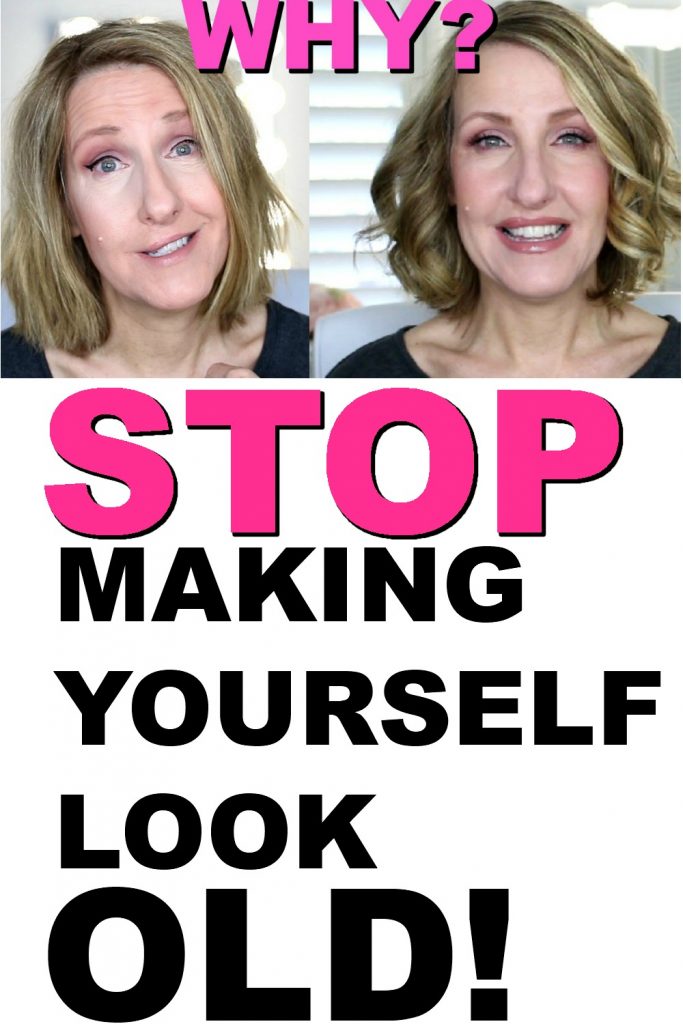 FOUNDATION
Foundation is one of the trickiest things to wear as a mature woman. The first thing you must do is get matched up as close as your own skin tone. Too dark and it will make you look like you have way too much on even if you don't. And too light isn't good either. Go to a makeup counter and get matched up. They should be swatching your neck and getting as close to your skin as possible. Some brands have more to choose from and if you're someone with medium or dark skin I would highly recommend finding a brand that has more to choose from.
You also want to be careful and use a light coverage foundation. A full coverage is just too heavy and dry looking on mature skin. Only use a small amount. Remember that a foundation should just be evening out your skin tone. And blend it well. I preferred tool is the Beauty Blender sponge. I love it because the foundation really grabs on to your skin and melts with it. If you have large pores you'll love the Beauty Blender because you'll be pushing the foundation into your skin giving it an airbrushed look. Trust me if you haven't tried a Beauty Blender it's a must have. Oh and always make sure to use it damp not soaking wet. Before I use mine I always clean it with my Beauty Blender pro soap. Then I squeeze the excess water out and take a towel and give it one more squeeze.
CONCEALER
This is the most challenging makeup to apply. The reason is that most of us mature ladies have lines, wrinkles, bags on top of dark circles. I have a few videos that I've shared a few tips on how to apply concealer that you can watch HERE.
First you want to prep the skin under the eyes. I use an eye cream before applying my concealer. I let that sit on for a bit and then I apply an undereye primer. This will help prevent your concealer from creasing so you don't have to powder. If you use powder to set your under eyes you have to be careful. One it will dry your under eyes even more. Powder is very drying for mature skin so if you do this you have to use it sparingly. And two it can look more aging because the wrong powder will make the skin look crepey. I only occasionally power under my eyes it's not something I do everyday.
You also only need to apply concealer at the inner corner and use very little. I can't stress that enough. Too much and it will settle in ever single line. Then using a brush or beauty blender, blend it out.
EYESHADOW
Another challenging area is our eyes lids. When you apply a shadow to mature eyes you have to be very, very careful not to over do it! Otherwise you'll come off looking clownish. If you have hooded eyes you'll want to apply your eye shadow a bit higher. I have several videos on this topic you can watch it HERE.
Now if your eyes are very hooded then unfortunately the only fix is to have surgery. With slight hooded eyes you can still wear eye shadow but remember to change with the times. What looked great on you when you were 20,30, or 40 will most likely age you when you're in your 50's. Less is more with all of your makeup especially eyeshadow. When you apply eyeshadow it should bring out your eyes. But it should never be over done.
I hope that this was helpful. Each week I share new videos on my channel. I encourage you to subscribe. It's free and you'll get free tips, tutorials and more! If you would like to see more on the topic I share today you can watch that HERE.