I really feel that you don't have to go overboard decorating for the holidays.
Let me show you how to decorate a mantel for Christmas, and keep it simple.
First let me show you what I did with mine, then at the end of this post, I'll give you some tips.
I'm slowly becoming a minimalist, although I still have a long way to go.
My mantel depth is quite small, so I really can't over do it anyway.
This year I decided not to change much on my mantel.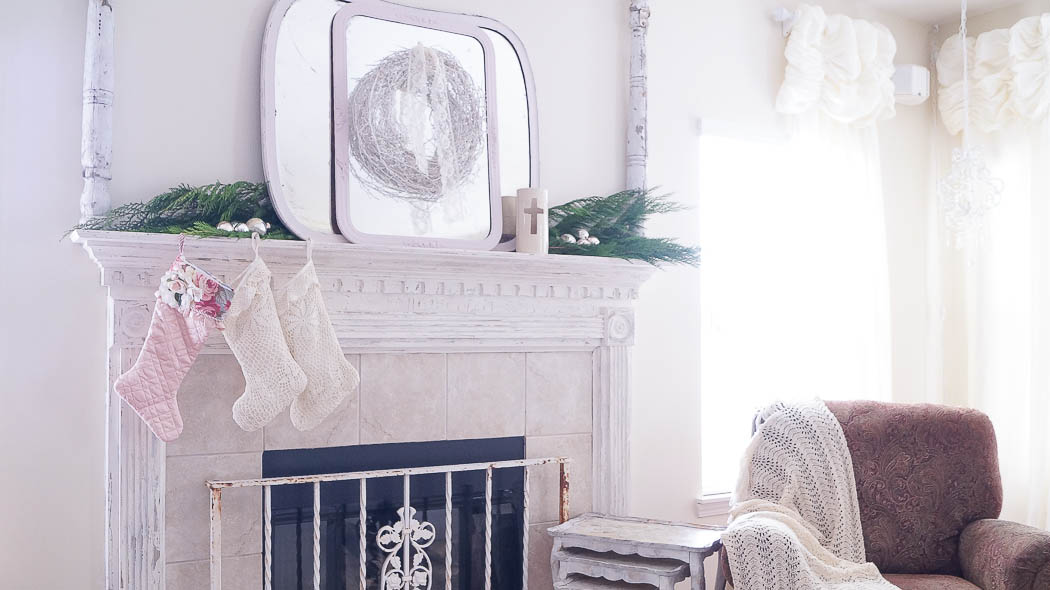 I still really love the look of my layered mirrors, so I just added a few things to decorate it for Christmas.
Since this is a working fireplace, I don't like too much hanging from it either.
That gate in front of my fireplace is very heavy, but I love how it adds a vintage touch when it's not on.
I don't always hang our stockings from the fireplace, but this year I did.
I often have people ask me, how can you tell who's stocking each one is.
Well the pink one is my daughters, the other two are for me and my husband.
Many years ago, a friend made that sweet pink one for me,  using scraps of vintage material.
The other two lace stockings were found at a thrift store, and those are really just for looks.
My husband and I don't exchange Christmas gifts, we haven't for many, many years.
Which is fine with me, if I see something during the year, I get it, and the same goes for my husband.
My Christmas gift this year is my new table.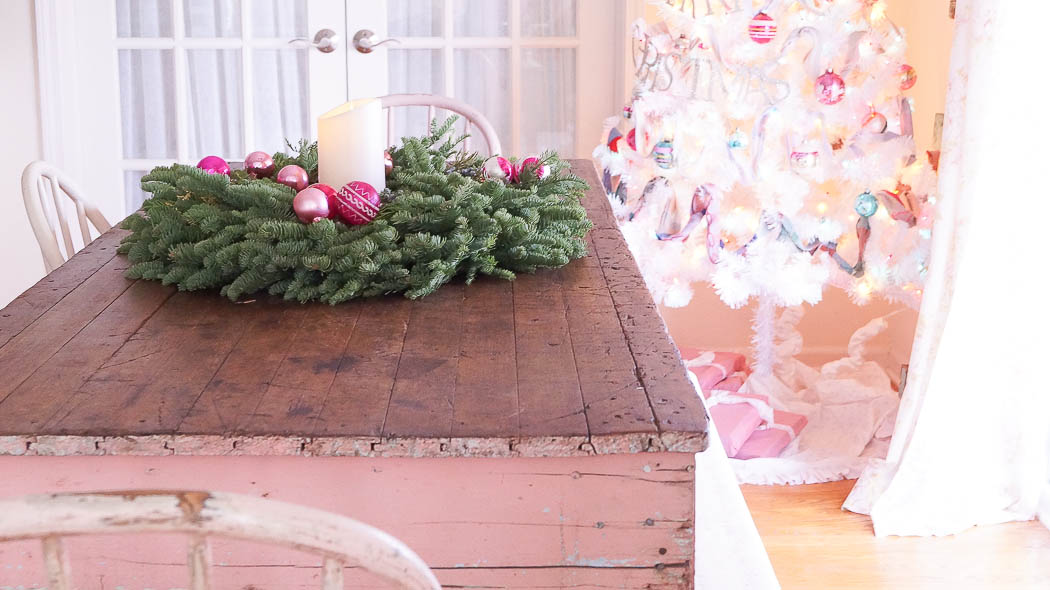 So back to the mantel.
I added a few sprigs of fresh greens to each side of my mirror.
These usually stay pretty nice even when they start to dry out.
For a little bling, I've added a few silver ornaments.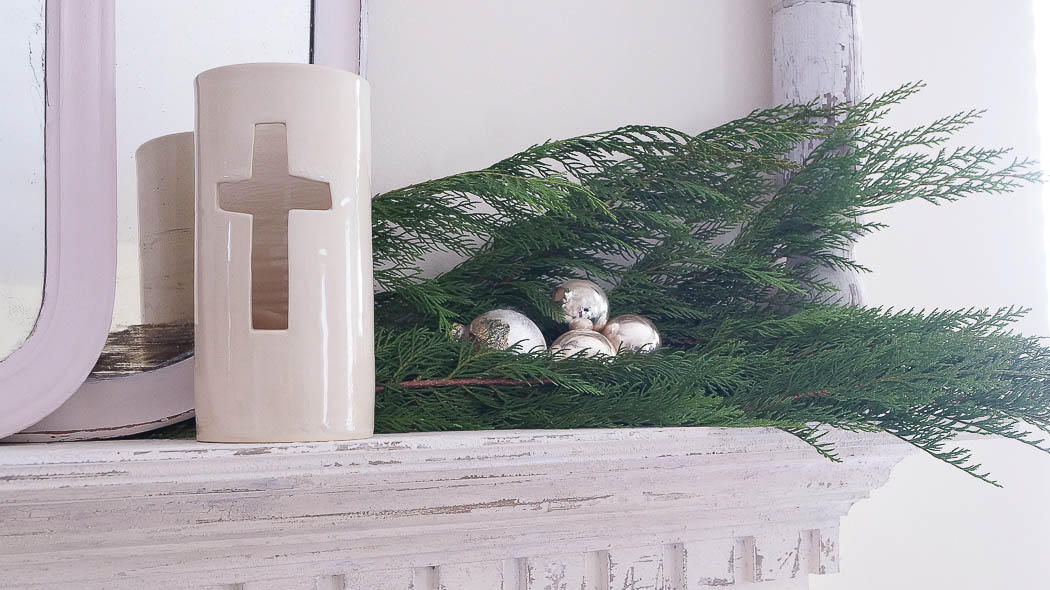 I love that candle votive, that was a gift to my self last Christmas from Rachel Ashwell's store Shabby Chic Couture.
On my mirror, using a suction cup hook, I hung a white painted twig wreath I found at a thrift store last year.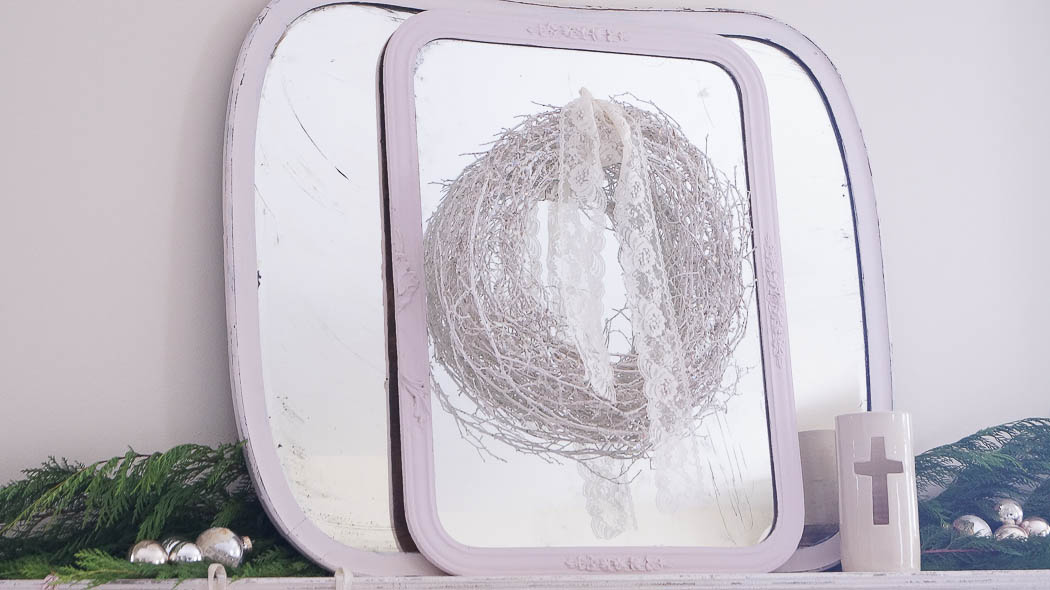 I added a piece of lace for a little romance.
I love simple vignettes like this.
My mantel is all ready for Christmas but it's not over done.
I have nothing against decor that is over the top, I think it's quite beautiful.
It's just not for me.
I find comfort surrounding myself with only the pieces that I truly love.
But not every single piece all at once 😉
Here are some tips for on how to decorate a mantel for Christmas, and keep it simple.
Start with the center. Think about what you would like to have on the center of your mantel. You can hang a wreath, use an architectural piece such as a small gate (but make sure it's secure). Once you decide what you would like to use as your focal point of your mantel, you can add the rest of your decor. This year I decided to keep my mirrors and add that wreath onto my mirror.
Add balance. On each side I placed fresh greens. Since we use our fireplace, I didn't want anything hanging too low. You can use fresh greens, or faux greens. You can even use branches or twigs tucked inside pitchers, on each side of your mantel. To make your branches more festive, spray paint them, white, gold or silver. And add a little bling with spray on glitter.
Add a touch of bling. You can add a few ornaments just for a touch of bling, or make a few ornaments of your own. Maybe a few glitter stars placed on your greens. If you are using branches, hang a few ornaments from the branches, or a few stars. Here's an easy tutorial on how to make your own glitter stars—>HERE
Hanging stockings. You can hang your stockings from your mantel. But remember if this is a working fireplace, don't hang them over the opening of the fireplace.
Adding garland can be the perfect touch. And I do think that looks very pretty. You can use faux or real garland. But again, if this is a working fireplace use caution with real or faux.
*Remember, these are tips for creating a simple mantel.*
How ever you decide to decorate your mantel, create something that makes you happy.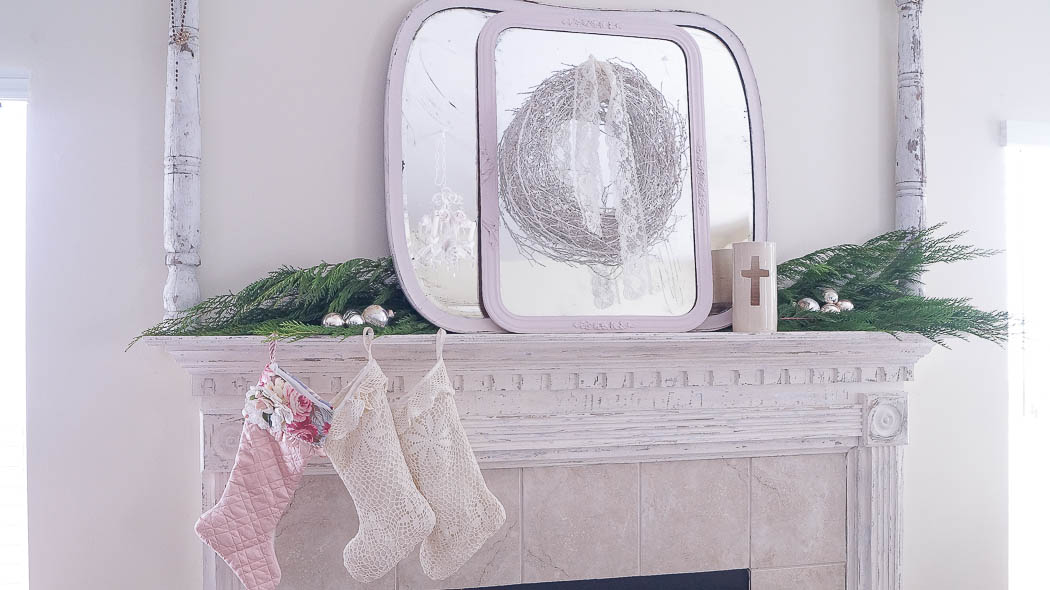 I have lots more to share as I am joining several tours this week.
Make sure you hop on over to all these other beautiful blogs.
I know that you will be inspired!