I'm often asked about outdoor decorating ideas for Christmas.
I don't like going overboard on decorating my home inside or outside.
I'm thrilled to be joining several of my blogging friends on our Welcome Home Tour today.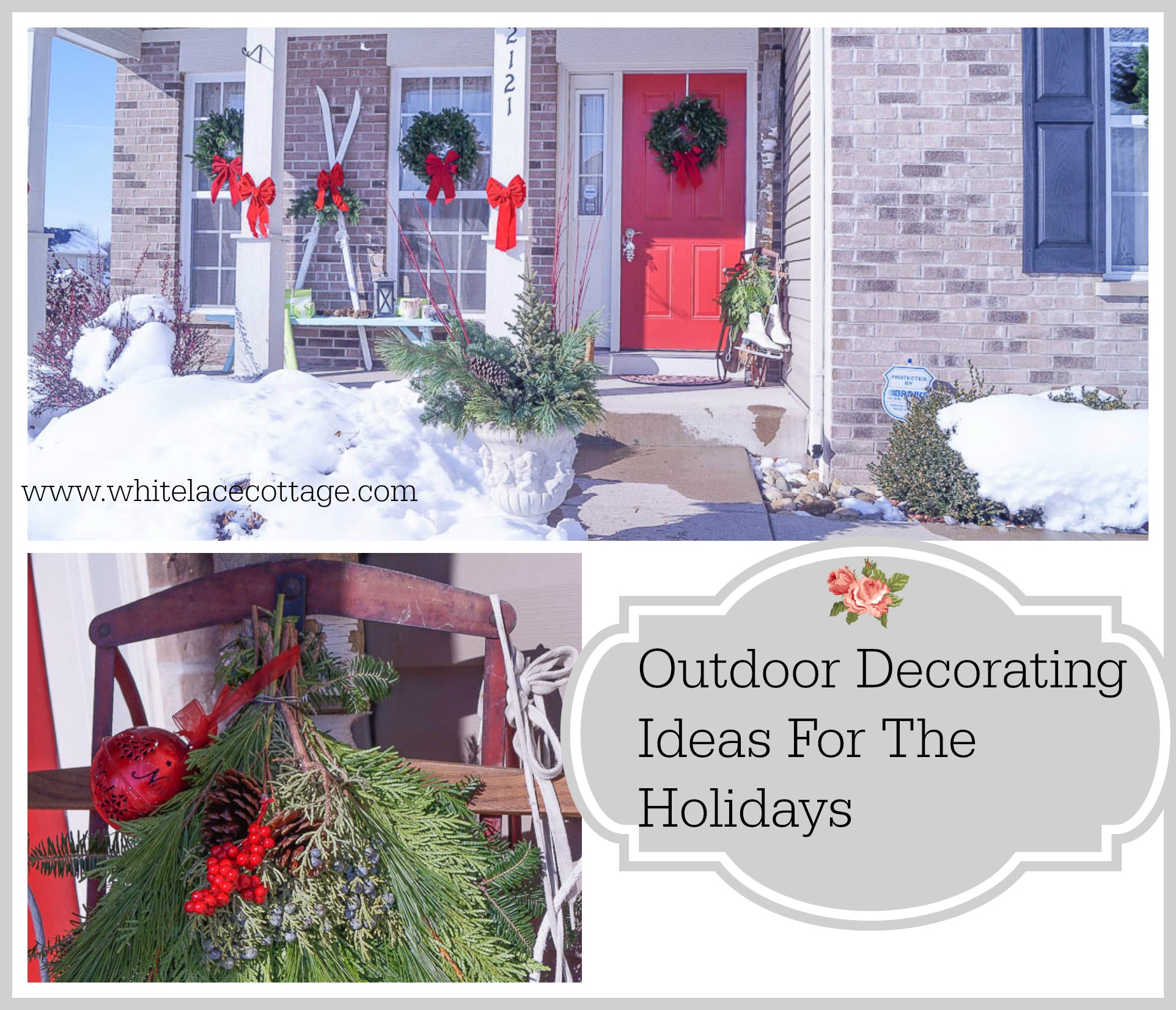 It's all about welcoming our guests, or making our home look welcoming before you even step in our home.
Have you driven around and notice that some homes really stand out from others because they look so welcoming?
And it's not because they've gone overboard with decorating, it's usually the opposite.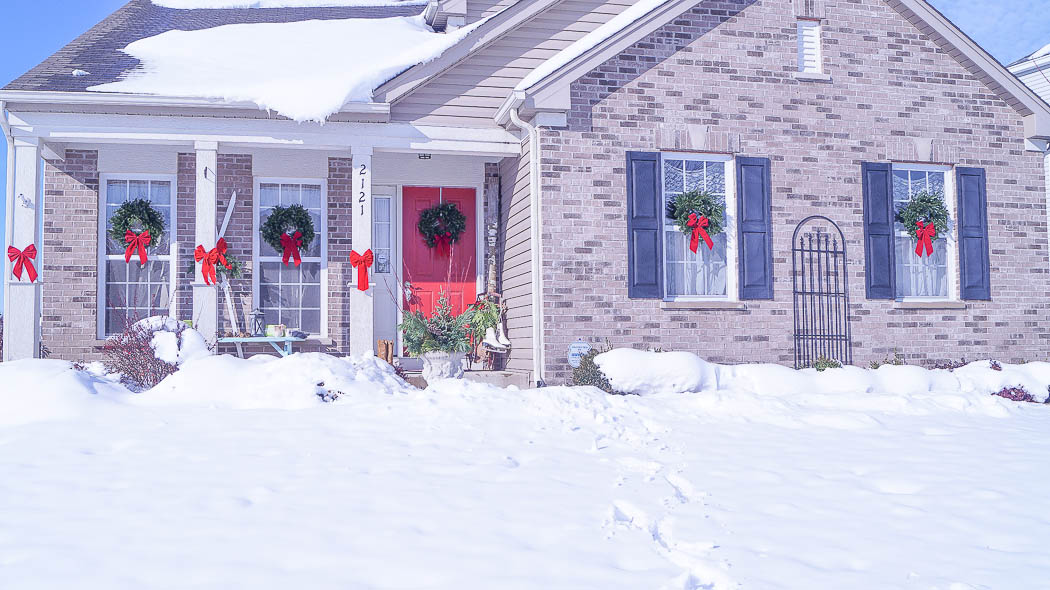 As with the inside of my home, I love simplicity on the outside of our home too.
I don't go crazy with blinking lights, and blowup decorations.
And unlike the inside of my home, on the outside I love a more traditional look.
I shot these photos a week ago when we still had snow on the ground.
It almost looks like a postcard.
Let's talk about my windows first.
I added a plain wreath and just added a bow.
The wreaths were $5.00 and the bows were $1.00 each.
I simply attached the bows to the wreaths with a wire.
To hang them from my windows, I used suction cup hangers found at our local hardware store, but they sell them at craft stores and home improvement stores.
I didn't hang these on every window, just our front windows and our garage windows.
And one on my front door.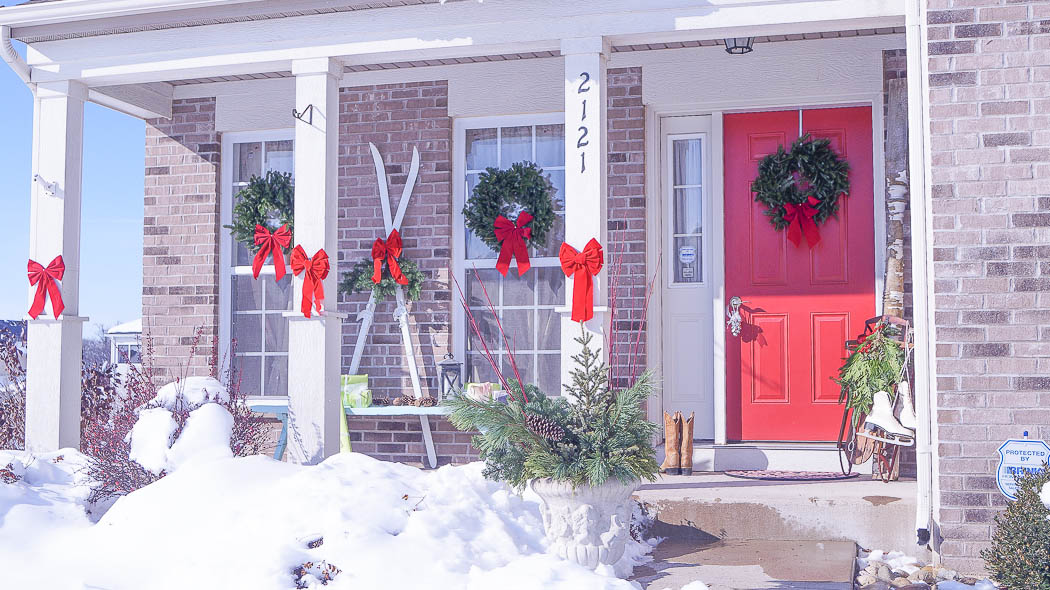 I purchased a few more bows for our posts, attaching those with wire as well.
In my planter I used a variety of cut fresh greens.
I decorated this a little late, as my planter was frozen, so my sticks are a little off.
But you can see it's pretty full and I like it that way.
It's very easy to do, really you can't make a mistake.
My cut greens were purchased from Home Depot, they sell a variety of types and sizes.
The cost for my planter was 35.00 which isn't bad at all.
And this will stay this way for the winter.
On my porch I've also added some decorative pieces, that again will stay outside for the winter.
My bench that was in my kitchen is now on my porch.
It adds a pop of color, and it's also keeping those skis from falling.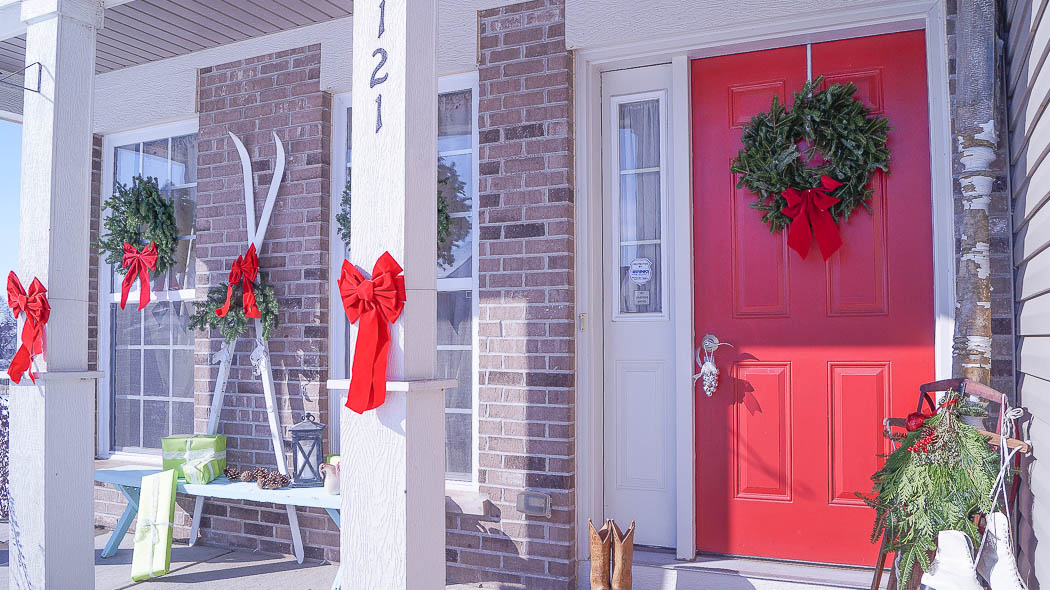 On the skis, I tied a bunch of fresh greens and another bow.
Very simple to do and cheap!
Just for photo purposes I staged my porch and added those presents, pine cones, candy canes, mugs and boots.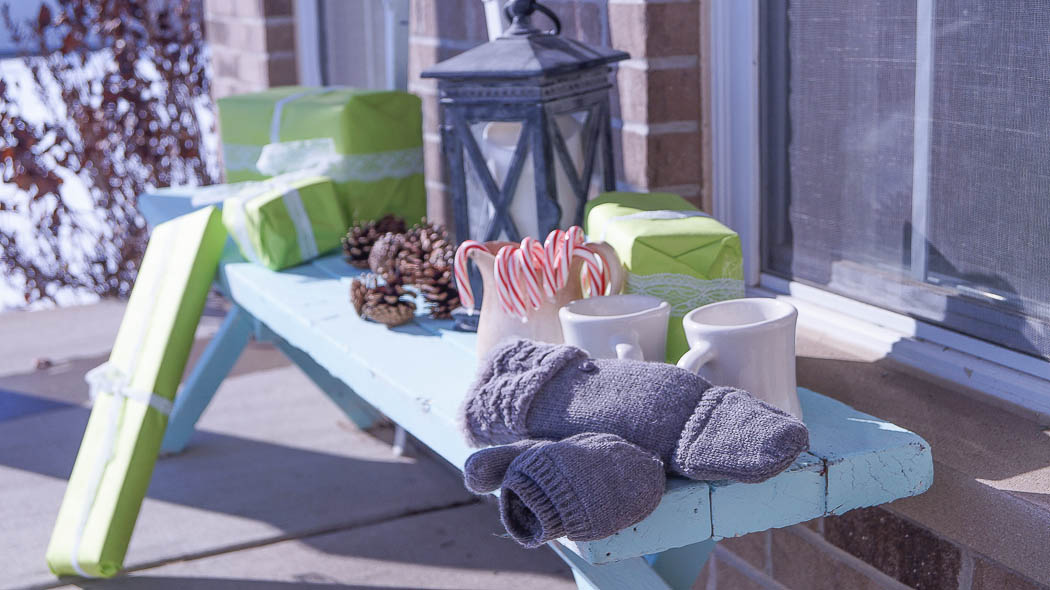 Next to my door, I added an old post thanks to my friend Kris from Junk Chic Cottage.
In front of my chippy post, I placed my old sled, layered with fresh greens a bow, and a pair of skates.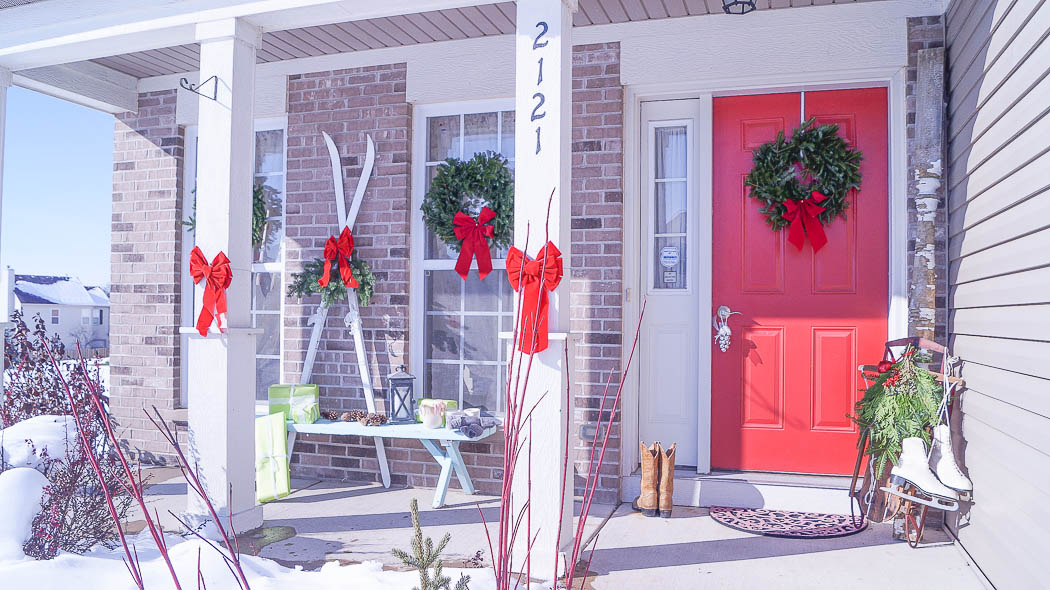 I love the sound of bells, so a strand of silver bells are placed on the front door handle.
Anytime someone enters our house, you can hear the jingle of the bells.
We will be adding lights to our porch, but we only place a strand around each post.
It's just enough to add a pretty glow to our front porch.
This is very simple and cheap to do.
If you don't want to use fresh greens and would rather recycle things each year, then go ahead and do that.
You can decorate the outside of your house on a budget by doing that.
Yes instead of fresh greens in a planter, you can use faux, why not?!
I just prefer real since we don't have much of anything green or living around here this time of the year.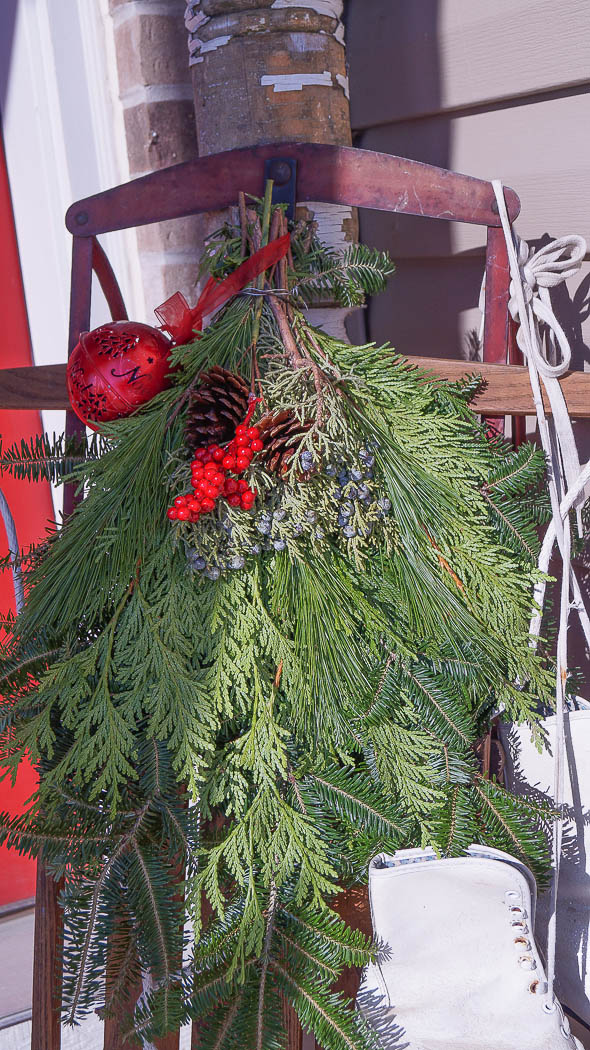 And as I said most of this will stay out for the winter.
The window wreaths will come down after Christmas as will the lights.
But the rest of the decor will stay up for the winter months.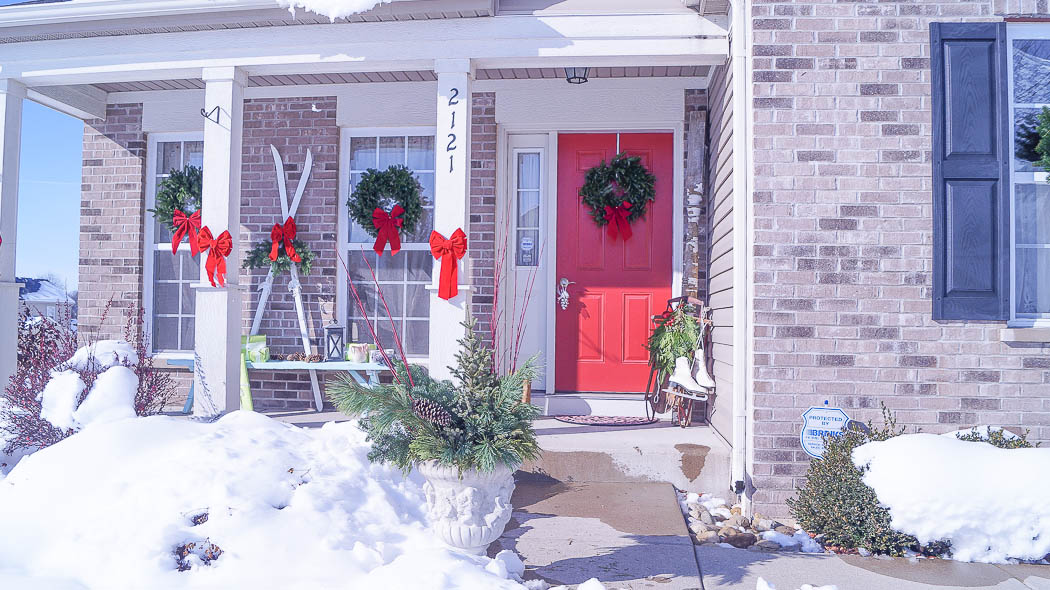 I hope that I've given you some simple ideas for decorating the outside of your home.
Here's what my porch looked like last year.
It was very similar to what it looks like this year, just a few changes.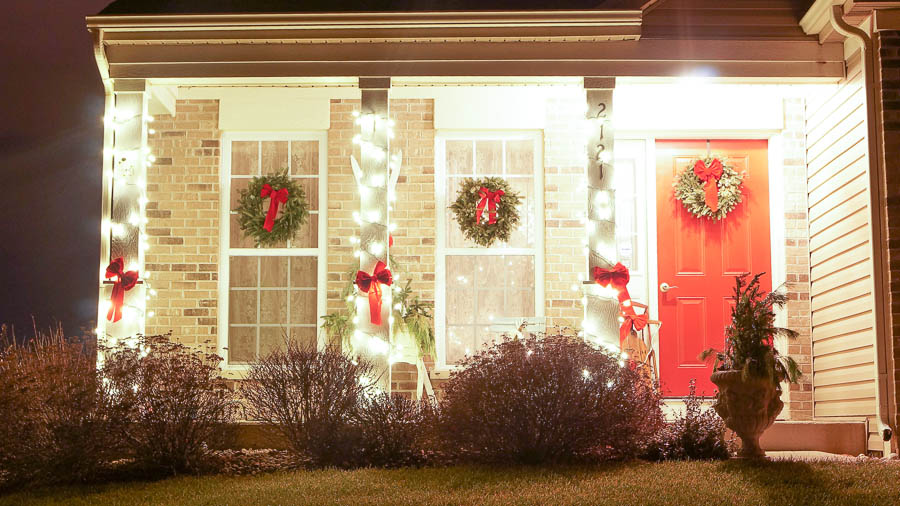 You can see more photos of my porch HERE.
Make sure you hop on over and visit all the other blogs shown below, just click on the photos to visit each.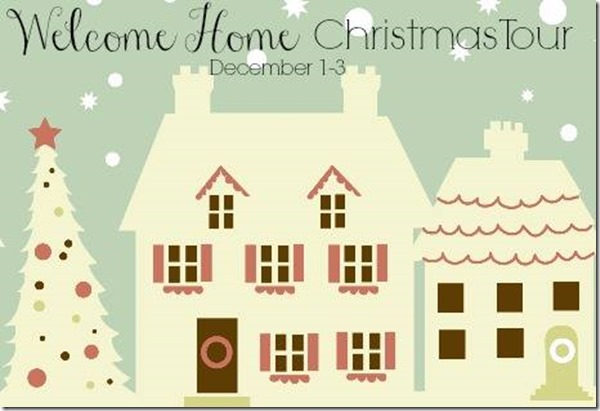 Tuesday
Tammy One More Time Events
Meegan with What Meegan Makes
Pamela with From My Front Porch to Yours
Paula with Sweet Pea
KerryAnne with Shabby Art Boutique
Shanna with Restoration Redoux
Wednesday
Jen with A Girl in the Garage
Julie with Lilacs and Longhorns
Therese with Fresh Idea Studio
Sonya with At Home with the Barkers
Angie with Postcards from the Ridge
Anne with White Lace Cottage
Thursday
Amy with Atta Girl Says
Christie with Our Southern Home
Sondra with Sondra Lyn at Home
Angie with Knick of Time
Barbara with The Everyday Home