I'm so happy that you could join me today on my holiday home tour!
Let's start out in the living room.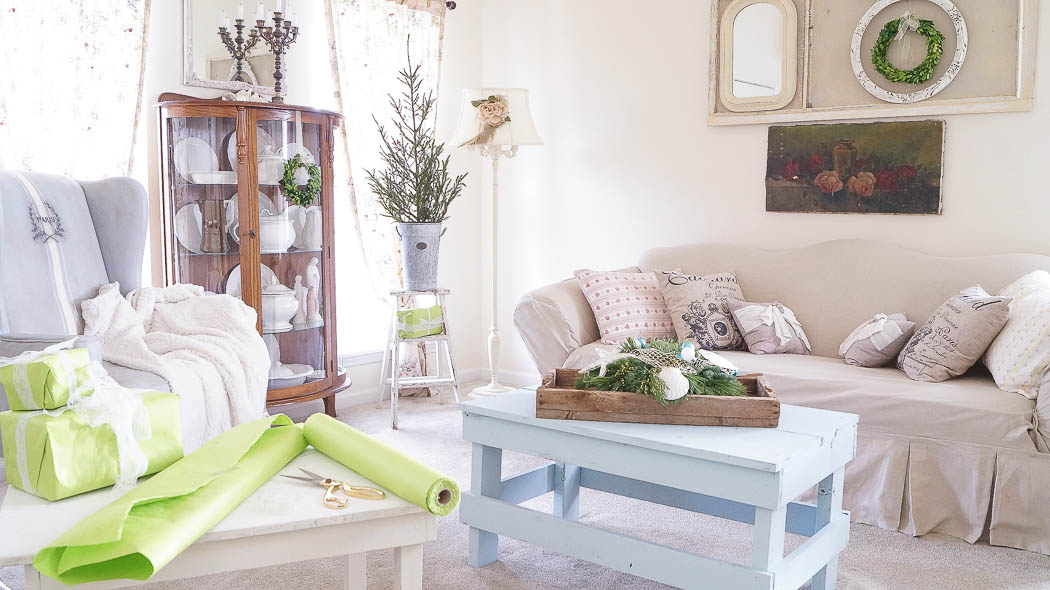 I don't have a tree in our living room this year, instead I've added that fresh tree topper.
To keep it fresh I tucked a foam inside of the bucket, and added water.
My centerpiece on my table is from Lynch Creek Farm.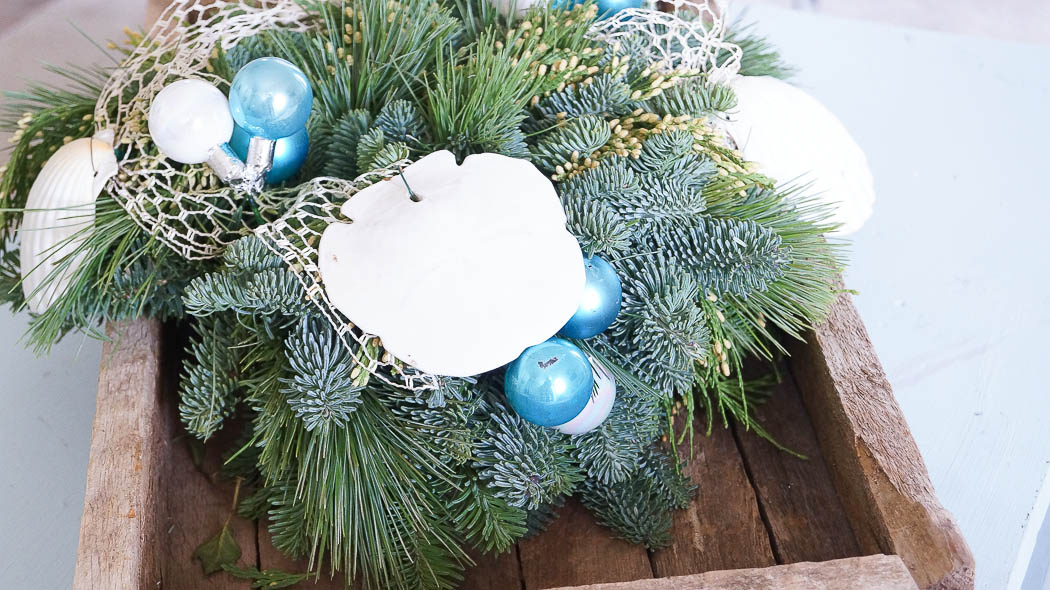 Isn't it beautiful!
I placed it inside of this old tote for a rustic look.
I always keep a few of my boxwood wreaths out in the this room.
But I added one to my china cabinet door.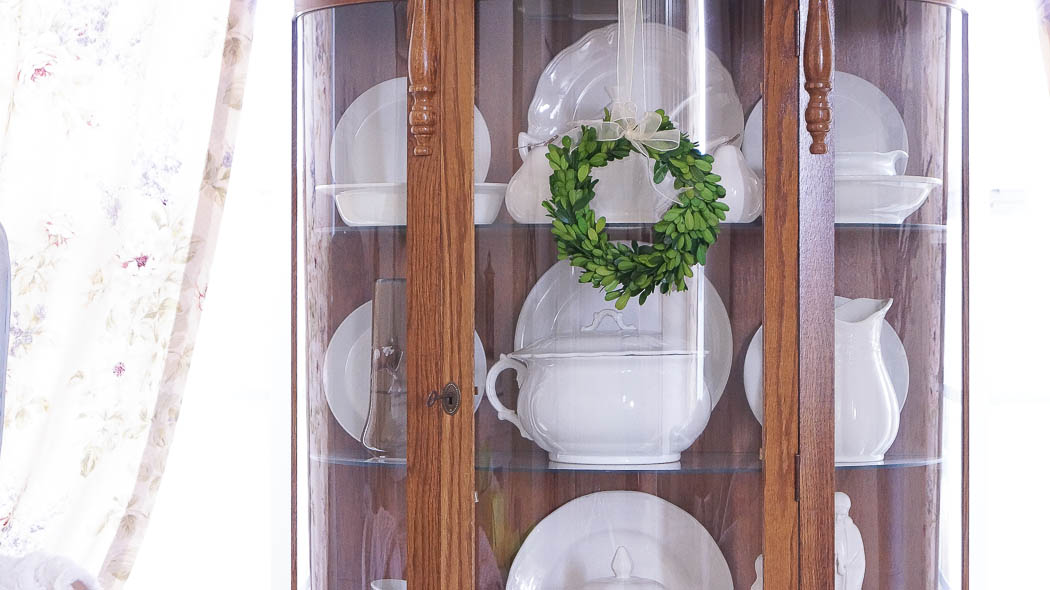 The gift wrapping is staged, but honestly I wrap my gifts where ever I can.
I used to wrap them all in my bedroom, but sometimes I wrapped them in this room too.
And it's usually while sitting on the floor, nothing fancy!
Those boxes will stay out as a little decor.
I love the look of wrapped boxes under a tree, or placed in a room.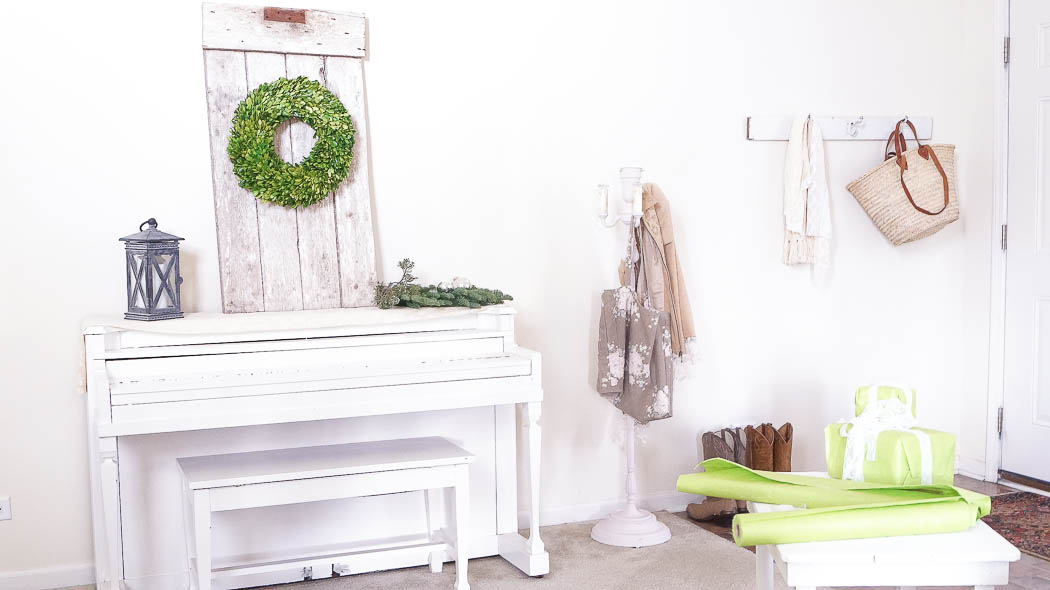 On my old wood rack I've added a few pine cones, and dried hydrangeas.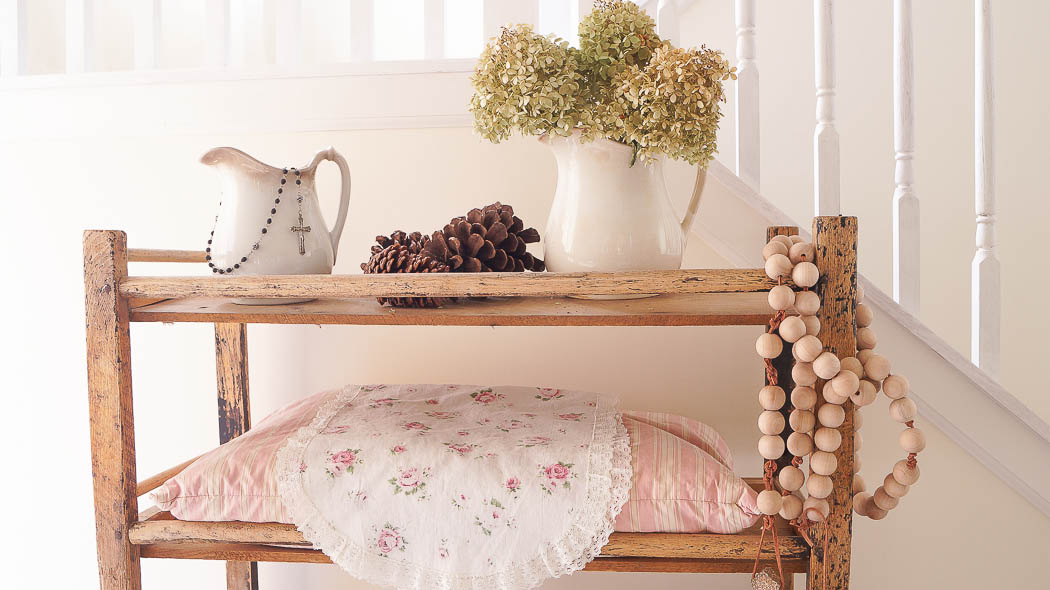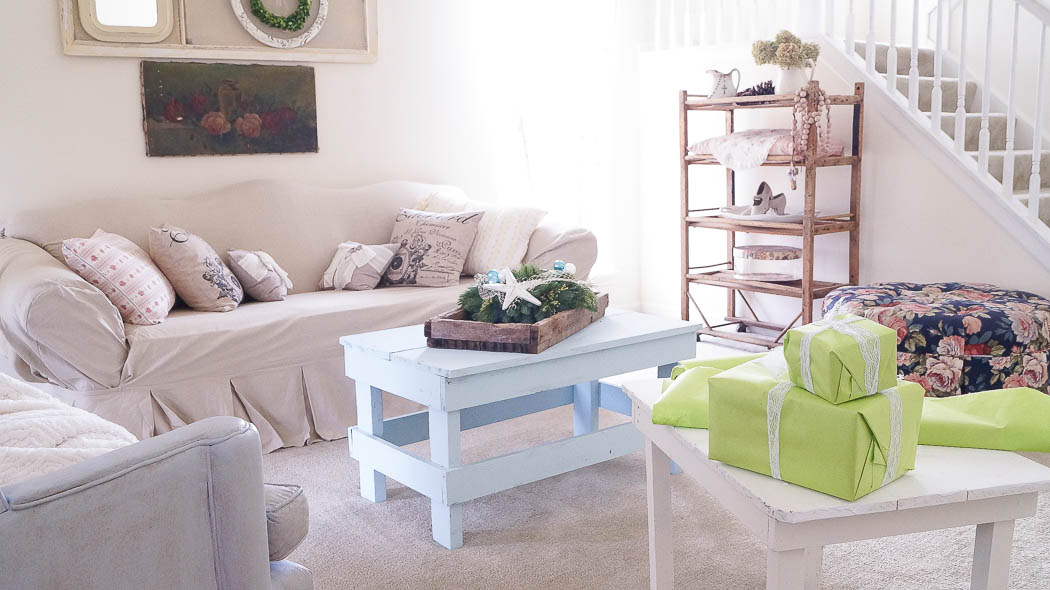 Let's go into the kitchen.
I don't have a dining room all decked out this year, because my dining room is now my studio.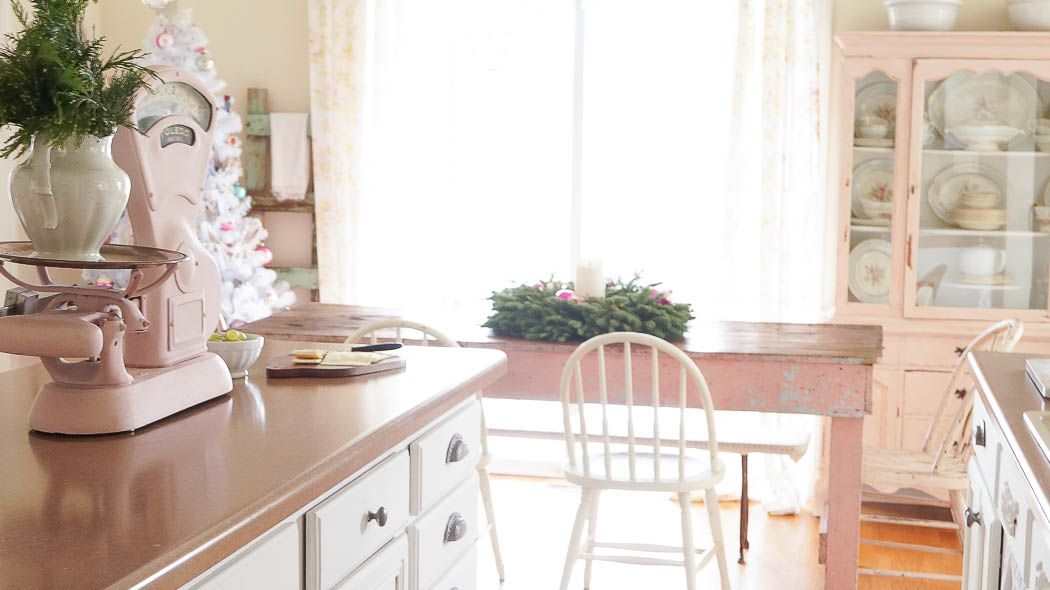 Simple touches in my kitchen are all that's needed for my new simple style.
I've added a tree in my kitchen for the past three years, and I really love it.
We are blessed to have such a large kitchen.
I am enjoying it, as in the next several years we will be downsizing.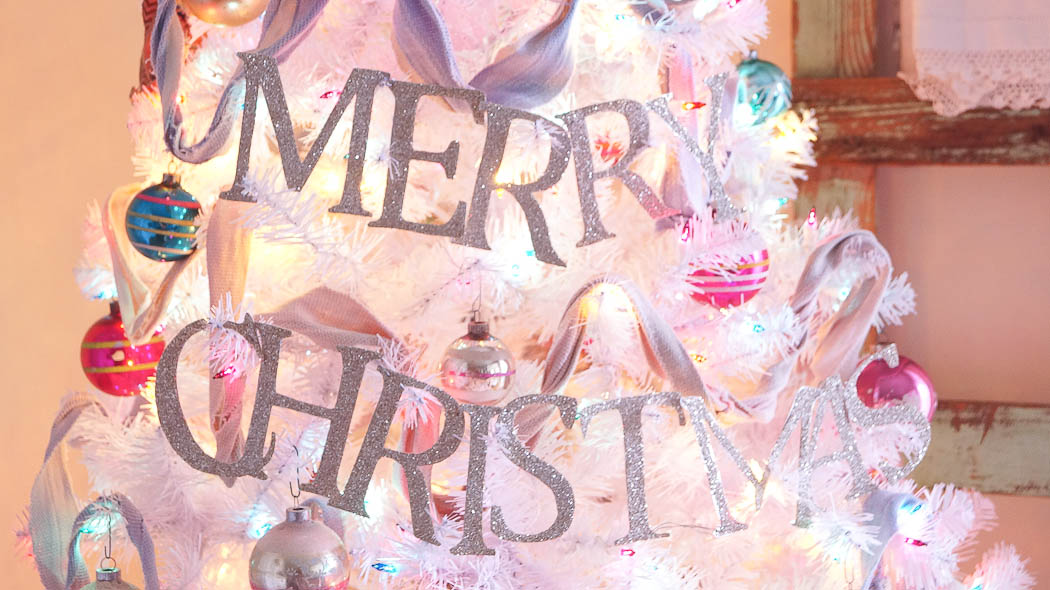 I love this tree so much!
I bought it last year at Walmart.
The ornaments are all vintage that I've found at thrift shops.
The Merry Christmas banner was made using cardboard and glitter.
You can easily make your own, you can read about it HERE.
The sewn vintage sock garland was purchased from a friend.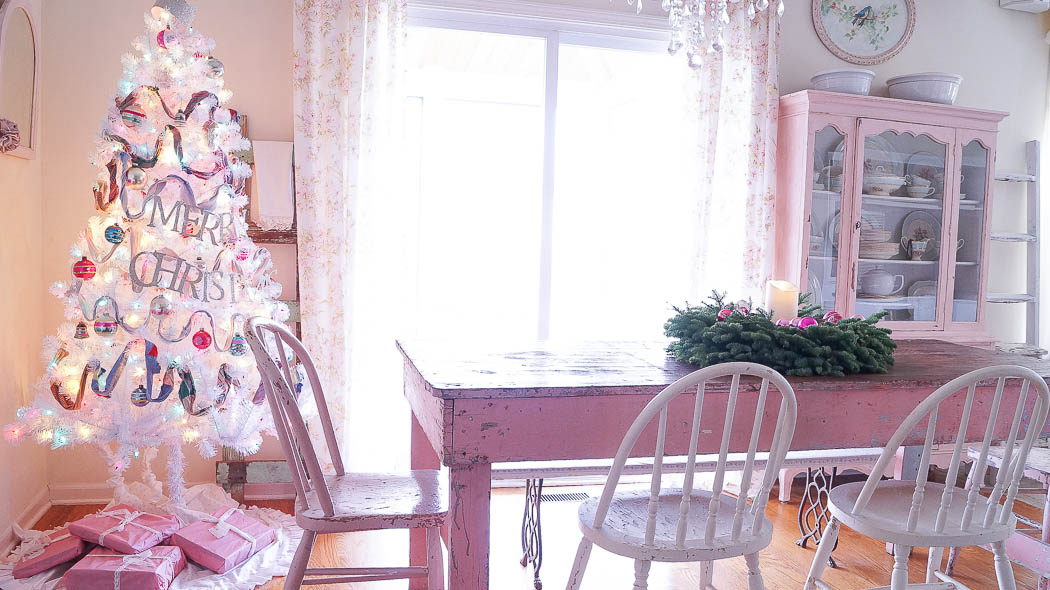 The wreath centerpiece is from Lynch Creek Farm.
I just added a few vintage ornaments, attached with wire.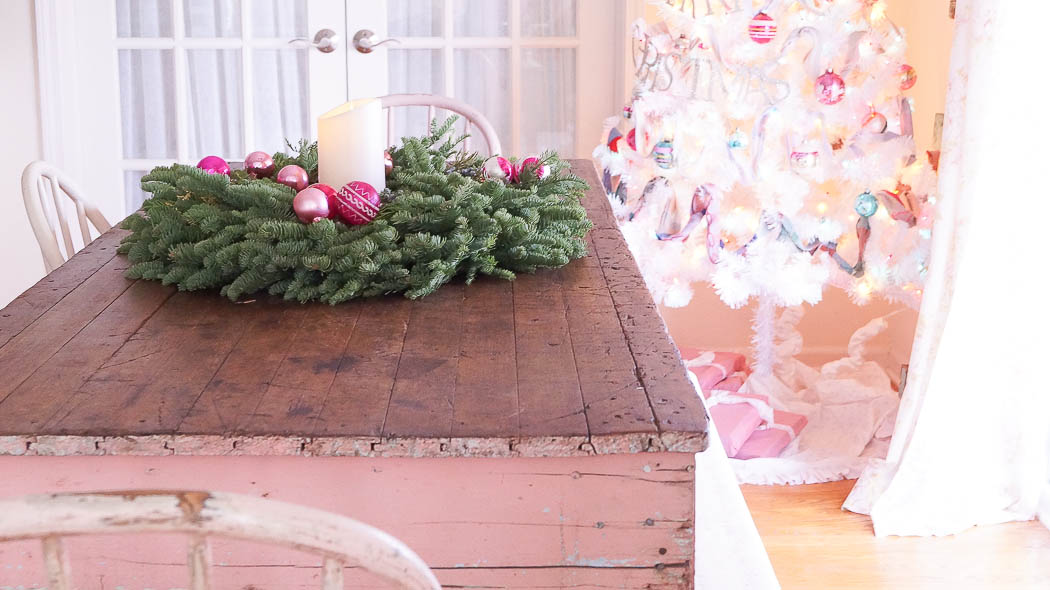 My kitchen island was kept very simple using my old pink scale, I've added a few fresh greens inside an old white ironstone pitcher.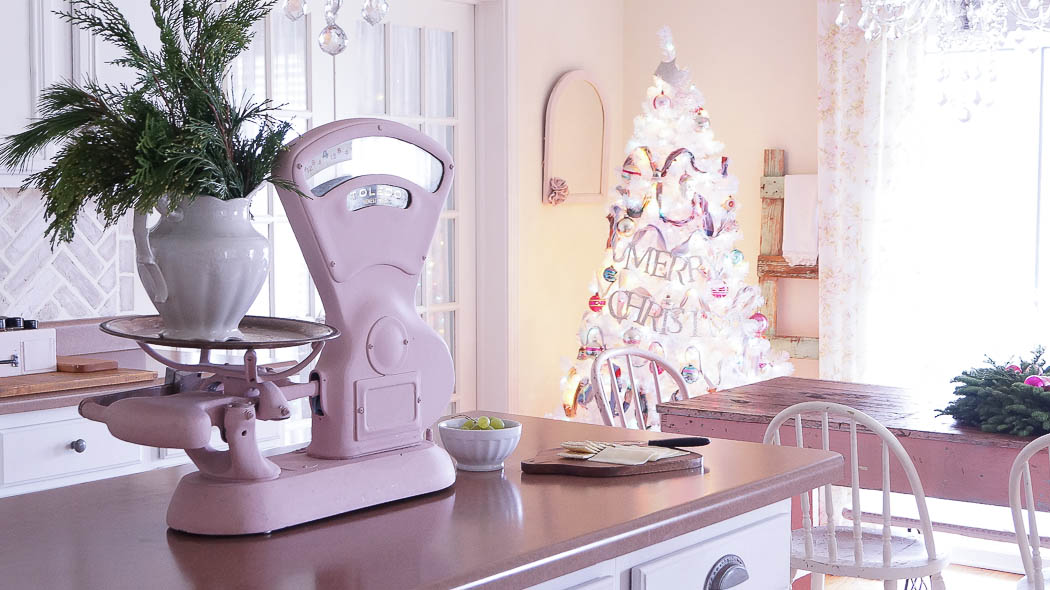 On my counter, I added a sweet vignette using my other pink scale.
Can ya tell I love pink.
Yes, of course I had to add vintage pink ornaments.
That tree was an easy five minute craft, you can read about that HERE.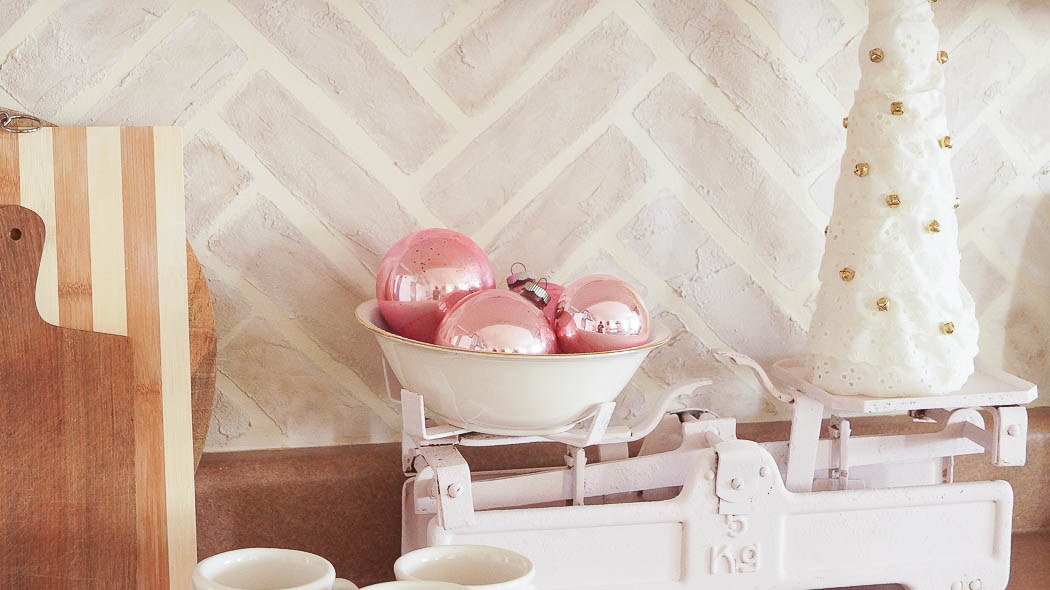 I love adding my Christmas tree in my kitchen.
I have a large enough kitchen to be able to do that.
And our family room is right off of our kitchen, so we can enjoy the tree in the rooms we are in the most.
We really don't use our living room much.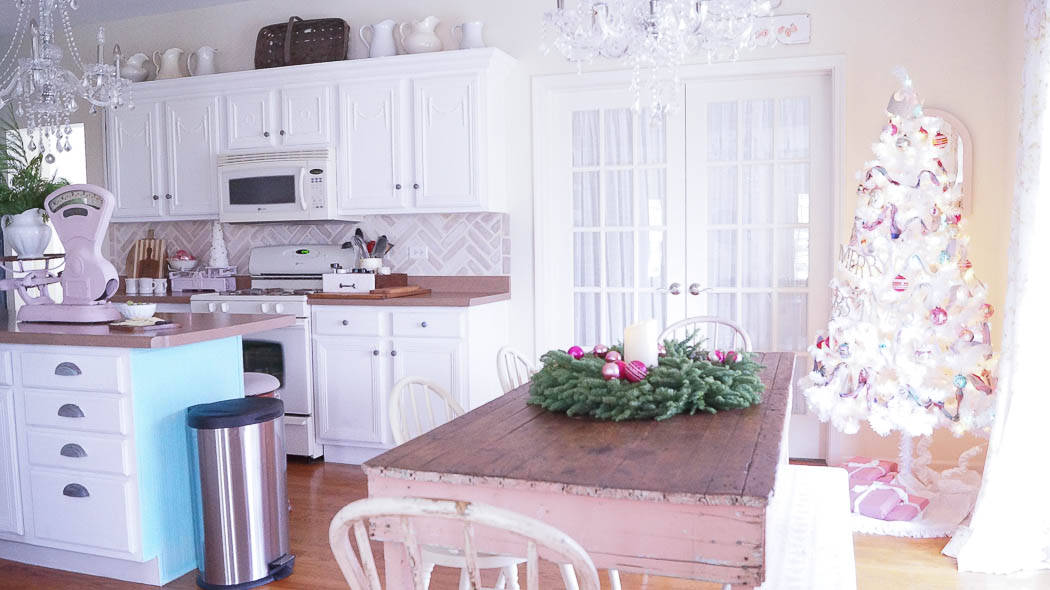 Speaking of my family room, let's go into that room next.
I added my tinsel tree to the corner of my family room this year.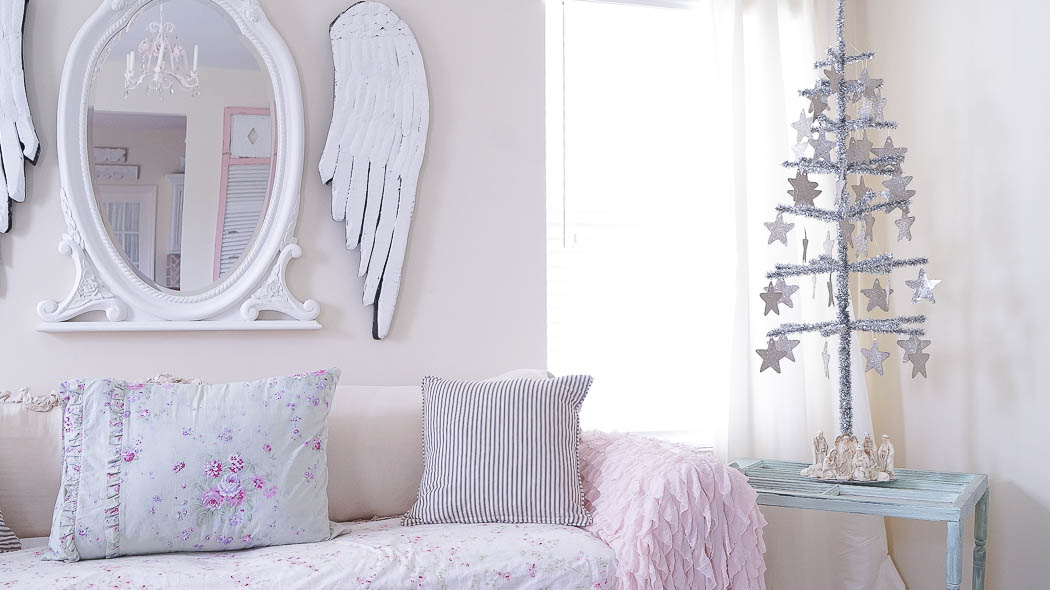 My window table makes sort of a tree skirt for my tree.
The table was very easy to make, using an old window and a few legs.
You can easily make your own window table, read the tutorial HERE.
I made those star ornaments last year, using cardboard, a cookie cutter and German glass glitter.
You can read about that HERE.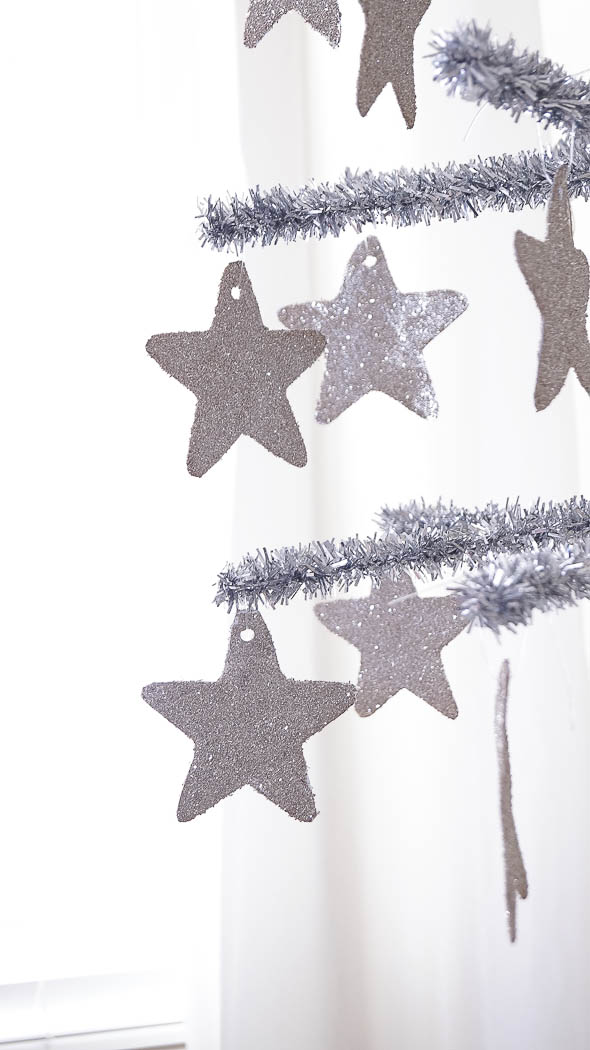 My sweet nativity set was found at a thrift store several years ago.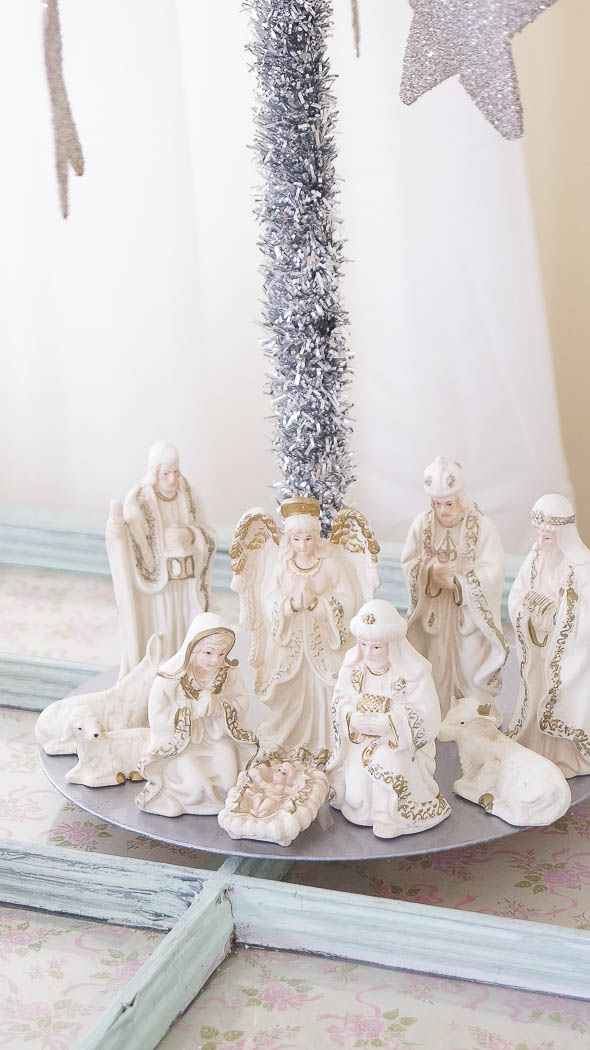 I love the reflection of the tree in this mirror.
It's cool to see my room in a different view.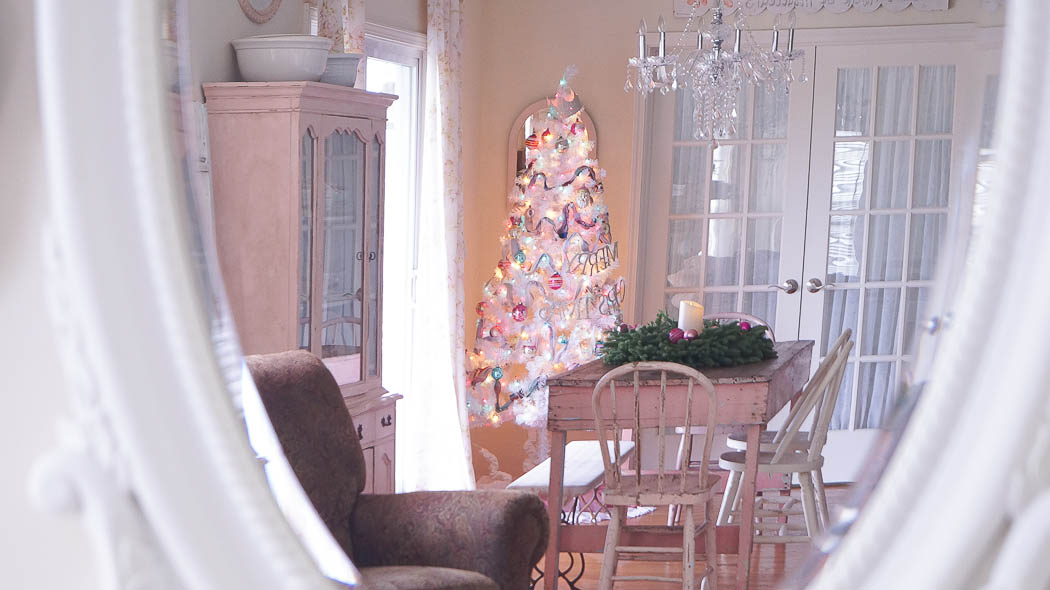 On my mantle I've added fresh greens, and a little bling with those ornaments.
Yes, even that twig tree wreath was found at a thrift shop.
It just goes to show you that with little money you can decorate your home for any season!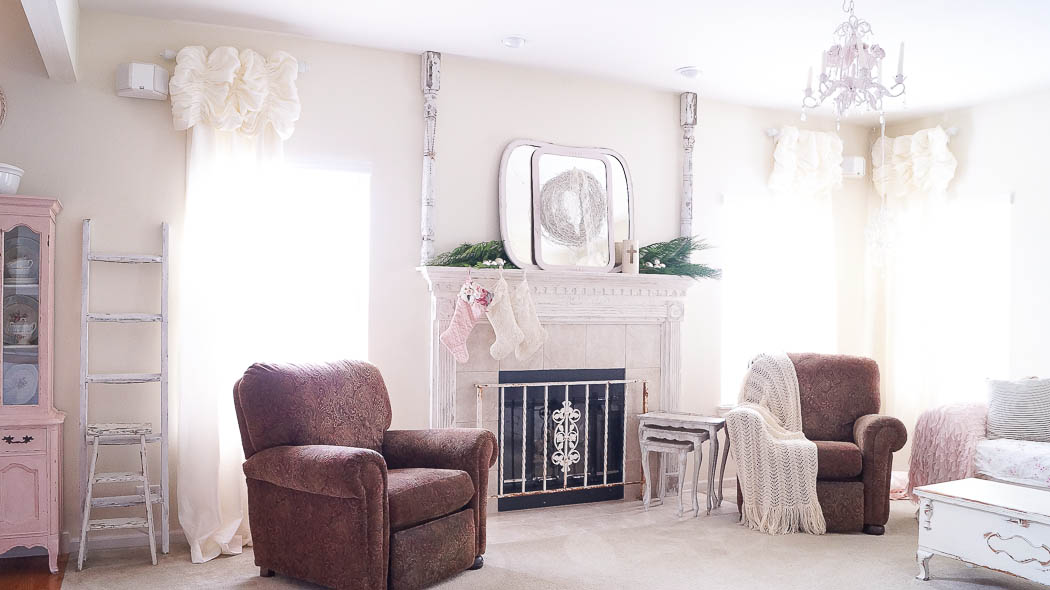 Stockings hung over the mantle with help of a tack.
Yes two of those stockings were also found at a thrift store.
That shabby pink one was made by a friend years ago, for my daughter.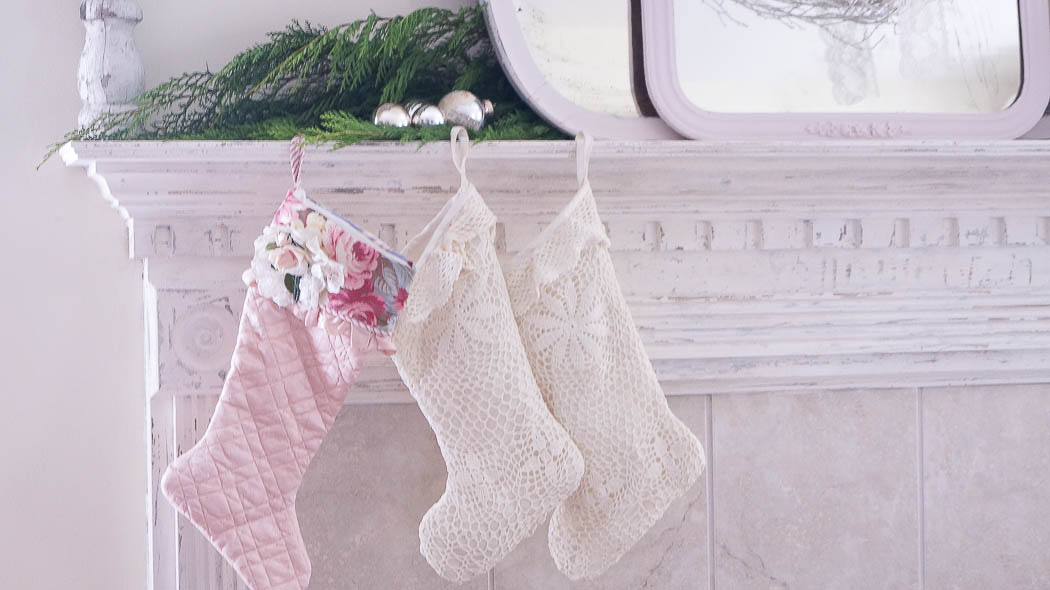 It was easy to hang this wreath from the mirror, I simply stuck it on this mirror using a suction cup hanger.
A little lace adds a soft feminine touch.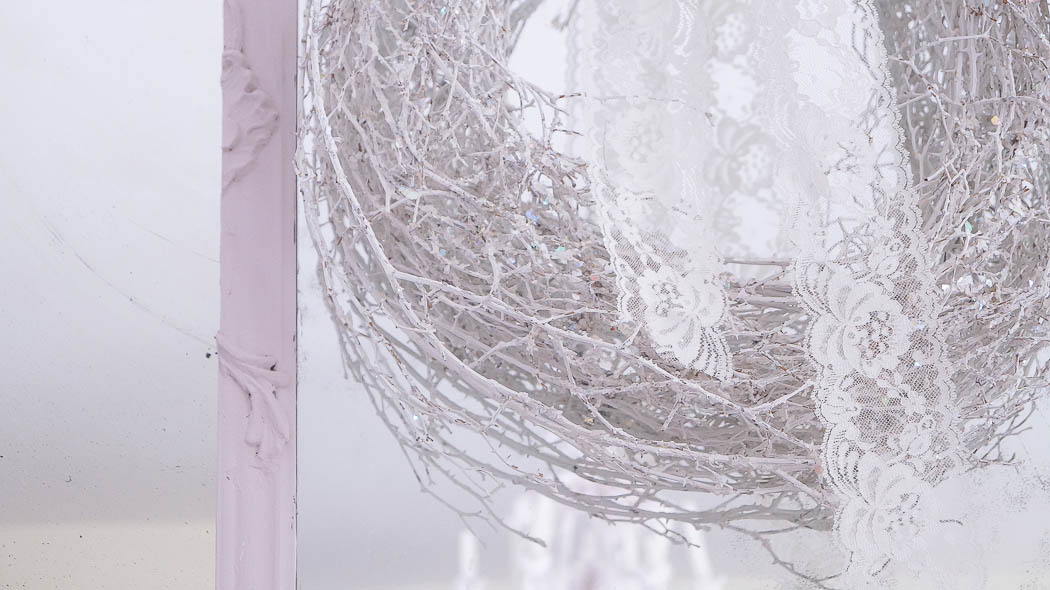 My Christmas gift to myself is that old farm table.
It really looks great next to my shabby pink cabinet, that I painted to look old and shabby.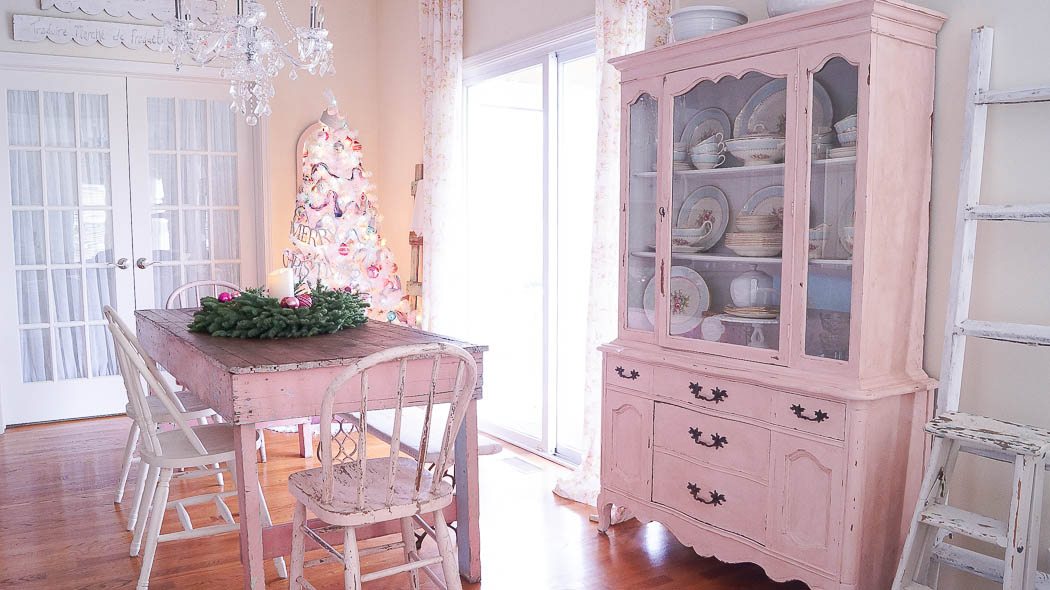 I really enjoyed decorating my home this year.
I've really kept it simple this year.
Probably the most laid back and relaxed Christmas home ever!
Many years ago, I really went all out.
But in the past few years, I've scaled down more and more.
And do you know what?
I actually enjoy my home so much more now!
I used to  stress about what to put out each year.
But, decorating with less Christmas decor, it still looks very festive, don't you think?
So, before you go, I just wanted to thank you for visiting.
And to remind you to enjoy the season.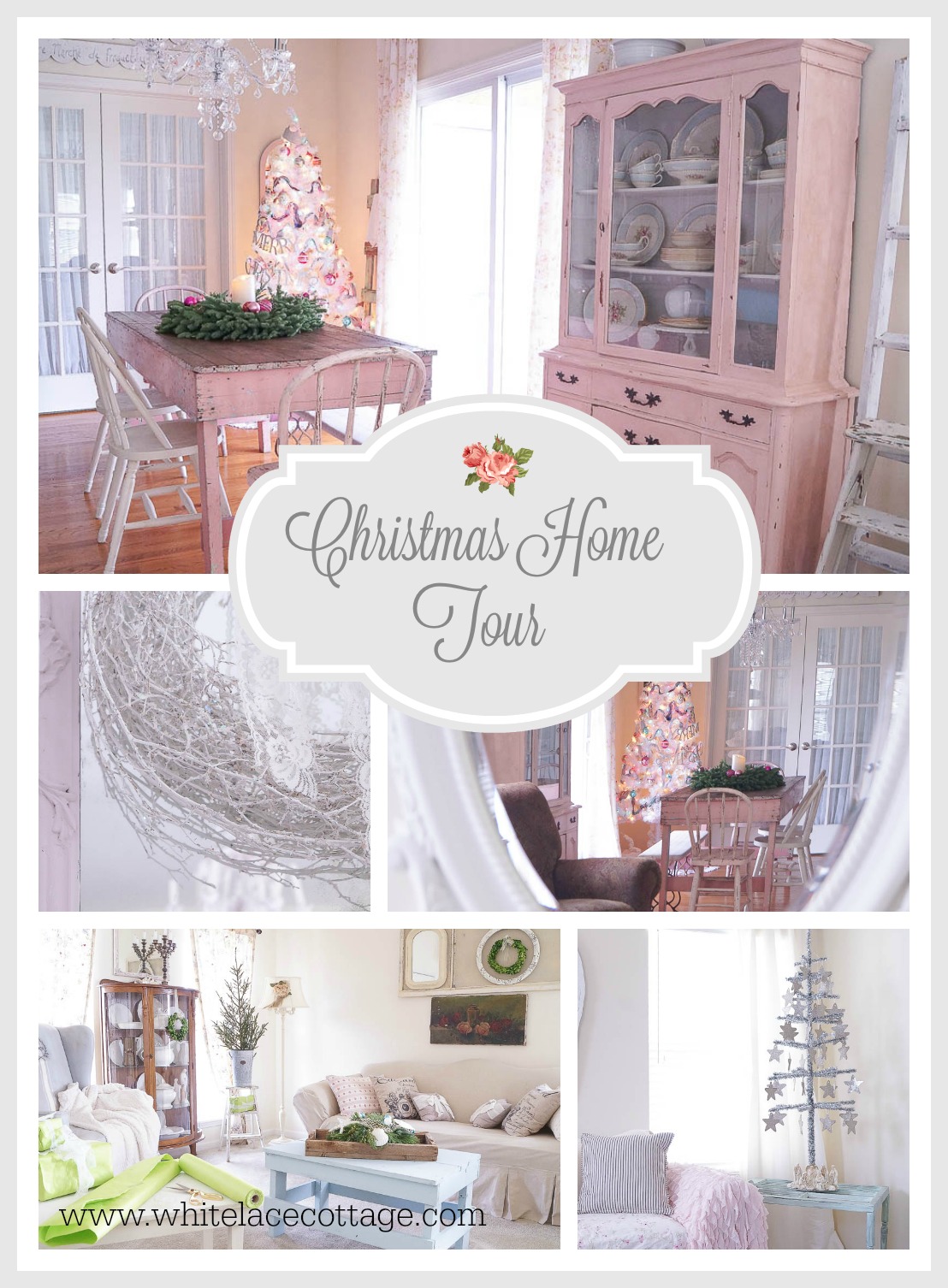 Save