Painting Ideas
I love coming up with new painting ideas to add patina and texture to my furniture. Well, actually it's not always furniture that I'll add texture and patina. I guess you just never know what I'll do once I get my hands on a piece.
I think I've shared some of my crazy ideas, like the day I decided to break some of my pretty vintage dishes and add them to my counters as a mosaic. Now that was a crazy idea. So glad that was before digital cameras, I have no photos to share.
But you didn't come here to read about that, so let's get started on some of my favorite painting ideas from a few of my projects.
( This post contains affiliate links, please see disclosure policy)
Click HERE to read——DIY Porcelain Roses
This is a fun and easy way to create roses that look just like porcelain. For fun I've added these to this mirror. But you can make napkin rings out of these flowers too. And I bet you can come up with other ideas. And hey, they don't have to be roses, use other flowers 🙂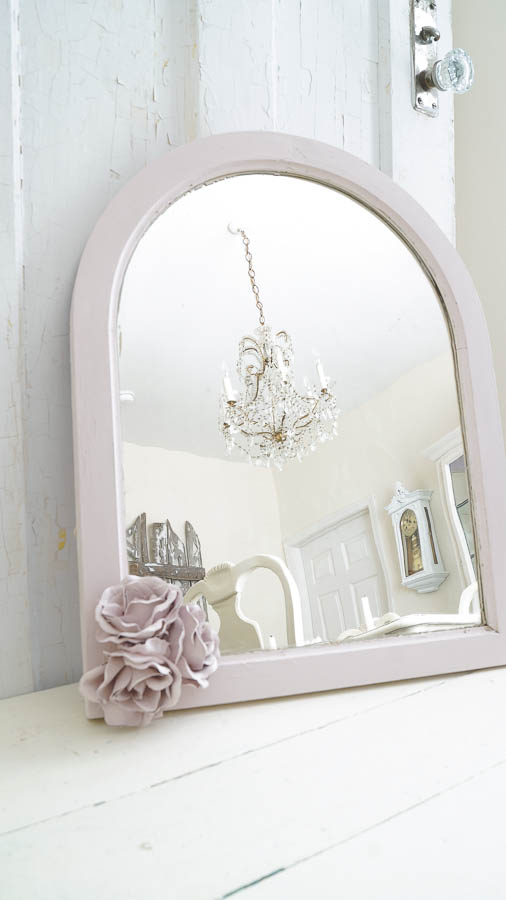 Click HERE to read—–Shabby Tole Chandelier
This is one of those painting ideas that I came up with  after admiring those shabby tole chandeliers. It's a fun and easy way to create one. Here's an idea, if you don't have a chandelier like I do, look for a cheap chandelier at a thrift shop, paint it, then follow the directions on how to create these porcelain looking flowers.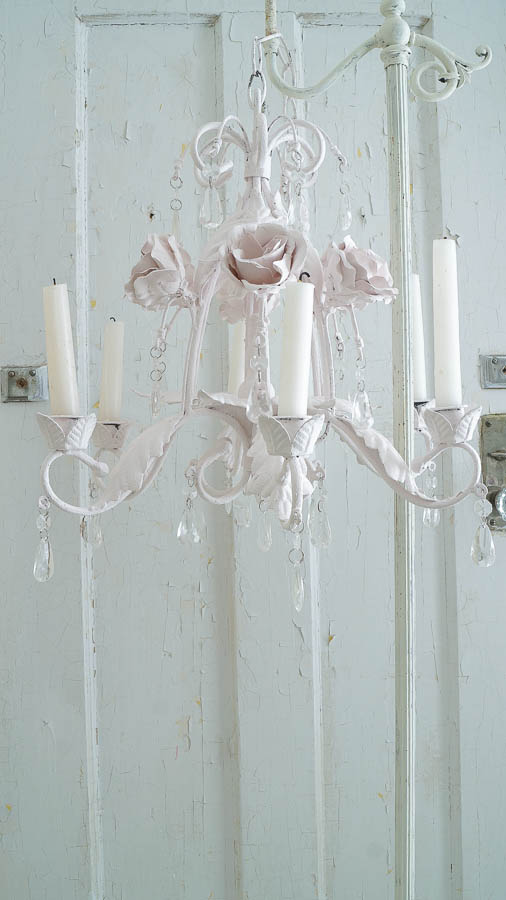 Click HERE to read—–Creating Shabby Chic Patina
This is one of those creative painting ideas that I came from my love of chippy paint. You know how much I love chippy paint and patina. I decided to experiment a little and try some techniques on my armoire. You can see the difference with the before and after in this photo. This is easy to do. And remember, there are no mistakes when creating patina. Okay let's repeat after me and say it again, there are no mistakes when creating patina. Ah, okay, don't you feel better saying that? I thought you would.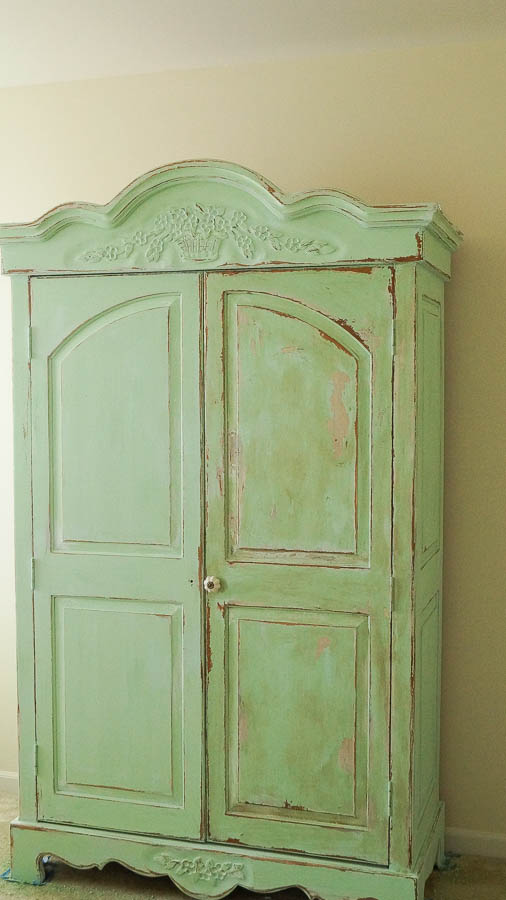 Click HERE to read—-Thrift Store Transformation
Ahem, so you're probably wondering what the heck did she do to this piece It looks painted, but where's the special effects, what's so special about this piece? Okay, so this is going to seem a little weird, well maybe not weird, but a little crazy? But I decided to add textured medium on top of this piece. So what the heck is textured medium? It's a powder that I added to my paint to create a texture to my desk. This mixture can be added to many other projects as well. Yeah, let's just say this was one of those inspired painting ideas that I got from my friend Paula. She's extremely talented beyond words, for reals!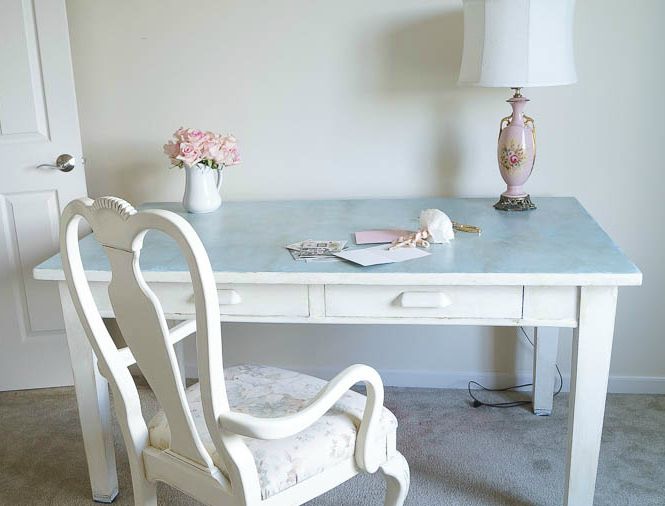 And if you'd like to see me in action using this texture medium watch the video below 🙂 I sort of cringe when I see this video, I hope I don't make you cringe. But it's before I started my healthy eating….

To watch the video click HERE—-Youtube And Venetian Texture
(To watch video, click on the link above, not the photo)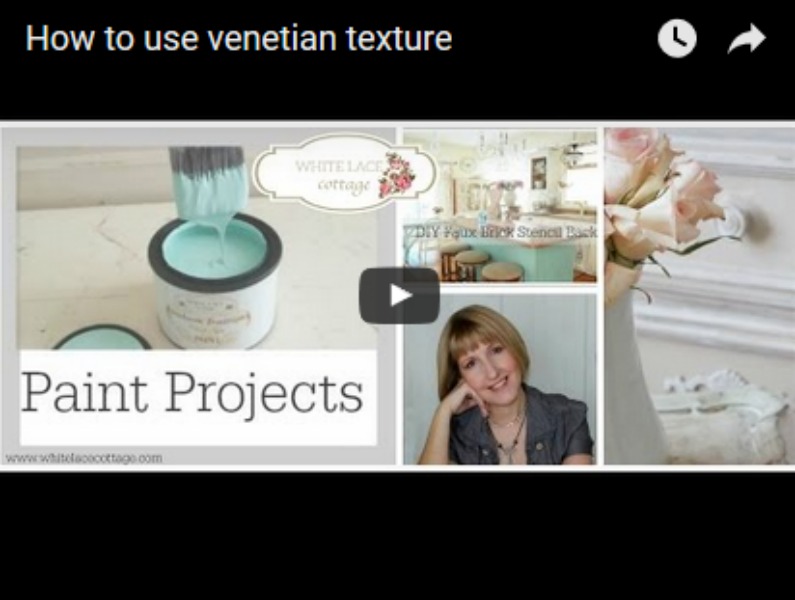 Click HERE to read more—-Cutting Edge Stencils Brick Wall
If you didn't know it already, I love using stencils. This is a one of those super easy painting techniques. They're a fun, cheap and easy way to dress up a wall, a piece of furniture, fabric or a floor. I love how creative you can get when using a stencil. If I could stencil an outfit, a pair of shoes or a bag I would. Hey, that might just be a future project. I just thought of more painting ideas….yipee!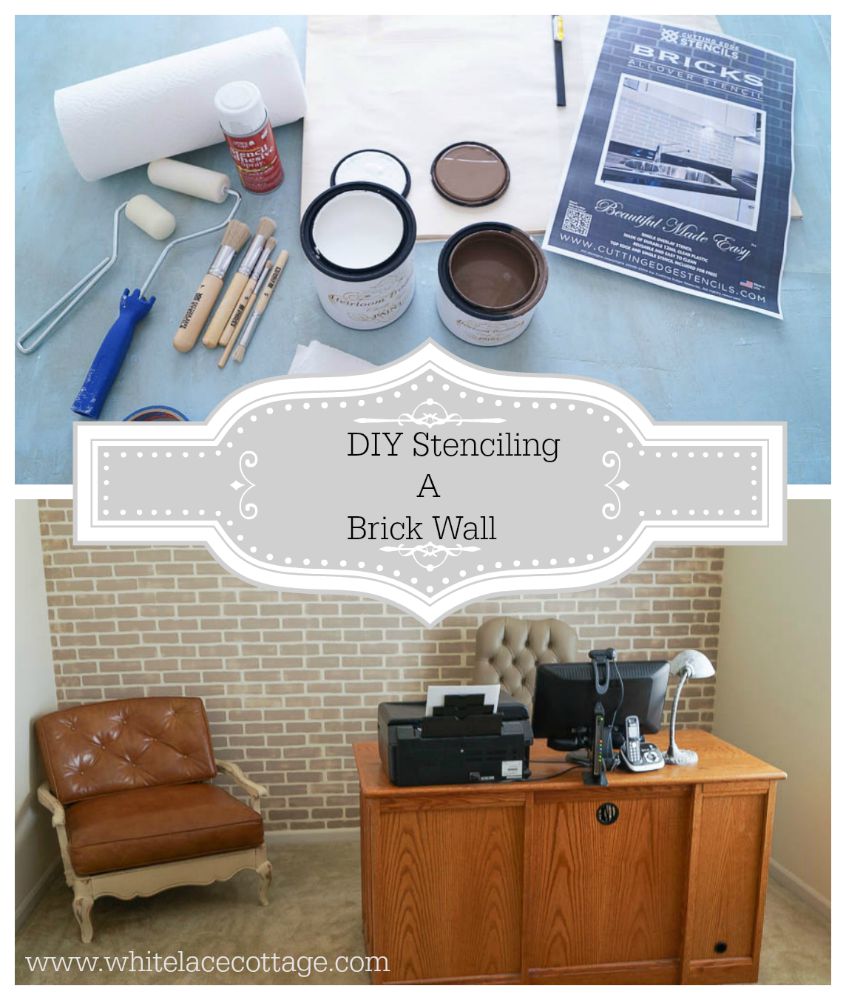 Click HERE to read more—-Advertising Wall

This is the room I created for my husband. I guess you could call it a Man cave. Although it's a small room, so it could be called a Man hut. Anyway, he likes is little Man hut, oh that sounds sort of sad huh? Man hut. Well, I think he's happy since it's the only room of the house that's just for him. Again, that sounds sort of sad. But it's just the way it is.
You can see we're Cubs fans, yay for us.  I created an old billboard that I copied from an old Cubs score card. Yeah, I'm a copy cat. But I needed inspiration and that was the best I could find.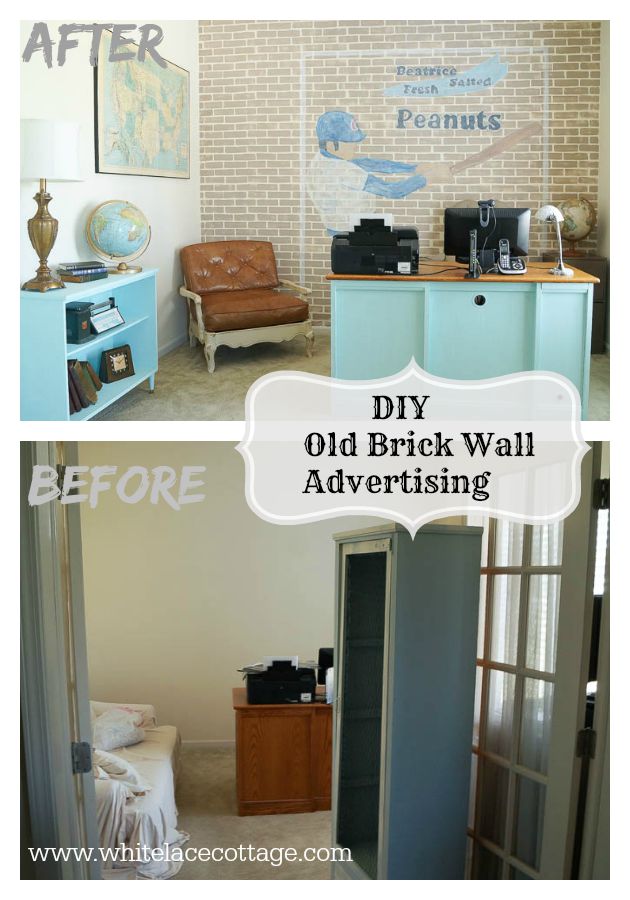 Click HERE to read more——Adding An Accent Wall Using A Stencil
Oh boy, here we go again more stencils. How many more stencils is she going to share? That's my inner self talking.
 I told you that I love using stencils. I added that pretty accent wall to our bedroom. It was easy to do, and I hardly used any paint. It sort of looks like wallpaper. But the best part is that when I'm tired of it, I can paint right over it. Yeah baby!
That's my messy bed look, but it never looks like this on a daily basis. I make my bed everyday, pinky promise that I do. I can't stand getting into a messy bed at night. I know, it probably doesn't matter since I'll mess it up when I'm sleeping, but I need to get into a freshly made bed. Are you like that too?
Click HERE to read more—-Adding A Brick Back Splash Using A Stencil
Are you sick of hearing about stencils yet? I hope not, because I'm about to share another project booyah! Yeah these painting ideas are coming out everywhere! So, I shared how easy it was to add that texture medium on that desk, well here's a fun and easy way to add a back splash to your kitchen. This not only looks real, but it has a textured feel to it as well, which makes it really feel real. I mean really real. Like if you blindfolded someone and they touched that wall they would think, wow that feels like a brick wall. No joke!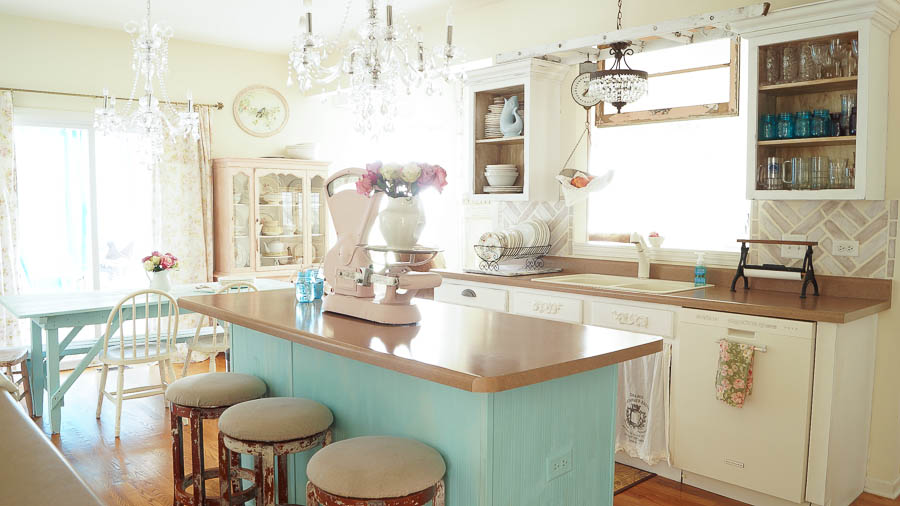 Click HERE to read more—-Painting A Deck Using A Stencil
Okay, I swear that this is the last stencil project that I'm sharing on this post! Well, I'm not swearing because that wouldn't be nice. Although going though menopause I do occasionally have a potty mouth, which I hate. Anyhoo, my favorite painting ideas come from using stencils.  But you're gonna love this one. See that floor? Well that's my deck floor in our screened porch. I added a stencil to the floor to create a faux rug look. It was easy to create, and I love the look. I've had people ask me if it's held up with traffic and I'm hear to tell you that is has indeed held up to traffic. Well, we don't have a street going through or a highway, but it's held up to our shoe and feet traffic. And our cat's kitty paws too.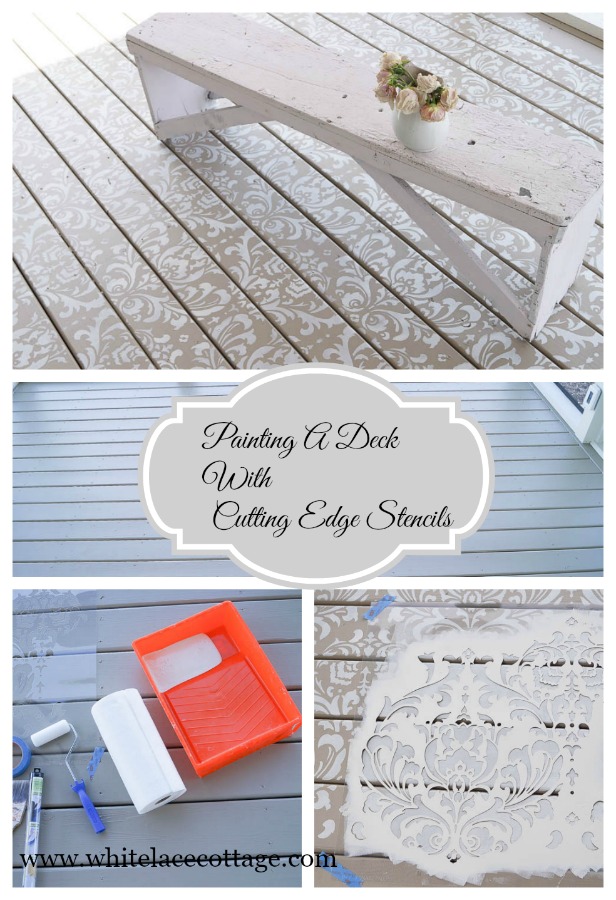 This is where I toot my own horn a little…toot, toot. A few years ago I had a post go viral. Crazy right? And it's been pinned over a million times, and has been featured in Women's World magazine! Alright enough of the bragging. It's pretty crazy to think that something so simple, and helpful would reach so many other people. Seriously, I can't even believe it. But I promise that you're going to love this technique of distressing furniture. It's one of the easiest and best ways, I promise.
Click HERE to read more—How to distress using vinegar.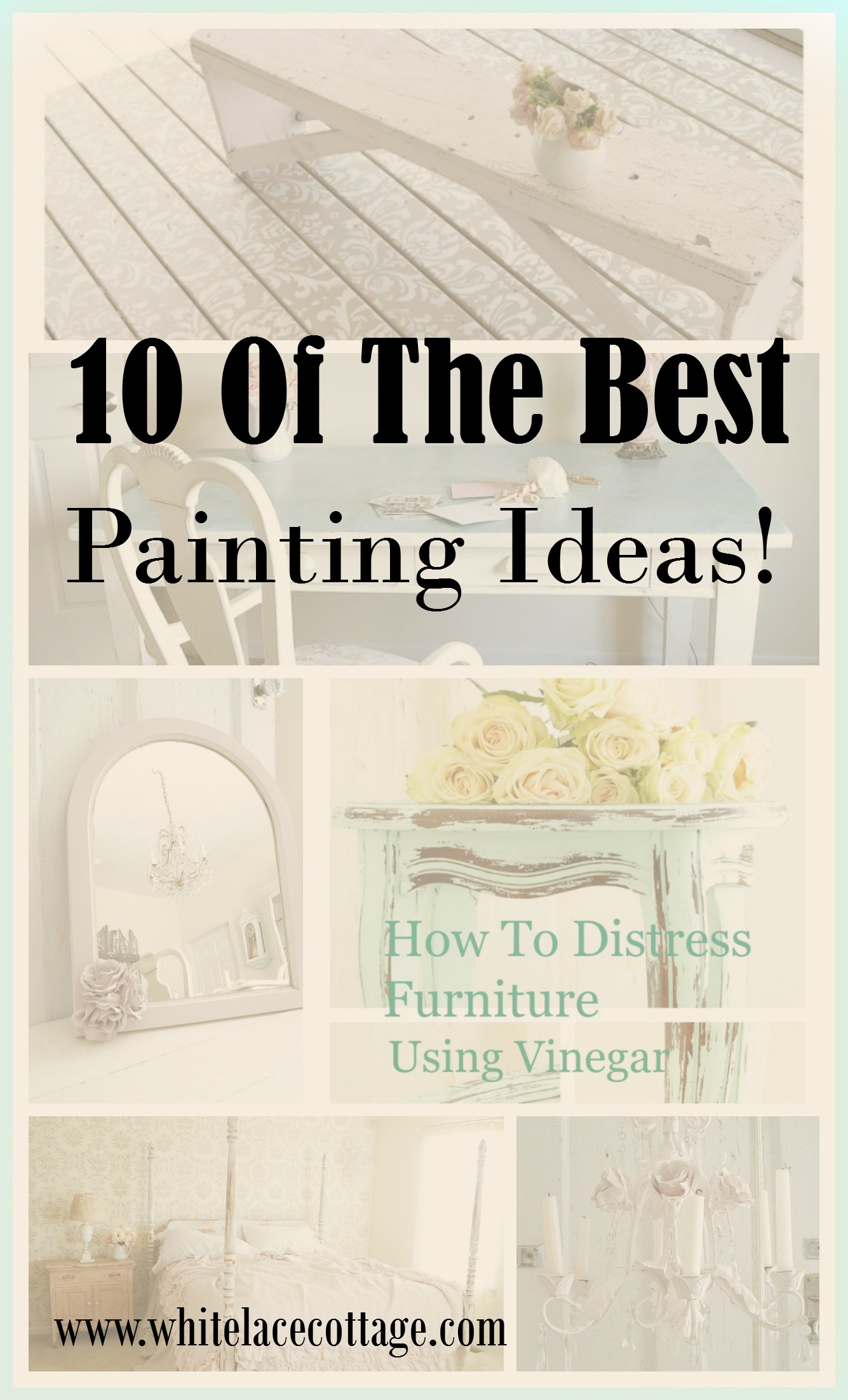 Well that was a lot of painting ideas huh! Are you inspired to get going and start a few projects? Well yippee I hope that you do! Paint can really change so much. Not only on a wall, but furniture, floors, silk flowers, and fabric. Oh, I didn't mention painting ideas for fabric. Well, I'll better get busy and get those ideas for you.
Have fun creating!