Accent Wall
Since we are planning to put our house on the market in a few years, I don't want to do any major projects just yet. The carpets need to be replaced and our walls need a fresh coat of paint. But my bedroom needed a fresh look, like now. Well, actually it's needed it for awhile. I was tired of a few things, including the space above our headboard. I don't like an empty space above our bed, but I didn't want something hanging on the wall again. So I thought it would be fun to add an accent wall using a Cutting Edge stencil. Here is what it looked like before I started. Well sort of, this photo was taken last summer.
(This is a sponsored post, and contains affiliate links. Please read disclosure policy)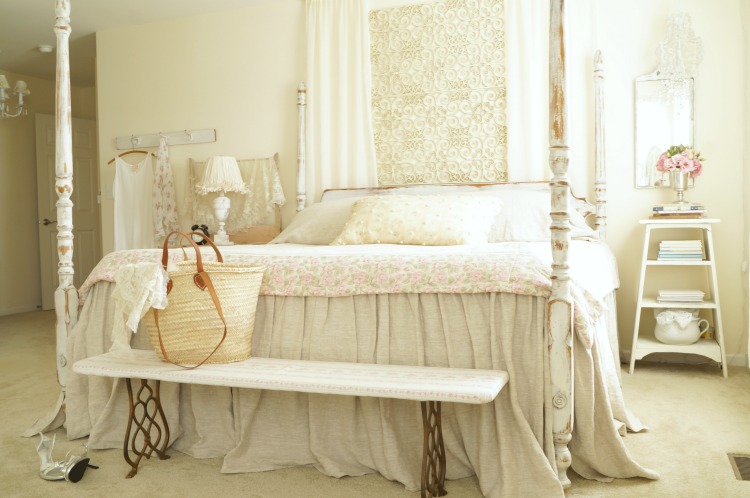 I took the curtain down, and those faux metal pieces off of the wall. Next, I patched up the holes, but I only touched up the wall. I didn't paint a fresh coat of paint on that wall because I knew once I stenciled the wall you would not see where I touched up. Had I painted that wall I would have had to paint my whole room. And I would like to wait a few more years to do that, so it's nice and fresh when we put our home on the market. The stencil I used today is by Cutting Edge Stencils Gabrielle Damask Stencil. I thought it would work perfectly in our bedroom.
The paint color I am using on my accent wall is a custom color I mixed using Mocha and White Lace both from Heirloom Traditions paint. I didn't measure, but I used more of the White Lace than I did of the Mocha. The color looks like melted chocolate ice cream.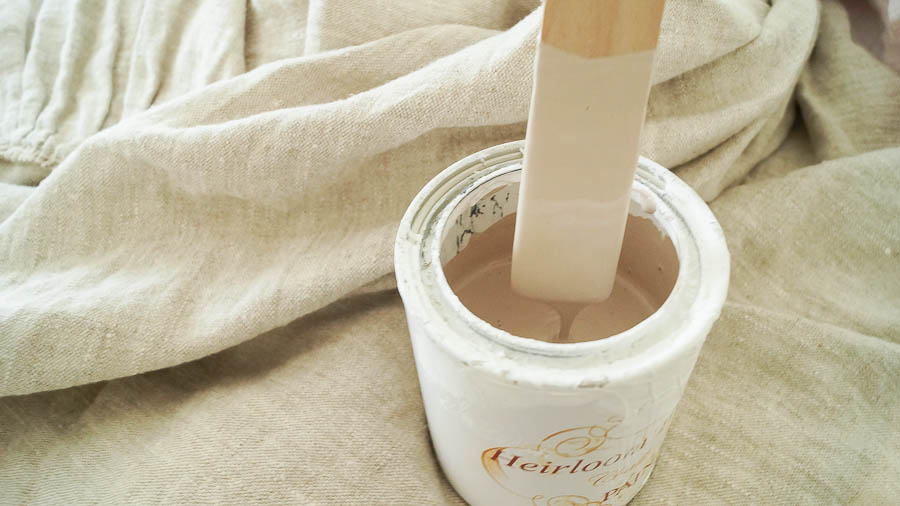 And as you can see, next to our bedspread it's a great match. I will be adding more colors to our room too. Once the paint was mixed, I sprayed on stencil adhesive to the back side of my stencil. This little trick will help keep it in place.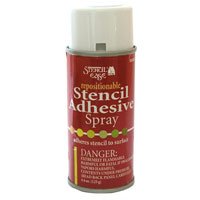 While the adhesive on my stencil was drying I taped off my walls on my accent wall. Yeah, you know this is one step I would have loved to have skipped. But you really do need to tape your walls before starting, this step is worth doing. You'll be glad you did it!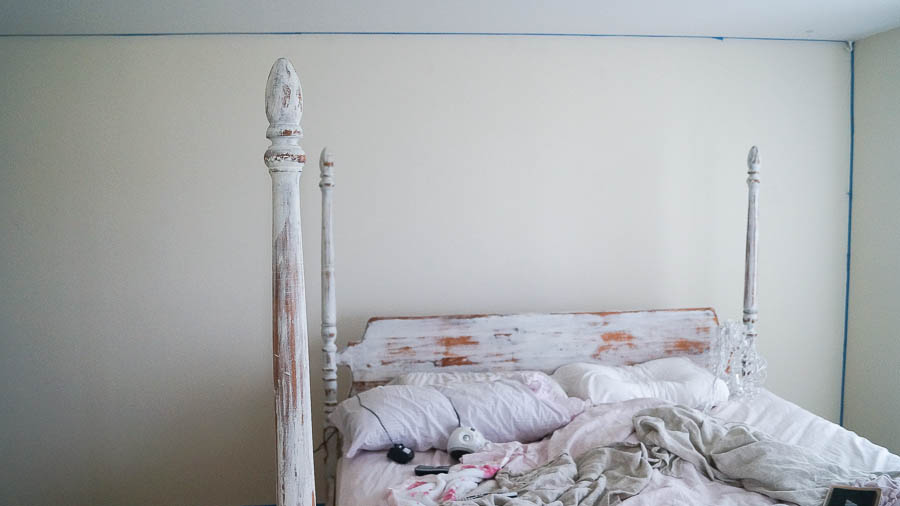 And here's a shot of my messy bed, isn't that wonderful. I make my bed every single day, do you? Well, we're ready to start stenciling the accent wall. See that level on the bottom of my stencil? I love that little level. It slides on to your stencil and helps you keep your stencil straight, because we all know that walls aren't straight.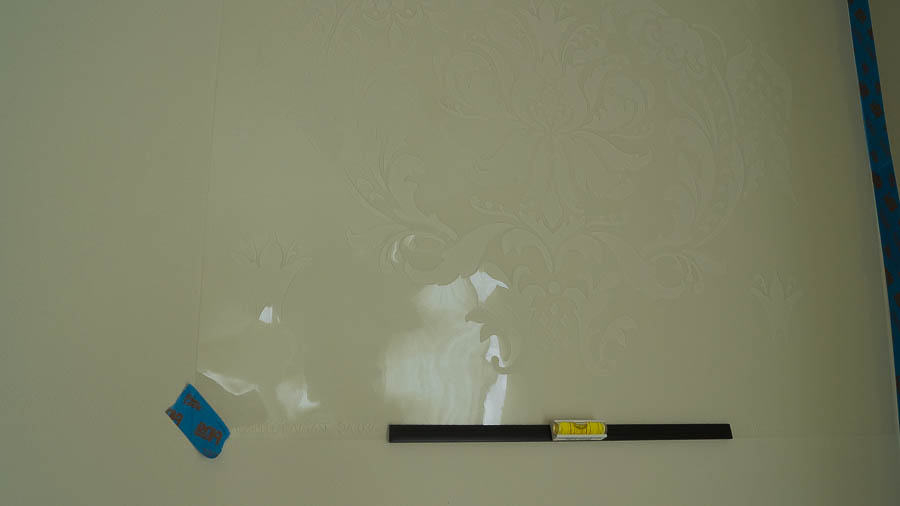 I used a foam roller to apply the paint to my accent wall, but you can use a stencil brush too. But, if you're asking my opinion, and I think you are, I would go with the foam roller. It makes this  job super easy. Just remember to blot some of the excess paint off on a paper towel before you roll over your stencil. If not you'll get bleed through, and that's no pretty.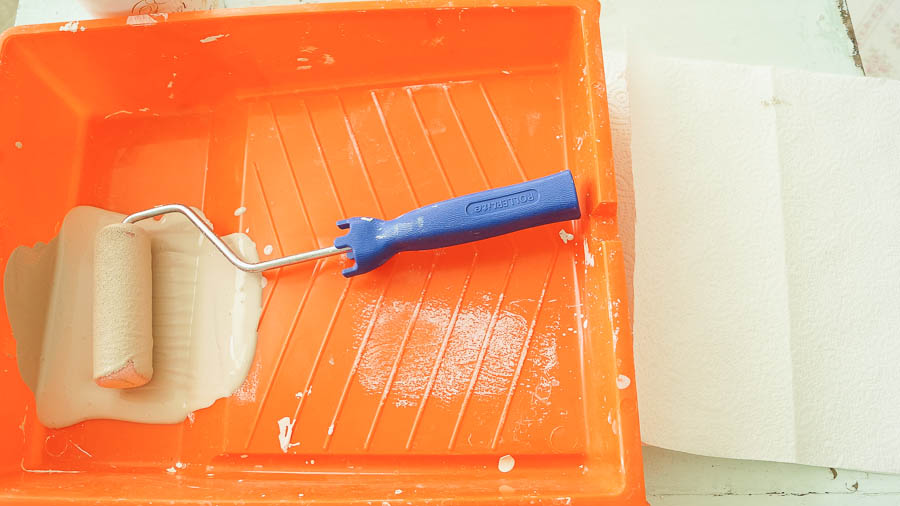 T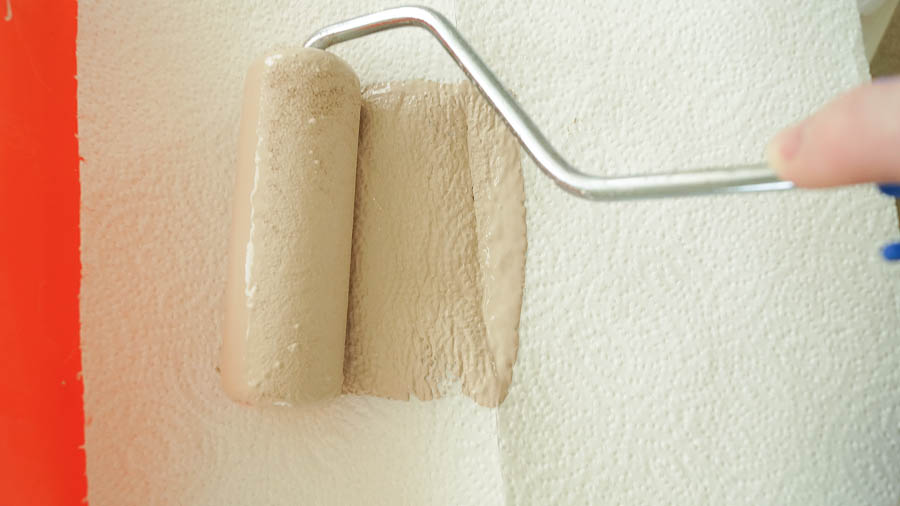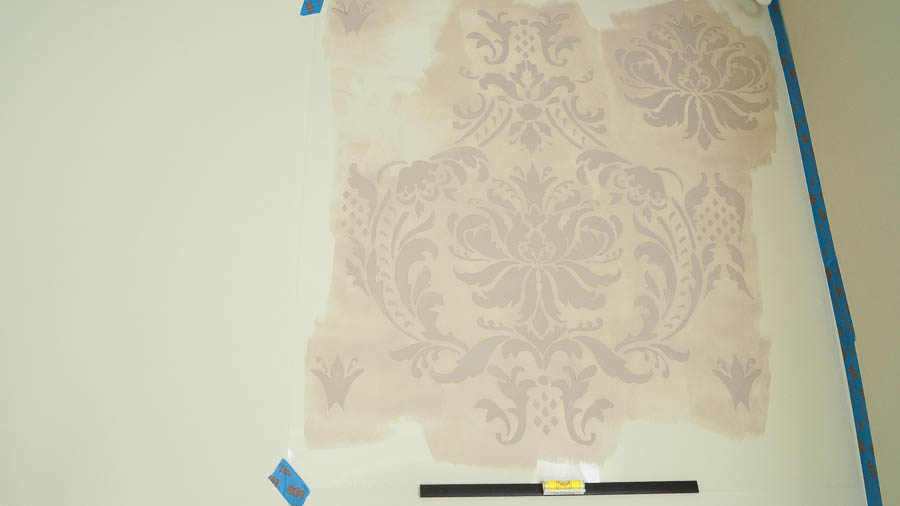 Start rolling, and try not to use too much pressure. If you put too much pressure on to the roller, you'll get that dreaded bleed through. And you don't want bleed through on your accent wall.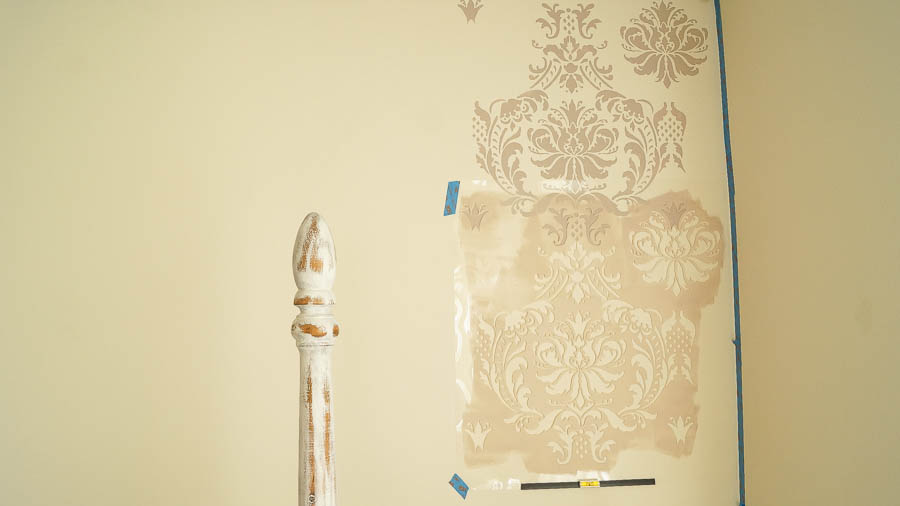 Keep working down your accent wall. Once you are done, go back to the top and stencil your top section. Cutting Edge Stencils supplies you with a top piece that's cut in half. It makes it so easy to do as you stencil the top. No worries about bending a big stencil, or getting paint on your ceiling. I couldn't get a photo of that as it's hard to photograph and stencil at the same time. I'm talented, but not that talented.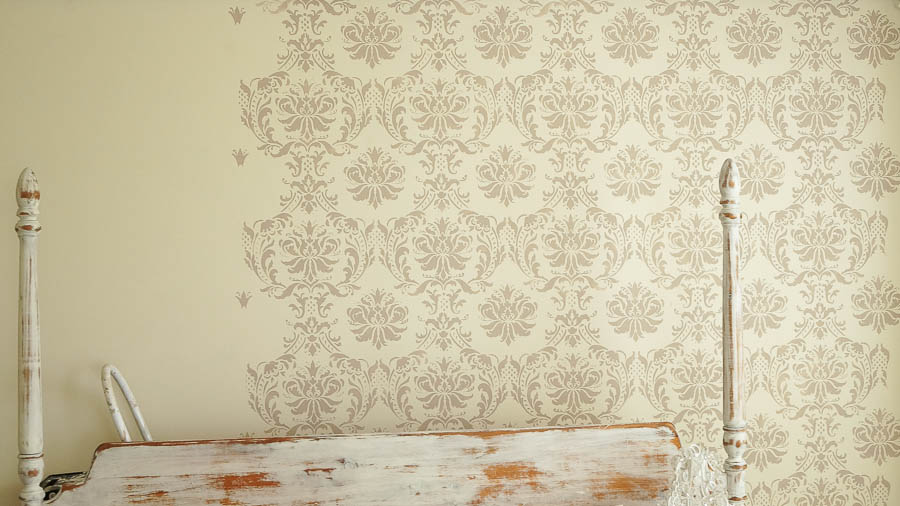 What a difference this accent wall makes in our room. See the side by side comparison? And here is my stenciled accent wall finished up. Once this stencil is completed, your accent wall will look like wallpaper. I've had so many people ask me where I bought my wallpaper. I have to admit I'm not a fan of wallpaper. It's not that I don't like the way it looks, I don't like procedure of taking it off. And I do like changing things around my house quite often. Wallpaper limits to those changes.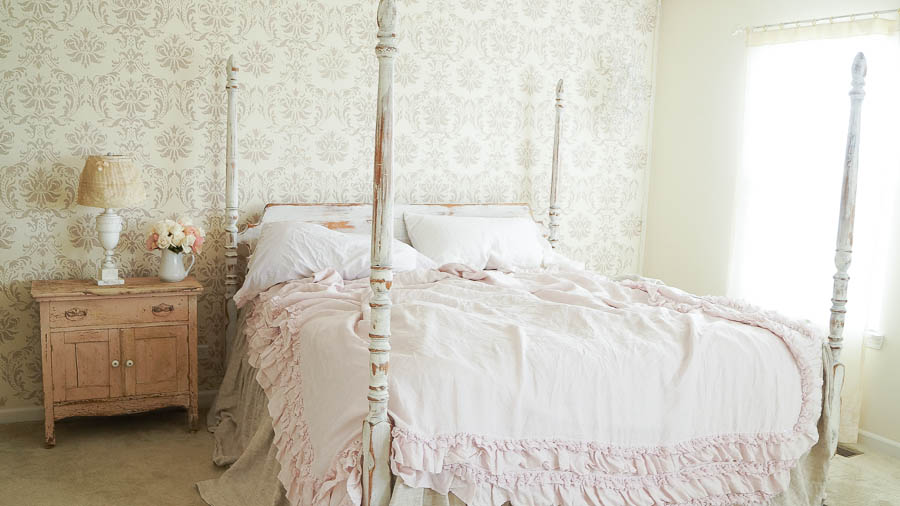 I know, my bed is still messy. But my room is not finished yet. I thought it would be fun to see it in stages. My daughter walked by as I was shooting the photos. She said " Are you going to share messy photos of your room"? Well, yeah I am! Hey, just keeping it real, actually what you are not seeing in this photo is the hot mess I have with my paints and things that still need to get cleaned up! But I couldn't wait to share!
And believe me, you don't want to see her room on a daily basis. What's with teenagers and their rooms?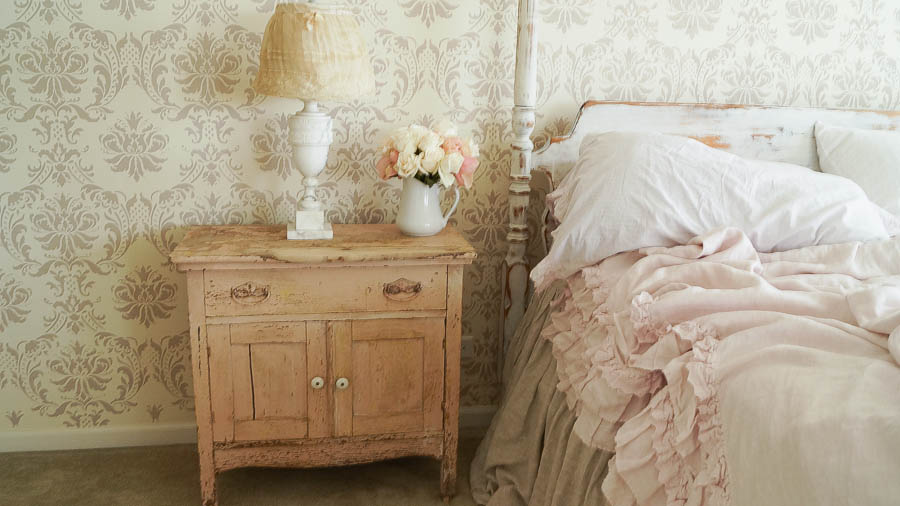 Isn't it amazing how a stencil can change the look of a room! Oh, did you see that touch of pink on my bed? That's one of the changes in my room. I have been coveting, wanting Rachel Ashwell's Petticoat duvet in this lovely blush color for awhile. I was lucky to find a thrifty one on ebay several months ago! Now I am looking for the pair of pillow shams to go with this.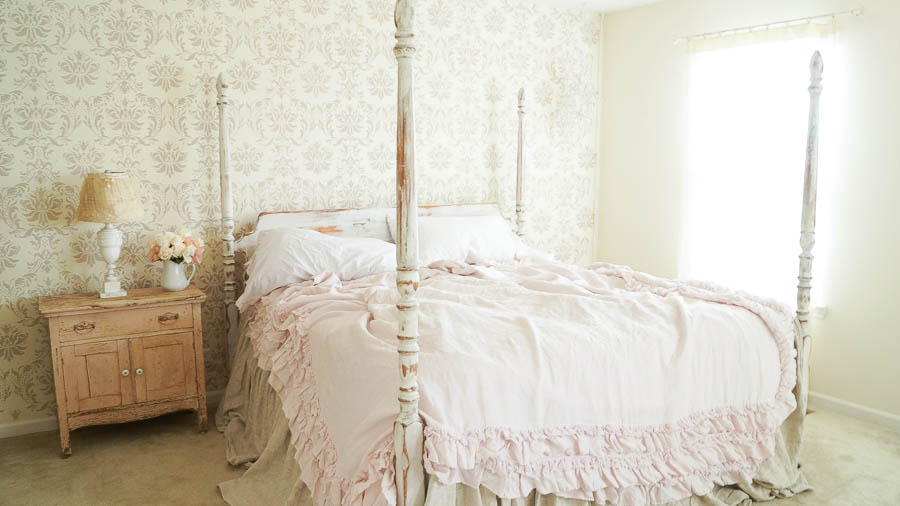 Using a stencil is a great way to change the look of a room without spending a lot of money! You can do a whole room, but I really love this accent wall. This is a simple change that anyone can do. Cutting Edge Stencils really makes it so easy! And if you get tired of it, just paint over it.
Sources:
Cutting Edge Stencils-Gabrielle Damask
Heirloom Traditions Paint-Mocha
Use coupon code WHITELACE at checkout!