Resale Shop Fashion
If you've been reading this blog long enough than you know how much I love shopping at a resale shop. I not only to purchase good finds for my house, but I also purchase 98% of my clothes at a resale shop. I'm often asked where I find my clothes, and jewelry. And this is no joke, I've actually had people follow me around a store, approach me to ask where I bought a jacket, or top, or whatever. The best part is that I always tell them, I bought it at a resale shop. That's when there jaw drops and they have a look of disappointment, because shopping at  thrift shop is like getting a one of a kind piece. Since it's used and probably a few years old, the chances of finding that exact piece is pretty slim.
(This post contains affiliate links, please read disclosure policy)
So today I wanted to share some of my latest resale shop finds, along with a few pieces that I purchased at a regular store. I'll also share how I pull together an outfit and how you can too.
Make sure you follow me on pinterest, especially my Fashion And Beauty board.
I love summer clothes, and if we lived somewhere warmer, I'd probably shop everyday for clothes, for reals! As I said I buy 98% of my clothes at resale shops, but here's what I don't buy at thrift shops.
Undergarments- enough said!
So lets take a look at a few of my recent purchases.
Now that I'm turning 50 in a few months…gulp, I've sort of stepped out of the box with my fashion. I've been wearing clothes that I normally wouldn't have tried before. I'm not sure if it's my age or the fact that I recently lost weight.

You can read about my weight loss HERE.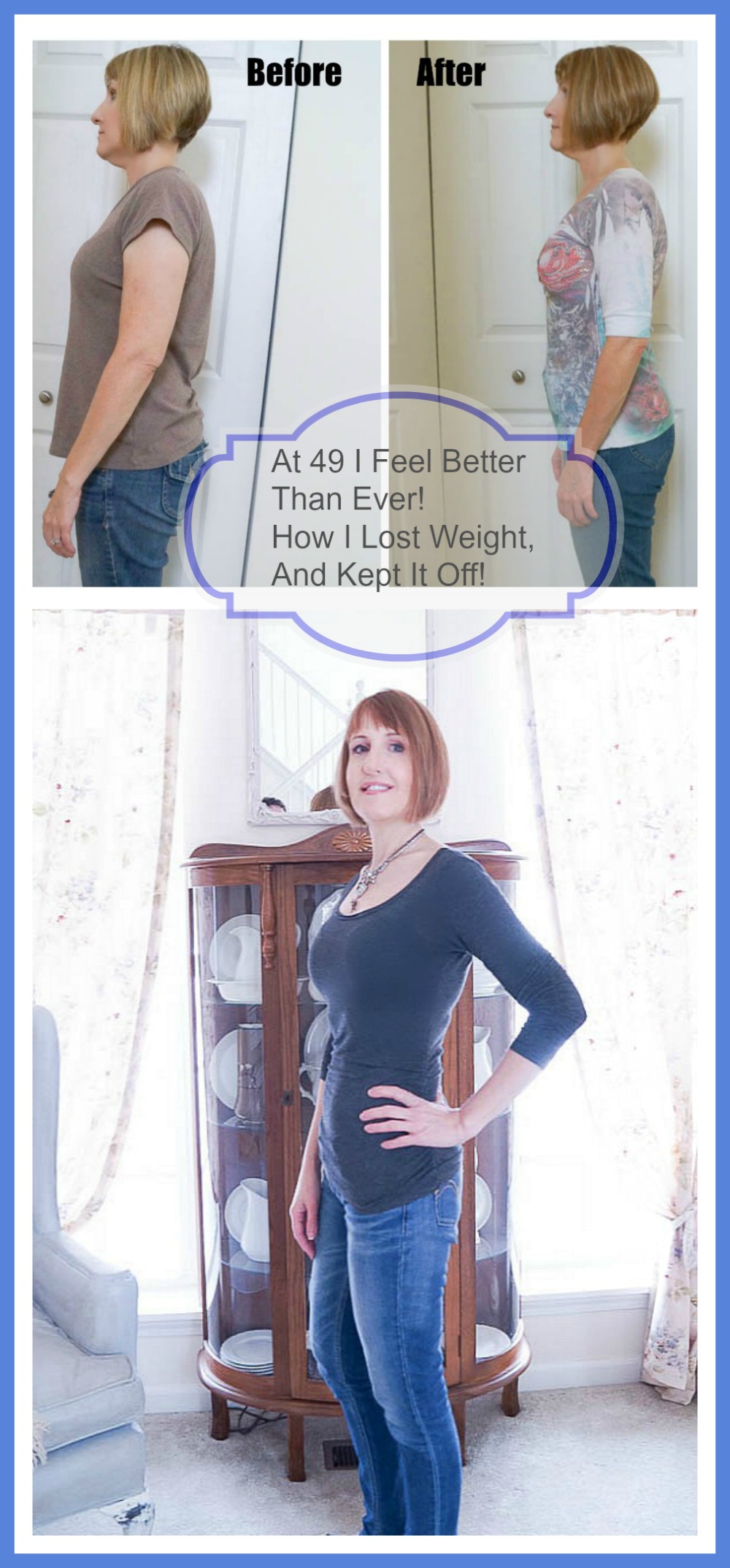 Just because you're a little older doesn't mean you can't look stylish. I love clothes, I love fashion, but I hate spending a ton of money, so I don't.
When I need more pieces for my wardrobe, I go out treasure hunting at a resale shop. I know I'll find something to wear. And we are lucky that we have so many resale shops in our area.
So let's get to it, here are a few of my recent finds and a few tips.
Tip #1-
Look for pieces that can be dressed up or down.
I always look for pieces that can be dressed up or down. I wear jeans practically every day, but I still like to look dressed up when I'm wearing them. Look for pieces that can be worn with jeans, a nice pair of pants or a skirt.
The Breakdown Of This Outfit
Jeans-$5.00
Silk Lace Top $15.00
Shoes $5.00
Total= $25.00
A complete outfit for 25.00! I think this top is one of my new favorite pieces! You can dress it up or down, it's just fun 🙂 I'm wearing this silk top with jeans, but it still looks dressy because the jeans aren't just jeans, they have a fun leopard pattern. These pants can be worn with a black top, or a black top and a black jacket. Another idea would be to wear a brown short sleeve shirt and a black jacket or vice versa. You get the idea, I can create many outfits with the jeans alone. This top can be worn with funky black bell bottom pants, or a lace skirt, a black skirt. But this is a simple and easy look that can be dressy or dressy casual. I wore this outfit recently and I paired it with a ruffled brown jacket.
Yes those are leopard jeans, aren't they fun!
Please don't get grossed out by used used shoes. I'll be sharing a tip on how I disinfect my shoes before I wear them 😉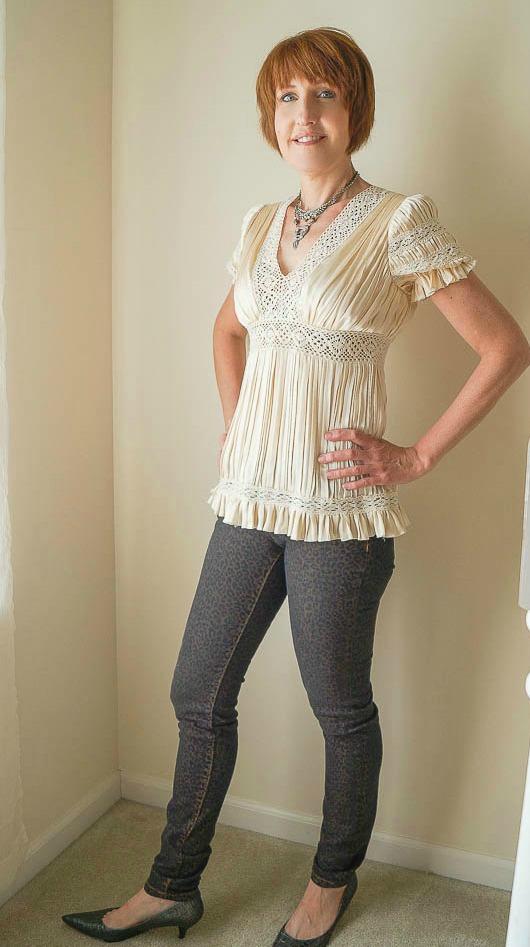 (Photo below taken from Ethan Allen event)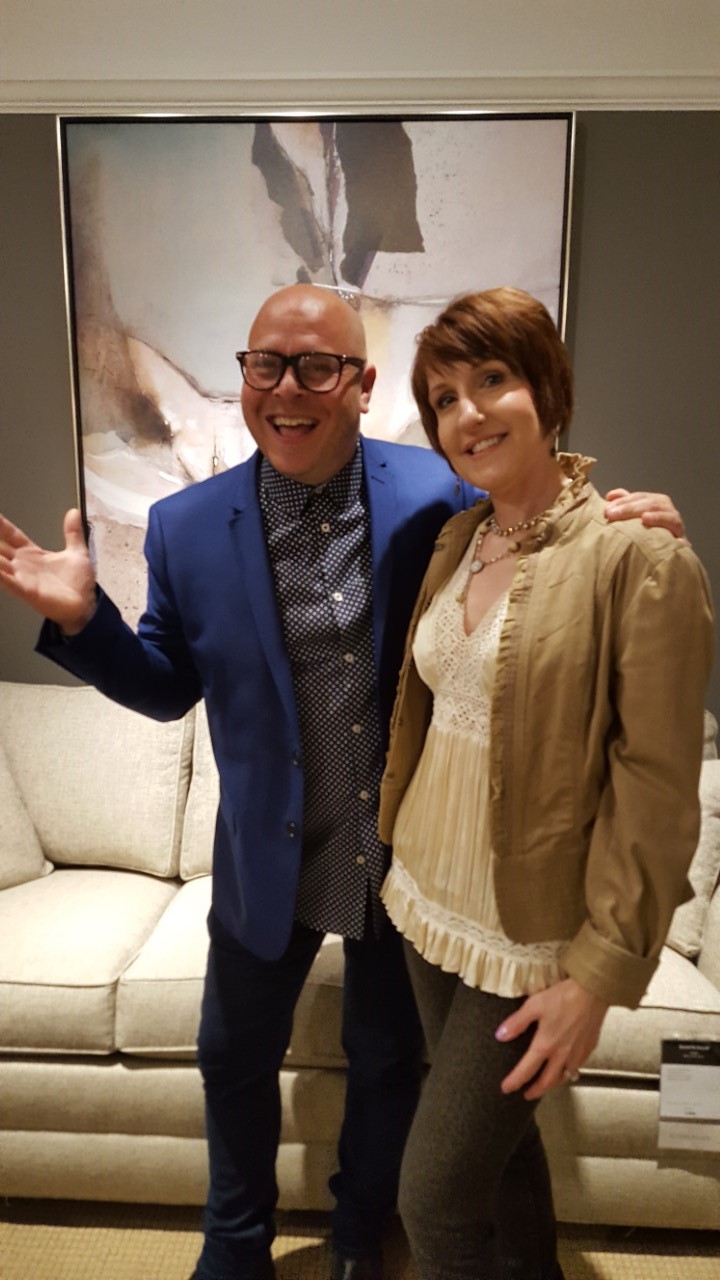 Tip # 2-
Look for pieces that can be mixed and matched easily.
The Breakdown Of This Outfit
Jeans $8.00 never worn
Lace top $3.00
Shoes $5.00
Total= $16.00
I saw these jeans and fell for the skull and lace design. These are totally outside of my comfort zone, but I love them. They're fun and a little wild. And I  paired it with this pretty lace top makes a beautiful dressy casual look. I'm wearing those same shoes and as you can see they work perfectly with this outfit too.
That lace top can be worn with a plain pair of jeans, or a lace skirt, black pants or skirt. I also could add a jacket to this outfit.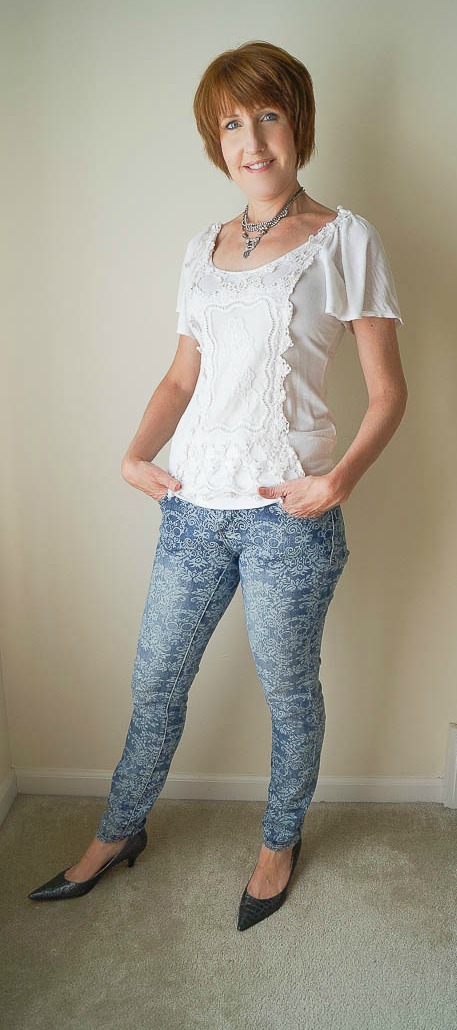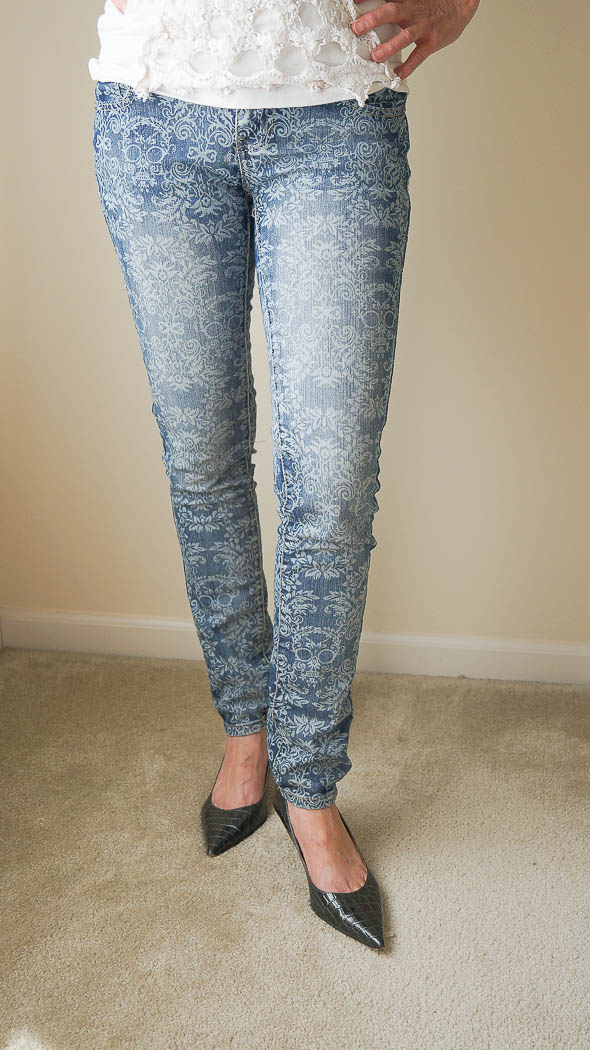 I wear jeans, a lot, practically everyday. But sometimes I'll wear a skirt. This will surprise you because this skirt was not from a resale shop. My family and I were out of town last week in Door County Wisconsin. I on the way there we stopped at an outlet mall. The store is called Rue21. Most of the clothes are for younger kids, but I saw this skirt and I knew I could pull it off.
Tip # 3-
Don't pass up looking in the clearance section of a store. Most of my clothes are from thrift shops, but every once in a while I'll find something really cheap at a regular store.
The Breakdown Of This Outfit
Lace cami $3.00
Lace skirt $3.00
Sequin shoes $5.00
Belt and buckle $40.00
Total=51.00
Now this outfit is a bit more than my other outfits because of that cool belt buckle. It was definetly an investment purchasing it. But I wear it all of the time! I wear it with jeans or as I'm wearing it here to dress up an outfit. It's fun, it's unique and was worth the money. My friend Cindy makes them. You can check out her Etsy shop HERE.
Can you believe that beautiful lace skirt was $3.00? Crazy huh? I also bought a long black sweater with a faux fur collar for $5.00 at that same store. I'll have to share that one soon.
Obvioiusly that cami can be worn with so many other outfits. I love layering clothes, so that cami can be fit under a lace top, or a long sleeve button down top, maybe tide at the bottom. Or worn with a jean jacket. That skirt can be worn with many other tops as well. This is a fun casual or dressy skirt.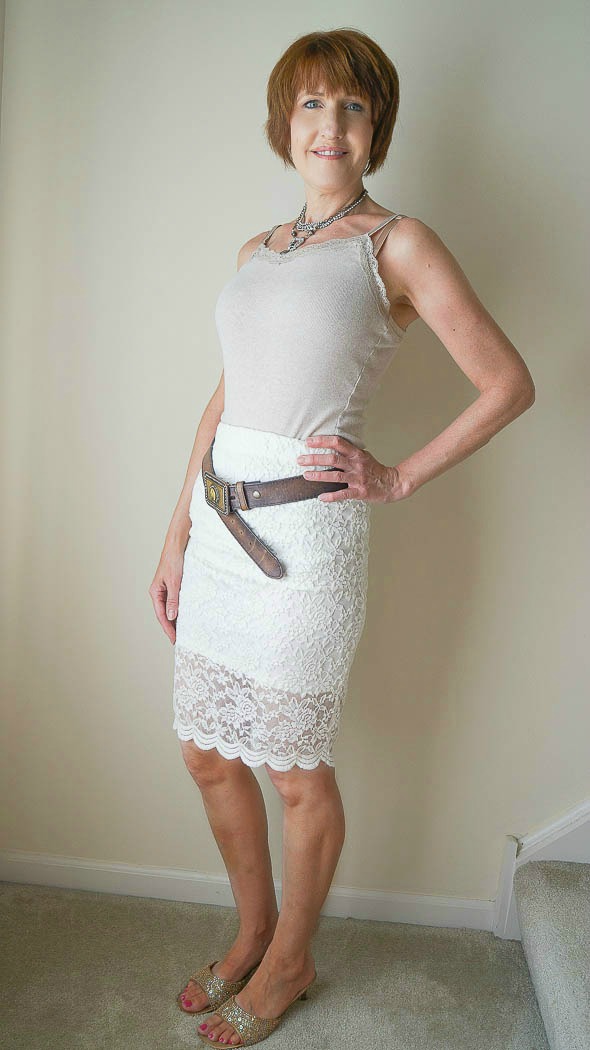 Tip #4-
Purchase blazer jackets. These are always great to have on hand, you can totally transform and dress up a simple outfit just by wearing a jacket.
The Breakdown Of This Outfit
Talbots jacket $15.00
White house Black market top $5.00
Cropped Jeans Rock and Republic Brand-Khols $29.00
Shoes $5.00
Total= 54.00
This is a little higher because my cropped jeans were not purchased at a resale shop. I usually always purchase my jeans at a resale shop , but I was looking for cropped jeans and couldn't find any in my size. I have to tell you I get so bummed when I have to purchase something at a regular store, because I've gotten spoiled finding so much of my clothes from a resale shop.
I love this jacket because it can be worn with so many other tops. It can be dressy or dressy casual. I love the ruffles on this particular jacket. The price was a bit steep for me, because I'm thrifty, but I knew that this will be worn a lot and totally worth the $15.00 I paid for it.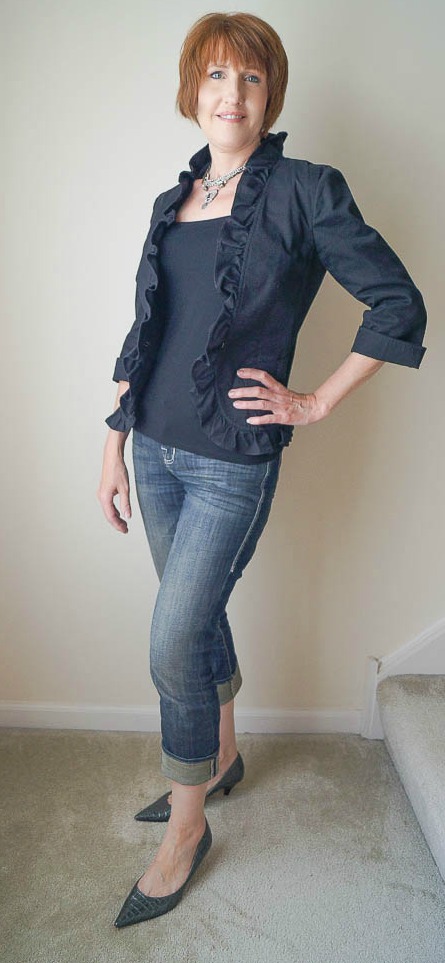 Tip# 5-
Wear jewelry and dress up any outfit. My friend makes the jewelry I wear. I always pair it with a vintage rhinestone choker. I find these chokers at thrift stores, antique  and resale shops. I love my friends  pieces and I wear them everyday! They can dress up anything you wear, including a t-shirt.
The Breakdown Of This Outfit
Graphic Beatles t-shirt $2.00
Cropped Jeans Rock and Republic Brand-Khols $29.00
Total= $31.00
Not shown were my blingy flip flops. My daughter took these photos, and she didn't get my shoes in the shot. But these are the shoes I wear the most now that it's summer. These are sketchers and they feel like your walking on air. I love them, and of course the bling too 😉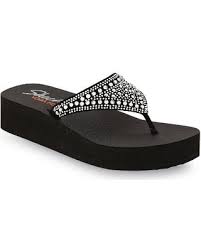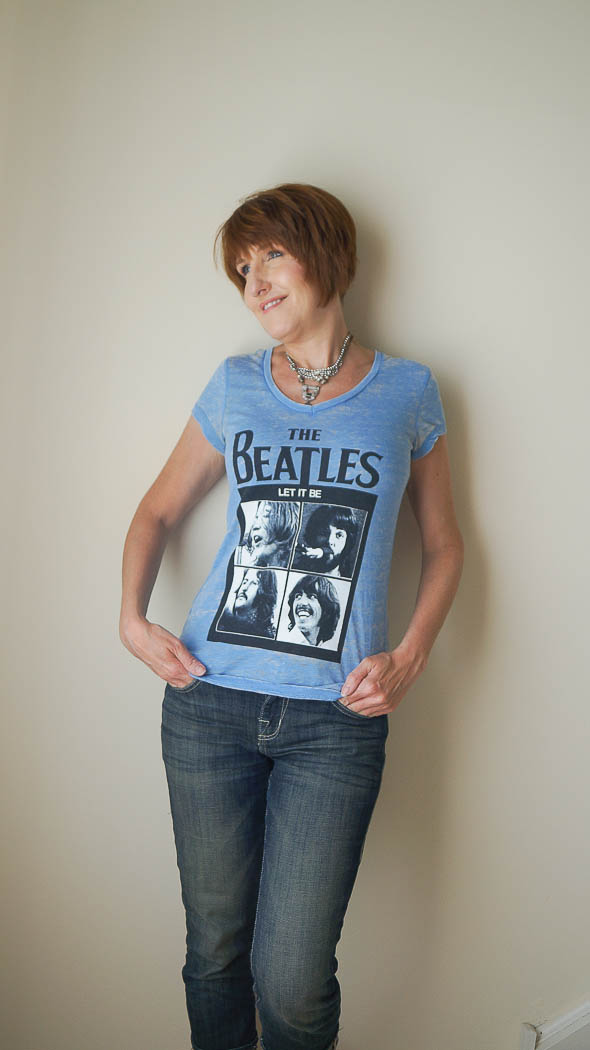 I guess it's the kid in me, but I still like wearing graphic t-shirts. My daughter and I are always finding fun and cute ones when we are shopping at the resale shop. I love the Beatles so I was thrilled to find this one.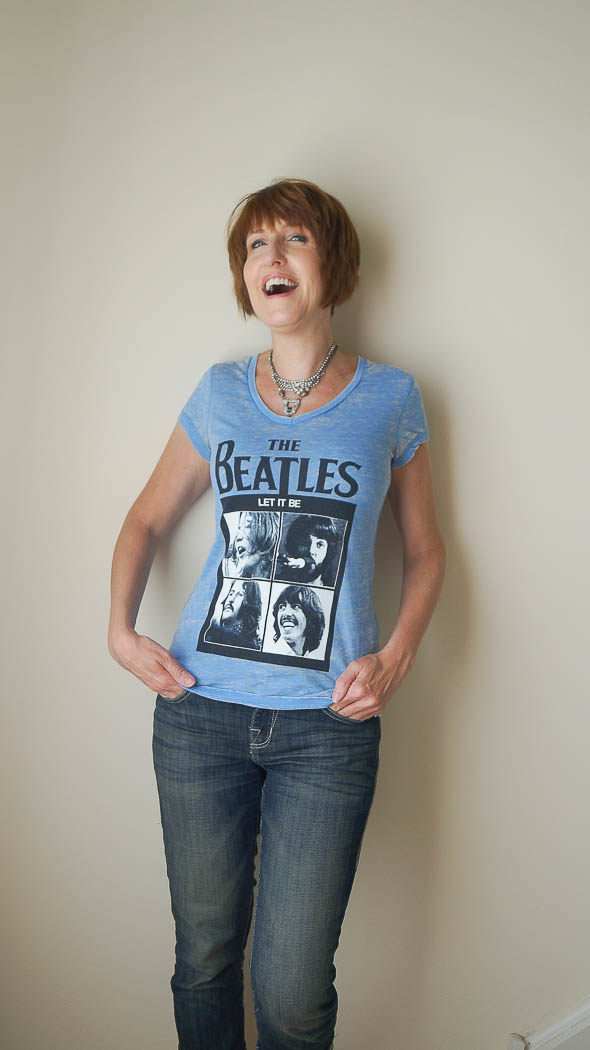 I do like finding new graphic t-shirts when the price is right. This one is from Cents Of Style.
I used a coupon code and received 50% off my shirt plus free shipping! So you're probably wondering why nope. Well nope for me means I'm not going to take no for an answer, I'm not giving up on my dream. I'm working hard to make it happen.
You can use this code http://FREEDOMFLASH
For 50% off and free shipping. I think it's just for this weekend. I have no affiliate with this company, just sharing this deal.
I first heard about this shirt on Whippy Cake's site. If you haven't visited her site make sure you do. She's super talented with makeup, hair and she's a motivational speaker. I love her!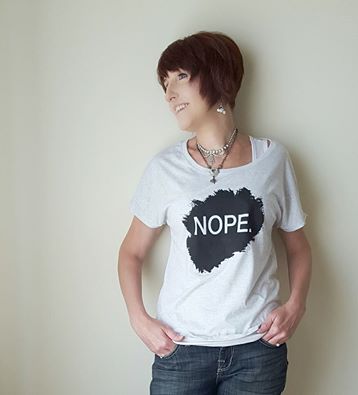 If you're looking for fun and cheap fashion make sure you check your local resale shops. I promise that you won't be disappointed. And once you start shopping at one, you'll start getting lots of compliments on how stylish you look 🙂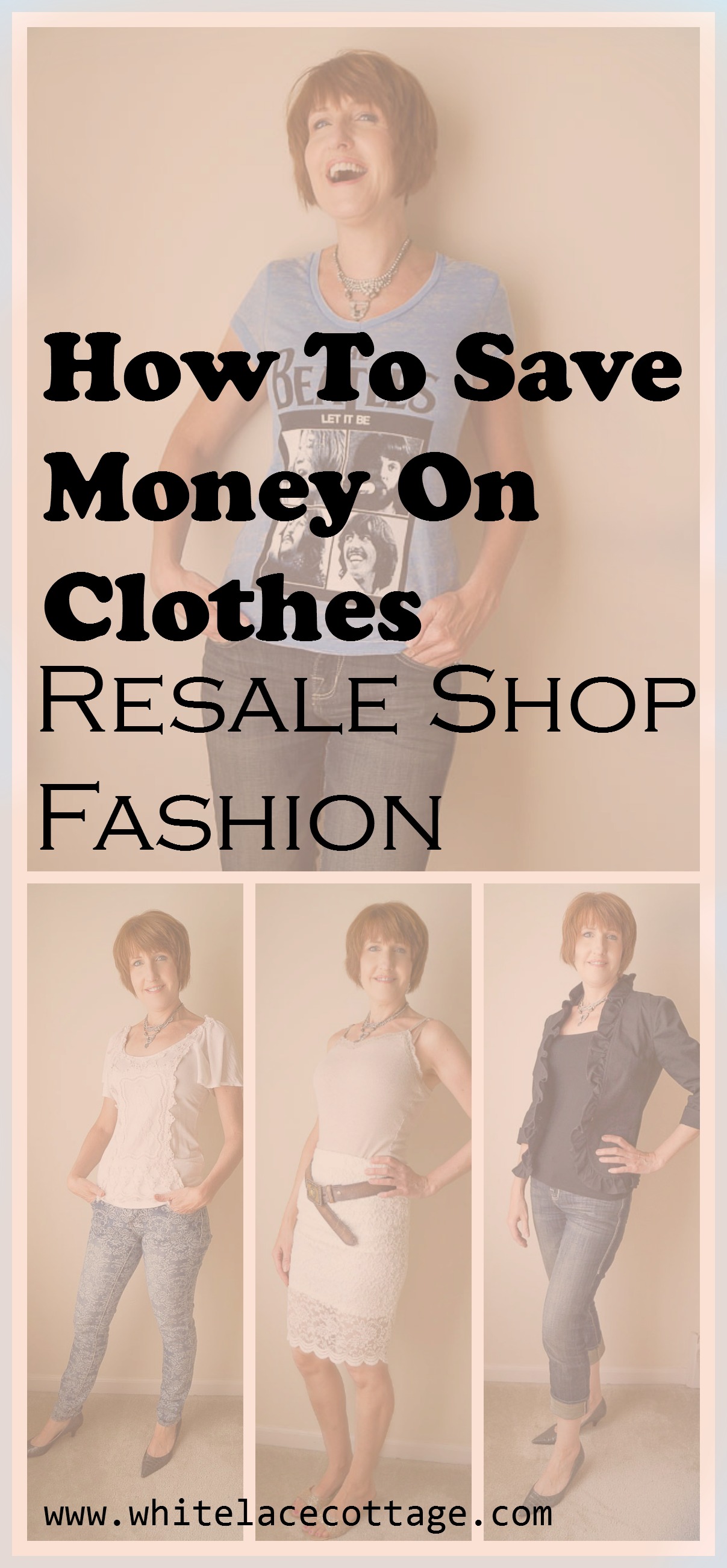 Save
Save
Save
Save
Save