Porcelain Roses
You are probably wondering, how in the world can I make porcelain roses using chalk type paint. Well, I feel like I am challenging myself in every way possible to think outside of the box.  I am sure you have noticed that my crafty side has come out. Where in the world was it all these years? Well, maybe I had a little crafty side the whole time and never really knew it.
So how do I come up with these ideas? Well, it's usually when I'm not trying to think of ideas, is when I think of ideas. Okay, that's sounds like a bunch of mumbo jumbo. But, it's the truth. Here's an example, I'm walking through a store I see a window display. Then I think, Ah-Ha! That would make a great headboard, only I'd use XYZ. Well, I wouldn't use XYZ but you get the idea. I see inspiration and I run with it. Not literally, but you get the idea. Sometimes I think of ideas on my own, and sometimes I'm inspired by something I've seen and then I get an idea of how I can create something totally different but sort of the same.
So this idea came to me after seeing beautiful vintage porcelain roses. They are so delicate looking, but to create on myself, no way Jose. I can't sculpt porcelain or clay for that matter. So let's cheat.  I'm good at cheating, well not really. I mean I generally don't like to cheat, but I do like to make things easier. Maybe I'm just a tad lazy?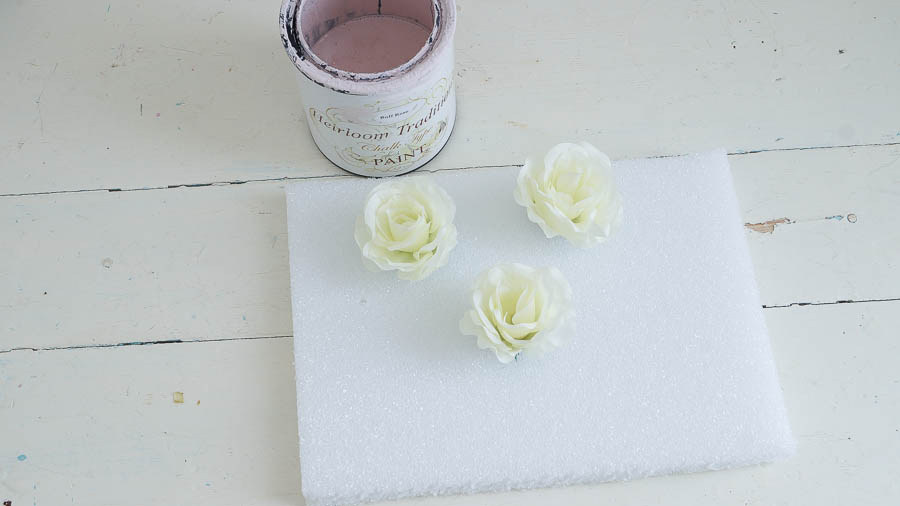 For this project you will need:
Silk roses, besides craft stores, you can also find these at thrift shops, and don't worry about what color they are.
A piece of styrofoam, to hold the roses as they dry.
Chalk type paint,  I am using Buff Rose by Heirloom Traditions.
Let's Get This Partay Started!
Take your rose bloom off of a stem and dip it into your paint.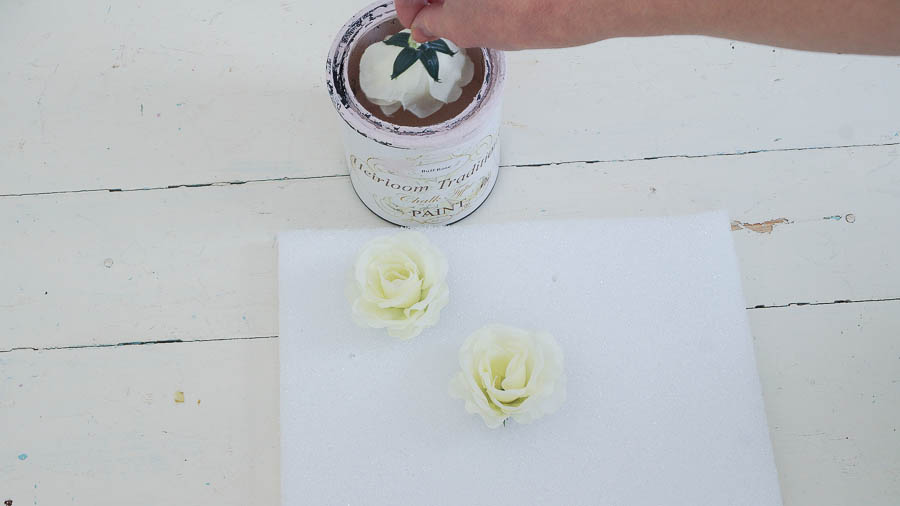 As you are lifting the rose out of the paint, tap the excess paint off while it's still in the can.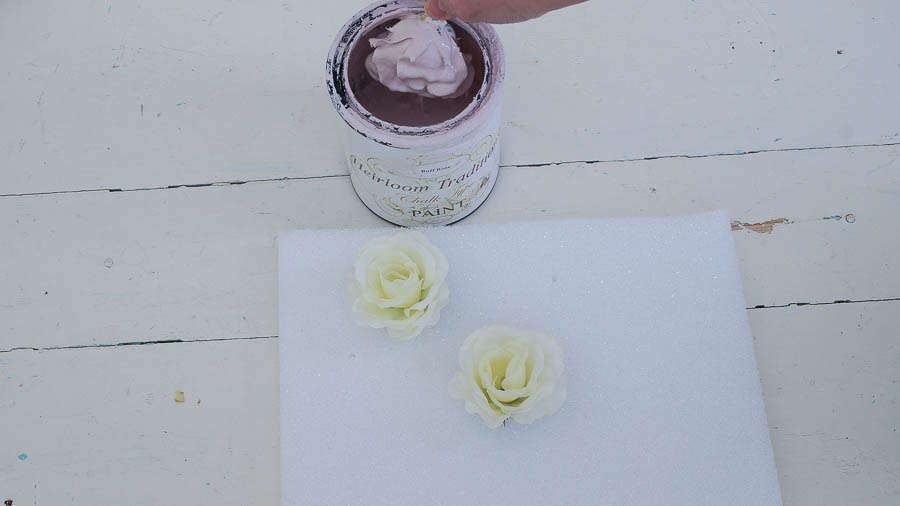 Then gently place this on your styrofoam tray. I made sure that I already had pre-made holes on my piece of styrofoam, so the flowers slipped right in.
Tip
(To make a pre-made hole, before you start your project just stick the rose in and pull it out.)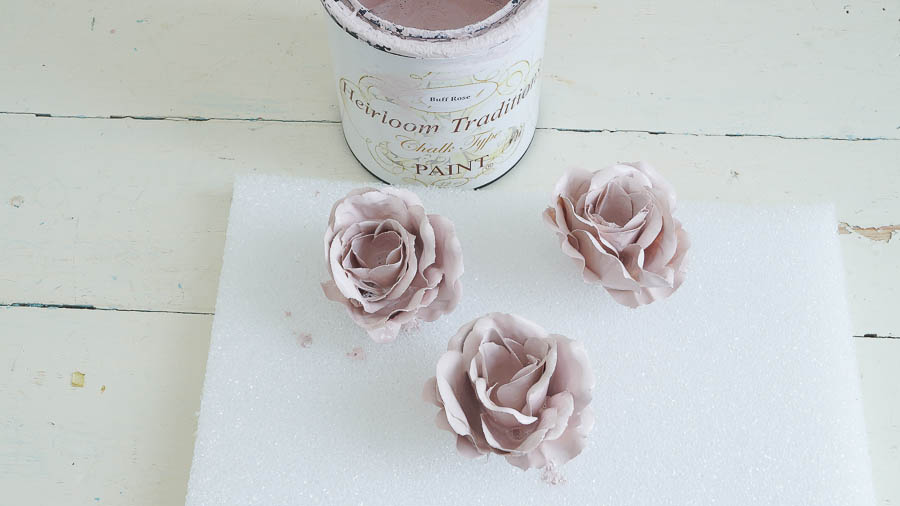 These porcelain roses are going to take sometime to dry, so be patient! I'm not yelling, but I just wanted to warn you that if you're not patient you'll mess it up. Like, look who's talking the queen of being impatient, that would be me.
Before I go on, you can also chose to paint your flower using a small paint brush. And you're seriously not going to do that. Do you know how long it would take to paint each petal? Ain't nobody got time for that. Ah, such harsh grammar.
If you want a crackled look on your rose's, take your hairdryer on a low setting start drying the paint on your roses. Yep, you heard that right. Take your hairdryer and go to town. But don't set it too close or too high. You don't want wet paint splattering everywhere and you don't want to start a fire. Use common sense and read my disclosure policy.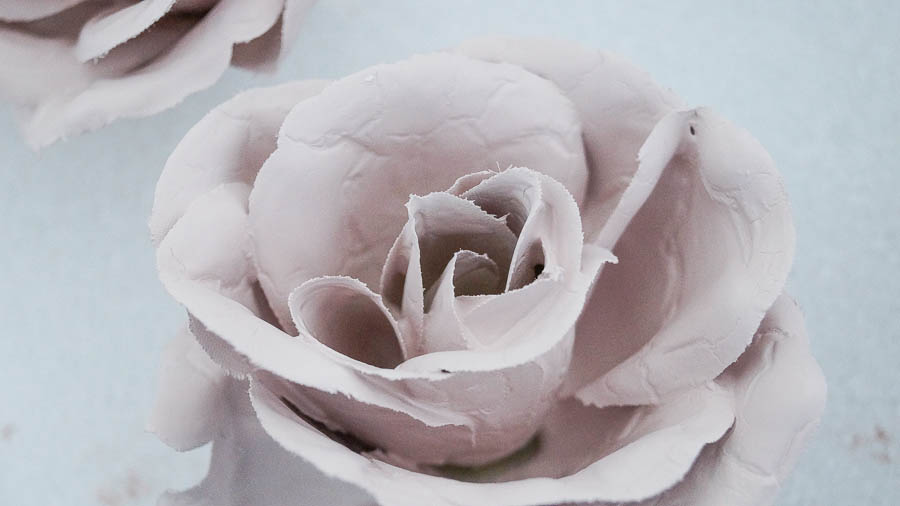 See how my rose started to crackle. That's because I used my hairdryer. Which is pink by the way.
After these are dry, turn them upside down and using a small paint brush touch up any area's that the paint came off when you placed it onto your sytrofoam tray. You only need to paint the bottom if you are going to see this, if not then just skip this step.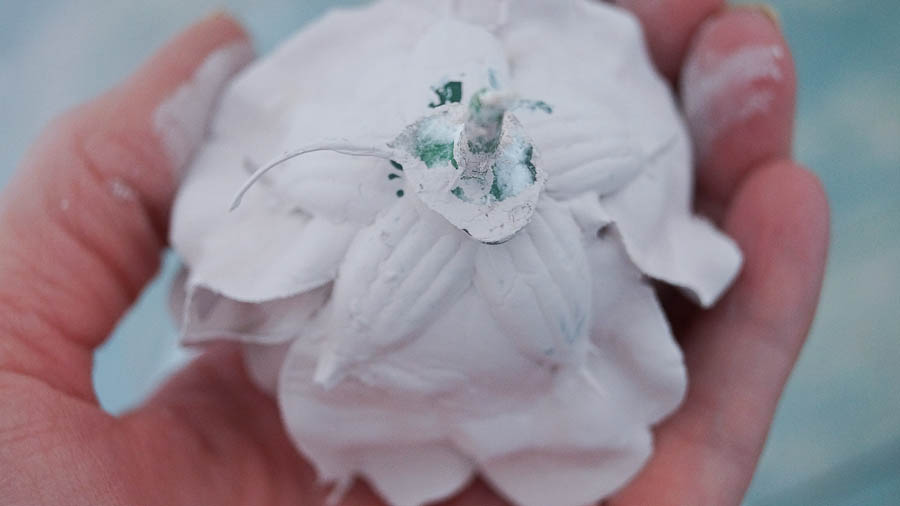 Well that's it folks, it's pretty darn easy to do huh? Now to finish, you can spray on semi-gloss or high gloss varnish. I chose not to add a varnish on mine. They have a clay like appearance, as though they have been hand sculpted.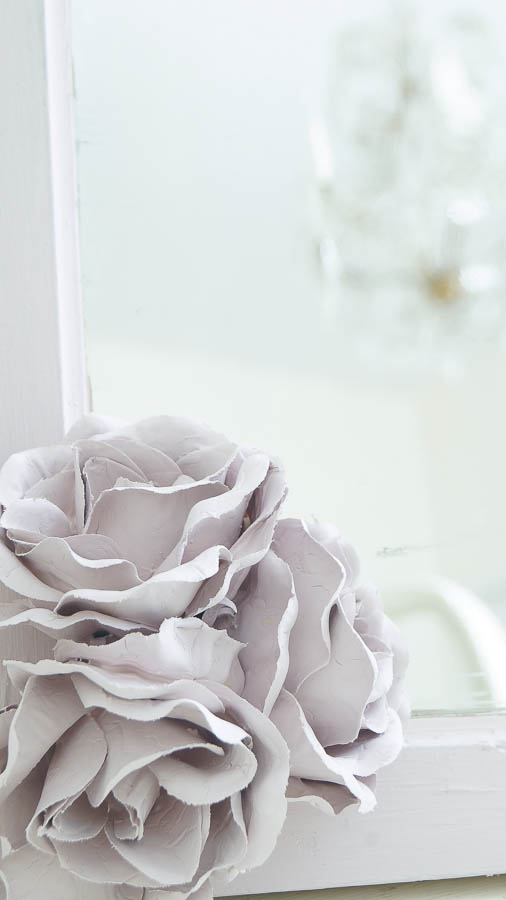 So what did I decided to do with these faux porcelain roses once I created them? I decided to add them to my vintage mirror. Once these little beauties were dry, I added them to my mirror using my hot glue gun. Have I ever told you that my glue gun was my best friend? Well, not literally but it's made my life so much easier. I love how quickly I can do a project, and well, I've used my glue gun for so many projects. I think I hemmed curtains with my glue gun at one time. Yeah, it's a bad boy!
The mirror has been painted using Buff Rose, the same color as the roses. Pretty sweet huh?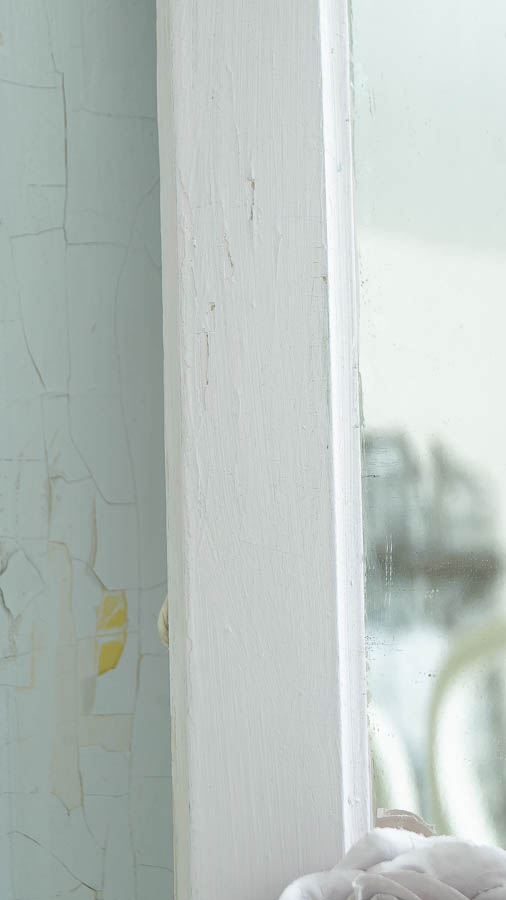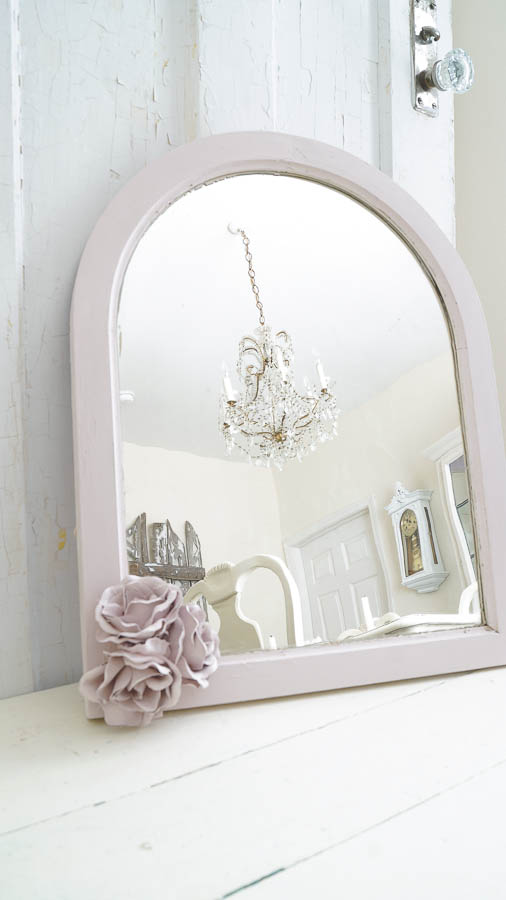 Well aren't these the prettiest little flowers that you ever did see (insert southern accent). Oh I'd love to have a southern accent. But I usually just sound like someone trying to have a southern accent.
Well I have to admit, these really look and feel like they are made of porcelain. They are so delicate and fragile looking. Let's see….Hmmmmm… what else can you use these faux  porcelain roses for? How about making napkin rings, or a wreath or how about adding these to a pretty package. So many ideas are flying out of my head! This technique turns an ordinary silk flower into a piece of art!