Let's talk about 10 tips to save money while decorating vintage style, questions and answers.
Boy, I wish I had the resources years ago that I do now; I would have saved so much money then!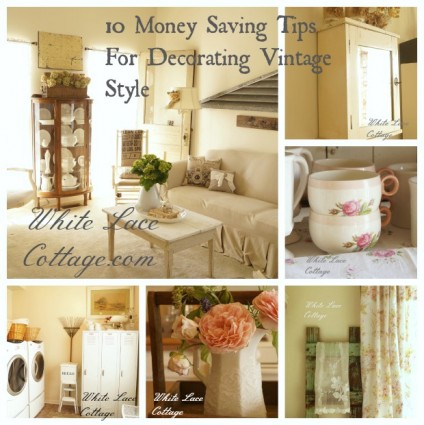 I receive many questions via e-mail on how I decorate on a budget, where do I shop, and where do I find the things I do for decorating.
Well, today I am going to share with you 10 money saving tips.
Using what you have or spending very little money.
Tip number one.
~~~~~~~~~~~~~~~~~~~~~~~~~
Paint, yes paint.
It's one of the cheapest ways you can revamp a room.
I have living proof if you look at the before and after photos of my home.
Let's start with my kitchen.
Besides my kitchen cabinets that were painted with Annie Sloan chalk paint, let's talk about my walls.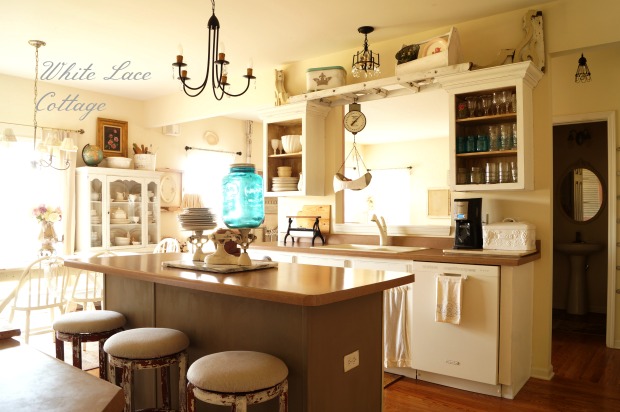 (You can read all about the before and after transformation HERE.)
Yes, painting is one of the cheapest ways you can makeover a room.
When it comes to wall paint I don't spend a lot of money.
I used Glidden Wall Paint, America's finest in flat finish (except for my bathrooms and laundry, which I use semi-gloss).
I have used this paint for years and I will use it again.
I personally have not seen a difference in the wear on my walls using this paint.
I know some painting experts would disagree, but I am sharing what I use and that is it.  You can view my paint recipe HERE.
Tip number 2
~~~~~~~~~~~~~~~~~~~~~~~~~~~~~~~~
Re-vamp what you already have.
My sofa in my living room is 23 years old.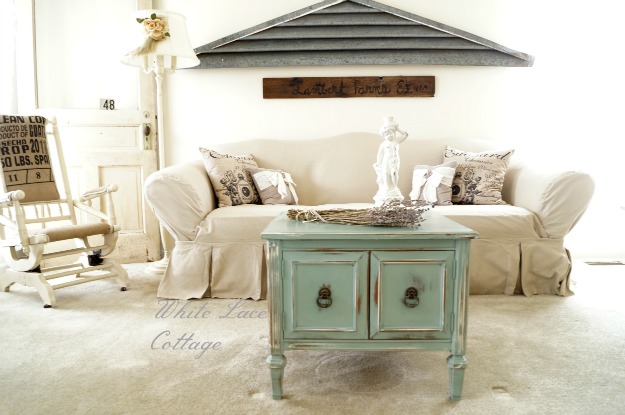 I know you can't tell because it has a slipcover over it now.
If I had a sewing machine I would attempt to make one myself, but I don't
It was not in our budget to replace it, so I bought one from Ugly Sofa.
The color is flax and at $49.00 it was a steal!
It would have cost the same to purchase the fabric!
There are other companies that sell slip covers too, just look and search for what is in your budget.
Tip number 3
~~~~~~~~~~~~~~~~~~~~~~
Sometimes you have to work with what you already have, and with the supplies you already have on hand.
I bought a rocking chair before I started changing things in my home.
But with the new changes, the chair was not working.  Lets' s be honest: it was not working before the makeover either.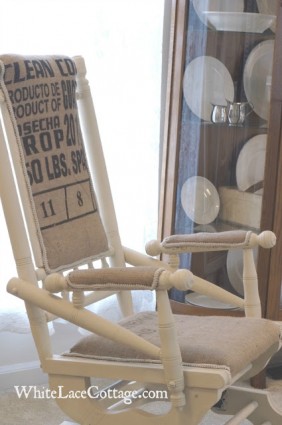 Anyways, I decided to reupholster it myself.
It was a little scary, but I thought I am either going to re-do this chair or it's going and I would have to wait to get something else.
I pulled out my Annie Sloan chalk paint because that is what I already had on hand, painted it and then reupholstered the chair using the $1.99 coffee sack.
I already had some burlap bags, since I bought a bunch a while ago thinking I would just display them.
The coffee bean sacks were $1.99.
You can read about the transformation HERE.
Tip number 4
~~~~~~~~~~~~~~~
 Sometimes  buying  new is not an option but you need a new piece for a room, either furniture or accessories, then you have to open your eyes to the world of thrift shops.
We have so many around us now, I guess it is the sign of the times.
But I love getting a bargain, don't you?
I would say 98% of what I buy comes from a thrift shop.
Sometimes it needs to be cleaned up or painted.
If I buy something that needs work I think how much will it cost.
I don't want a big  project.  If it requires too much work or if I don't already have materials at home to fix it, like paint or fabric or whatever, then I pass on it.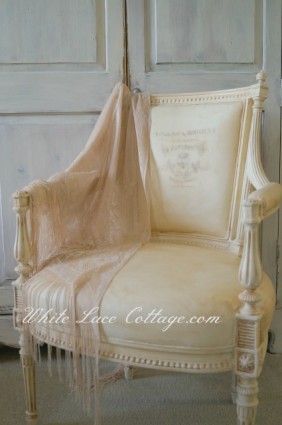 This French chair was a thrift shop find for $20.00.
I painted it with Annie Sloan chalk paint, added a graphic from The Graphics Fairy, then waxed it.
I already had materials to do this and yes we use this all the time!
This was to be sold at a sale, but so glad it did not sell, it was meant to be here!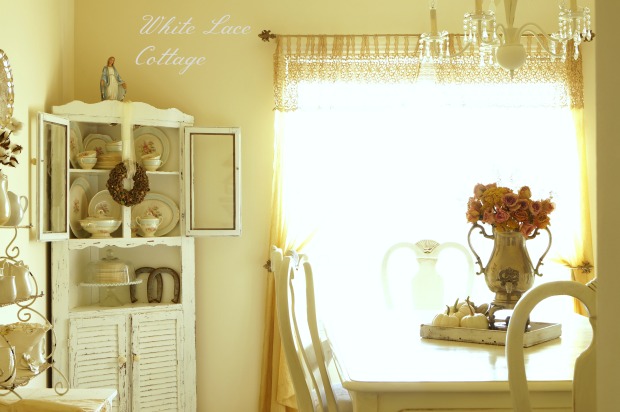 That corner cabinet was a $25.00 find.  It just needed to be painted, so I did so using Milk paint.
Those dishes were also a thrift find a set of over 39 pieces for $39.00!
Tip number 5
~~~~~~~~~~~~~~~~~~~~~~~~~~~~~~~~~~
While you are out thrift shopping don't forget to check out the linens.
I don't sew at the moment, but I wanted different curtains in my kitchen.
I found a beautiful vintage sheet, I believe it is a king size that I simply cut and used iron-on webbing.
I did already have webbing on hand and I had some curtain hook clips on hand that I picked up at a thrift shop.
The cost for the curtain….was $4.99.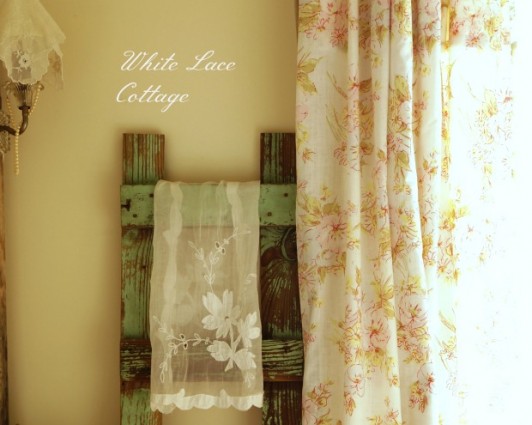 You can read the tutorial HERE.
You can also find cheap fabric for very little money that can be used to reupholster a chair.
Pillow shams can transform sofa pillows.
Think outside the box.
And remember it is much cheaper at a thrift shop than at any fabric store.
Tip number 6
~~~~~~~~~~~~~~~~~~~~~~
Antique shops are great places to find unique finds and often can be much more affordable than you think.
Remember you can always negotiate the price and often if you spend over a certain amount they will give you a discount.
I have a few of my favorite places I love to shop at, and because I am there often I get a very nice discount.
When you really get to know the seller you can also ask them to look for items you may want for your home but cannot find.
I love a good chippy piece of furniture and pink is one of my favorites!
I found this wonderful piece at my local antique shop.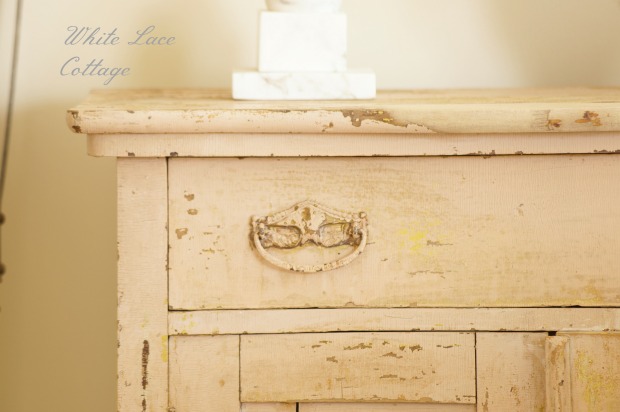 Don't be intimidated by antique shops.  Yes, some are pricey, but they are not all pricey.
And sometimes if you look you will find a bargain there.
Tip number 7
~~~~~~~~~~~~~~~~~~~~~~~~
Architectural pieces add lots of charm to vintage style.
Again these can be found for very little money; you just have to shop around.
Remember my home was not decorated in a day.  It takes years to find special pieces, but it's worth the hunt.
Garage sales are a great place to find interesting pieces.
I wanted to join my cabinets together and I wanted to find a ladder.
Well I found one at a garage sale.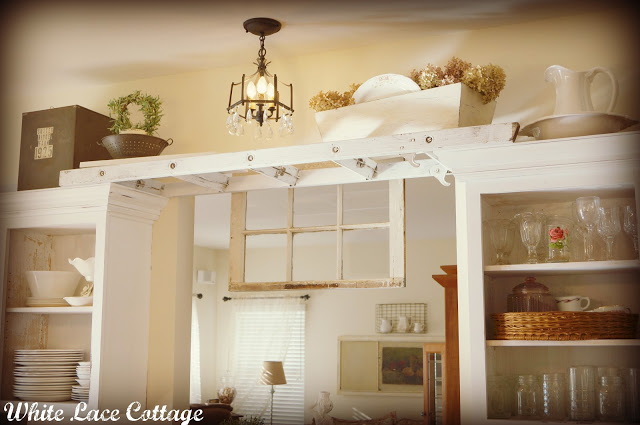 The ladder was $10.00 not a bad price for a garage sale.
I have found doors and other fun pieces at garage sales too!
Doors are great because they make a great background piece, and they are often a conversation piece too!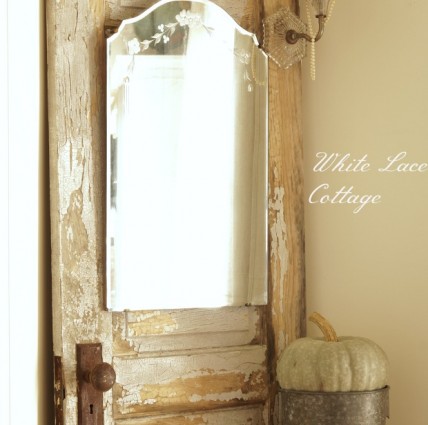 This was was found at a antique shop, but I have found doors at garage sales too!
Tip number 8
~~~~~~~~~~~~~~~~~~~~~~~
Get to know your local resale shopkeeper.
I am very good friends with a owner of a upscale thrift shop in town.
She loves my style, so when I am done with things I will often give her a call and see if she is interested in buying from me.
I wait until I have many items I no longer want, then I set up the pieces in my living room.
Yes, it is a personal sale set up in my home.
It's great for me because I don't have to advertise on craigslist , and it's easy to set up!
I let her set the price, knowing she is a shopkeeper and needs to sell to make a profit.
My items are not sold at a high price, but I often get what a paid for my items and sometimes a little more.
She loves it because as I said she likes what I have and she does not have to go driving to different garage sales to find things for her shop.
She is limited on time, for her time is money.
Tip number 9
~~~~~~~~~~~~~~~~
Shop your house and move things around.
This will cost you zero money,and it can really change the whole look of your house just by moving things to another room.
Or put things away for awhile and bring something out that was put away.
I used to feel like I had to keep everything out.
I would find something new and instead of putting something away I would add to it.
This just leads to clutter and it's not pretty on the eye.
Have you ever thought of swapping things from friends that have the same taste as you?
I have not done this yet myself, but I have heard of people throwing a party with friends and they will swap out furniture or different home accessories with each other.
Just bring photos of the items you want to swap and have a decorating swapping party!
Tip number 10
~~~~~~~~~~~~~~~~~~~~~~~
Add a little bit of nature to your home for free or for very little money.
Flowers and bits from nature add a nice ambiance, and this time of the year in the midwest we need some nature indoors.
I only pick up flowers when they are on sale or very cheap.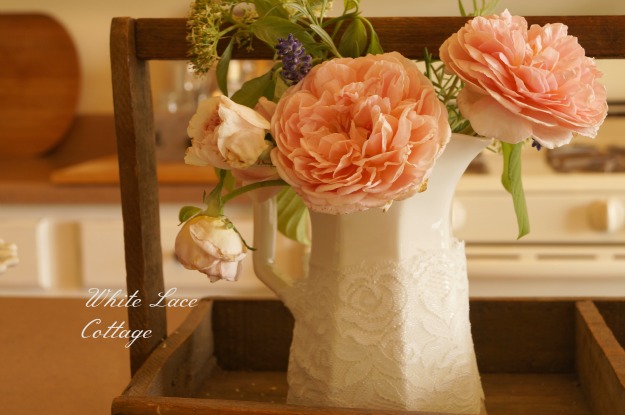 I keep my roses and hydrangeas and dry them.
They are still pretty when they are dry.  The texture and color is so pretty to me.
Look in your yard and find things from your garden.
If you are like me living in midwest you can still find tree branches.
It's not so bad, think about decorating those branches.
Paint the branches and clip old book pages on to them.
Pine cones are great too and usually you can find those free around here.
What about a bowl of fruit?
Fruit adds a pretty color to a room too!
And you can eat it!
I hope this helped give you ideas of decorating on a budget and saving money too!

Joining: