As many of you know my kitchen is one of my favorite rooms in our home.
I thought I would share with you the evolution of my kitchen.
Some of you may not have been following along when I first started blogging and never saw the before photos.
This is one room that changes often but now has more of a style than it did a few years ago.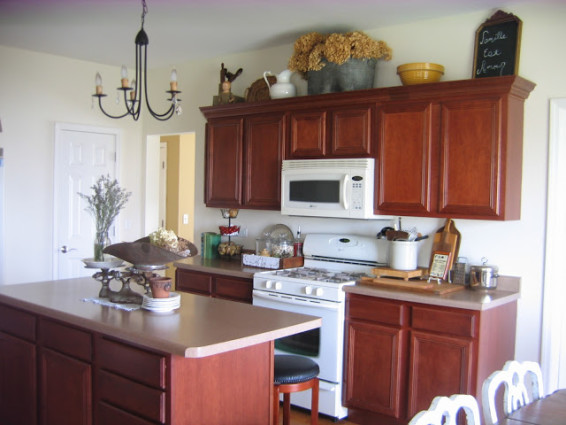 It was not an ugly kitchen and the cabinets were nice….but they were not me at all!
This did not say farmhouse style…but more traditional.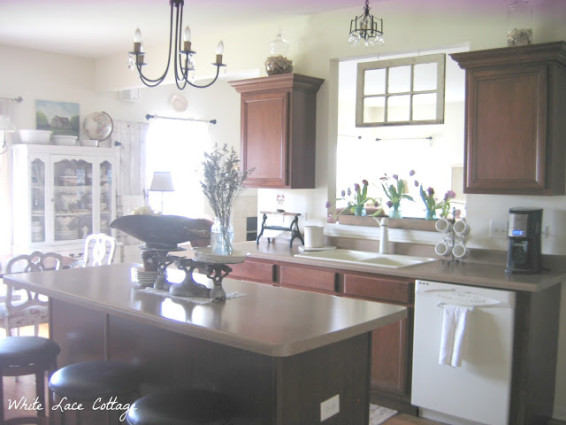 Yes this was before I added my ladder too!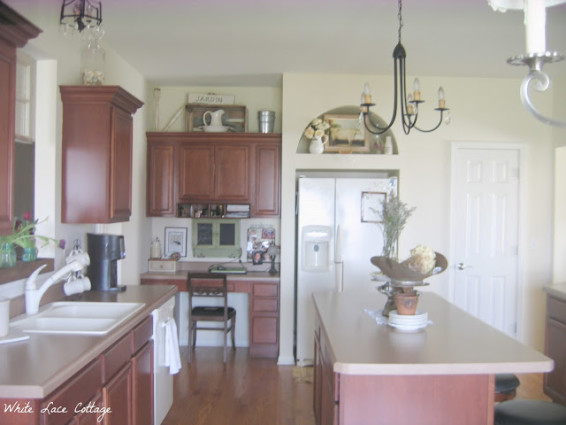 Soon after I painted my kitchen cabinets and my island.
This was the first reveal.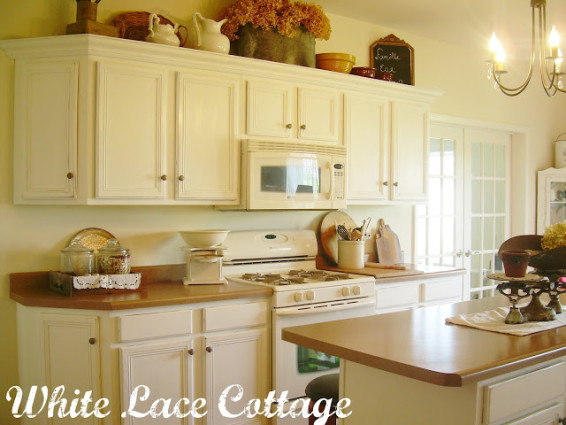 My kitchen cabinets were painted using Annie Sloan chalk paint in pure white.
I waxed these three times using her clear wax.
Let me tell you that using chalk paint will not save on time.
I thought it would but if I had done this the traditional way sanding and priming  these first it would have taken just as long.
There is allot of sanding involved with this and you must wait for each coat of wax to seal.
Don't do this if you are thinking of saving time because you won't.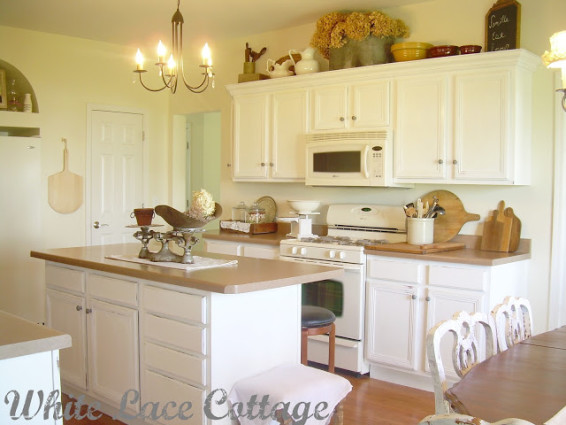 Having said that I would not change a thing and would do it all over again.
I was not looking for a furniture finish.I wanted them to have an aged look.
 As you can see I did not paint my desk.
I was thinking of changing it but was not sure what to do so in my first reveal the desk is still in the kitchen.
And those arrows are showing the pure white and dark wax I used inside the cabinets that make them look a little more aged.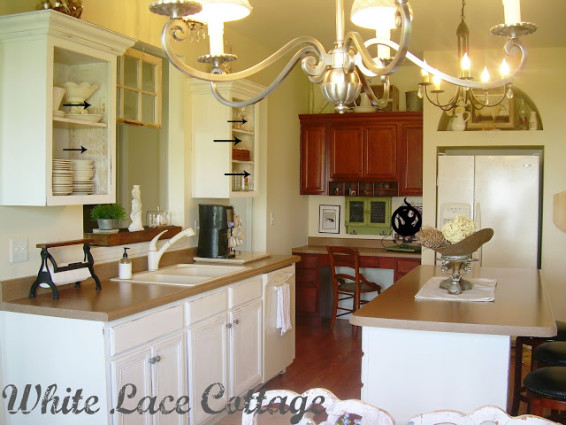 I was thrilled with the look of my cabinets but I felt like there was too much white with the island and decided it needed a bit of dark wax in the front and a contrasting color surrounding it.
Soon Annie Sloan Duck egg blue was painted on the surround of my kitchen island.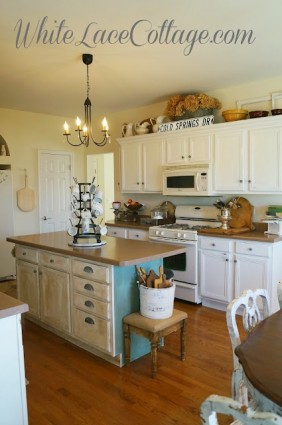 At first I liked the pop of color and then soon after I felt like it was a bit too much pop of color for me.
Next Annie Sloan Coco was added to the  island surround and it was much better.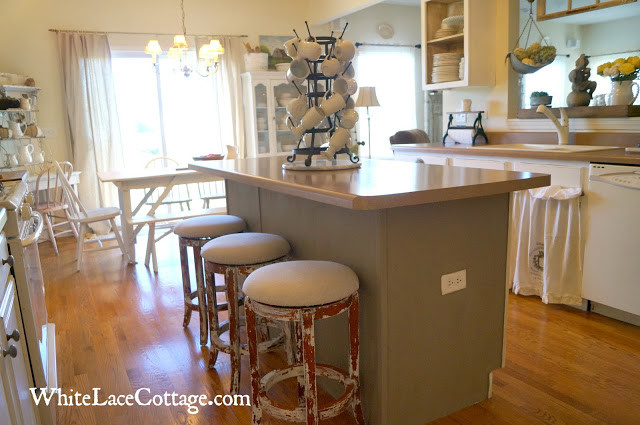 I then  decided to paint my stools with Miss Mustard Seed's milk paint in linen.
Love the chippy look!
I also added a ladder above my sink between the two cabinets.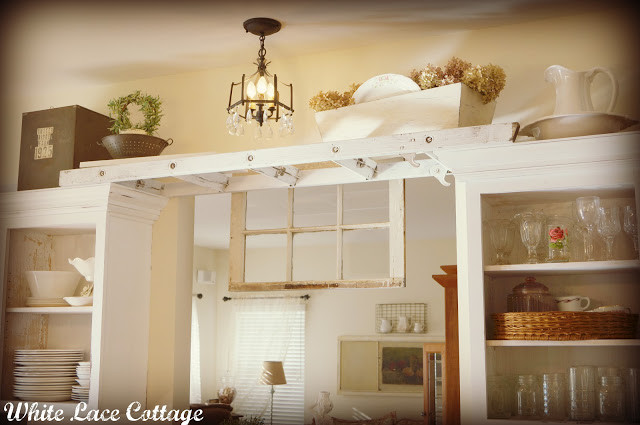 I had been wanting to change my desk area and I came across a free desk that I knew would work perfectly.
Next I ripped out the builders desk and added a vintage desk to that space.
The desk was then painted with Annie Sloan Chalk paint in old white.
The cabinets above the desk were finally painted with pure white.
I decided to leave the little cubbie opening wood but distressed them to make them appear old.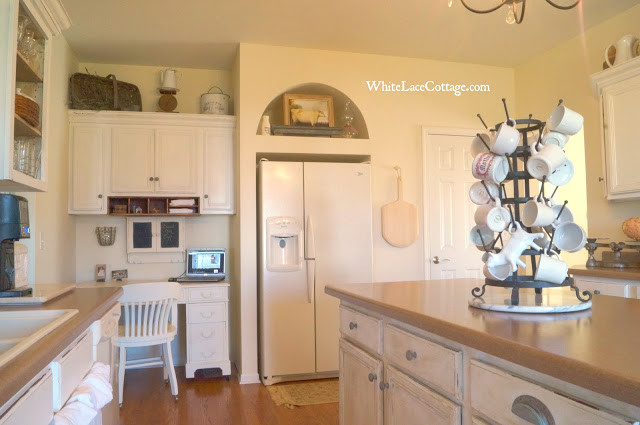 The desk chair  was found at a barn sale and it was painted with Annie Sloan old white.
I forgot to mention the hardware on the cabinets were added just after I painted the cabinets.
They were thrift shop finds.Most were shiny brass.I painted them too look like old variegated copper.This save allot of money and was around $18.00 for the whole kitchen.
Another change was my table.I did like the French style table I had but I wanted more of a farmhouse table.
All I had to do was shop my own house.I was using this table up in my creative space but decided to bring it down to  my kitchen.
I freshened the table  up with a coat of paint.The table chairs and bench were all purchased at thrift shops and antique shops.
The whole set was under 80.00.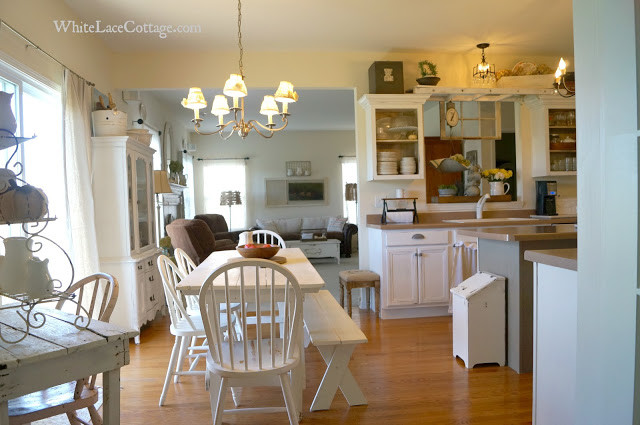 Very recently I decided I wanted a accent wall.
I fell in love with the chalk board wall Miss Mustard Seed had on her wall and decided to paint just one wall in my kitchen.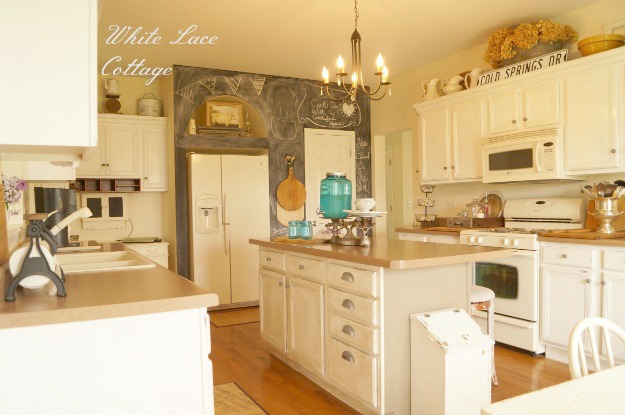 After I added that I felt that it needed something else so I added frames and very recently I added my brown cow head from Decor Steals.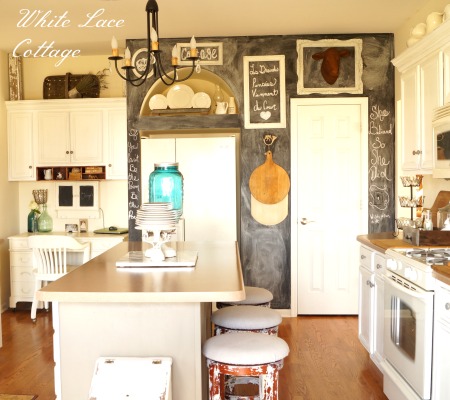 As you can see in under two years my kitchen has gone through many changes.
There are more changes ahead.
One will be the lighting.
Here is what my kitchen looks today!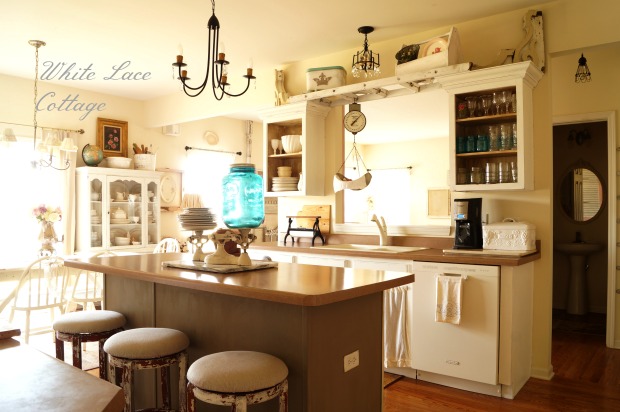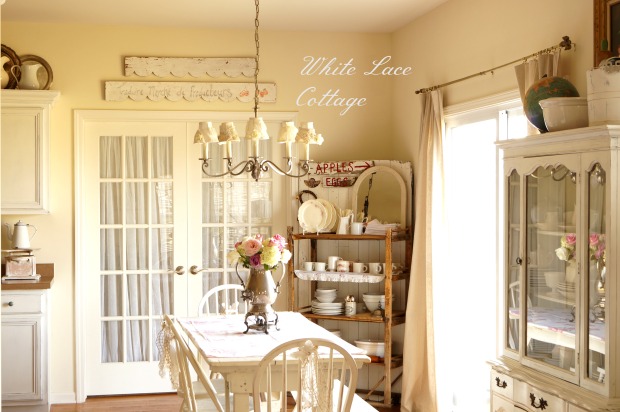 The antique wood industrial baking cart was a recent addition!
I love the look and it provides great storage for our kitchen.
With my never ending dish collection!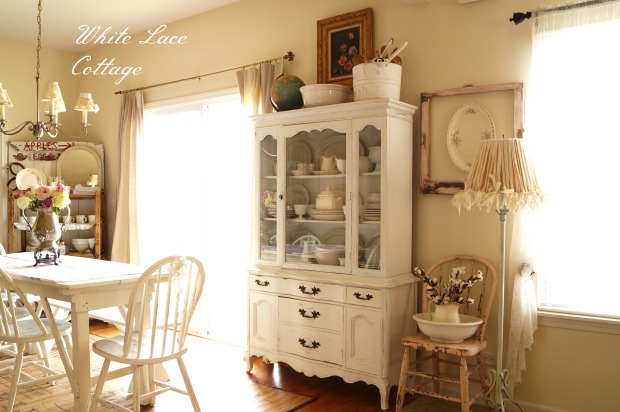 Decor Steals bamboo mat works perfectly in my kitchen and really pulls the look together!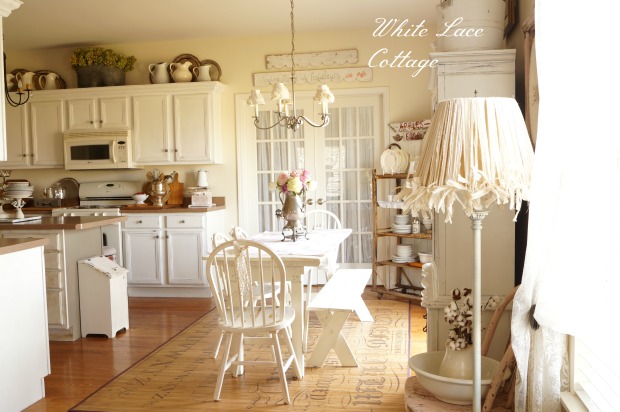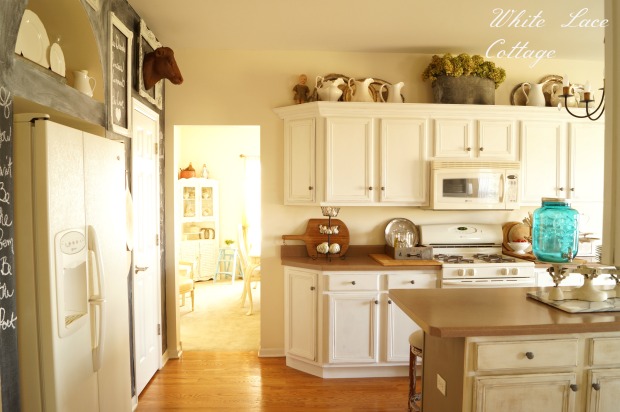 Joining: