Happy New Year! Today I thought I would share my paint recipe for my walls,and waxing kitchen cabinets.
I often get asked what paint I used on my walls in my home.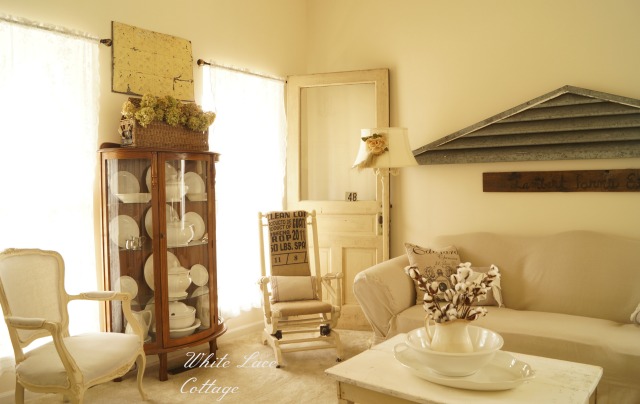 The color was matched up to a paint I had so could not give a specific color.
Here is the formula: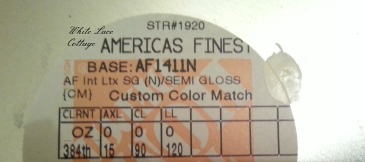 And yes I used the cheapest paint possible Glidden America's finest.
I know some of you are probably cringing right now.
Well I have to tell you I have used more expensive paint before but when it came to touching up I found that it did not touch up any better than this paint.
This paint covered my previous paint color with two coats.
Being on a budget,painting my walls myself I had to get the cheapest paint and this is it.
Now pictured is semi-gloss this was used only in my laundry room and guest bathroom.
But I used flat in all the other rooms in our house.
~~~~~~~~~~~~~~~~~~~~~~~~~~~~~~~~~~~~~~~~~~~~~~~~~~~~~~~
I also wanted to review my kitchen cabinets and waxing them.
Let me start out by saying I researched quite a bit before painting my cabinets.
And although I am no expert and never claimed to be one,I have painted many pieces of furniture.
I decided to use Annie Sloan chalk paint on my kitchen cabinets because I thought the process would be easier.
Well I was wrong,it takes just as much work if not more because of the sanding and waxing involved.
But I am very happy with the results so all the work was well worth it.
Make sure to do your research and see what will work better for your home and your cabinets.
There are many options out there,I am just sharing what I did.
Recently I have heard some say you should not wax your kitchen cabinets.
Well take it from Annie herself.
This was taken from Annie Sloan's site
You can visit it HERE:Annie Sloan
Painting Kitchens
You can use Annie Sloan's unique decorative paint, Chalk Paint®, on kitchen cabinets using at least 2 coats of paint and then give it two or three coats of Annie Sloan Soft Wax to seal it. Soft Wax is water repellent and strong and makes a good connection to the paint. Chalk Paint® is meant to give character and interest rather than a perfectly smooth 'plastic' finish of some paints. Refresh every now and again with some more Soft Wax when its needed. Wipe over with a damp cloth to clean. Using a strong cleaner like Mr Muscle may be necessary for stuborn marks but it will remove some wax and the area will need rewaxing.
No need to sand or prime although in the areas where there is a lot of use like the cutlery drawer it might be wise. I am assuming the kitchen is wooden. If you are painting onto an extremely shiny surface it will not adhere so well but nevertheless we do use it on these surfaces. For somewhere that gets a lot of use like a kitchen a wooden surface provides the best surface, BUT the paint will stick to even glass, and if you have a kitchen you want paint rather than have an ugly laminate then I would go ahead! Some laminates are extremely shiny like glass but some are less so. The less the shine the better the adherance of the paint. (This information came directly from www.anniesloan.com
Yes you can wax kitchen cabinets,but you do have the option of using a poly on them as well.
I chose to wax mine and I only used Annie Sloan wax on them.
Why because her paint and wax were meant to be used together.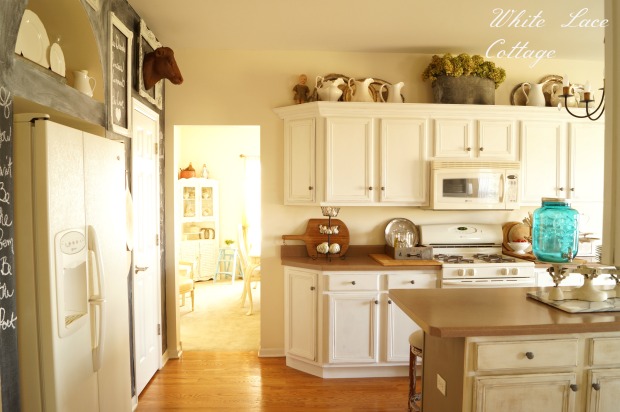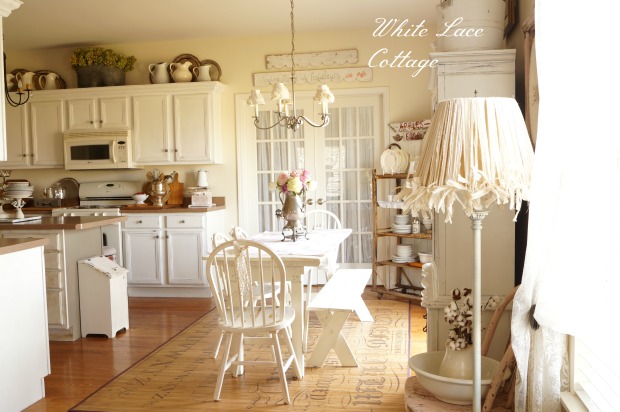 My kitchen cabinets were painted and waxed almost two years ago and they still look amazing.
If you chose to wax your cabinets you can reapply when needed.
I can also say that they have stayed looking well too.
I don't have food splatters and yes I do cook.
If something gets on them they easily clean off.
I also have not had issues with chipping paint.
The paint adheres well and the wax helps to seal it.
Again I am no expert I am just sharing MY experience with her paint.
In fact I am planning on painting a few more cabinets soon with her paint!
If your not sure about using chalk paint on your cabinets do your research and do a test on your piece first.
This was NOT a sponsored post.
Just sharing my  OWN experience with Annie Sloan paint.
~~~~~~~~~~~~~~~~~~~~~~~~~~~~~~~~~~~~~~~~~~~~~~~~~~~~~~~~~~~~~~
Don't forget to sign up and get White Lace Cottage delivered to your email.
Just click on the envelope icon.
And make sure to follow White Lace Cottage on Facebook,Instagram and twitter for updates!