STOP UNDEREYE CONCEALER  CREASING?
As a mature women this is one of the hardest things to prevent is to stop undereye concealer creasing. I heard about a hack I saw on TikTok and she shared how to apply concealer the correct way to stop it from creasing. I've shared tips on this as well you can read about those tips HERE and HERE. But this method is much different so I decided to give it a try and see if it would work.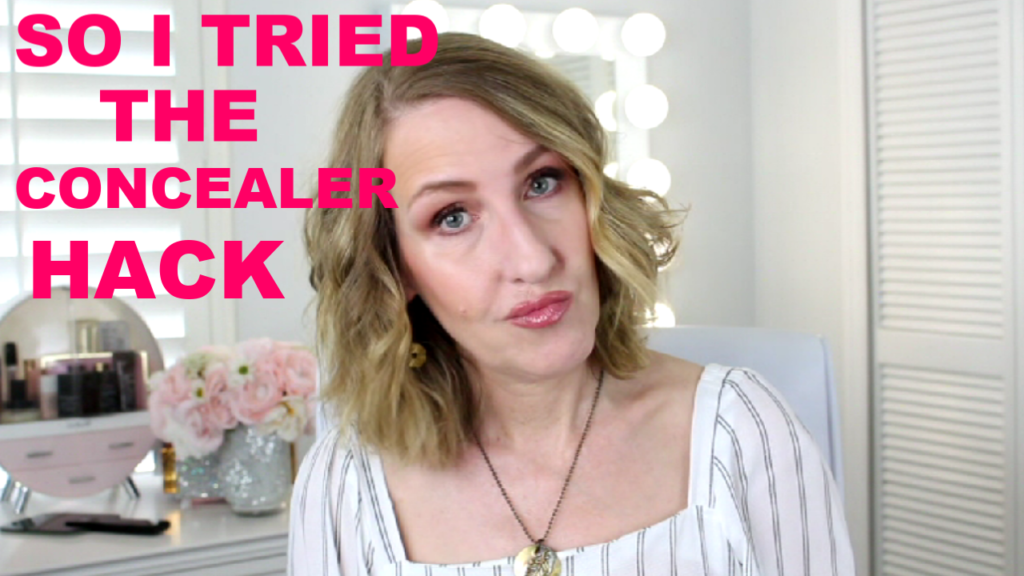 APPLICATION NUMBER ONE
I wanted to see if I could stop undereye concealer creasing. First I applied my concealer as I normally do but initiate the newer tips to see if it would work. First I applied my Fitglow color corrector and blending it in, then I applied my Fitglow concealer. After blending these well I sprayed a bit of my Hourglass setting spray on the back of my hand, tapped my supersponge into the setting spray and applied it under each eye. I let the setting spray dry, then using my BK beauty brush number 108 I applied my Charlotte Tilbury magic powder under my eyes. I applied very little  and made sure to sweep the brush under each eye to make sure I blended it well. I did the old smile test and it settled.
SECOND ATTEMPT
This time I decided to try my Lancome Effacernes concealer under one eye and then my Fitglow concealer under the other. After blending each well I applied the setting spray again under each eye using my sponge, let it dry then applied the powder. And again after the smile test it settled.
THIRD TIMES A CHARM?
This last attempt I decided to try my Fitglow peach color corrector. After I applied it I took a tissue and blotted it off. Next I applied my Fitglow concealer. And then the setting spray with my sponge, let it dry and to top it off I added a bit of my powder. And after the smile test I thought it was great no settling. But after a few hours it settled once again.
Something I didn't do that she did in the video is to apply the setting spray with my finger. I just attempted this today after I released my video and and at first it looked great. But as I'm wearing it I'm seeing some settling. If you want to see me demo this click on THIS VIDEO.
If you have setting spray I'd say give it a go. Just because this didn't work for me doesn't mean that it won't work for you. I read many comments under my video with some women saying it didn't work to others say it did and many shared how they applied it as well which is very helpful.
Make sure you subscribe to my channel so you don't miss any of my reviews, or tutorials.