Craft Room Ideas Budget Organizing Storage Solutions
Several years ago I was inspired by several blogs as they shared their
craft room ideas.
At the time I was working an antique shop and I also had an online shop. I needed a creative space for crafting and an office too. I updated this room several times but decided I no longer needed this space as a craft room and now it's my makeup room you can read about that
HERE
. I've been slowly updating many of my older posts so that they are more informative.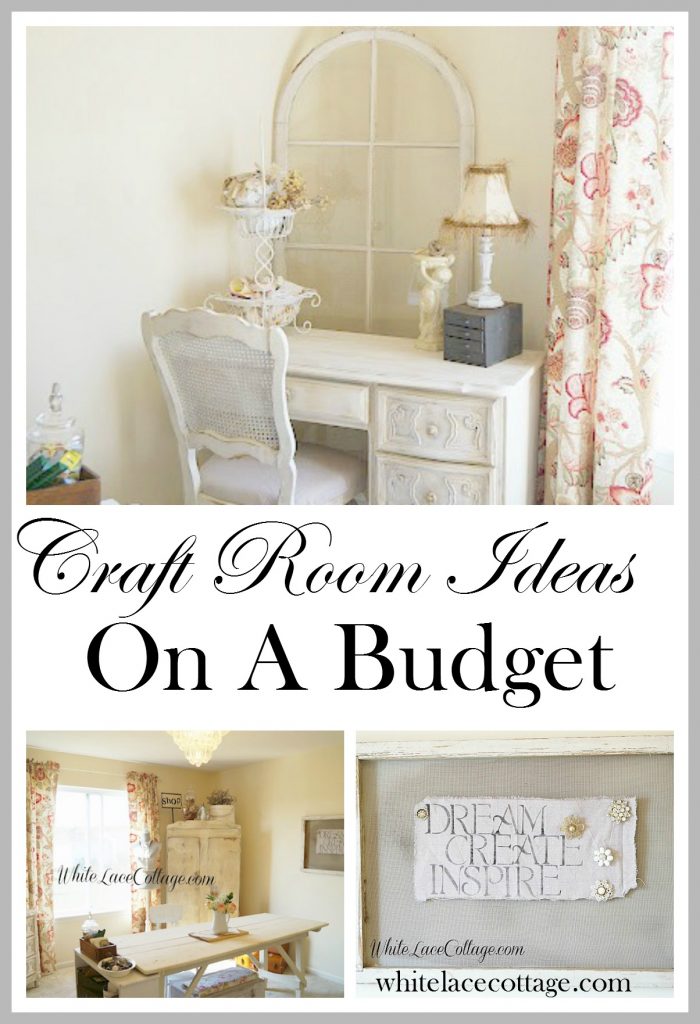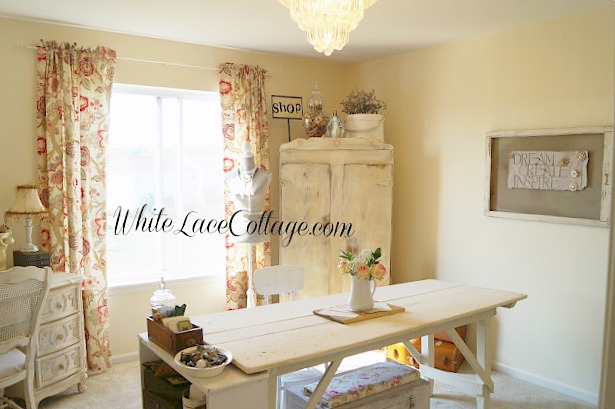 Craft Room Ideas On A Budget
Before I share tips on craft room ideas I wanted to give you a little tour of my room and share how I designed this room. Keep in mind that everything in this craft space was purchased at thrift stores and garage sales. When I designed this room I wanted to reuse as much as I could. The armoire that's in the corner was previously in another room not being used. Adding it to this room provided lots of storage for fabrics and misc crafty supplies. The farmhouse table worked great as a place to work on craft designs and also for a  shipping and wrapping table for my online shop that I previously had.
Under the table is an old wood trunk that provided even more storage for fabrics. I know it's crazy I don't sew but I love fabrics. I use most of my fabrics for crafts or for reupholstering pieces. Next to the table on the shelf I kept all my little fun treasures like cabinet hardware, old flash cards, and little pieces that were used for creating crafts or decorating vignettes. The chandelier was acrylic and provided lots of light in this room. It wasn't hardwired I hung it from a hook from the ceiling and hid the cord with a cord cover.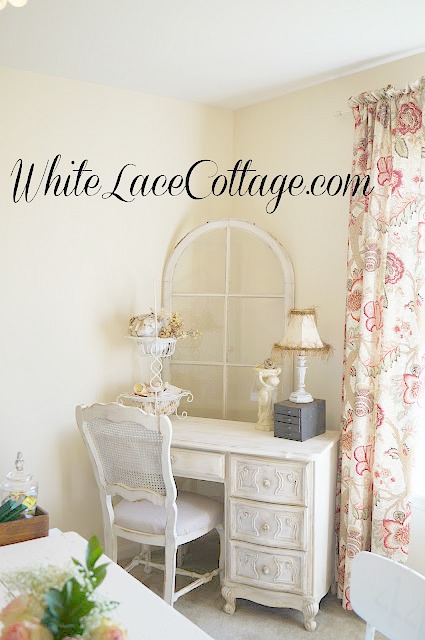 This little desk worked perfectly in this space because it wasn't too big. I created a corner vignette with my desk and that old window because I needed a little balance and height. I used decorative pieces on top of my desk that were also used as more storage for shipping and craft supplies.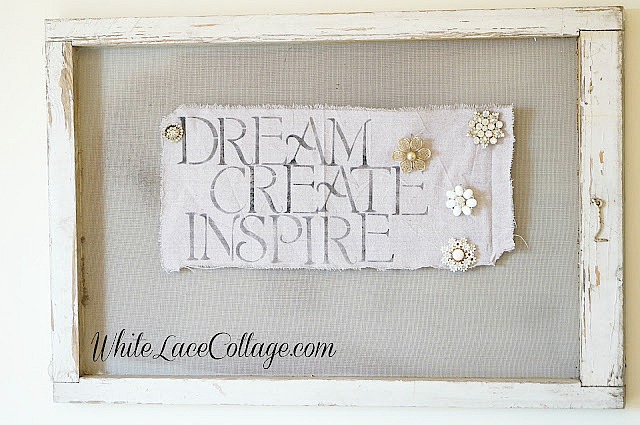 I got a little creative with my wall art in this room. I took an old screen and hung it on my wall. Then I took a scrap piece of fabric, stenciled dream, create, inspire and pinned it to this screen using old brooch pins.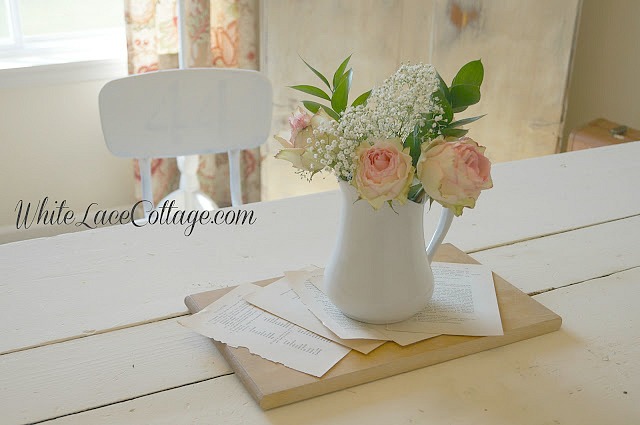 I love this funky little table that just dressed up my space. I added an reproduction sap bucket with some dried hydrangeas that I love so much!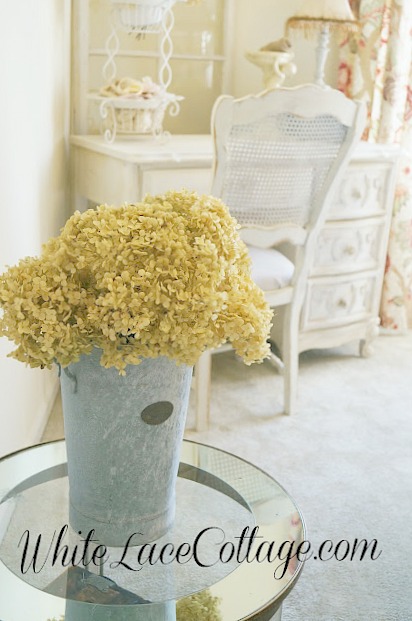 More storage was added with that book shelf. Some of those pieces were being used decoratively until they sold. And in the old file cabinet I kept more craft supplies.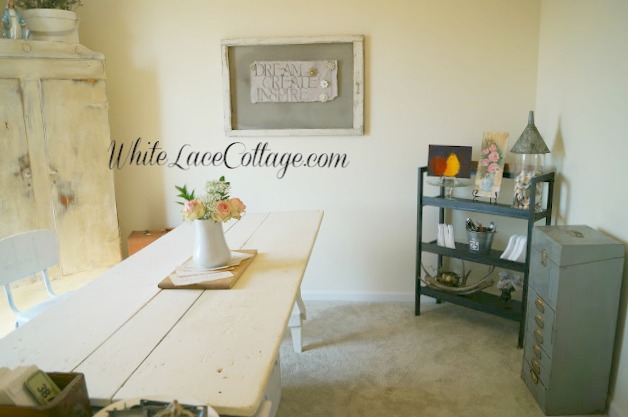 Five Tips To Keep In Mind When Designing Your Craft Room
Decide what kind of craft room space you would like. This will determine what pieces of furniture you will need for your craft room. Think about what you'll be doing in this space. A large table will be needed if you're going to work on large crafts such as painting small furniture. This room can also serve as two spaces as you can see I added a small office area in my craft room.
Think about storage. If your room is small and you don't have lots of room for furniture, add shelves that can be hung on a wall. Make sure you check for studs and use proper wall anchors when needed. Wall shelves can provide that extra storage space if you are lacking room in your floor square feet.
Get creative with storage.Use old suitcases, hat boxes, trunks, white ironstone pitchers, vases, old wood toolboxes. That's just a few ideas of how you can reuse ordinary pieces and make it look decorative yet make it useful as storage for your space.
If you're on a budget you will want to use as much of your own stuff as you can. But if you really need to find that perfect piece look at thrift stores and garage sales.
Curtains can also be found for very little money. I found mine for under $10.00 at a thrift shop. Look at garage sales or make a pair of no sew curtains. They are so easy to do and you can find fabric really cheap at a thrift shop or a garage sale. You can see how I created my no sew curtains in my kitchen HERE.
Creating a craft room space doesn't have to cost lots of money, it's learning how to get creative with very little money. Do you have a craft space in your home? I'd love to hear about it in the comment section.
Save