WHITE SLIPCOVERS WHY IT'S A BAD IDEA
I have longed for white slipcovers ever since Rachel Ashwell shared them in her books. I've longed for the look of white crisp clean slipcovers in an all white home. They look so cozy and laid back. That was the look that I wanted in our new Florida home. We recently moved from Illinois to Florida and we sold all of our furniture. You can read about that HERE. Since we were starting fresh I knew that I wanted these white slipcovers that I've heard not only Rachel Ashwell but many bloggers talk about as well. In our previous home we had slipcovers but they were the type you tucked in. And those are a pain in the butt! Every time someone sat down and get up it was a sloppy hot mess. I was told that these white slipcovers are supposed to be easy to clean and very relaxed. Perfect for our new lifestyle.
WRONG!
After we found the perfect home I started looking for white slipcovered furniture. I really love Rachel Ashwells white slipcovers but her furniture was way out of our price range. After asking around I decided to purchase Pottery Barn slipcovered furniture. This was going to be a custom order because I needed a specific size sofa to fit into our new family room. I love that I was able to design just what I wanted. I of course choose white slipcovers in the denim fabric.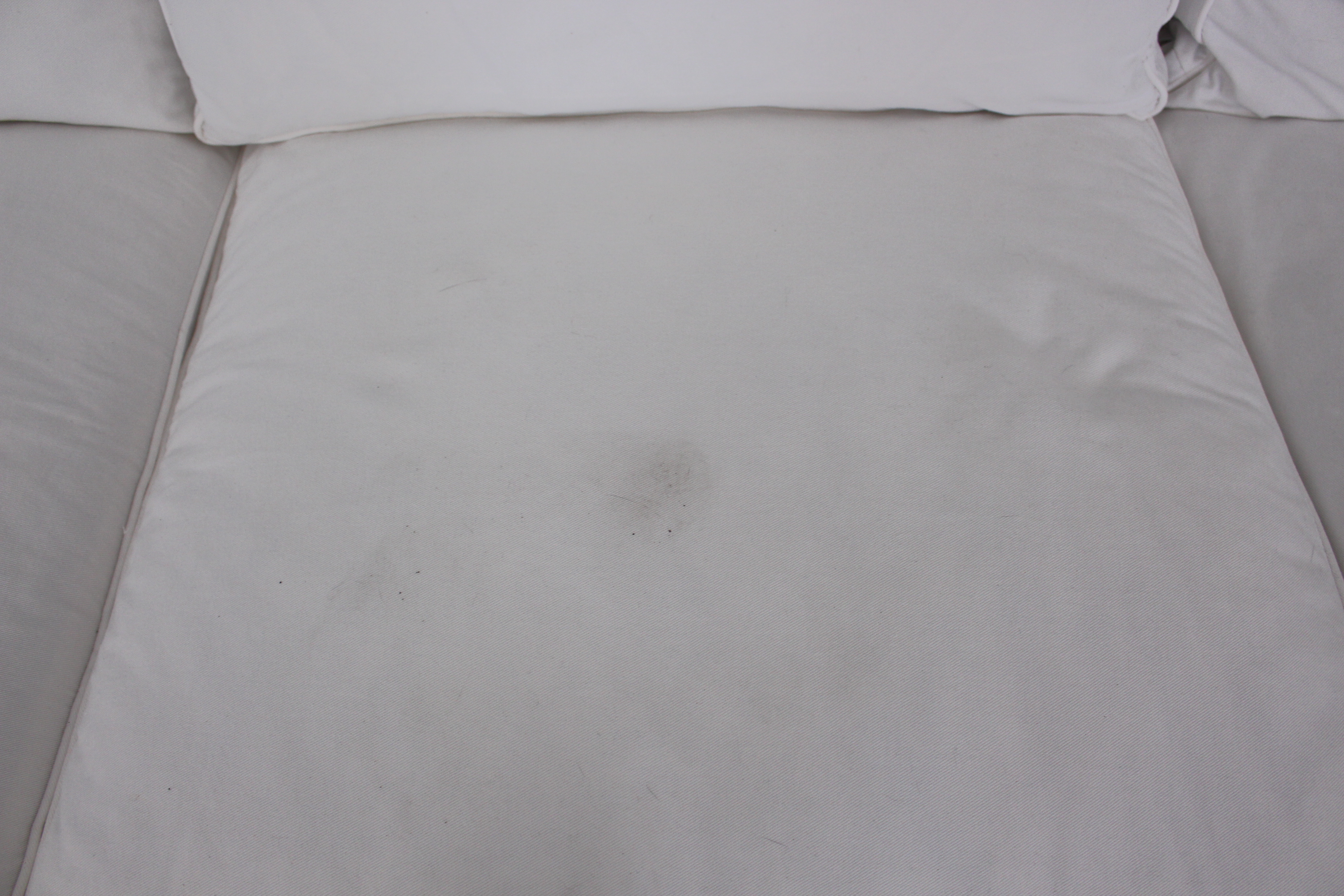 The day came when my sofa arrived it was just what I wanted!! The delivery men handled my sofa with care wearing gloves so they wouldn't dirty my sofa. That should have been my clue as to what was about to happen. I was thrilled to have this cozy and comfortable new sofa.
The next day I looked in horror at my nice clean white sofa was already dirty! I could see cat hair from our cat and dirt and human hair and it was just gross!! I took out my lint roller and cleaned it off but not all of it came off. I took a deep breath and stepped back and thought well maybe that's as dirty as it will get. And anyway it's no big deal I'll just pop it off and throw it in the wash.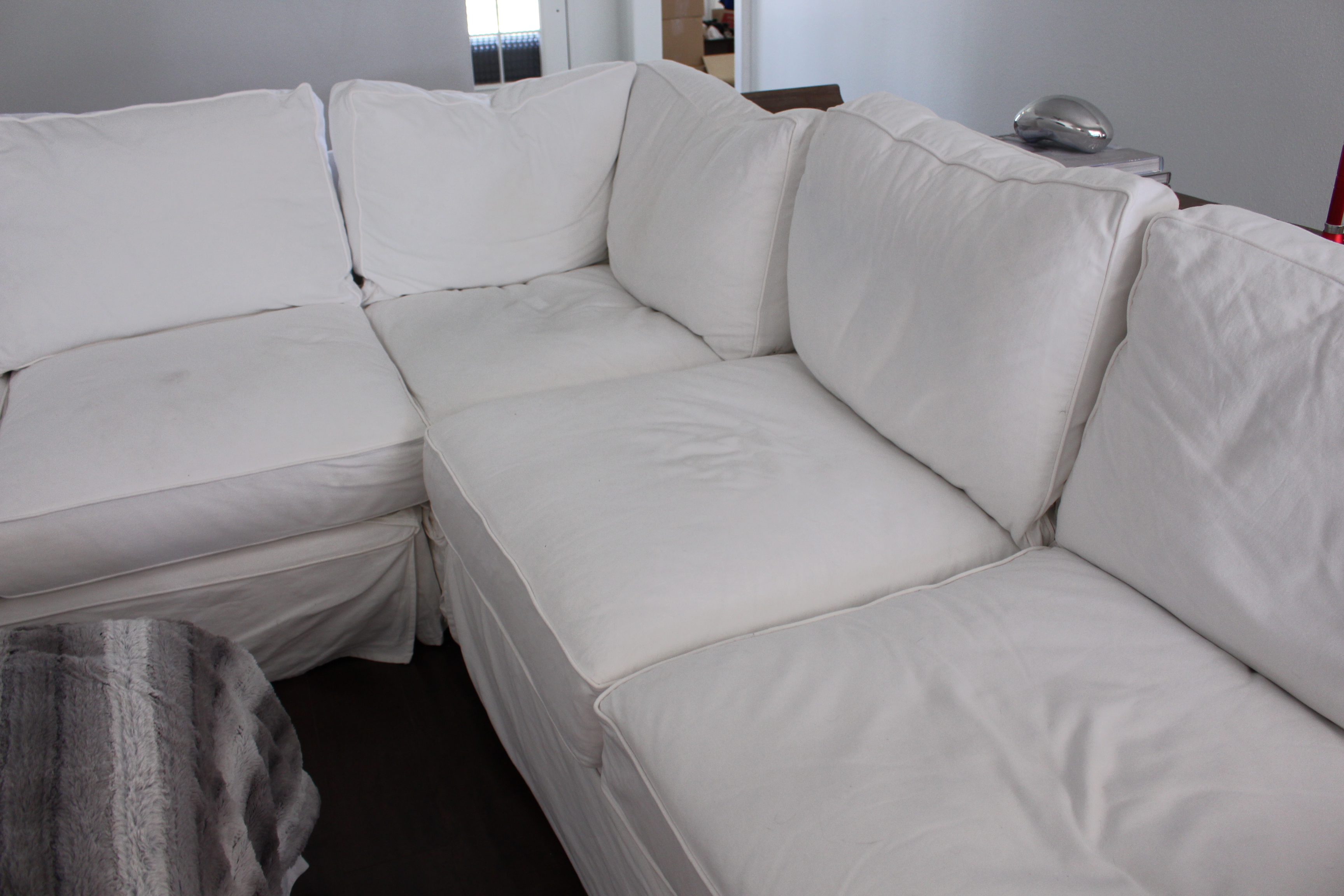 BTW I have no small children. It's just me, my husband, my 19 year old daughter and our cat. We are very neat and clean but this sofa was on another level. After living with the dirt for a month I thought enough is enough I have to wash it. I wanted to make sure that I was washing it correctly. I went on the Pottery Barn website to see exactly how to wash these. I was not happy when it said you can't use bleach! Really? I didn't want to take a chance and ruin my $6,000 new sofa so I reluctantly washed my white slipcovered furniture in cold water. Then it also said that I could not fully dry these as this could shrink them. I live in Florida where it's humid and I'm going to put a damp white slipcover back on my sofa, great!
THE PROCESS
I was under the impression after researching that all you do is unzip these white slipcovers and pop them in the wash and put them back on. The whole process is a piece of cake. Oh this is so not true! Getting these white slipcovers off is not an easy task. They are custom made to fit exactly on each cushion. It wasn't easy getting any of these off. I placed half of the covers in at a time. I have an extra large washing machine so I thought it would do the trick. I took the first batch out and they were still dirty in spots. So again I washed them. It took several attempts to get it right. After several hours of washing and half drying it was time to place these white slipcovers back on the cushions. You talk about a work out! I had to fight to get these back on. And it was hard to find the right cushion and the correct white slipcover because some of the cushions are very similar. The ottoman is the trickiest because the cushion zipper is on a diagonal in the center of the cushion. Why would they do that? It's a pain in the butt to take that off let alone get it on. I basically have to wrestle to get it on.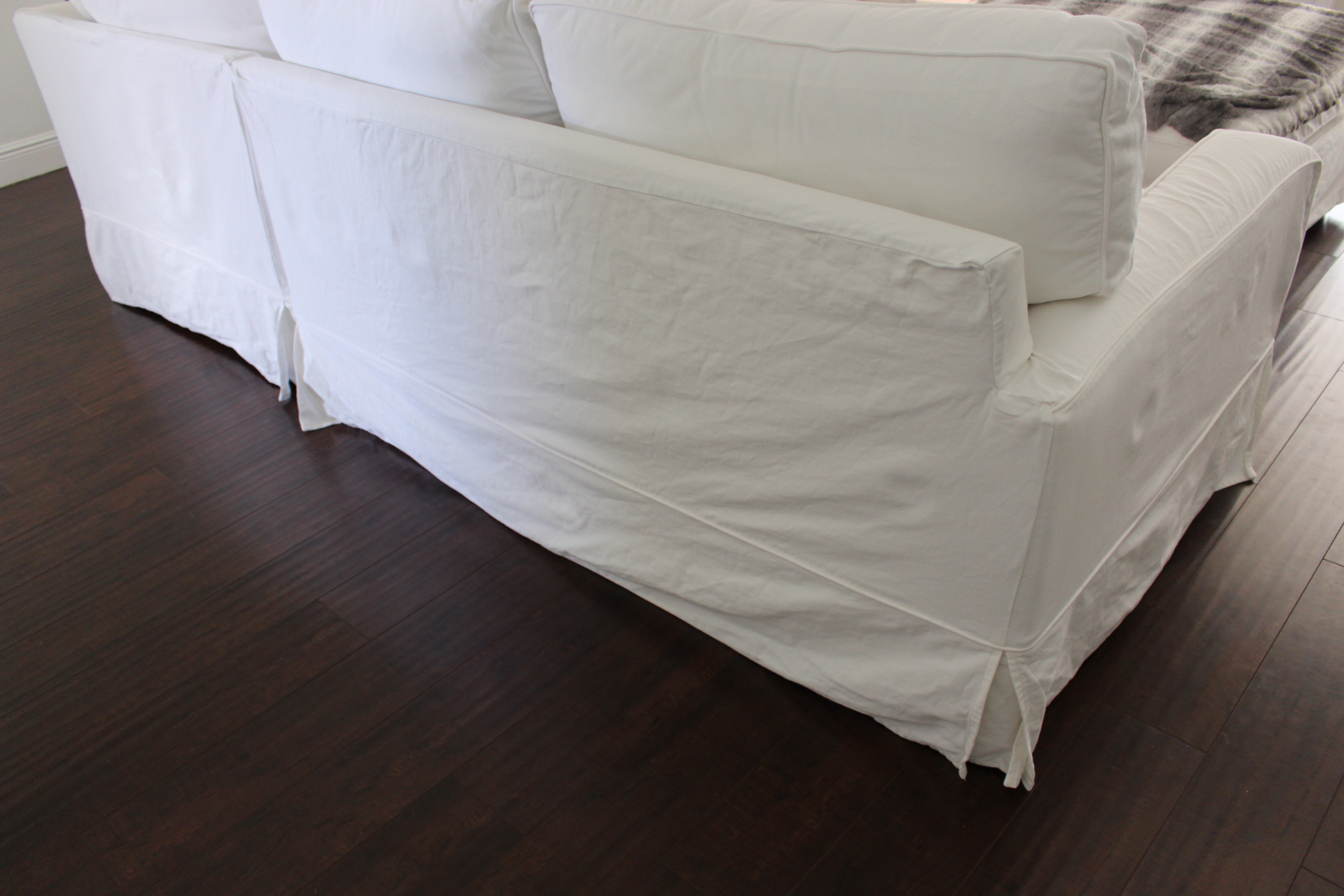 SEVERAL MONTHS LATER
I've been living with these for 4 months now and I can tell you this was the worst decision I've ever made! But I'm going to have to live with them. I'm going to share a few things that I've learned and I'm sure as time goes on I'll learn more on how to care for these white slipcovers better. ( Some links below contain affiliates. Please see disclosure policy )
Don't put too many white slipcovers in the wash machine at a time. Even if your machine can handle it. You really need space for these to clean properly.
Forget what Pottery Barn says you need to use something to get stains out. I still won't use bleach but I would recommend using Oxyclean stain lifter.
Get a lint roller this will be your best friend and you'll be using one daily. This is the one that I use. I really picks up hair and some loose dirt as well.
Get used to having blankets on your white slipcovers because unless you want to wash your slipcover weekly you'll need these to extend the time in between washing.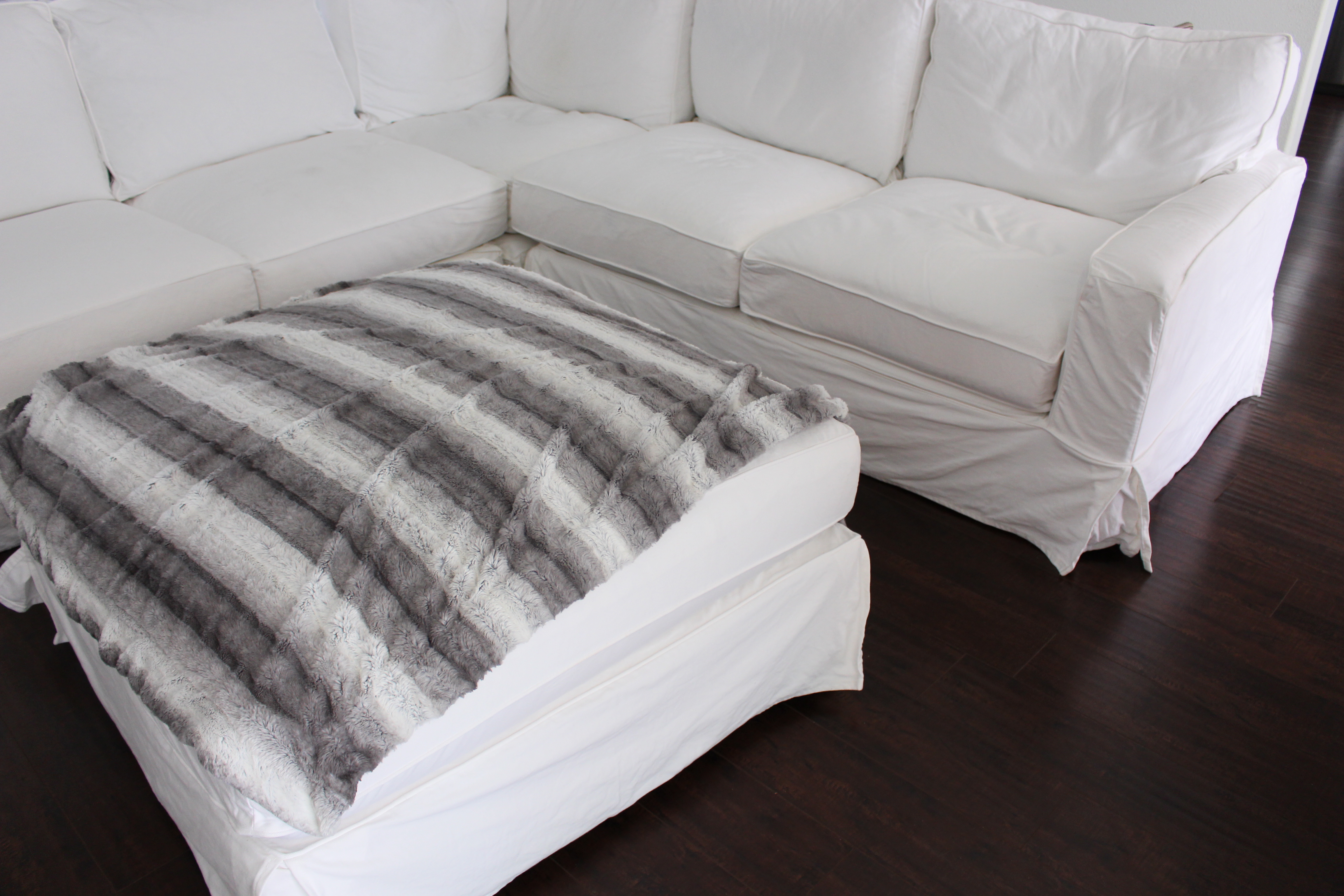 REALITY CHECK
 If you are someone that is super picky about white slipcovers looking dirty or wrinkled.
 If you're someone that's going to worry anytime someone sits on the furniture.
 If you're someone that's going to have a panic attack if something gets spilled on your white sofa than I would suggest you not get a white slipcovered sofa.
I really wish I had thought about this more. I really don't know what the answer is for any furniture staying clean. But all I can say from experience is that I really wish I would have thought about this more. I guess I thought that white slipcovers would be super easy to take off and wash. I didn't realize what a pain it would be and how often I would have to do it. So save yourself a ton of money and don't get white slipcovers if you're picky like I am. You'll thank me later. And if you read this and decide to do it any way.Well…you've been warned.