Makeup Mirror In My New Girly Room
My new makeup mirror was sort of a splurge. I can't believe it, I really can't. But in less than a month I'm turning the big 5-0! And to treat myself I decided to splurge a little and purchase this mirror.
It's not just because I'm turning 50 that I bought this makeup mirror there are a few other reasons why and let me explain. Oh, and let me tell you first that this is probably going to be the most boring and plainest makeup rooms you've ever seen. If you don't believe me, check out one of my favorite Youtube makeup artist, Jaclyn Hill's makeup room. Her room is amazing, and I'll never have a collection of makeup like she does. Her makeup collection is like my paint collection, yeah, I have lots of paint 🙂 And if you'd ever like me to show you my paint collection, well, I'd be glad to do it.
(This post contains affiliate links, see disclosure policy)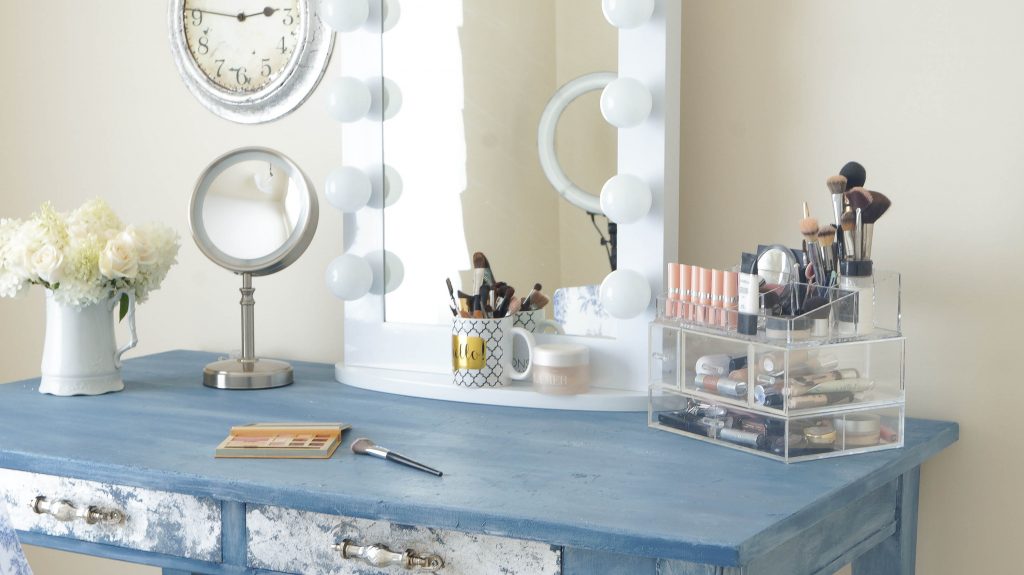 In our master bedroom I had this beautiful vanity. I absolutely loved it. But on a daily basis, it wasn't working for me. It was a cluttered mess of my makeup bag, hair brushes and an ugly magnified mirror. It was one of those mirrors that had different lighting depending on whether you were outside, or if it was evening. Well, you get the idea. Because I could no longer use this, I sold it , along with a few other pieces of furniture. Which helped pay for my little splurge.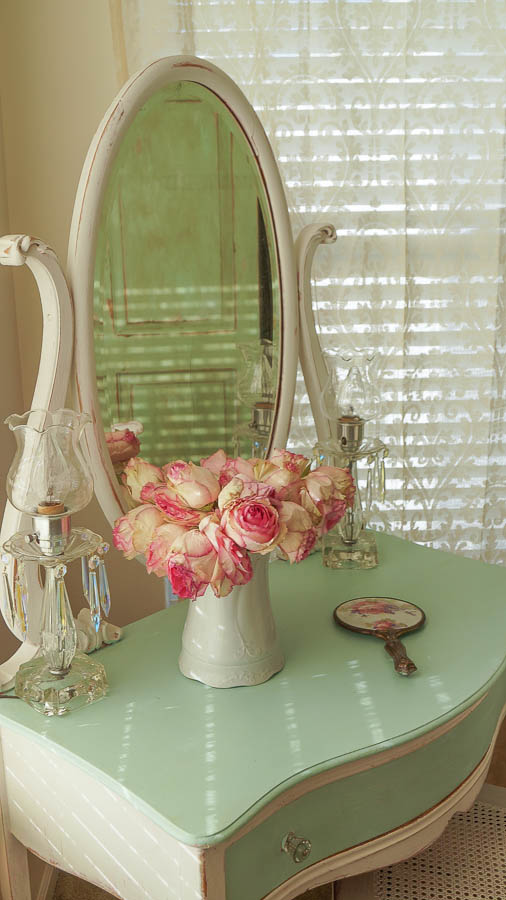 I started researching for makeup mirrors and I came across this makeup mirror from Impressions vanity. These come in many shapes and sizes. But I thought this style would work the best in my room. I like that this makeup mirror sit on a table or get mounted on a wall. And it also has a light dimmer and an outlet on the side to plug in my flat iron. I purchased the Hollywood chic XL with the dimmable frosted LEG globes for a white true color. The clear bulbs on a makeup mirror can sometimes cast off yellow tones. And BTW, this is not a sponsored post. I purchased this makeup mirror, and I'm sharing my honest opinions as I always do, whether it's a sponsored post or not, I'm keeping it real.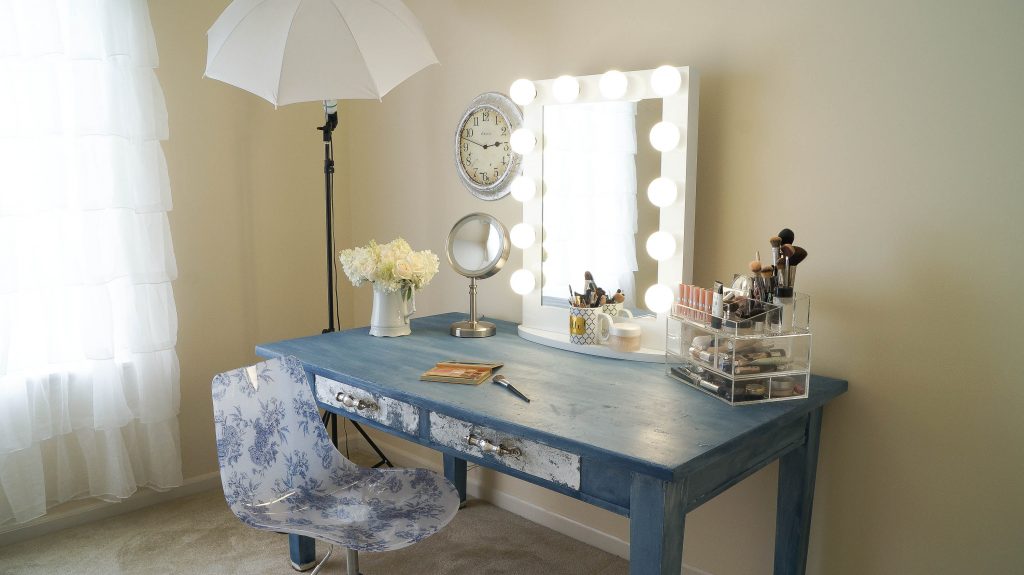 After I decided on my large makeup mirror, I needed to figure out where I was going to put it. The makeup mirror doesn't really fit into the style of my current bedroom. And I really didn't have the room for this mirror and a larger table in my bedroom. I also didn't want to purchase a new table, which would have made this splurge even more expensive. And remember I'm cheap. I have to tell you, I felt guilty for spending the money. Do you ever feel guilty about large purchases? I always do. But the fact that I sold things to pay for this made it a little easier on me.
I decided to use the table I was using in my office/dining room as my makeup mirror table, and put my dining room table back in that room. I previously dismantled my dining room table and had it packed away. I've been purging so much around my home. You can see what my dining room used to look like HERE.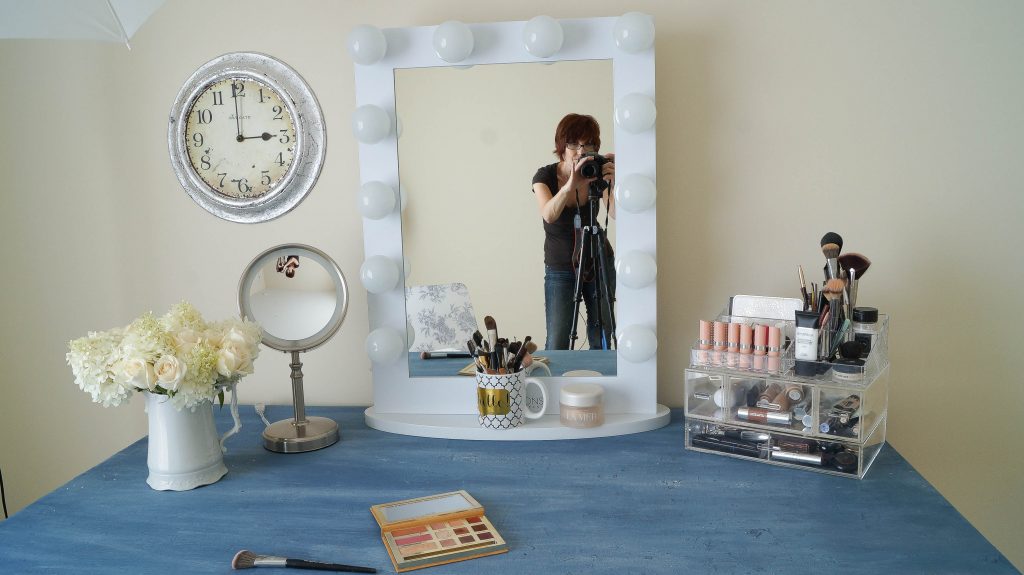 My daughter helped me carry this big heavy table back up to one of our "extra" bedrooms that was previously my office/ studio. Since removing everything from my "extra" room, it was sitting empty. I made a bit of a mess of that table because I was using it for crafts and painting, so it was time for a new paint job. Plus I wanted a new color for this room. I bet this color is a bit of a surprise to you. It's not my normal pastel paint color. As you can see I softened it up a bit so it still looks feminine to me.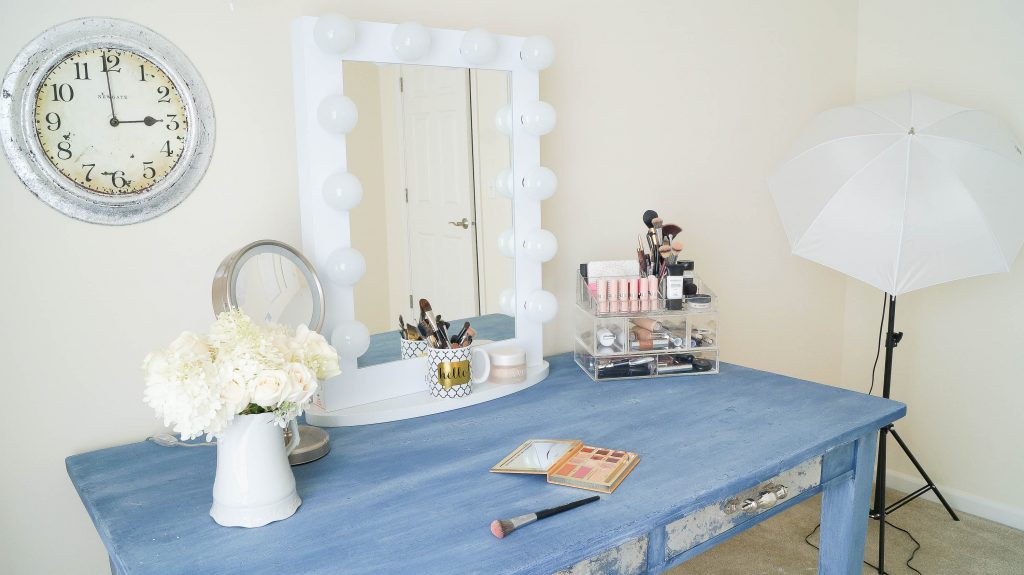 How did I decide on the color of my table? Well, after purchasing the makeup mirror, and figuring out that I was going to use this table, I knew I needed a chair. I was looking for a sleeker and more modern style. And I found this one at HomeGoods. I love the sleek design with the floral pattern. This chair has a soft white background with a navy blue floral pattern. I have to admit this chair was a little more than I wanted to pay for a chair (75.00 ouch!) but I really love the style and design of this chair. And I've never seen one like it before. This chair color was the inspiration for my table paint color.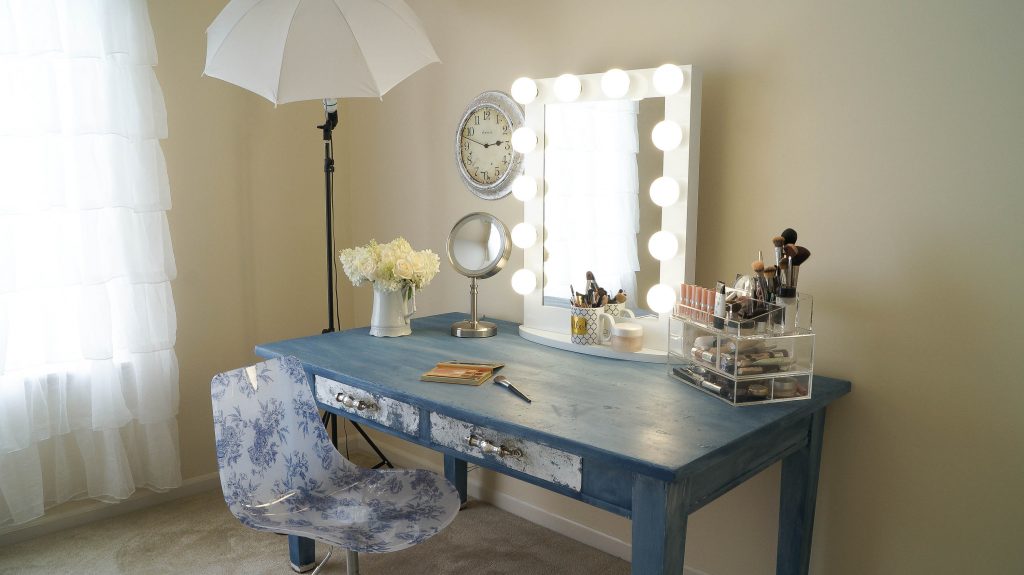 The paint used for this table is from Heirloom Traditions Paint, in the color Naval. I applied two coats of paint. To finish it I added a coat of White Lime soft wax, also from Heirloom Traditions paint. It softened up the paint color and made it more my style. The wax also enhances every single imperfection, and I love that!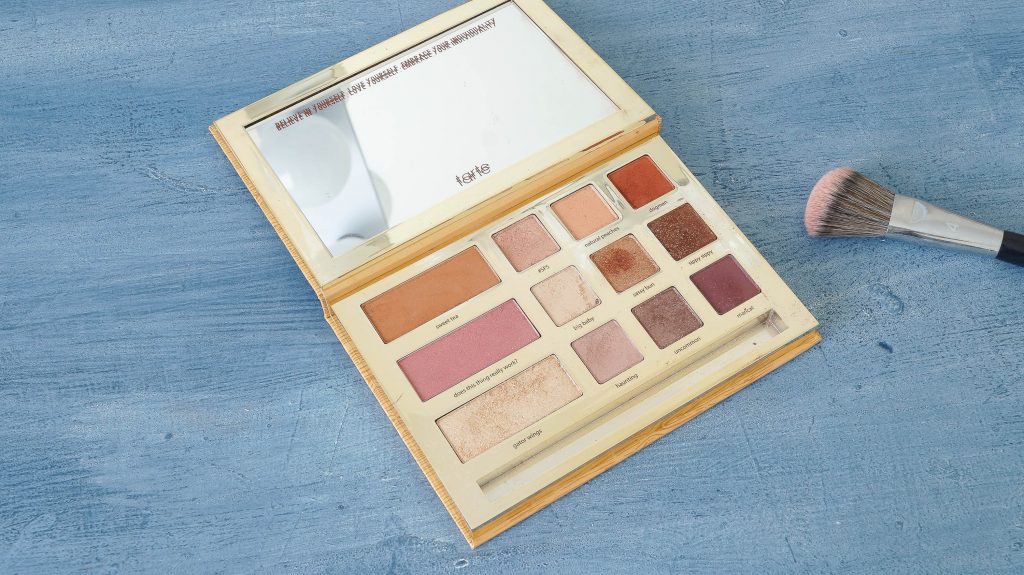 Because I love a little bling, I decided to add a little silver leaf to the front of my drawers. This is so simple to do, and once you use this technique you'll want to add silver leave to everything….for real! If you look closely you'll see that my clock has silver leaf and so does my curtain rod finials. If you want to learn how to use silver leaf, you can read this post HERE. After applying the silver leaf, I added two coats of Vintiques top coat in a matte finish, also from Heirloom Traditions paint. This is my favorite top coat. It goes on like butter, doesn't have an odor.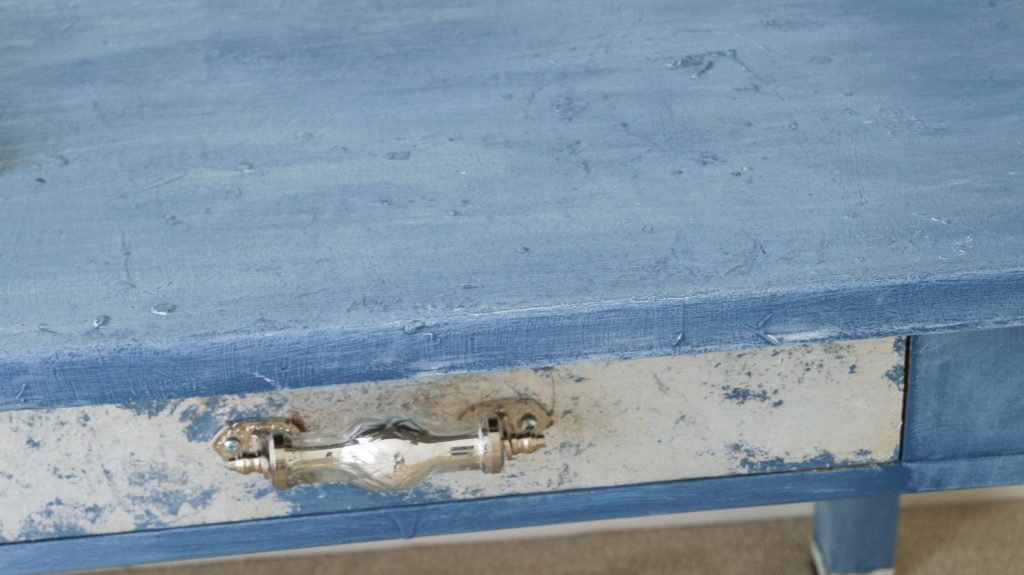 I found mercury glass hardware for my drawers at Hobby Lobby. The drawers are pretty deep in this table. Like seriously deep. I can stick my entire arm in this drawer, and I still have room! All of my hair brushes, hair products and my eye shadow pallets fit perfectly in my drawers. After deciding that this table would work, I knew I still needed to organize my makeup. My daughter and I made a trip to "The Container Store". I could go crazy shopping in that store. But they are expensive for sure! I found this acrylic set at "The Container Store". It was another splurge. And after purchasing it, I found this set on Amazon. I wish I had found this first because it's 90% cheaper than the set I purchased. I'm not going to return the set from "The Container Store", because it's over an hour away, and I don't know when I'll have the time to do that. My daughter wants an acrylic makeup organizer, so I'll be ordering this acrylic organizer for her.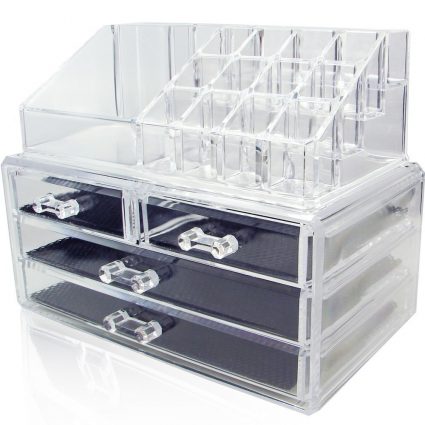 One issue I still had was that I needed a magnified mirror, because I can't see a thing close up. The joys of being over 40! I found this magnified mirror from Conair. I don't think it gives off a ton of light. But when used with my makeup mirror, it's perfect! It has 10x magnification on one side and the other side is a basic mirror view!. It also tilts back which helps when applying mascara or tweezing eyebrows.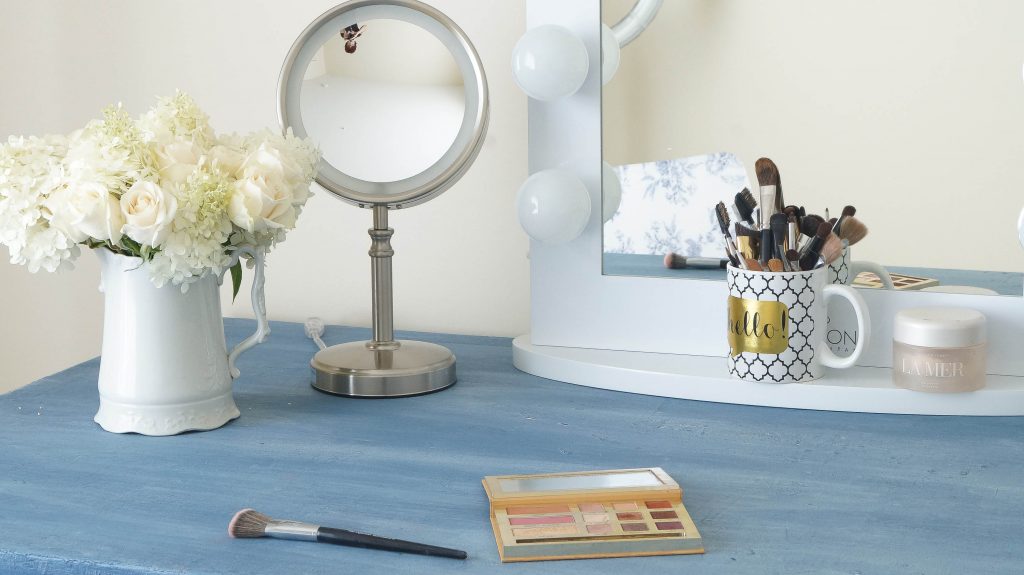 I did give this room a fresh coat of paint, with paint that I already had. And I added these ruffled curtains were originally hung in my living room. I'm no longer using them in that room, so I thought they would be perfect in this room. I won't be adding any other furniture, or hanging anything else on the walls since we are going to downsize in the next couple of years. I know it looks a little boring. But after painting the walls, I'd like to keep them clean without lots of new holes. I did need a clock so I can see the time as I'm getting ready.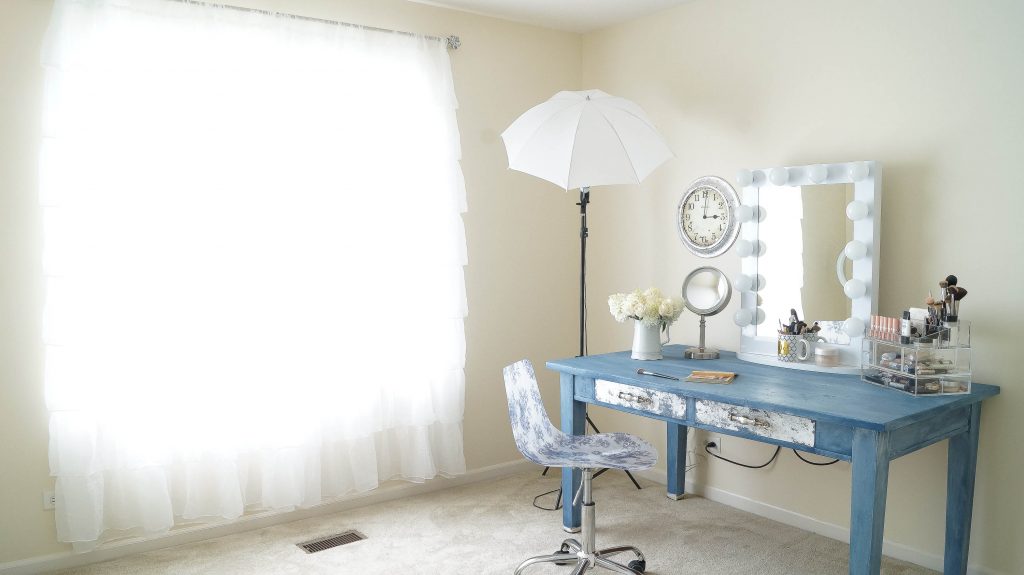 This room is not only going to be used as a makeup room but also for recording my Youtube videos. That's why I have umbrella lights in here, and my light ring as well. Can I just tell you how much I hate seeing those cords by my table. I'll have to figure out a way to hide them. Seriously, they will drive me crazy!
Because I still love my pink, I had to add a little pink in this room. These lipsticks are from Rimmel, and they are the nude collection from Kate Moss. I love the colors of the lipsticks as well as the pink case. They go on creamy and stay on long if you're using a lip pencil first.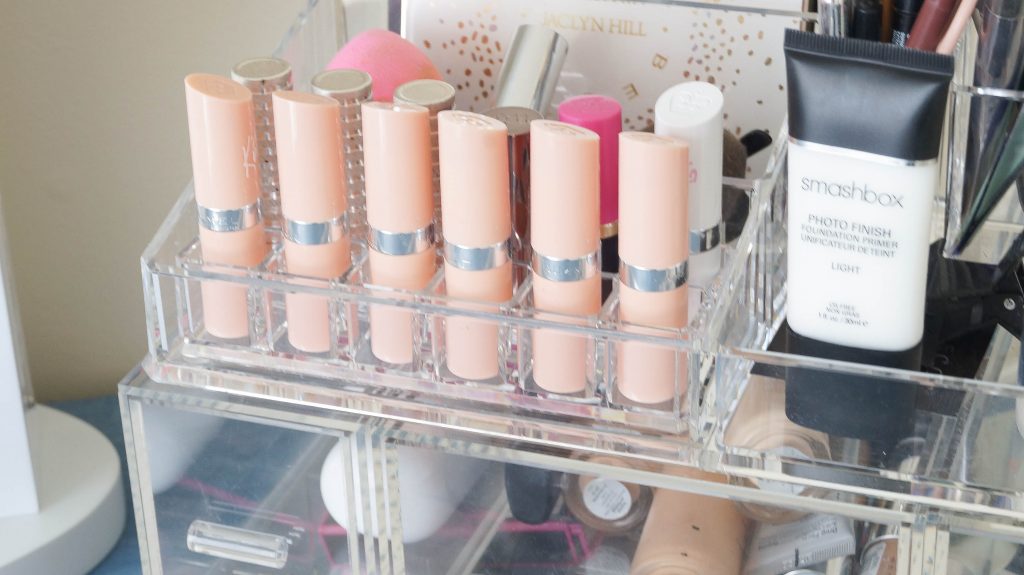 Besides being able to actually see what I'm doing when I'm getting dressed. I love how organized my makeup is, and how easy it is to find everything that I need!
I'm very happy with my makeup mirror. It's exactly what I needed to be able to see what I'm doing. It's very well made, and sturdy. If I had a studio set up in my home for cutting hair ( I'm a licensed stylist) , this would be a great mirror to use!
Here's a before and after photo of my room.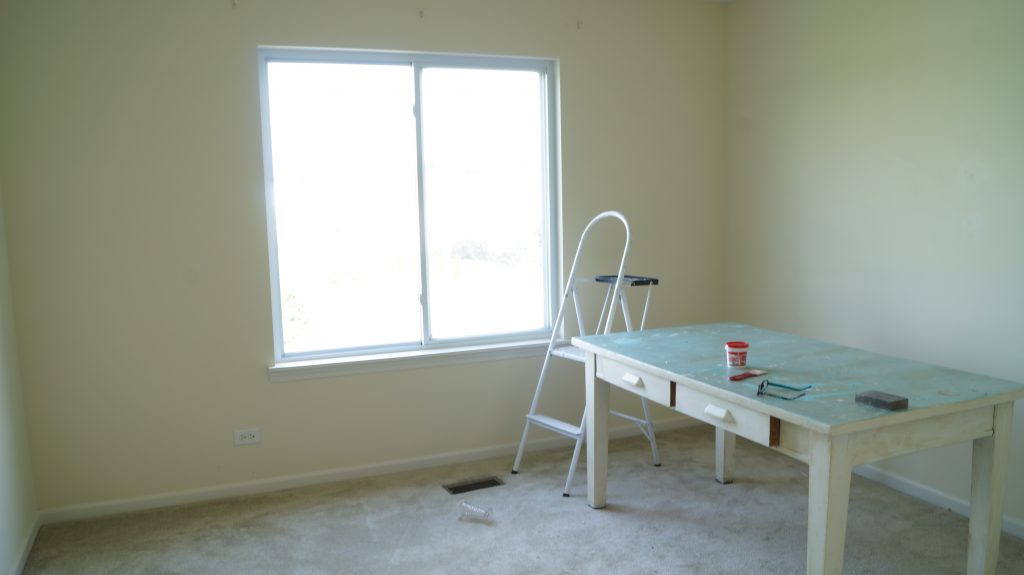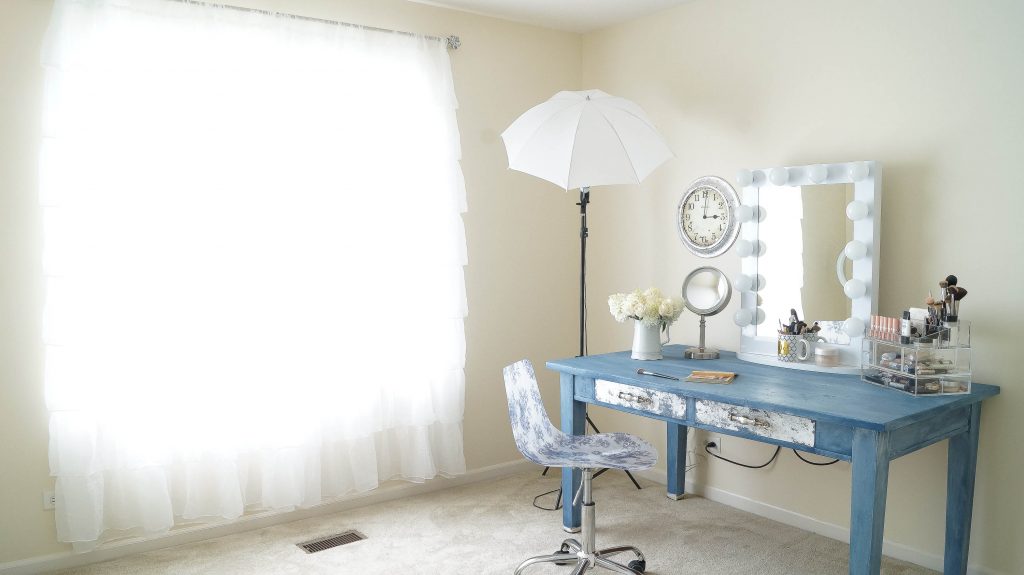 Do you want to create a makeup room? Here's a few tips that I hope you find helpful.
Tips On Creating Your Own Girly Makeup Room
Lighting is key to a good makeup room. If you can't afford a large makeup mirror, look for two good lamps that give off great lighting. I would look for lamps that have adjustable lighting, like a 3 way switch.
Look for a good size mirror for your overall makeup application. You can look for a mirror that can be mounted on a wall, or look for a vanity that has a large mirror that can be attached to a table or vanity
If you can't find a vanity table, think about building a table of your own. Ikea has table tops that are very reasonable, in different sizes. You can pair the table tops with the Alex drawers. If you want to create a vintage vanity. Look for a pair of drawers that are short, and purchase a wood top from the home improvement store to create your vanity/makeup mirror.
As far as a close up mirror, it's best to invest in a good one. I was searching on line and found the best magnified makeup mirror in my budget was the Conair. I don't like seeing my face that close, but I needed a mirror like this so I can see what I'm doing close up so my makeup doesn't look like I applied it while driving a car.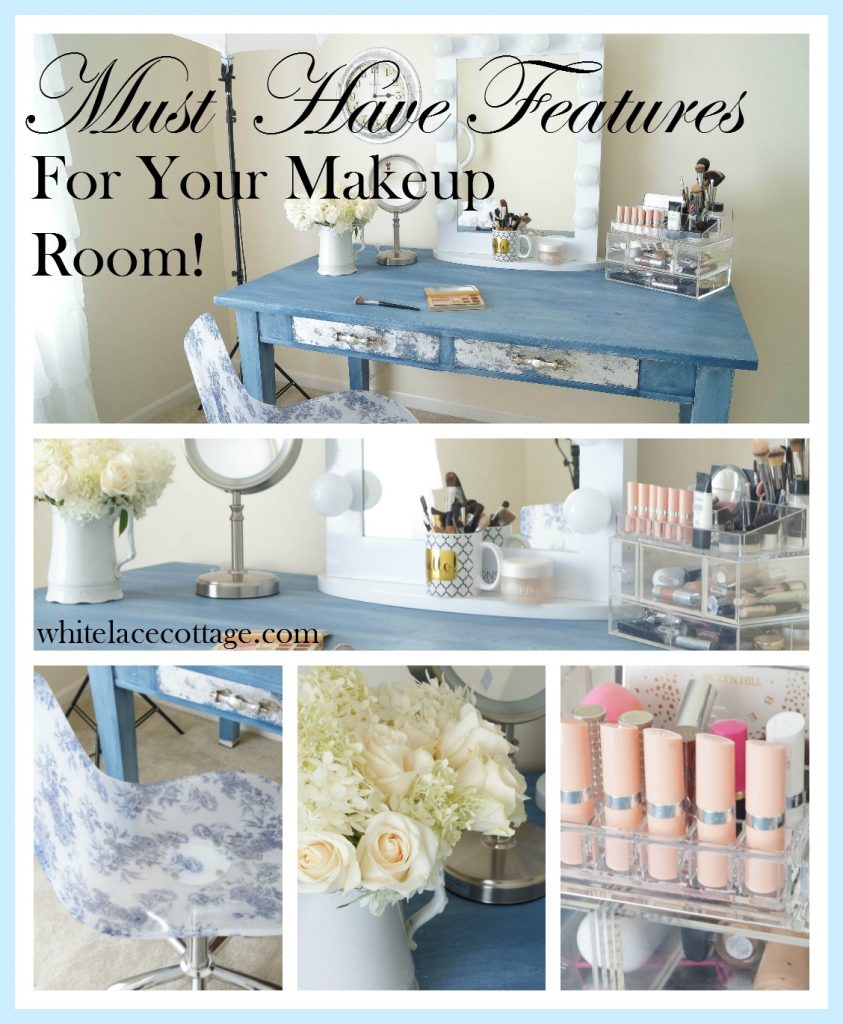 Shopping resources:
**Use Code WHITELACE  at Impressions Vanity to receive 10% off your order!
Heirloom Traditions Paint– Naval White Lime Soft Wax
**Use coupon code WHITELACE to receive 10% off your order from Heirloom Traditions**
Hobby Lobby mercury glass hardware
Save