How To Paint Kitchen Cabinets Step By Step
It's hard to believe that it's been five years since I first painted my kitchen cabinets. I always wanted white cabinets but I was terrified to paint them. What if I messed up? What if I hated the way that they looked? And what would my husband think? Fortunately they turned out great, I didn't mess up and my husband loves them. Because I wanted to cheat a little I decided to paint them using chalk paint. I recently wrote this article (click on the link to read) why I would never use chalk paint on kitchen cabinets again. I recently repainted my cabinets with a primer and paint in one. I'm going to share a step by step on how to paint kitchen cabinets. On a side note. I'm making lots of changes in my kitchen as I update things I will share more photos.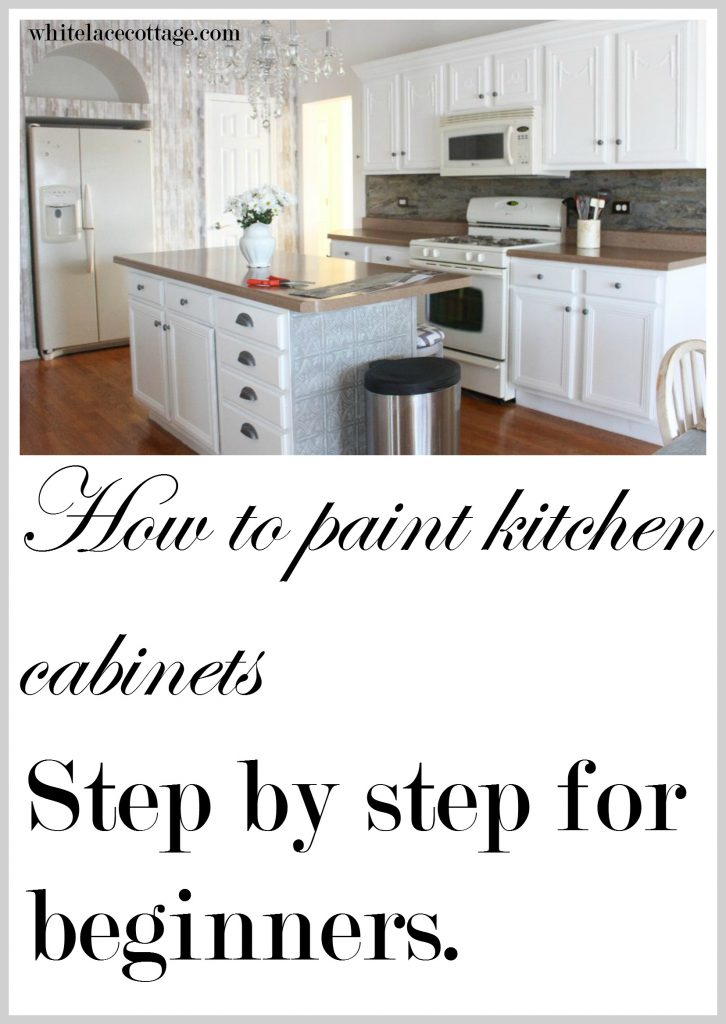 Prepping Your Kitchen Cabinets
Step One
Before you paint kitchen cabinets you first need to clean your cabinets off well first before starting your project. I used a product called Krud Kutter. It's a cleaner that will remove any grease or grim from your cabinets.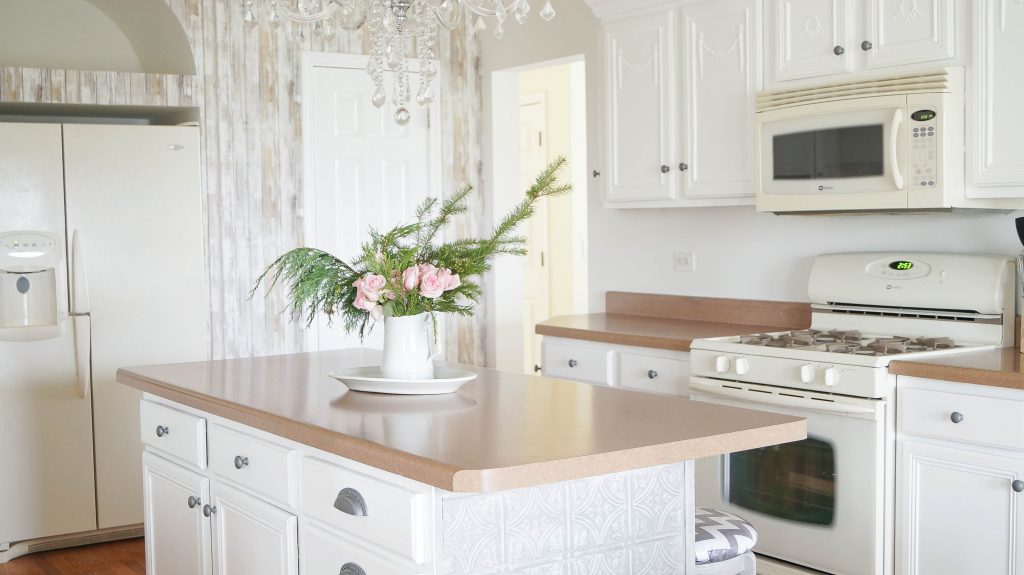 Step Two
Lightly sand your cabinets with a medium grit sanding block. This will help the primer and paint adhere to your cabinets. After you've sanded them make sure to clean off all of the dust and grit from the sanding block. I used a tacky cloth. This is a very important step. Make sure you do this before you paint your kitchen cabinets.
Keeping It Real
I'm going to be real with you and share what I did. This is not the correct way to do it. But I'm being totally honest with you. When I painted my kitchen cabinets I didn't remove them. I painted them while they were still hung. I also didn't paint the inside of the doors. I cringed at the thought of removing all of my doors so I didn't do it. Now I'm not telling you to do it this way. You really should remove them and to make them look more finished painting the inside is a good idea.
Make sure that when you are taking your cabinet doors off to put the screws in a safe place and figure out a system that you will remember which cabinet door goes where. I've had a few friends tell me they numbered the cabinet doors and the inside of the cabinets so they knew exactly where they need to go once they are done painting.
(Photo below from a recent project)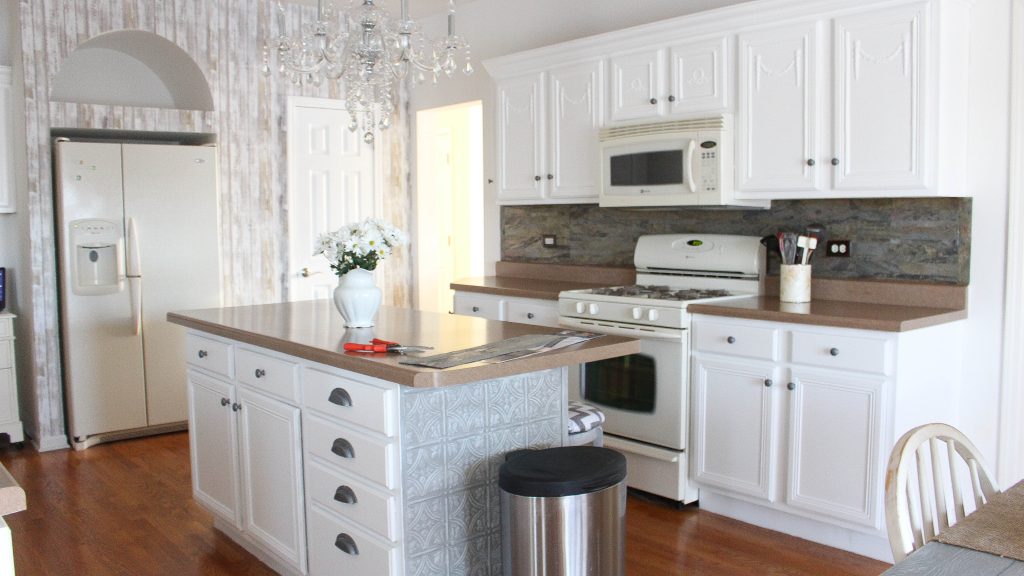 Primer Or Paint Primer In One
Before you start to paint kitchen cabinets you'll need to decide on what paint to use. Do research if you need to. I used Behr premium plus paint and primer in one. I read great reviews on this paint and decided that this was the paint for me. This paint could have been mixed to create another color instead of white. But I love white and this base color was the perfect white for my kitchen. It's a very bright white. So far this paint has been holding up extremely well and so far I am pleased.
Make Sure You Sand
If you're using a primer that's not mixed in with the paint as mine was you're going to want to apply a few coats of primer and sand between each coat. Here's what I mean. After you prep your cabinets apply your coat of primer. Let that completely dry (follow the directions on the can) . Once it's completely dry using a medium grit sanding block sand your cabinet door. Clean all of that dust and sanding grit off with a tacky cloth. Then repeat this process at least one more time but you can repeat it three times. After the second or third time you can apply your paint. This technique will create a strong bond with the paint. Let's just say that paint won't be chipping off and pretty much won't come off unless you strip it off. I didn't use this process because I used a paint and primer in one.
That's How I Roll
To get a smooth finish you'll want to use a foam roller. Before I started to paint my kitchen cabinets using  my roller I first used an angled sash brush to get into all the details. Then I used my roller. Let your paint completely dry before adding another coat of paint.
Getting That Factory Finished Look
If you're looking for a factory finish that's as smooth as can be you'll want to use a sprayer. It's the only way you will get a flawless look. A paint brush will show marks and even though a foam brush will be smooth. You will still see a slight texture in the paint. If you use a sprayer indoors make sure you protect ever single surface or you will have quite a mess. If you can it's best to remove the cabinets and take them out doors or to a workshop to paint. But don't do it on a windy day or you'll end up with a mess. My friends husband recently painted there kitchen cabinets using a sprayer and the finish is unbelievable!
Don't Rush
It's important not to rush to get this job done if you want it to look right. Whether you use chalk paint or primer paint method you need to allow plenty of time to get the job done right. Painting kitchen cabinets is not easy but it's so worth it if you love the look of painted cabinets.
I created a video demonstration on my Youtube channel. Click on the video below to watch and  make sure you subscribe to my channel. I add three new videos each week every Monday, Wednesday and Friday.

Practice Makes Perfect
I wanted to leave you with this important tip. Besides making sure to allow enough time to finish this project if you are in anyway nervous about painting your kitchen cabinets don't do it. Seriously don't. This look isn't for everyone and if you are worried you're going to mess it up hire a pro. Or practice, practice, practice. Find a cheap piece of furniture at a thrift store or garage sale and paint it. Get the feel of how to paint it. Use a roller, try a sprayer but practice on furniture first. If you've never painted a piece of furniture than I would not recommend painting your kitchen cabinets. You need to be confident in painting them before you attempt it. Because once you start painting if you hate it, well you'll have a huge mess to clean up.
I'd love to know if you've ever painted kitchen cabinets. If so what was your experience. If you have any tips to share please leave them in the comments below as it will be helpful to others.
Save
Save
Save
Save
Save
Save
Save