Chalk Painted Kitchen Cabinets Never Again!
You're probably reading this title and thinking seriously? I thought she was all about chalk painted kitchen cabinets. Well let me tell you why I painted my cabinets using Annie Sloan cp and why I would never do it again. Five years ago I started my blog. After looking at photos of my home I was taken back at how my home didn't reflect the real me. When we were building my home and I was choosing colors and cabinets I picked maple cabinets with a dark finish. This is totally not me at all. But at the time that we were picking things out for our home I was under lots of stress. We purchased this home but still hadn't sold our last home. Something I would never ever do again! ( This post contains affiliate links see disclosure policy)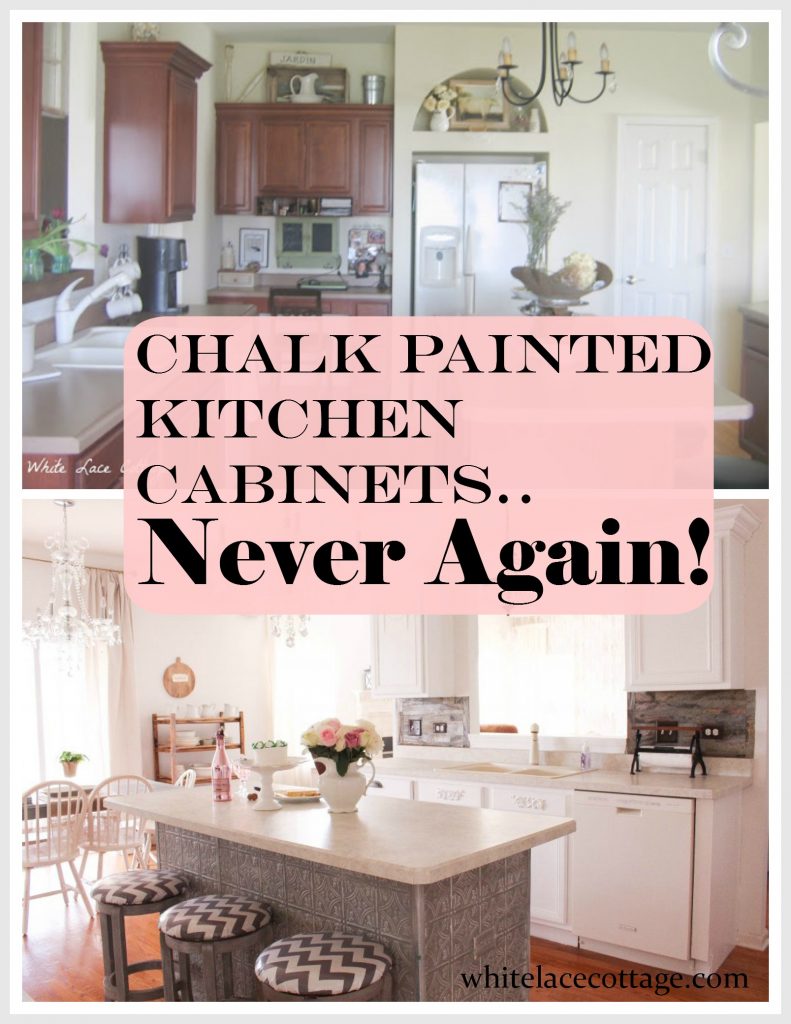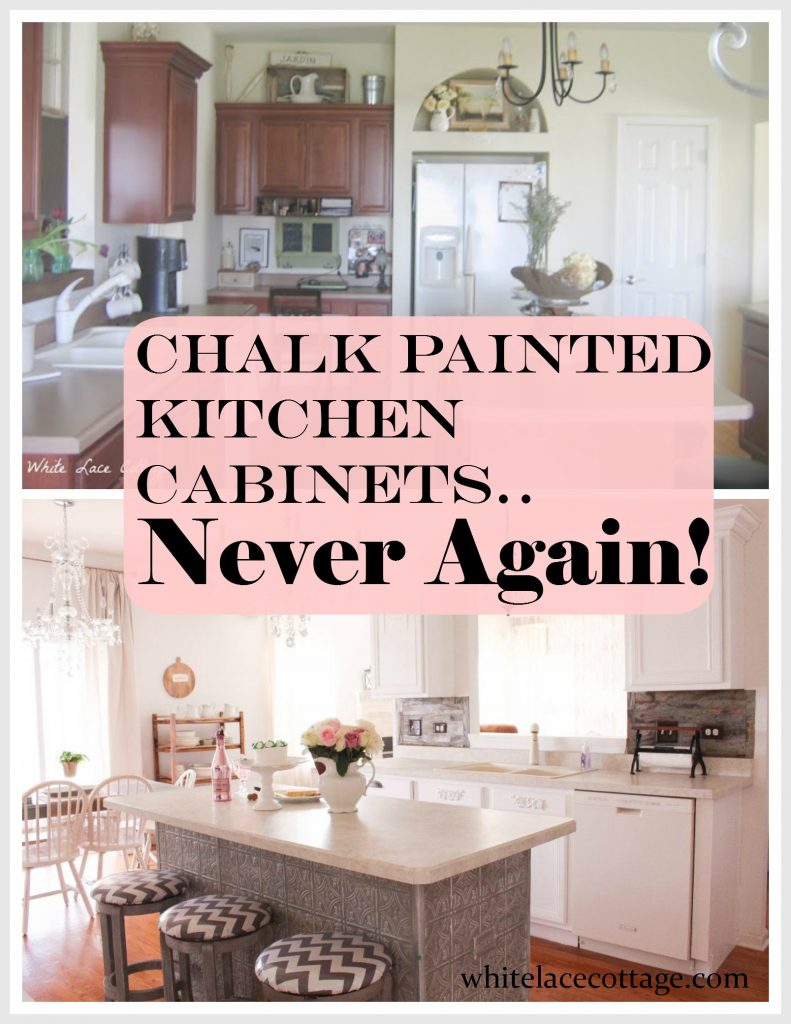 So as I said shortly after I started this blog I decided to start changing things around in my home. One of the biggest changes was my chalk painted kitchen cabinets. At the time Annie Sloan chalk paint was the rage. I was reading other blog tutorials on how to paint kitchen cabinets without sanding or priming. I was all about the fastest way to paint my cabinets so I went for it.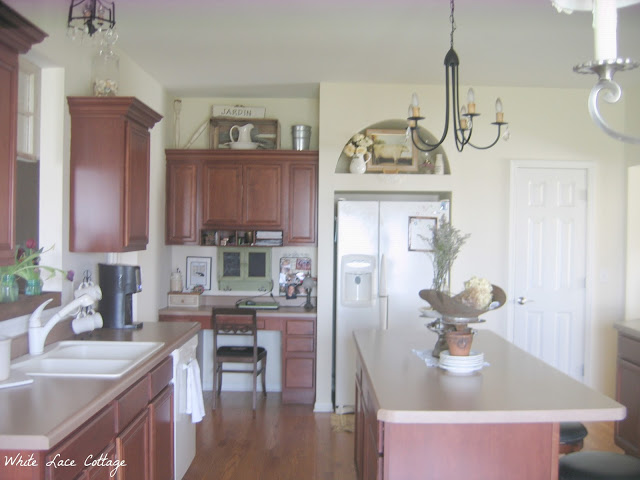 I purchased 4 pints of AS paint in pure white. The only prep that I did on my cabinets was that I cleaned them. But I didn't sand before I  painted them. After painting 2 coats on my cabinets I noticed that it wasn't covering great. I applied 1 or 2 more coats, I can't remember it may have been more. But I do know that I had to order 4 more cans of paint. This was starting to get expensive.
Since I was using a cp I thought I should lightly distress my cabinets. I will be honest, I really didn't want them distressed at all. But if you are using a cp that's really the point for chalk painted kitchen cabinets . Why paint them with cp if you're not looking for a distressed look, right?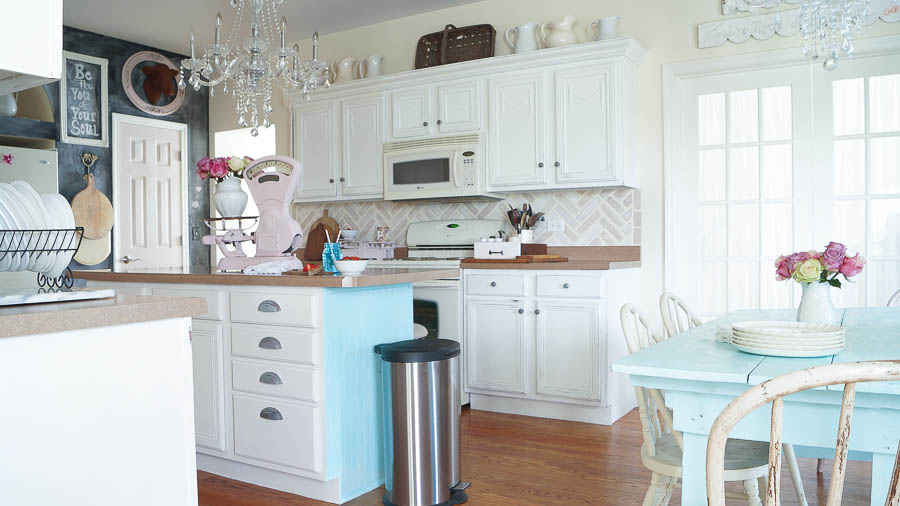 Then it was time to seal the paint. I could have used an oil or a water based top coat. I hesitated because years before painting my chalk painted kitchen cabinets I painted a  white dresser for my daughter. I sealed it with a polyurethane I can't remember if it was an oil or water based. I think it was an oil based. Well this turned my white dresser an ugly yellow. The thought of this happening to my cp kitchen cabinets scared me. So I decided to use a wax on my kitchen cabinets . I read many tutorials on people painting kitchen cabinets and using a wax so I thought why not. I applied Fiddes furniture wax which I've used on numerous pieces of furniture and never had a problem. After applying this wax I started to see a mustard yellow color on all the detailed areas of my cabinets. At this point I was freaking out! I started sanding this all down then ordered AS clear wax.
You're probably wondering why I didn't use AS wax on my chalk painted kitchen cabinets in the first place. Well I didn't want to wait for the wax to cure. Once you apply the wax it has to cure for 24 hours before you can buff it. I knew I had to give it at least 3 coats of wax. This was a long process and a messy one. I also had an issue with the inside of two of my cabinets. I wanted to leave the doors off of two cabinets. I first prepped those with Kilz primer. But it wasn't adhering very well. I just left it as it was, creating a distressed look using AS dark wax.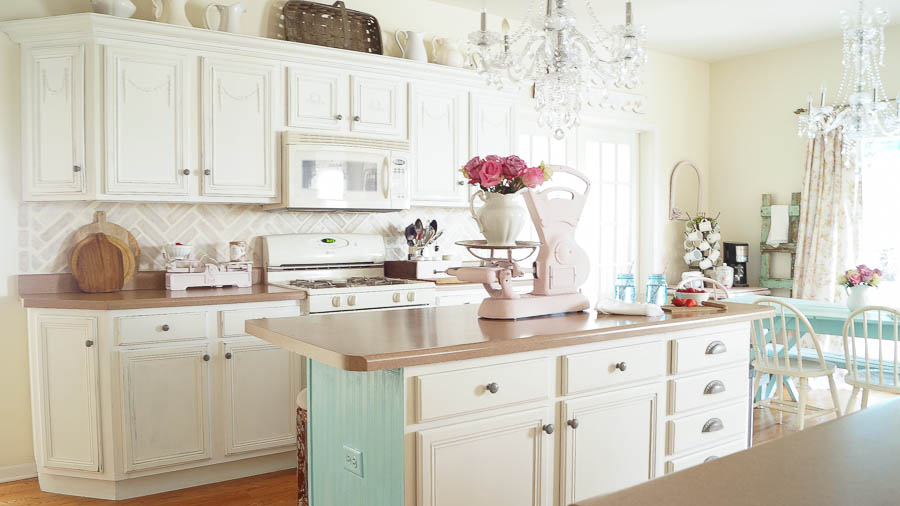 About three years after painting my cabinets they looked like they needed a fresh paint job. I repainted them but stupidly never finished waxing them. Then I decided to paint them once again and finish waxing them…and again I didn't finish waxing them.
Can you see why cp cabinets are not the best idea when it comes to updating your kitchen? Painted cabinets are fine, but in my opinion unless you are planning to heavily distress them and unless you paint them another color and not white. I would not suggest chalk painted cabinets. This is my personal opinion. If you would like chalk painted cabinets go for it. But I personally would never ever do it again. I wasted lots of money and time. And in the end my cabinets didn't stay nice. They looked dingy and dirty and didn't clean well at all if I needed to scrub them. I love the primer and paint that I used on my cabinets. They have a beautiful sheen and they are holding up well to scrubbing.
How I Repainted My Kitchen Cabinets
I lightly sanded my cabinets down, then I used Krud Cutter to clean the dust and grim off of my cabinets. Next I painted two coats of paint using Behr premium plus ultra. For the detailed areas I used my favorite Purdy brush. Then used a foam roller over the larger sections. I have to tell you that this paint is amazing! I love the finish on my cabinets it looks like it did the first time I painted them using chalk paint and used a wax to seal them. It has a hand buffed look. It's a very smooth finish as well. I will keep you updated on how this paint wears on my cabinets. Only time will tell. But I was told that this paint is very durable and will not come off unless I strip it off, fingers crossed.
I Have No Regrets
This was one of those life learning lessons. I've shared this before that I am and experimenter. I'm never afraid to try something new. In the process I didn't ruin my cabinets. I just made more work for myself and it costed more money in the end when I  could have just painted them using a primer and latex paint. But I thought I using cp would have saved me time and money but it didn't. So again if you want a distressed worn look use cp but seal them with a top coat. If you want a factory finish look use a primer and latex paint or a paint and primer in one. But make sure to sand your cabinets down before painting. You need to make sure that the paint will adhere.
I will be painting a few of my cabinet doors that I haven't yet painted. They are the doors I took off when I painted the rest of my cabinets. I will share a step by step of how to paint them along with the paint I used on my cabinets.
I talked a little more about this on my Youtube channel I'll share the video below.
Save
Save
Save
Save
Save
Save
Save
Save
Save
Save
Save
Save
Save