Accent Wall And Simple Kitchen Updates
(Sponsored post and affiliate links, please read disclosure policy)
I've been longing for a much simpler look in my home these days. The older I get the less stuff I want in my home. I started purging and getting rid of things many months ago. After ridding my home of all of the stuff I felt that it was time for a change. As much as I love pink I needed less of it in my home. I started by painting my family room and kitchen walls using Sherwin Williams paint color Snowbound. It's a beautiful white with a hint of grey. I added an accent wall to my family room and my kitchen using RoomMates peel and stick wallpaper.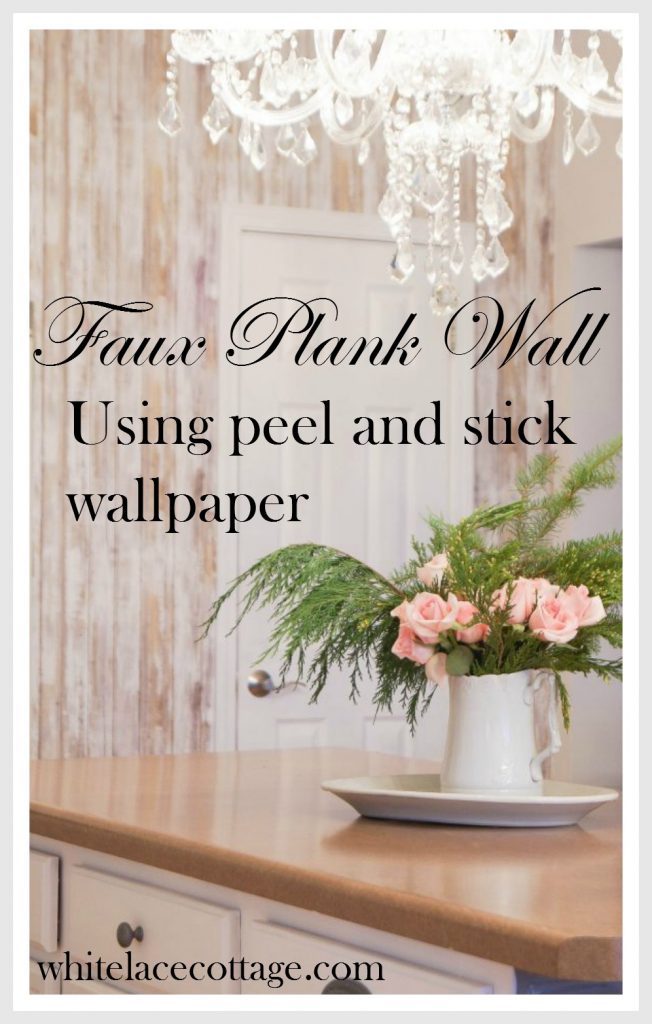 A little disclaimer..this post is not a reveal. But I'm sharing the changes I've made and what changes will be next. It's been a process, but I'm loving the simpler cleaner look. I hope that you do too.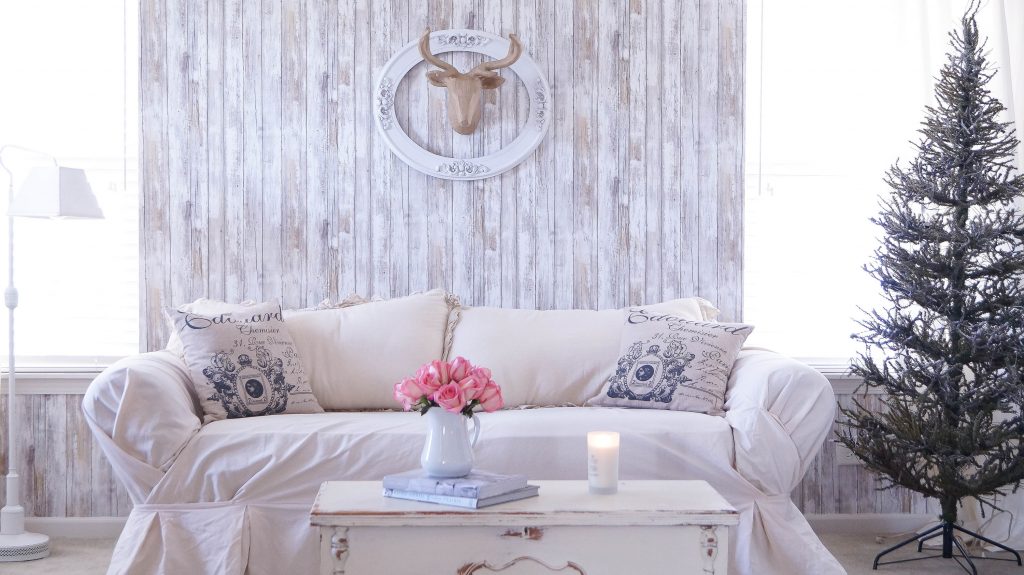 This peel and stick wallpaper from RoomMates was so easy to apply and I love the fact that I can peel this off when I get tired of the look. This created a beautiful accent wall in my kitchen and my familyroom. I cannot tell you how much I love this wallpaper. It was super easy to hang and it's also authentic looking and very durable. I you are considering adding an accent wall using wallpaper I highly recommend RoomMates peel and stick wallpaper.
I previously had an accent wall in my kitchen that was created by using chalkboard wall paint. I enjoyed it but I will be honest I didn't change the look of that wall as much as I thought I would, so it was time for a change. You'll be hearing that word change quite often as you read this article.
Look at how that wallpaper looks in my kitchen. It really adds a vintage look to my room for so much less than adding real wood planks.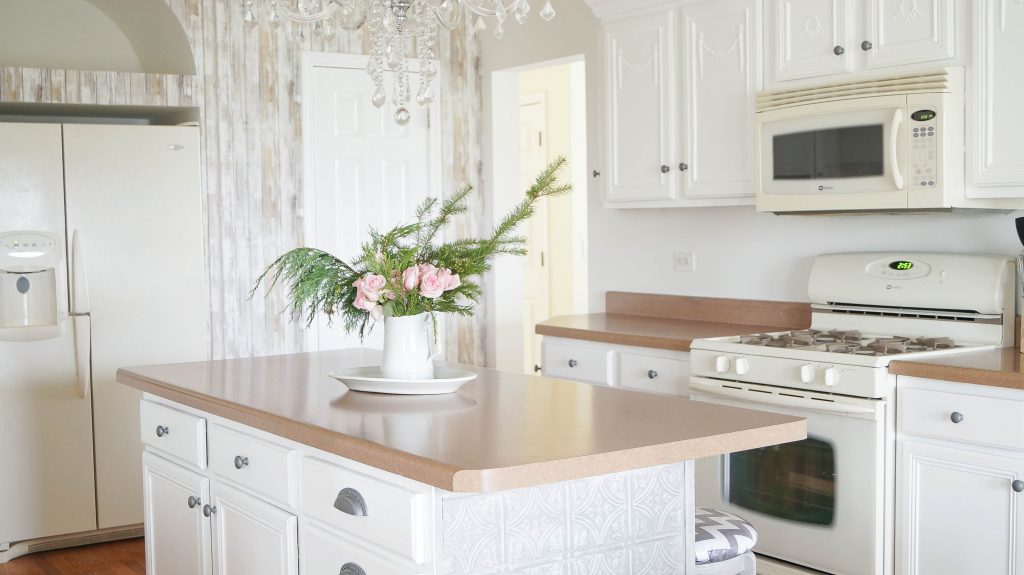 If you have been reading my blog for awhile I bet you noticed another big change in my kitchen. I no longer have my backsplash. If you missed it you can read how I added a simple kitchen backsplash using a stencil.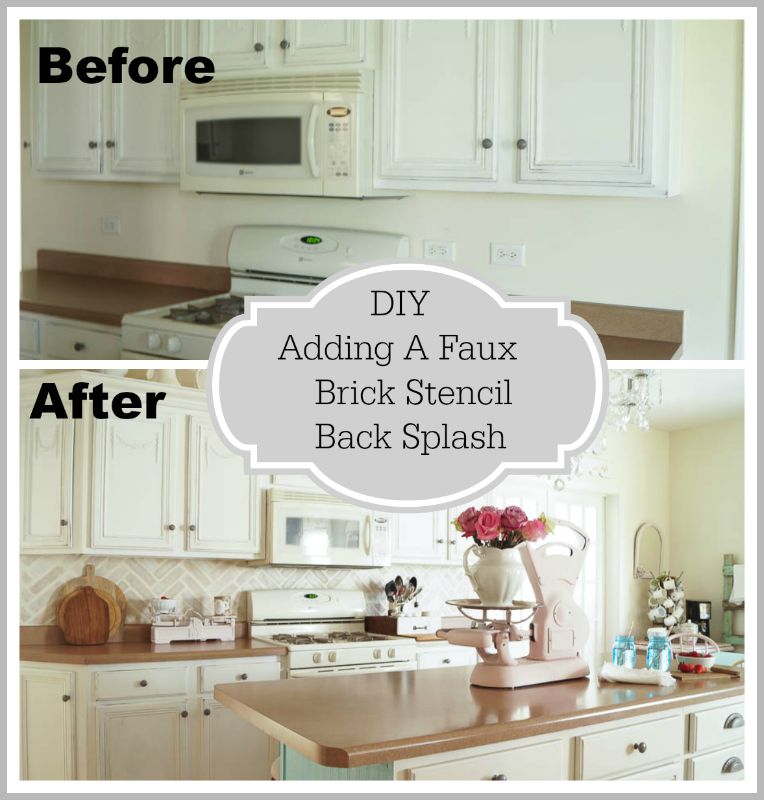 I really loved this look but needed a change and more will be coming. I will be revealing each change I make as I finish my projects. Now I know that my kitchen looks all tidy and neat without any big messes on my counters. But I promise you that on a normal basis I have our phones plugged into the outlets, bananas sitting on the counter, dishes drying next to the sink and my desk is a mess. These photos were staged for this blog post.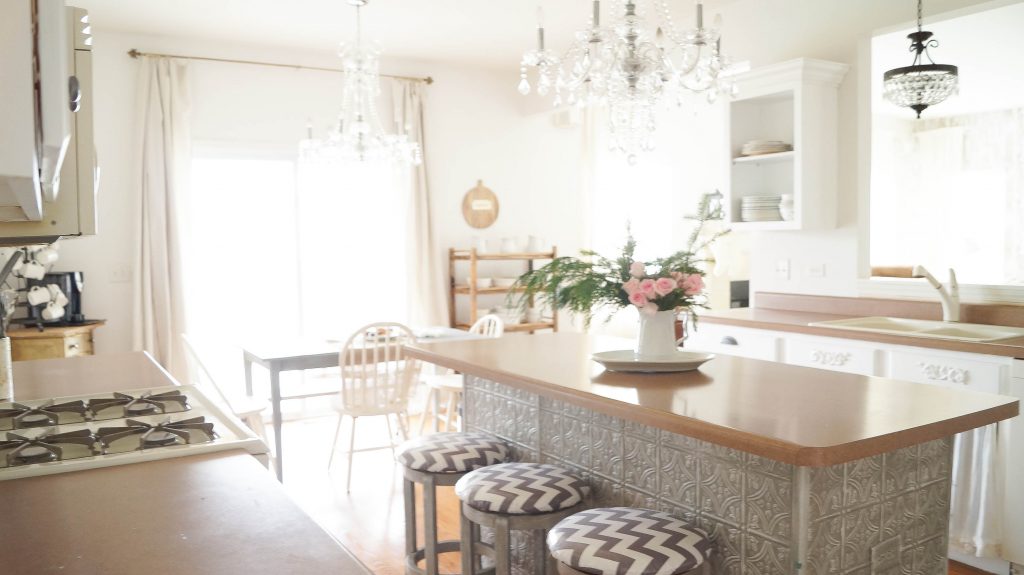 My curtains are new as well. I switched out my  shabby curtains for a simpler softer look. No sewing was involved with these curtains. The fabric is a drop cloth . Two pieces of drop cloth fabric worked perfectly without needing to sew. I used these graber curtain clips to hang the curtains without needing to sew a rod pocket.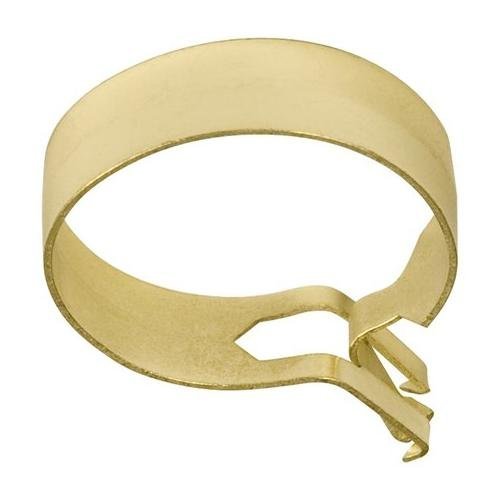 The stools have been reupholstered using an oilcloth. The paper mache I added to the stools wasn't holding up as I had hoped that it would. But it was worth a shot. You know me I love experimenting and trying new things. I never know for sure if things will work out. Sometimes they do sometimes they don't.
This chevron oilcloth color is similar to what I have on my stools in my kitchen. This project was super easy to do. You can read about how I reupholstered a bench which is the same technique I used when I reupholstered my stools.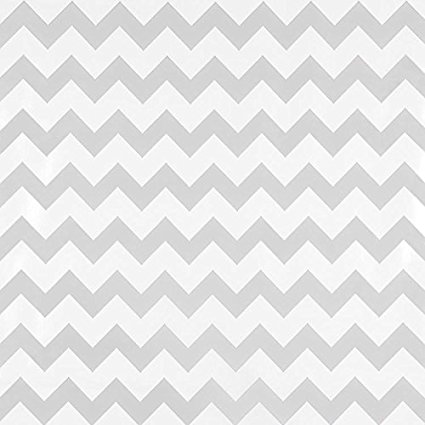 You're probably wondering what I'm going to do with my backsplash. Well I will be adding a new one and I can't wait to share it. I'm choosing the tiles now. I have much more planned for my kitchen, family room and my next project will be my bedroom. I know it seems like a crazy time of the year to start projects. But we don't have company coming for the holidays so my home can be a little messy and I won't have to worry.
We spend much of our time indoors this time of the year so it's nice to see these changes and be able to really enjoy them. All of my changes so far have been very easy to do. Painting is always easy, reupholstering is also very easy and this peel and stick wallpaper is amazing! I love how versatile it is. I'm actually adding some in my bedroom!
I love this accent wall so much! Doesn't it look like a real plank wall?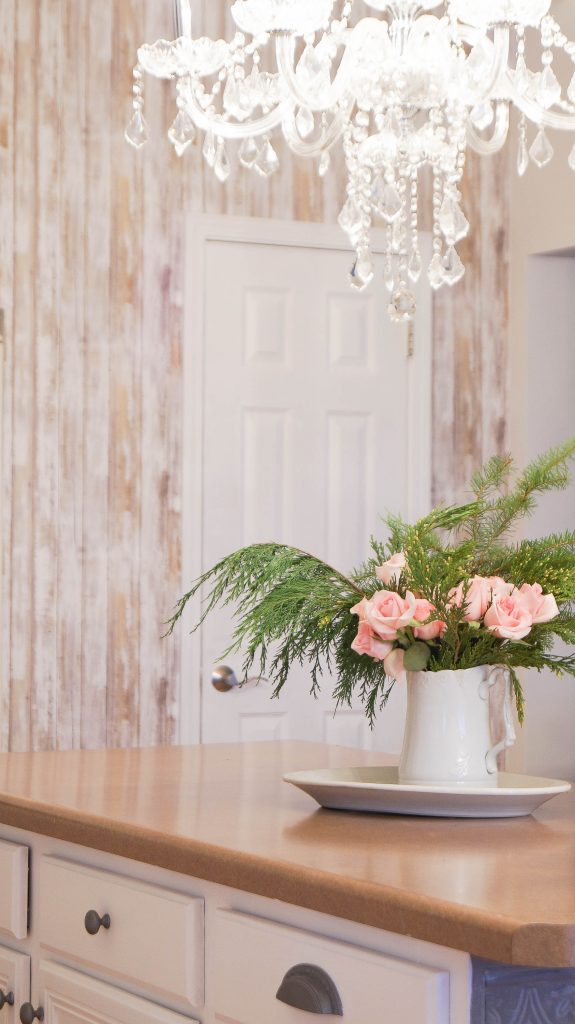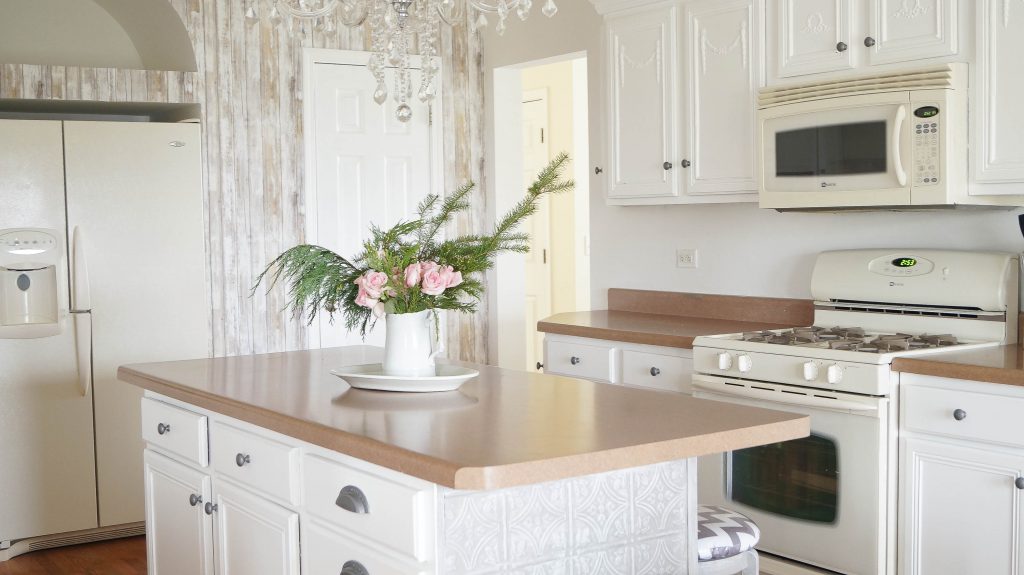 I will be painting my chairs in my kitchen including my desk chair along with my desk. The white is not holding up well. I haven't decided what color to paint my desk and chair just yet.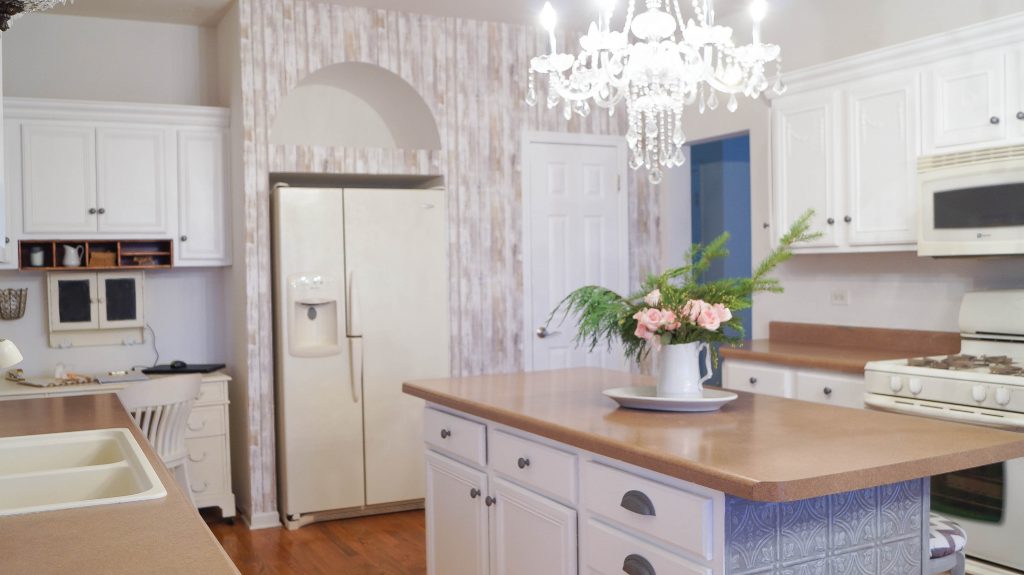 Oh yeah, everything came off the top of my cabinets and nothing is going back on top. I really love the cleaner uncluttered look. I'm hoping to address my counters but I haven't decided what to do about them yet.
I just bought a new video camera and plan on creating 3 new videos a week. On my Youtube channel I can share more hands on tutorials. I am a visual person so seeing a project or a tutorial is much easier to understand. Are you like that?
Here are a few of my videos. Make sure you subscribe to my channel so you won't miss my latest videos.
Save
Save
Save
Save
Save
Save
Save
Save
Save
Save
Save