How To Cheat A Distress Furniture Look Cheap
This post is for all of you that would love to use a chalk (type) paint to create a chippy look but it's not in your budget to spend the money. We are all on different budgets so I totally understand when I get emails saying I'd love to use a chalk (type) paint but I don't have the money for it. I'm going to share how you can achieve a similar look and how you can use flat paint to distress furniture. You won't get the exact look as I've shared with the pieces I've created using Heirloom Traditions paint, but if you are tight on funds this will create a similar look. I'll go through and share the pros and cons along with why I love using the paint I use. Remember this is is only if you want to achieve a chippy or distressed look. If you want to paint a piece of furniture using a flat paint but you don't want to distress it you can totally do that. But you will need to use a primer so it doesn't end up chipping. You'll also need to seal it as you would using a chalk (type) paint.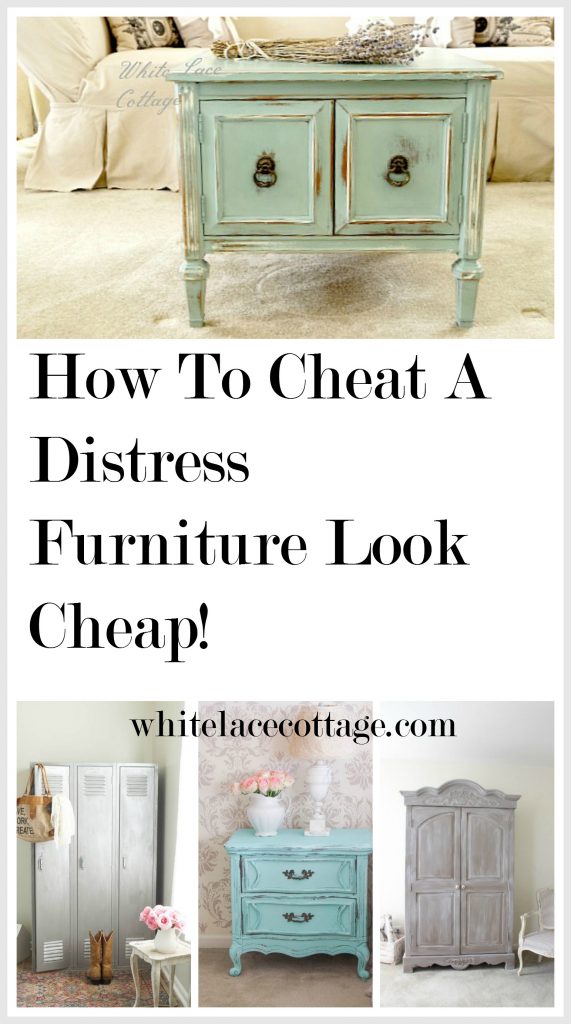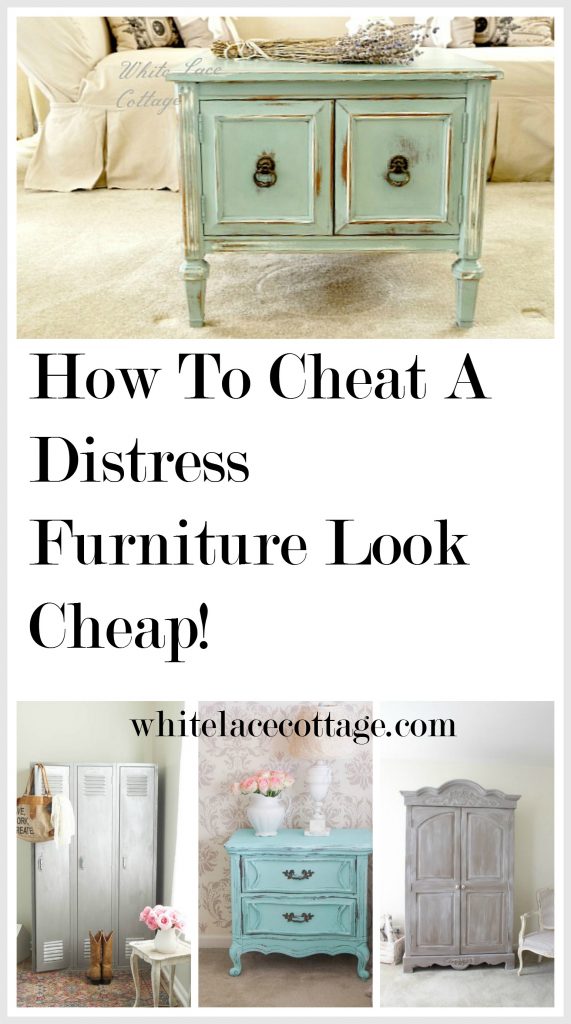 First let me explain what a chalk (type) paint is. First you notice that I'm saying chalk (type). That's because due to legal reasons I can't say chalk P—- . The company that I work with, Heirloom Traditions  calls there paint a chalk type so I can use that wording :-).  A chalk (type) paint will adhere to just about any surface. You don't need to prep it with a primer or sand it. Although I would still clean it off well. Some Chalk (type) paints have plaster in the mix and that's what makes it adhere to most surfaces. The paint company that I work with does not use plaster. That's one of the things I love about the paint I use. If you read the warnings on a container of plaster you will understand why I'm not a fan. I also like that Heirloom Traditions paints are not latex.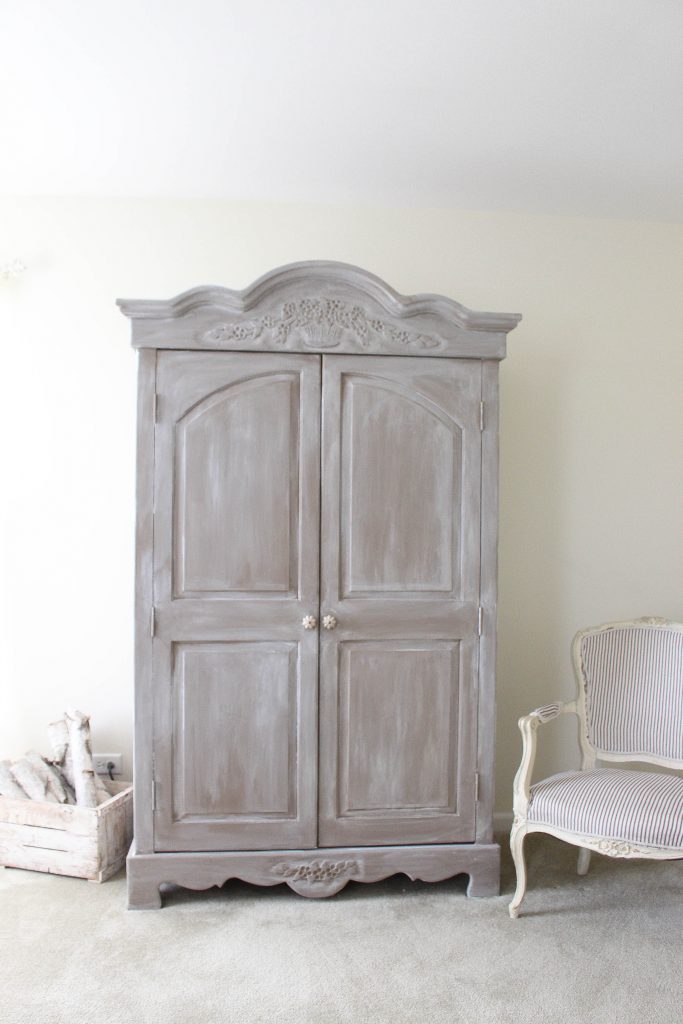 Creating A Distressed Look On A Budget
Yes you can distress furniture paint with regular flat latex paint. It's a budget friendly alternative. A flat latex paint is easy to sand and you can use my vinegar and water distressing technique . You can layer two colors, and create lots of the looks if you use flat latex paint.
Latex paint can be expensive too depending on the brand. But you can look for the oops paints at your local home improvement center. Those are the paints that a customer wasn't happy with the mix of color. They are often cheaper than purchasing a new gallon. You can also purchase a small pint of paint or a little sample size. Depending on how big your project is. But you will get much more paint for the money in a gallon of paint vs a pint of chalk type. You can also make your own chalk (type) paint by mixing plaster in latex paint. But I'll be totally honest. I've tried that and it didn't work well for me at all. The paint was a bit lumpy and it didn't distress well for me. I'm not sure what they do to mix up chalk (type) paint that uses plaster in the mix, but making my own didn't work for me. Just being honest.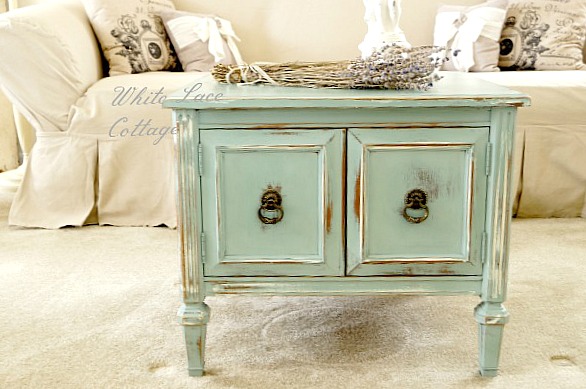 Pros For Using Flat Latex Paint
It's more affordable for a gallon paint vs chalk (type) paint in a pint.
You can distress it using a sanding block or vinegar and water technique
Cons For Using Flat Latex Paint
This may not adhere to every surface.  As you start painting depending on the piece the paint may not stick to your piece and actually may start to separate.
It may not hold up well and may start chipping more than you would like it too.
The paint will take longer to dry.
Since it's a latex paint it will have a strong odor.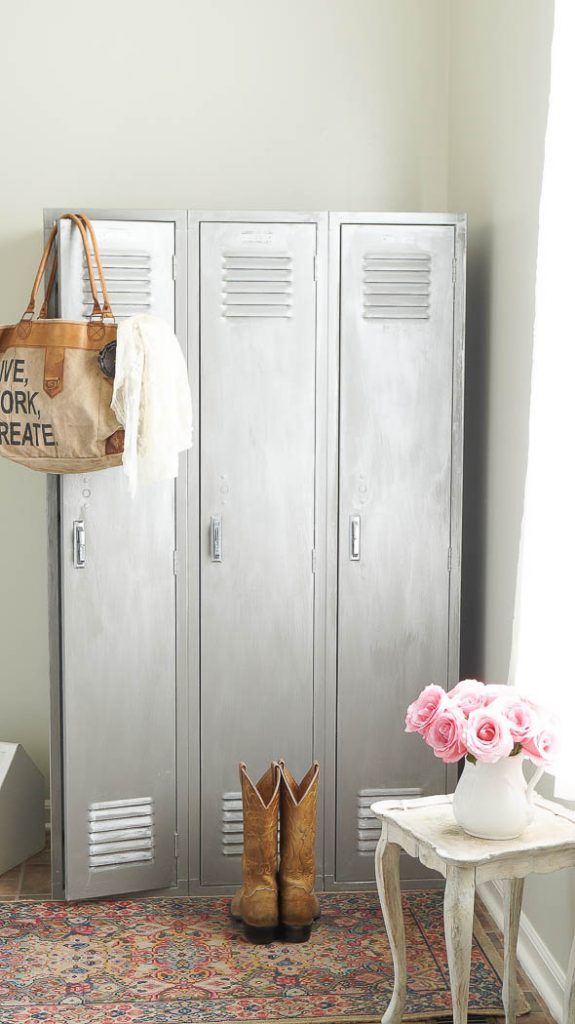 Why I Love This Paint
Here's why I love Heirloom Traditions paint and why I think it's worth the money.  Heirloom Traditions Paint is very safe to use and has no V.O.C.'s and are suitable to be used indoors. They are water based and are easy to clean up with soap and warm water. They are high-quality paints and they offer a color line of 50 vivid colors like no other paint line on the market today. Each of the paint colors are high hiding, contain saturated pigments and require no primer or sanding prior to use. Most of the paint colors require only one coat, depending on the look you might be creating. These chalk type paints are easily distressed and have an age-old appearance, once they are waxed with our line of soft wax or spray waxes, which are designed to give new paint finishes the time-worn look of an aged finished piece.
Heirloom Traditions Chalk Type Paint is suitable for wood, metals, ceramics, glass, fabric, leather, etc. The bonding properties of this product are like no other. It dries to a matte finish with little to no preparation of the surface before painting.  The paint has a velvety smooth finish when waxed with one of the 13 wax finishes that they offer.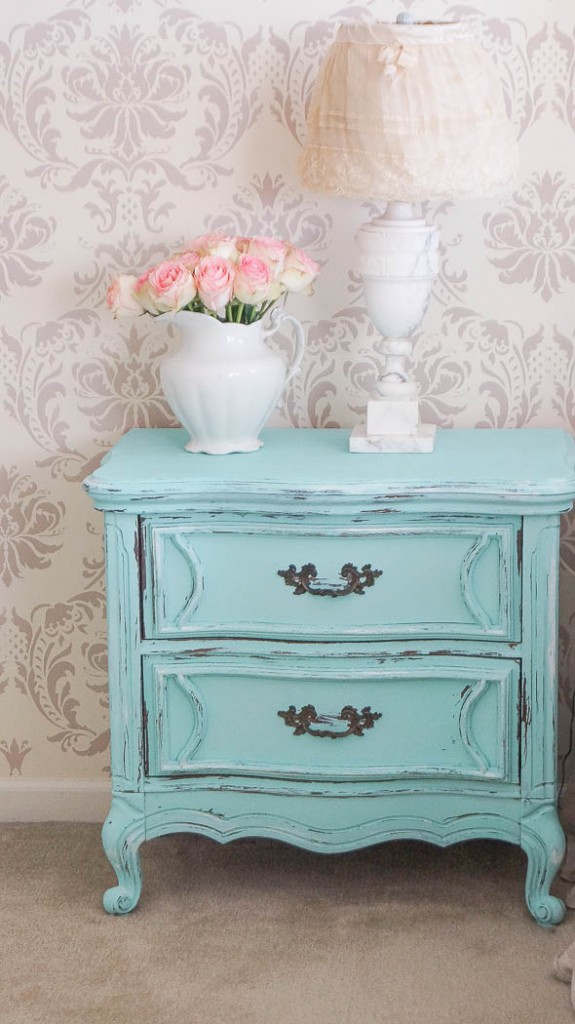 So there you go. If you are on a tight budget you can distress furniture if you paint a piece of furniture using flat paint. Just remember that this will not give you the exact look that I create with my pieces. It may be a little harder to distress and it may not adhere as well either. But if you find a thrifty piece of furniture you can most certainly give it a shot.  I'd love to know if  you distress furniture using flat latex paint or if you've been using a chalk (type) paint. Which do you prefer?
Save
Save
Save
Save
Save
Save
Save
Save
Save
Save
Save
Save
Save
Save
Save
Save
Save
Save
Save
Save
Save
Save
Save
Save
Save