Today I added a crystal chandelier to our kitchen.
I have been wanting to change out the chandeliers in our kitchen for awhile now,but I could not find chandeliers  that I thought would work until recently.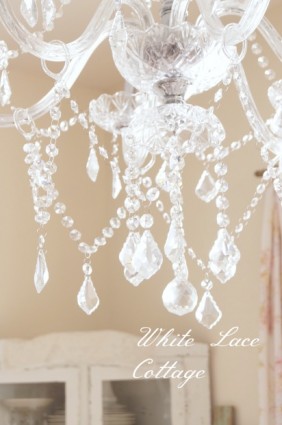 I love vintage chandeliers,but often they need to be re-wired and I don't know how to do that.
Taking it in to have someone else re-wire it would be an added cost.
This was quite a project because little did I know until I took this out of the box that this needed to be fully assemble.
I guess I missed that description on the outside of the box.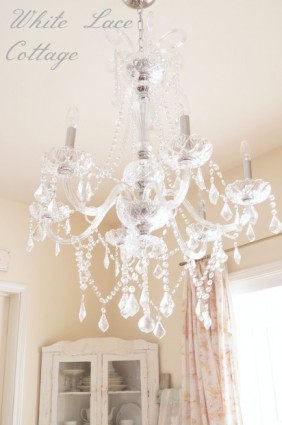 Every single arm of this light had to be wired and attached.
As I was putting this together I decided to add the crystals at the very end because all that added weight would make it difficult for me to hang.
Yes I did this all by myself and I am quite proud.
Normally I ask my husband,but today I decided to do this myself.
It took me five hours to put it together and hang,I was being very careful doing this the first time all by myself.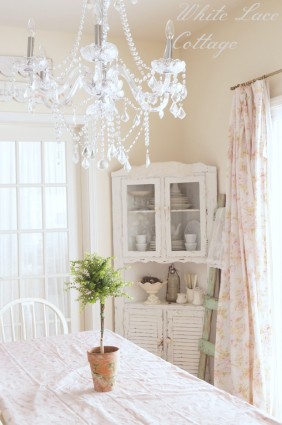 I am not going to go into detail on how to hang a chandelier.
I am very comfortable doing this myself because my husband and I have done this ourselves over the years.
But I am not a professional so I don't feel comfortable explaining how to do this.
You could probably do a search on the internet on how to if you felt comfortable doing it, if not then please call a professional.
I love how nice and bright it is in our kitchen,and I am not done yet.
I am still going to hang a matching chandelier over our kitchen island and  a smaller chandelier  over the sink.
This is what it looks like all lit up.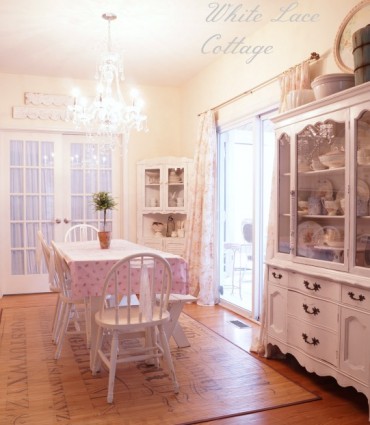 Here is what it looked like with my other light.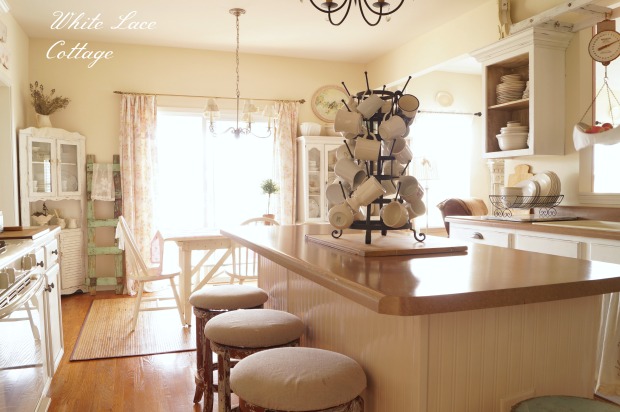 And this is what it looks like now with the chandelier over our farmhouse table.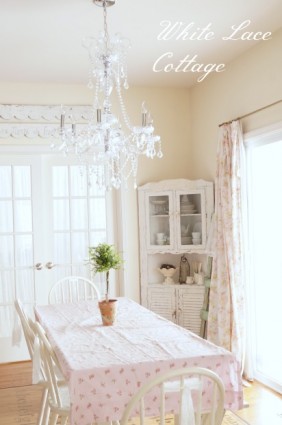 I also wanted to mention that to pay for these chandeliers I sold a few things to my friend who owns a shop in town.
Having a garage sale,yard sale or selling things on craigslist is a great way to make extra money and also get rid of things you no longer want.
This chandelier was found at Menards for 199.00
Not bad for a beautiful crystal chandelier,but the catch is that you must assemble it yourself.
***************************************
The midwest meet up was yesterday.
It was fun meeting fellow bloggers and making new friends.
I took some photos with my smart phone and I have no idea of how to download them to my blog.
I can't believe I forgot to take photos of everyone with my camera!
**************************************
Crazy as this sounds it is snowing here today!
It is spring right?

Joining: