This post is going to be all over the place,lots to talk about today!
It's a beautiful spring day here today,but I had so much to do no time to relax.
I am not quite done with my kitchen beadboard wallpaper yet.
I was distracted with things like cleaning,laundry,shopping,cooking,spending time with my family you get the picture.
 But I thought I would share the progress so far.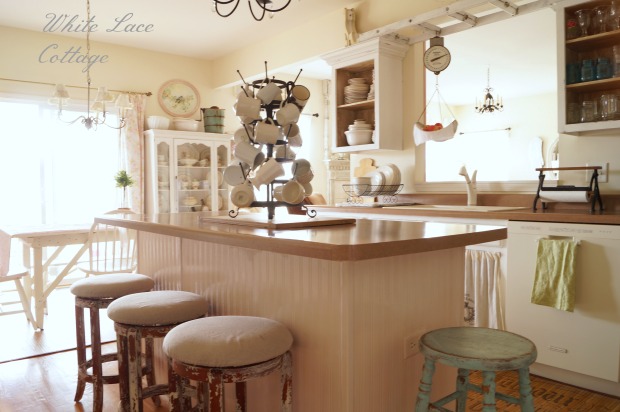 After hanging the wallpaper I added trim to the base and top of the island.
When it's completed I will share closer photos.
I don't have an electric saw I cut the trim pieces using a hand saw.
It was pretty easy because the wood is soft.
The paint used for the beadboard portion of my island  is Vintage Market Designs paint in porcelain,which is a very pale pink.
And you can see it shows up very pale on the photo.
I also decided I would re- paint the front of the island because I was tired of the distressed dark wax look.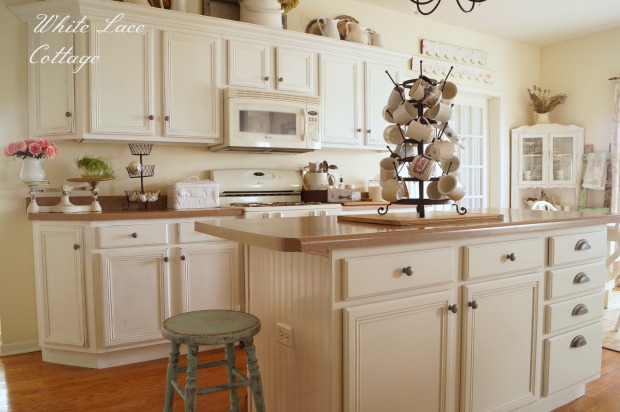 I love the look of the beadboard wallpaper,but I am hoping it will hold up to bumps and dings.
Let me tell you why I say I am hoping it will hold up.
I decided to use a polyurethane instead of wax,
Why because I thought with all the wear and use of this island I thought it would protect the paper a little better.
As I was adding the polyurethane the brush I bought was shedding like crazy!
I used miniwax and I used there brush.
This is what happened when I gently tried to get the shedding brush hairs off.
See that little rip in the paper…UGH!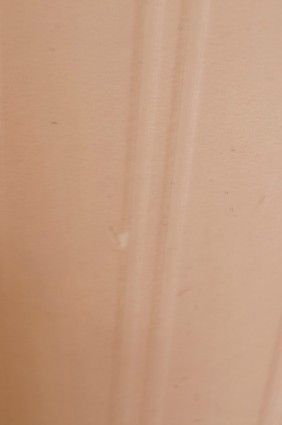 You can see the hairs that were shedding off of the brush.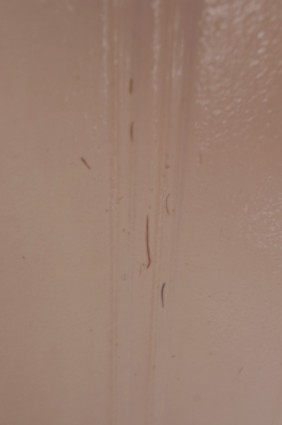 I was not happy at all!The polyurethane was so stinking I don't want to use it again.
I may repaint it and add wax,maybe with all those coats of paint this will be a little more durable.
Not thinking of repainting it for that reason,I really did not like the stinky smell of the poly and I am not crazy about the shine either.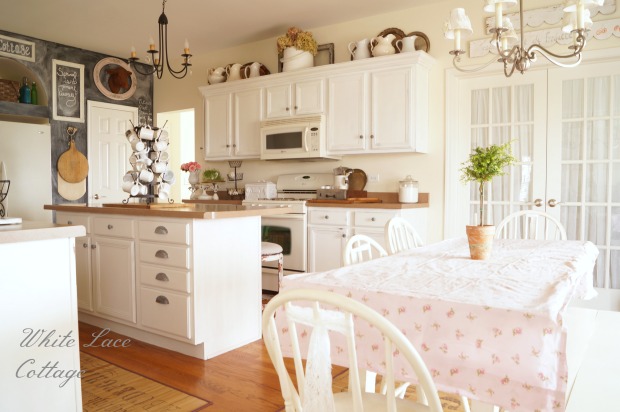 The front of the island was painted with Vintage Market Designs Antique.
The two colors are very similar,and I think my husband is happy that the pink is not too pink.
But……that's not to say that I may not decide to go a little darker with the pink.
It's good to let the idea of pink on my island settle in with my husband 😉
I also decided not to distress the front of the island.
I still need to add the beadboard to the sides of the cabinets.
And add a little bling in here,yes those chandeliers I shared in the last post.
***************************************
I had a private sale today in my home,
A good friend of mine owns a beautiful upscale resale shop in town.
When I am tired of things I decorate with and they are too big to ship,I give her a call.
With my sales from today I was able to purchase three chandeliers for my kitchen!
Now to talk my sweet husband into assisting me with hanging them.
It may be a few weeks,this weekend is a busy one and next weekend is Easter weekend…can you believe it!?
****************************************************
I wanted to share a secret that I have been keeping from you.
A month or so ago Decor Steals contacted me about taking a photo of the gorgeous boxwood wreath that I purchased from them and hung from a vintage window frame.
They wanted to use it for an ad they have in the May issue of  Romantic Homes Magazine.
While I was out shopping at the market I decided to look at the recent decorating  magazines that are out and saw this.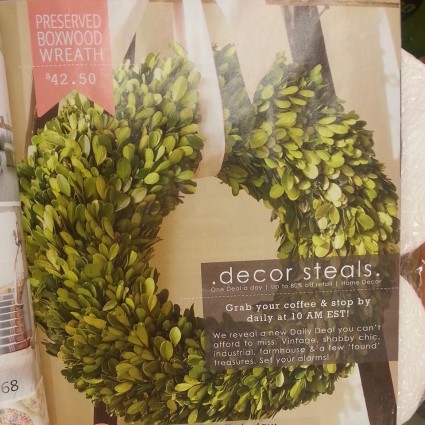 This is a poor photo taken with my phone,on the inset it says photo by White Lace Cottage!
A HUGE thank you to Decor Steals for featuring my photo in there ad!
*******************************************
Super excited to meet up with several bloggers this weekend for the Midwest blogger meet up!
I hope I get myself together and snap lots of photos.
I may be sharing some on Facebook  and on  Instagram.
I have been to a few of these blogging meet ups  and I usually forget to take photos,I promise I will take more photos this time.
**********************************************
I just announced the winner of the 24 hour Flash Giveaway on my Facebook Page.
If the winner does not respond to my email within 48 hours another winner will be chosen.

Joining: