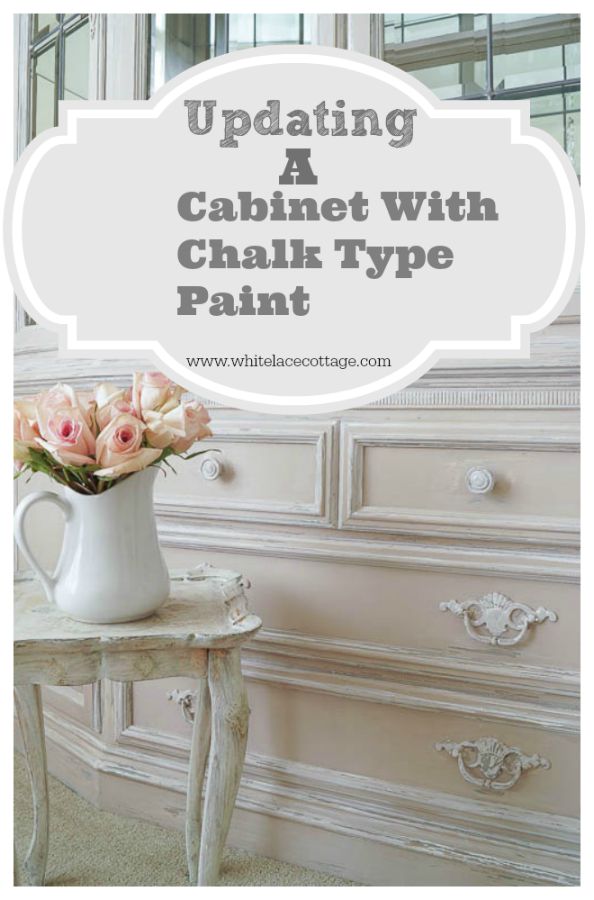 Several months ago I shared that I am slowly downsizing.
I listed this cabinet a few months ago on Craigslist, but didn't have inquiries on it.
Mostly likely because it's summer and most people aren't looking for big pieces like this.
So before I relist it again in the fall I decided to update my cabinet with chalk type paint.
Not only did the thought of repainting this cabinet come to mind,  but the thought of changing the look of this whole room popped in my head.
You know, one of those light bulb moments.
We really don't use our dining room anymore, it's just a room that looks pretty.
Instead of having a pretty room that we never use, I thought why not transform it into a more useful room.
Before I share anything more about this room and what ideas I have let's look at this china cabinet.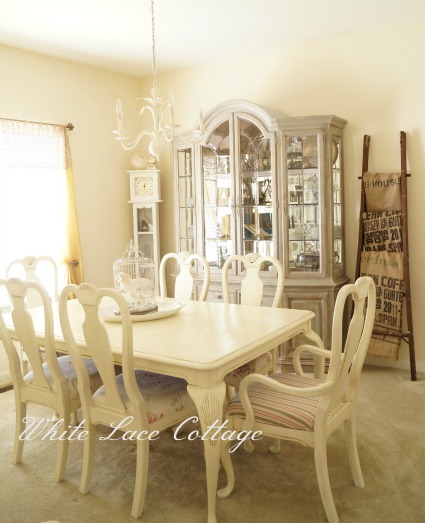 (This photo was taken after my first transformation.)
We bought this china cabinet 21 years ago, in 1994.
Several years ago, when I started blogging I painted it, and then a few years ago I painted it again.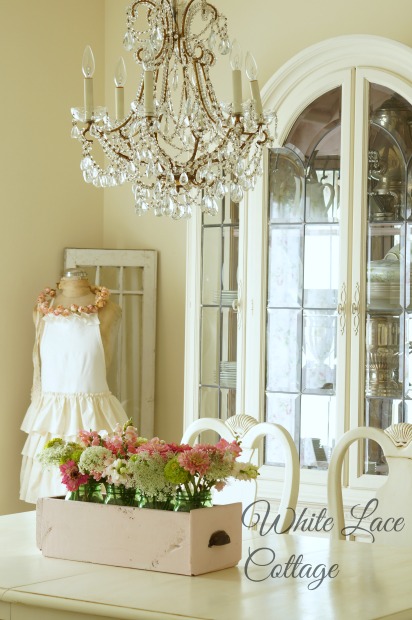 The great thing about painting a piece over and over and over again, is that you start to get those wonderful layers of paint.
The first time I painted it, I didn't distress it much because I didn't want to see the newer, lighter wood underneath.
Yes, it's old, but it's not that old.
And the lighter wood doesn't have a vintage look.
Let's be honest, this piece doesn't have a vintage look, but sometimes you have to work with what you have.
Perfectly painted pieces just aren't my thing.
I love texture and imperfections of some sort on all of the pieces I have.
This time I decided to mix my favorite color combination, Heirloom Traditions Mocha and White Lace.
Yes, this is the same color combination that I used on my faux brick back splash in our kitchen.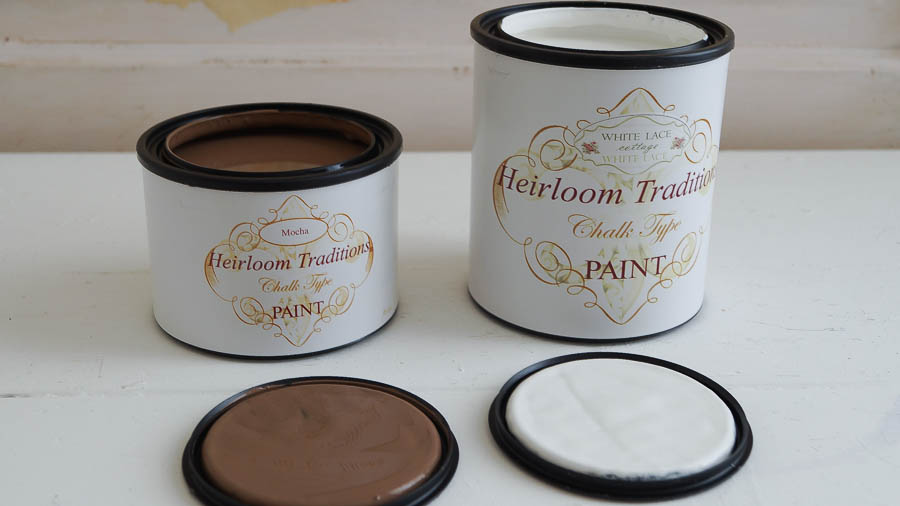 I am totally in love this color combination!
To mix it, well, I don't have the exact recipe.
But I mixed more of the lighter color than the darker color.
Once the paint was mixed, it looked like chocolate milk.
I know my reference to chocolate again.
But really….. that's what the color looks like.
I applied this custom color on my whole piece.
Then using only White Lace and a small craft brush, I painted the details of my piece.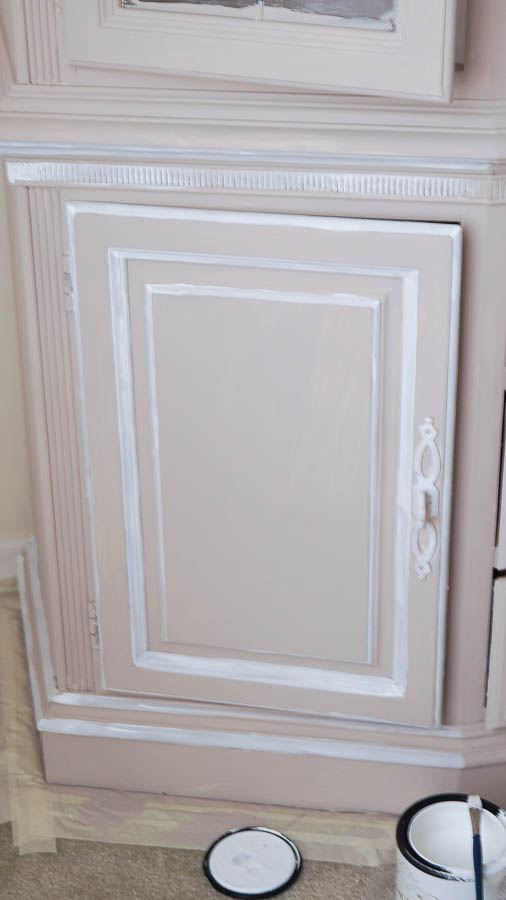 I didn't  do this perfectly at all, because I still needed to distress my piece.
Oh, and as you can see I added tape around my piece on the floor to protect my carpet.
This piece is way to heavy to move, it was my solution as to not getting any paint on my rug.
And it worked for me!
Once my paint was dry, I distressed my piece with my vinegar and water solution.
You can read about that HERE and HERE.
I still need to add my sealer, Aqua Clear Matte from Heirloom Traditions Paint.
I could apply wax, but adding the sealer is so much easier on a large piece like this one.
That's it, pretty simple.
I love all the layers on this piece.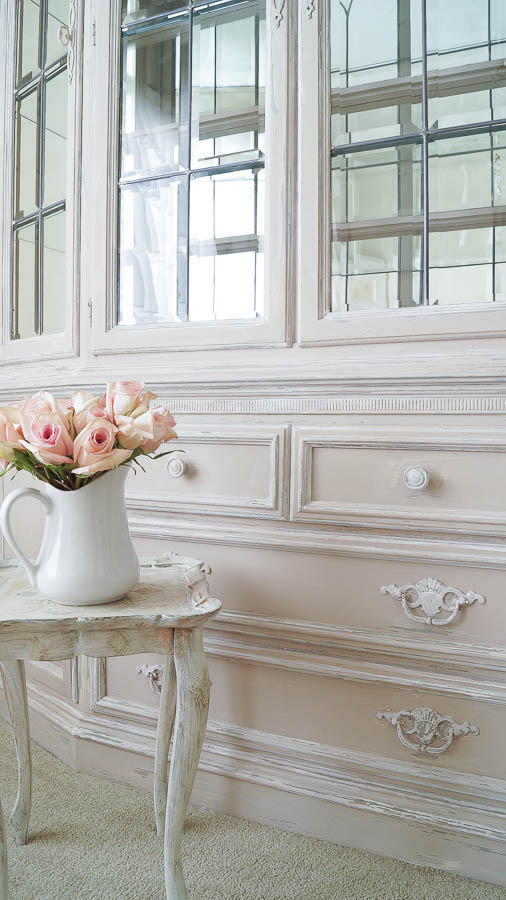 Even though it's not old, it really has a vintage look to it.
So let's get back to what my plans are for this room.
Upstairs I have a studio that I set up in one of our bedrooms.
It's worked out well, but I always seem to ship my merchandise from the SHOP from the dining room.
I don't know why, I just do.
So my dining room on most days looks like this.
(As you can see besides the room looking like a big mess, this was taken right before I transformed my cabinet.)
Here is a shock of reality for ya…..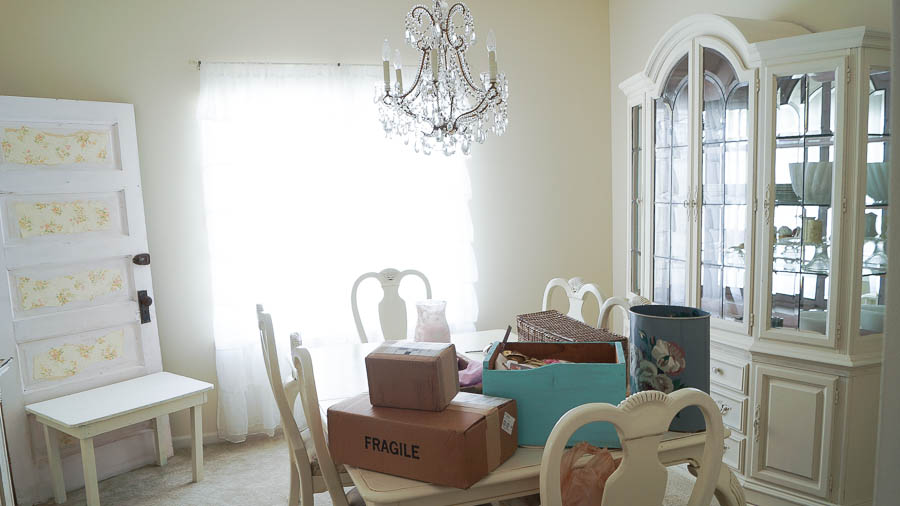 A big mess!
See, my home is not perfect 😉
Oh, I also use this room for photographing my shop treasures, that's why I have the old door and small table in the corner.
Now, I know that this dining room table will not work as a desk, it would look ridiculous, but I do have a large desk that's in my studio that I have not shared with you all yet.
I found it several months ago, I was planning to paint it, and well it never happened.
Guess what?
That's my next project!
I can't wait to share how I am going to transform that table and this room.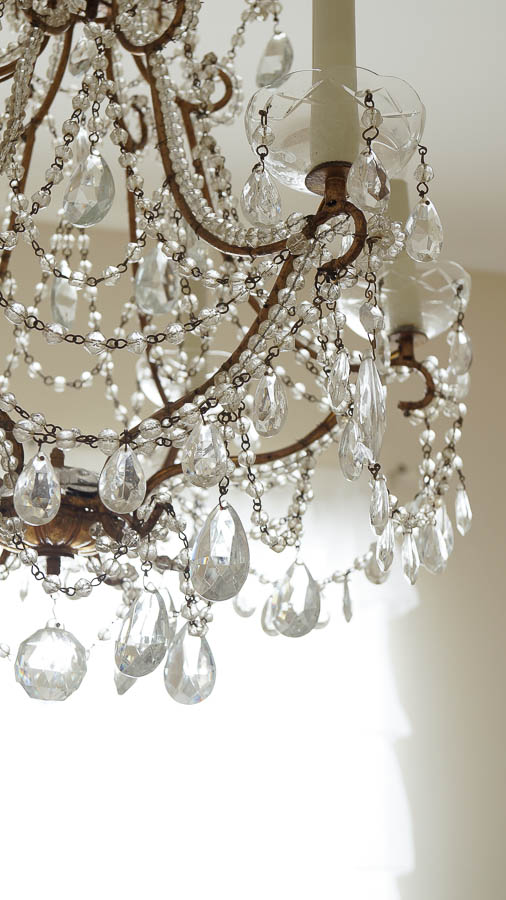 I am excited about changing this room into an office, I've always wanted a pretty chandelier in my office.
And that china cabinet will be great storage for supplies and things.
Well, at least until it sells, I have another much smaller cabinet I can use in this room when this one sells, no worries.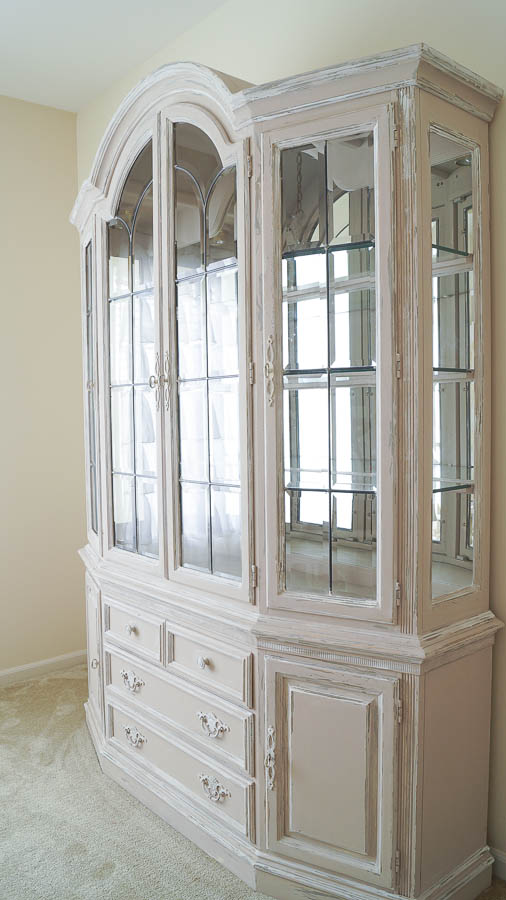 I am betting that many of you have a dining room that you no longer use.
Well, have you ever thought about changing your dining room into a craft space, or office space, or even a reading room?
If you have and you've transformed it, I would love to hear about it.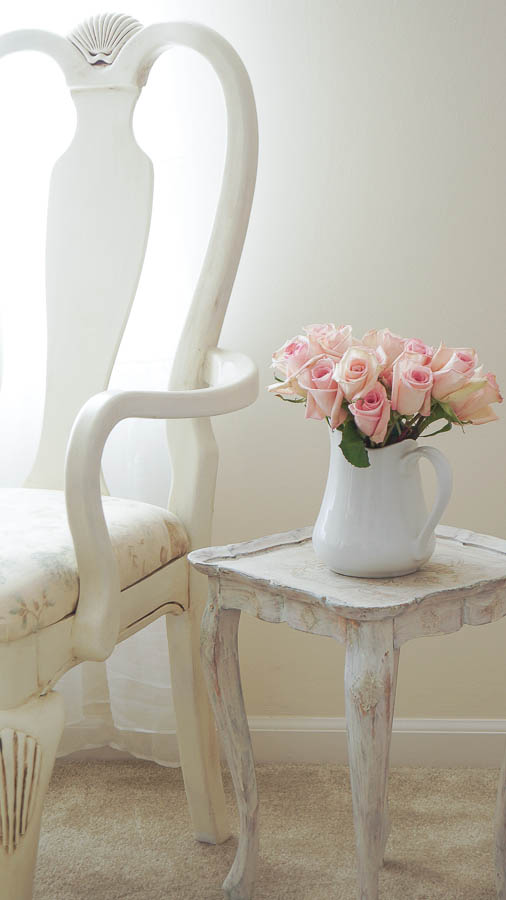 I think one of my dining room chairs, this one in particular will make the cut, and will be staying in this room.
I'm hoping that I won't have to paint it, as I will be selling the table and chair set soon enough.
This chair will be a temporary chair, until I find another one.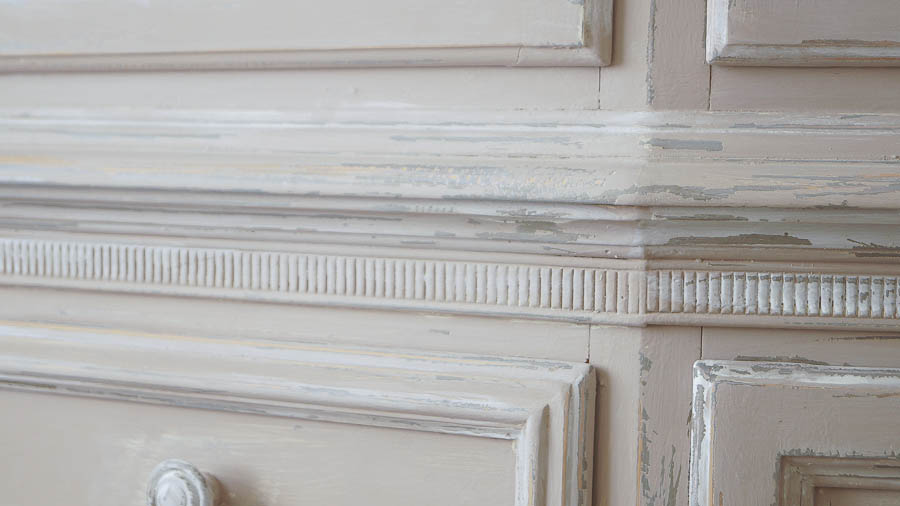 But I am hoping to use most of what I already have.
Since moving in the next several years in in our plans, I don't really want to purchase things for this house.
And I have no idea what home we will be in next.
Only that it will be significantly smaller than our current home.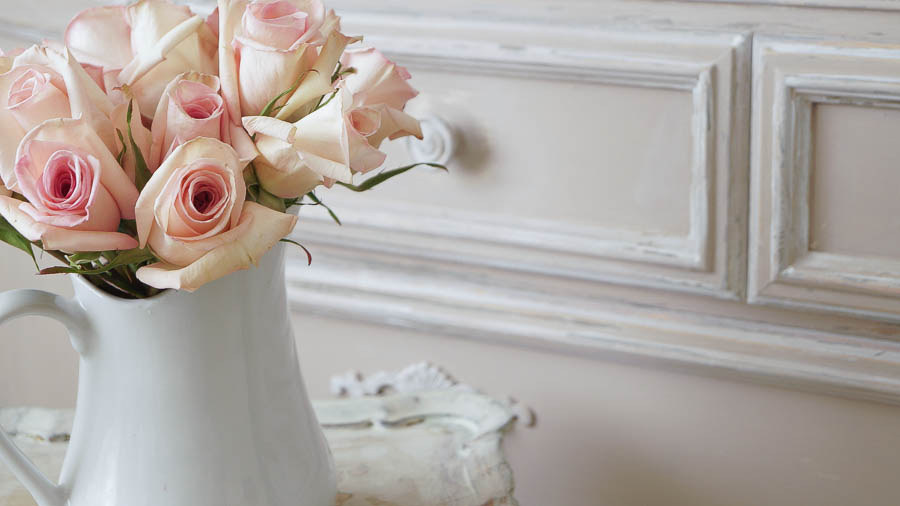 I am looking forward to a smaller space.
As you  can see, being a business women, it's hard to keep things tidy around here on a daily basis.
Oh, I know you thought my home was perfectly clean all of the time.
Well, it's absolutely not!
I do my best, but it's impossible.
**********************
I know I shared two posts today, but I was so excited to share bHome.
Hope you'll join me there.
***************************
This post contains Affiliate links.
All products used on this piece were supplied by Heirloom Traditions paint.
All opinions expressed are that of my own.
*******************************
Sources for materials used:
Heirloom Traditions – White Lace