HOW TO DECORATE WITH LESS
If you've wondered how to decorate with less and still have a pulled room I'm going to share some simple tips! Home decor Ideas using less is more is the new way of thinking in my home. Not sure if it's the fact that I want to downsize in a few years, or that I'm getting lazy and don't feel like cleaning all the stuff in my oversized house. Several weeks ago I held my annual vintage sale at my home, and I sold most of my crap stuff. And when I say most of my stuff, I'm not talking about things I was holding on for the sale. But pieces that were actually in my home being used. Do you remember this photo of my over stuffed garage?
( Sponsored post, and may contain affiliate links please read disclosure policy)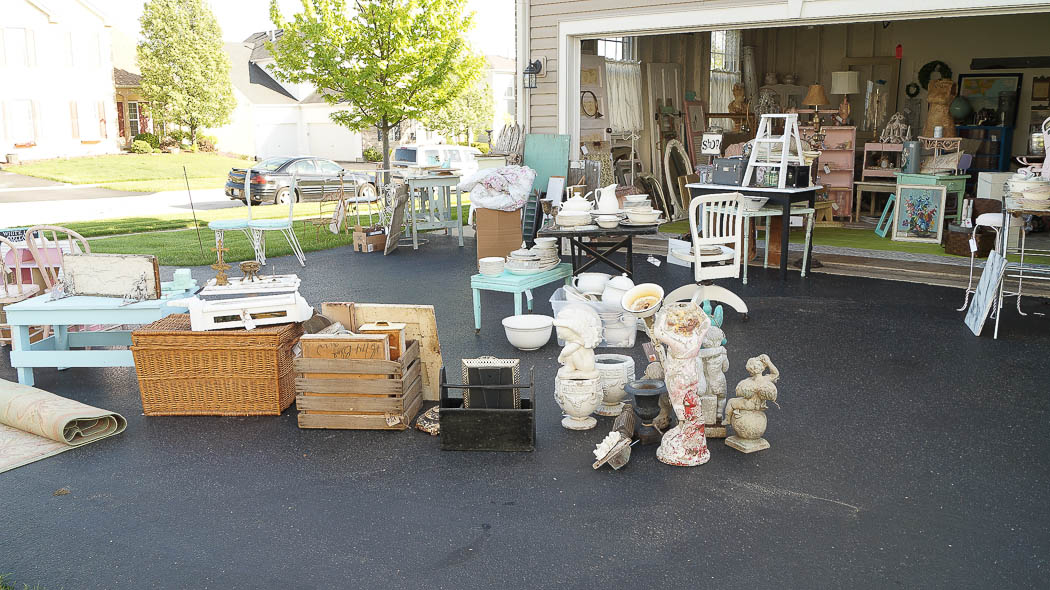 My plan in the next couple of years is to downsize, I'm hoping it's my husbands plan too. So, I've been slowly purging and getting rid of my collections.
Today I wanted to share you how simple it is to add simple home decor ideas while sharing how to decorate with less, using less is more philosophy. First, let me explain why all of these changes happened, how I changed my home decor, and how you can too!
As I prepared for our sale I was not only getting rid of pieces that were purchased for the sale, but most of my own collection was put out in our garage. Including most of the wall decor. This left lots of holes to fill and paint to touch up. My home decor was looking pretty sad after I pulled out much of my personal collection and sold it. But it also felt amazing to have less stuff in my house!
As we look at the one room I've completed, our family room, I wanted to share how easy it is to incorporate the less is more home decor.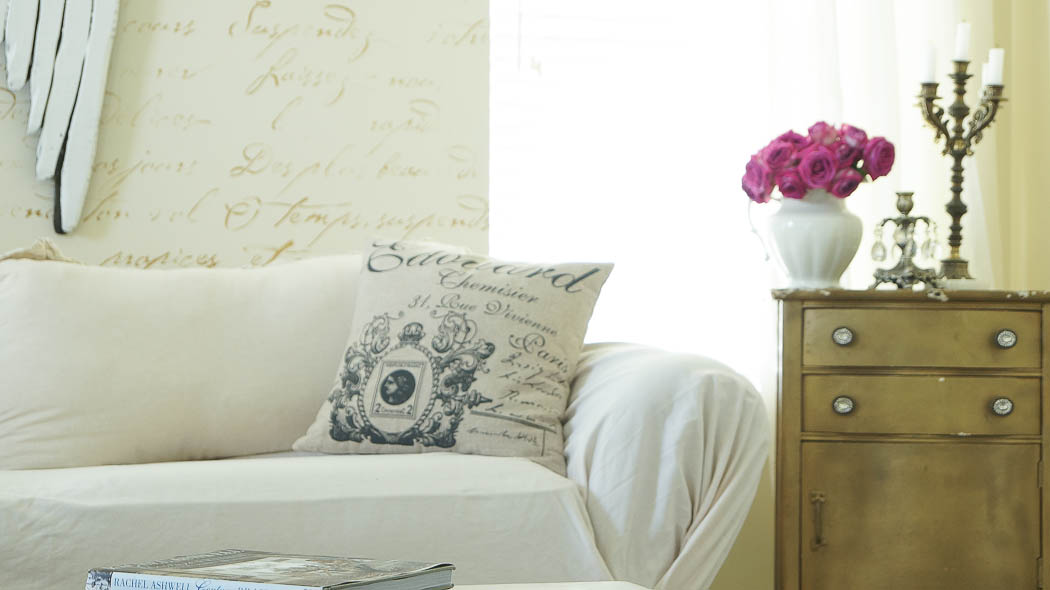 I've shared before that I don't want to repaint this room until we're ready to put the house up on the market. But, I didn't want to leave it as it was, it needed a little style.
After patching up the walls and touching it up with paint, I decided to add a French poem stencil, from Cutting Edge Stencils. You can see those spots, that's the paint that's still drying. I've used many of there stencils in my home because they are so easy to use and versatile as well.
You can see more here:
Add An Accent Wall Using A Stencil
Update A Teen Room On A Budget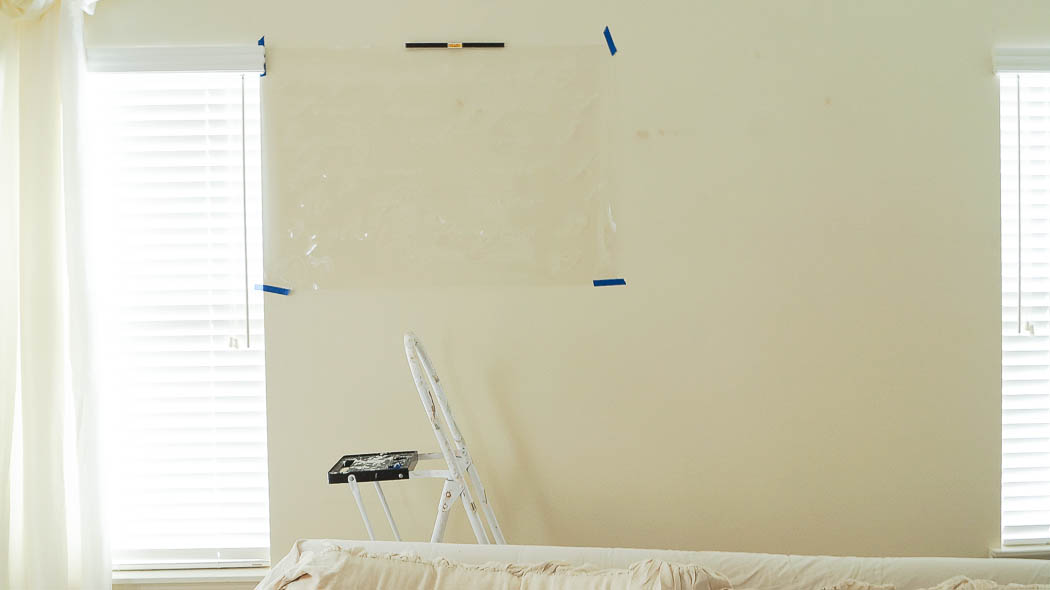 I didn't want to do a full wall, but just a section. This project took me 10-15 minutes tops! I didn't use my stencil adhesive for this either. I decided to place the stencil at the top part of my window. To make sure that this was even, I used a stencil level. This handy tool makes sure that you're applying the stencil evenly. Because, as we all know walls are not even. This stencil level is only available through Cutting Edge Stencils.
Once my stencil looked straight, I took my gold paint, glorious gold by DecoArt and added some to my paint tray, which is lined with foil.Why is it lined with foil you ask? Well, it makes cleaning up super easy!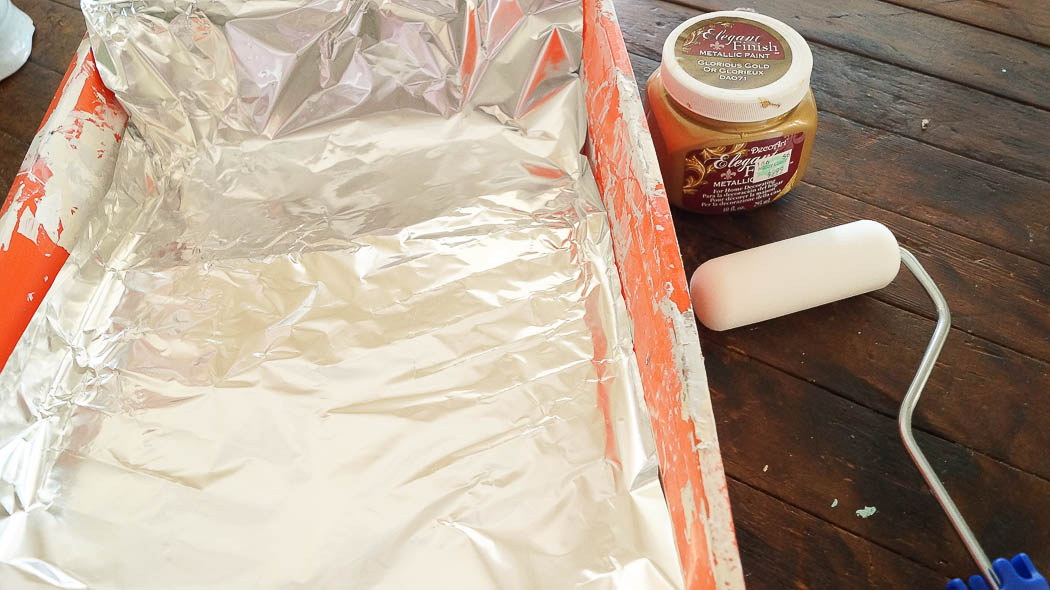 When you stencil using a foam roller or stencil brush, make sure you take off the excess paint on a paper towel. This will prevent bleeding. Also don't apply too much pressure as this will also cause bleeding. Since I wanted my stencil to look faded in areas, I had a lighter application in some areas. I wanted the stenciled areas to look as if it were old. You know how I love my aged patina look.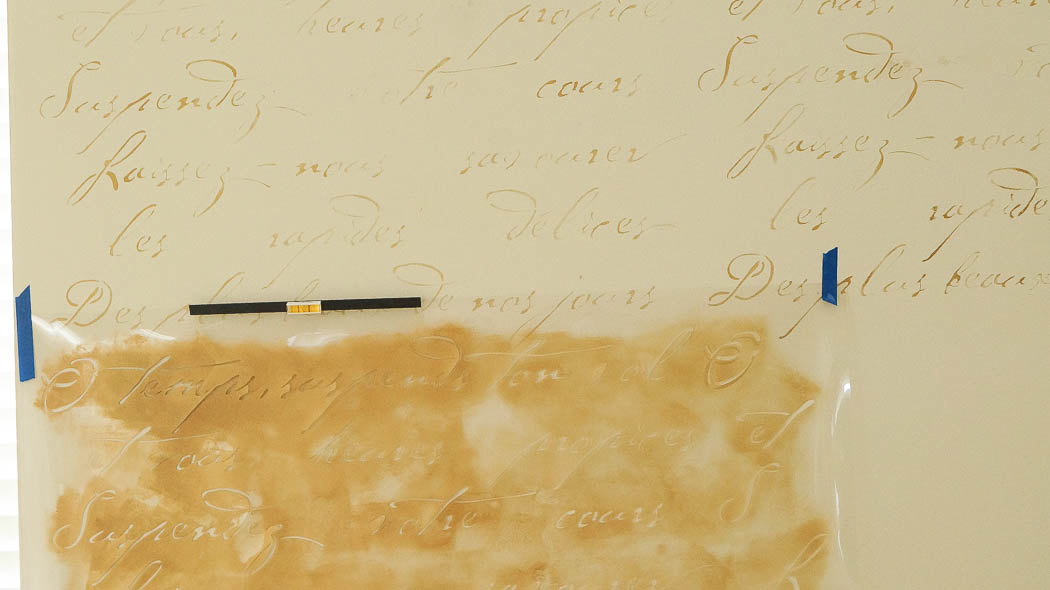 I didn't add this stencil to the floor, only until you could no longer see it as the sofa will hide the wall. Since I'm going for a less is more look and that stencil ads character to my wall, I only hung those Angel wings back up. They're from Decor Steals. Do you remember the mirror that used to be here?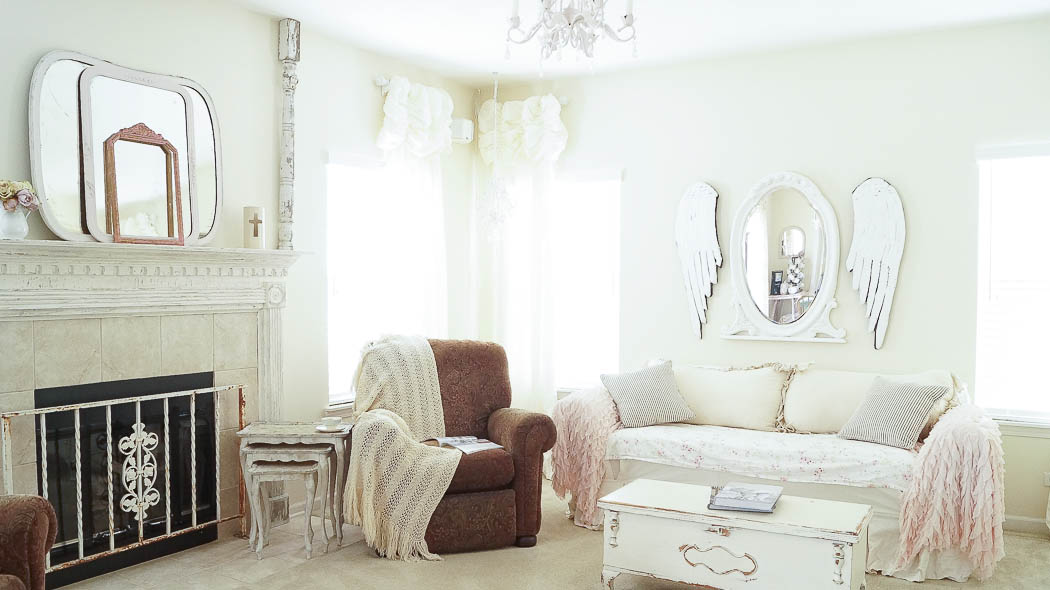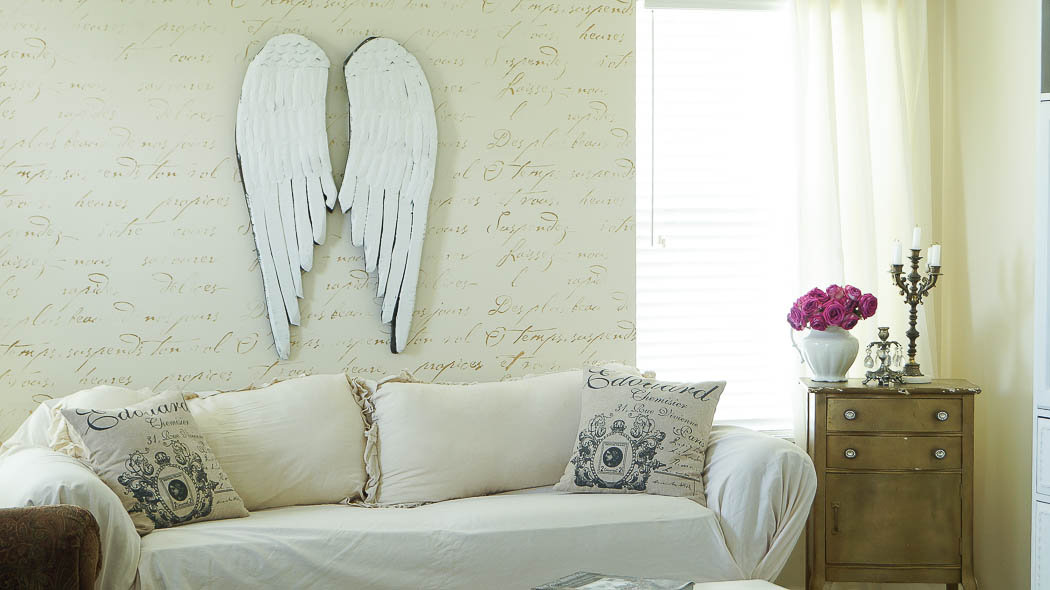 I took all of the pink out of this room, I love my pink but my home decor needed a change. And when it's time to sell our home, many people don't like pink as it looks too feminine. I know I'll still have to make a few changes with my home decor once we put it up on the market. But the less is more will work for me and selling our house too.
Before I share more, you're probably wondering where I was inspired to add that French poem stencil and the gold paint.
This little table that my friend was selling at my sale caught my eye. When I saw it, I was hoping it would work in new home decor plans. I did have a pink chippy table that I sold at my sale. The only thing this table needed was some new hardware, it was missing to knobs. Of course it needed to have a little bling on it.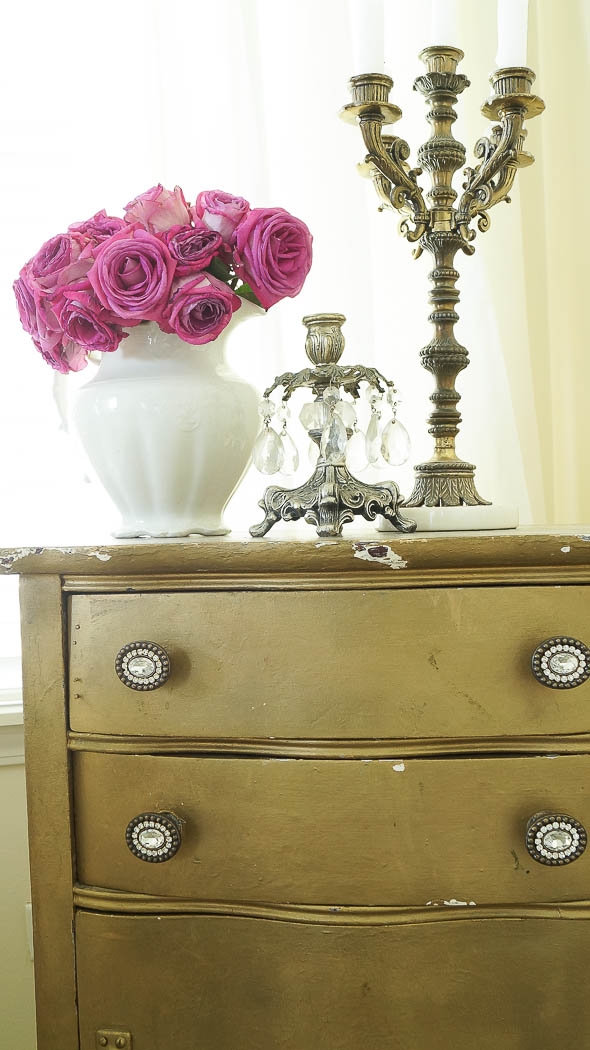 I'm making changes all over my home, using my home decor ideas less is more philosophy, And so my cow head is no longer in my kitchen but on my wall over my mantel. Do you remember my layered pink mirrors? They're all gone!
I decided to update my cow head using a fun technique that adds a copper patina to it. You can watch the video at the end of this post. I'm loving my mantel with less clutter, just using the framed cow head and nothing else.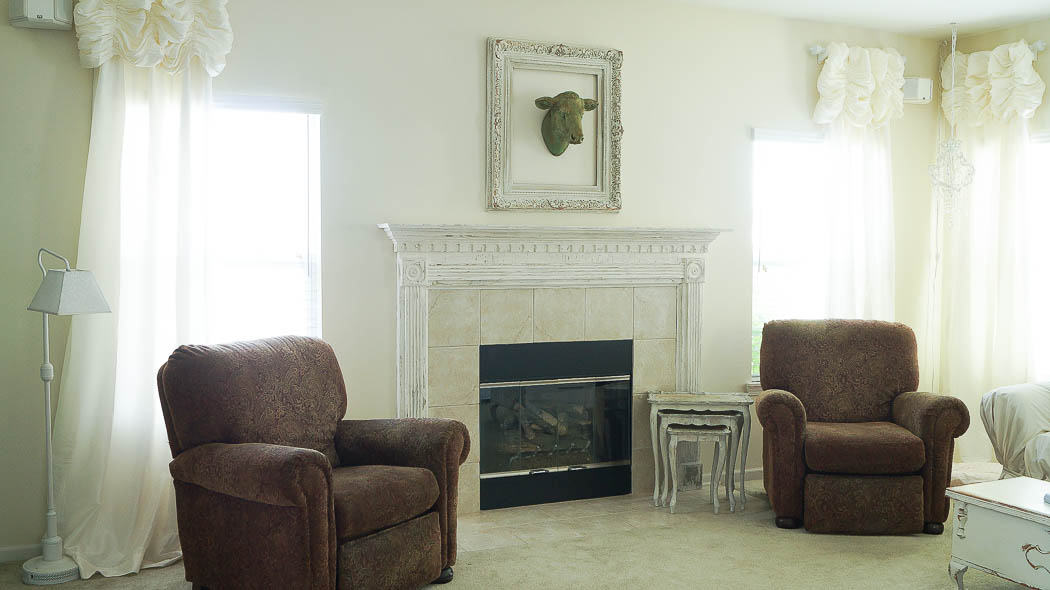 My sofa is sporting only two pillows now, no pink ruffles, no pink roses, just a simple creamy white cover.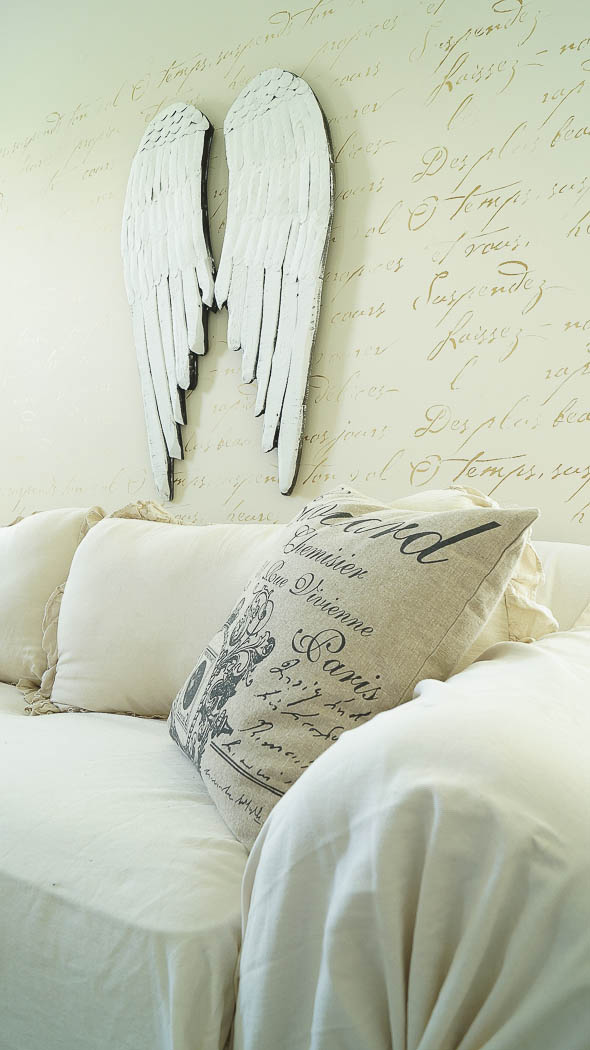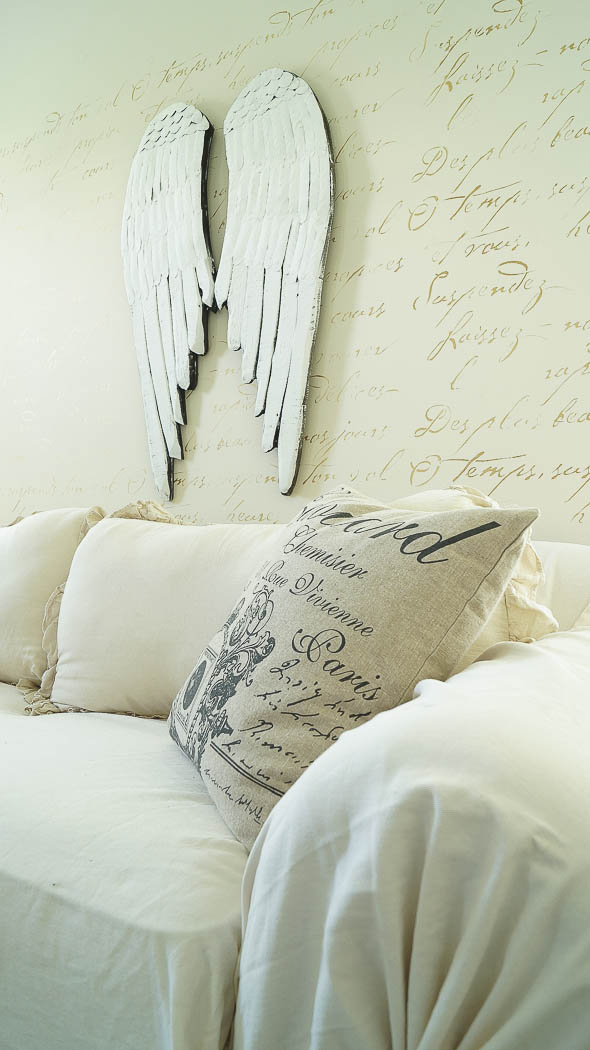 If you're feeling that your home decor is a little too much for you. And you need to make a change, but you're not sure what to do or where to start here are some tips.
Tips Home Decor Ideas Using Less Is More
Take everything out of your room that no longer suits your style. Don't be afraid to make a change.
Decide on a decor direction. If you want to use the same style but want less, take out all the pieces that no longer speak to you.
If you don't want lots of stuff on your walls, but you feel you need something to pull the room together add a stencil to a wall or paint it using an accent color.
Accessorize using less, but use pieces that have more impact. A few pillows on a sofa that reflect your style or pillows with a punch of color.
If you have wood or tile floors, add an area rug to pull a room together. This will add color and design to your room, and also pull it together.
Lamps and chandeliers can also add texture and style to a room.
Since we're thinking of moving in the next couple of years, I wanted to use what we already had, with the exception of the stencil and that new table. I wish I could purchase new furniture or a slip cover, but I'm waiting for the next home. You can add simple home decor ideas that are very easy to do and still have style.
And I have to tell you that I love having less in our home! I'm making a few changes to our kitchen next. Some changes will be big, because of resale, and others small.
What do you think about home decor ideas using less?
Supply Shopping List
Cutting Edge Stencils French Poem
DecorArt Elegant Metallic Glorious Gold