You're going to want a comfy chair and a cup of coffee or glass of wine, this is a long post 😉
Three years ago, I updated my daughter's bedroom on a budget.
She was thirteen at the time, and she was ready for a change, but not a big change.
The biggest change for her was getting a new vintage bed.
The bed that she had in her room at that time was the first bed she had ever had.
She was only a year old, and went from her crib to a bed.
That was a huge change for her, so the colors and style was very subtle in her first big room transformation.
This time we wanted to make a bigger change.
Let's review some of the changes in her room as I share how to update a teen bedroom on a budget.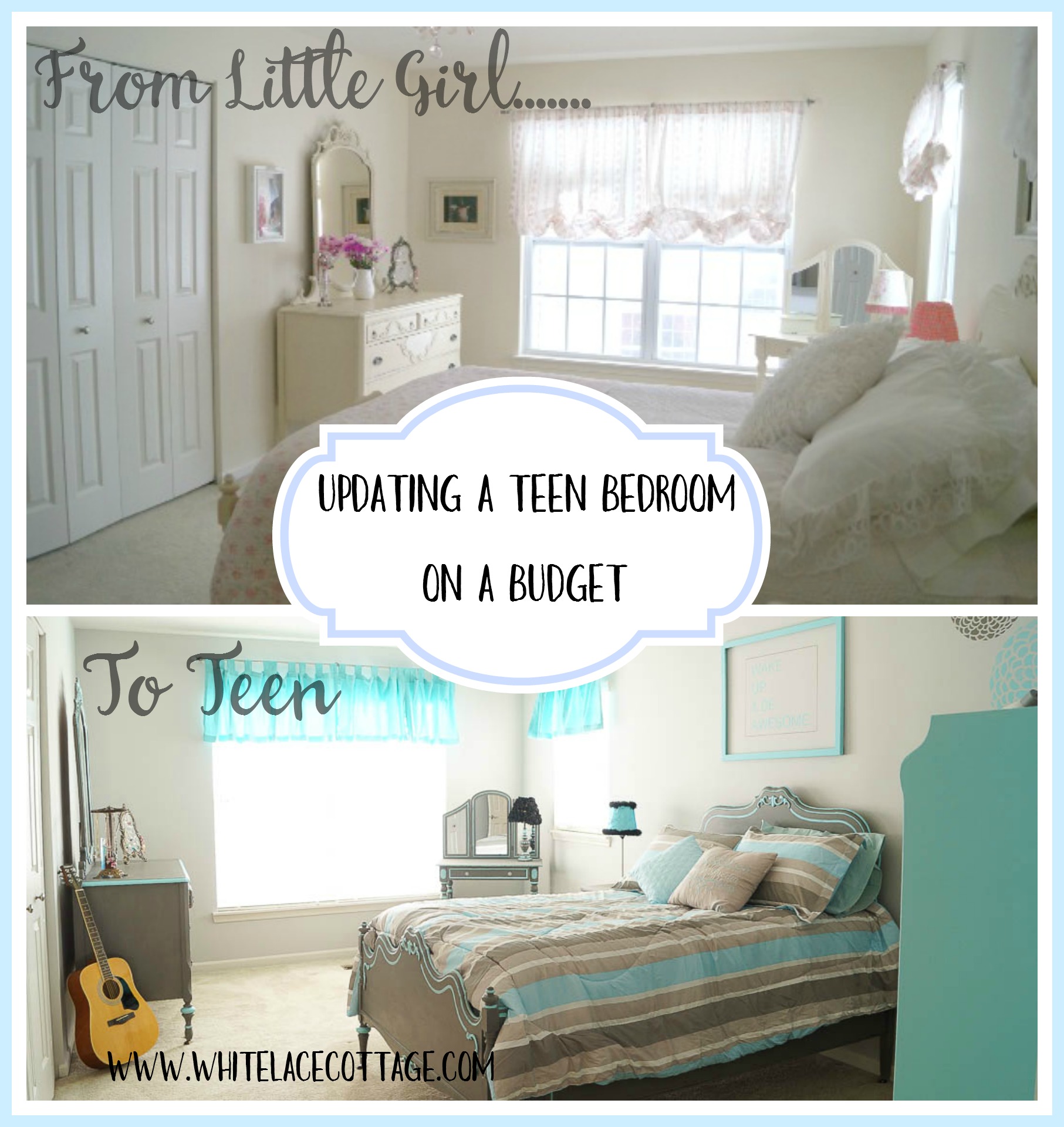 The walls have been painted Zicron a color from Sherwin Williams.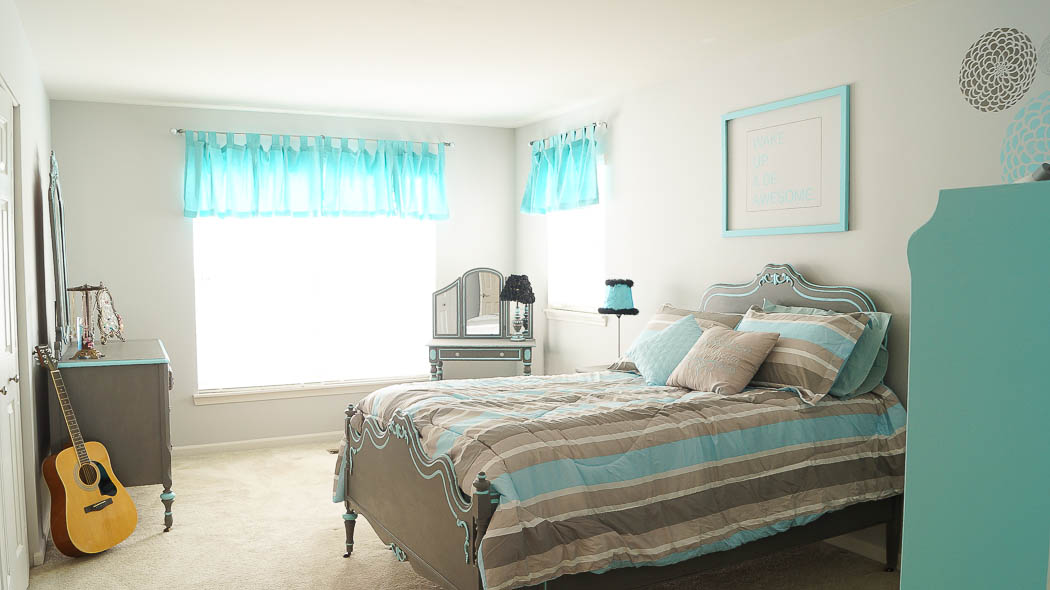 I didn't use Sherwin Williams paint, instead I used Glidden.
Why did I do this?
Well, I've used Glidden in my entire home and I've been happy with the coverage.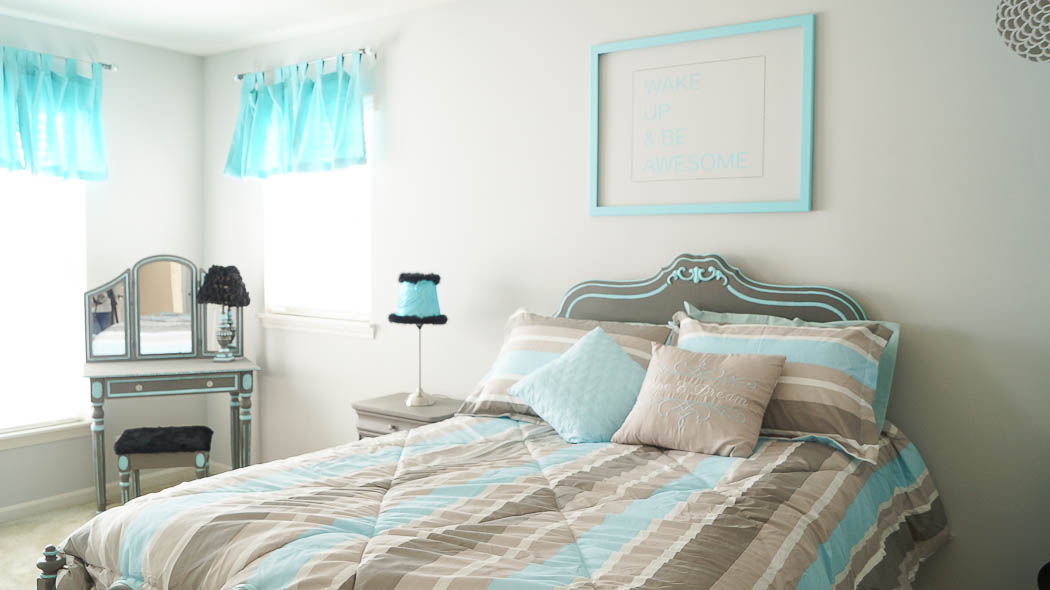 I've used that same paint in my entire home, so I knew it would cover well.
And by the way, I only needed to coat her room with one coat.
I never use painters tape when I paint a room.
I've found for me that I make a huge mess when using painters tape when painting a room.
Here's a tip on how to paint a room without using painters tape, you can read that HERE.
Then I added a stencil, using two stencils from Cutting Edge Stencils.
This was super easy to do, you can read about that HERE.
If' you've been following me for awhile, then you've seen a few of my other projects from Cutting Edge Stencils.
I'm a HUGE fan of Cutting Edge Stencils, they have an amazing selection, and they are super easy to use!
At the end of this post, I'll share a few other stencil projects that I've used Cutting Edge Stencils on.
Including my deck floor!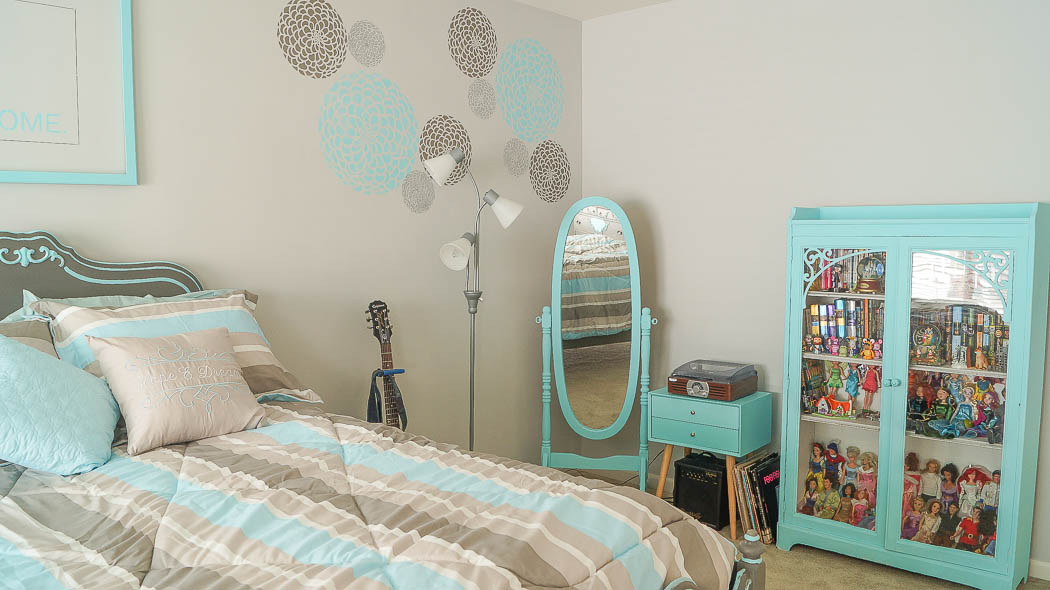 These really made a huge difference in her room!
To make her stencil above her bed look like a framed piece of art, I added this frame around the stencil.
I already had the frame, but you can find frames at thrift stores or garage sales.
The color I painted on the frame is Synergy.
Her stenciled  flowers add a pop of color and a big of fun to her room!
The colors used for the flower stencils, Synergy, Thunderous and silver craft paint.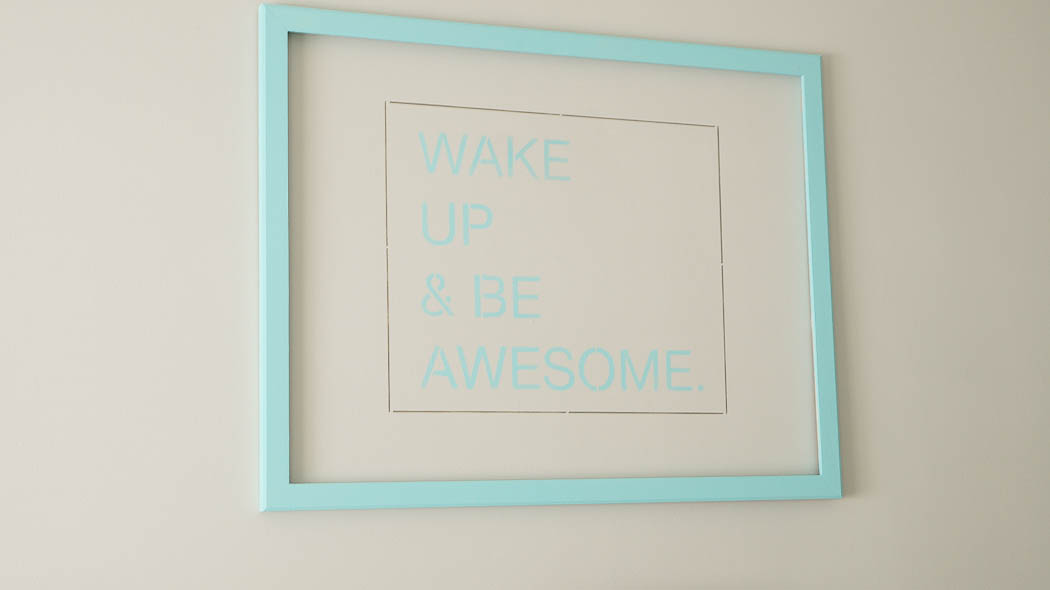 The biggest project in her room was painting her furniture.
Yes, I had lots of pieces to paint, but painting furniture instead of replacing it will save you a ton of money!
And, with all the furniture I painted, I have plenty of paint left for future projects!
A little paint goes a long way, Heirloom Traditions paint covers extremely well!
I did purchase one small piece, I couldn't resist!
It's that sweet little retro table that holds her record player.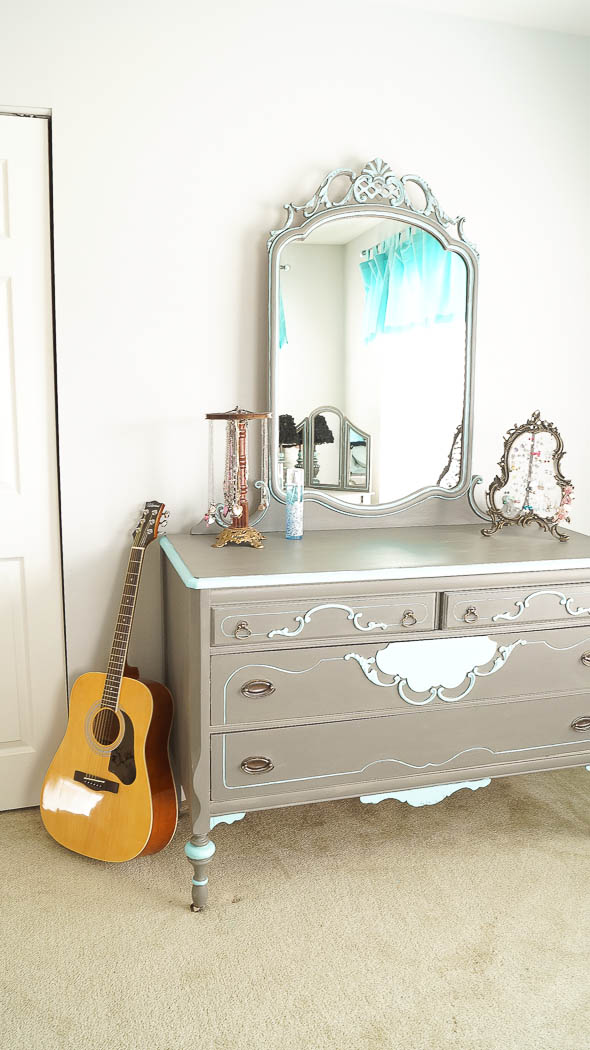 Most of her pieces of furniture were painted with a mixture of Thunderous and Black Bean.
Then I added an accent color, this time I used Synergy on all the details.
Two of her pieces, the mirror and her display cabinet were painted using Synergy.
After each piece was completely dry, I added two coats of Aqua clear in matte.
This top coat will help protect her pieces.
I'm sure that you're surprised that I didn't do any distressing to her furniture, I actually surprised myself with that one.
Her valences were found at the thrift store for $4.99 a piece, I bought 6 of these.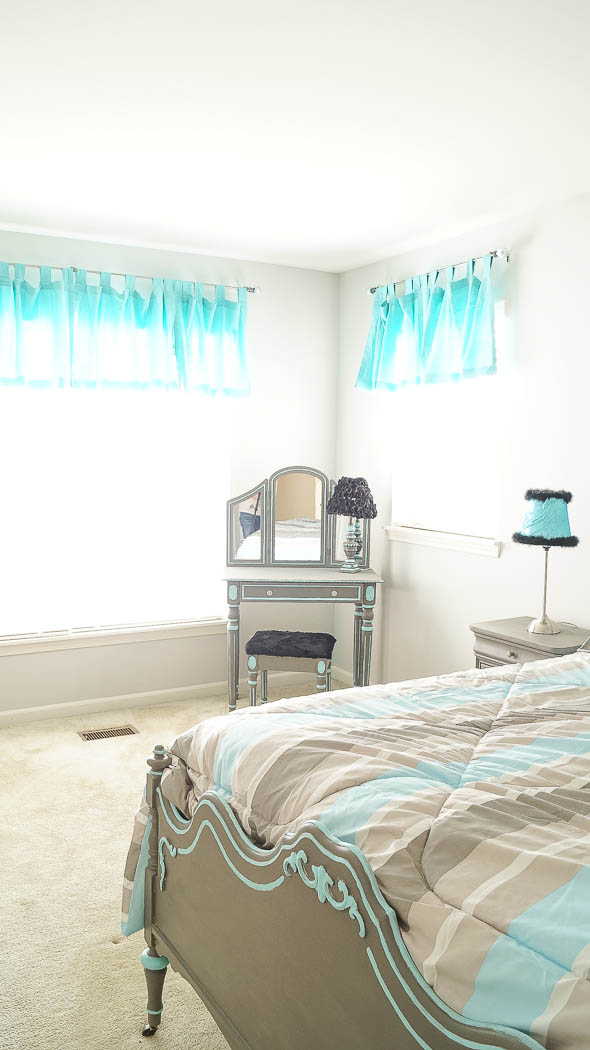 They were too long, so I hemmed these using heat and bond tape.
You can read about that tutorial HERE.
I reused her curtain rods and didn't have to change those at all, which saved more money.
If you've shopped for curtain rods, you know how expensive they are.
The curtain rode finials didn't match her room, so I painted her finials and added silver leaf.
This was another huge savings!
I had all the supplies to do this, and it was super easy to do.
You can see the tutorial HERE.
Her vanity table bench needed an update on the fabric.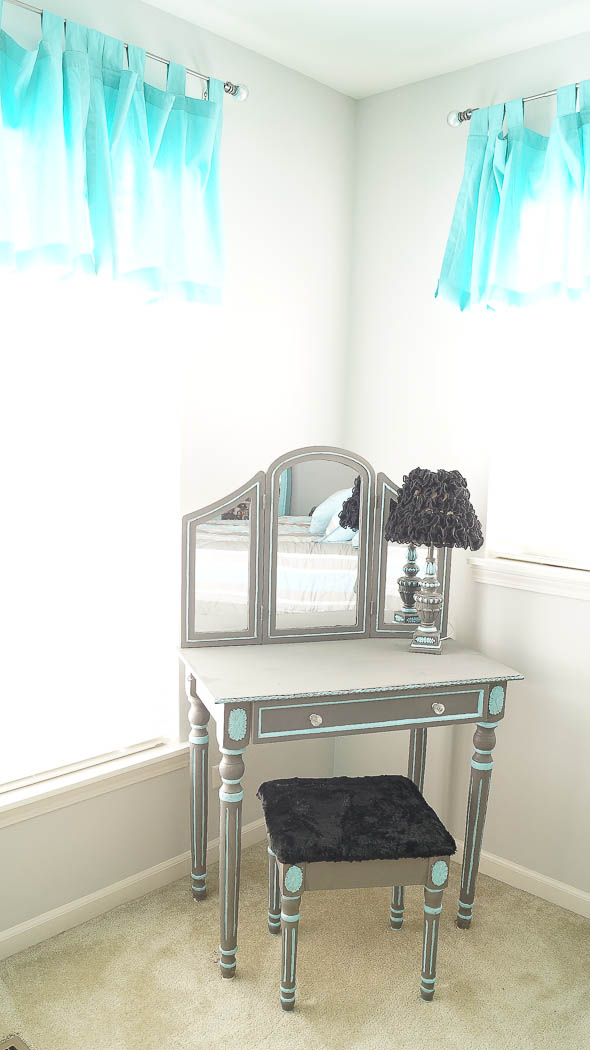 I purchased a piece of furry fabric for her bench and reupholstered it.
This is super easy to do, you can see the full tutorial HERE.
Since I was using as much as I could in her room, I kept two of her lamps that she had in her room.
Again, by using what I already had, I saved a ton of money.
Lamps are expensive!
One of the lamps was painted the same colors as most of her furniture, a mixture of Thunderous and Black Bean, with highlights of Synergy.
The other lamp was fine as it was, but I updated her shades using fabric and trim.
All the fabric was discounted on sale for 70% off.
I had to purchase a yard of each (per the store), the total to purchase the fabric and trim was 17.00.
But I have a ton left since I didn't really need that much.
Still, that's not much for two lamps when you consider the cost of purchasing new lamps.
You can see the tutorial HERE.
I did purchase brand new bedding from TJMaxx, a new standing lamp from Target, and a small accent table from TJMaxx.
I was hoping to find bedding at a thrift store, but I couldn't find what I wanted.
The standing lamp gives her lots of light for nighttime reading.
The standing lamp is from target for 19.99.
Her little retro table was found on sale at TJMaxx for 32.00.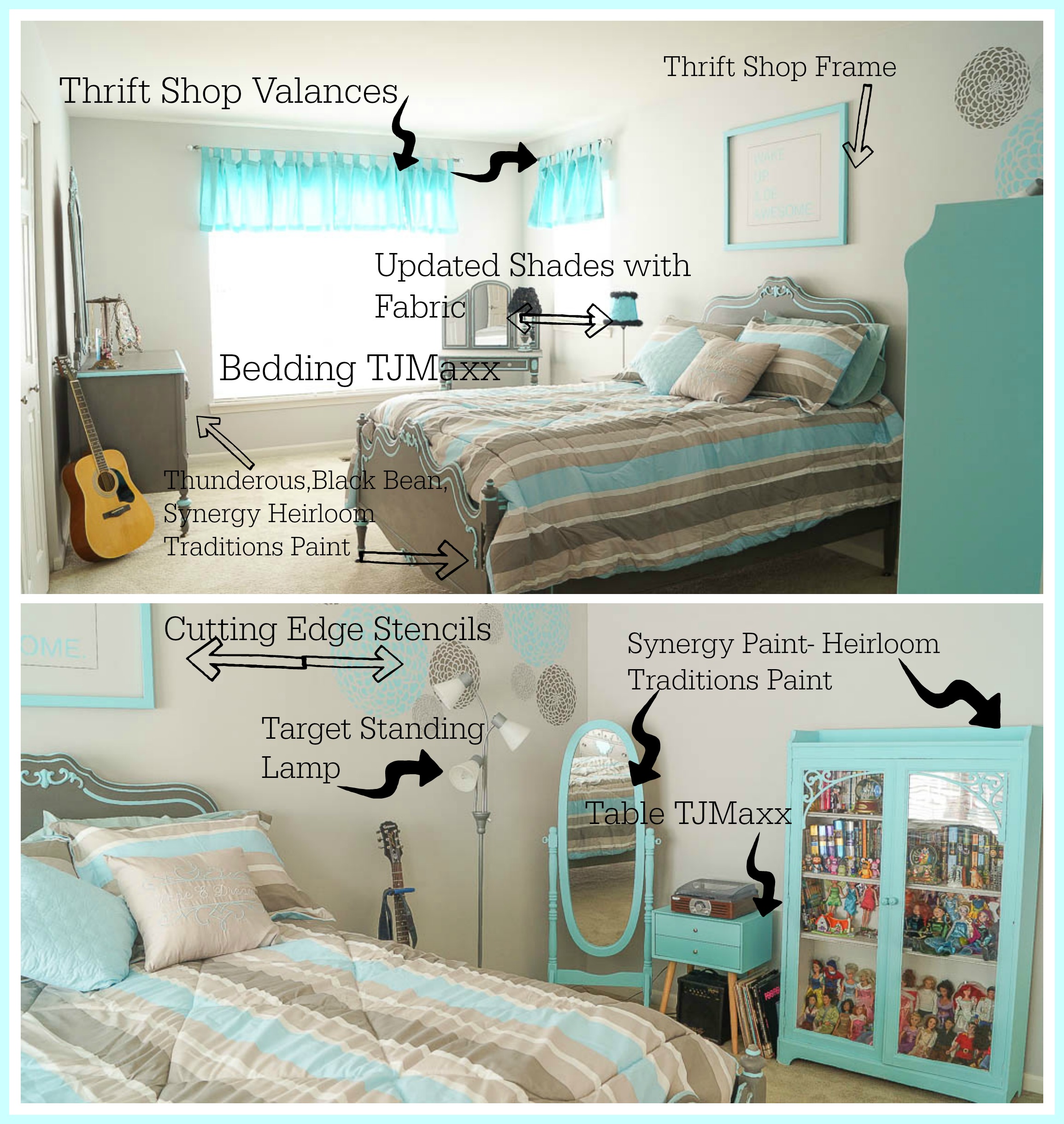 You can see the full tour on my latest video below.
I hope that you enjoyed this room transformation.
It goes to show that you can update a room with little money, just use what you already have.
I purchased very little for this room.
Although I was given the furniture paint and stencils to use (see disclosure policy), even if I had purchased those, I was able to use so much in her room that I saved a ton of money!
Please let me know what you think of this project in the comments below.
I'll be starting on my next project, details coming soon!
You can subscribe to my YouTube channel HERE.
Shopping Guide:
Cutting Edge Stencils-
Heirloom Traditions Paint-
***********************
Add an accent wall with a stencil