How To Dye Cotton Napkins The Easy Way!
I have a love for soft pastel colors. Especially this time of the year. I think spring time screams pastel colors. I love using my fabric napkins for every day. I think it's a great way to recycle and not use paper napkins. It also makes each meal special whether we are entertaining or not. If you've been looking for the perfect color napkins but you can't find them why not dye your own napkins. It's a very easy process and I'm going so show you just how easy to dye cotton napkins.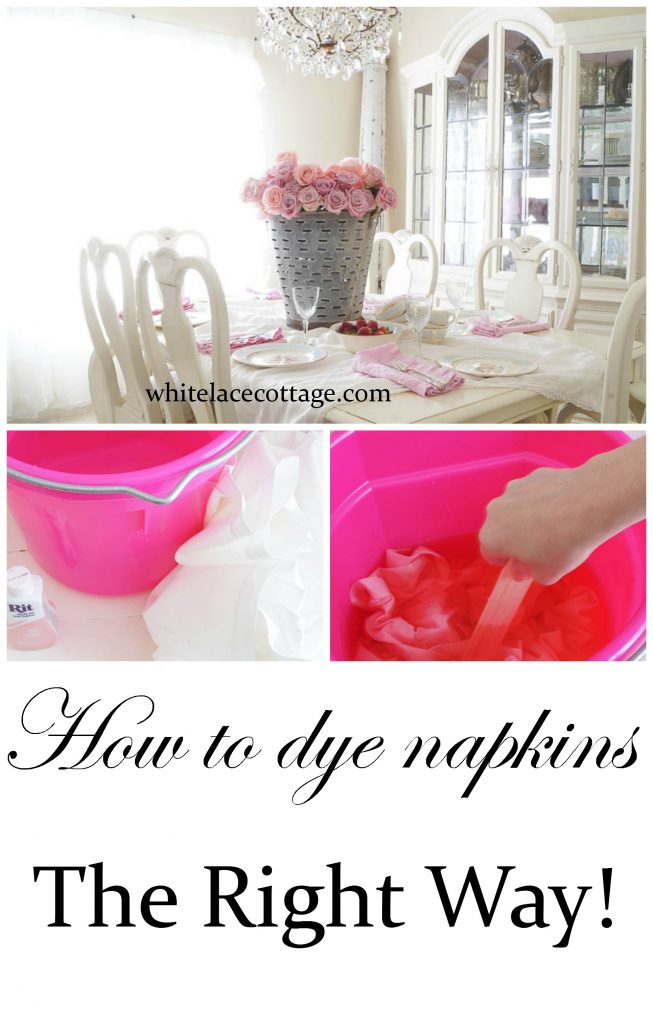 Dyeing Fabric 101
First let's talk about dyeing fabric and what you'll need to use for this project. Also the fabrics to avoid. The fabric that I used to my napkins  is cotton. This is the best choice for dyeing fabric. Poly-cotton or poly fabrics won't work well at all. The dye will not absorb into the fabric.
Let's Get Started!
I'm using a extra large bucket to show how to dye cotton napkins  because the lighting is much better in my dining room than it is in my laundry sink. Plus let's be honest. I really don't want to share how gross my laundry sink looks.
**Disclaimer… please read directions on your package, I am sharing what I did** I am an artist and I like experimenting, I decided to use Petal Pink and Purple, from Rit. You can purchase this dye at a craft store and I think Walmart carries this too!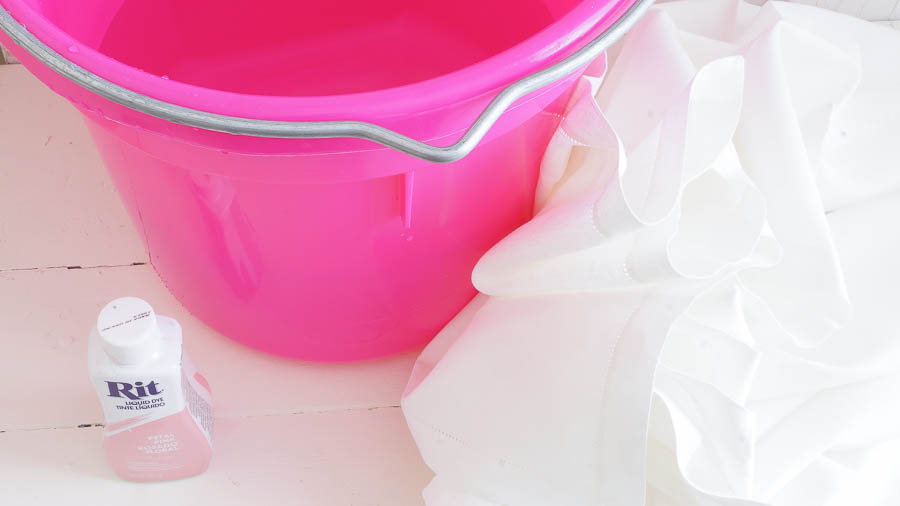 I filled up my bucket with hot water about half way. Then I added what was left in my bottle of dye, which was two tablespoons. After adding this to the water I decided to add a little purple,(not shown in this photo). I added VERY little of the purple because I knew from my past experience that the dark purple would really dominate this color. After I added the dyes to my bucket I took a paint stick and stirred the mixture. Then I added my napkins.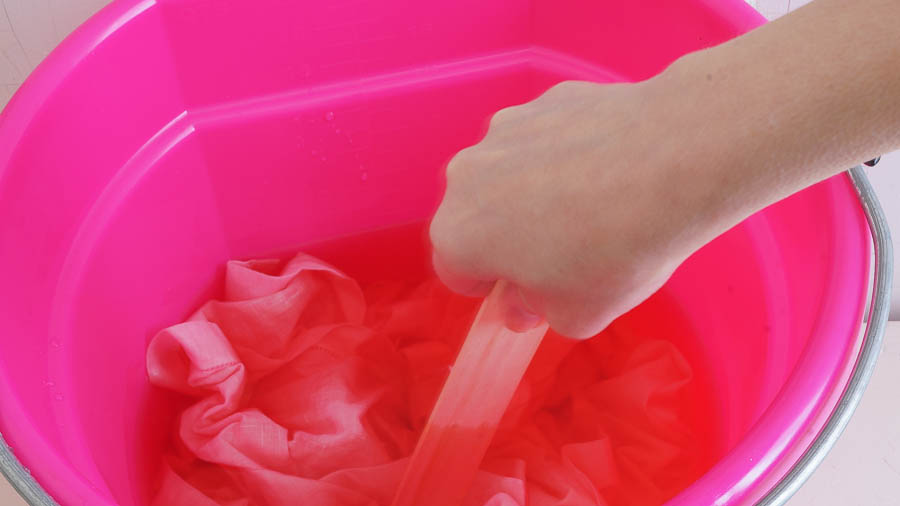 Once the napkins were added to the dye I started stirring this again with my paint stick. I also used my paint stick to lift up the napkins to check the color. (you notice I am not wearing gloves, but I recommend that you do) I have to admit using a pink bucket was not a great idea because it was throwing me off a little with the color. Once I was happy with the color I rinsed these out in my laundry tub in our laundry room, then washed and dried these.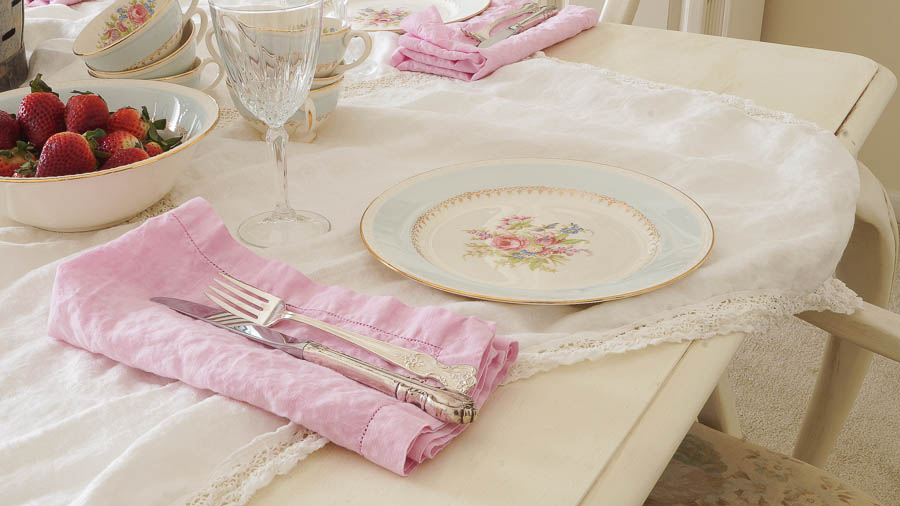 Here they are. I love this soft pastel color, and I also love how wrinkled these napkins are.
I'd like to leave you with a few tips that I've learned from dyeing fabrics. I am no expert just sharing what's worked for me.
1).  Use a little dye at a time, if you add too much it's hard to remove.
2). Use a natural fiber such as cotton, the dye adheres much better to a natural fiber.
3). I use warm or hot water, just use caution.
4). Add a little salt to the water. Salt will make the dye adhere to the fabric easier.
5). Use a wood stick like a painting stick. It makes it easier to stir.
7). Wear plastic gloves this dye will stain your hands.
8). This is the most important tip. Read the directions! I am sharing my own experience but please read the directions on the box or container 🙂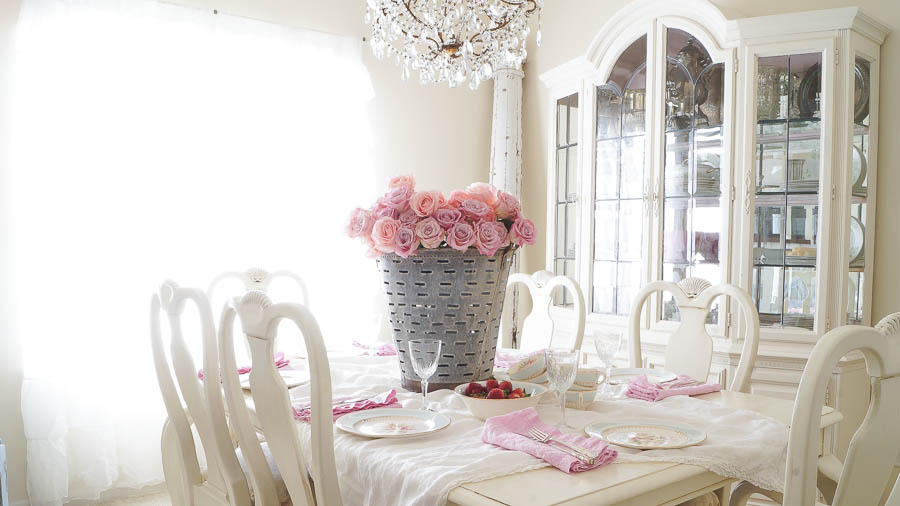 I leave you with this simple tablescape that I created a few years ago when my dining room was full of shabby chic beauty. I love the olive pitcher of roses. But this is for photo purposes only. If I had guests this would be a bit large. It is pretty to look at don't you think?
Are you getting your home ready for spring? How do you decorate?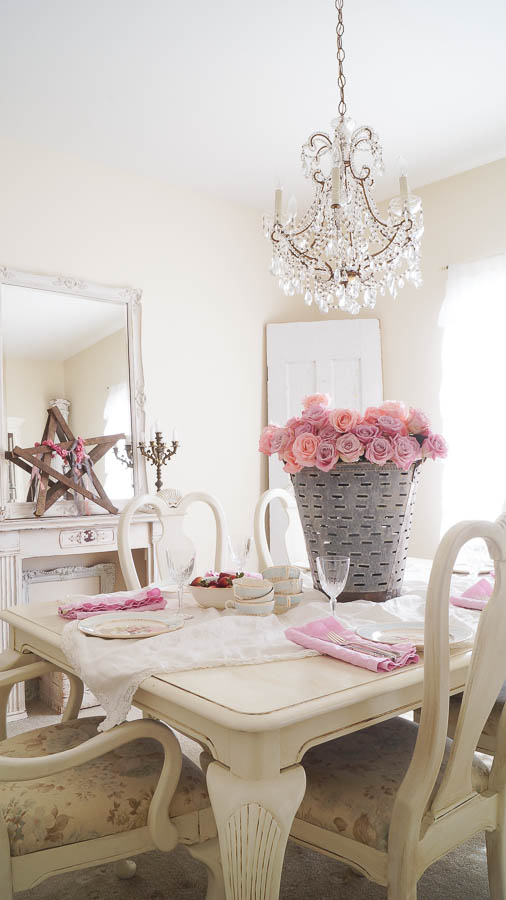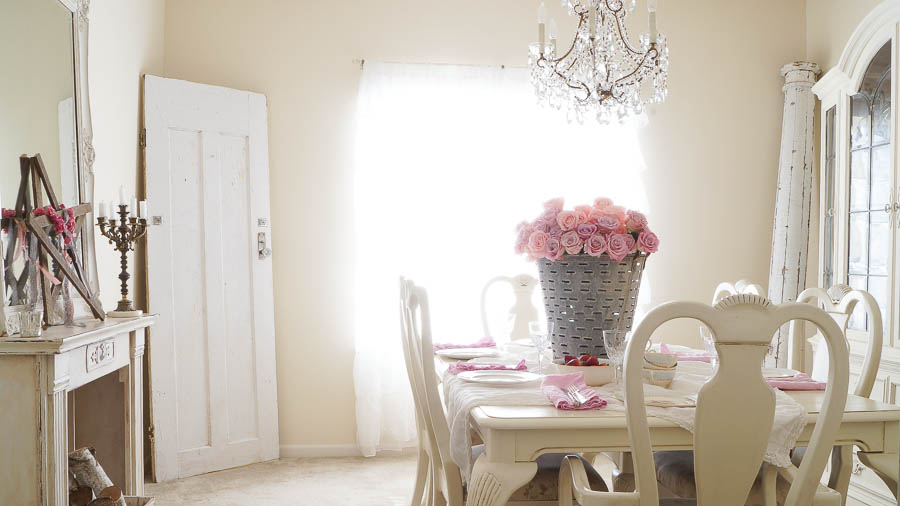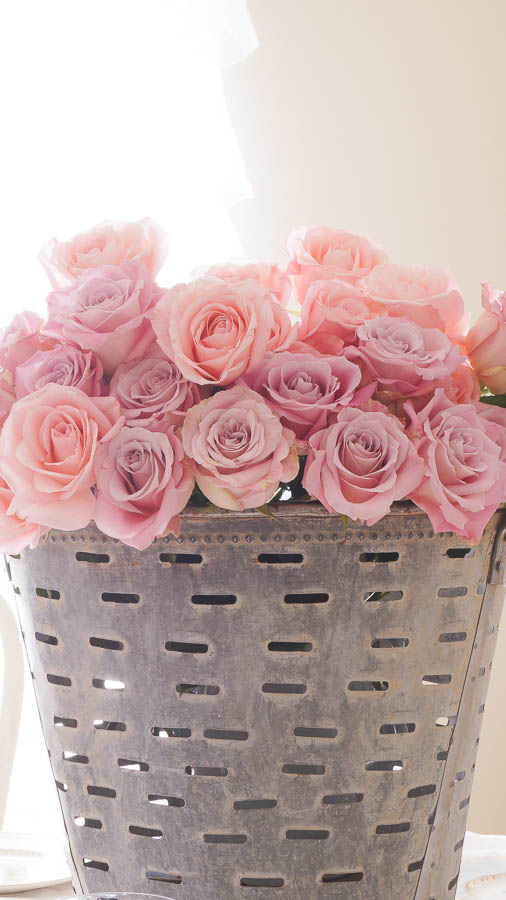 Save
Save
Save
Save
Save
Save
Save
Save