Simple Makeup Tips For Mature Women Over 50
(This post contains affiliate links, please read disclosure policy)
Today I'm joining my friends and sharing simple makeup tips as we celebrate being 50+. At the end of this post you can hop on over and visit each blog as we join together celebrating 50. One of the challenges I've faced as I've been aging is my makeup and skincare. I recently started using a new skincare regimen and it's made a huge difference in the way my skin looks and feels. You can read more about that HERE. I'm going to add links for everything that I'm sharing today to make it easier for you to locate if you choose to do so. I always find it helpful when links to products used are included in a article.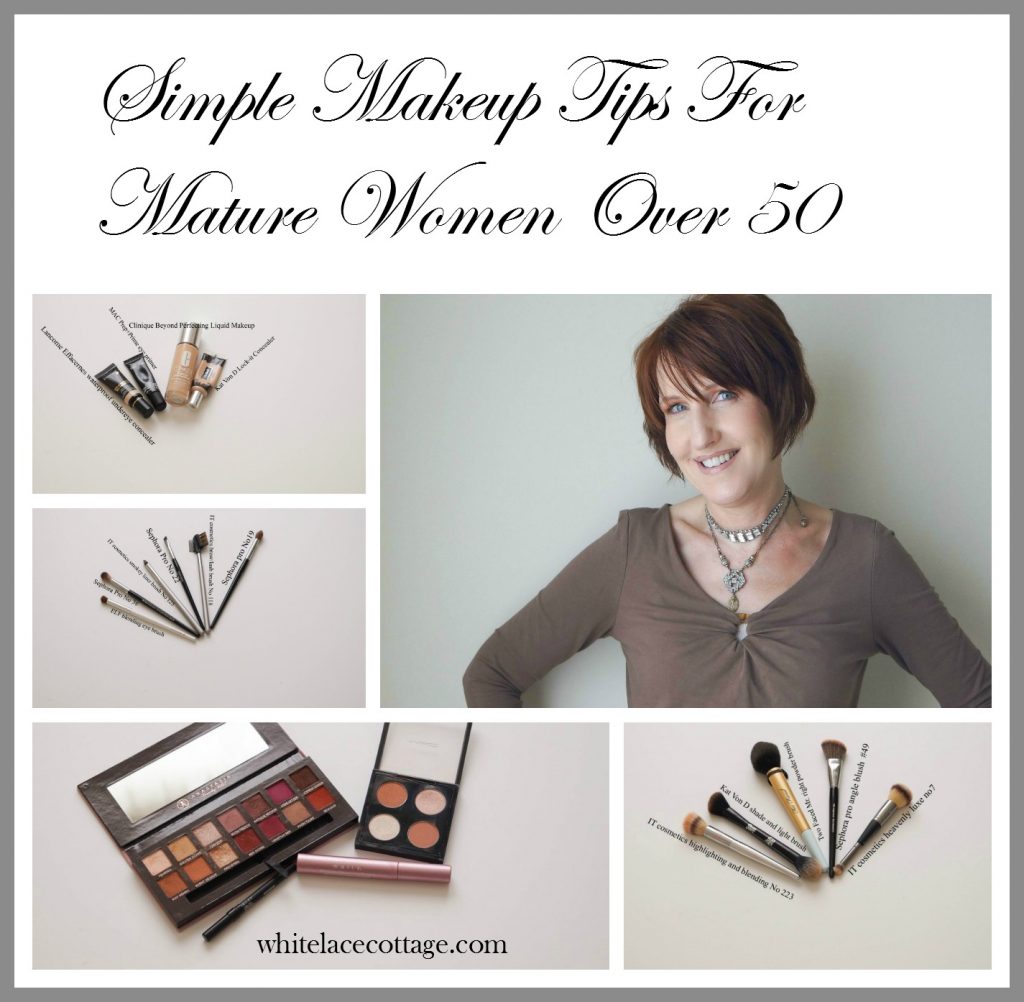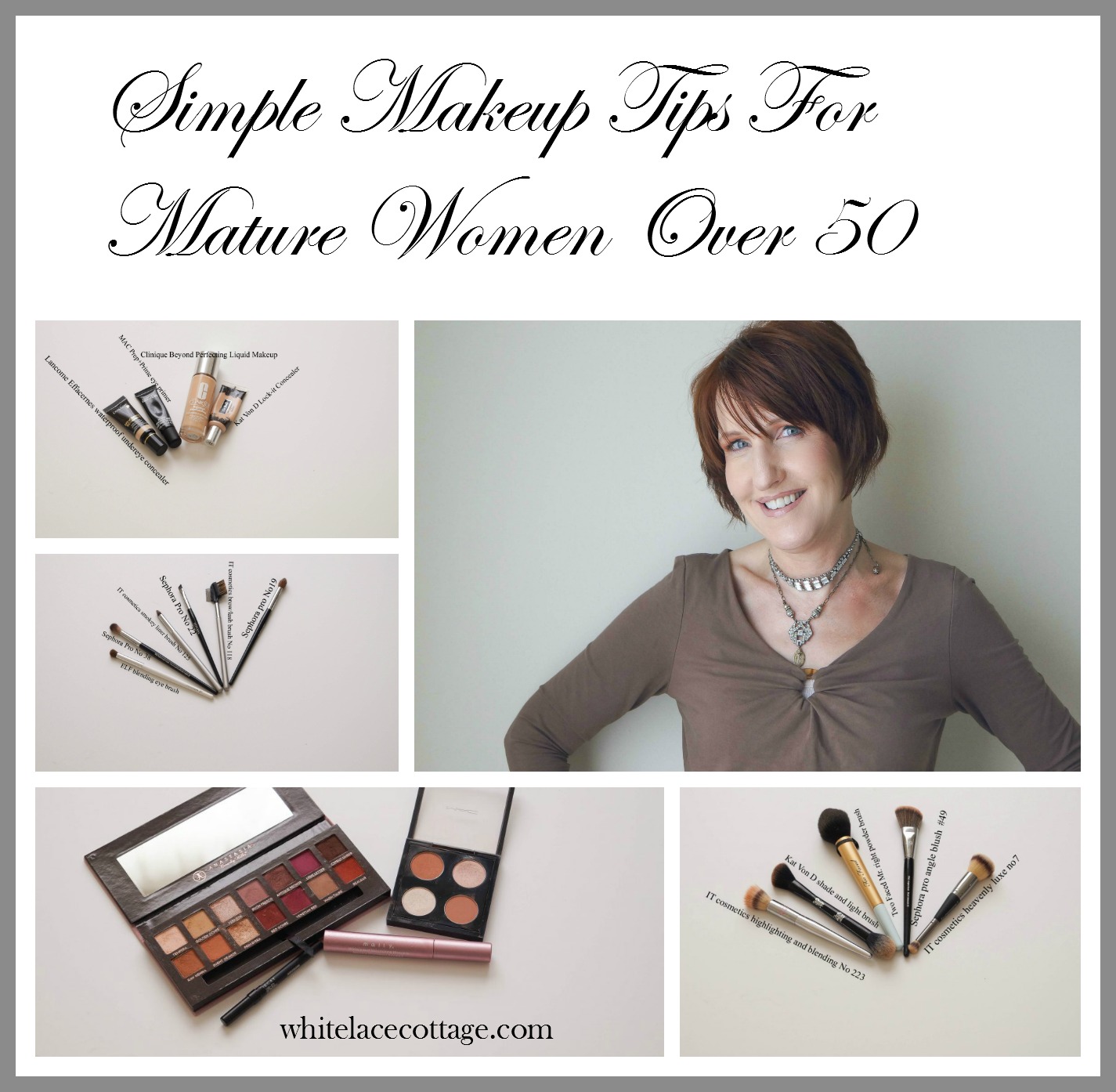 Makeup has been more of a challenge as I've matured. I've had to change the makeup that I use on my face along with how I apply it. Today I'll be sharing simple makeup tips for mature women, along with the products and tools that I use. At the end of this post I have a video tutorial on everything I'm sharing. Yes, you will see me with no makeup on. It's pretty scary, but you'll see why I wear makeup and what it does for me.
Long ago I could use anything I wanted on my skin as long as my skin care products were good. Now my makeup that I use is just as important as my skincare products. In my younger years I could wear drug store makeup, but those days are long gone. I can't just purchase any foundation take it home and apply it to my face. I know that I could have a reaction to the foundation, or the color will be all wrong. If you purchase makeup from a department store, including Ulta or Sephora, you can get a color match of foundations, and get a sample of it to try first before investing in it. Another thing you can do at a department store that you can't do at a drug store is, you can also try other makeup samples that they have set up on display. My face has gotten more sensitive than it's ever been. I created a video sharing my everyday simple makeup tips and makeup routine, I'll add that to the bottom of this post. Let's get started, I'm going to share my favorite makeup and my skincare along with some tips.
 Makeup Tips For Mature Skin
Moisturize First!
Always apply your makeup to clean and moisturized skin. Applying make up to dry skin will accent any fine lines or wrinkles, and we don't want that. Using a moisturizer will help keep your foundation on. This should be applied before your primer. Let it soak in to your skin for a couple of minutes before adding your face primer. (Belif moisture bomb)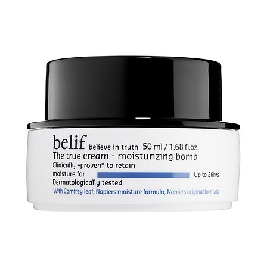 Add A Face Primer
Use a good makeup primer. I'm currently using Clinique Superprimer. Makeup primer will help your foundation adhere to your skin. Let your face primer sit on for 5-10 minutes so it really absorbs in your skin. Then you can start applying your foundation.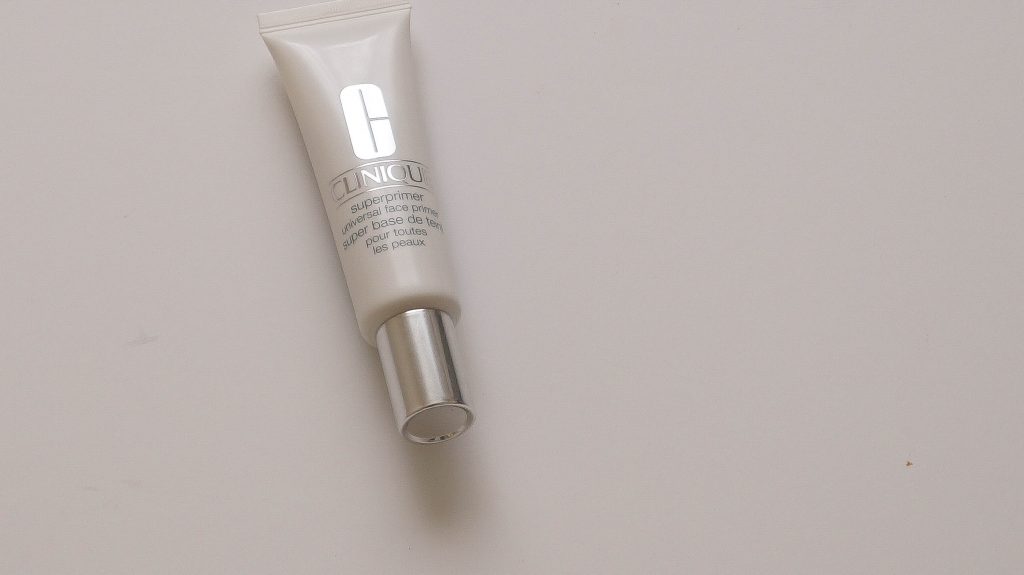 Use A Blender
Here's one of my favorite simple makeup tips, apply your makeup with a Beauty Blender. Since this is not a brush it won't tug your skin. And it will give you an airbrushed look. To use your beauty blender make sure that it's damp. Hold it under cold water and squeeze it as it fills with water. You want this to be damp but not soaking wet.  Apply your foundation to your face, then in a pouncing motion, start applying your makeup. Make sure you keep working until your foundation is completely blended. This kit comes with two blenders and soap to clean your BB. Make sure that you clean this after each use. You don't want to cause breakouts on your skin.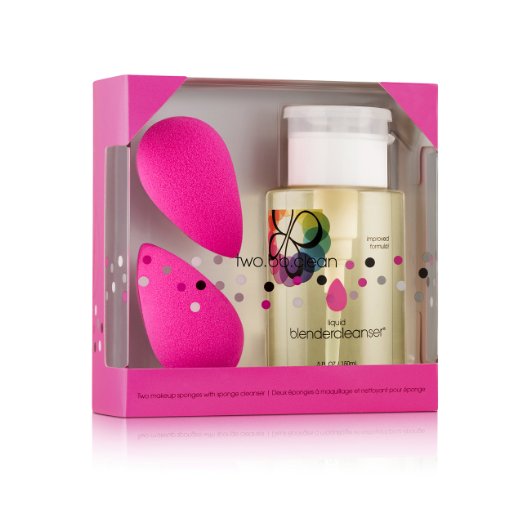 Makeup Tools
Invest in great makeup brushes. Your makeup will go on so much better and blend easier too if your using good tools. I still have some brushes from my teen years. But recently purchased a few new brushes that make applying my makeup easier and flawless. Here are my brushes that I use on a daily basis.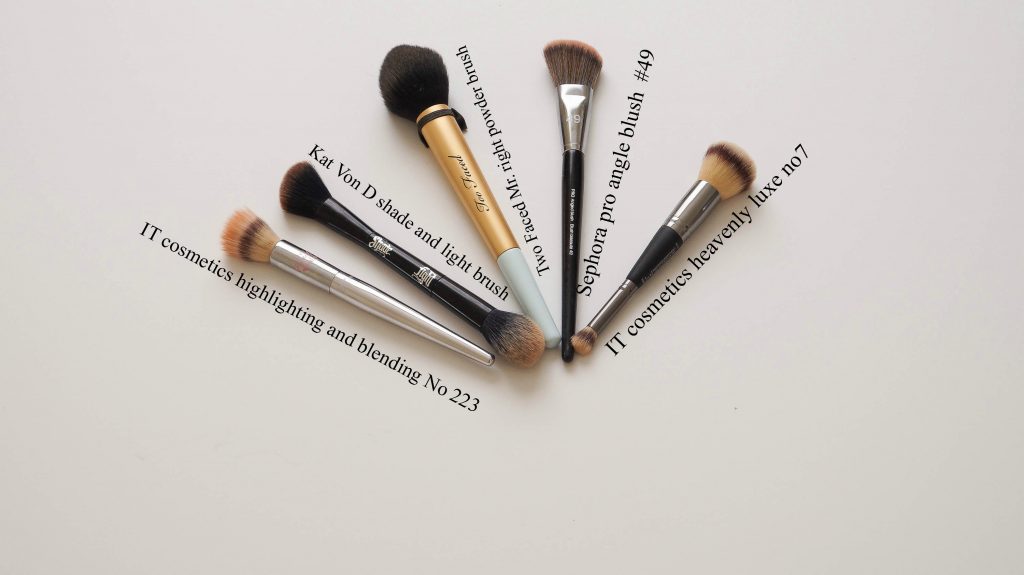 IT cosmetics highlighting and shading brush
Kat Von D Shade and Light brush
Sephora Pro angled blush brush No 40
IT cosmetics heavenly luxe No7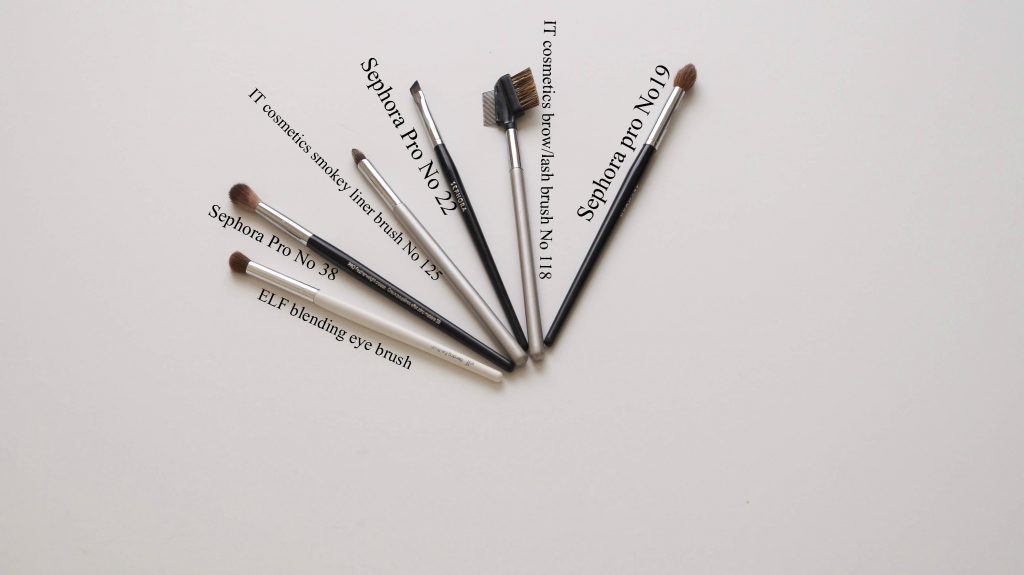 IT cosmetics smokey liner brush 125
Lighting Is Important
Use good lighting. I recently created a makeup room, as you will see a little of it in my video and you can read more about that HERE. I not only needed good lighting, but a good magnified mirror. Although I don't like looking at my skin that close up. It helps to see better so I can make sure I'm blending my makeup well. And it does help being able to see chin hairs. Which I can't even believe I have.  This mirror is from Conair.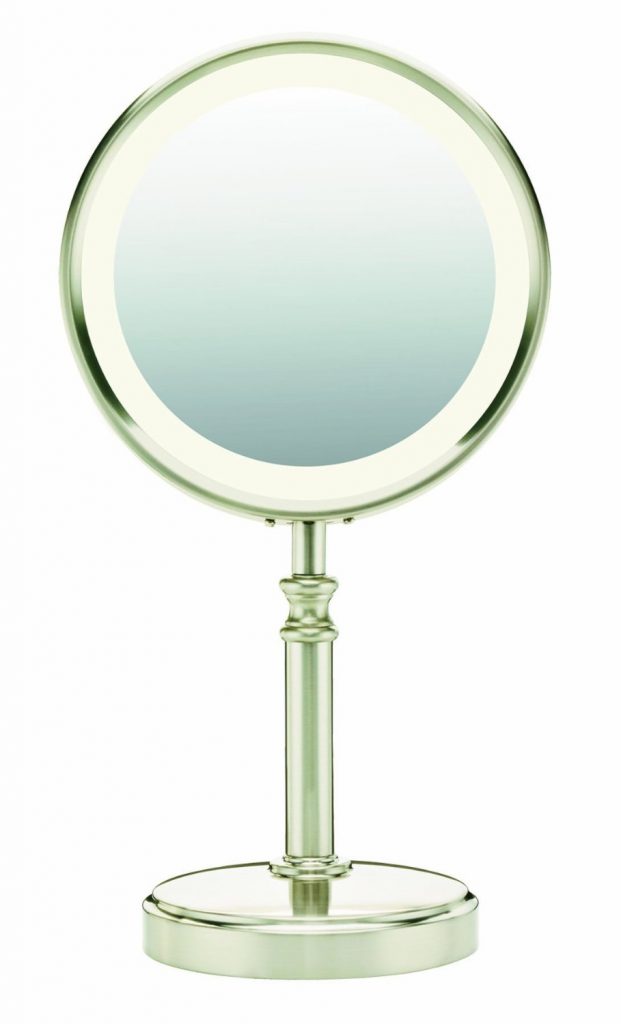 Let's start talking about makeup
As my skin started to mature, I've had to change my skincare and makeup. I have combination dry/oily skin. In my youthful years I had very oily skin. I was told that was good to have oily skin because I wouldn't have wrinkles. Well, I don't think that's true. Believe me I have lots of lines and imperfections on my face. Although since using my current skincare, I'm seeing less and less of those lines and imperfections.
I always get samples of foundations that I'd like to try. Drug store makeup doesn't always agree with my skin, I prefer to look for and purchase my makeup at a department store. I'm able to get a skin match up and free sample to try. I really love the foundation that I've been using, although this summer was a little challenging with the humidity, this is still my favorite foundation.
Eye makeup primer is a must! I never knew how important that it was. It makes my eye shadow go on evenly and blends perfectly. It also stays all day without getting creased.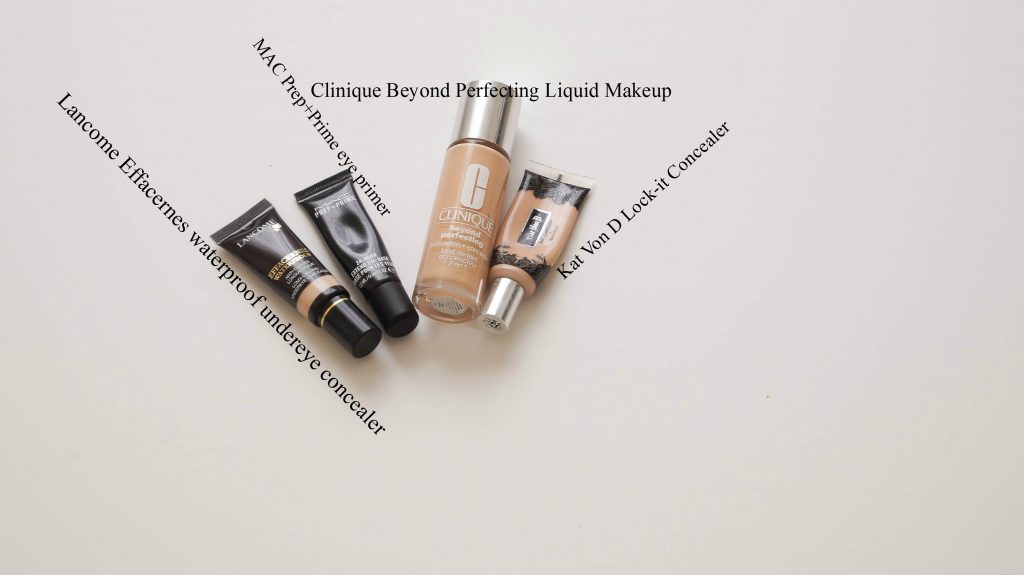 Lancome Effacernes waterproof undereye concealer
Clinique Beyond Perfecting Liquid Makeup
Take Care Of Your Lips
Make sure you keep your lips moist. As we age not only does our skin get dryer but so do our lips. I always apply a lip balm to my lips at night and before I apply my lipstick as it has an SPF of 25.
Set Your Makeup
This is one of my favorite simple makeup tips that I've shared with friends. Even though I have combo skin,  I always set my makeup with powder. This can be a scary thing with mature skin. It you use too heavy of a powder it will accentuate all of our fine lines and wrinkles. I have two powders that I've been using. One has been discontinued, and that would be La Mer powder. This face powder is so fine and goes on like silk unfortunately you can no longer purchase it. And although I have plenty left, I've been searching for a replacement. I found this one from RCMA .  This finishing powder is very light as well, and has no color. It's also significantly cheaper than the La Mer power.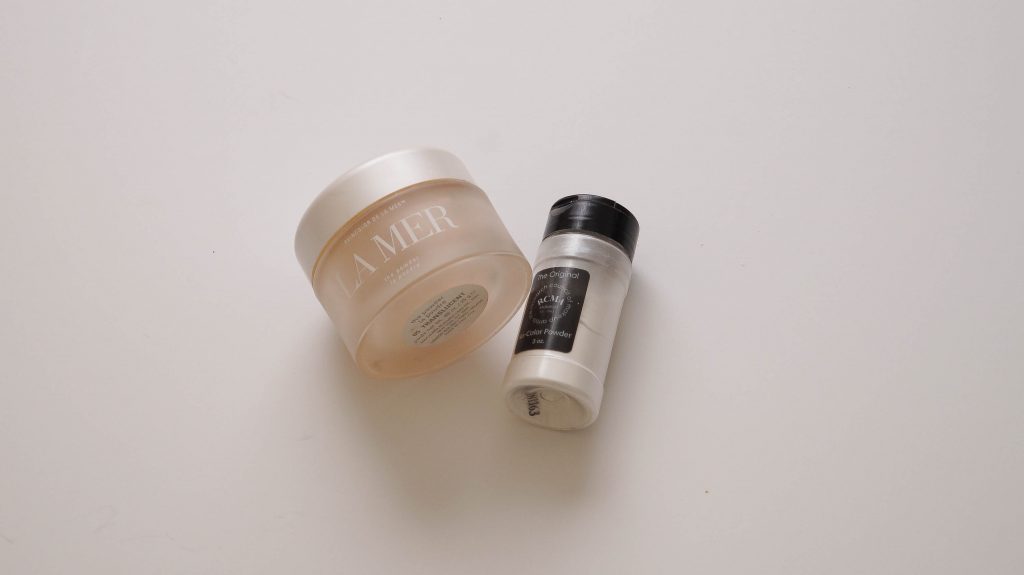 Line Those Lips
I always use a lip liner before adding my lipstick. I happen to have uneven lips due to a birth defect. And as we age our lips get smaller. Using a lip liner, I can over draw my lips slightly to make my lips look a little more even than if I just applied lipstick. I also stay away from really dark lip colors as they tend to make lips look smaller. Bright colors don't work well against my skin. Plus I really don't like attention to my lips.
Use Light Or Nude Colors
Recently I've been using nude lipstick colors. I first apply my lip pencil which is by Makeup forever in 7c, a pinkish brown. Then I apply my light pink nude lipstick Rimmel No 40, and I finish my lips off a lip gloss, because in my opinion dry lips don't look very youthful on mature women. My favorite lip gloss as of lately is by Marc Jacobs. It's not sticky, it's no too glossy. It's a perfect blend that gives your lips a nice shine. It has a hint of peppermint smell, and it's in the color Moonglow. Lip glosses don't stay on all day. But I'd rather have moist lips than dry lips.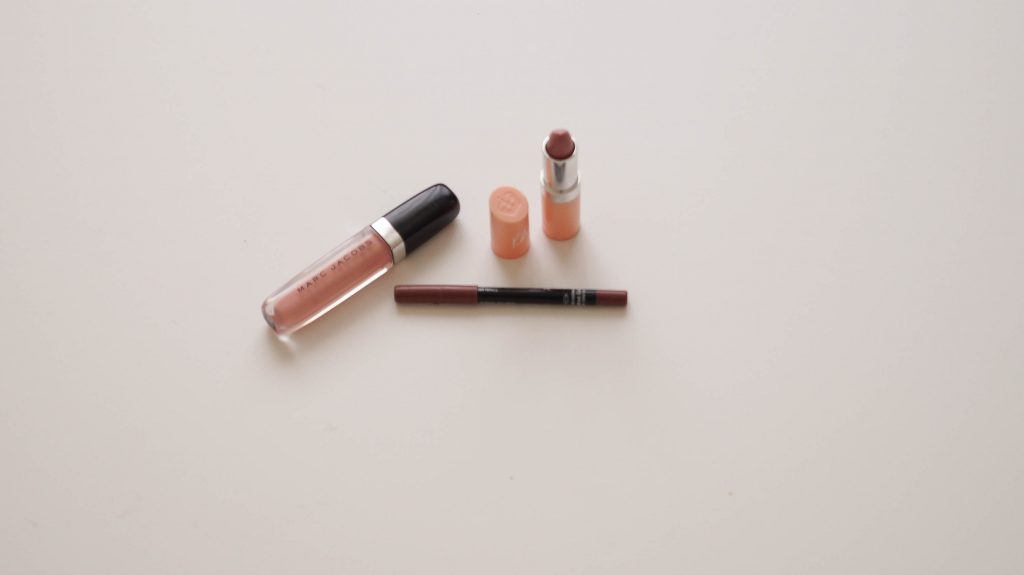 Eye Lashes
Eye lashes are very fragile as we age. I know because I've lost several over the past few months. But they are finally starting to grow back thanks to Latisse. Using a mascara that's not waterproof it's much better for your lashes. Although as I say that, I know I can't use a regular mascara because my eyelashes go straight. I wish a manufacturer would make mascaras without water, as that's what causes mine to go straight. I do make sure to take my makeup off each night to protect them. And I'm currently using Mally waterproof mascara. It thickens my lashes and makes them look long and luscious.
Make Your Eyes Appear Thicker With Liner
I have two favorite eyeliners. One is from Bobbi brown it's a gel eyeliner and the other is from Urban Decay. They both go on easily and wear well. Urban decay is a little creamer and can be difficult at times to blend with out making a mess. But I do love them both. I use my liners to line the top on my eye right at the lash line. I also apply my eye liner to my upper waterline. This makes my upper eyelashes look thicker than they really are.
Mally Waterproof Mascara Black
Bobbi Brown Gel eye pencil black
Let's Talk About Eye Shadows
I love wearing neutral eye colors. But I like adding a touch of shimmer at times too. I think this works perfectly on mature women. Here are a few of my favorite eye pallets. Some are no longer available.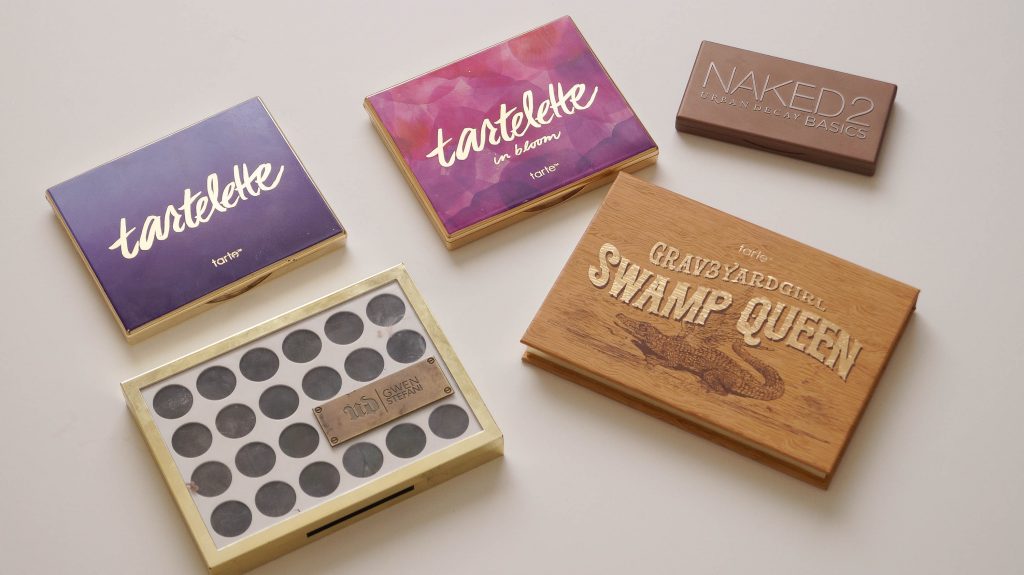 My most used eye pallets are these two. One is from MAC and I'm sorry I can't remember the colors. I ordered these colors, and stupidly didn't mark them after I added them to my pallet. The other is from Anastasia of Beverly Hills. It's the Modern Renaissance collection. The colors highly pigmented and they go on like silk. To apply my eye color I always use a transition color on my entire eye lid. This is something that I've been recently doing. What this does is that it will make it easier to blend your colors making that shadow line look less visible giving a flawless look. You will see more details on how I apply my eye colors in the video at the bottom of this post.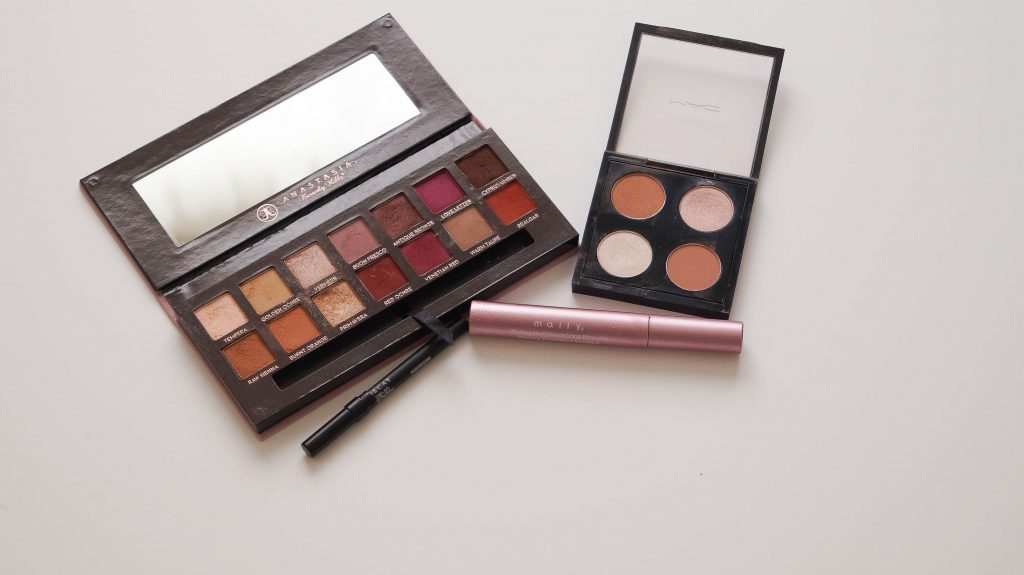 Modern Renaissance Anastasia of Beverly Hills
Contour And Highlighting And Blush
If you didn't know about these simple makeup tips,  I promise that you'll have fun using these techniques. Adding a contour and highlight can add dimension to your face, while adding a little soft glow. I prefer to use cream stick foundations to highlight and contour. But for everyday, I like using my contour powder from Kat Von D. It's very light, it's a little creamy. Goes on perfectly and blends well too. I use the first dark color in the pallet, and the two lighter colors are my highlight. Although this highlight will not show up as well without using a cream highlight foundation. It still gives a soft subtle glow to my face.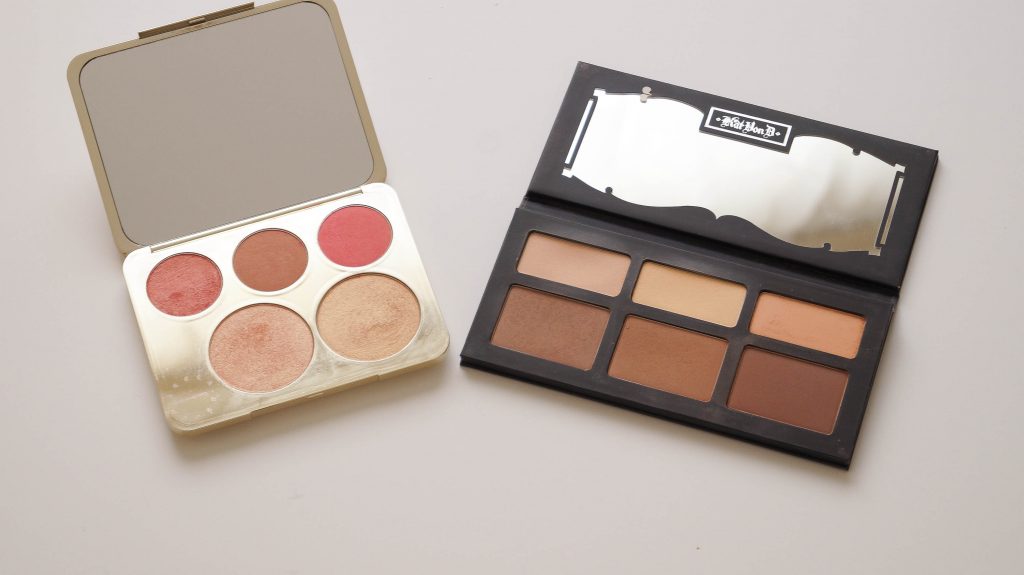 My go too blush is this pallet from Jacklyn Hill. It was a limited edition and I don't think it's available any longer. I love how creamy the blush is. And I use both of the highlighters but only Champagne pop is still available.
The key with blush is the add it to the top of your cheeks. As we age our faces start to…fall. This is one of those simple makeup tips that most women don't think about. To give your face a lift add your blush to the top part of your cheeks. Contour should be added to the side of your face, right under your cheekbone. But don't take it too far down your face. If you hold a makeup brush flat against the side of your face, Using the top of your ear, and down on an angle, that's where you want to add your contour. Go easy on your contour. You don't want it too dark, you're creating a shadow. You can also add a little contour to your jawline, under your chin if you're like me and have a little bit of a double chin. You can contour your nose and your forehead. If you'd like to see a video on how to highlight and contour you can go HERE.
As you can see from reading this post, I love makeup and I love sharing simple makeup tips. I think it's because I was in the beauty industry for many years. It's one of my passions. I could seriously keep sharing more simple makeup tips!
So I leave you with this. Always embrace your self. With or without makeup up, it's important to love yourself for who you are. Aging is not easy for any of us. Seeing our bodies and faces change as we age isn't always easy. But from someone that just turned 50…me, I can say that I'm ready for the changes. And with each change I will embrace each one.

Save
Save
Save
Save
Save
Save
Save
Save