Laundry Room Storage Organizing Ideas
We are very fortunate to have such a large laundry room. And it's not only our laundry room but our mudroom as well. This is the first room we enter when we walk into our home, because it's off of our garage.
As nice as it is to have a large laundry room, this room is very tight. It's a narrow space that has been a challenge for me over the past 10 years. But I think I've finally figured out how to keep this space neat, clean and organized. I'm going to share what I did in our laundry room for storage and organizing it, and ideas on how you can do the same.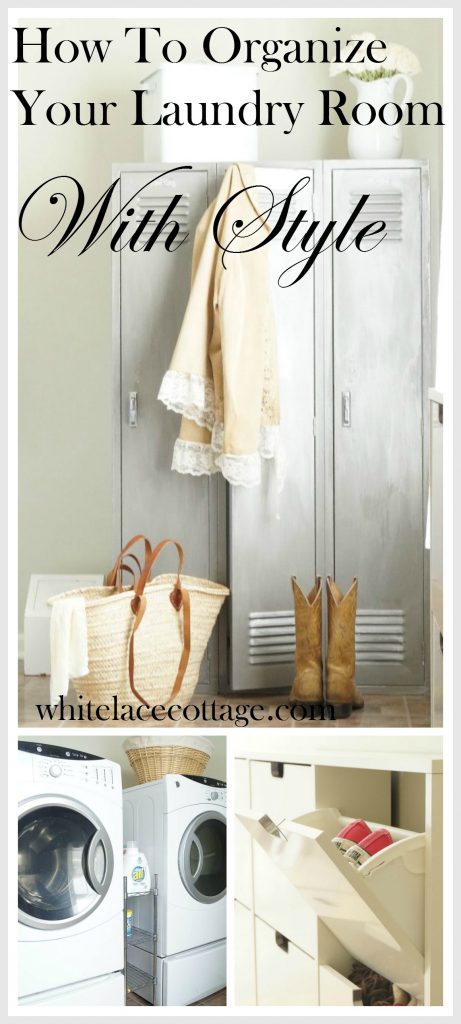 As I said space is a factor for us in our laundry room. For years I had issues with where to hang our coats, and my daughters school stuff, and my husbands hats. Yeah, you get the idea. After searching and searching I found this set of lockers several years ago. It's been the best thing ever!!
(This post contains affiliate links, see disclosure policy)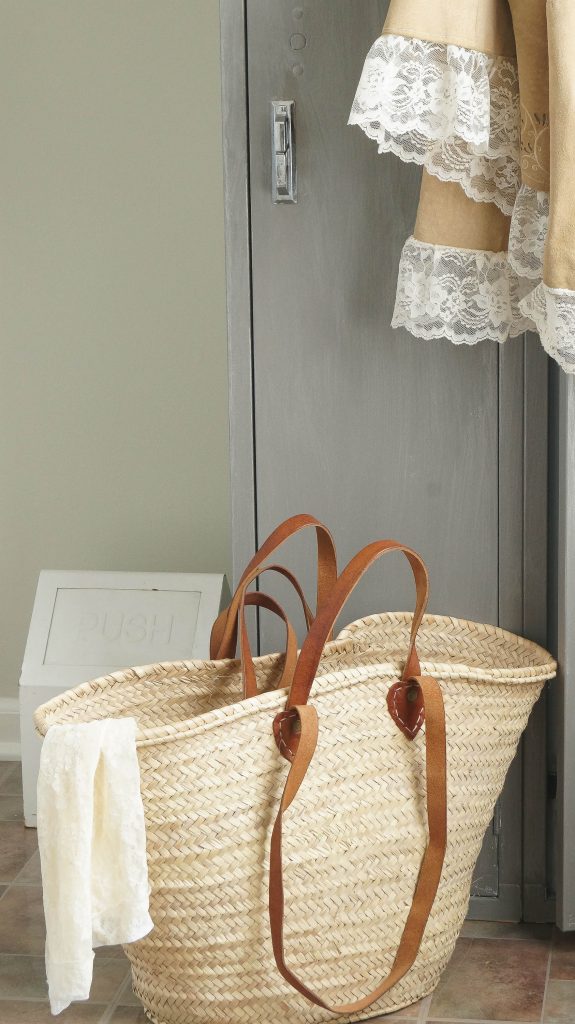 I hate seeing coats, jackets, backpacks, purses, etc all over the place. I tried using a hanging coat rack and it always looked messy. Plus having such a narrow room, we were always walking by knocking things off and to the ground.

The lockers are great because all of our stuff fits inside and it's neatly put away. Out of sight out of mind as they say. It also gives us all a little extra room for small things. We do have some room for shoes in our lockers but not much. I found this set of lockers for 25.00. Check for deals on Craigs list, you may be able to score a cheap set too. If not you can find brand new metal lockers.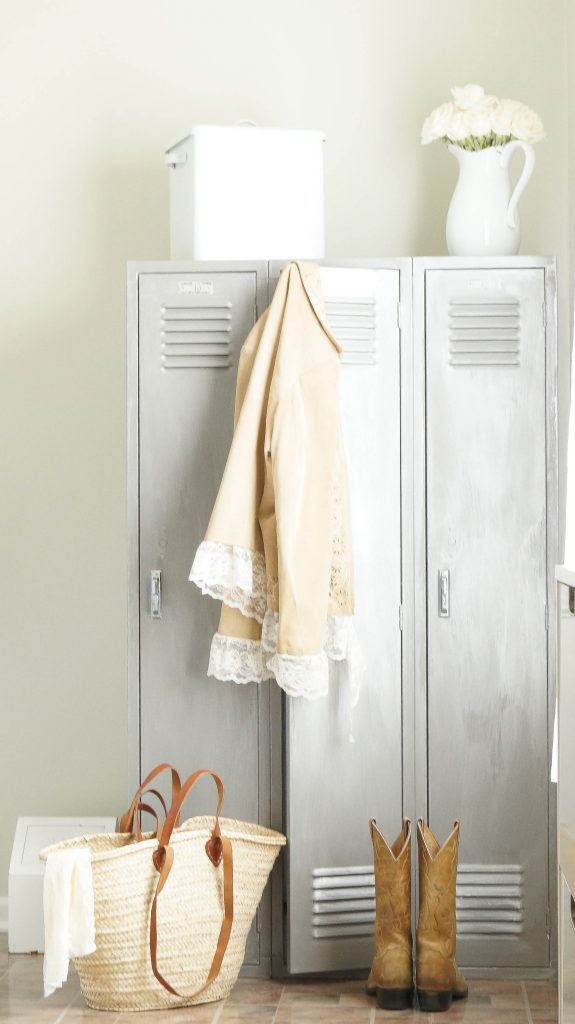 Let's face it, my daughter and I have…well, we have a lot of shoes! And they won't all fit in our lockers. I've been searching and searching for something for our shoes but I couldn't find anything that would work in our tiny space until I came across this shoe storage bin from Ikea.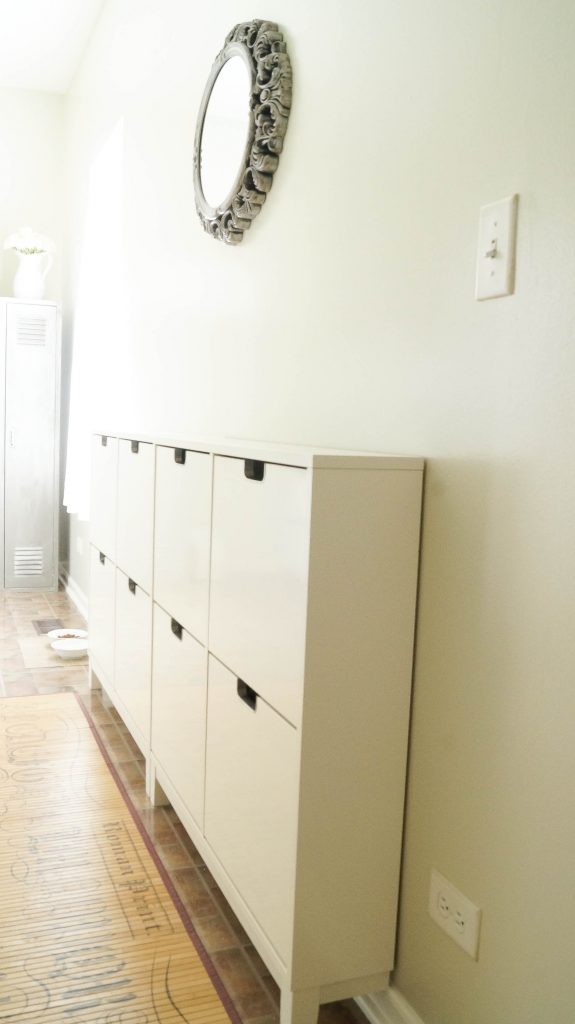 I cannot tell you how much I LOVE this cabinet. Ikea has several different styles of these shoe cabinets. But this one was the smallest and I wanted to keep as much space as possible in my laundry room. I purchased two of these cabinets because, well, we have a lot of shoes. And I'm also storing our gloves, hats, scarves and things that we need during the winter months. These were super easy to put together and they feel very well made and durable.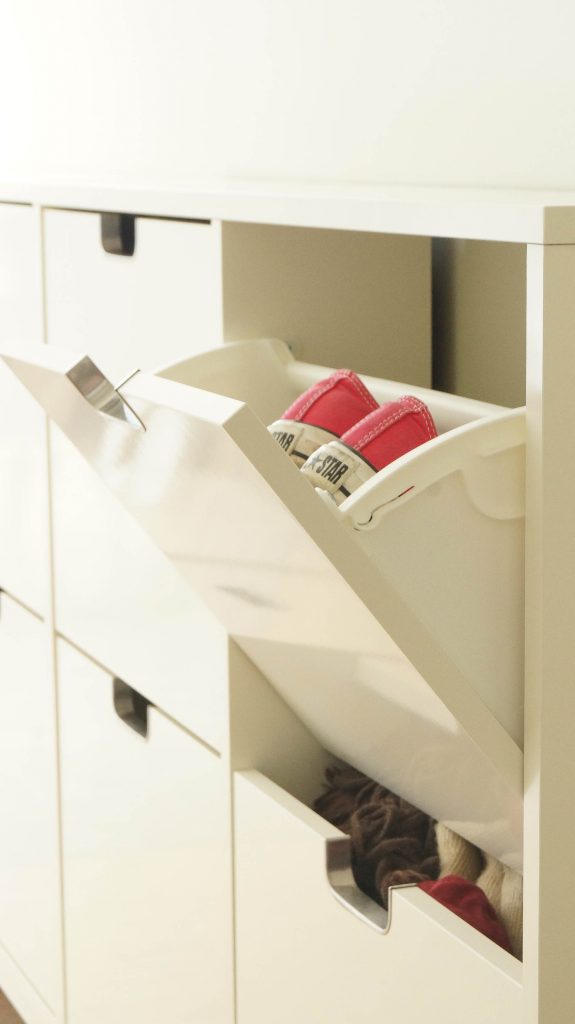 I'm sure you noticed in my laundry room that I don't have any hanging cabinets. We never upgraded to put cabinets in our laundry room. The reason was our washer and dryer have pedestals. So getting into the cabinets would have been a challenge. I thought the drawers below our machines would have been enough storage. Well, they're not. You can't fit any laundry bottles or bottles of any kind under our machine.
I was on the search for ideas and I found this metal utility cart. It's not fancy, but it does what it's supposed to do. Keep all of my laundry soaps close by. And in a neat and tidy way.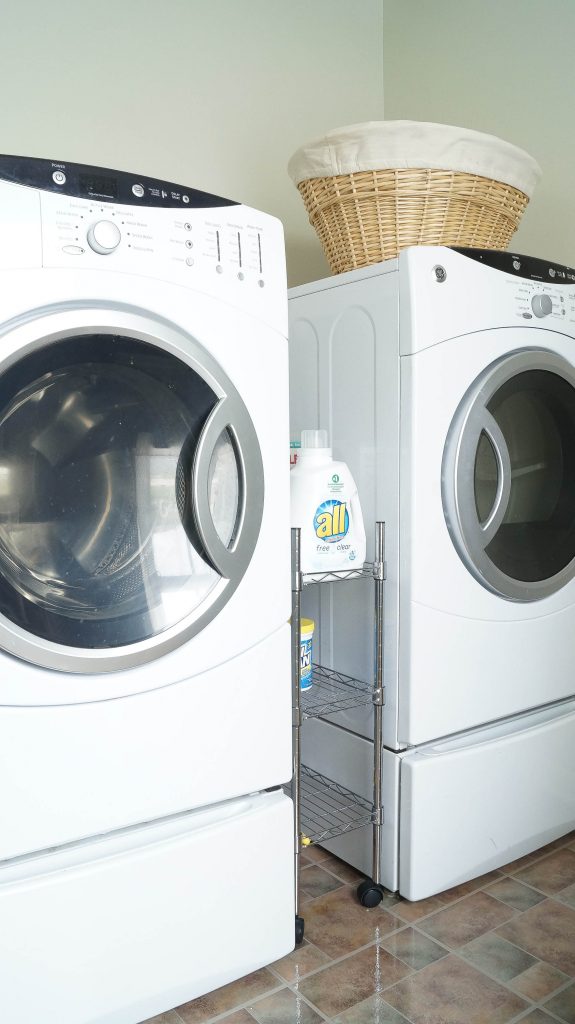 During the winter months I'm planning on putting my boot tray out for wet boots, and I still have room to do that. I also added a few items in my room that are not organizing. But pieces that make this room look a little nicer and neater.
Underneath our laundry sink I keep our kitty litter, and a few other supplies. I didn't want to see that because it can look messy. So, I had this pretty skirt made. The fabric is from Hobby Lobby, and it's oil cloth. I thought this would be more durable in our laundry room. I use the laundry sink for lots of messy cleanups. My skirt was made by this Etsy seller High Farm Primitive. Rhonna did a beautiful job, I love it. It's not only pretty, but it hides the mess underneath. I need a prettier towel, because that one is not working. It's funny how things look different in a photo than in person.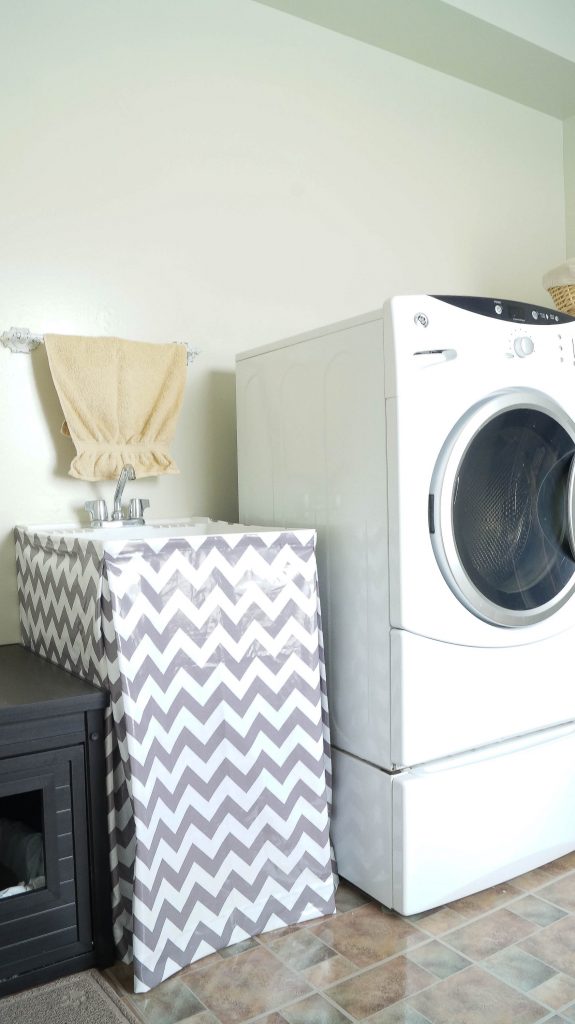 My cat got a new kitty pan. Her pan was looking dingy and gross. I was searching for a prettier cat litter pan and found this one. She had a hooded pan before, so she was used to having it all covered up. It's from EcoFlex and I purchased it HERE.  It was a little pricey, but totally worth the money. Our cat loves it, I love the way it looks. And it's easy to clean.
As far as the decor, I decided not to hang lots of things on my walls since were not planning on staying here long. I did hang this mirror because it's nice to check yourself out before leaving the house. I found it at TJmaxx.
I'd still like to add a nice rug runner. That bamboo mat will work until the winter months arrive. I love how clean and organized our laundry room is now. I feel that I can keep this pretty much the way it looks here, on a daily basis. Although I don't have my jacket hanging on the locker or my boots out, or that little French market basket. That's just to make my photos a little prettier.
Not shown in this photo is my hanging mop and broom holder. I have that hanging behind our door that leads into our laundry room. It keeps it neat, and I know just where to find what I need.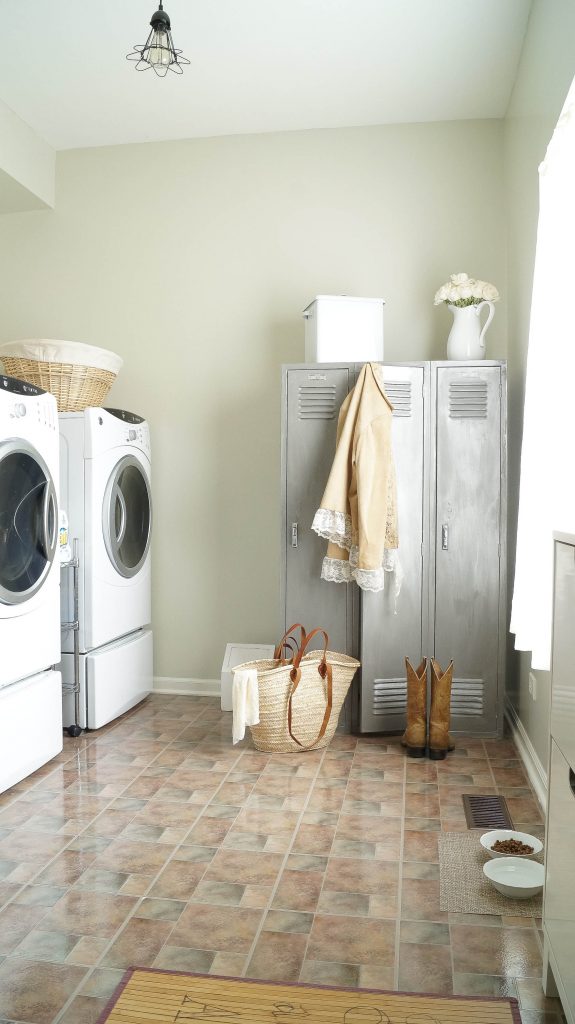 Tips On Organizing A Laundry Room
To keep things neat and clean, look for shoe cabinets that are closed.
If space is limited, use hooks to hang coats and hats. You can also use the space behind the door to hang coats and hats.
Look for a hanging cabinet if you don't have enough floor space.
If you have a laundry sink as I do, think about using that space for storage. If you sew than you can make your own skirt.
If you have a pet get creative when storing there food. I'm using an old bread box (that's the white tin on my locker) for storing our cats food.
Use a baskets for dirty clothes and clean clothes, you can keep them stored on top of your machine.
Hang mops and brooms using a hanging holder.
I hope this article helped give you a few ideas on how you can organize your laundry room. You can read  how I created the painted the patina on my lockers HERE.
None related and totally random. But I have a new video on my YouTube channel. Just sharing an update on what I was up to this summer 🙂

Shopping Guide