Creating Brushed Metal Patina
Several years ago, I decided to give our laundry room a little update. One of the issues I had with our laundry room that also serves as our mud room, is that it lacked storage. Especially for our coats and shoes.
I found this set of lockers for 20.00 at a resale shop a few towns over from our home. They were pretty gross, so I gave them a coat of paint. At the time I went with a blue color that worked into my theme at that time.
(This post contains affiliate links, please read disclosure policy)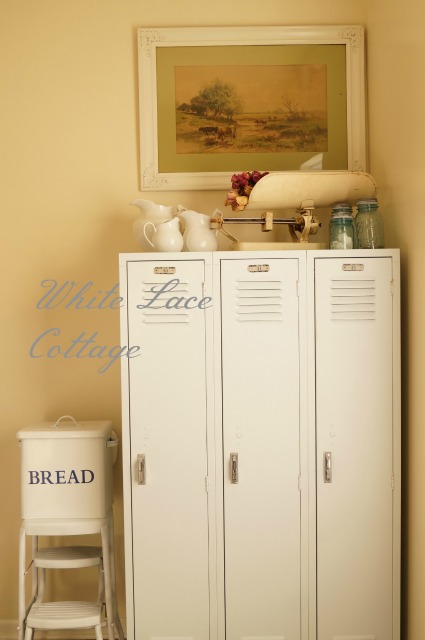 A few months ago I went a little crazy and sold most of my stuff from my personal collection. And when I say stuff, I mean that I was literally taking things off of my walls and out of my rooms,  and selling them.
Yeah, I totally did that. And actually, I just sold a few more items from my home this week, and who knows, I may not be done with all of that yet. I'm sure the neighbors are wondering what in the world am I doing selling all of my stuff. And more importantly, they're probably wondering where I had all of this stuff. Because, you all know, I'm not a hoarder.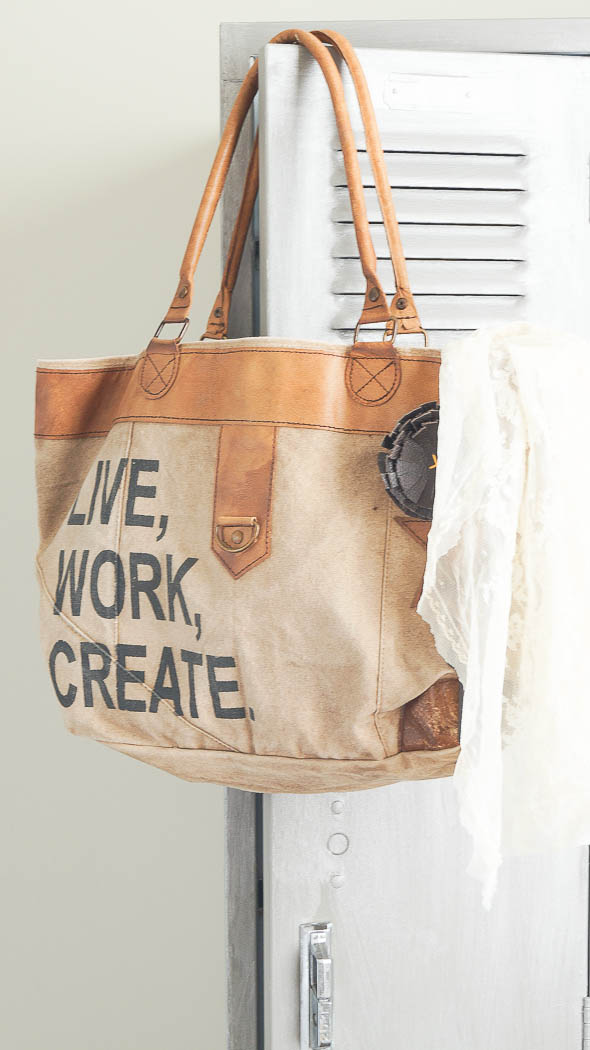 So where was I? Oh yeah the lockers. Since I decided to strip my home of pretty much all of my collection, I was left with holes in my walls. Okay, I pinky promise I'll get back to the lockers. I had a whole lot of holes to patch up. Once I did that I needed to paint my walls. I took my old paint can to have a match made, because it was a custom color. But once I started painting my walls, it was the wrong color. Like it was looking green!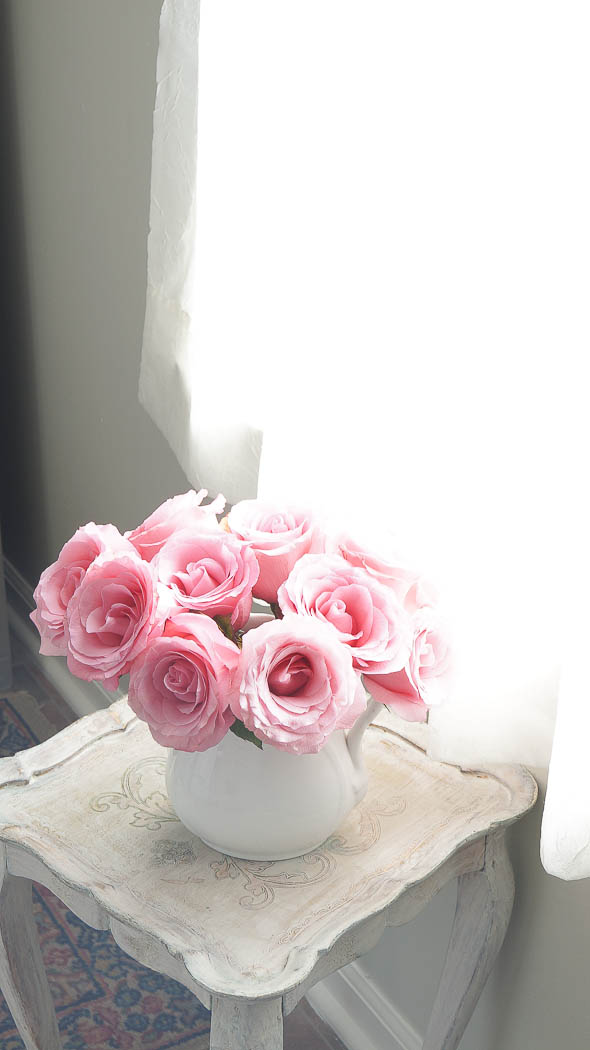 I could have stopped at this point. I promise I'm getting to the lockers. But, I kept painting because ain't nobody got time for that. I wasn't going to back to the store and deal with all of that. And it was just going in my laundry room and guest powder room.
After I painted my walls, the lockers were looking….dingy. See, I told you I was going to get back to the lockers! Since they were looking icky, I decided to give them a paint job.
I pulled out my Heirloom Traditions paint in Thunderous. I love the name of that don't you? I gave the outside of my lockers two coats of paint. Girl, we won't even talk about the inside yet, because it looks bad. Like, really bad. I'll be cleaning that hot mess up soon, but today were talking about the outside.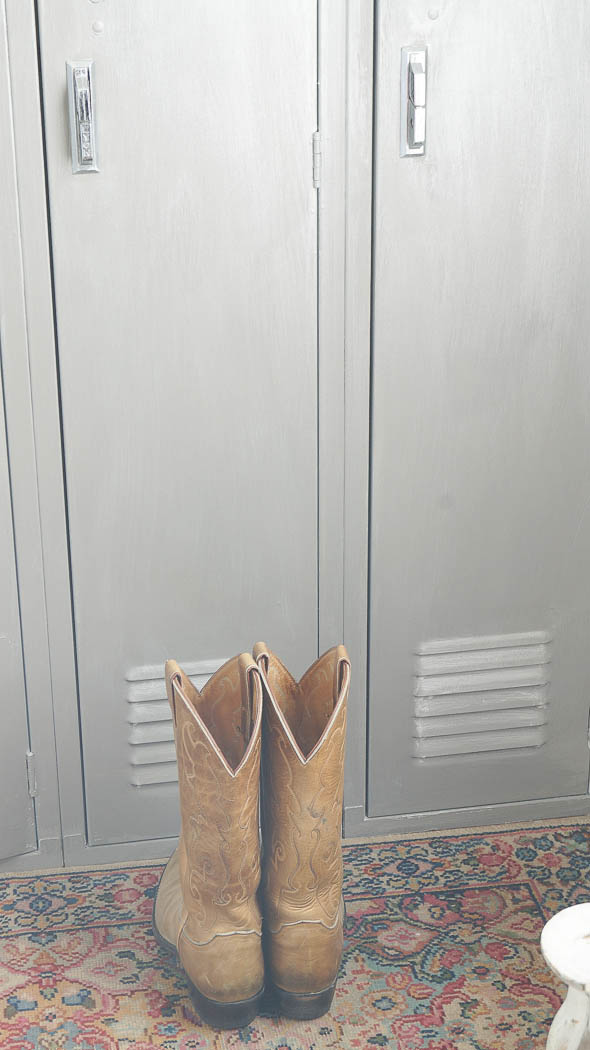 When the paint was finished drying, well, it was sort of…blah. In my mind I had the idea of creating a cool brushed metal patina look. I've seen old lockers with a brushed metal patina, so I guess that's where I got my idea from.

This is so easy to do, I feel silly explaining it, because it's that simple. So are you ready? To create this brushed metal patina you'll need this awesome stuff, Silver Gilding Tarnished, Silver Patina from Heirloom Traditions paint. I recently shared THIS project using this silver patina.
To apply-
Dip your paint brush into water, wipe your brush off to remove some of the water, then dip your brush into the Silver Gilding Patina. Using long brush strokes in a vertical direction or horizontal I brushed it on horizontal because of my peice, start applying the Silver Gilding Patina to your piece to create a brushed metal patina. Keep working on your piece until it's completely covered. You need very little of this Silver Gilding Patina. If it seems like your brush is too dry and it's not spreading well, dip your brush into the water only and go over that section to spread it around evenly.
And that's it! This is a super easy way to create a brushed metal look.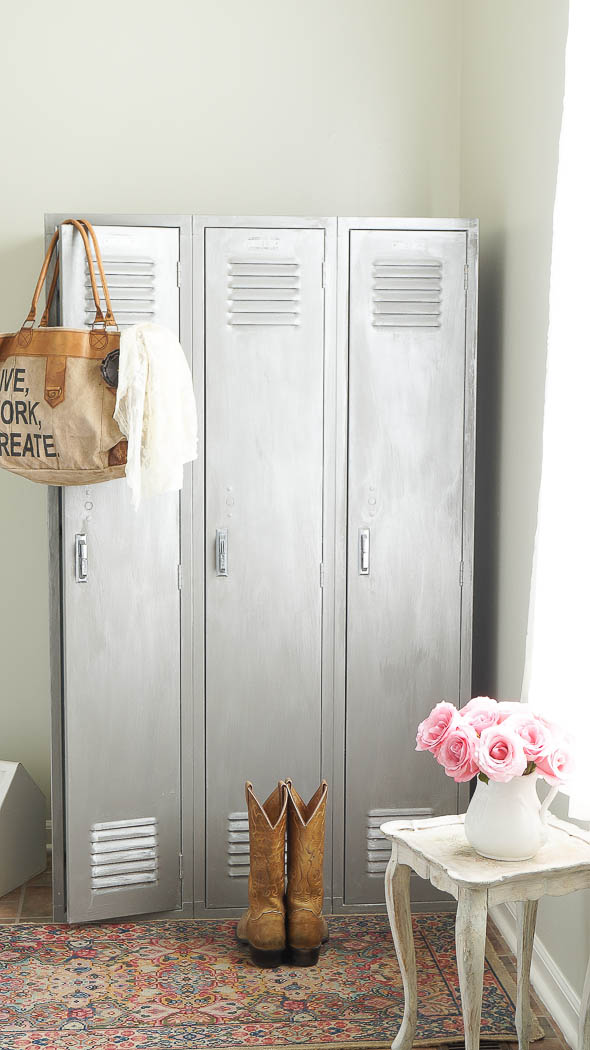 I have more to do in this room before I reveal it. I still need storage for our shoes, cleaning supplies and laundry soap. I have a few ideas for that and I'll be sharing that soon.
If you have any questions about this tutorial, please ask away. I love reading your comments and answering your questions 🙂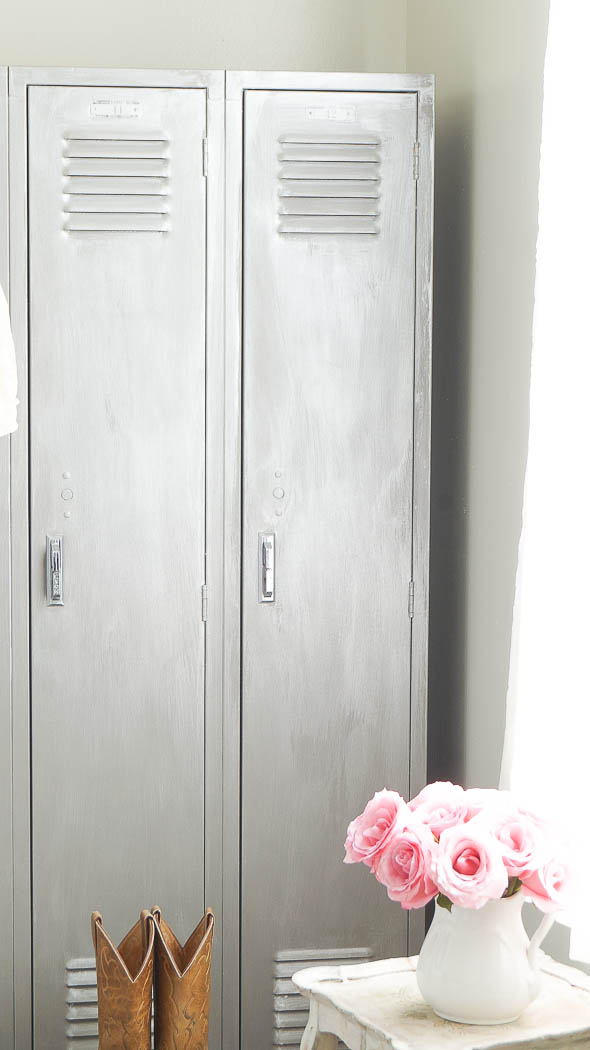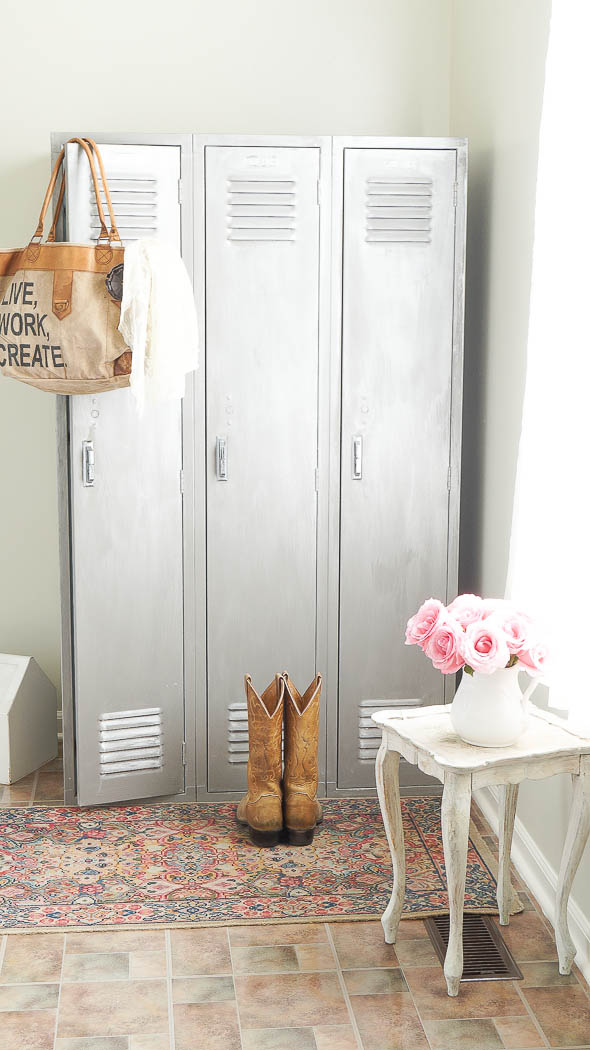 Shopping Guide-
Thunderous- Heirloom Traditions Paint
**Use coupon code WHITELACE to receive 10% off of your order.**
Purdy Paint brush– my favorite brush for walls and furniture!