When I stumbled onto this bookcase, I didn't hear the Angels sing.
This bookcase didn't have that WOW factor at all! I didn't hear the Angels sing…instead I heard crickets.
Seriously…..
But, I knew that eventually I get a grand idea for this bookcase, it just took me a little while to think of the perfect plan.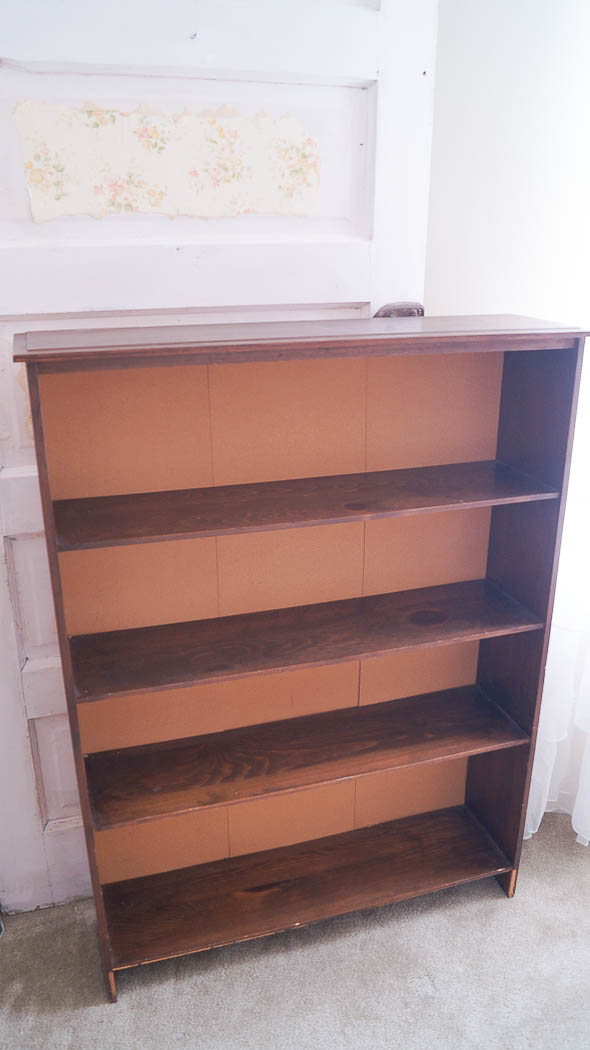 (This post contains affiliate links, please read disclosure policy) The only thing that caught  my eye was the price tag on this bookcase. Because it has zero wow factor. This bookcase sat in my closet of my studio for the past several years. Many of you may not know this, I guess it depends on when you started reading my blog.
But, I was selling painted furniture and vintage pieces at an antique mall a few years ago. I bought this piece to paint and sell, but I found that it was more useful as a shelf to store my dishes and things that I was selling at the time.
So, for the past several years it's been hidden, which in this case is a good thing. I've been slowly cleaning and purging getting ready for a move in the next couple of years and came across this piece. I've had so many people ask me when I'm moving. In two years, I know it seems crazy to be purging now when I have a few more years to go. But, I've been accumulating crap stuff for the past 10 years and it got a little crazy over the past 4 years because of my space I had at the antique mall and my blog shop.
Anyway, I'm planning on selling this at my sale on May 13th, but seriously, would you buy this piece? Oh and if you're local plan on being at my sale! If you've seen photos of what I have in my home, chances are it will be for sale.
Okay where was I?
Oh yeah, most people wouldn't even blink an eye at a piece like this, because it's sort of blah. And let's  not forget that the back panel of this piece, is probably the worst part.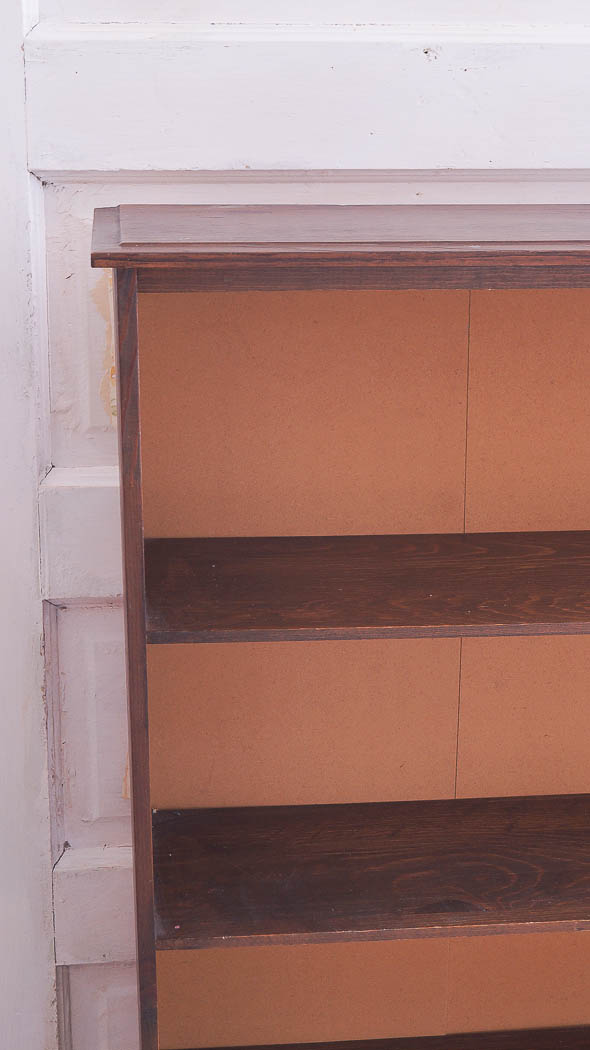 You can't just slap a coat of paint on this and call it a day. I knew that I wanted to paint it, I just needed to decide what to do with the back of it. Well, I had one of those aha moments, I have lots of those lately 😉 So, I  pulled out that beadboard wallpaper, you know, the same wall paper I used on THIS  project. I measured each back panel, then cut the piece slightly larger than I needed and applied this self pasted wallpaper to the back panels.
**Here's a quick tip**
Make sure you cut your pieces slightly larger than you need them to be. Yeah, I know I mentioned that above, but I wanted to make sure you read that, because it will save you from cutting more pieces than you need to. It's better to have a piece slightly larger than too small.
Once your piece has been applied and fully dry, go back using a razor and carefully cut the excess wall paper off. (read disclosure policy)
**Here's another quick tip**
Make sure your piece is fully dry before cutting the excess off. If you're in a hurry and start cutting pieces off to early, the paper will rip. Trust me, I'm sharing this from experience. Once my piece was fully dry, and all the excess paper was cut off I started painting. I put the word out on my Facebook and Instagram pages, asking what color I should paint it. Most wanted to see French Butter others wanted Posh Pink. Someone suggested French Butter on the inside on the beadboard wallpaper, and Posh Pink on the outside.
That sounded like a pretty combination so I went with that. But after I painted it, I wasn't feeling the color combo, so I went with Posh Pink all over.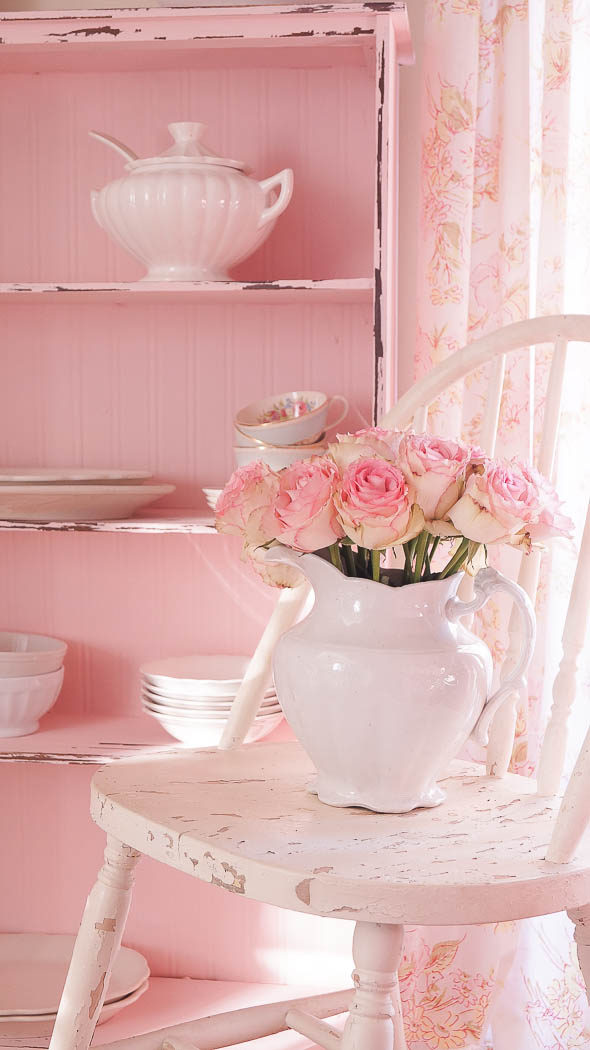 Of course I had to distress it a bit, using THIS technique,  because that's how I roll. Especially on a piece like this, I really think it needed the texture, since it has no details other than the beadboard wallpaper.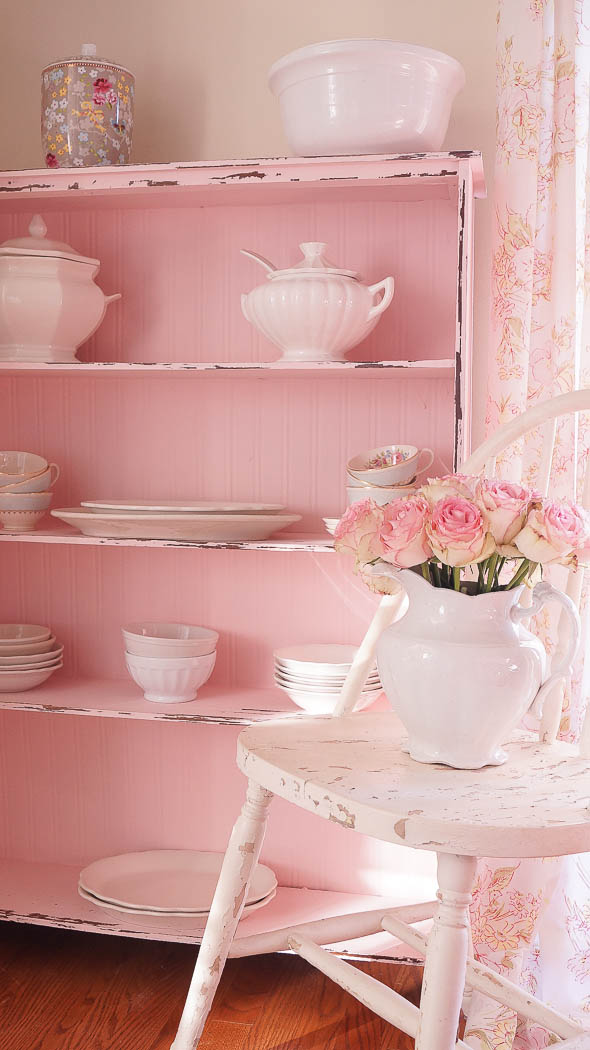 So what do you think? I love the color, the chippy paint and of course the bead board wall paper. Without that little detail this piece would be pretty b-o-r-i-n-g!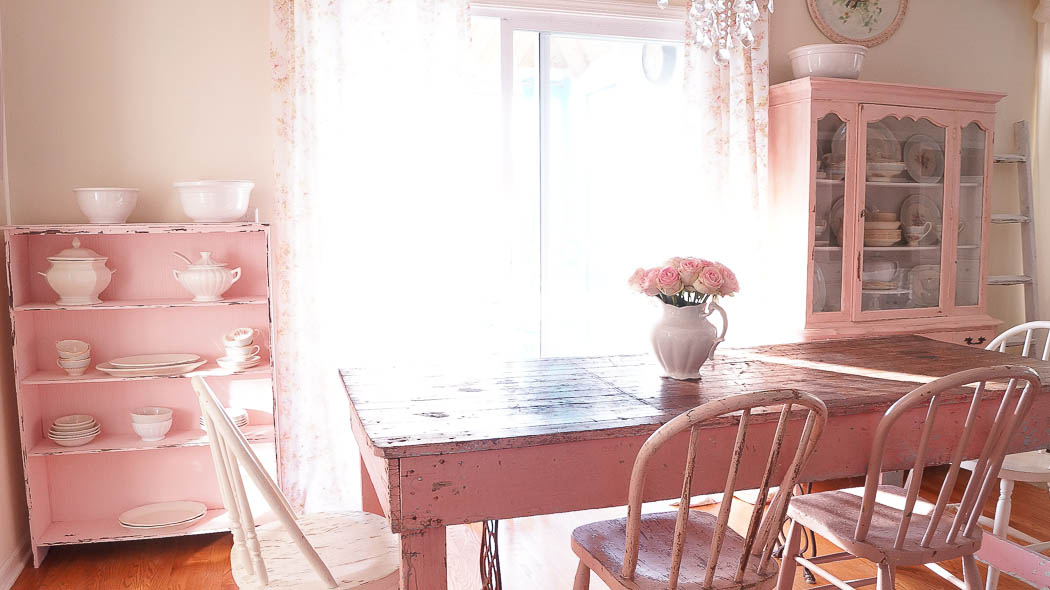 I think this bookcase would look great as a display for dishes as I have it here, or in a bathroom for towels and things, in a craft room, or as a bookcase. So many possibilities.
The lesson for today, don't pass up on that piece because it's ugly. Ha, I think I've said this before, but you can see that no matter what, you can transform a piece. I already had the wallpaper, but you could use another pretty paper in the back if you didn't have beadboard wallpaper.
So why did I have left over beadboard wall paper? It was from this project in my kitchen. You can click on the links to read more about it.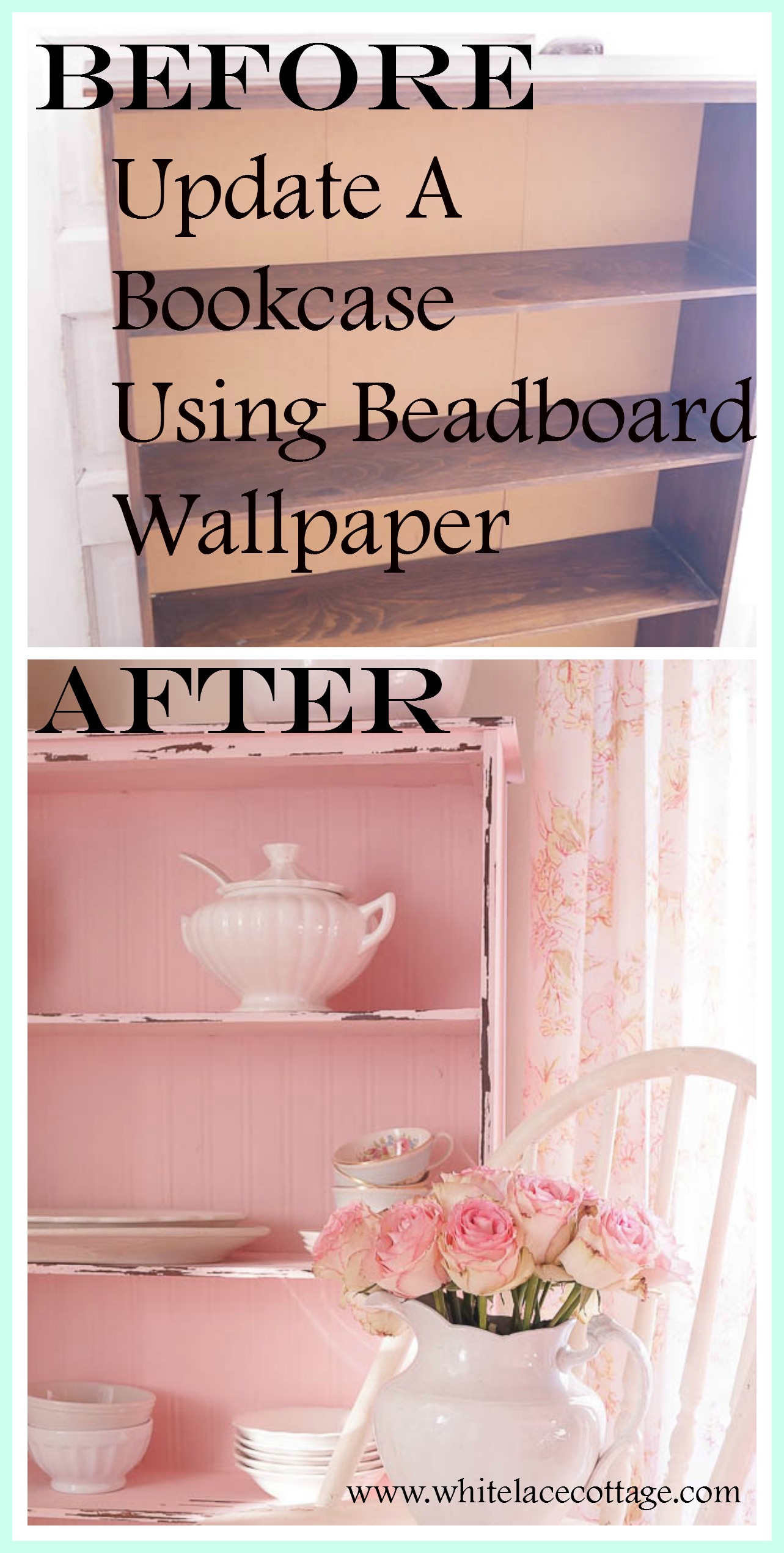 As you can see my home has a Shabby Chic look to it. I know I've been showing lots of pink, which I love. But, I'll be parting with lots of pink pieces at my sale. I've had lots of questions about Shabby Chic style, so I made a quick little video on adding Shabby Chic style to your home. Make sure you subscribe to my YOUTUBE channel 🙂
So now that the weather is getting nicer, are you gearing up to get out and shop the yard, garage sales and flea markets?
If you do, pick up those pieces that need a little love and transform it.
Supplies used for this project: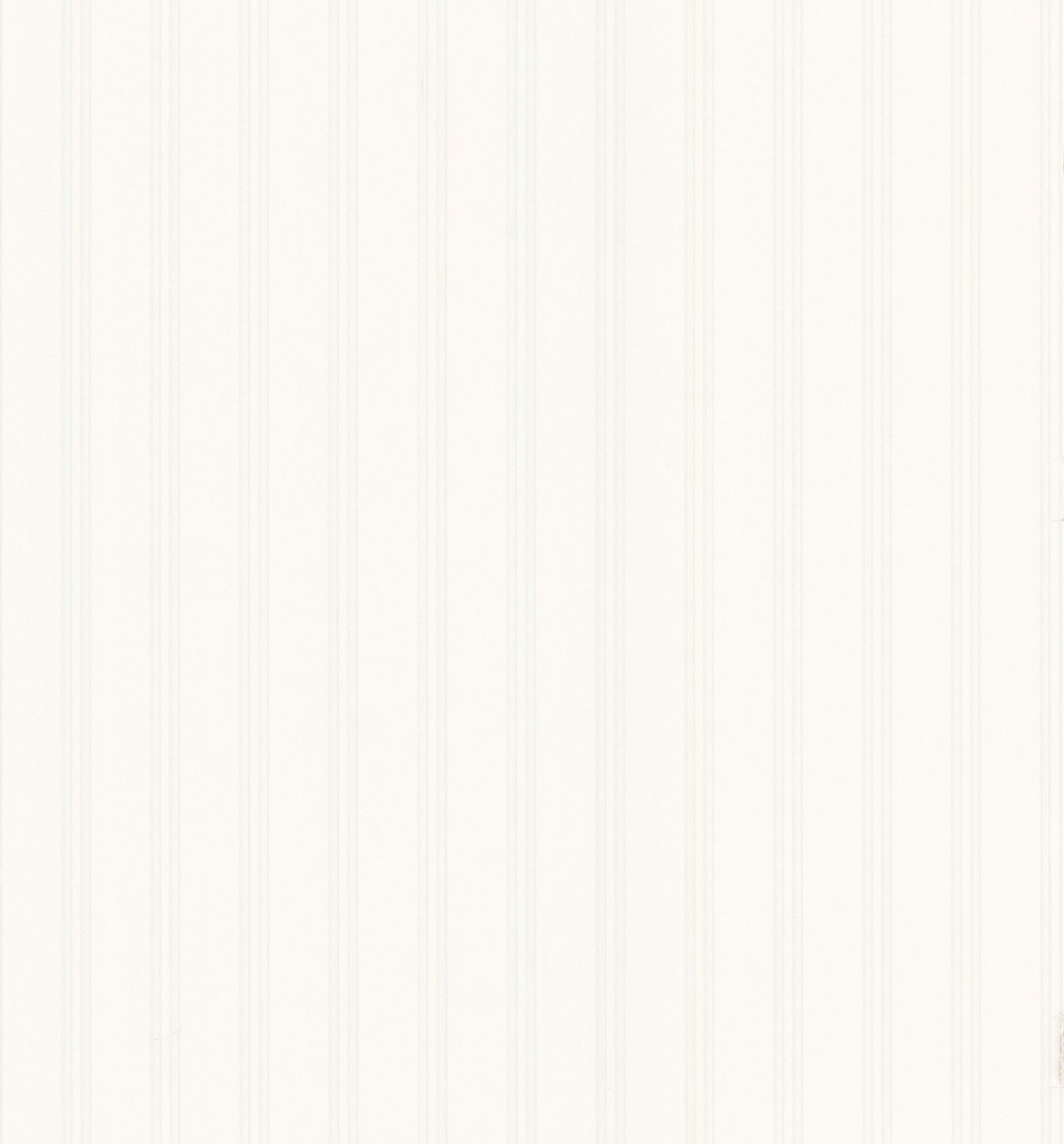 Posh Pink paint- Heirloom Traditions
Make sure you use the code WHITELACE for 10% off of your order!