I shared a little about our Disney trip and also a few tips HERE,today I wanted to share our visit to The Grand Floridian resort and spa.
We did a split stay five days at the French Quarter and six days at the Grand Floridian.
When you do this they will take your luggage and bring it to the resort for you,nothing is complicated you can still enjoy your vacation.
Disney was offering a 35% off some of  the resorts,because of this offer we decided to jump on it and stay at the Grand Floridian as part of our visit.
This offer was good until the end of February yes that is how far in advance you need to start booking your trip.
This offer was not available for our favorite resort the French Quarter,but was available for most of them.
Since we were celebrating our silver anniversary we thought it would fun staying here.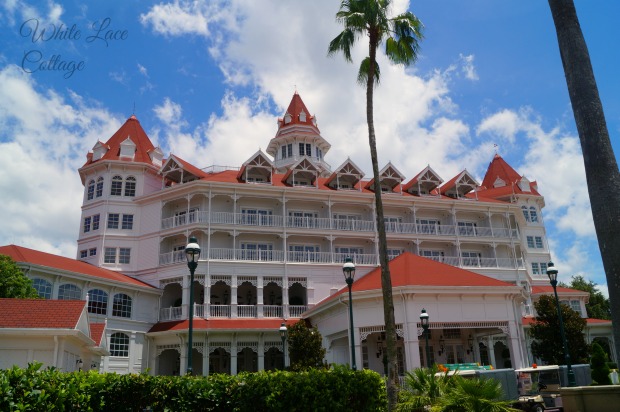 This resort is absolutely gorgeous,and so many of my friends have told me I can't believe you have never stayed here before because it's so you.
Well one of the reasons we have never stayed here before is because it is very expensive,besides the contemporary this is one of the most expensive resorts on Disney property.
Now that we stayed here I am hoping to save up and stay her again,yes it was totally worth the extra money.
The grounds are absolutely gorgeous everywhere you look.
Missing these trees already.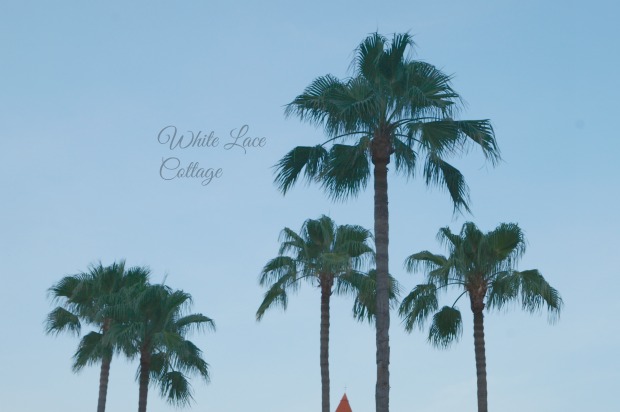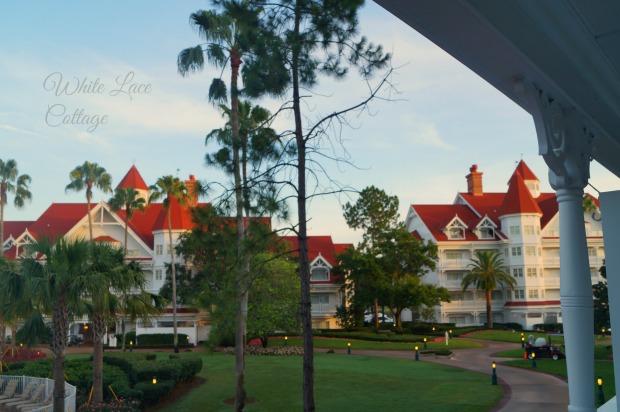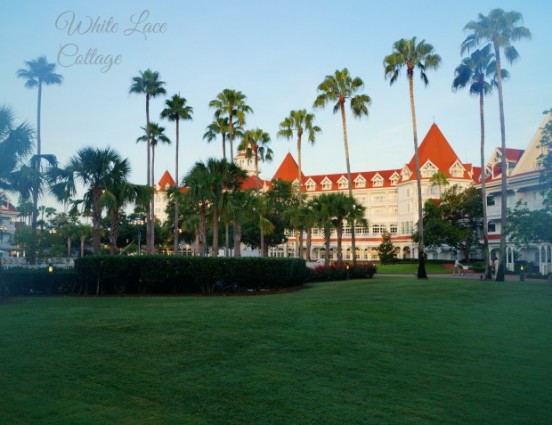 Most mornings the air was full of humidity,I had to keep wiping my camera lens off,you can see in this photo I missed a few spots.
But you can see how beautiful this resort is!
I enjoyed getting up walking to get my coffee each morning sitting ,relaxing and looking at all the beauty around me.
And I did not have to walk far to see it our view from the room was amazing.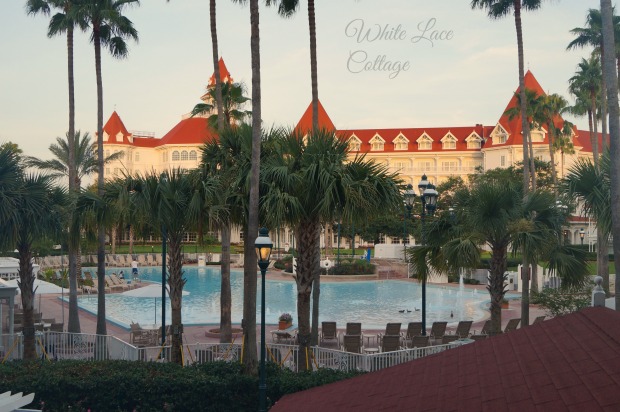 This was shot standing outside of our balcony,two chairs and a table are set up so you can sit and enjoy.
Every morning a family of ducks would take a swim in the pool.
One night we were able to sit and enjoy the fireworks from the pool,as my daughter swam with the ducks.
You can view the fire works from just about anywhere at this resort,and they have a special boat electrical parade that you can view from the resort.
Wish I had photos,but some memories you have to enjoy the moment with out reaching for your camera.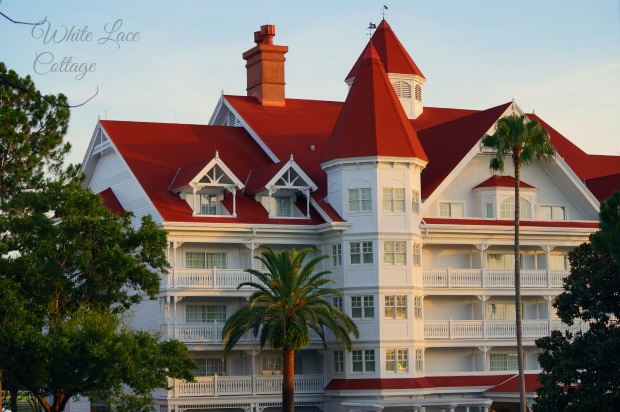 This was another view from our balcony,just to the side.
I can see why many are married here is is absolutely gorgeous!
Before I show you the room lets take a look at the gorgeous lobby.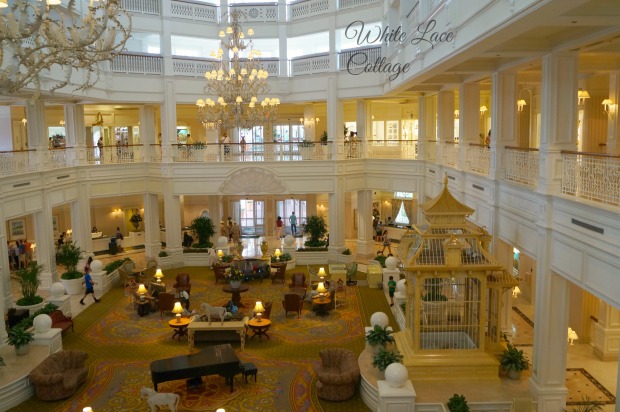 The day we walked in here the pianist was playing,what a way to start our vacation.
He plays off and on throughout the day,they also have a band The Grand Floridian Orchestra.
It's so relaxing sitting and listening to the music.
~~~~~~~~~~~~~~~~~~~~~~~~~~~~~~~~~~~~~~~~~~~~~~~~~~~~~~~~~~~~~
I have to share a little story before I go on,as my family and I were leaving to get on the monorail one morning we noticed this lady sitting with her suitcase decorated with teddy bears.
She was wearing a wig and was dressed very extravagantly,you really noticed her.
She looked a little strange sitting with her suitcase and teddy bears,we continued on are way but were puzzled.
Again on another day I spotted her sitting with her suitcase,figuring that she must not be staying here.
She got up and walked over to the elevator and was gone,but this time I noticed a sadness about her.
You could see it in her eyes.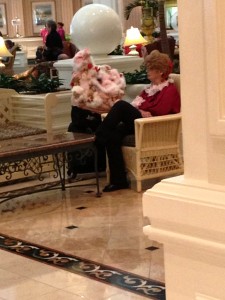 (photo source the magical world of )
After researching and reading I found that this ladies name is Lynn and she lost her husband many years back.
Lynn and her husband would often visit and listen the piano music,so I am assuming she still likes to come here in honor of her husband.
Now I wish I would have talked to her,next visit I will!
As they say never judge a book by it's cover,you never know what someone is going through.
~~~~~~~~~~~~~~~~~~~~~~~~~~~~~~~~~~~~~~~~~~~~~~~~~~~~~~~
This lobby is one of the grandest I have ever seen!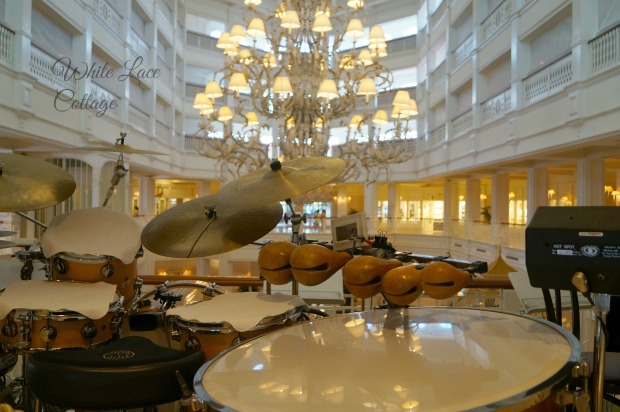 This is up close where the band plays,they have an amazing view of this lobby.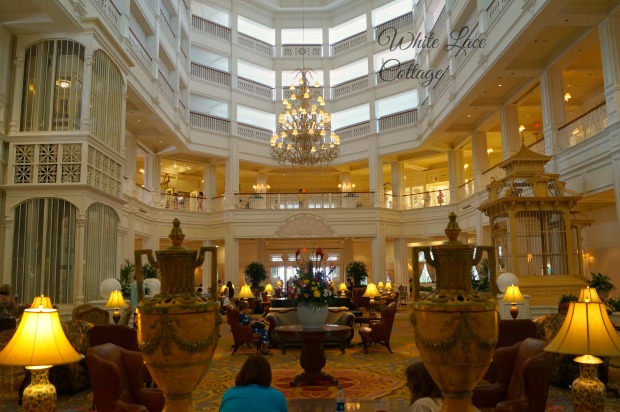 The ceiling is amazing!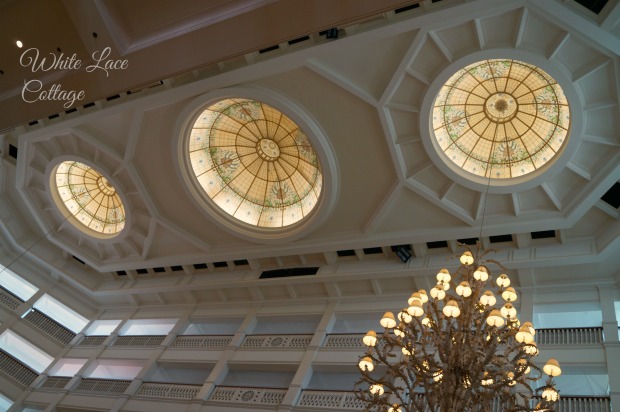 Lots of attention to details!
Are you ready to see the room?
This room is a standard room at 440 square ft.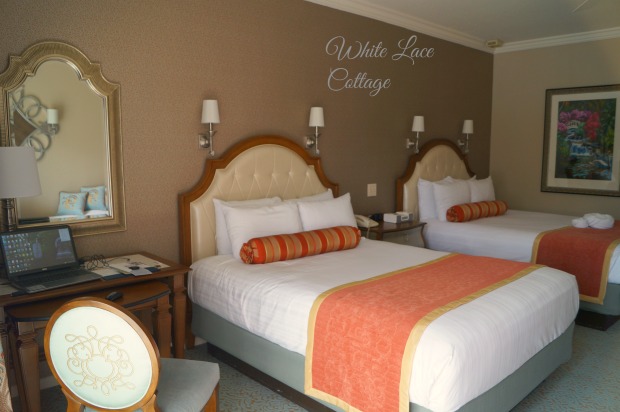 Very simply decorated,but I like it.
You notice they don't have bedspreads any longer,and I think most of the resorts here don't anymore.
I am glad because I never used those anyway,I always heard that they were never cleaned after each guest.
Not just here but any resort or hotel you stay in,if they have a bedspread chances are they are not cleaned often,which is really gross!
I took these photos after our 4th day so you will see some of our personal things set up.
But everyday that towel Mickey was on our bed 🙂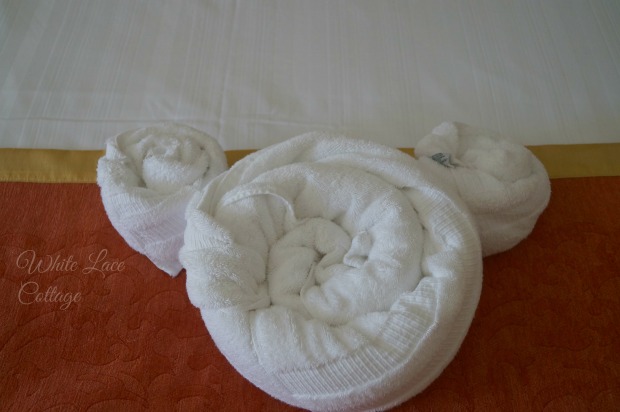 I love this desk area great for setting up our laptop,although neither my husband or I did very much work.
We did check email but the internet was really slow no matter what time of the day you were on .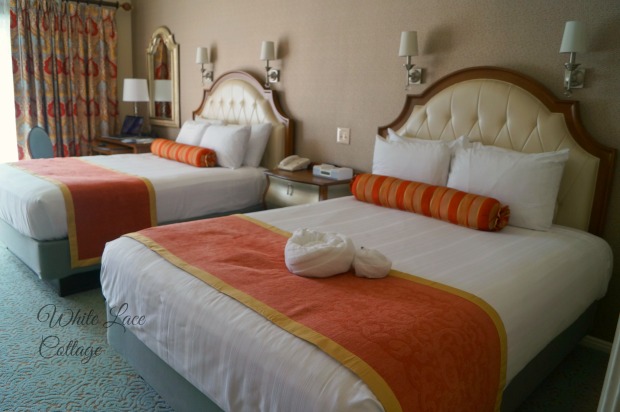 Because there are three of us it was nice we all had our own bed,my daughter slept in the fold out sofa.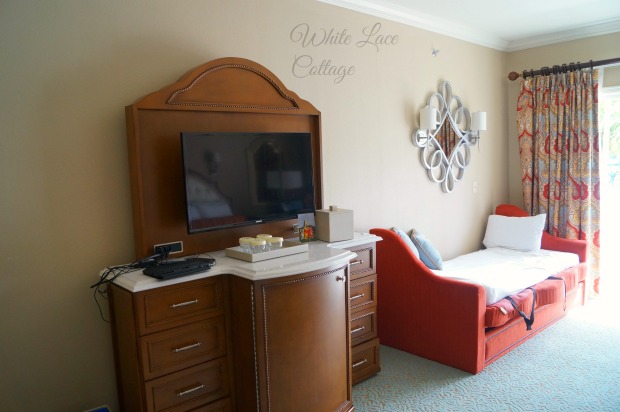 That is the sofa bed already opened the day I shot these,this was great and did not take up extra room like most do if you have used these you know how difficult they are to open and how much room they take up.
My only complaint about this room was the lack of space for clothes.
That piece is the refrigerator in the middle portion,and on the side is the drawers to store your clothes.
It was very tight for three of us,I was able to hang my husbands shirts,but our shorts and things were tightly squeezed in.
Not sure what they were thinking when they put this in.
It looks great but totally not functional.
This room did have plenty of outlets which was wonderful,we have many devices to plug in and at the French Quarter we only had to outlets to plug in 6 devices!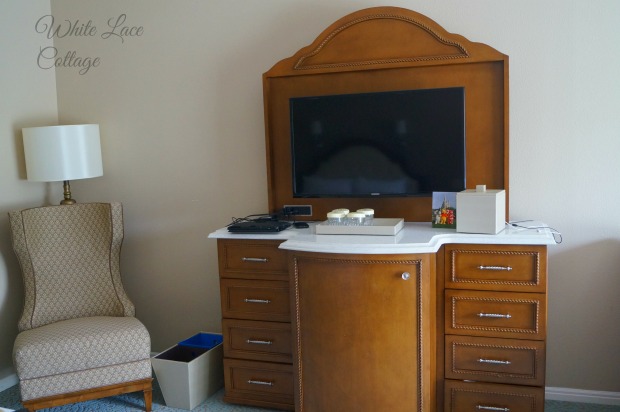 Outlets are on both sides of this piece,that white ice bucket is blocking the other outlets.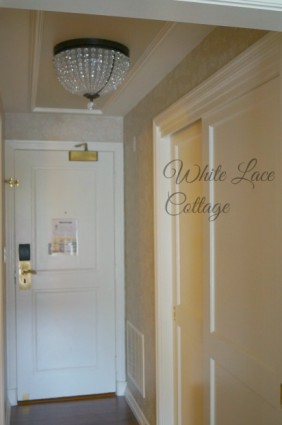 The closet was very large for hanging clothes,they also had a safe if you needed store valuables when you left the room.
Love that little chandelier.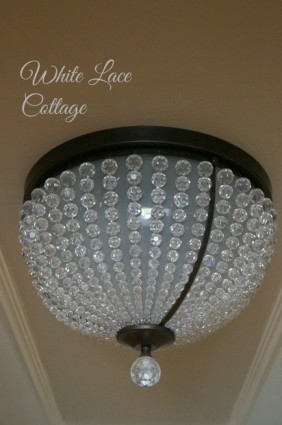 Sort of reminded me of mine in my kitchen.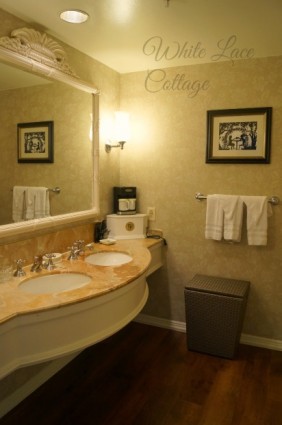 The bathroom was very spacious for a standard room,and I love the hamper.
I think every hotel should have a hamper,I hate throwing towels on the floor!
They gave you plenty of clean towels too.
They also had a little coffee maker as each hotel always has,but I never used it.
And they had a hair dryer,not attached on the wall but it was placed in a satin bag for use,how fancy is that a satin bag!
I also enjoyed using the spa robes and wished I would have purchased one!
One thing I forgot to take a photo of is the magnifying mirror with a light,yes that had one in the room.
And for someone like me who wears readers this was wonderful!
Every hotel and resort should have this too!
Again I love the details like that sweet silhouette photo of Alice and the mad hatter.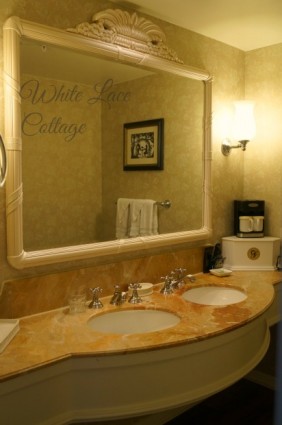 The water closet was separate which is nice when you have three in a room.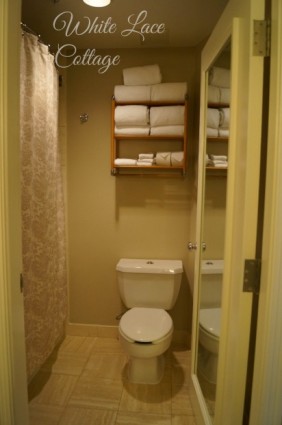 Love that shelf storing the towels,it's wood maybe bamboo not sure but I love it!
Another favorite of mine in this room is that mirror on the door.
So nice to use when I was styling my hair,I could see the back of my head,Love this and would like to have this on my master bathroom door !
Not sure I can since I have a different door,but I love this!
Here is another shot of our view from our room.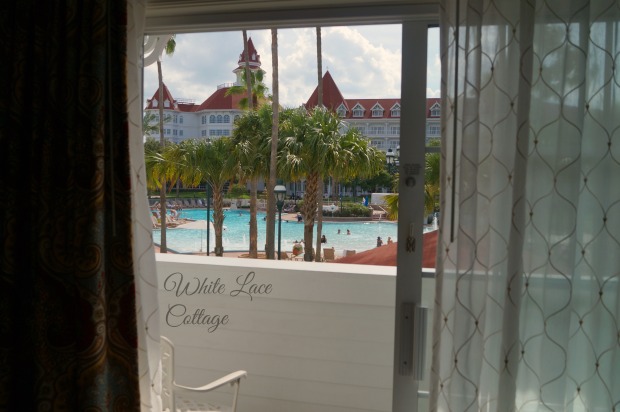 A fun spot to take photos was at the front entrance,they have a carriage and a vintage car.
When my daughter was small we brought her here to take photos of her after visiting the Bippity Boppity boutique.
That is where they can make you look like a princess.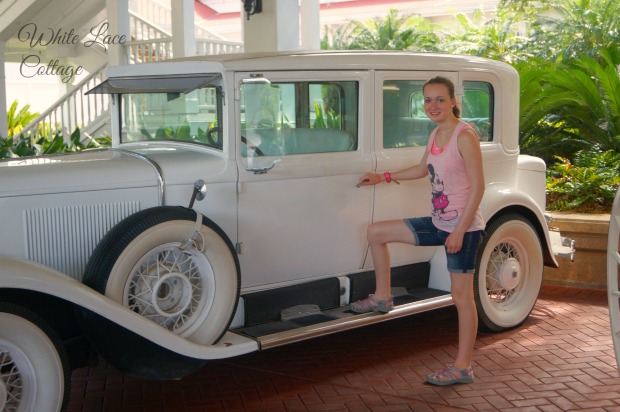 I bet many brides photos are taken here!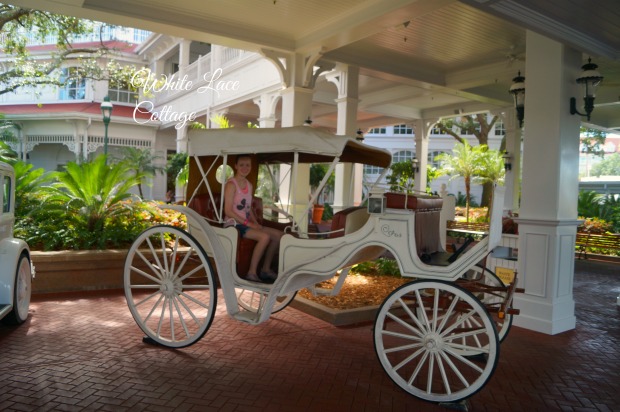 Now that we are home we have to get back to reality,like no more turn down service with chocolates on our bed every night.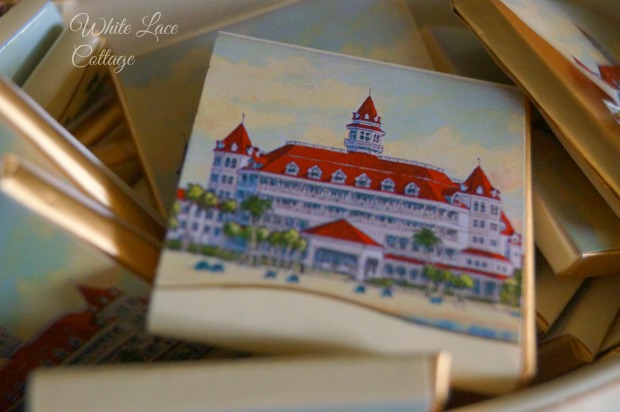 We are all going through the Disney blues!
There is something magical about that place,you don't want it to end.
Although at the end of our 12 day stay we were ready to go home,once you leave you are sad.
Like you are leaving family and you know you won't see them again.
I think it's nice to take a break from reality,I did not listen to any news while we were gone.
So nice to escape into a dream world for awhile.
But I must also admit I enjoyed the hot Florida summer.
Yes even the humidity,see we are experiencing a very cool summer.
It's been in the 60's most days sometimes the 70's,for some that is a dream summer but I love the heat and humidity of the summer!
I live for summer because we endure cold winters like this past winter.
Not sure when,probably many years down the road I see my husband and I moving to the sunshine state.
Probably more north or central part of the state.
Yes I can dream right and if you are a Disney fan you know that dreams do come true!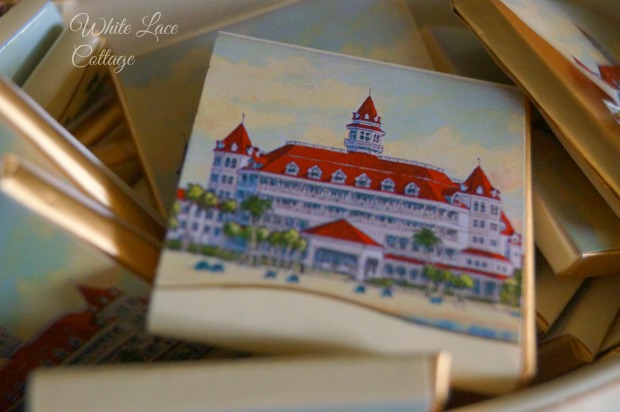 Joining: