I love shopping for souvenirs when I am vacationing,bring home something to remember our special trip.
I found many souvenirs this past trip like perfume,a few Vera Bradley bags,and a few music cd's of the music they played at our resort.
While I was out shopping at our resort I stumbled on a lovely print they had of the Grand Floridian.
As soon as I saw it I knew just where I wanted to put it,but I was not sure how I wanted to frame it.
Of course I  did not want a brand new frame,I wanted it to look old.
Still I had no idea of what to do so I started looking in my studio for frames I had.
Nothing was really speaking to me,until I stumbled in a few chippy scrap pieces I had.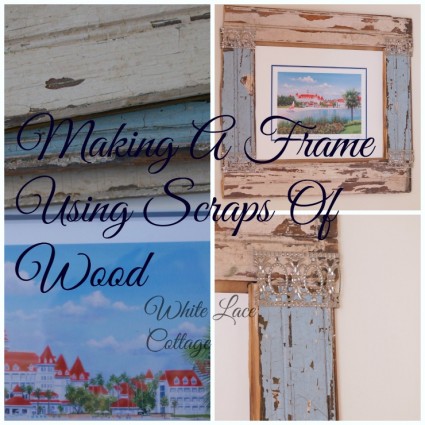 Yes this was a light bulb moment!
This won't be a tutorial because I was making this up as I went along,not knowing what would happen.
Am I the only person that does that?
Sometimes it works out…sometimes not so much.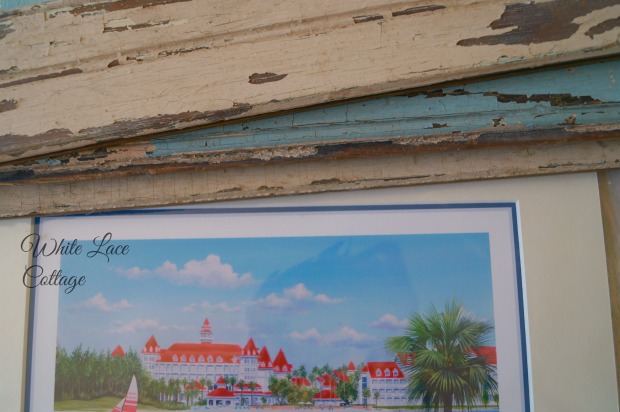 I laid the pieces out to see how this was going to work,I am no engineer only a creative artist.
You can see I only have three pieces of wood,but I measured and I knew I would have enough for the full frame.
Yes one piece is blue,I thought it would work great with the matting.
This is where you are going to think I am crazy,but I still don't have an electric saw.
Did you hear that Home Depot,Menards,Sears,Lowes,Ace Hardware….Hint…Hint…Hint… wink…wink
Anyway I pulled out my Stanley shark hand saw and I sawed,and sawed and sawed.
This was no five minute job,I won't even tell you how long it took,you may faint!
I think I could have survived back in the days of no electricity…or maybe not.
Anyway finally my first piece was cut,then the second,looking good!
Then the third….uh oh miss calculated.
Remember when they say measure twice cut once,I missed that step.
And it was a very small piece I needed to cut.
Oh well here goes….finally the third piece was cut then the last piece,uh oh….yep I forgot that second step again.
Back to sawing the last piece,finally I was done!
Now how to put it all together….yeah I told you I was not an engineer!
I first glued it,but it was not sticking well.
You see when you hand cut pieces,well they are not always straight,so there was a slight angle to each piece.
Then I decided to use my staple gun to attached it from the back of the frame.
It worked for some of it,but it was not attaching well at all.
Next…..next what to try next.
Okay I have some pretty metal trim….yes….how about wrapping the sides of it to cover the corners,by doing so making a bracket,but it won't look like a bracket just a decorative piece…brilliant!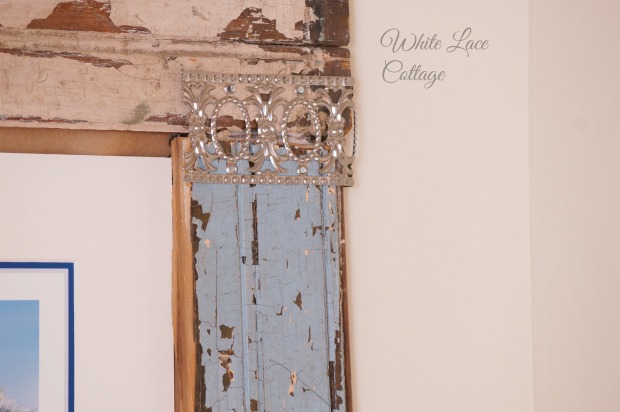 Okay so I am not going to show you the ugly part,you know the back of the frame with the staples.
But you can see that decorative metal piece is wrapped around the side all the way to the back.
On the front I just used finishing nails,on the back little screws.
That metal piece was found a year ago at Hobby lobby,when I bought it I had no idea what I would do with it,well until now.
This worked great it is held together very well,and sturdy!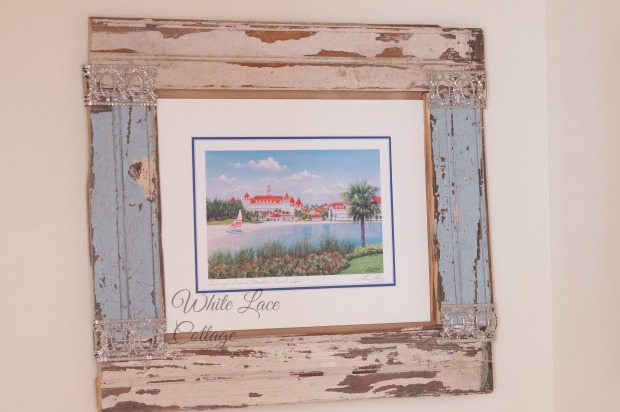 Tada! Here is my finished frame made from pieces of vintage chippy scraps.
The art  sits right in this piece,I just used a bit of tape on the back of the matting to attach the backing…next step.
I am thinking I would like to have a piece of glass fitted in here too.
And I need a bigger piece of matting,if you look closely you can see a small gap.
To disguise it a bit I added some brown packing/wrapping paper I had.
I just stapled the paper to the back of the frame.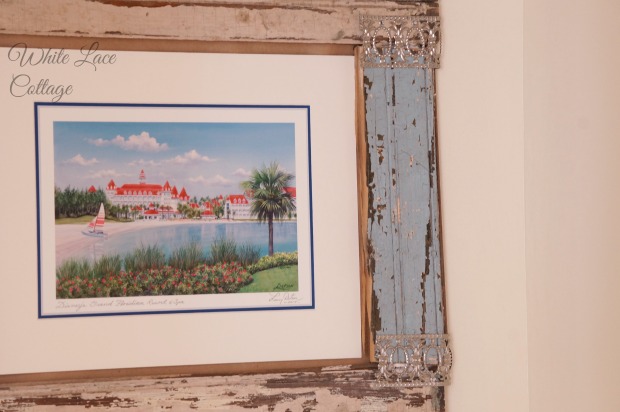 Love this beautiful art,memories from our vacation.
It is hanging in our guest powder room,I was looking for something for this spot for awhile.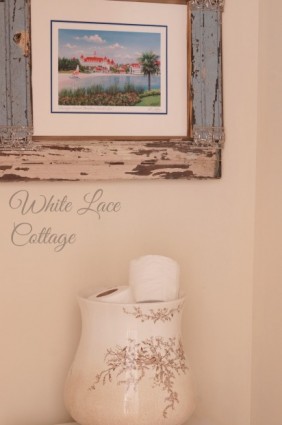 On the back of the print which by the way is signed by the artist,it tells a little about the artist and his work.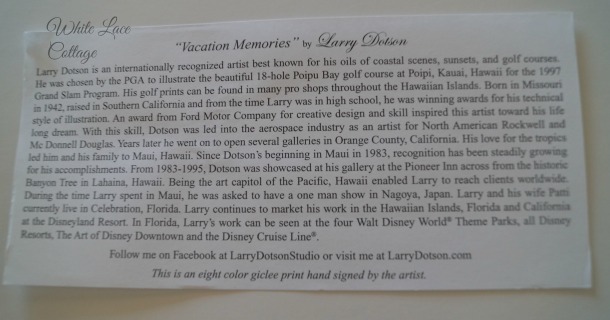 I love the name of this too "Vacation Memories" this piece truly is a wonderful memory from our trip!
~~~~~~~~~~~~~~~~~~~~~~~~~~~~~~~~~~~~~~~~~~~~~~
I was receiving messages from many who no longer were getting White Lace Cottage sent to them via email.And there have been many other issues lately with feedburner.
So I decided to take the plunge and sign up with Mad Mimi.
If you were receiving it nothing should change.
Please let me know if you are not getting it sent,you may have to sign up again going through Mad Mimi.

Joining: