I usually have pretty pictures to share,but today I am sharing before photos of my next project that is  on my list.
Because we are building our screened in porch it's not in our budget to do anything big.
But I needed to make changes.
You see this is our master bathroom.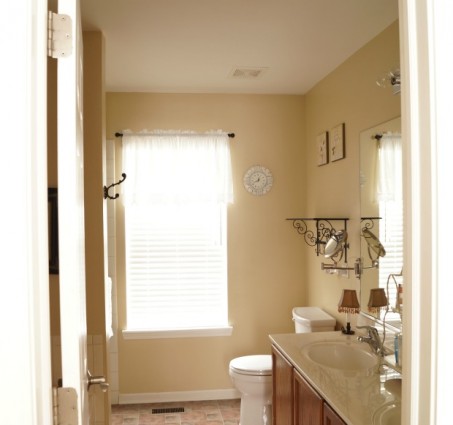 Yep that's it!
Behind the door is a tub we never use, up on the left is our shower.
Our vanity has no drawers, we do have a medicine cabinet.
I know some people hate those cabinets but I actually like having one, just not the one we have.
There are so many ideas I have for this bathroom.
But they are on the someday list.
For now I am going to do a mini makeover.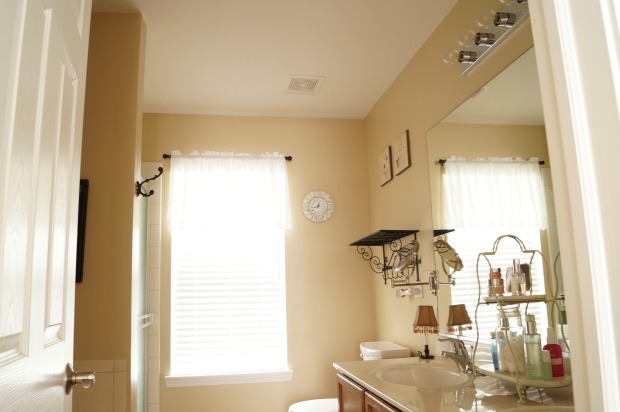 I really dislike those lights!
And that rack above the toilet is not coming back either.
I use that for our towels and you can see it's laundry day around here,we are out of towels.
The flooring and counters are staying.
Not changing those,because when I am ready to really change I don't want a temporary fix .
I am going to paint the walls,cabinets,a new light fixture and a few other surprises.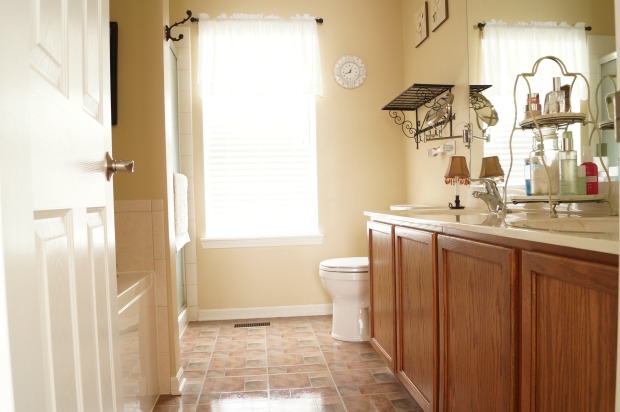 So take a good long look if you dare,because this will be the last time you see this room like this.
It won't be done over night,I am still looking for a new light.
I am thinking something with a little bling.
And yes  I am doing this on a very tight budget,
I already have the paint and some accessories for my bathroom.
Hoping to start in the next week.
~~~~~~~~~~~~~~~~~~~~~~~~~~~~~~~~~~~~~~~~~~~~~~~
I am sure you have noticed a few changes going on here.
Janel from Mrs. Fix it has been working on my blog design.
I needed to update somethings so my blog would be mobile compatible.
I know many of you view my blog on your phone and ipads and right now its not mobile compatible.
But it will be very soon!
If you are looking for someone to help design your blog or if you need technical assistance then Janel is your girl!
She is amazing to work with!
She responds quickly to emails,listens to what you need and she is also very reasonable.
And she does an amazing job too!
Visit Janel at Mrs. Fix It HERE