Well, I feel like I have been talking about my screened porch reveal forever, but today is the day I finally share my finished screened porch.
Let's take another look back at what the porch looked like a year ago.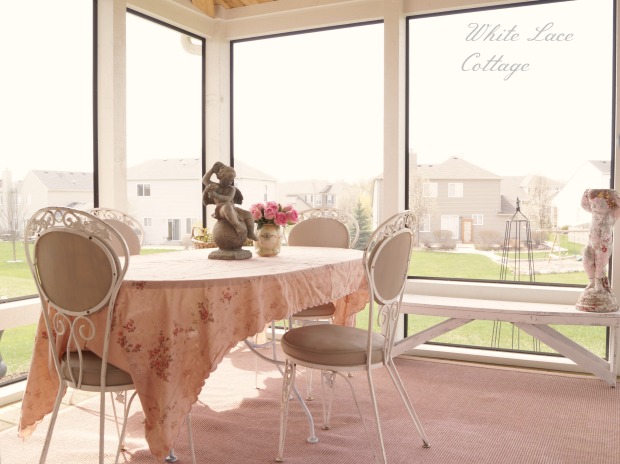 Last year I was unable to paint the floors, so for my daughters eighth grade graduation party last year, I resorted to this outdoor rug I found.
But I was beyond thrilled when I could finally paint the floors.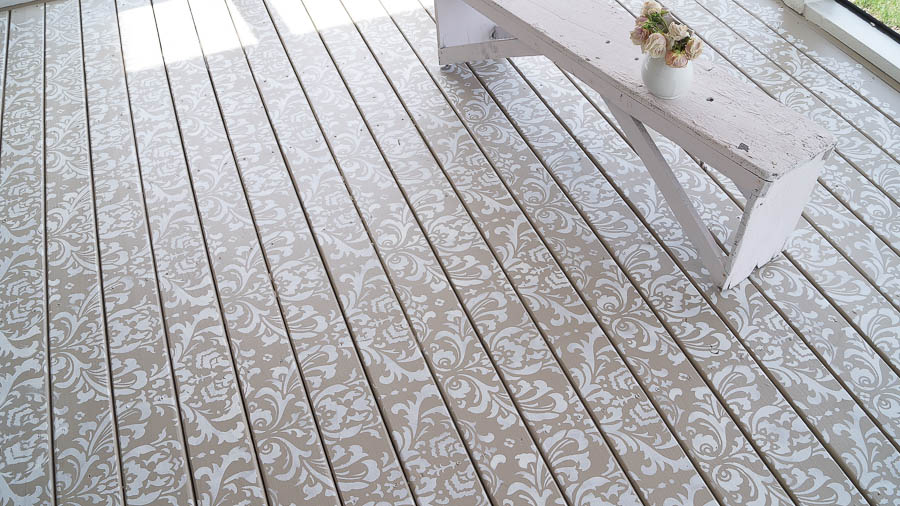 Yeah, I totally love my floors.
This was a lot of work, but so worth it for sure!
Next, I added my furniture pieces to the room, and that pop of color started showing up in my room.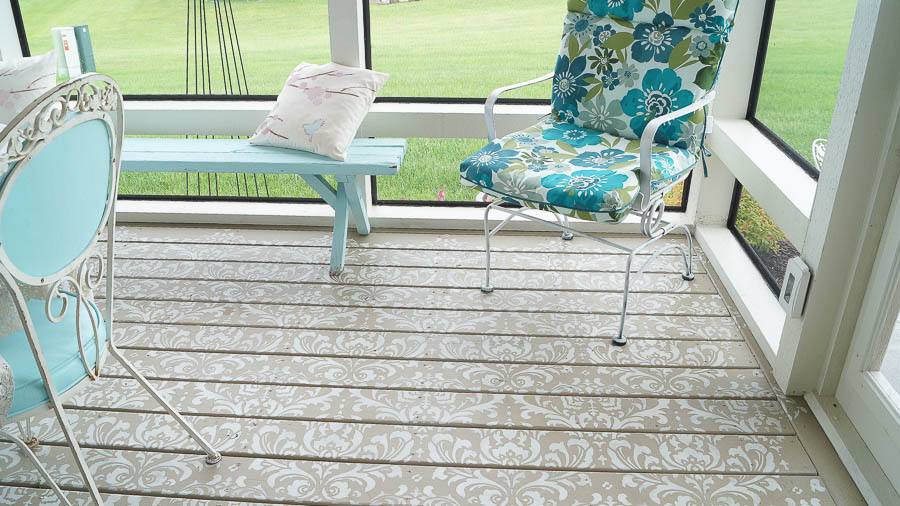 But my room was not complete.
I needed something to keep the sun out of our eyes at certain times of the day, and also, I needed a little privacy at times too.
We are not fortunate enough to have a wooded lot.
Although we do have a good distance between us and our neighbors, we can still see each other.
And sometimes you just want a little privacy.
These curtains work perfectly for that reason.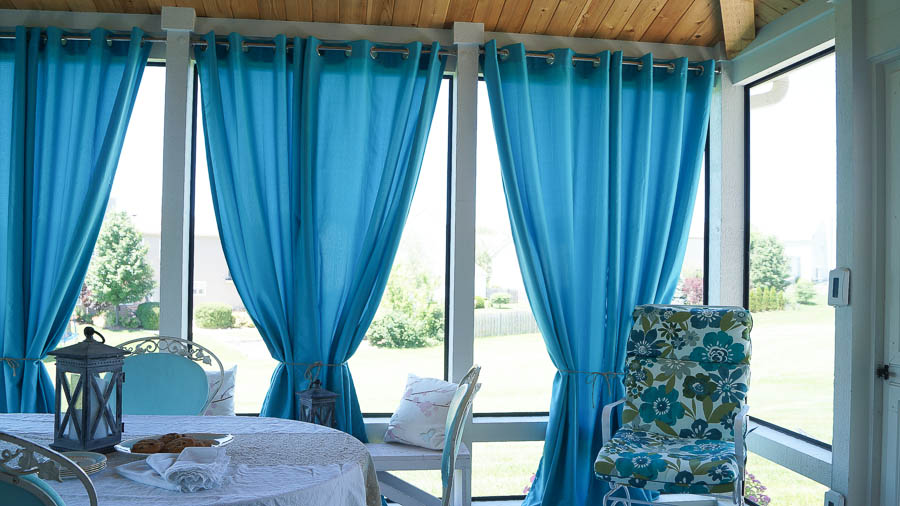 How's that for a pop of color!
Love these curtains so much!
These beautiful curtains are from Wayfair.com.
When I was searching online for curtains, I came across Wayfair.
I fell in love with these curtains as soon as I found them!
Yes, these curtains are the result of the color of my painted chair cushions.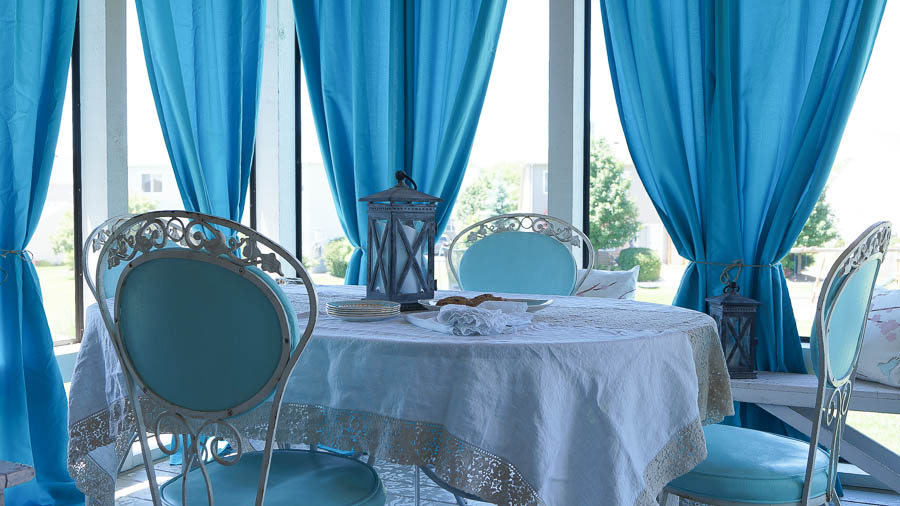 Everything seemed to fall into place, including my other chair cushions.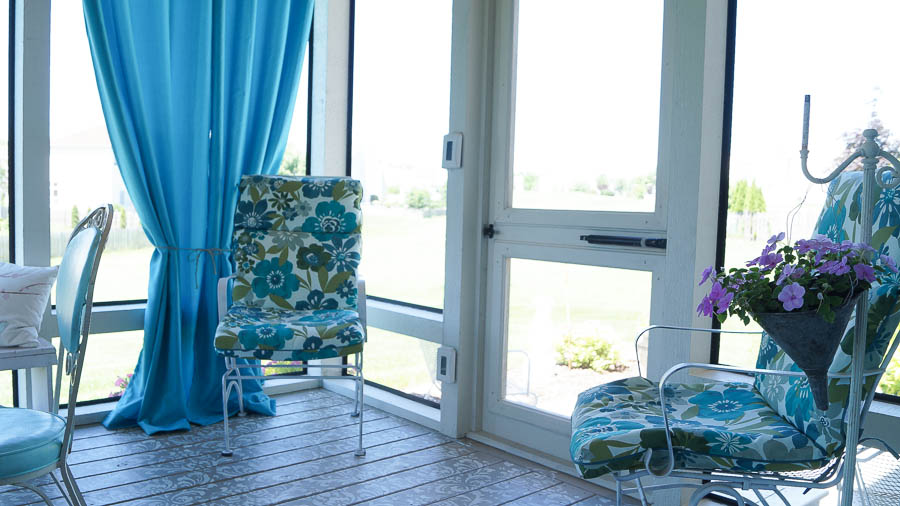 So before I go any further, your probably wondering how I hung mine.
Well, I did come across a few DIY ideas of how to make your own outdoor curtain rods.
But, let's be honest here, I wasn't up to making my own.
Which would involve cutting pipe.
Yeah, I don't have the tools for that.
I could have measured and asked if they could be cut at the store.
But I was so afraid they were not going to be exact.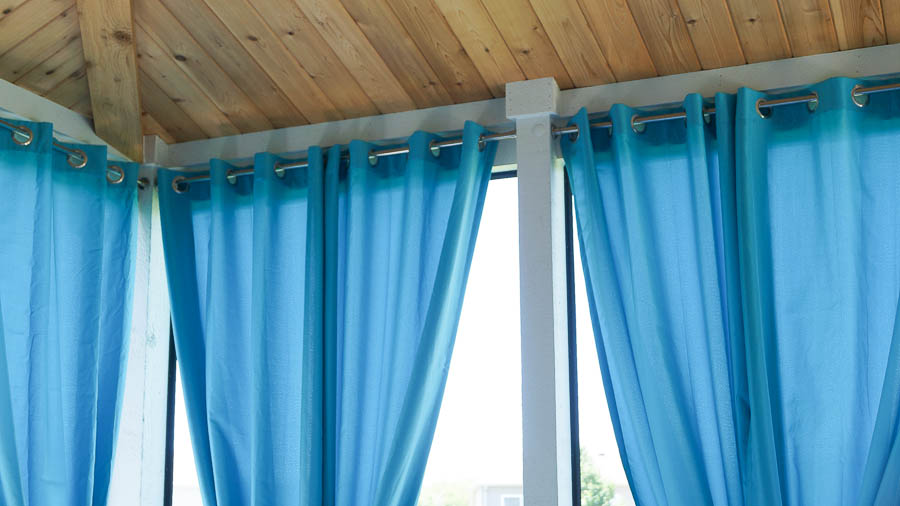 So I found these outdoor tension rods which are also available at Wayfair too.
These were so easy to install, I just had to take the cap off the end, add my curtains and hang.
I love easy don't you?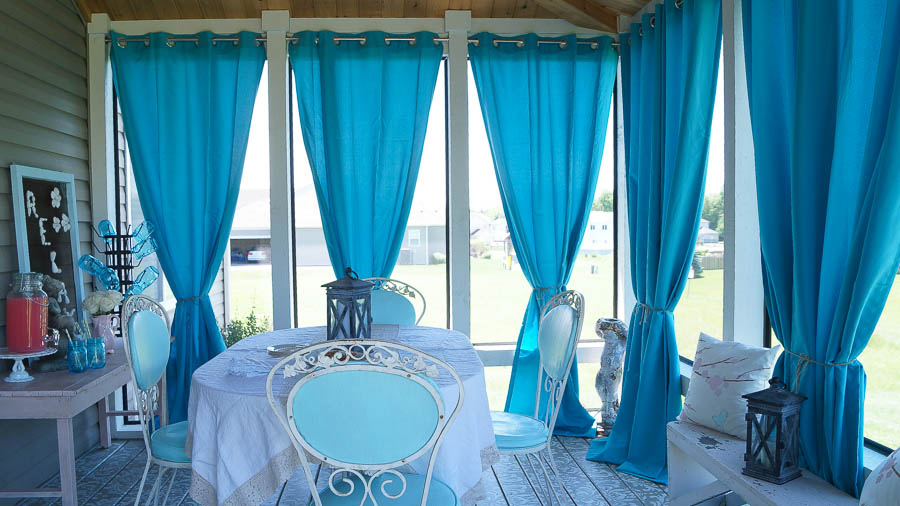 As you can see I have mine gathered in the center, and I just added twine to keep them together.
If I need total privacy all I have to do is take the twine off.
And, I can also have these hanging to one side as well.
Originally I was going to put these on each screen, but after adding these, I decided that I really only need these in the center and the one side.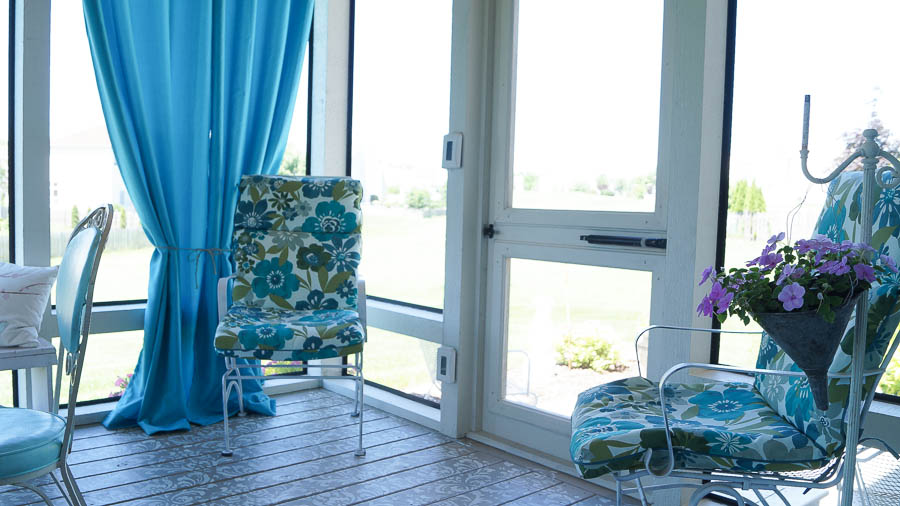 We really don't get sun from this side, and we do have privacy.
As far as wind, and we do get a lot of it.
I have not had a problem with these blowing all over the place, which could be annoying.
Oh yes, occasionally we have a really windy day and they may blow around.
But so far they have been perfect!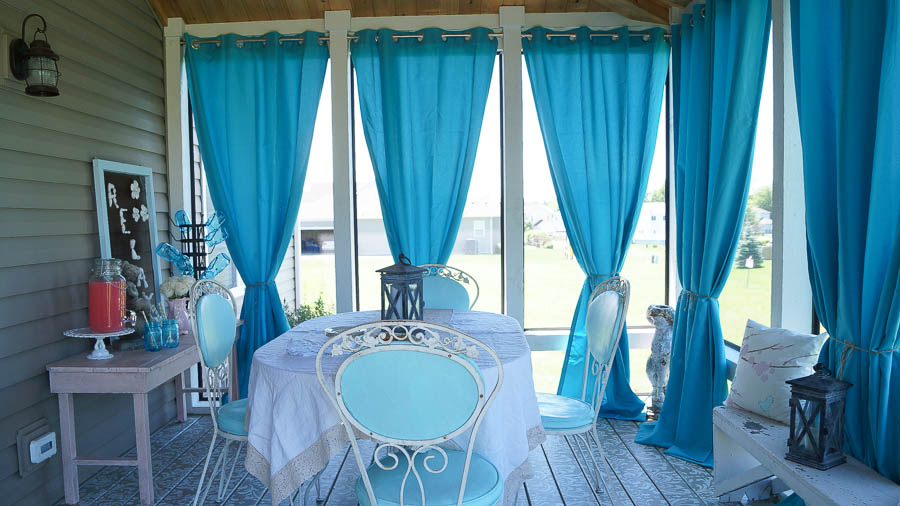 These curtains are a tad long as you can see, but I like how they are puddled on the floor.
Isn't the color beautiful in here!
My porch has sort of a beachy feel to it now.
That chippy pink side table works out great for serving too!
But I have to be honest, my porch is not always this dressed up.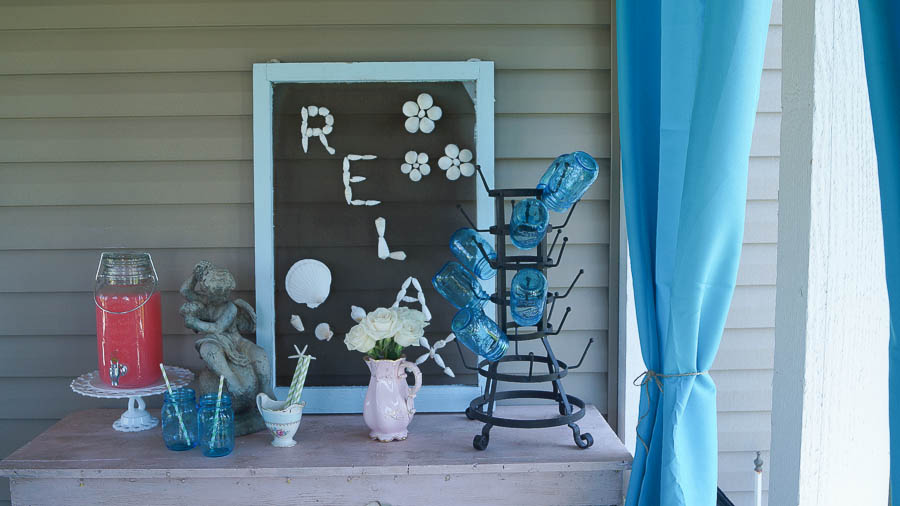 Normally I don't have my bottle rack outside.
But if I had company I would.
I also don't keep my beverage dispenser outdoors, but with company I would.
I just wanted to share what it would look like if I were entertaining.
For everyday, I have a large boombox, it's great for music.
If I had company I would just put it under the table.
But I can't leave it there on the ground all of the time.
If I did, and it rained, it would get ruined.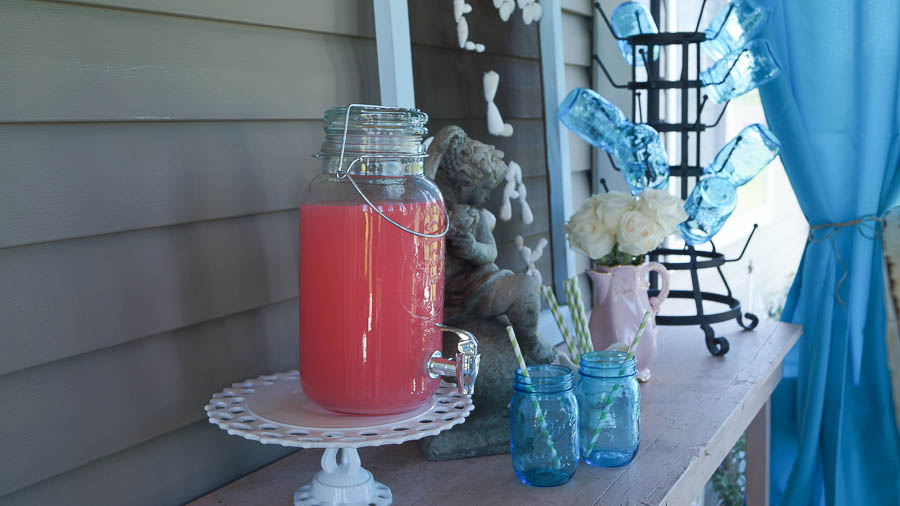 This is one of my happy places.
I am a true summer girl and love spending as much time outdoors as possible.
Do you enjoy your summers?
For me this is especially true.
Living here in the Midwest, summers seem to go by so fast.
And the winters are long and brutal.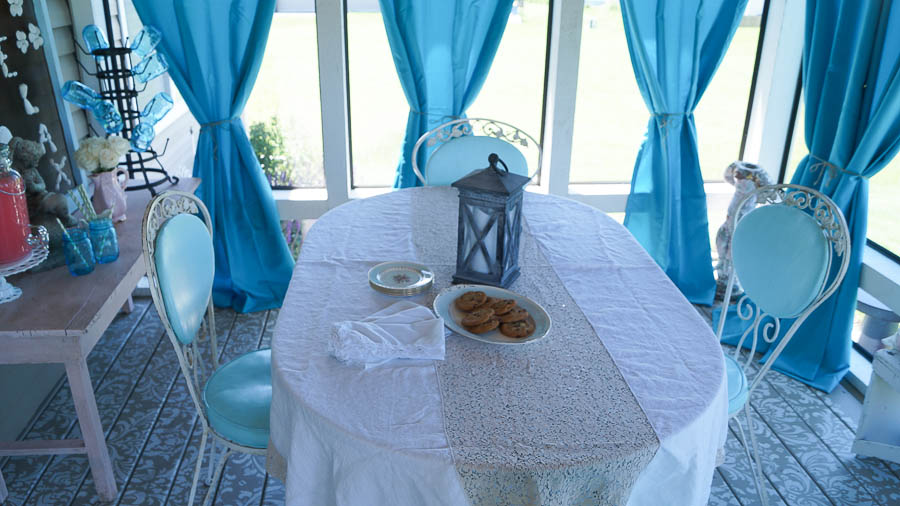 We enjoy practically every meal out here.
I also love sitting out here at night listening to the crickets and frogs.
And there is nothing more relaxing than the sound of the rain falling all around you, while your under cover.
No bees or mosquitoes to bother me in here.
Yes it's truly a haven and I am beyond thankful.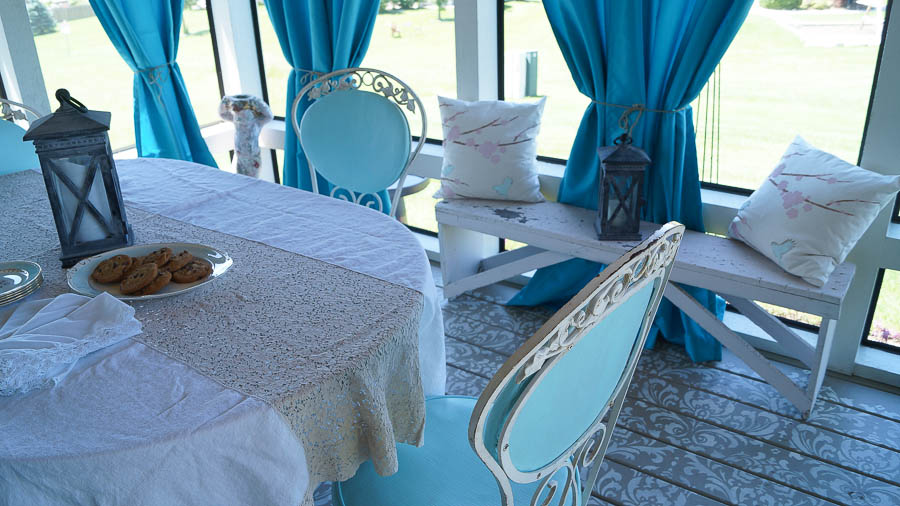 A screened porch will be a must have on my next home, without a doubt.
The best investment we ever made in our home.
I love the ceiling too, have I shared that before?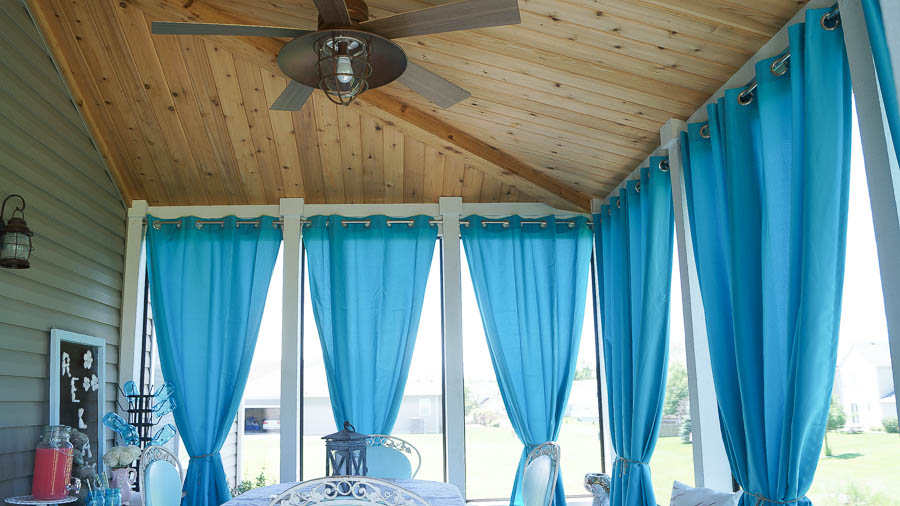 Love our nautical themed light and fan too!
This room has a great pitch, you don't feel closed in at all.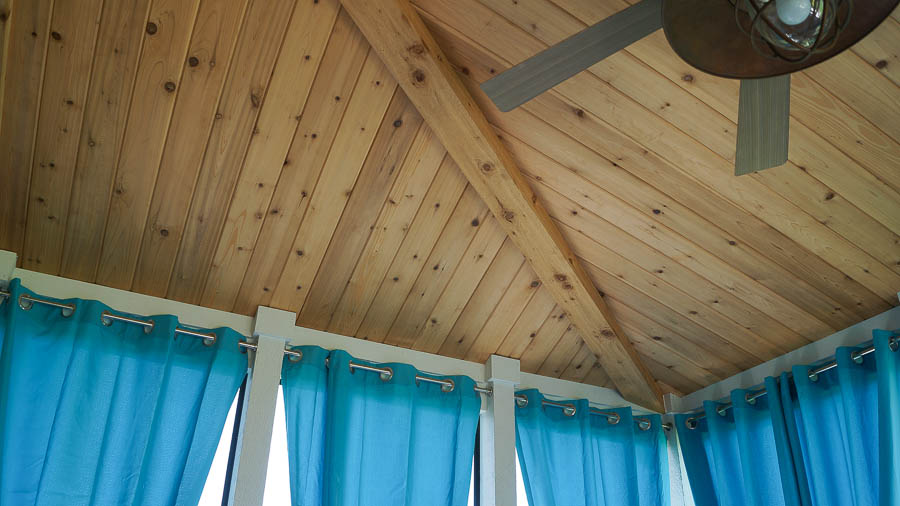 **Thank you so much Wayfair for making my screened in room complete.
I was compensated by Wayfair for my curtains, but all thoughts and opinions are that of my own.
Make sure to hop on over to Wayfair, they have an amazing selection for all of your indoor and outdoor decorating needs.**