Last fall we started the beginning stages of building a screen porch.
In our past homes we always had a patio,and rarely ever used it.
When we moved into our present home I told my husband that I did not want a patio,I would rather wait and save up to build a screen porch.
These photos are not very pretty,and it's the reason I rarely ever shared my backyard.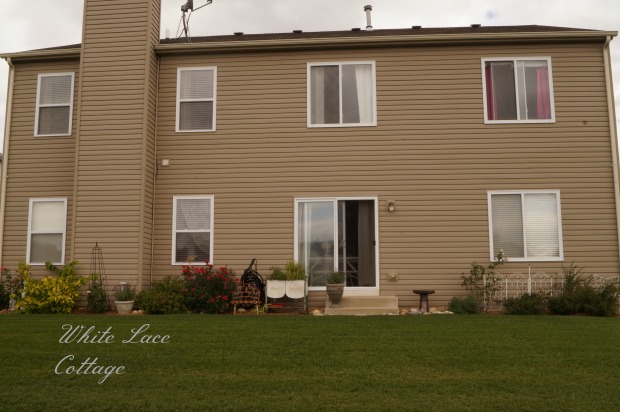 Yes this is the back of our home,that little stoop was our porch for seven years!
We used to enjoy sitting on our front porch when my daughter was small.
But we could never sit out for long because of the mosquitoes and yellow jackets that would fly around and annoy us.
Ah that is part of living in the midwest!
When we started our research for a builder we had an idea of what we wanted.
We wanted to build a room that we could sit in and relax,enjoy meals without being attacked by insects.
We were not looking for a seasonal room to be used in the colder months.
We also wanted to make sure that while sitting outside we did not have a wall obstructing our view.
Having the screens go down to the floor was a must for us.
I have big plans for the next coming years to create a secluded back yard, filled with beautiful trees,shrub and gardens.
And I want to be able to see those beautiful things as I sit and relax.
~~~~~~~~~~~~~~~~~~~~~~~~~~~~~~~~~~~~~~~~~~~~~~~~~~~~~~~~~~~~
Things to think about when building a screened in porch.
What is your budget?
What materials do you want used?
We wanted a room build from solid wood.
How big do you want your room?
Are going to to just use it for sitting outside and relaxing,Or are you going to use it to entertain and eat meals?
What kind of roof  do you want?
How many outlets do you want?
How many doors should you have?
Is it going to be painted or stained?
What about lighting?
Do you want a ceiling fan?
What about a skylight?
~~~~~~~~~~~~~~~~~~~~~~~~~~~~~~~~~~~~~~~~~~~~~
Roof designs are really cosmetic,but we decided on a hip roof.
We get lots of sun in our backyard and a gable roof would bring in even more light.
Hence the reason we did not want a sky light.
With a hip roof we can add canvas shades to block out some of the light if we need to.
We had a budget for our screened porch,and the prices vary between 20,000 and up.
We are also getting a side patio installed,this will give additional seating if we had a large party or if we want to grill.
We are vegetarians but we still need to have a grill for entertaining.
We decided on pine for our ceiling which the builder will add a clear coat.
The flooring is a treated decking that will be painted,more on that later.
We added four outlets not sure what my plans are,but now is the time to do it.
Much cheaper to add additional outlets now than later.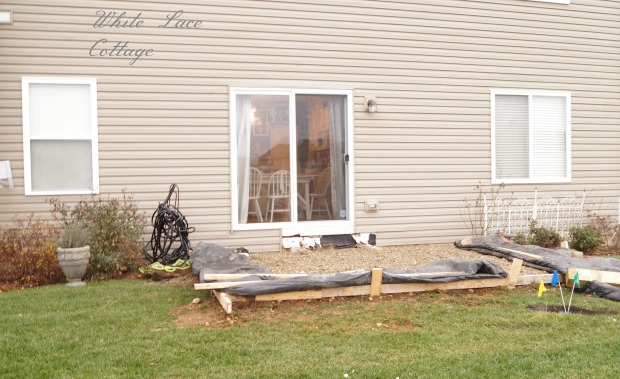 After the foundation was put in the next step was the frame and roof.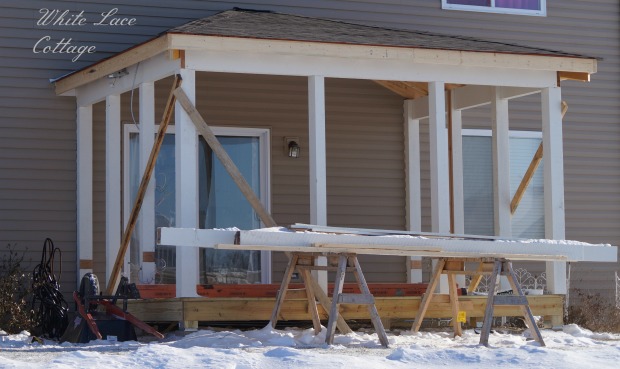 What a difference already!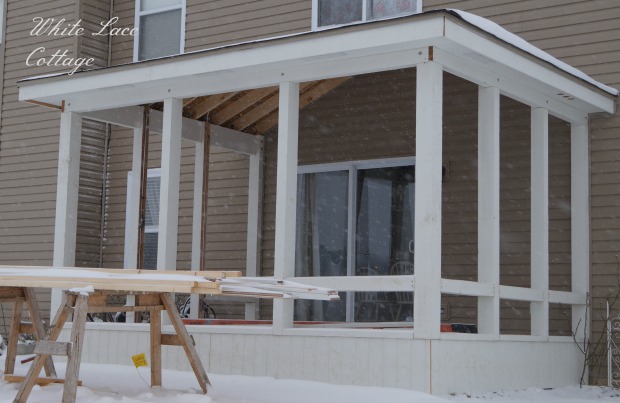 You can see the day I shot this photo it was snowing.
We added that knee wall for cosmetic reasons.
You can really get fancy but we were on a tight budget and could not go crazy with extra's.
We added one door on the side,So glad I only added one door.
I was thinking of adding a door on each side, but it would really limit how I set up our room if I had a door on each side.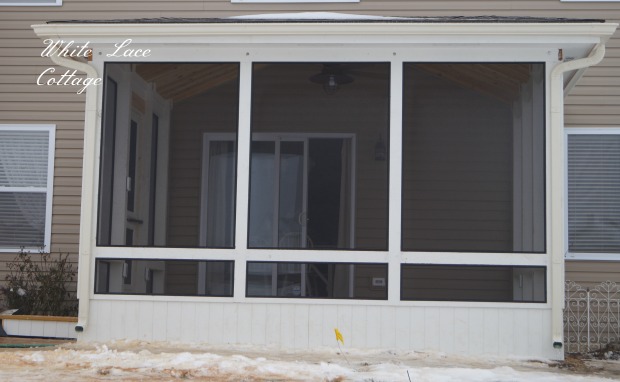 This is our room now, still lots to do.
With the cold weather and snow the builders had to stop.
We have been dreaming about sitting out here,spring seems so far away!