Reusable Wallpaper Faux Wood Accent Wall
I've been longing for a simpler look in my home along with a change. Since we are thinking of selling in the next couple of years I didn't want to make any changes on my walls that couldn't be easily changed. I love the look of wood plank walls. But decided against adding planks to my walls for two reasons. One is that it would cost quite a bit of money since I don't have the proper tools. Another reason is that I am chicken of using power tools without help. The third reason is that as I said above I don't want to add any wall treatments that can't be easily changed. I started searching for ideas on the internet and found peel and stick removable wallpaper. I had a light bulb moment and thought about using reusable wallpaper to create a faux wood accent wall.
Let me tell you this reusable wallpaper is a total game changer! Before I go any further I want to let you know that this is a sponsored post which means RoomMates sent me product to use. But I am giving you my honest opinion when I tell you that this is the easiest wallpaper I've ever used! Not only was it easy to use but it looks very authentic and is very affordable. So if you've been wanting to add a accent wall using wood planks but you've been afraid to do it, this faux wood reusable wallpaper from RoomMates is for you. Even if you are not a DIYer you will be able to use this reusable wallpaper . Let me explain how easy it is to use and how I applied it to my wall. Oh and by the way I not only used this in my family room but my kitchen as well. I will be sharing the kitchen soon. Today we are going to take a look at my family room wall.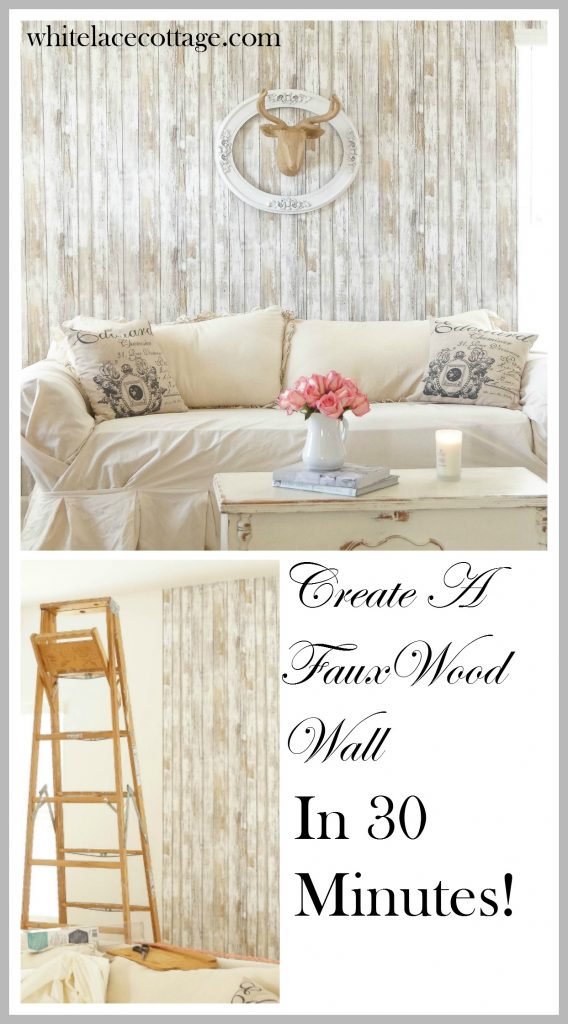 Using Reusable Wallpaper
Before you start your project using this reusable wallpaper you first need to determine how much wallpaper to use on your wall. This can be a little confusing. Measure the wall length and width then contact RoomMates and ask them how much you will need. If you have a door or windows on your wall  make sure to let them know and give them the measurements for those as well. If you are planning on hanging it horizontal or vertical make sure you let them know this as you may need a little extra paper depending on how you decide to hang it.
Tools For Your Project
Utility knife
Ruler, Yardstick or Tape Measure
Pen
Scissors
How To Begin
Normally when you are hanging traditional wallpaper you first need to measure out the length of your wallpaper so it will fit on your wall, leaving it a little longer as it shrinks a bit. Then you need to soak it in water if it's pre-pasted wallpaper. Next you would need to bookend it and let it sit while the paste starts activate. With this wallpaper you are eliminating all of those steps. So let's begin. I am going to share exactly how I applied this reusable wallpaper to my walls.
I started in a corner of my wall. I lined the reusable wallpaper up to the corner, then I peeled the backing off of the paper just enough so I could start applying it to my wall. As I worked down my wall I peeled more of the backing off and smoothed the wallpaper out any air pockets. I continued to work all the way down the wall then using a utility knife cut the excess off of the bottom of my wall at the trim. Make sure it's nice and smooth and slice it with your knife. If you have excess at the top of your wall near the ceiling make sure it is smooth and slice that extra wallpaper off. As you move down your wall make sure to line it up with the last piece you cut. This is very easy to do with this pattern, you really cannot mess up.
When I was working around the windows I had to cut shorter pieces for the top and bottom. But I used the same technique as above. I didn't measure first then cut the piece off. Instead I took the roll of wallpaper, held it up to my wall, peeled the back paper off and applied it in the section cutting off the excess. There was no need to cut each piece first, no need to bookend this is super easy to do.
As far as wallpapering around my outlets I applied my paper as I shared above so the paper was right on top of my outlet. Then I carefully cut around it. I could have added wallpaper to the outlets to disguise them. But you can't see them anyway since they are behind the curtains and furniture in that room.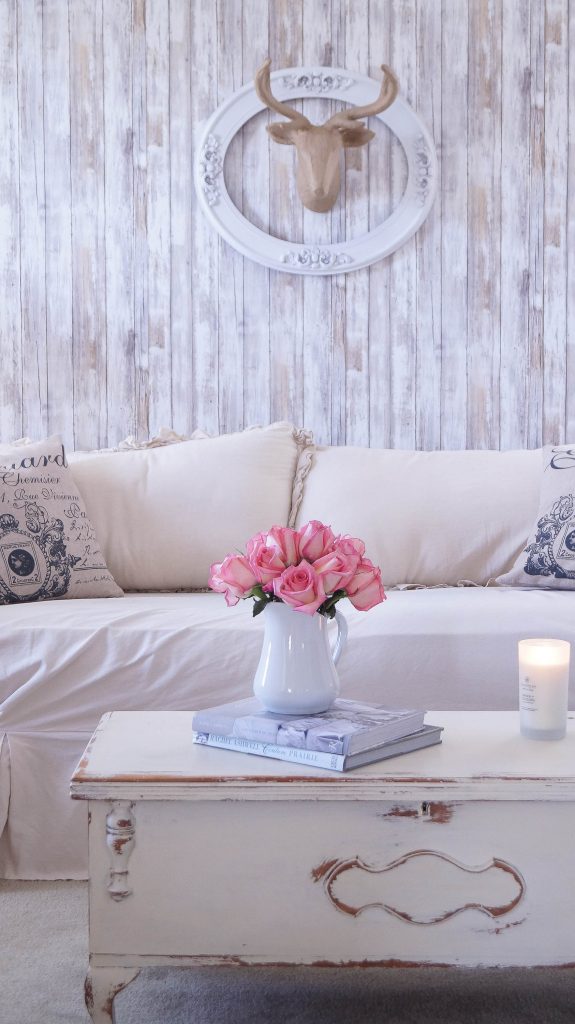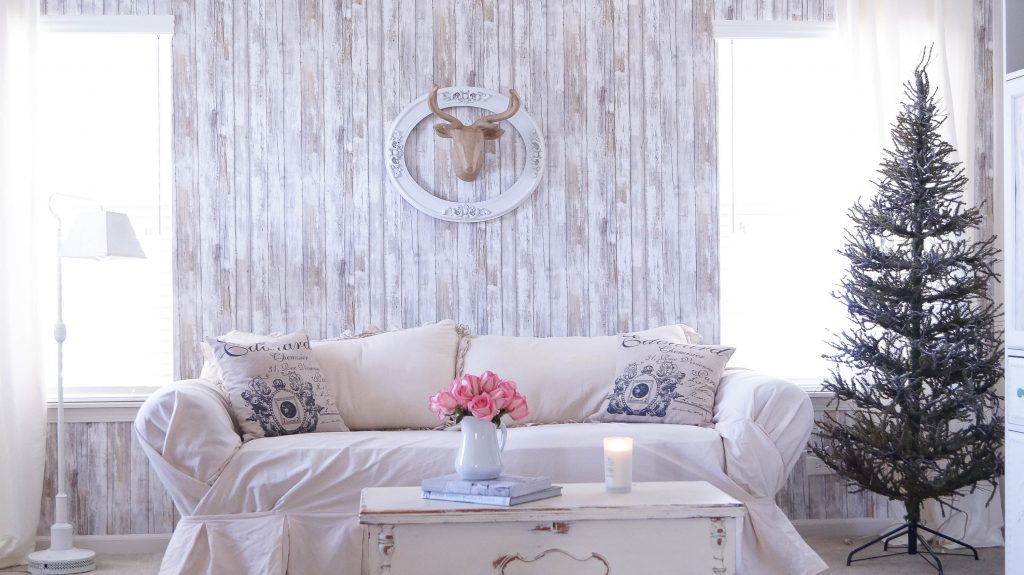 My Final Thoughts
This project was super easy to do and only took 30 minutes to complete. I love that it doesn't ruin your walls so when I am tired of this look I simply peel it right off. It's also very easy to work with. As I was applying it if I needed to peel it off to fix it I could. This wasn't messy to work with and I love the results. If you want an easy and affordable way to add an accent wall I would highly recommend using Roommates peel and stick wallpaper. They do have a few other patterns to choose from. But I love the weathered wood look. I will add that I don't think this would hold up in a bathroom because of the dampness.
This peel and stick wallpaper can also be used as an accent on a piece of furniture. If you wanted to add a fun touch to the front of a dresser this would be perfect! Again if you were tired of the look just peel it off. The quality of this paper is just like a regular vinyl wallpaper so it's high quality. It's not cheaply made at all. Can you tell that I am really impressed with this wallpaper? This will not be the last time I use this paper. I'm sure I will find another project to use it again.
I absolutely love the look of our family room with this RoomMates wallpaper. After living here for ten years I think this is my favorite look so far. As you can see I'm getting ready to put up our Christmas tree. This wallpaper actually makes a great backdrop for our tree this year!
Let's look at the before and after transformation of this room. I know I'm only sharing part of this room because I have more to come.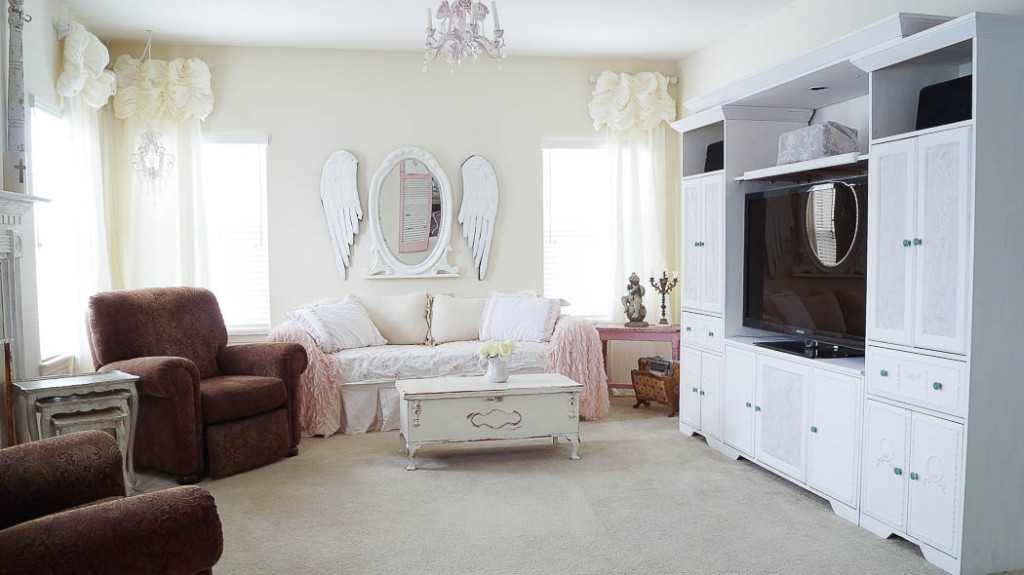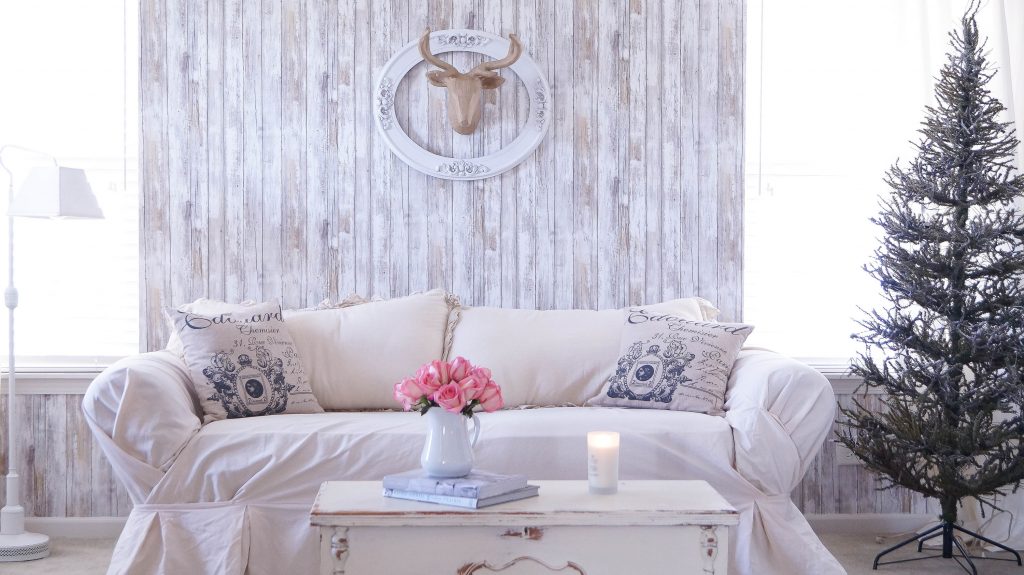 Click on the video below to watch a short demonstration of this removable wallpaper.
Save
Save
Save
Save
Save
Save
Save
Save
Save
Save
Save
Save
Save
Save
Save
Save
Save
Save