The other day I shared how to make appliques using candy molds.
Well, today I'm going to show you how to make a bracelet using plaster and resin.
Before I share the project, I was hoping to give you more information on the upcoming video workshop series, that's the exciting news I was going to share yesterday.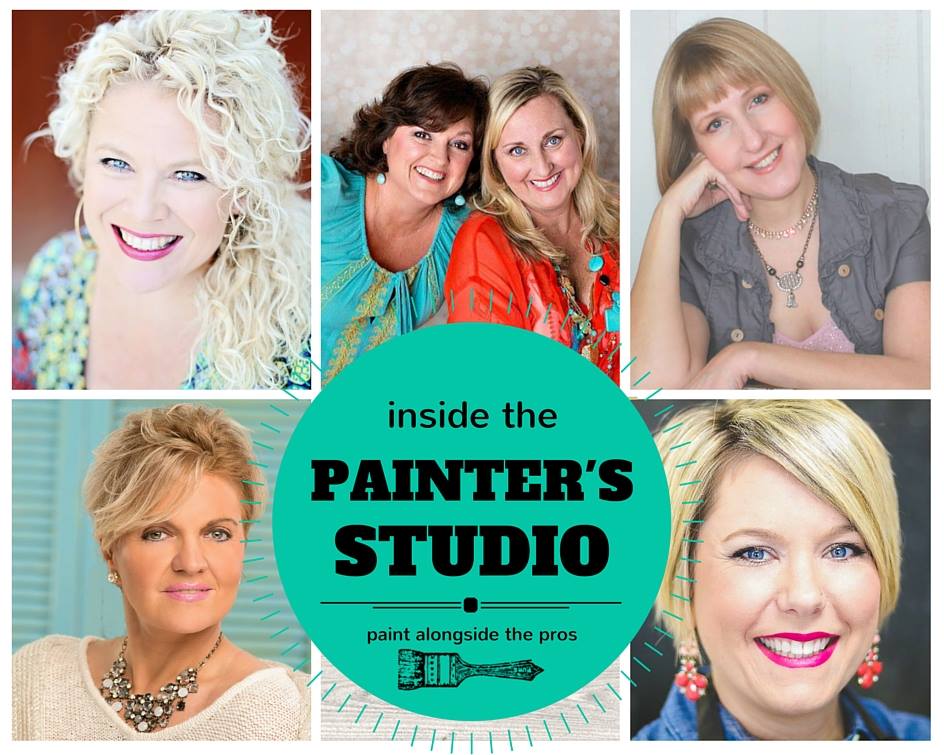 Lots and lots going on behind the scenes.
As soon as I get more information, which should be soon, I'll share it with you all.
****************************************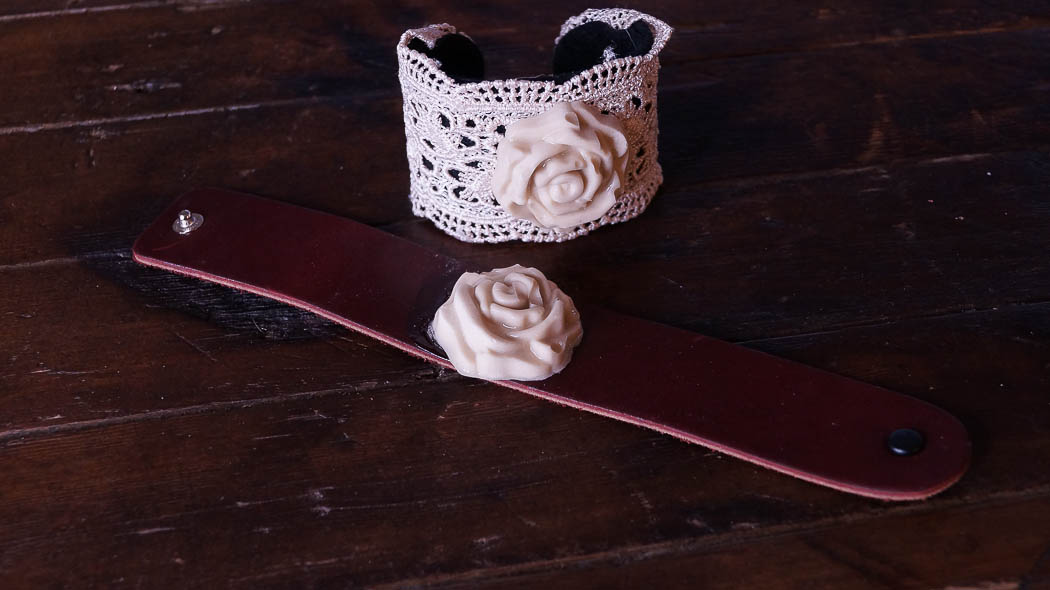 Today I wanted to talk a little  more about the project I shared the other day.
As you remember, I shared how to make appliques using candy molds and plaster of Paris.
Not my idea, just something I stumbled onto while on Pinterest.
But, when I saw that idea to use these appliques another idea came to mind.
Jewelry.
Yeah, I know you're thinking how can you turn appliques into jewelry?
Well, today I'm going to share how I created a bracelet using these appliques.
Supplies needed:
Plaster of Paris (Hardware store)
Silicone candy mold (Micheal's Craft Store)
Leather or lace cuff (Hobby Lobby)
E-6000 clear glue
EnviroTex Jewelry Resin (Hobby Lobby)
And here's how.
I mixed up plaster of Paris, and added it to my silicone mold.
Once these were completely dry, I was able to easily pop these out.
You don't need to make this many.
I made all of these the other day when I was trying to decide what to do for my piece of furniture.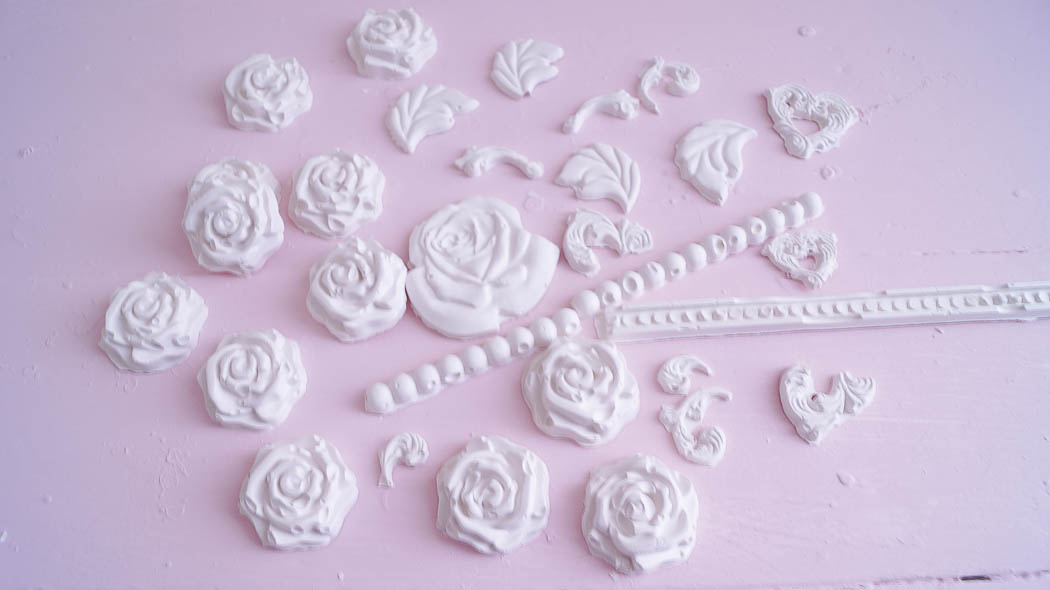 Next, I mixed up a batch of Jewelry Resin ( it's an epoxy like finish, follow the directions on the package to the T)
This resin is going to make this rose more durable than if I had done nothing at all.
I used an old paint brush and brushed on a coat of resin to the rose, but not to the bottom
I only added one coat, but I may experiment with another one to see if adding two coats is better.
I placed these on a sheet of wax paper to dry overnight.
As they were drying, I had to move them around with a wood popsicle stick  as the resin was drying.
I did this because they were starting to form clear puddles around the roses.
I wasn't sure how hard this was going to be, and if I would be able to trim it off once it was dry.
These sat overnight to dry, then I applied E-6000 glue to the back of my  rose applique, and applied it to my leather cuff.
I did the same with the leather cuff.
You can see the video HERE for a live tutorial.
Here's a closeup of the lace cuff.
In the video I shared that because of the curve, the flower is not sitting on this cuff.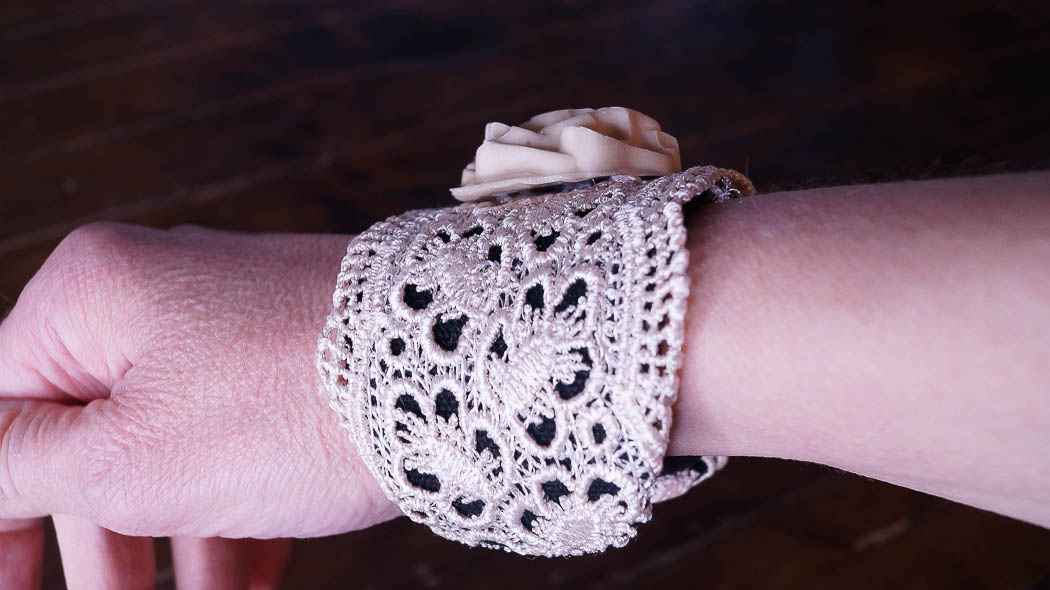 I think a great solution is to add a little trim.
Once I add some blingy trim, I'll share it with you all.
And this is how I get inspired.
I see an idea, and then that idea turns into something totally different and of my own.
And you can see from the video that I was totally just figuring this out as I went along and I always do that.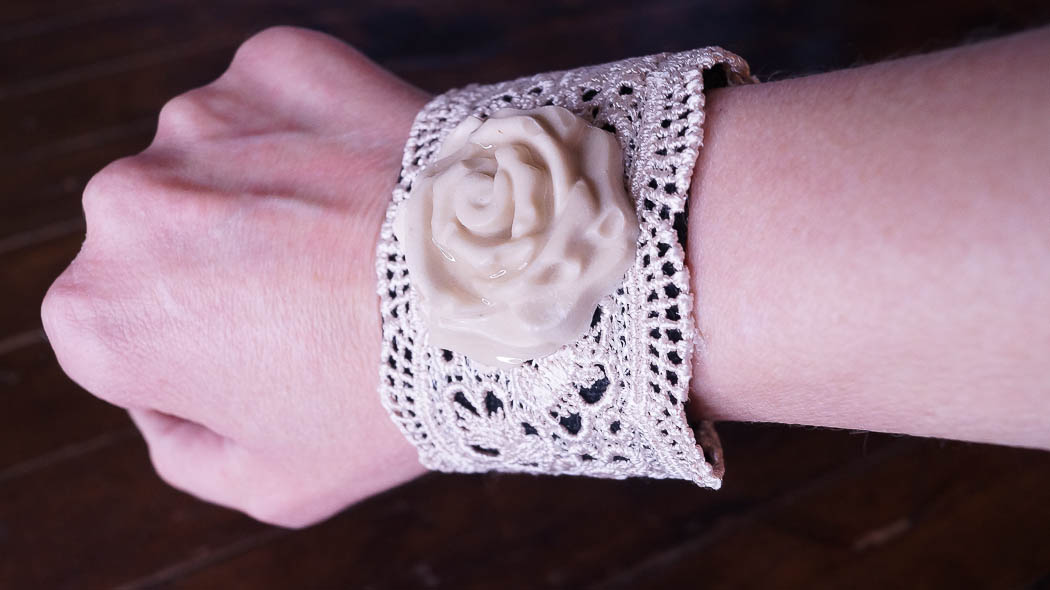 Sometimes my ideas totally work and sometimes they are a total bust.
As I'm sharing my videos, I'll share the good and the bad.
Not every idea that I have is a good idea, but that's okay.
I think that this would make a wonderful gift for Valentines day or Mother's day!
What do you think?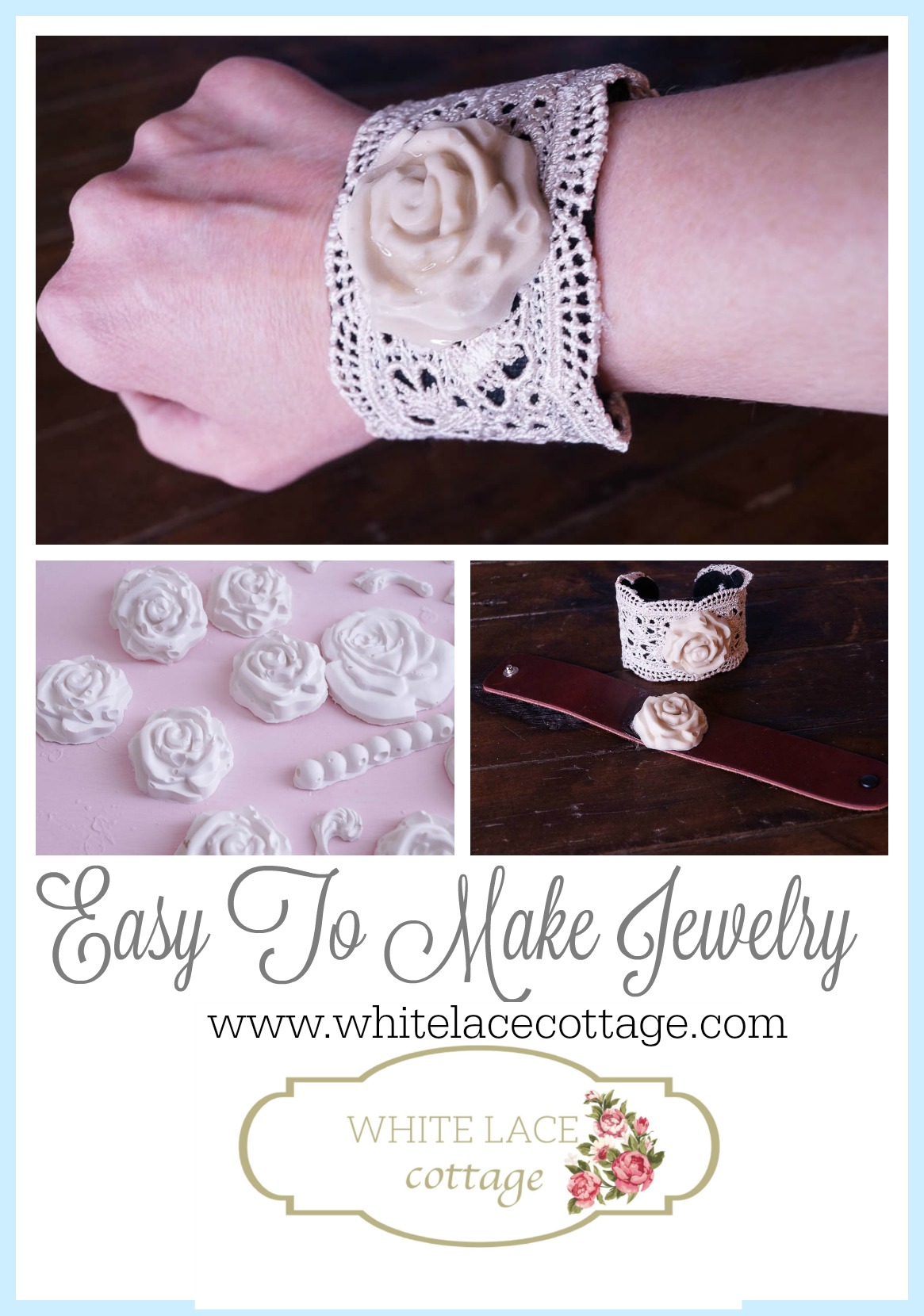 I have lots to work on in my videos, but each time I do them it will get easier and I will learn a lot!
Lighting is an issue for sure and editing.
Don't forget to click HERE to watch the video tutorial.