How To Hang Curtains The Right Way
Curtains are one of the most expensive accents for a room, and usually the most frustrating to figure out as far as hanging them.I started searching for curtain rods only to find that they were super expensive. Since I didn't want to spend a lot of money on a curtain rod I decided to make my own. Even though I don't have an electric saw I knew it would be easy to use my hand saw to cut a wood dowel.
I measured my window, and cut a wood dowel half the size of my window. Drilled holds on both ends of my dowel so I could reuse the finials I had on my previous rod. Then painted it. The wooden bracket was purchased on etsy.
Now it was time to start thinking about what curtains to purchase and how to hang them.
(This post contains affiliate links, please read disclosure policy)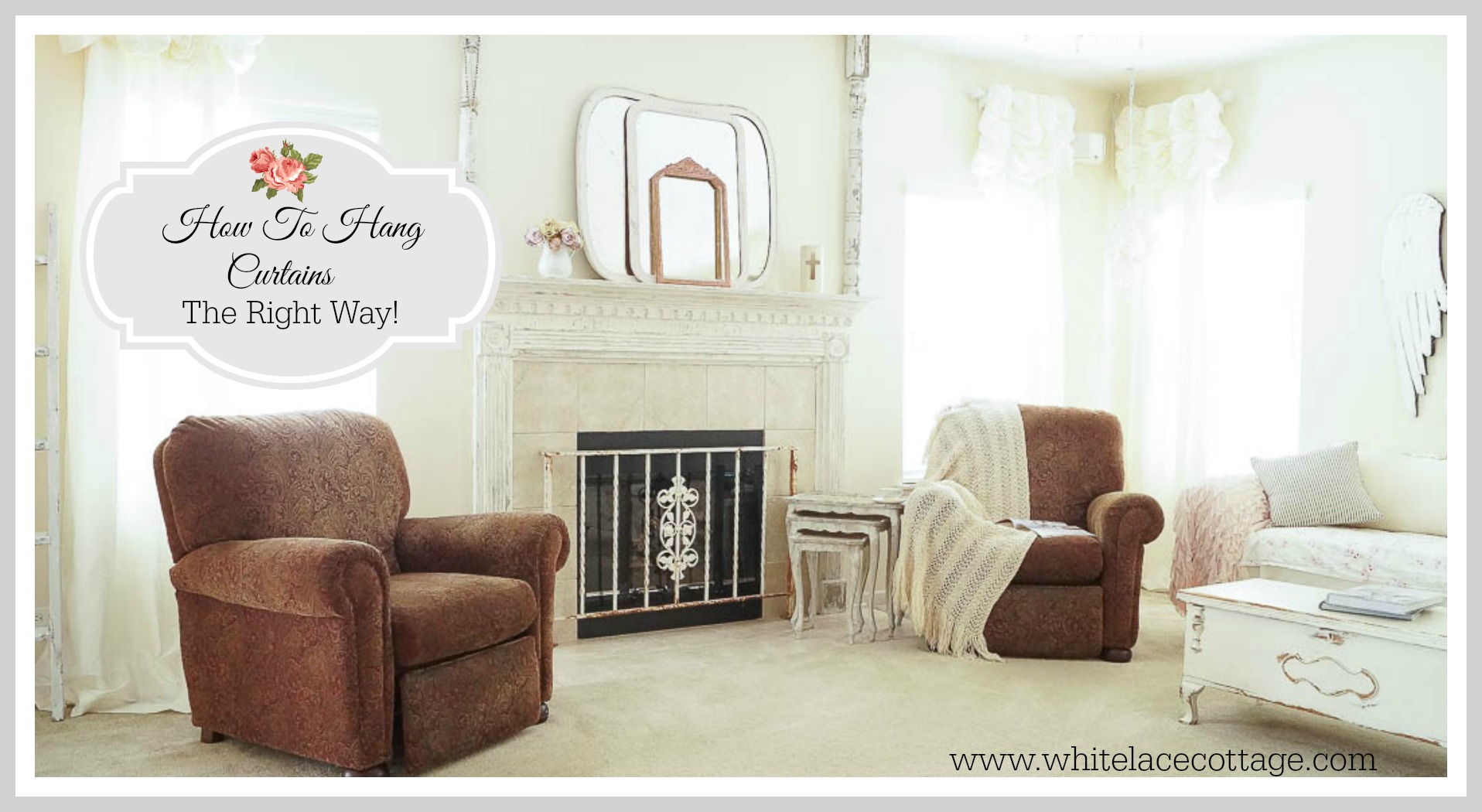 Our family room has 9ft ceilings which makes window treatments challenging to hang properly. Because the ceilings are so tall, the curtains need to be hung higher than the window to create balance. Mine were not. I've had a hard time finding curtains that I like in the length that I needed. So, I kept purchasing the wrong size, because I liked the style. Have you ever done that? It's like purchasing an outfit or a pair of shoes because you like the style, knowing that they won't fit, or look right.
I guess we have all done that. Of course if I had a sewing machine, I could have sewn a pair, but I don't. I've lived with my short curtains for as long as I could. Sometimes I can switch out curtains from one room to another. But I didn't have any that would work in this room.
As you can see I tried this curtain panel, but it was way too short. I wanted you to see how these looked and why I didn't want to use these in here. They really need to be hung higher, the rod needs to be longer across and they're way too short.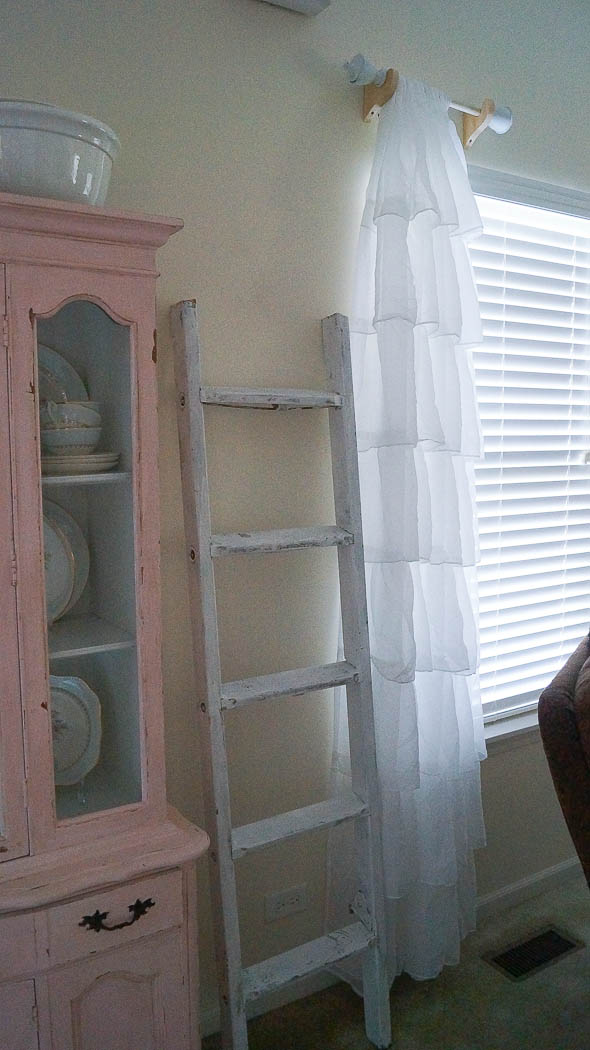 I started searching for curtains online, and came across Wayfair.  I knew I would find curtains that would work with my room and style. Looking for a long pair of curtains at a resale shop wouldn't be an option. I see curtains all of the time at resale shops, but never long panels. So as I was shopping on Wayfair I stumbled onto this gorgeous pair of curtains HERE. Seriously aren't this gorgeous, and totally me, right?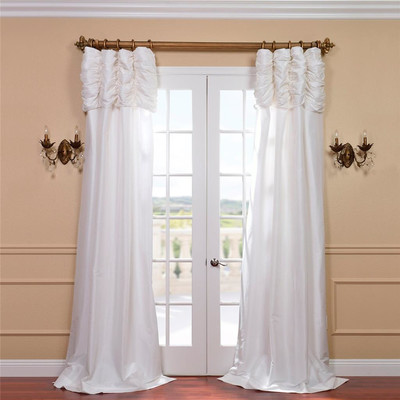 I chose the eggshell color for my , that's sort of a yellow white. The color works perfectly with my walls. Here is a comparison to the before and after of my . The curtain on the left is hung much higher, and puddles on the floor. The curtain on the right( the curtain I shared earlier) is hung too low, and barely touches the floor.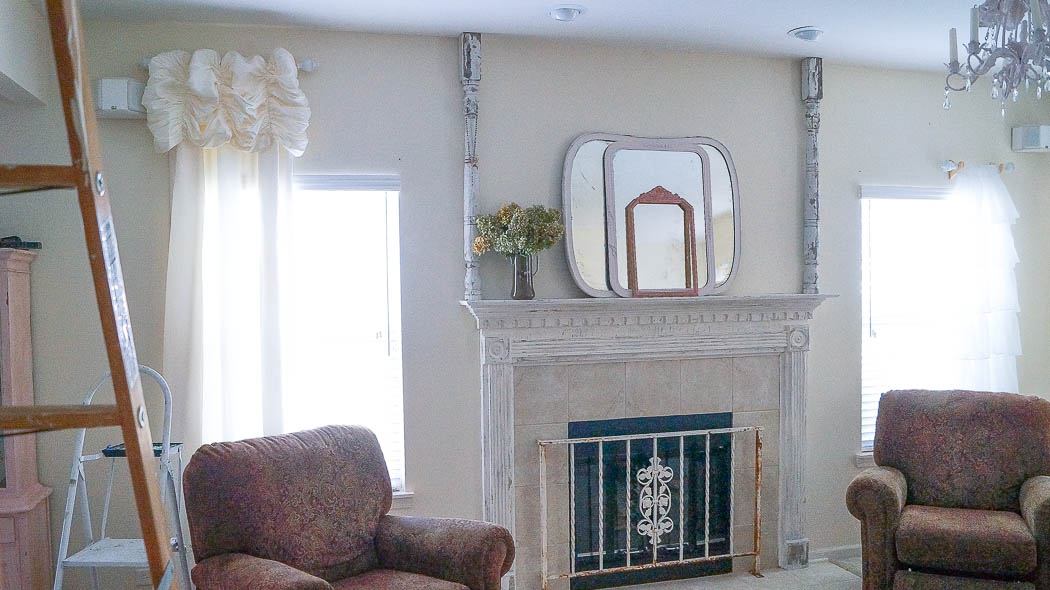 And as you can see from this photo, the fireplace is a challenge, as I cannot hang curtains from each side of the window. I have that same challenge on the other side of the wall. Let's take a look at the room after the curtains were properly hung.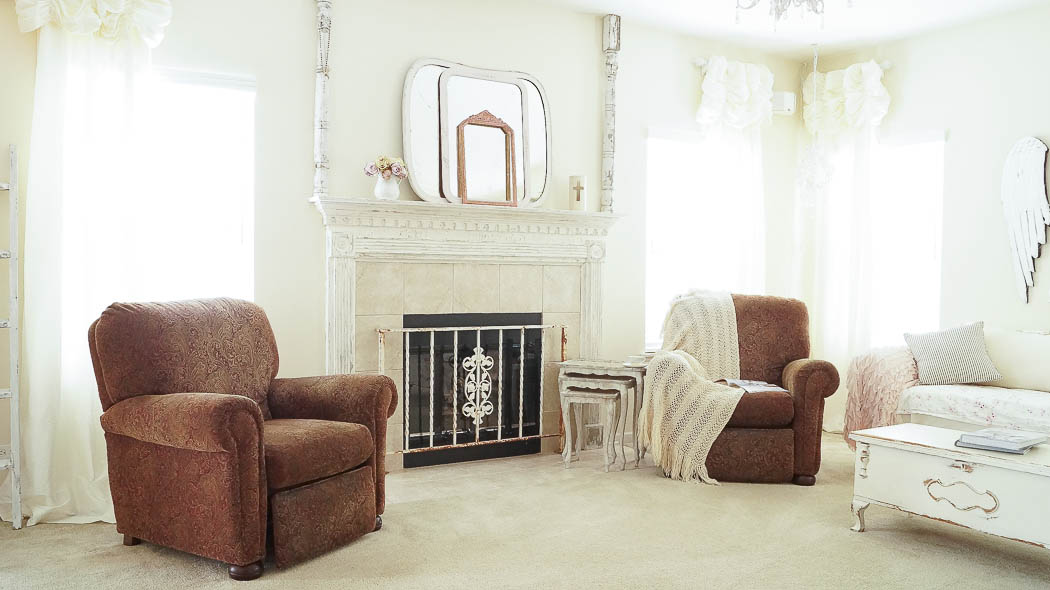 These  look much nicer! And I think that these are so much prettier in person than I thought they would be.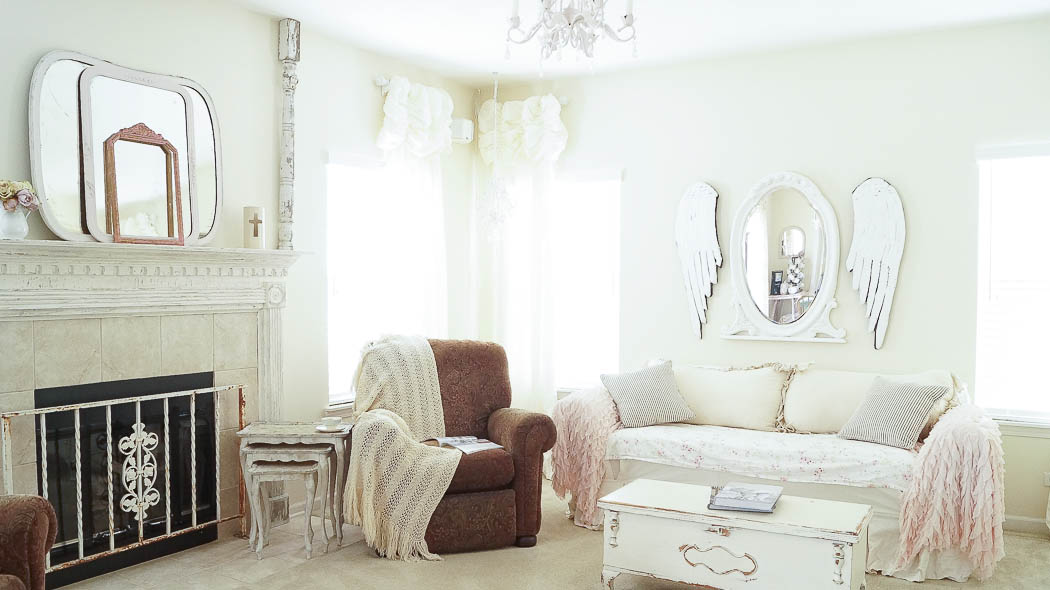 The fabric on these curtains is  similar to a wedding dress, they are very heavy, lined and extremely well made! These are probably the nicest curtains I have ever owned! I am very impressed with these curtains! Now that you can see the other side of my room, you can see why I wanted these hung on one side of the window. A curtain panel on each side of the window doesn't work in this room. Unless I used a valance, which I am not a fan of for personal reasons. I really needed to hang these to one side.
These are for looks only, meaning they won't be opened or closed. The blinds help filter the light, and gives us privacy. Curtains also add a softness to each window that I really like.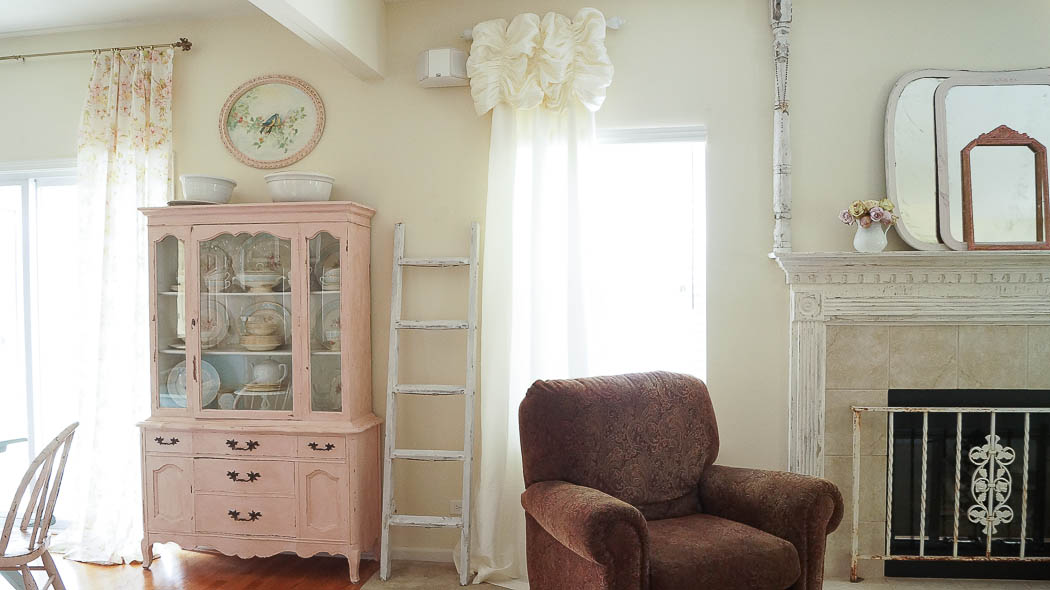 I love how they  puddle on the floor. Here's what I don't like about my room, these chairs. They don't go with my room or style at all. But I may have to live with them a little longer.
Since the family room and kitchen are connected, I needed to balance both rooms with the curtains. These kitchen curtains were made from a vintage sheet and were a no-sew project. You can read about that HERE. To change these kitchen curtains, all I had to do was hang the rod higher. I already had plenty of fabric, I had some of it folded over when it was hanging before.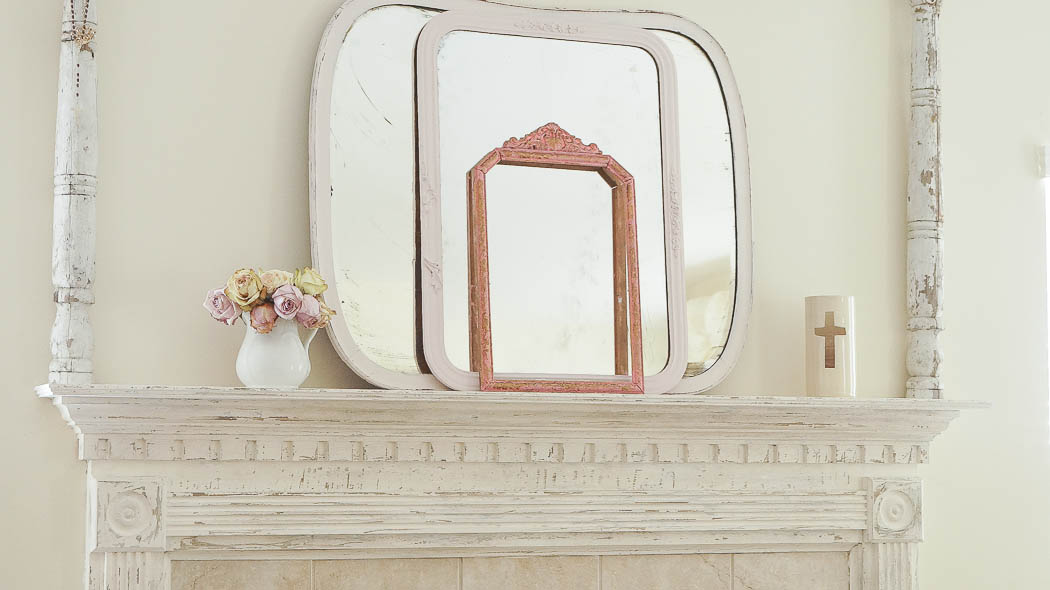 I love how this mantle turned out, it really looks and feels like an old chippy mantel. You can see how I easily created this authentic look HERE. I don't mind my roses getting wilted, I still see the beauty in them.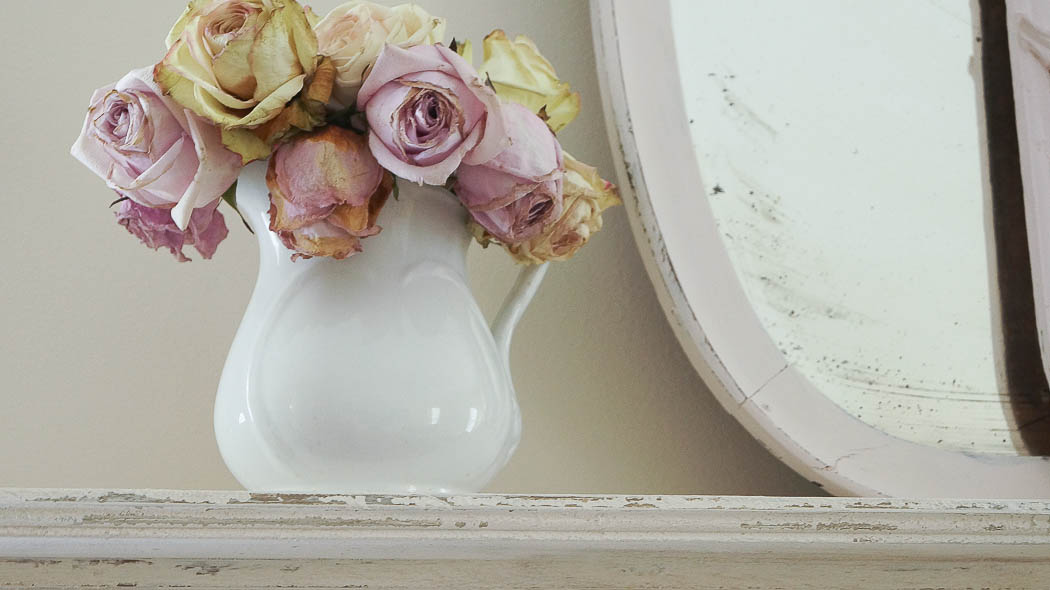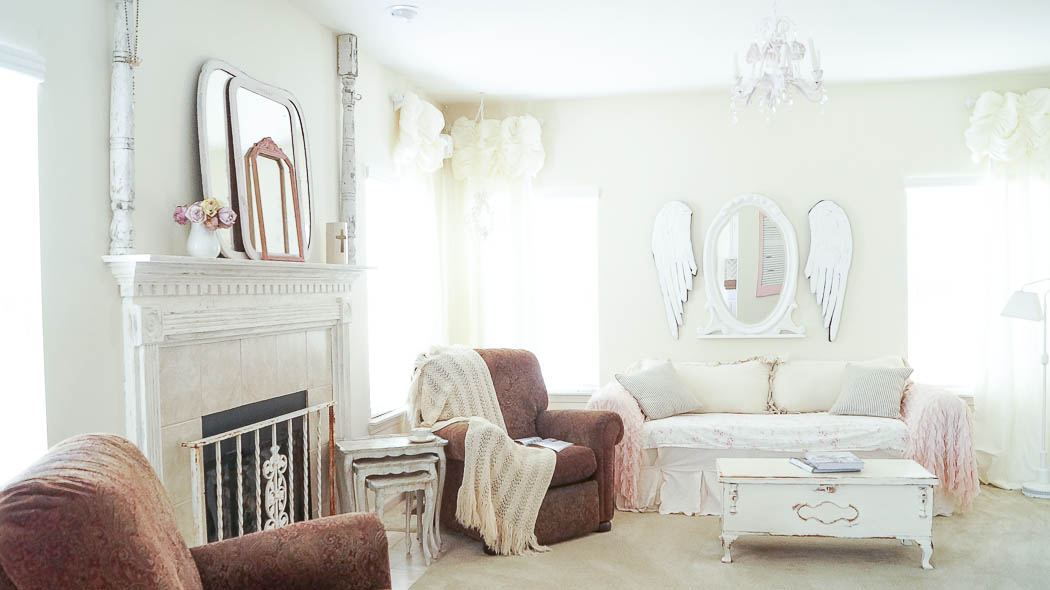 Do you have windows in your home that are a challenge to add window treatments?
If you'd like to make your own curtains but you don't know how to sew, here's a few you might enjoy.
Making A Curtain From A Sheet- HERE

How To Hem Curtains- HERE

Shopping resource: