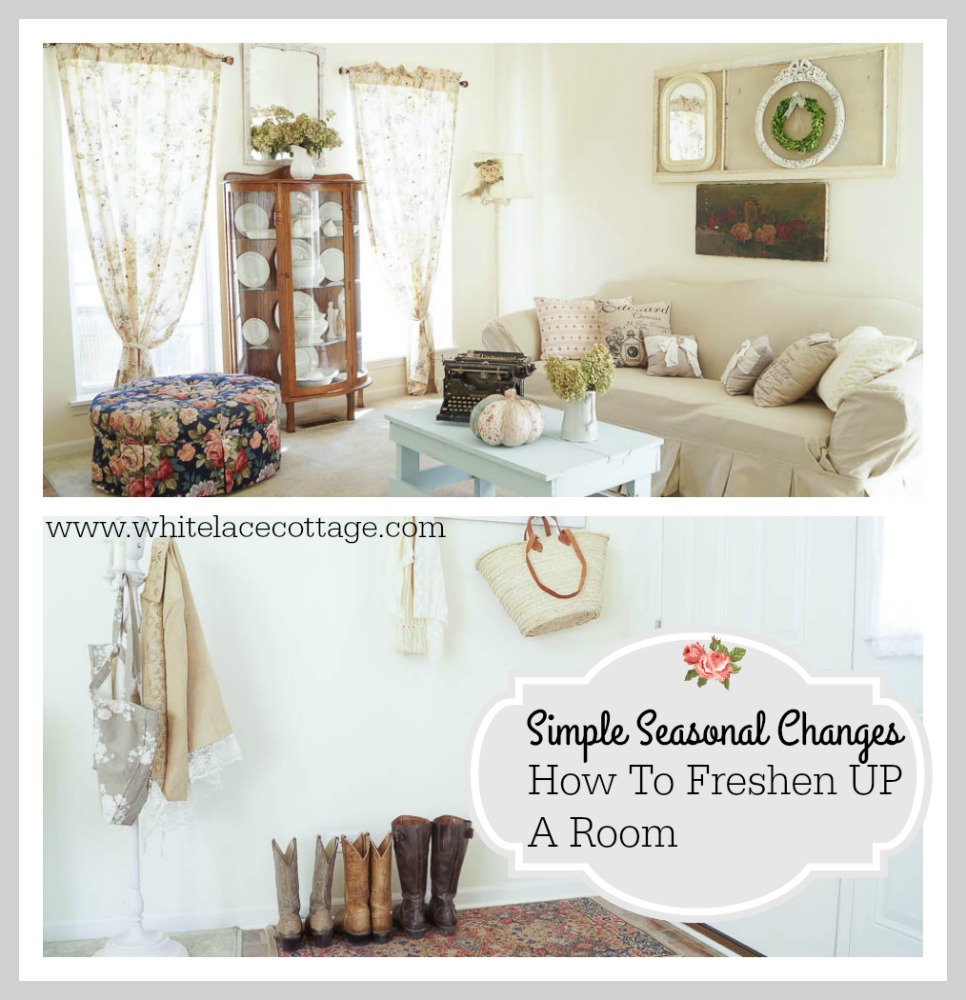 I've been slowly purging things in my home.
And you would think that would be an easy task, but it's not.
I started out selling some of my personal collection at my last spring sale.
Since then, I already have a huge selection ready for next sale next spring.
I took several pieces out of my living room and sold them at the sale, which lead me to changing a few things.
Using only what I had, with the exception of my new curtains, which I found at the thrift store for 15.00 for all three pairs.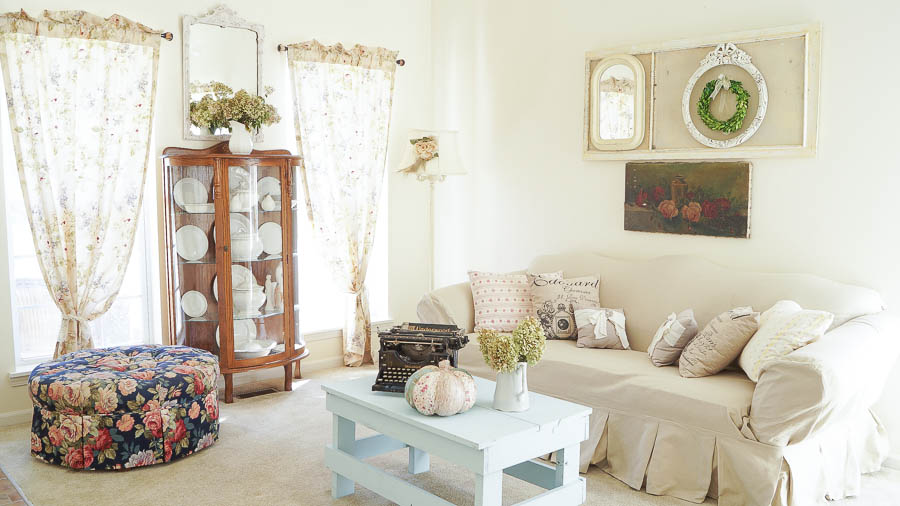 I took that metal dormer piece down that was above our sofa, and added it to our den.
I decided to keep what I had above the sofa, since I am using what I already have.
But I just tweaked it.
Here is a shot of my room last year.
The burlap chair has been sold, and the two other chairs are in two different rooms of my house.
That table is in my office for my photo shoots, for shop merchandise.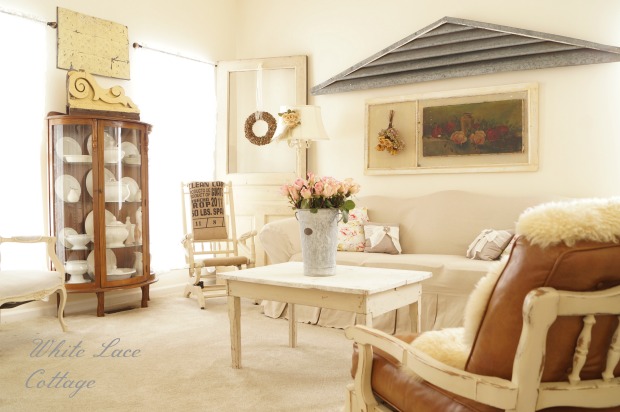 You can see that door is gone, but the lamp is staying.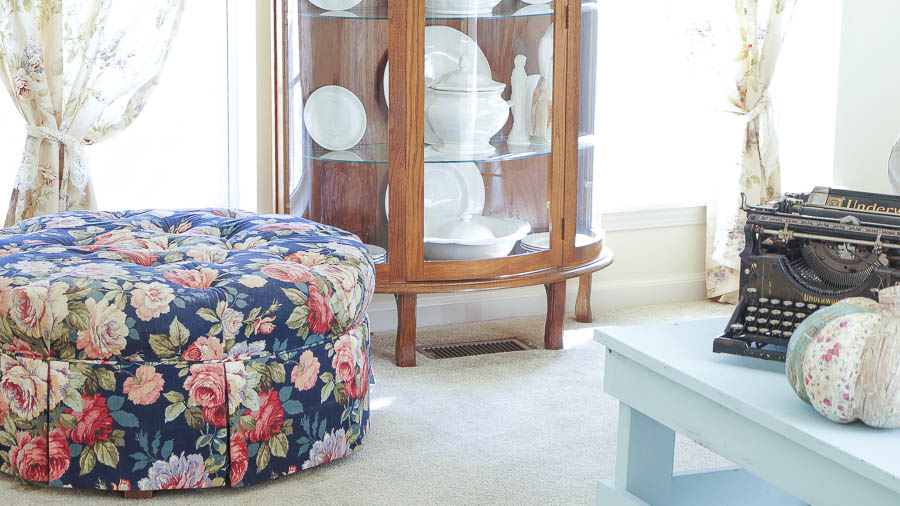 That ottoman was something I had at the sale, but didn't sell.
So for now it will remain in this room, until the next spring sale.
I added that little table that's been painted "Chippy Blue" from my signature line of paints.
Since it's fall, that pumpkin has been added to my table.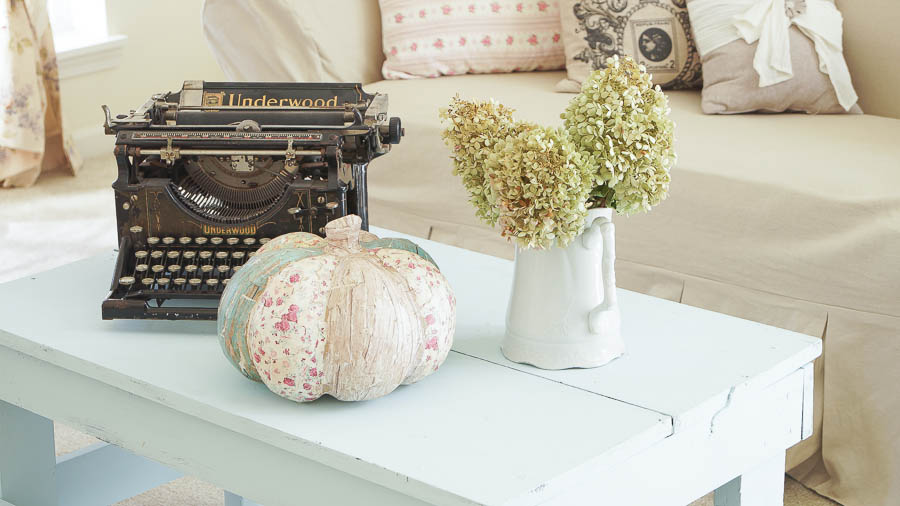 This room shows you how little I am decorating for the season.
Just some dried hydrangeas and a shabby pumpkin.
That sounds sort of sad doesn't it.
Well it's not, I am just learning to embrace the less is more in my home.
Honestly the less I have the happier I am.
Probably because I don't have to clean it 😉
That pumpkin was easy to make.
If you missed how I created it you can read about it HERE.
I also added new curtains to this room, that I found at the thrift store.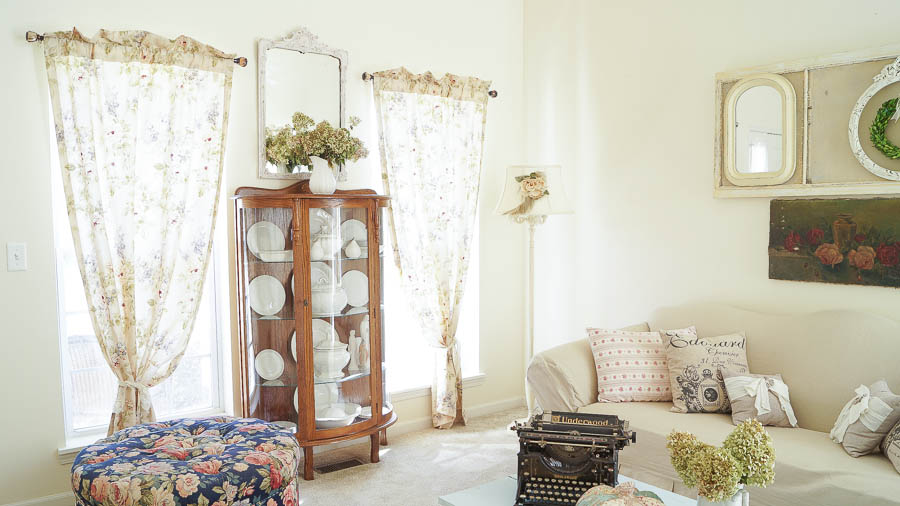 They are very simple and perfect for this room.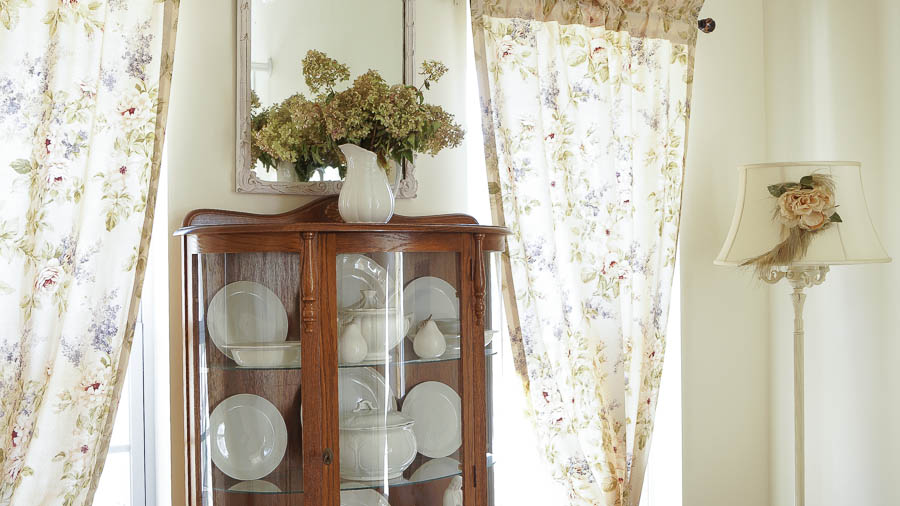 This room is tricky with curtains because the ceiling is so tall.
But I still prefer to keep them short.
And, I guess I should never say never.
Because several years ago I said I would never paint this cabinet.
But guess what, I am painting this cabinet, I will be sharing that soon.
I am planning on selling it, and most prefer pieces like this painted.
If this had amazing patina I wouldn't touch it, but I am not loving this wood tone any longer.
I've had this piece for 16 years, so I have lived with it this way for awhile.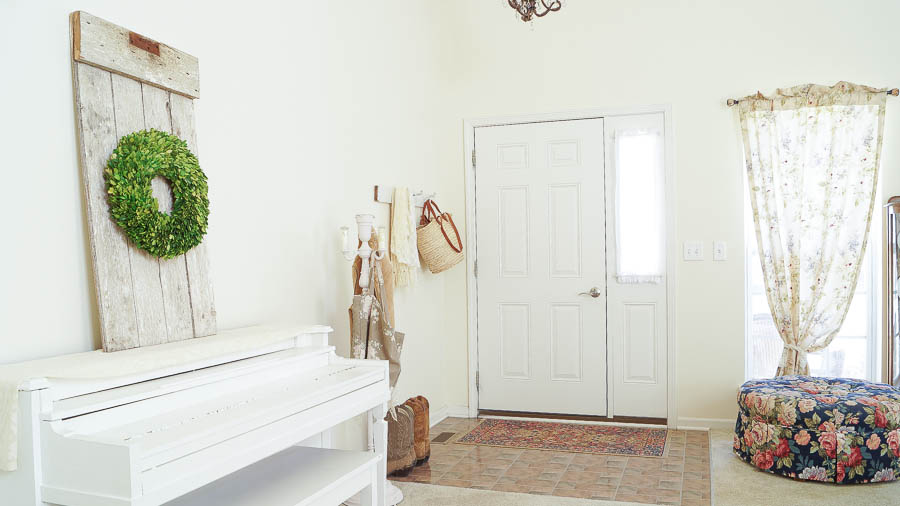 I don't know if you remember this or not.
But I did have a large piece next to my door, with a mirror.
That's gone, and will be for sale next spring.
Instead I added an old hat rack to the wall.
And a standing rack that I made from an old lamp post, you can read about that HERE.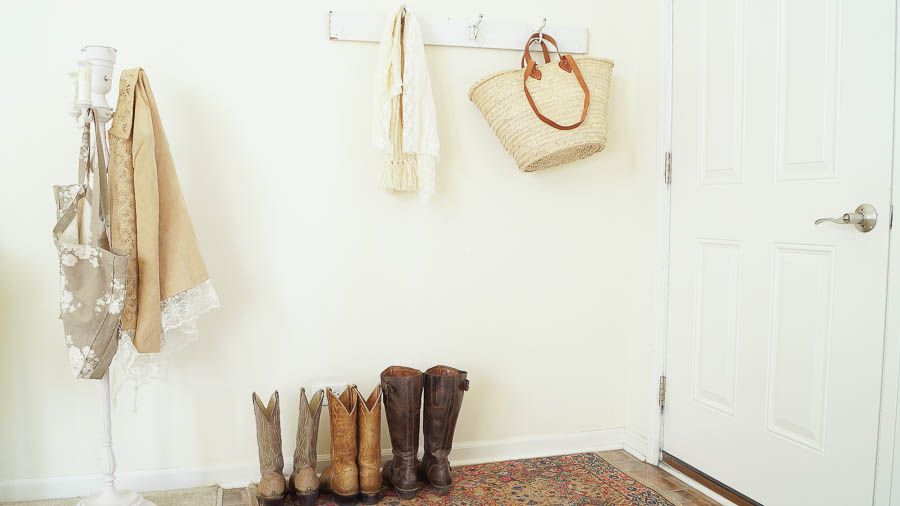 Ah yes, my collection of boots.
These are now being worn now that the seasons have changed.
This room gets lots of sunlight all day long.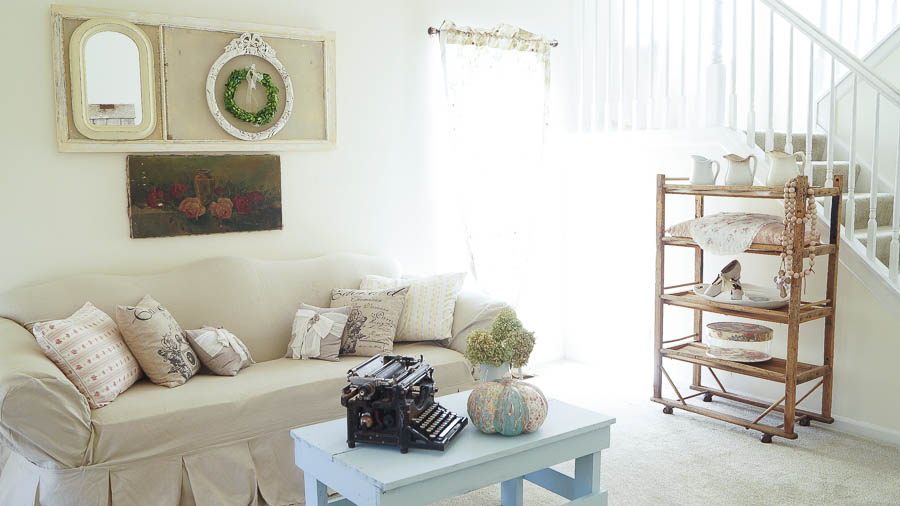 I actually have more stuff out than I would like.
The typewriter normally would not be on this table.
But, it's for sale listed in the shop (you can purchase it HERE).
I have no where to put it, so here it sits.
Those sweet tap shoes on my old wood shoe rack are also available in the shop along with that hat box.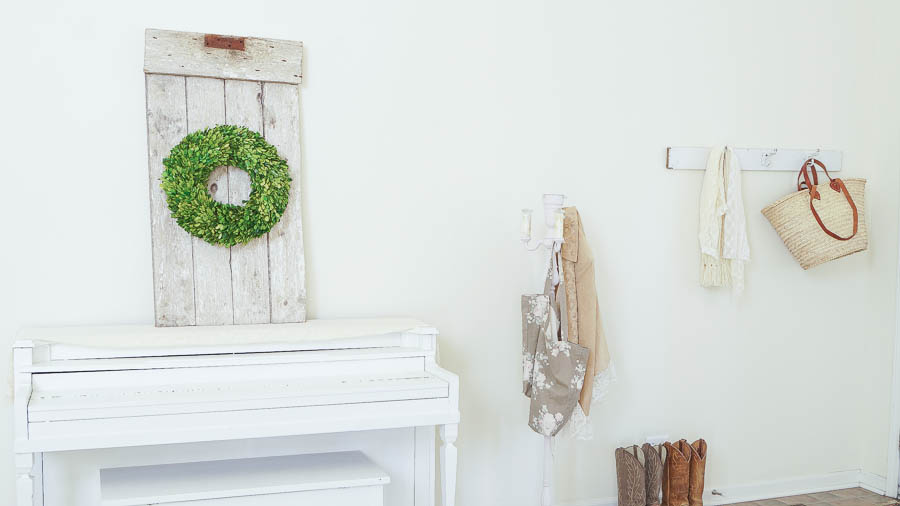 And can you believe that I cannot give this piano away?
I listed it in Craigslist for FREE.
And so far, no one wants it.
It's an old family piano, my daughter never had any interest in playing it, so I would love to get rid of it.
I hope I'll have an offer from someone too…it's FREE.
Did, I say it was FREE.
Ha, okay sorry, but you know how it is.
When you are tired of something you want it out of your house!
I called several thrift stores, no one wants it.
Well, if I can get it there they will take it.
But it's very heavy, so that's not going to happen.
I am making lots of changes to my family room.
But, I'm waiting for a few things to arrive so I can finish.
It always feels good to change things around with the seasons.
So instead of decorating for the seasons, I enjoy changing things around this year.
Christmas decor will be very simple this year as well.
If you are looking to freshen up your home, look and see what you already have.
Here are a few tips.
Move pieces of furniture, curtains and even accessories from one room to another.
Put things away instead of adding more and more. Less really is more.
Get out your paint, and paint a piece of furniture or an accessory. Just freshening up a piece with paint can do wonders!
Think about repurposing a piece of furniture or an accessory. I've seen little step ladders hung on walls as shelves. Or step ladders can be used as a little side table.
This room transformation cost 15.00 for the curtains.
I already had everything else.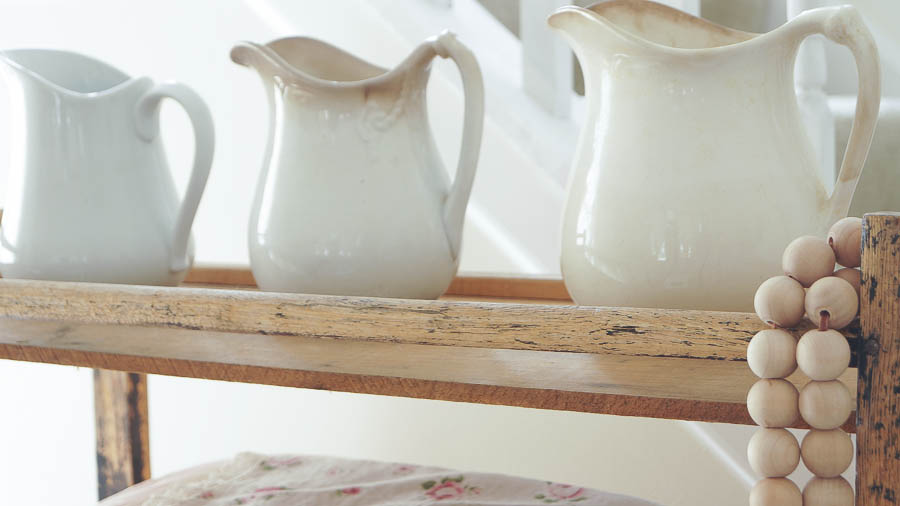 Are you changing things around your house?