Home Decor Ideas On A Budget
Most of us are on a tight budget. And decorating a home can be expensive if you're not sure how to do that on a budget. Let's talk about home decor ideas that are budget friendly.
I bet when you first stumbled onto my page you thought, I had it all together. And you may have thought that my home always looked perfectly decorated. Well, if that's what you thought, sorry to say this but…. you'd  be wrong!
(This post contains affiliate links, read disclosure policy)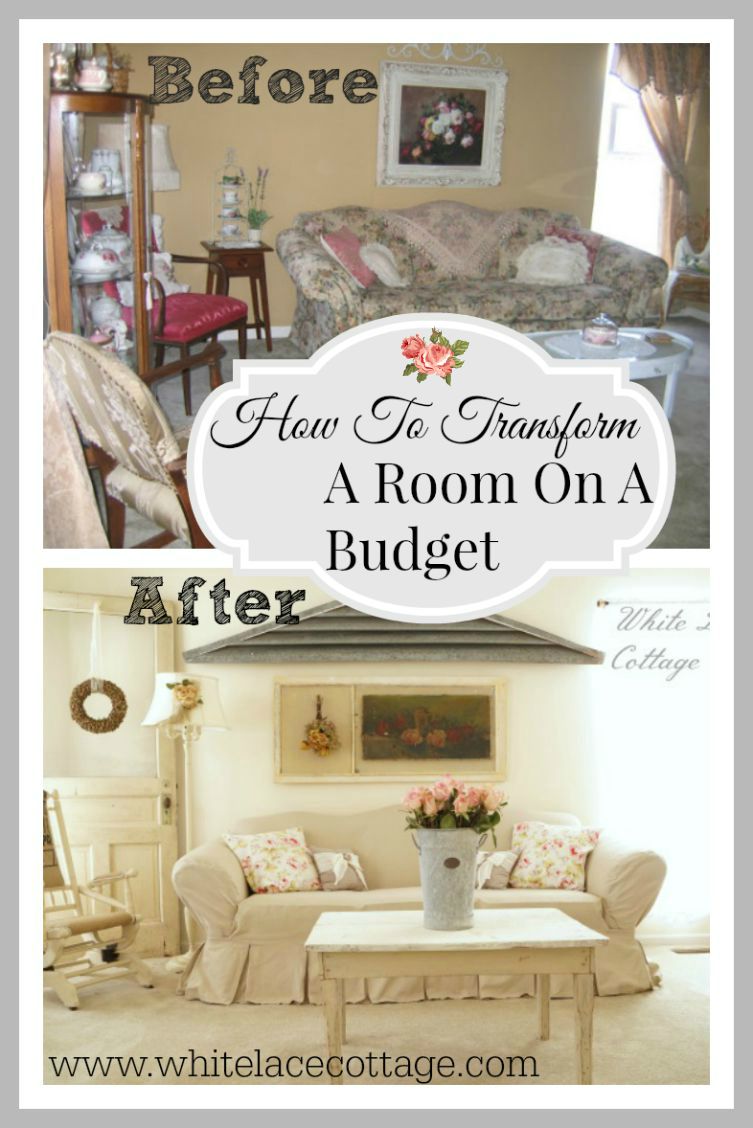 When we first moved into our home, crazy silly me thought that I should change my style from vintage style to modern french, vintage….okay seriously who am I kidding, I don't even know what my style was! Would you like to see peek at one of the worst rooms in my home?
This was my living room….four years ago!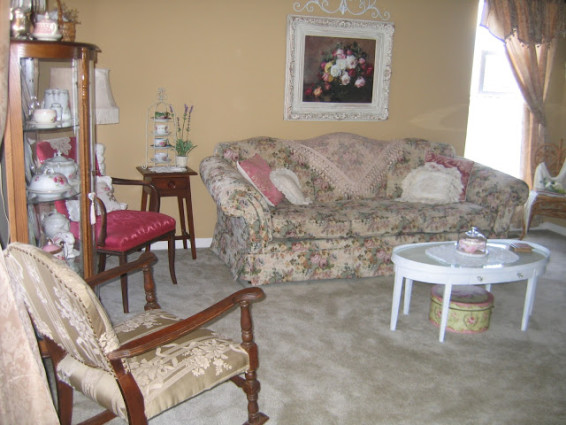 I am cringing at the sight of this! Not only is it a bad photo, but it looks absolutely horrifying! I must have been going through a depression or a bad stage in my life, because nothing makes sense or goes together in this room….nothing!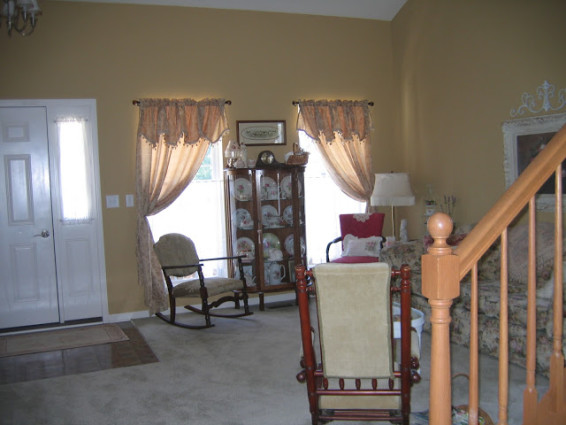 The wall color, the mismatched furniture, the….horrifying sofa that was so outdated. But being on a budget, I felt stuck and didn't know how to really make a change, so I kept it the same and kept adding to it.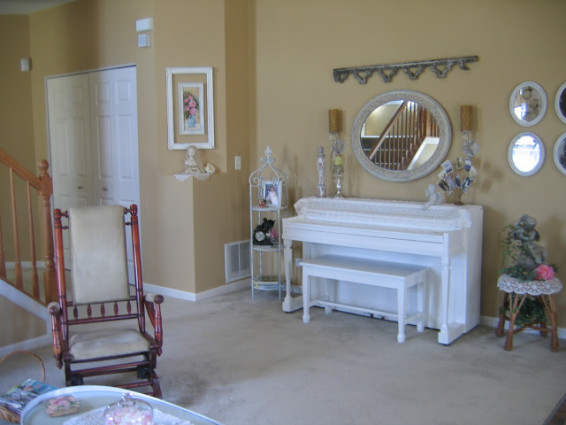 A room filled with clutter and a mismatched of too much! I should have added tags on each item and held a room sale, because this room looks like it was set up as a tag sale.
But let's look at the after.
These photos were taken last fall, and since we are nearing fall, I thought I would share these. Because this room has had several changes, and yes I am once again making changes. These are the most recent photos of what the room looked like.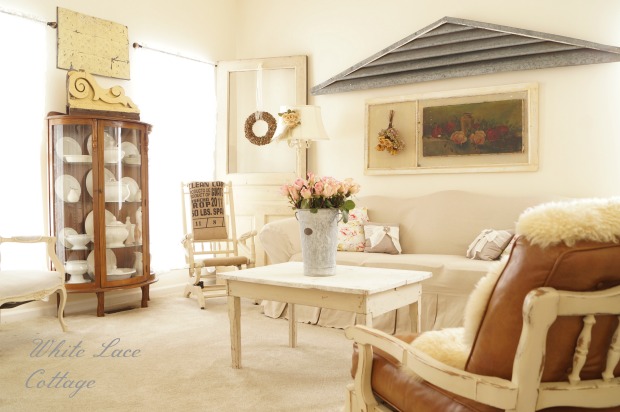 Quite a difference from before huh? So how did I take my room from this…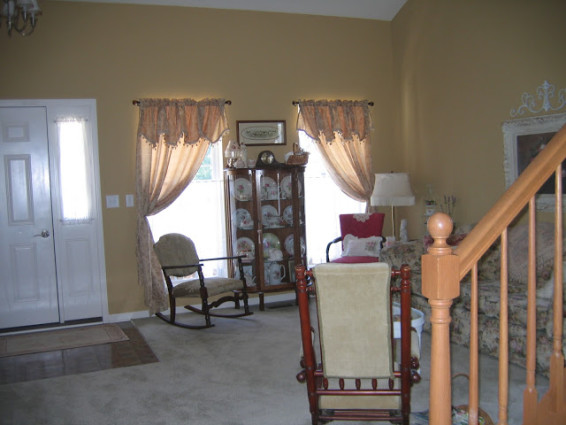 To this?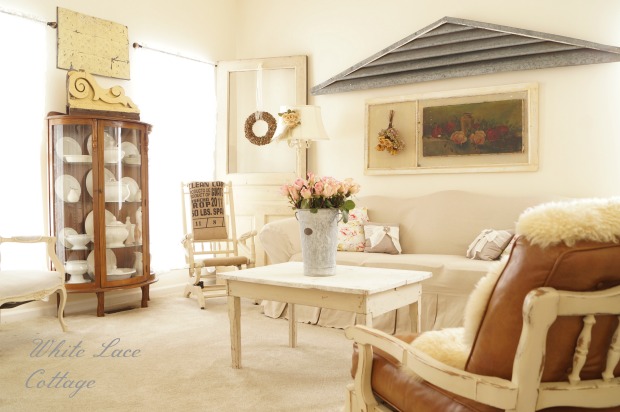 Let's break down my home decor ideas starting with what I did to my living room.
First I painted the room a nice warm white. It's a custom color so I don't have the name. But there are many warm whites, I will share how to chose a room color in another post. I painted this same color throughout my home.
The reason I painted the same color throughout my home is that by doing so, it makes each room flow better.
Once the room was painted, I knew I had to do something with the furniture. I couldn't afford to replace everything that was in my room, especially the furniture.
For the sofa I decided to purchase a slipcover. A slipcover is a very affordable way to change the look of a sofa or chair. And it's much cheaper.
If you sew, than you can make your own slipcover, which makes it even cheaper. But this slipcover was, $50.00? I purchased it through Ugly Sofa.com It was very cheap, and if I bought the fabric, it would have cost just as much.
That slipcover made a huge difference in this room. The large pillows were found at a thrift store, the smaller at a craft store. Both were very cheap. And they were not purchased right away.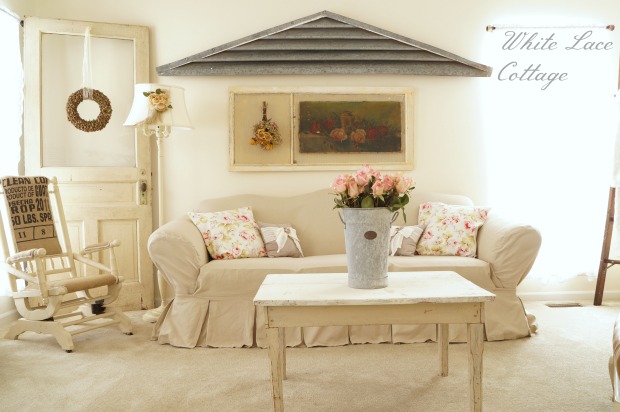 The rocking chair was given a new paint job, and I reupholstered it using burlap coffee sacks I found at Farm and Fleet. It was very easy to do, and it was only the second time I had ever reupholstered a chair. The coffee sacks were $5.00 each, I believe I used two.
I decided to add a fun architectural piece to the room, so I added that old door I found at a antique store. That was not added to the room right away.
And please keep that in mind, when you change a room, don't expect to have everything exactly as you would like it. Sometimes you need to wait and purchase things a little at a time. Not everyone can afford to go out and redecorate a room with new pieces.
The dormer vent was purchased at a antique shop, it was very cheap, maybe $35.00? The screen and art was moved from my family room into this room. This works much better with my look that the painting I had originally.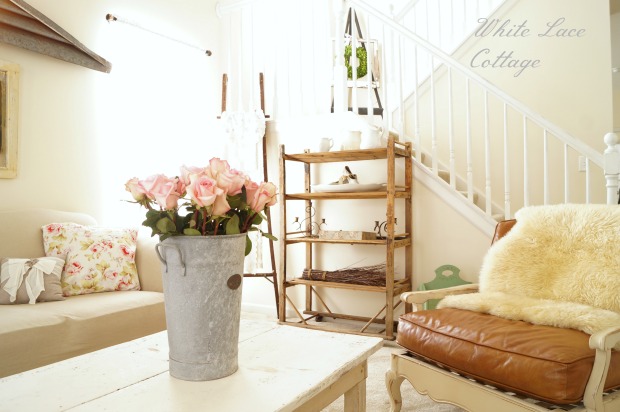 This French chair is now in our den, but was first placed in this room. I found it at a thrift shop for 4.99.
The other rocking chair I had in here originally was taken out and sold. I added that old drying rack and it's still in this room today.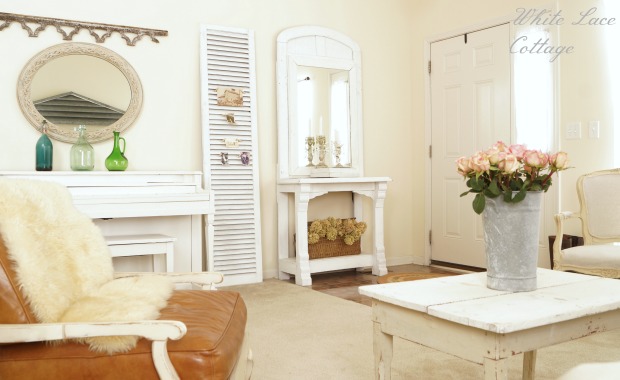 By the door I eventually added that mirrored piece, and those shutters next to the piano. The table next to the sofa was purchased at an antique store, this room has had many tables. You can find tables pretty cheap at garage and thrift shops.
Curtains are light and airy, and hardly noticeable, which I really love. So as you can see the thing that really made the most impact in this room was paint. Paint on the walls, paint on furniture. The second biggest impact in this room was the sofa slipcover.
Home Decor Ideas On A Budget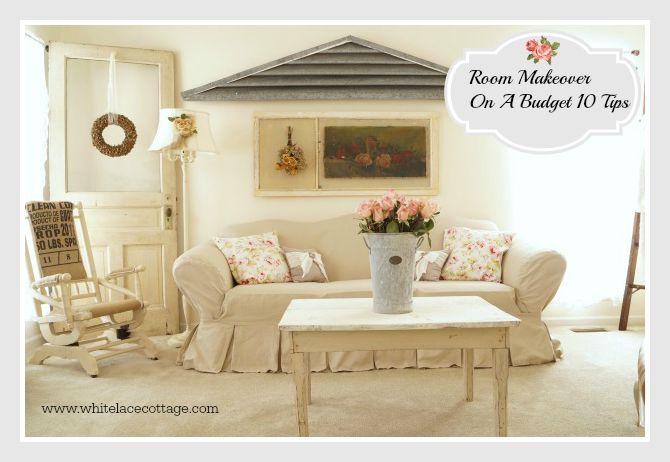 Paint Does Wonders
1). Paint does wonders, and it's cheap. I will be honest, I never use the real expensive paint on my walls. To paint the walls in my house, I used Glidden America's finest, the cheapest of that brand. I think it's 10.00 a gallon. I used 3-4 gallons. And it covered that dark color with one coat! But the secret is using a really good roller that gives full coverage. That's worth the extra money. I have used expensive paint, and in my opinion it didn't cover my walls any better. I also use a flat paint, which touches up better than a satin or eggshell finish.
Slipcovers Are The Bomb!
2). Slipcovers do wonders for a room. This is one of my favorite home decor ideas If you have old outdated furniture, but purchasing a new one is out of the question. Then a slipcover is the answer. It's much, much cheaper to purchase a slipcover than it is to buy a new sofa. And most slipcovers can be washed in a washing machine. But check first before purchasing, because some are only dry clean.
Shop Your House
3). One of my biggest home decor ideas if you're on a tight budget, use what you have, and shop your house. A chair, or table or a piece of art can be moved into another room. You will spend zero money and you will give your room a new look just by moving it to a new room. Maybe you have a piece in another room, but the color is all wrong, or the fabrics wrong. Why not paint it? Fabric can be painted too, so if you are afraid to attempt reupholstering a piece, than why not paint it. Heirloom Traditions has a wonderful product called FAB. You paint FAB on your piece, then add your paint to your piece. It's very easy to do, cheap and it's a great way to update a chair.
Start Shopping Thrifty
4). If you can't repaint a piece, or reupholster a piece, then start looking at garage sales, Craigslist, thrift shops and flea markets for pieces to add to your room. But don't worry about getting everything at once. Work with your budget, and get what you want. If you're in a hurry to purchase things, you may not be happy with what you're getting. Really think about your purchase and whether it will fit well with your room.
Less Is More
5). Less is more, even if you are not a minimalist, less really is more. If you keep adding pieces to a room, it's starts to look like a tag sale. Instead of a cluttered room, think about the look you want. Group collections together, keep things uniform. And what I mean by that is , keep things in the same look or style. You can be eclectic, but it should all be in a similar style.
Clutter Free Zone
6). Don't clutter the walls with stuff. Before you hang anything on the walls, make sure it will work in your room. I believe less is more on walls as well.
Easy Does It
7). Go easy on accessories, let your beautiful pieces of furniture be the focal point of your room. Pillows are great for a sofa, but you don't need to get crazy with pillows. A stack of decorating books looks great on a table. If you have a collection, keep it small and place them together. Not scattered all over the room. But keep it simple. Your accessories will get lost in your room if you over do it.
Take A Photo It Lasts Longer
8). Take a photo of your room once you start decorating and adding things. Seriously, it really helps. Just pull out your phone or camera, and take a look at your room. When I saw the photo of my room that I proudly shared on my blog, I was horrified. We see things differently in a photo. So if you want to make a change to a vignette in a room, but you can't decide what works. Take a photo of your vignette, or room and study it.
White Is The Way To Go
9). If you choose to go with a white back ground instead of a room with a little more color you will have the flexibility to change or add any color to your room. When my room was painted that gold color, I was stuck only using those colors. But using a white wall, I can add or change any color I want. It's nice if you like to decorate for the seasons, you are not stuck only using certain colors.
Reflection Of You
10). Let your changes in your room be a reflection of your style. Only add pieces that you truly love. If you really want to make a change, don't bring everything back in a room. I used to feel like, when I bought a new piece, I had to keep everything the same, so I kept adding. You can add to a room, but at some point you need to stop so the room doesn't look cluttered.