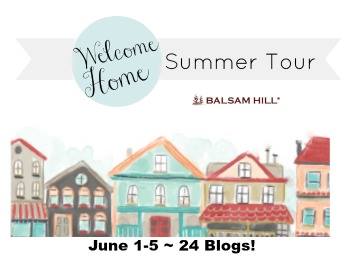 I am thrilled to be a part of the Welcome Home Summer tour with Balsam Hill, myself along with 24 other blogs.
Today I wanted to share my reveal of my porch.
Well, it's sort of a reveal, I am still waiting on curtains I ordered so it's not a full reveal just yet.
But you can still see the transformation.
Let's look at a before photo first.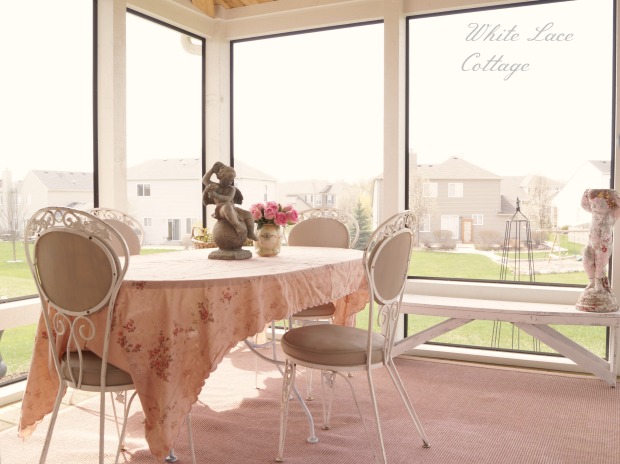 That photo was taken last summer, before I painted the floors or did any real decorating.
I was told the wood deck floor needed to fully dry out before painting it, so I waited and waited.
Until this year 🙂
And here is my screened in porch this year.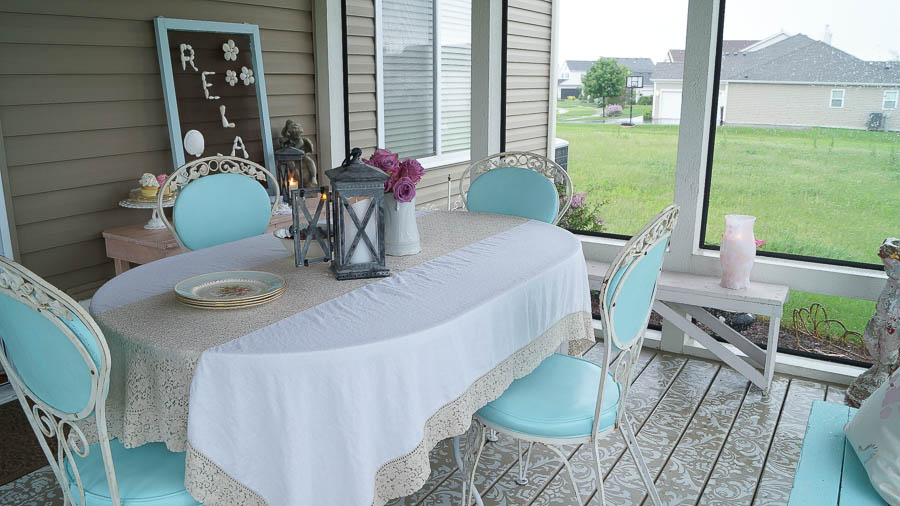 As you can see I added a pop of color in this room with my chairs,that shell art and these new floral chairs cushions.
(And if my curtains were here, those are turquoise,
I am so bummed they are not here yet.)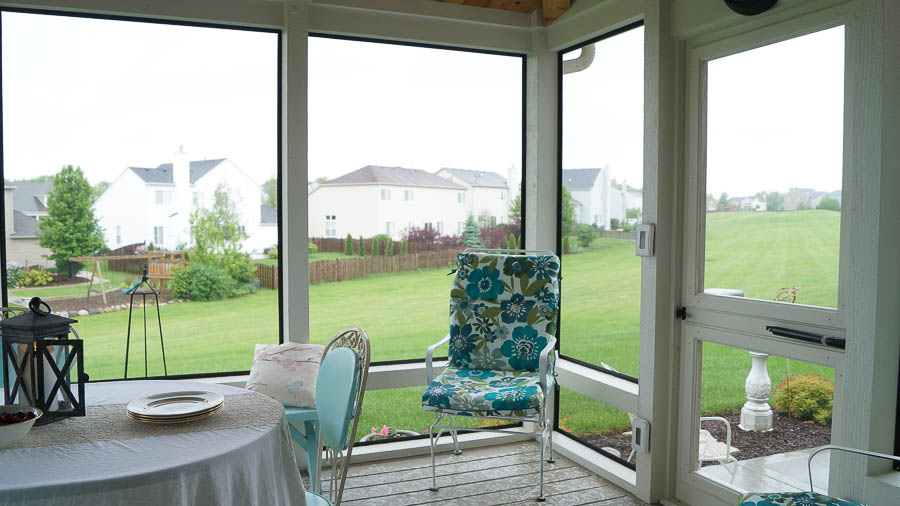 These chairs are so comfortable with these new cushions.
And I also added some pretty finishing touches, thanks to Balsam Hill.
Do you see that pretty lantern with the flickering candle?
Let's take a closer look.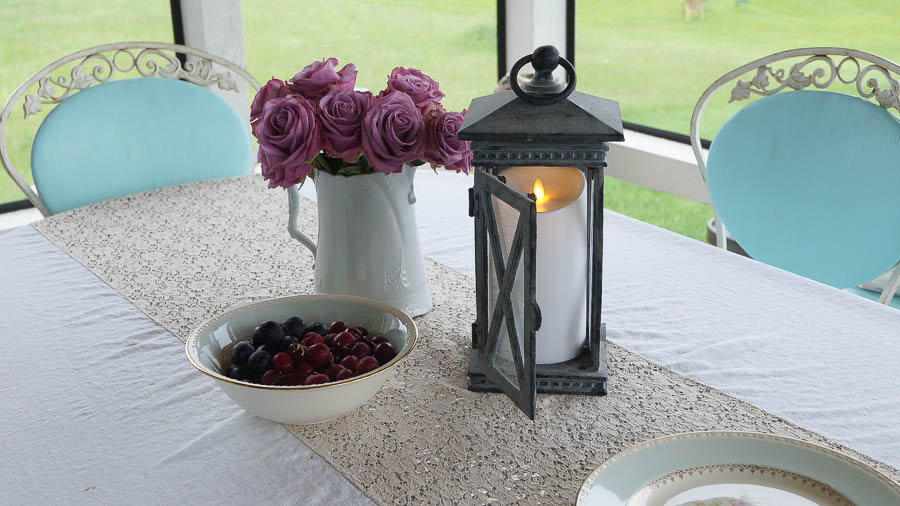 This lantern is the smaller one that Balsam Hill offers.
And yet is still a very good size, and not small at all!
It's so well made too.
This lovely lantern is also, super heavy and I love the faux patina on this!
I really was surprised and impressed how beautiful these are in person!
As you can see I added a candle inside of mine.
This is not a real candle but an outdoor Luminara candle.
When it flickers it looks so realistic!
And it comes with a remote to turn it on and off!
Doesn't it look pretty as the centerpiece on my table.
I have two of these lanterns and I often add both of these on my table.
But today I am sharing these in a different way.
Let's look on my outdoor buffet table.
Which by the way was a curbside find, I just painted it using Posh Pink from my signature paint line and Muddy Pond wax.
Yes our porch is a place to sit and relax.
It's the room we use the most in the summer.
Enjoying the outdoors bug free.
We eat just about every meal out here, and I love sitting out here when it's raining.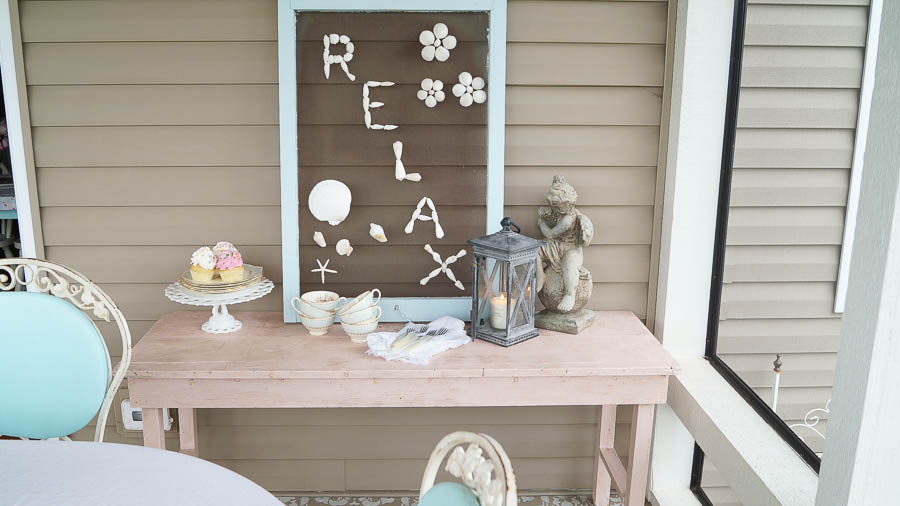 This table works out great for entertaining.
I can use it as a serving table, or to set up drinks.
Today I am sharing it as a dessert table with my faux cupcakes.
Yes those are fake, but they do look good enough to eat!
I added another Balsam Hill Lantern to this table, but this time I added a real candle.
I love how this lantern dresses up my table, but adds a pretty soft glow with the candle.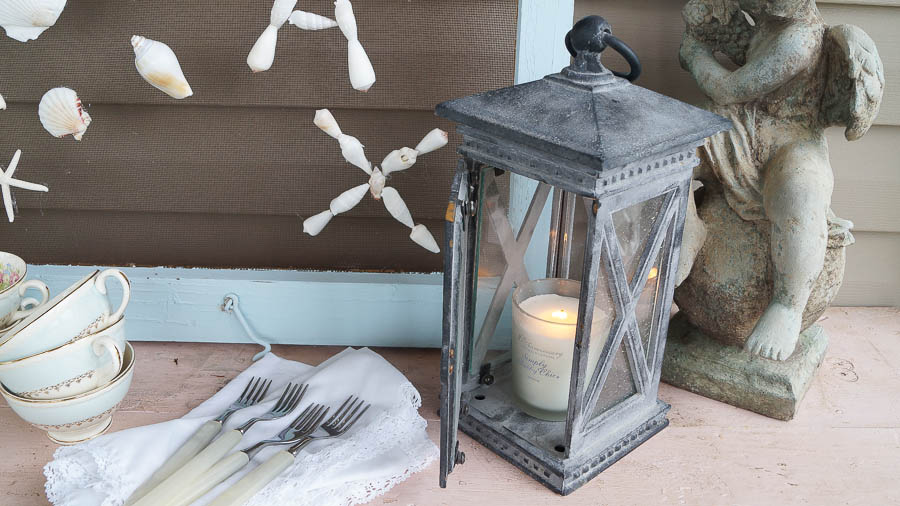 If you are using a real candle with this lantern, the door needs to be opened because of the glass.
These lovely lanterns really add a pretty touch to my screened in porch.
I also added this beautiful mat from Balsam Hill.
The mat gives a beautiful texture to the room and works well with keeping dirty shoes outside and not in my house.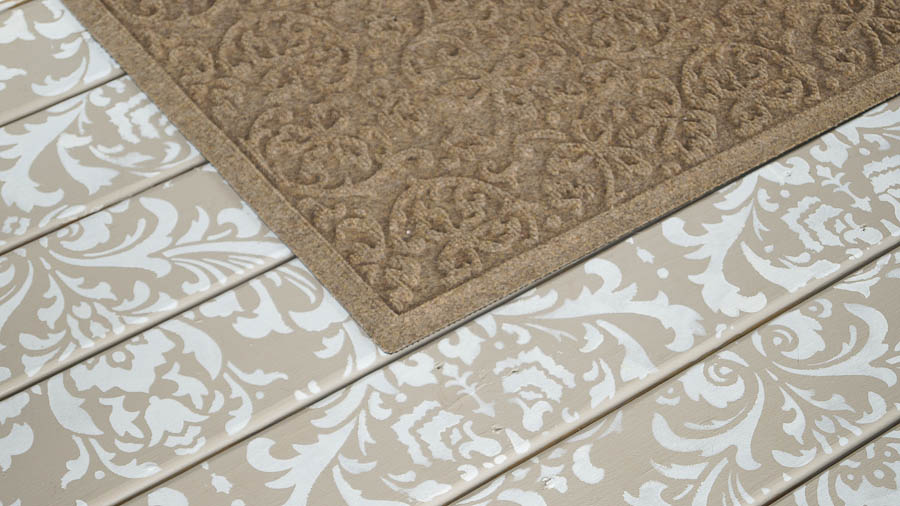 I chose this one because it works so well with the pattern on my stenciled floor.
Several months ago I shared a hurricane lamp that I decopauged tissue paper on.
I added that touch of pink in my room, and placed it on top of my vintage chippy pink bench.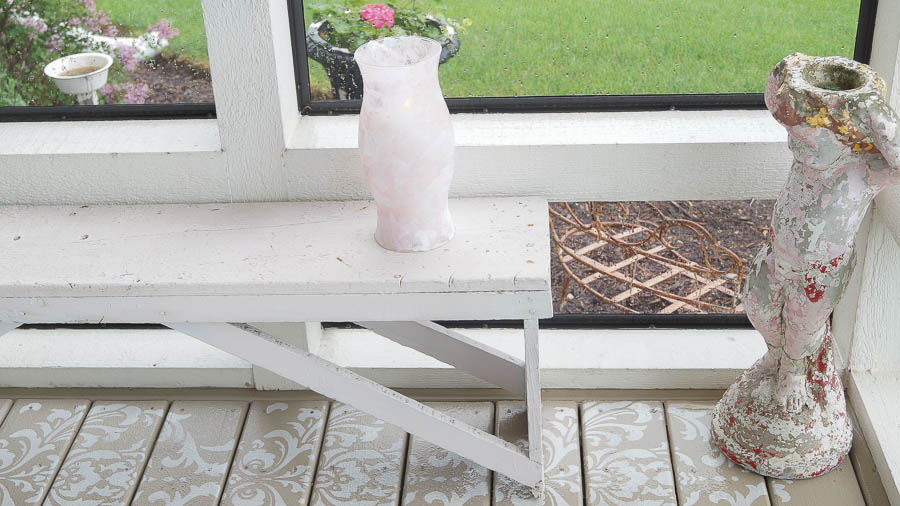 And tucked inside is another Luminara candle from Balsam Hill.
This is so pretty at night!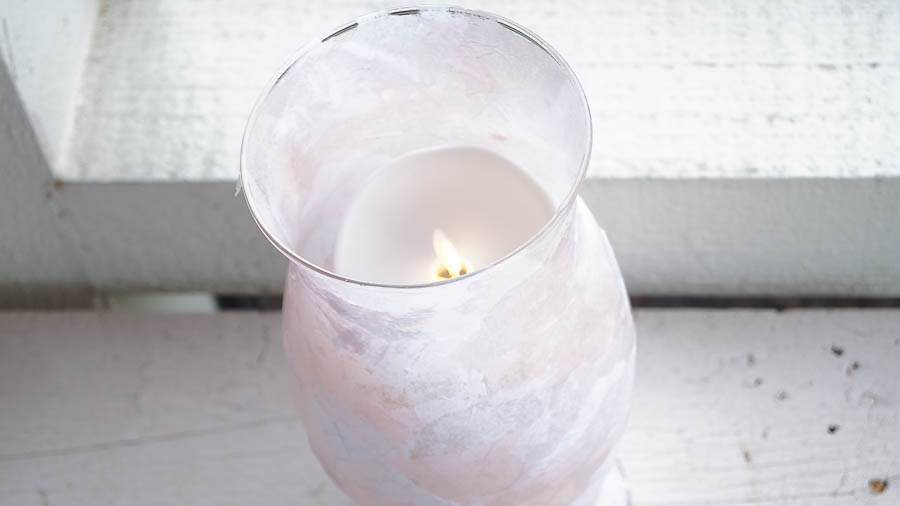 I love candles at night, it's the perfect lighting when sitting outdoors.
The great thing about these Luminara candles is that they are much safer than real candles and they really do look real!
Along with my pink bench, I added this lovely bench that was in my kitchen.
No worries, I have another bench to replace the one in my kitchen.
This adds extra seating in our porch, without feeling cluttered.
And my pillows that I painted add the colors of the this room, pink and aqua.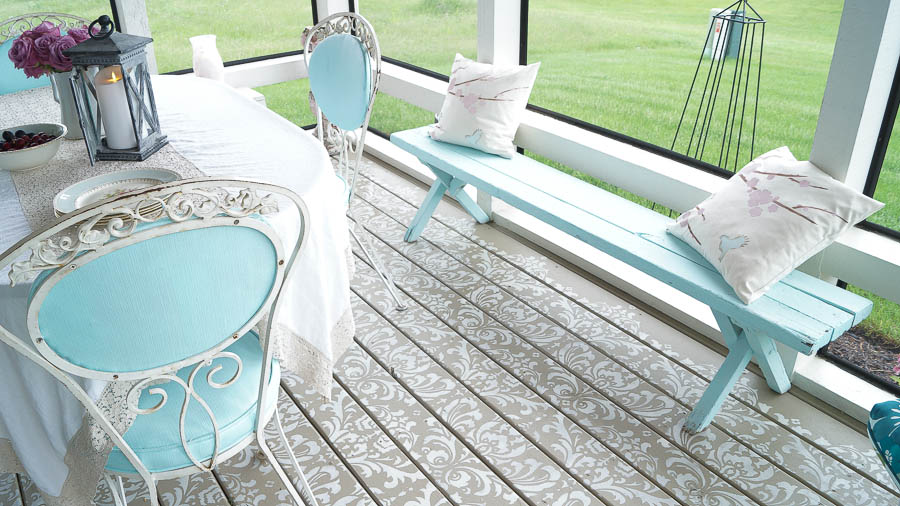 So if you are like me you probably had no idea that Balsam Hill offers so much more than Christmas decor.
But they do!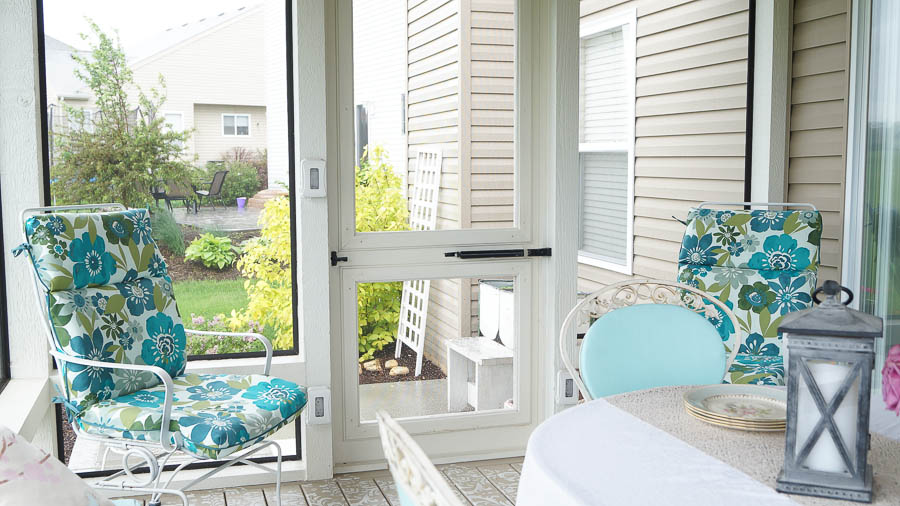 Make sure to check out Balsam Hill, they have lots to offer all year round.
From Urns,to mats, candles, and more.
(This is a sponsored post, all opinions expressed are that of my own)
Shopping Source:
And make sure to visit all these lovely blogs for more ideas and inspiration for your home.
Monday
Tuesday
Wednesday
Thursday
Friday