Let's talk about  Shabby Chic style,and what it really is.
You may have noticed I have been leaning more towards Shabby Chic style than any other style.
I wanted to explain what Shabby Chic style is.
(Make sure to pick up Rachel Ashwell's new book!)
Rachel uses lots of fresh flowers in her home,they make beautiful accents and really bring life to a room.
She does not add clutter but uses pieces that are not only decorative but useful.
Like vintage plates or pitchers.
Both look beautiful on a table but can also look lovely alone or repurposed.
A small plate can be a use for a candle to catch the drips.
A pitcher is wonderful to use for flowers or utensils.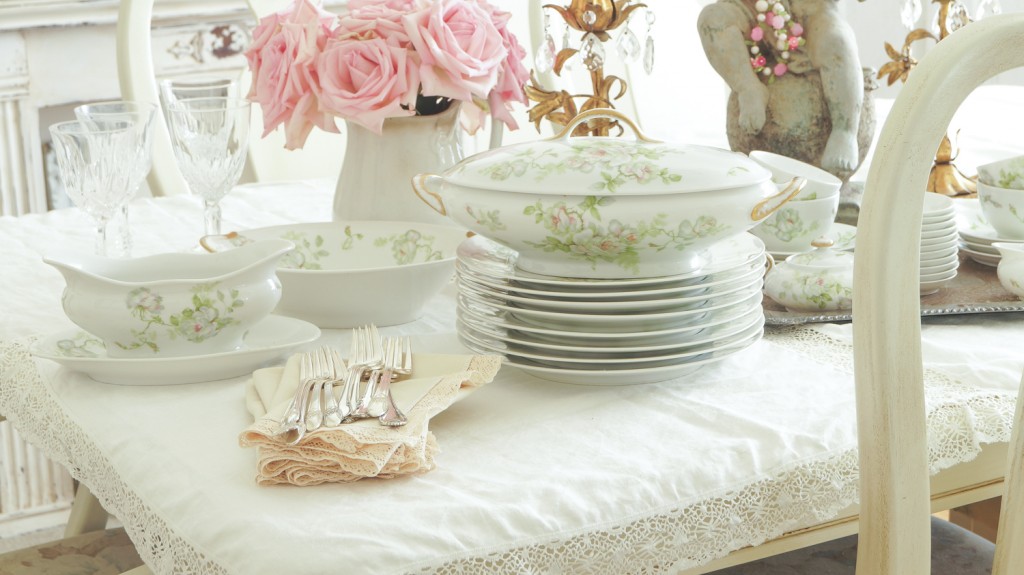 Rachel also uses furniture pieces that have that original chippy paint and patina.
Each piece unique.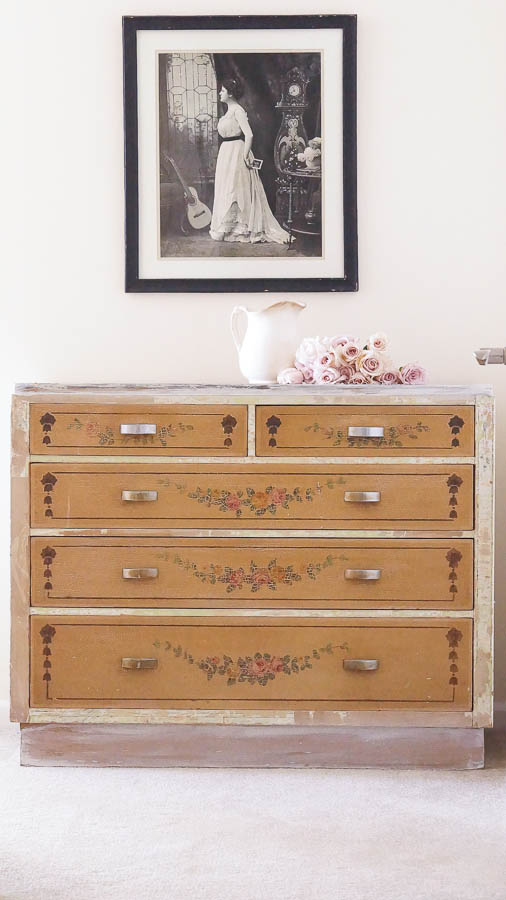 I have been searching for more and more pieces that have original patina.
Most of my furniture is vintage with only a few pieces that are newer or have been painted to look old.
I do prefer pieces with original paint and patina.
This takes some time to find.
Unless you have an unlimited budget you are not going to go out and just buy a bunch of vintage chippy pieces.
When I find something I like at a price I can afford,I get it.
No two pieces are alike so if you see and can afford it,go for it!
I am pretty lucky that I have lots of resources and pay very little for the pieces I find.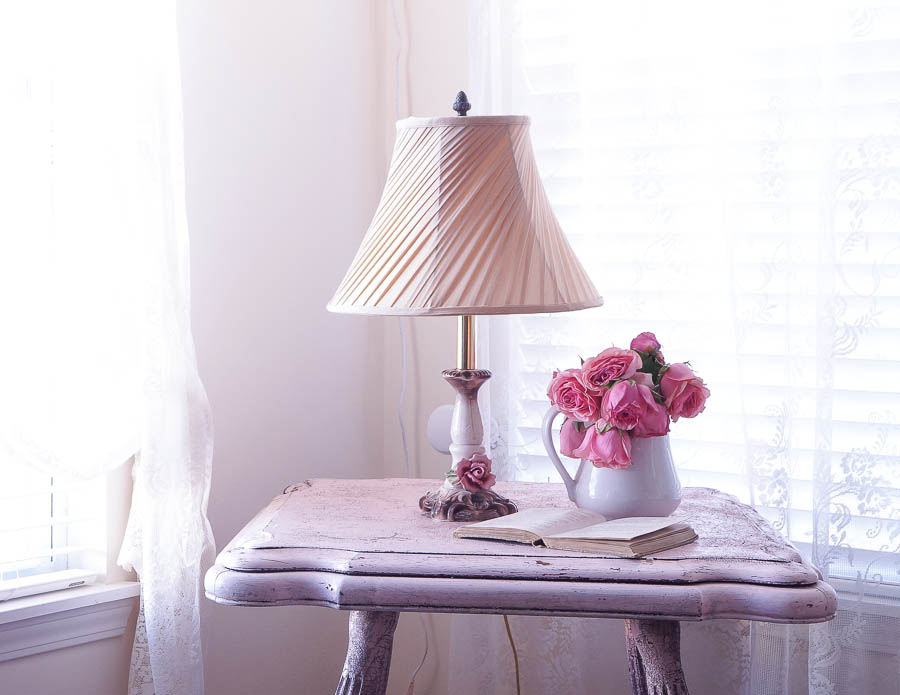 Rachel uses whites on most of her walls,but does use a bit of color and wall paper too.
Here she has pieces of wood with original patina added to the wall as a wainscoting.
A basket can be used as a trash can,a simple chippy stool a place for a towel yet decorative.
A lovely vintage framed out mirror instead of the usual glass brings lots of vintage charm to this bathroom.
The sconces add a touch of bling and sparkle in this room too.
Yes this bathroom is staged a bit,but still you can see very little is used for decorating.
What is used is also useful.
It's not filled with fluff or clutter,just simple,pretty and clean.
Rachel's house has many old doors with chippy patina.
I am not that fortunate so I like using architectural pieces such as old doors or posts to add vintage charm to my newer home.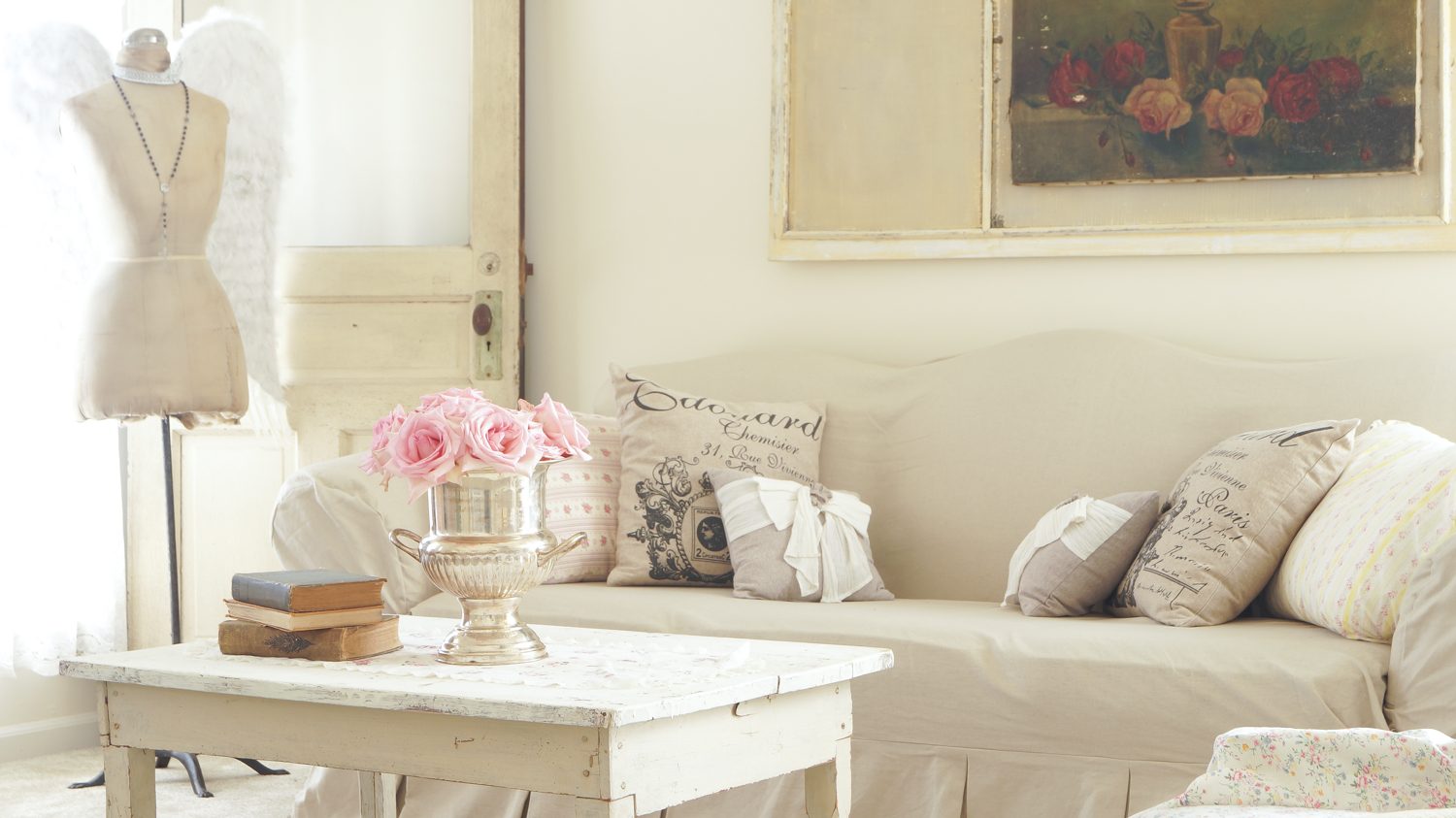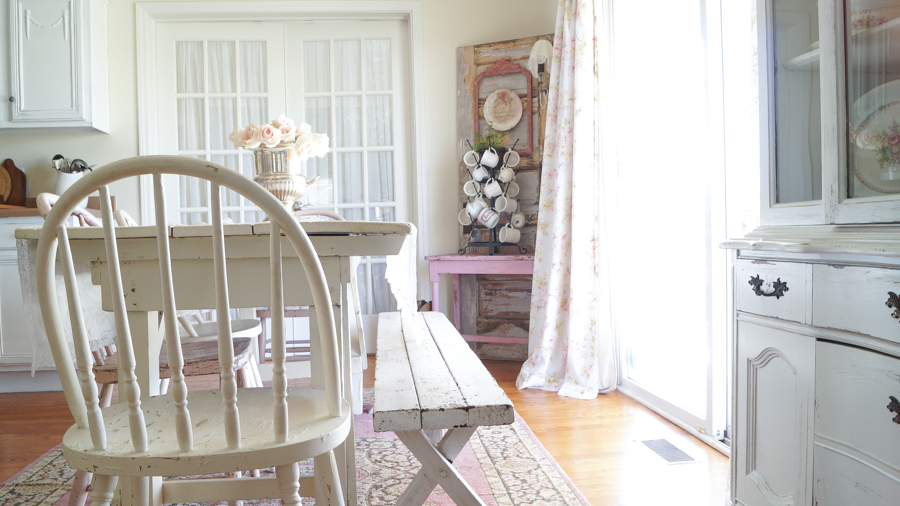 Rachel uses rugs,and pretty linens such as curtains and bedding to add color to a room.
She is not about fussy but pretty and simple.
Now this is where I struggle a bit in my home.
I do have things on my walls,but I try not to over do it.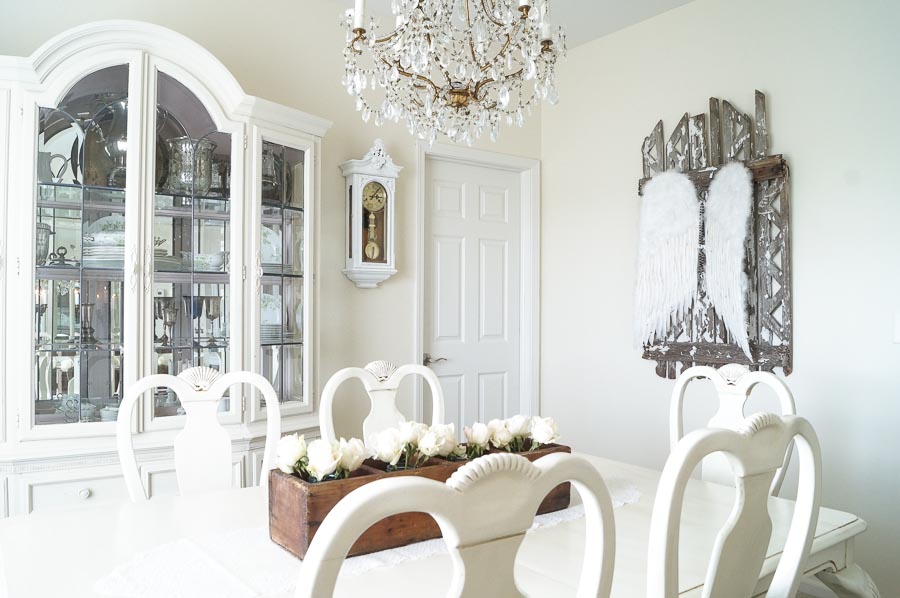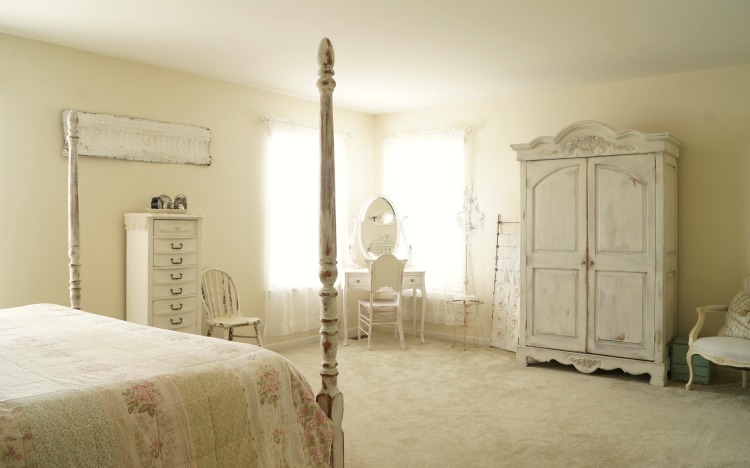 Rachel uses vintage throw rugs,they add color and vintage style to a room.
She layers some of the rugs too!
**Here are some tips for adding Shabby Chic style to your home.**
1). Find unique furniture pieces with original paint and great patina.
2). Add pretty linens to your bed or sofa.Pretty pillows or bedding with ruffles give a room a romantic look.Soft faded florals add a touch of color without being too bright.
3). Add vintage rugs to your home.They add a touch of color and vintage charm.
4). Pick up those lovely vintage dishes.They are beautiful displayed in a cabinet,but they are also wonderful to use not only for special occasions but for everyday!
5). Look for unique mirrors and art work,these add vintage charm to a room.A piece of artwork can be propped on a mantle.A vintage mirror reflects light and if it has that wonderful patina adds just the right touch of Shabby Chic to any room.
6). Don't add clutter,try to keep things simple and clean.If it's a decorative piece make sure you can use it other than for decorating,or that is is useful in someway.Pitchers or old totes are always a favorite of mine because they look lovely alone,but can be repurposed for so many things.You get allot of bang for your money when you purchase these.
7). Think outside of the box with linens especially sheets.Vintage or sheets that look vintage can be easily made into a no sew curtain,or used as a table cloth or draped over a sofa or chair for a new look in a room.
8). Use simple curtains,lace adds a soft glow to a room and adds a bit of romance.Soft faded fabrics or sheet's make a lovely curtain.Just thing simple nothing too fussy.
Shabby Chic style is a lifestyle,it really is.It's comfortable,laid back,not fussy and a little romantic too!

********************************************
New Treasures Just Listed In The Shop,Come And See What's New In The Shop.
All Prices Include Shipping.
Joining: