Like many of us this time of the year we will be entertaining,so I wanted to share 10 must haves for entertaining.
When I host a party or gathering  it doesn't matter how big of a crowd there are certain things that I must have when I entertain.
1). Dishes and lots of them! I am sure you probably noticed that I collect dishes.Sometimes I do use paper plates.But most often than not I use real dishes.
I think it's a little luxurious to offer my guests a real dish to use instead of a paper plate.

MY LATEST VIDEOS
It's fun to mix and match,I have many sets of dishes.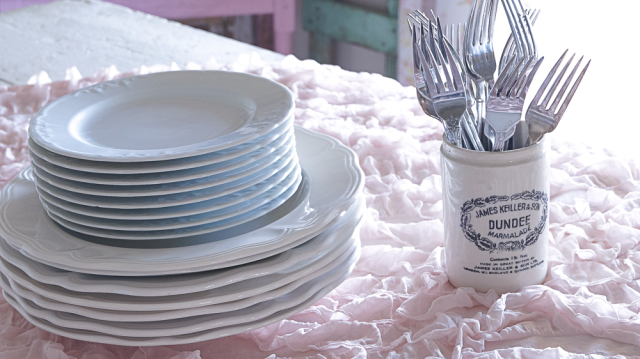 White can be formal or informal,and as you can see I have dinner plates and dessert dishes.
And no,this is not the only white dishes I have just showing you a small portion.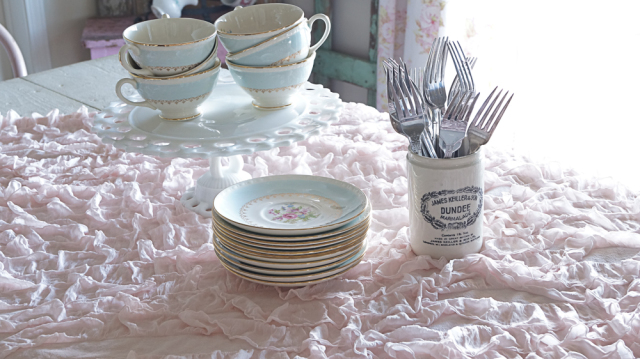 Here is another option for dessert dishes,these saucers.
They are the perfect size for desserts or h'orderves.
2). Silverware and lots of it,look for extra pieces at garage sales and thrift shops.Stainless steal is fine if you can't find silver.But it's always nice to use the real thing and not plastic.I once had a party and bought plastic utensils,bad idea.
When my guest was using his plastic fork and knife to cut something it was a disaster!
3). Speaking of desserts,platters or cake stands is another must have for entertaining.
Nothing looks prettier than a cake stand or platter displaying your delicious desserts.
4). Cups of all sizes,I love using the pretty cups, like those cups in the photo above,but men don't like drinking out of these lovely cups so make sure to offer plain old coffee mugs.
These diner style mugs are my favorite!
I am always looking for more of these mugs great for everyday and for entertaining!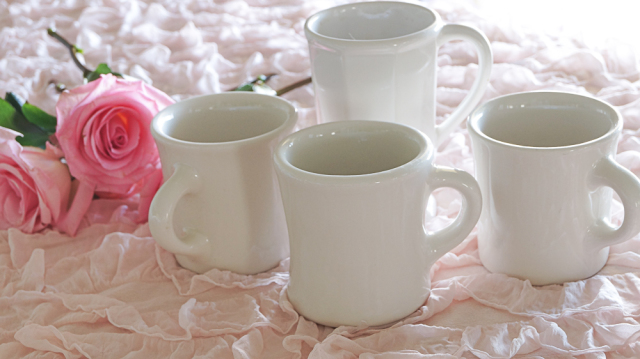 And don't forget about other drinking glasses,so much nicer to use a real glass.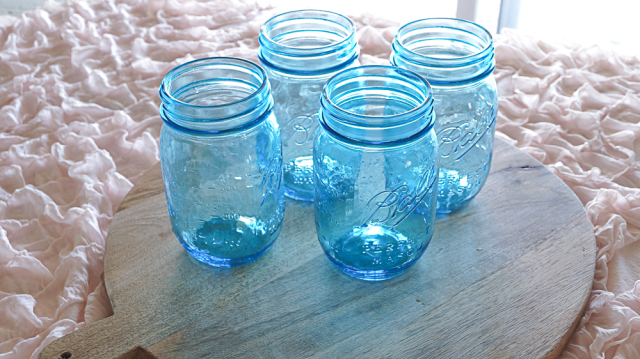 5). Tablecloths or anything you can find to use as a tablecloth.
I love using these because it makes clean up so easy,and it looks pretty too!
Yes I even add one to my kitchen island when I am entertaining.
What did I mean by whatever you can find?
Well if you don't have a tablecloth how about a pretty vintage sheet?
Or even plain old brown packing paper spread out on a counter could be fun.
You could put your own touch on that paper by creating a little artwork.
And when you are done simply throw it out!
6). Bowls,all different sizes.I have many bowls and use them everyday.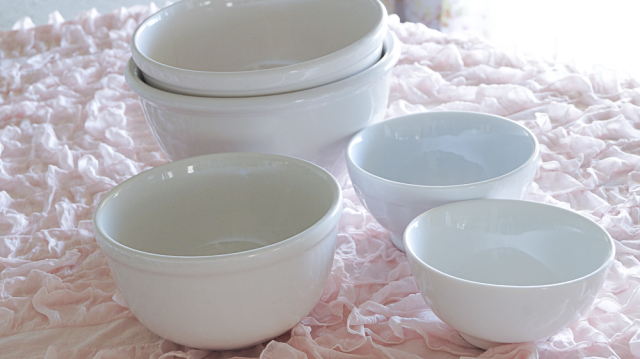 But when you are entertaining they work perfectly for snacks,the small bowls are great for small snacks or dips.
This looks so much prettier than putting a bag out on a table right?!
7) Napkins okay just like with the paper plates it's really nice to offer your guests real napkins.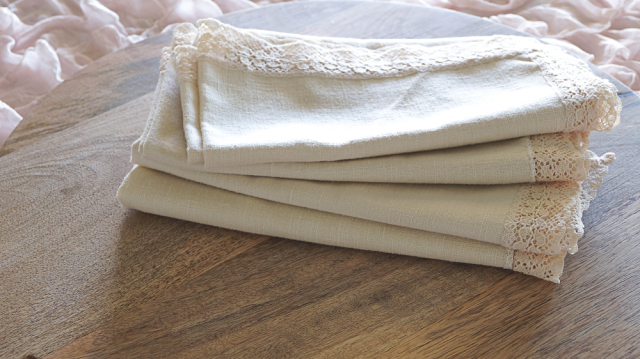 I use real napkins everyday so why wouldn't I offer these to my guests?
They don't have to all match.
Pick these up when you see them,and yes you can use these everyday!
8) Props yes props for holding your silverware.
Add your silverware to an old jar or mug,Or how about a wood tote,this would be great for napkins and silverware.
Breadboards are a great prop too!
Why not add a breadboard on top of a table with your bowls of snacks.
It looks great plus the mess will go on the board not on your table.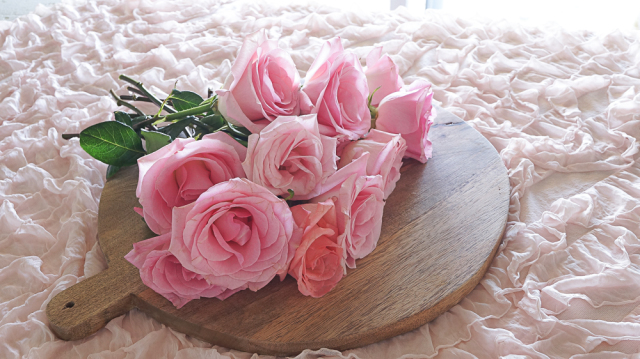 9) Flowers every time I entertain I always have fresh flowers.
Nothing looks prettier than a bouquet of flowers on a table,and it really welcomes your guest into your home.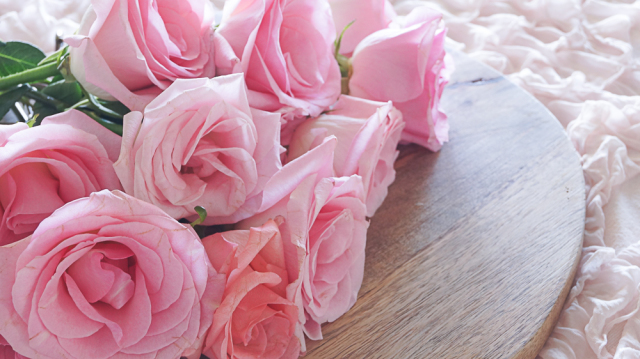 10). Music soft piano music or jazz really sets the mood for any entertaining.Whether it's a dinner party or a birthday party.I like keeping my music on the soft side as background music.
You don't want your guests screaming at each other trying to talk over music.
I hate going into a resturant with loud music!
And when that happens I usually don't go back!
There you go 10 must haves for entertaining!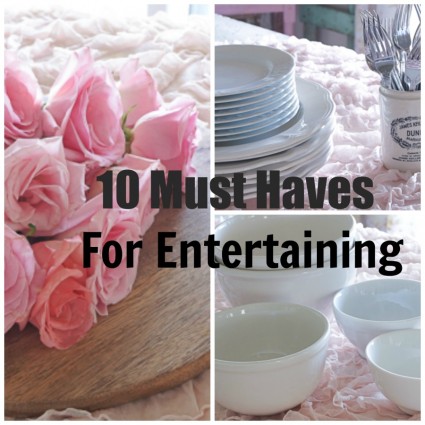 **********************************************************
I have some exciting news to share!
One Love Candle and Bath is now a new sponsor here on White Lace Cottage!
Let me tell you a little about One Love Candle.
Stephanie is the owner of One Love Candle and Bath.
One Love Bath and Body  products are handmade.
  Stephanie strives for her products to be the ultimate in luxury while maintaining environmental awareness, sustainability, and fair trade practices.
I can say this first hand…..I love scented candles.
But so many are not pure soy and have lead in the wicks.
These are pure soy and have lead free wicks which makes these burn cleaner and safer.
These candles are scented with pure essential oils,and they smell amazing!
I have purchased scented candles only to find as I am burning them,I can't really smell it at all.
One Love Candles smell amazing when you burn them!
The also burn evenly.
Don't you hate it when you blow a candle out and the wax sticks to the sides.
And then every time you burn the candle it becomes a pit.
You never really get to burn the whole candle.
With One Love Candles these burn all the way down evenly you will get your moneys worth.
And these are so reasonably priced too!
Can you tell I love these!
To visit One Love You can go Here.
These would make amazing gifts for Christmas,or for yourself!
You can visit One Love Bath and Body anytime.
Thrilled to have One Love Bath and Body and our new sponsor!
*******************************************************

Joining: