Spending time with my family this week and nearing the fourth of July can you believe it?
So I thought I would re-post one of my recent most treasured finds,hope you enjoy it!
~~~~~~~~~~~~~~~~~~~~~~~~~~~~~~~~~~~~~~~~~~~~~~~~~
What is it with me and vintage scales? My daughter had an early dismissal from school today so on the way to the library I stopped by to see a good friend who also owns a beautiful resale shop.
And as I walked in I saw this old scale.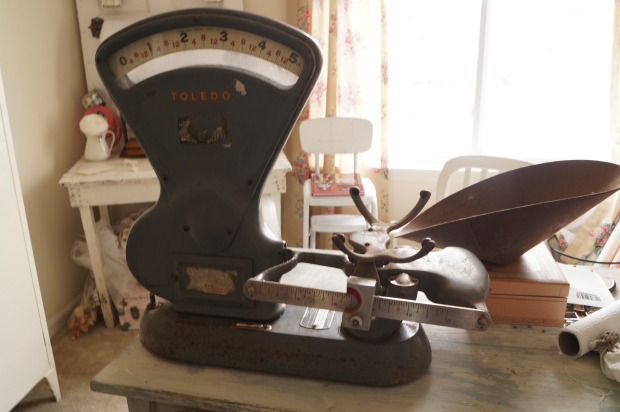 Not very pretty,this was taken in my studio and as you can see it's a little messy.
Even though the dirty gray was not the color I wanted I decided to bring it home and freshen it up with a little paint.
At first I was thinking of painting it white which would look lovely.
Then I thought about a soft light shade of pink.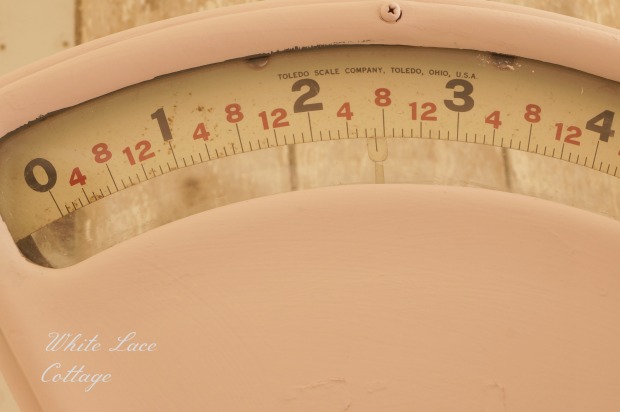 I need to clean the glass a bit more,but this is the perfect shade of pink for this old scale.
I mixed a combination of Annie Sloan Old Ochre,Antoinette,and a little fuchsia pink acrylic paint I had on hand.
Often I am asked how I mix my paints and what is my formula.
I really don't have a way of mixing,I just add colors until I get the color I want.
It's fun doing that because you never know what you are going to get and it ends up being a custom color.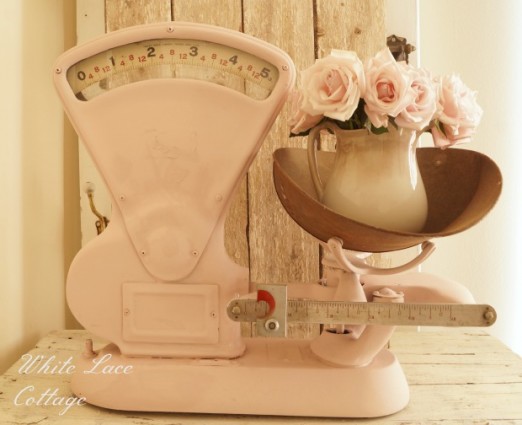 This scale is quite heavy and since I hurt my back I decided not to carry it around for it's final destination just yet.
My strong daughter helped me carry this upstairs,yes it is that heavy.
I love the soft pink with that rusty scale bowl.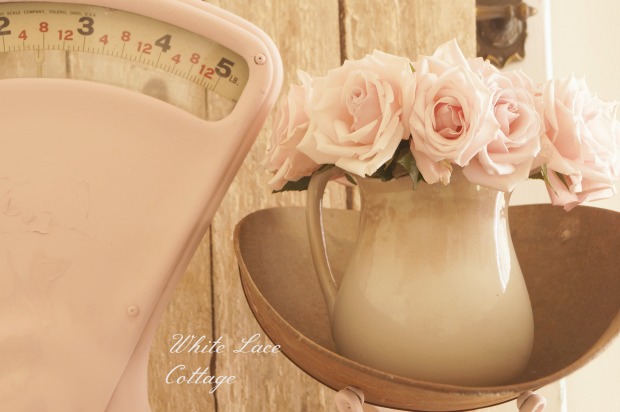 My roses still look beautiful and really look amazing with this piece!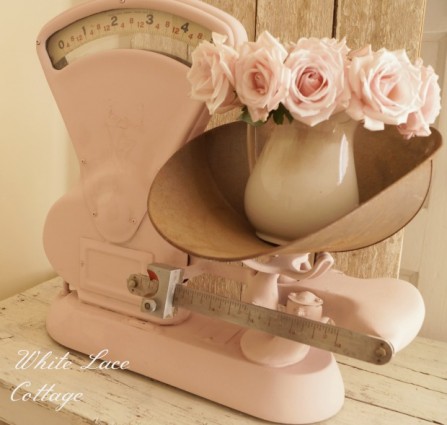 This is placed on my table I use for packing up packages I ship out from the shop.
Just to pretty it up for photos I added that rustic piece from an old barn door.
I found yet another fun find,it will be a project but I am excited!
Stay tuned!
***************************************
Come and see what's new in the shop.

Joining: