During the winter months we spend allot of time indoors,It's  why I love creating a cozy home.
We spend most of our time in our family room with our fireplace on.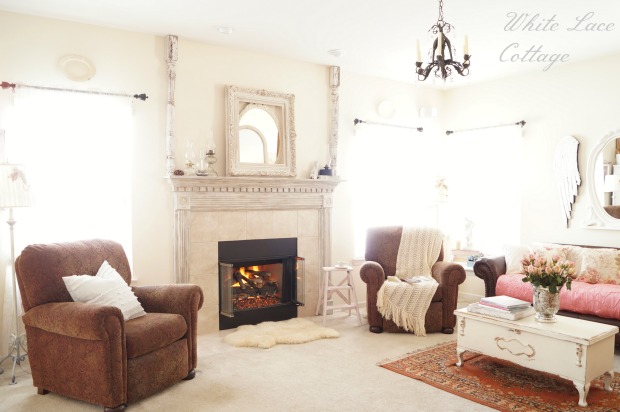 That hanging candelabra is a recent deal from decor steals.
I felt that this room was lacking something ,and adding a working chandelier was not an option.
When I saw this pop up on Decor Steals as part of the daily deals I ordered quickly!
I love the look and feel of this piece.
The color works well in here too.
If I painted it white I think  it would get lost in a sea of white!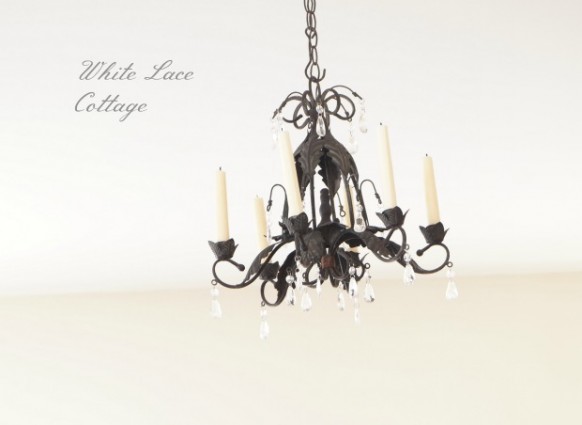 I added candles for decorative purposes only!
Never,ever burn candles next to a wall or ceiling!
Blankets are always close by and I love my shawl.
I have several of these and they keep me nice and warm while sitting next to the fire.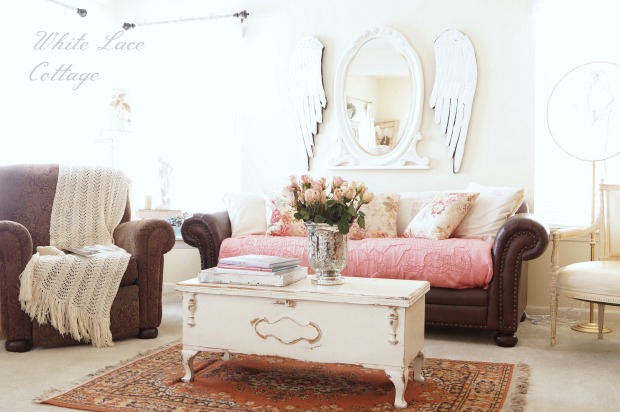 Speaking of keeping nice and warm,this cedar chest that I painted white is great storage for our blankets.
It keeps them close at hand,but keeps the room tidy when we are not using them.
And it works great as a table or an added seating area if we have a big crowd.
I love multipurpose pieces don't you!
I also decided to add my vintage pink blanket to our sofa,I am loving the pink and brown together.
For a short time I tried living with a sofa slip cover,but the white was driving me nuts with our cat.
I think a slip cover that is custom made and easier to put on and take off would work better for us.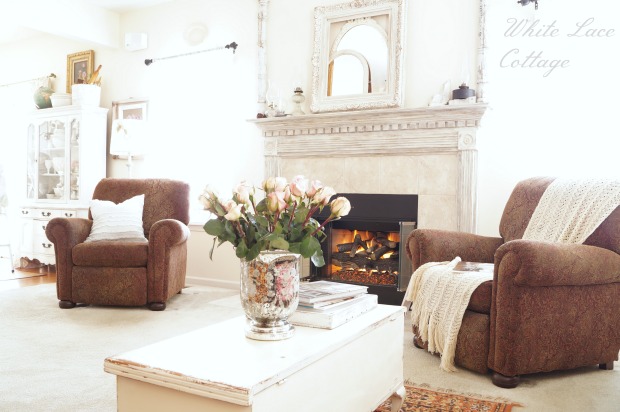 Yes  I  love adding fresh flowers to my home,it's a must here during the winter months.
I have decided to keep things a little simpler around here.
On my mantle I am leaving my layered frame and mirrors,and just added my hurricane lamp collection.
And on the right side my newest addition to my collection.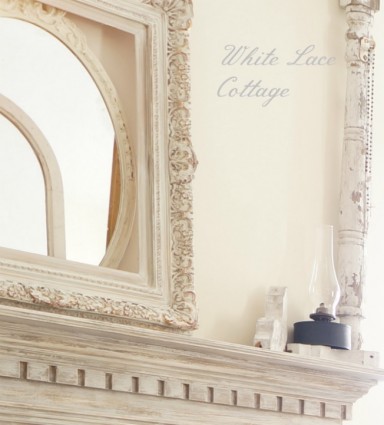 My chippy pink step ladder makes a great little side table.
I really love using my heavy mugs for coffee,but when it comes to tea I enjoy it more in one of my delicate cups.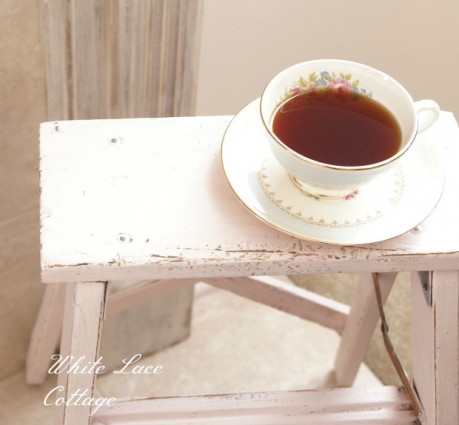 Let's go into the kitchen.
As I said I am doing less around here as far as accents.
On my ladder above my sink I decided to keep things simple,I just kept those architectural pieces up on top of my cabinets.
I seem to drink more coffee and tea this time of the year too!
Yes a good cup of coffee or tea warms me up and makes me feel warm and cozy inside.
I decided to  add my vintage stool in my kitchen.
For photo purposes it is staged next to my sink.
But I am keeping it at the end of my island.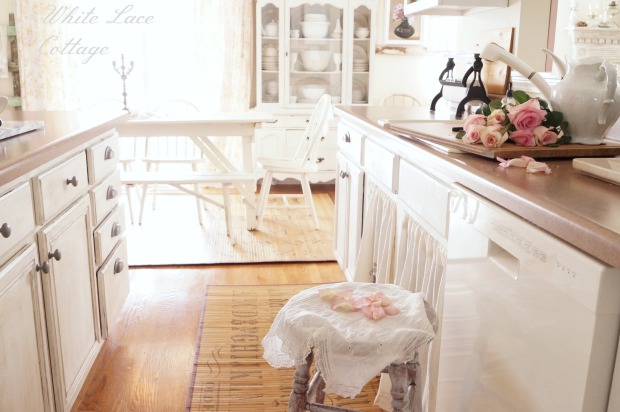 Let's be real here,just doing this for a photos no I don't normally keep a stool with rose petals next to my sink.
But it makes a pretty photo don't you think.
I have been playing around a bit more with my camera trying different settings,and soon I will be taking a photography class.
Yes it's time to really learn my camera settings and lighting.
~~~~~~~~~~~~~~~~~~~~~~~~~~~~~~~~~~~~~~~~~~~~~~~
That bamboo runner is from decor steals.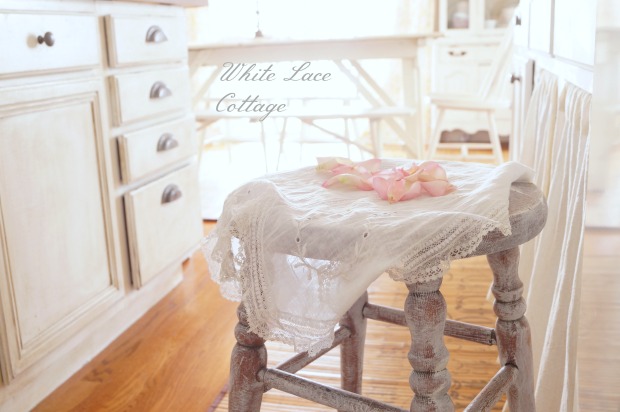 I love this sweet and delicate apron.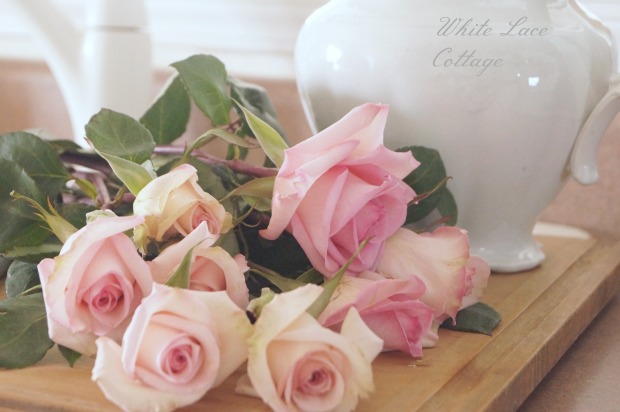 I thought it would be pretty to add a candelabra to my table.
Not sure if it will stay here or not,but it does look pretty.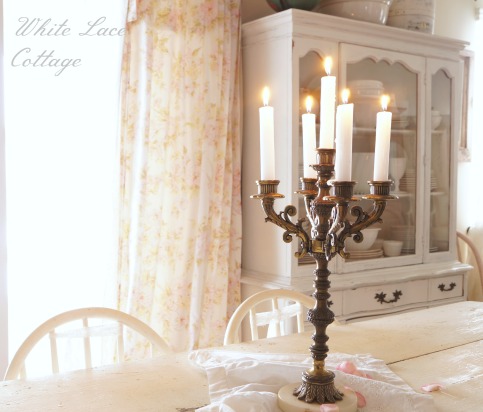 I do enjoy my scented candles in my home,and I seem to enjoy them more during the winter months.
This candelabra brings a nice soft glow to a room,and it does make it feel cozy too!
Hope you will click on the links below and visit each one of the homes listed.
I hope with each visit you will be inspired.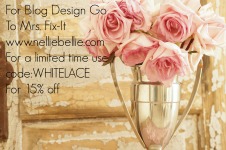 Joining:
Thanks for joining us on the home tour. Enter the giveaway below for a chance to win one of two $100 BLINDS.COM Gift Certificate. We will have two winners!!
Please join the rest of the blogs on the 
Creating a Cozy Home Tour
Monday, January 13th


Tuesday, January 14th

Wednesday, January 15th


Thursday, January 16th

Friday,  January 17th