Are you ready for part 2 of my Christmas home tour?
Very recently I was the lucky winner of Angel wings courtesy of Decor Steals.
Debating on where to put them I decided to add them to my family room wall behind my sofa.
I did like my vignette I had on the wall,but I have had it the same for several years.
My first idea was to add my screen vertical  with a wing on each side,and use another oval mirror I had.
But after taking a photo of it I did not like the way it looked.
Yes I do take photos of changes I make.
When you take a photo of a room that you just changed , you will get another pair of eyes.
Many times when something looks great to my eyes visually,after taking a photo it will look much different.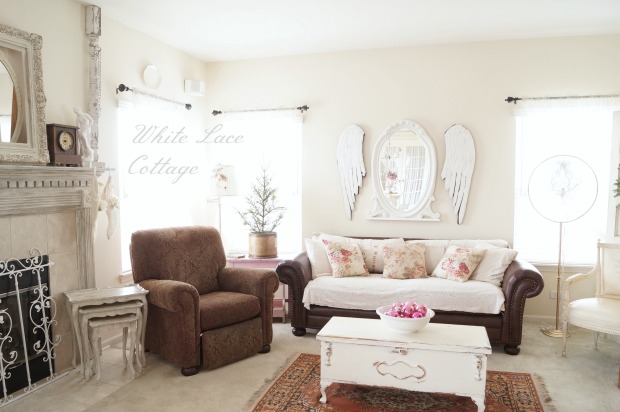 That mirror was above my mantle,and again although I liked the way it looked,but it was time for a change.
I did paint my wings white because the color that they came in really did not go with my room.
They were white with a tinge of green.
I decided not to distress the wings at this time.
I added a little tree top to a vintage shipping canister I found over the summer.
Adding just a few ornaments to it.
These pink ornaments were a recent find,and if you follow me on instagram you got a sneak peak of them.
I love the imperfection on these ornaments.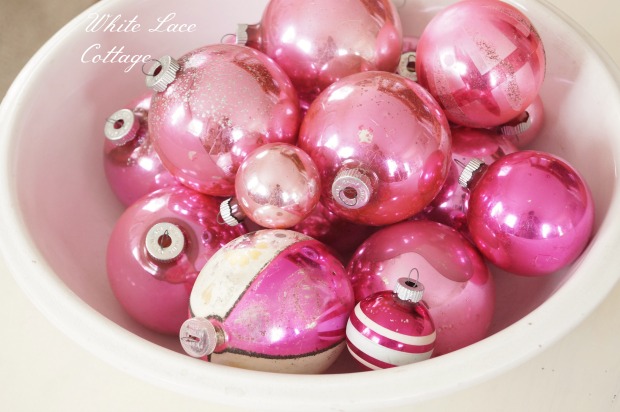 One of my favorite white ironstone bowls!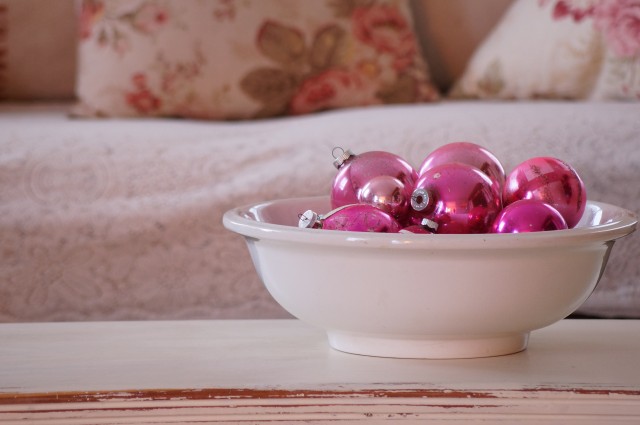 I kept my mantle pretty simple,as you can see I added a frame and a few vintage mirrors in place of the mirror I had here previously.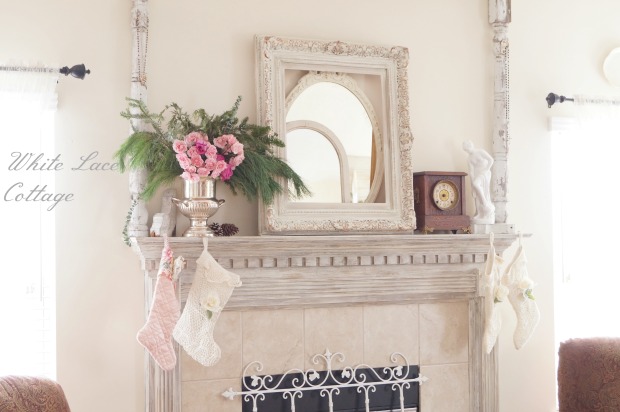 My silver bucket is staying here,I like the sparkle of silver next to my mirrors.
Just adding some fresh greens and roses,a few pine cones too!
Those lace stockings were found at a thrift shop last year,I just added a single faux rose to each one.
And that pink stocking is my daughters.
I found that many years ago,it is made from vintage fabrics.
My fresh wreath adorns my vintage door,just adding a bit of creamy white ribbon.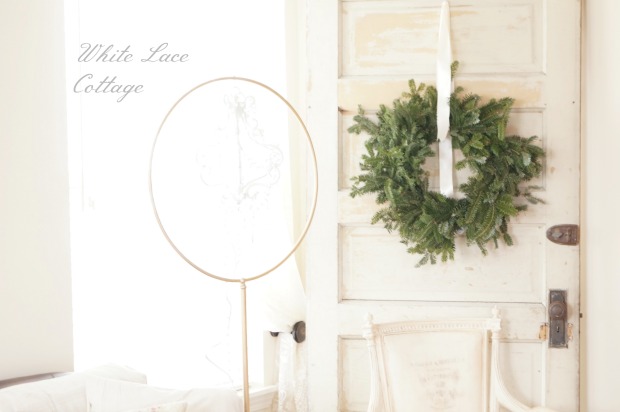 A closer look at my tree top.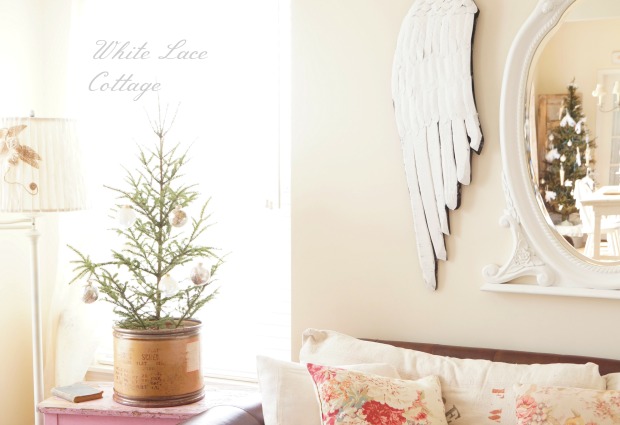 On my pink chippy chair I decided to add my pink cherub.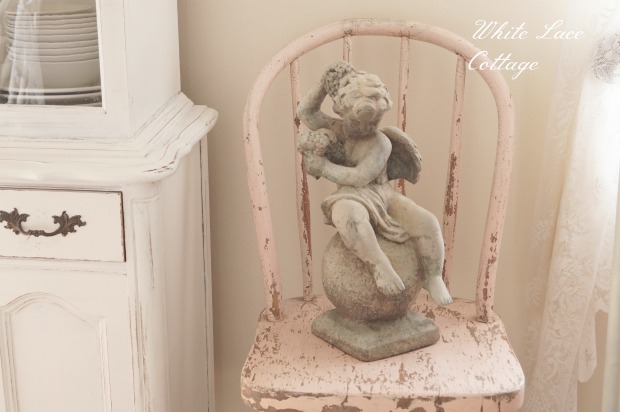 Yes I know midway through my tour I decided to swap out my cherub that was on my table to this chair.
Because I like my roses and candy canes in my ironstone pitchers on my table.
I love this combination!
Nothing stays exactly the same for long in this house,even during the holidays!
Are you ready for the last room of this tour?
My bedroom suite is the next and last room.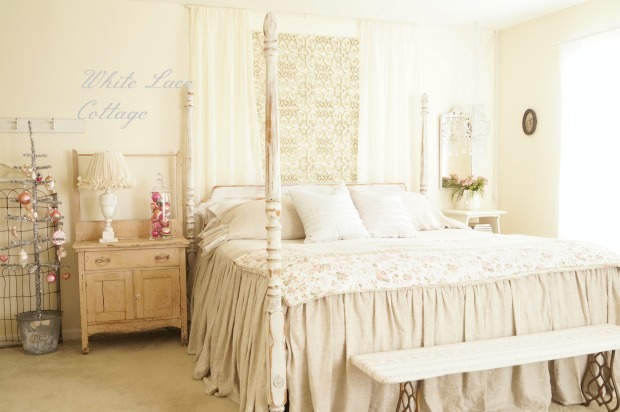 I recently shared my tinsel tree.
But I have made a few changes since that reveal.
I decided to add that towel bar back to the wash stand,and I moved the mirror that hung on the wall to the other side of the bed.
That mirror helps reflect the light a little more.
And since that light only uses a 25 volt bulb it really helps making it a bit brighter when reading in bed.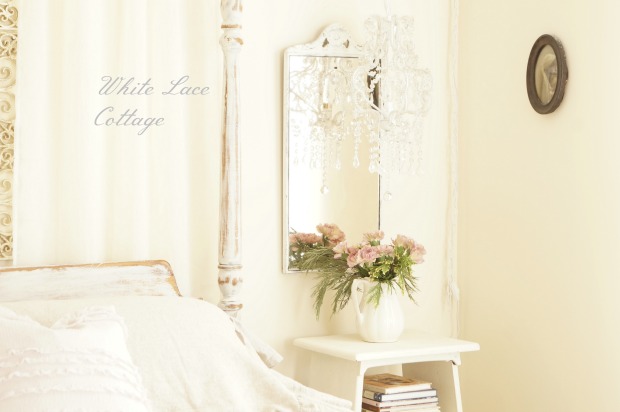 A pretty white pitcher with some pink carnations and fresh greens are added to my side table.
Can you see the piles of books?
There are more books and magazines on the other shelves.
I love reading in bed!
I found those vintage ornaments recently and  I decided to add to my apothecary jar.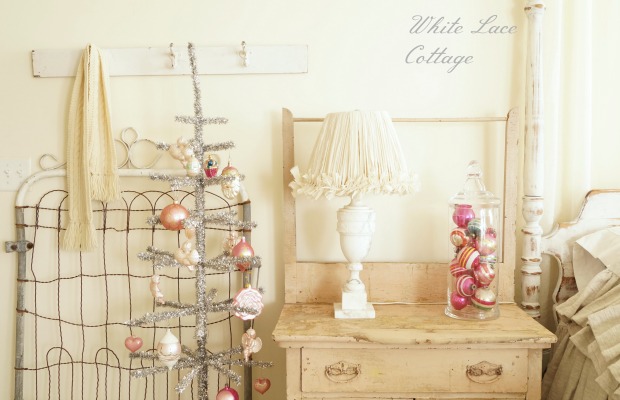 More pretty pinks,but still keeping it simple.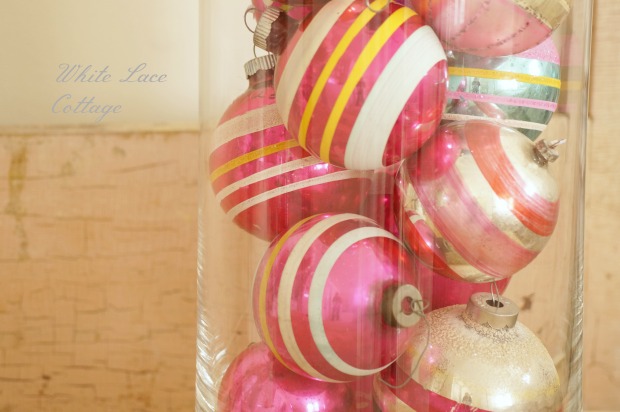 Oh I love this sweet little Santa!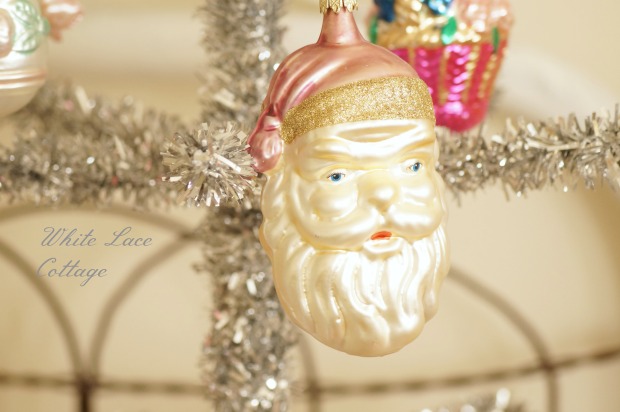 I moved my little paper houses to my table just near the entrance of my room.
My white painted dresser looks like a blanket of snow for these sweet houses.
I found these many years ago,I believe they are Christopher Radko's.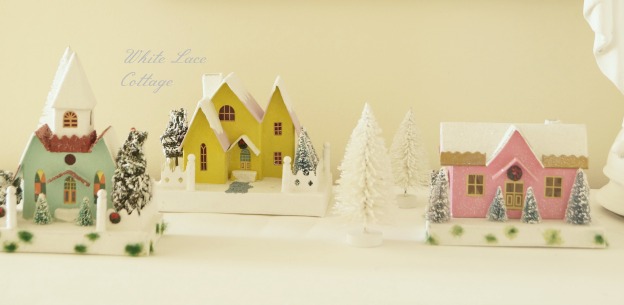 I have been asked many times about my bedding.
I bought it from Shellagh at Ticking and Toile.
You can visit her shop HERE.
I first spotted it when I visited Kathleen's beautiful blog Faded Charm.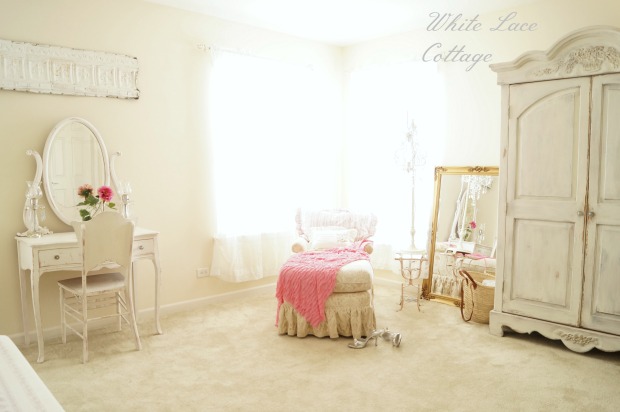 Just a few greens placed in my white pitcher.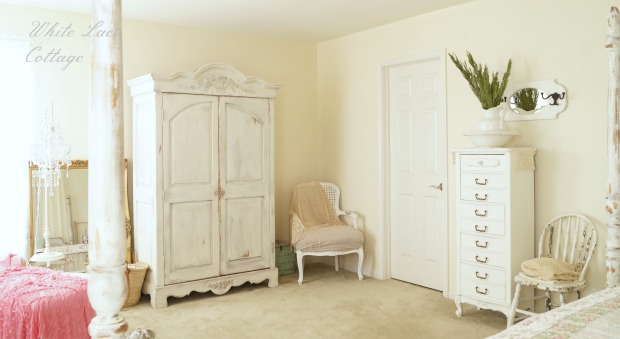 My shawl is folded up neatly and added to my chair,it is decorative and I use it too!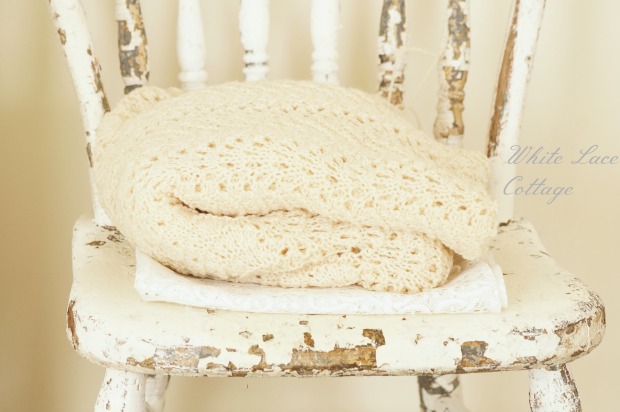 My French basket is now used to store my Jeanne d' arc magazines over the winter.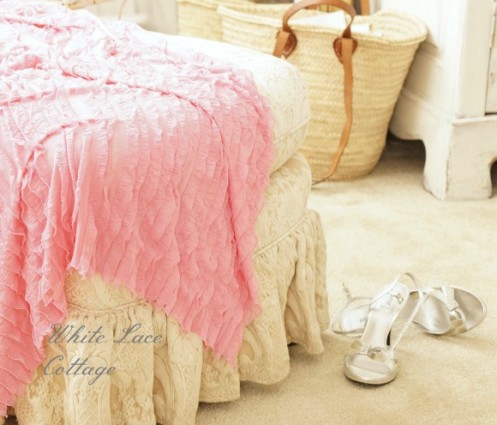 Hope you enjoyed the tour of my home.
To see part one of my home tour visit HERE
So excited to be a part of The Scoops Homemade Christmas!

Joining: