I found this shabby vintage looking tinsel Christmas tree years ago.
It is a very simple tinsel  tree so not much is needed to decorate it.
Last year I just added silver mercury glass ornaments.
This year I decided to add my pink ornaments since changing my bedroom.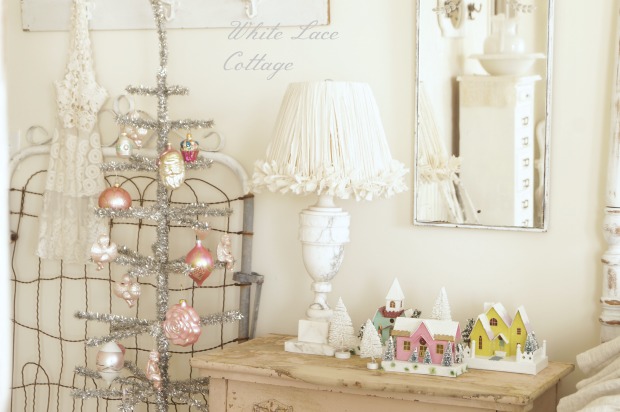 I have had these tucked away for years it was fun bringing them back out again!
These ornaments are some of my favorites.
They all look vintage but they actually are not.
Well come to think of it they are 23 year old so I guess they are sort of vintage.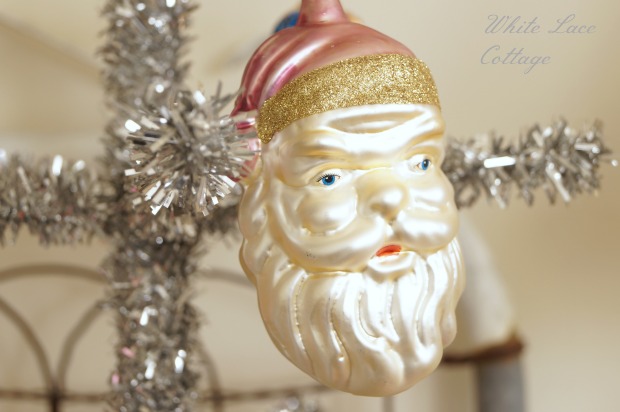 Love this sweet Santa,have you ever seen a pink Santa?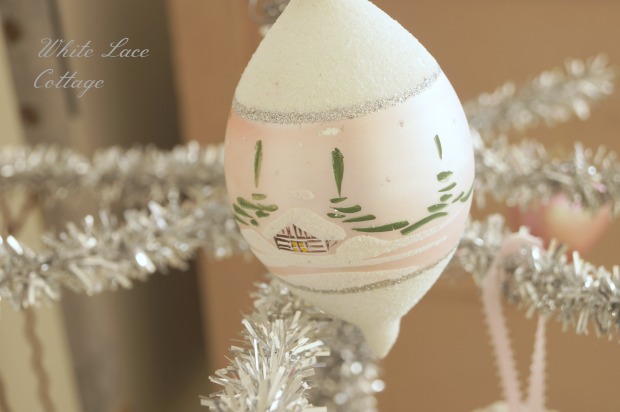 Another one of my favorites,reminds me of the ornaments from the 1940's.
Those little paper houses look vintage but again they are not.
I found those many years ago and fell in love with the colors.
They work perfectly on this table.
Gotta love a pink paper house!
Last week I shared my new mirror and chandelier.
You can read about it HERE.
Another chandelier was added to my bedroom,bought at hobby lobby.
I wanted just one  more because I did not like my lamp that was next to my bed.
I also decided to change the table that was next to my bed.
A table that was in  my family room was moved next to my bed.
Are you still with me?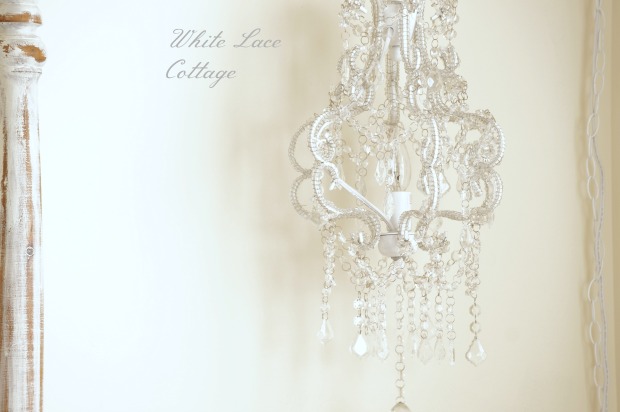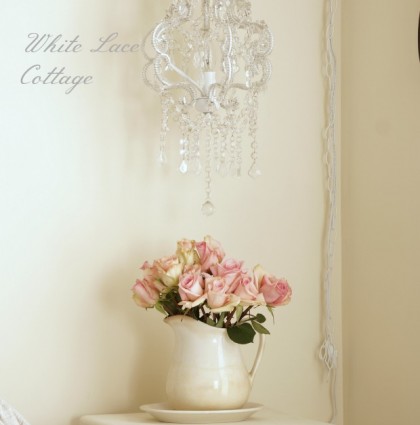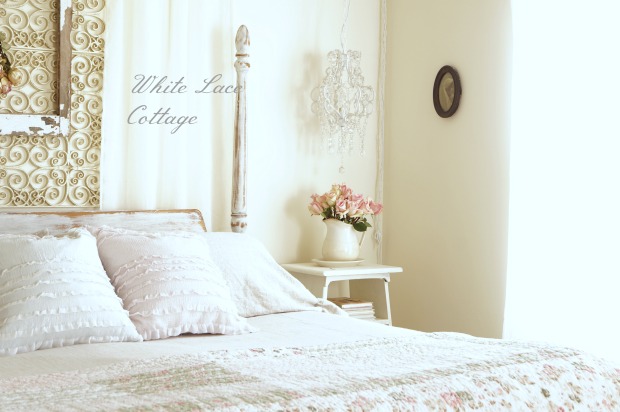 That table works so much better than the one I had before.
I just added stacks of my favorite decorating books to the shelves.
I enjoy re-reading them before going to bed.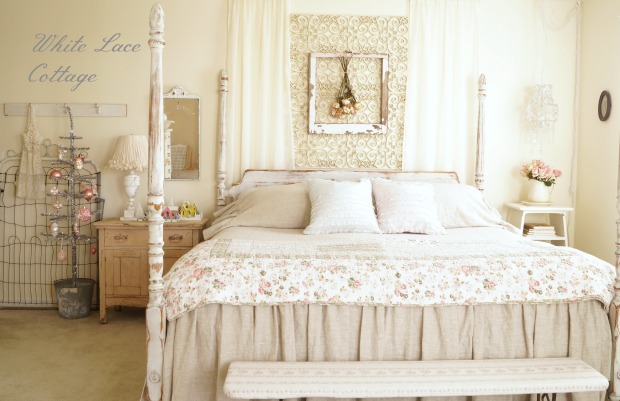 You can see I added my tinsel tree to a vintage bucket.
It fits perfectly and I love the added height.
No need for a tree skirt!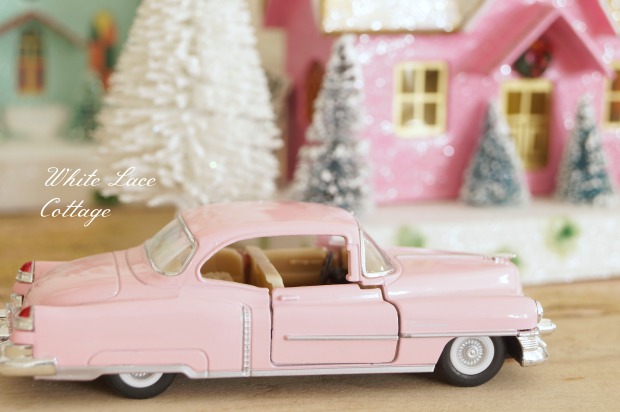 After looking at my paper houses I decided I needed my daughter's toy pink Cadillac as part of the scene.
Okay there you have it my dream car and house!
Hmmm I think we need a white tree too!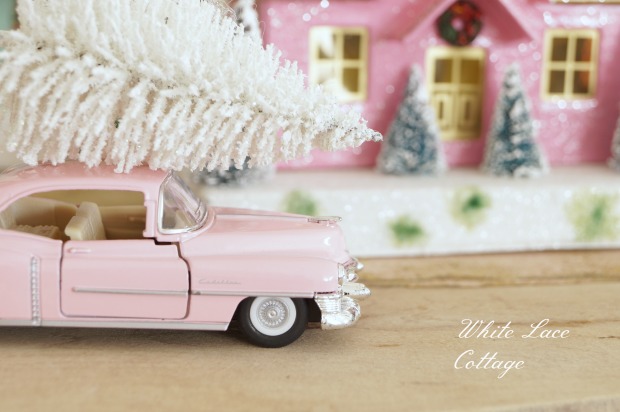 Ah yes a white tree!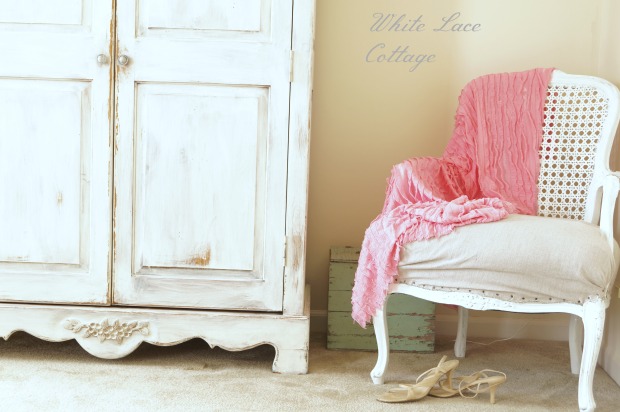 I found this ruffled pink fabric at a thrift shop.
The fabric reminds me of the ruffled throws I have seen,
I love the look of fabric draped over a chair.
See that chippy green box?
I was going to sell that but it is holding some cords and things I don't want exposed.
The green works perfect with the pink in my home!
I think I will hold on to that box for now.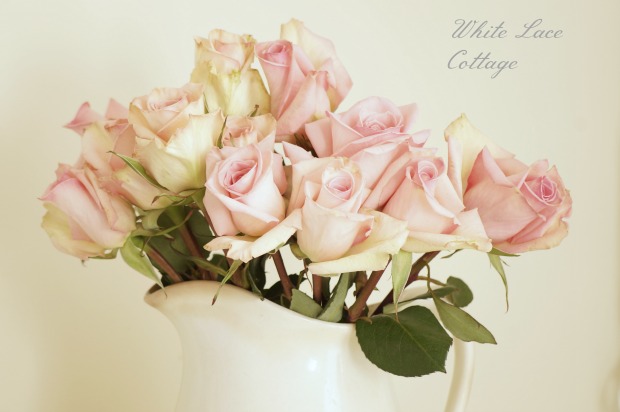 On Saturday night we celebrated my daughter's 14th birthday.
And yesterday we had a cake for her,just invited her Grandparents for a quiet day.
Only it was not a quiet day storms rolled through a few towns several hours away.
Tornado's touched down and destroyed towns.
Lives lost,homes gone.
My heart and prayers go out to all that lost so much.
There is a facebook page set up if you would like to donate.
Washington IL Tornado Recovery Facebook Page
It is truly devastating!
Please keep them all in your prayers.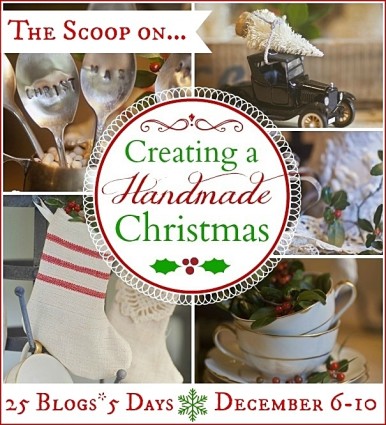 Joining: